Smoothies are perfect for a healthy breakfast or snack. I'm answering some smoothie FAQs and sharing 10 healthy smoothie recipes to try!
January is the month of new goals — many of which involve eating healthfully. I'm definitely back on the wagon and having a smoothie almost every day has become part of my routine. I like having them for a healthy breakfast or snack because they're convenient = super quick to whip up and you can take them with you on the go.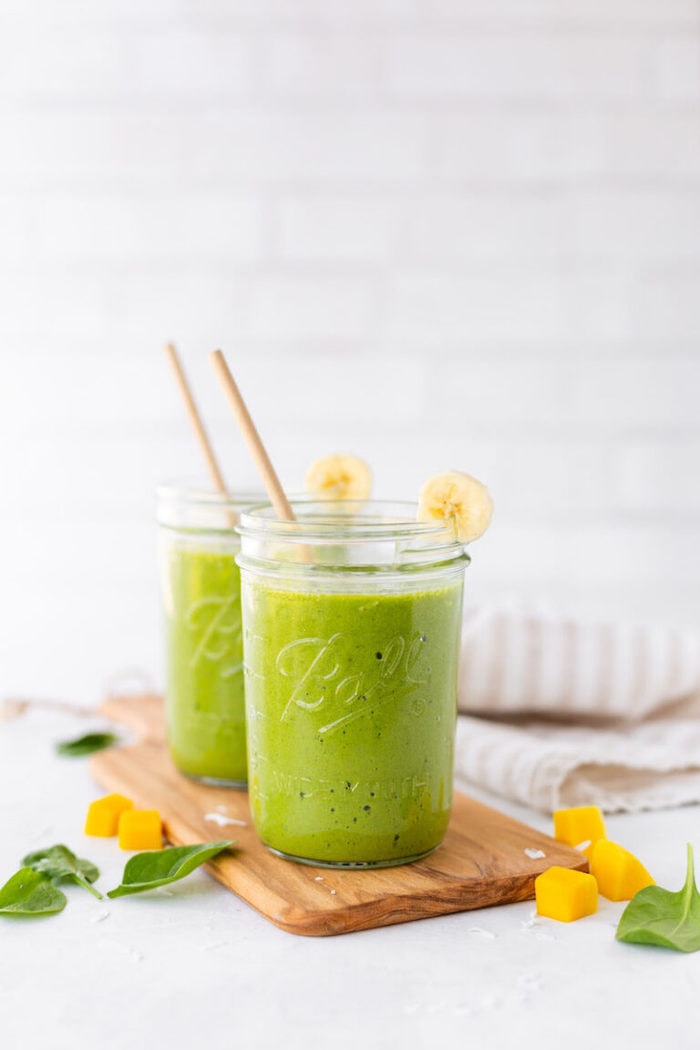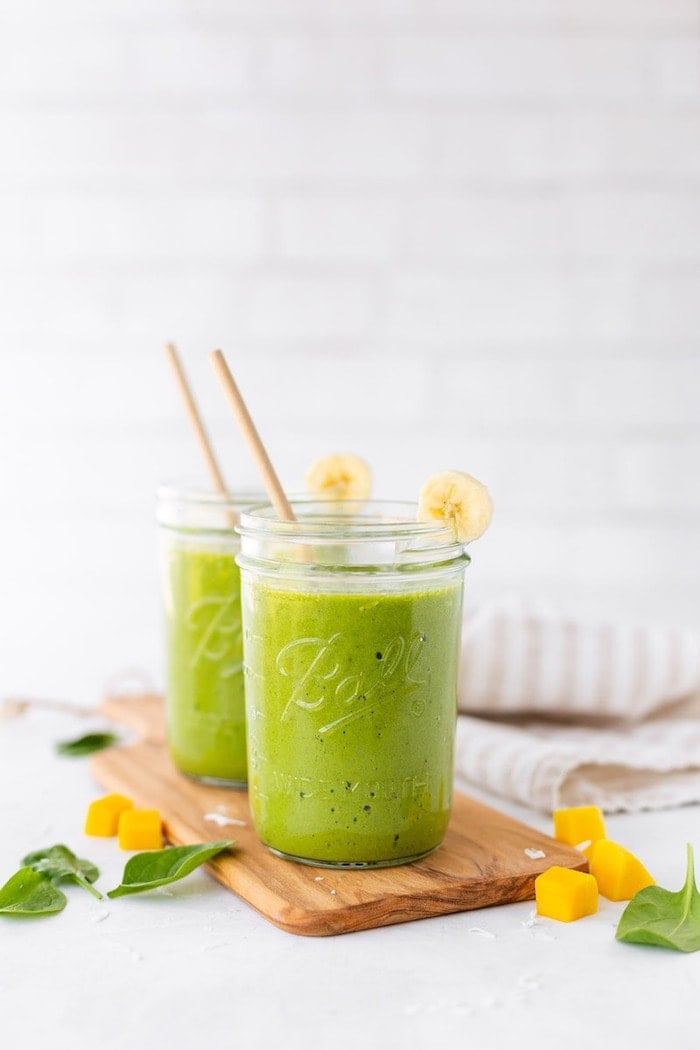 Plus, it's easy to pack in nutritional elements like protein (from protein powder, greek yogurt, seeds, nuts, etc.) and fruits and veggies! Not to mention, they taste awesome. Many of my favorites actually taste like dessert but I get to eat/drink them for breakfast, lunch or as a post-workout or afternoon snack. Love that!
What Are The Healthiest Things to Put in a Smoothie?
I recommend a combination of fruits, vegetables, liquid or yogurt and then sometimes I'll add some protein powder and/or superfoods.
Fun ingredients to add to your next smoothie:
Frozen fruit – Using frozen fruit gives smoothies a thick, rich texture. My personal favorites are frozen bananas, mango, cherries and blueberries.A general rule of thumb is that the more fruit you add, the higher the sugar and calorie content – which isn't a bad thing! Just something to be aware of because the sugar content in smoothie can add up quickly.
Frozen zucchini – Believe it or not, frozen zucchini makes smoothies super creamy! If you don't like bananas or want a lower sugar smoothie, try zucchini! You can steam it before cooling and freezing if you want the zucchini to be a little easier to digest.
Frozen cauliflower rice – Frozen riced cauliflower is a great way to add volume and creaminess to smoothies. I often time use it instead of frozen fruit when I'm looking to make a low-sugar smoothie. Try my chocolate cauliflower smoothie.
Greens – Experiment with adding different greens to your smoothie! Kale, spinach, chard, arugula… the options are endless. If you're new to adding greens, start with spinach because it had the mildest flavor. Try my favorite peanut butter green smoothie.
Avocado – Avocados also make smoothies creamy… like really creamy. And they add great healthy fats! Try my avocado mango smoothie.
Chia seeds – Chia seeds are a super simple way to add fiber and healthy fats to your smoothie. The flavor is fairly neutral so it goes with pretty much any smoothie! Try my orange banana smoothie.
Nut butters – I love adding different nut butters to my smoothies not only for flavor, but for added healthy fats. Peanut butter, almond butter… whatever nut you like! Nut butters make everything better, including smoothies!
Maca – Maca is an adaptogenic root which means it helps balance your body. Studies have shown that it can help with balancing hormones, energy, fertility, mental state and more! I like adding maca to my chocolate cauliflower smoothie. It gives it a malted milkshake flavor!
Of course, this is just a short list of the smoothie add-ins… there are so many different things you can to your smoothies.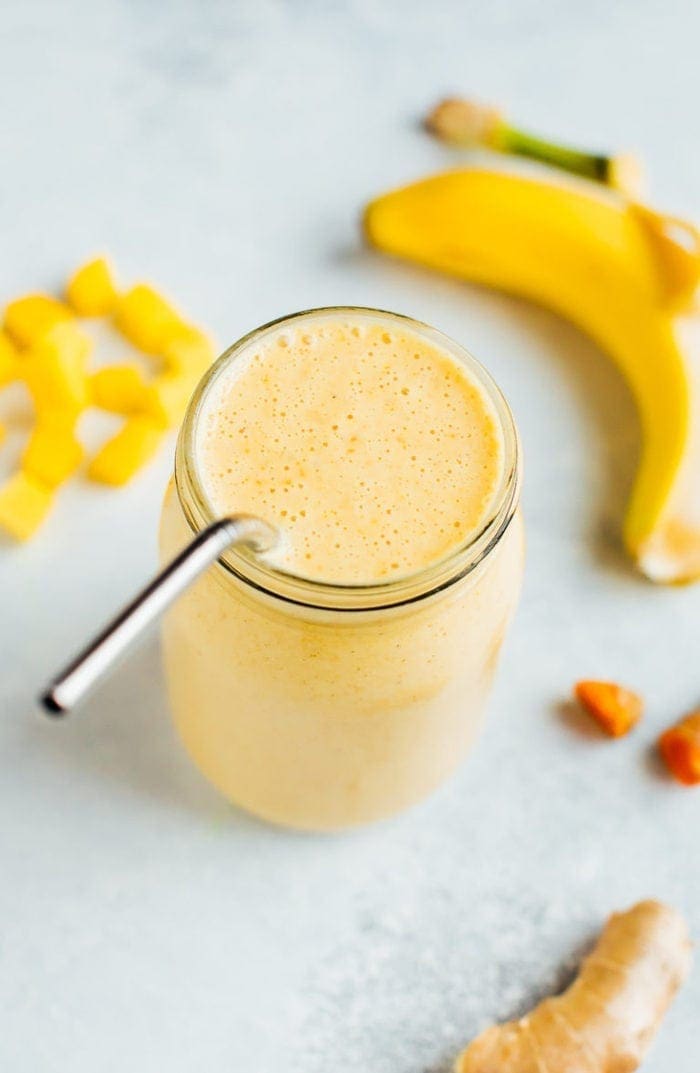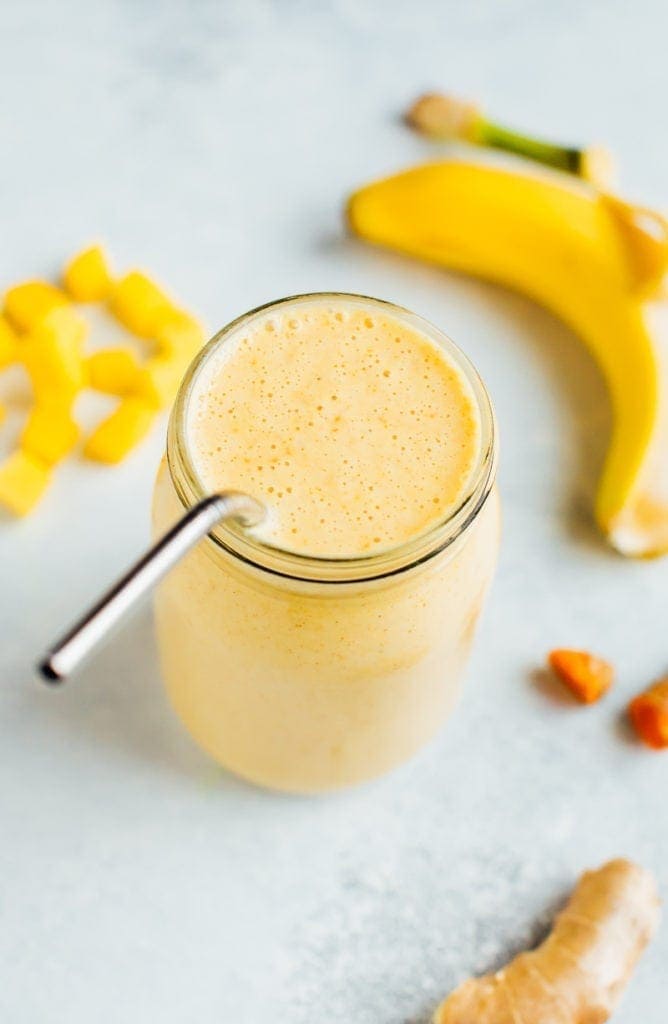 Can Smoothies Replace a Meal?
If it's a well balanced smoothie with a good amount of protein, fiber and healthy fats you can absolutely use it as a meal replacement. I aim for around 400-500 calories and at least 12-15 grams of protein if I'm having a smoothie as a meal. I like to enjoy a smoothie for breakfast or a snack, but it usually isn't filling or satisfying enough for me for lunch or dinner. This strawberry banana smoothie is a great snack option because it's less than 200 calories and has 7 grams of protein!
I've also found that smoothie bowls are more filling for me. I like to top them with things to chew (like fresh fruit, nuts and/or granola) and eat the smoothie with a spoon. The process of eating with a spoon and having something to chew makes my brain register the smoothie as a meal and it feels more satisfying.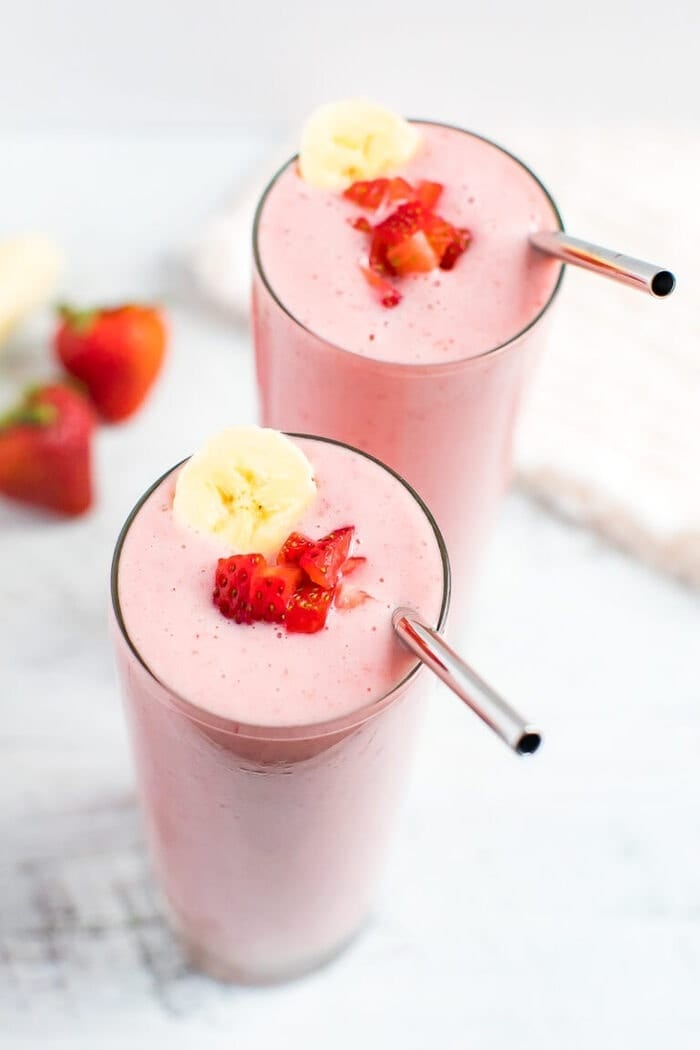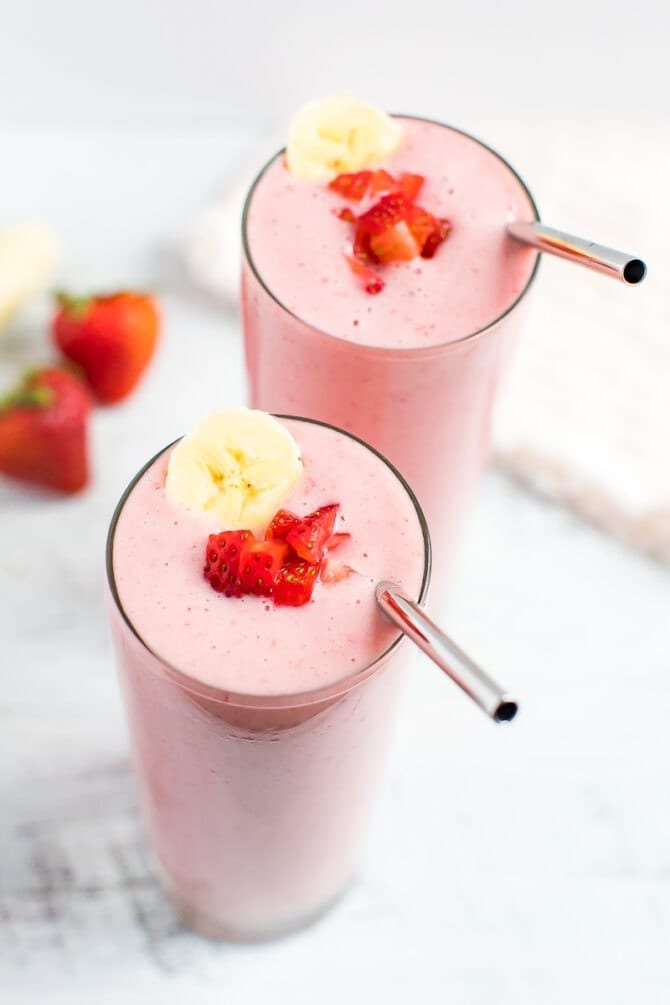 Do You Put Ice in Smoothies?
I don't put ice in my smoothies that often, but you absolutely can! Ice will make your smoothies thicker and extra cold, which is key if you're not using any other frozen ingredients. I personally like to use frozen ingredients (like fruit or veggies) rather than ice but you can absolutely throw a few ice cubes in if you want. Just don't add too many or it will dilute the flavor of your smoothie.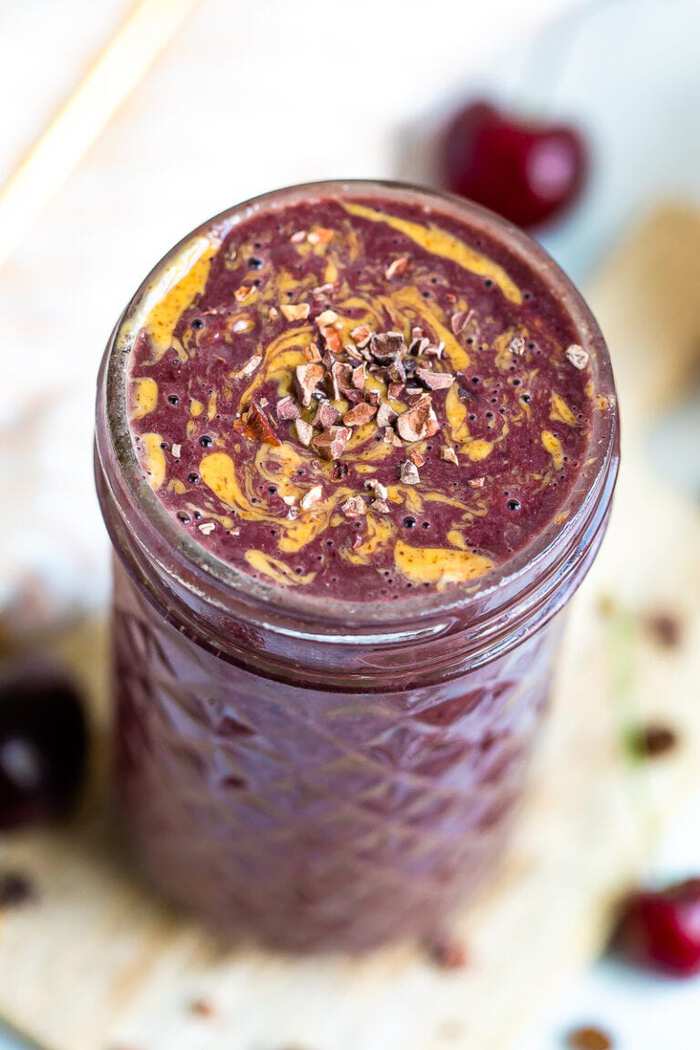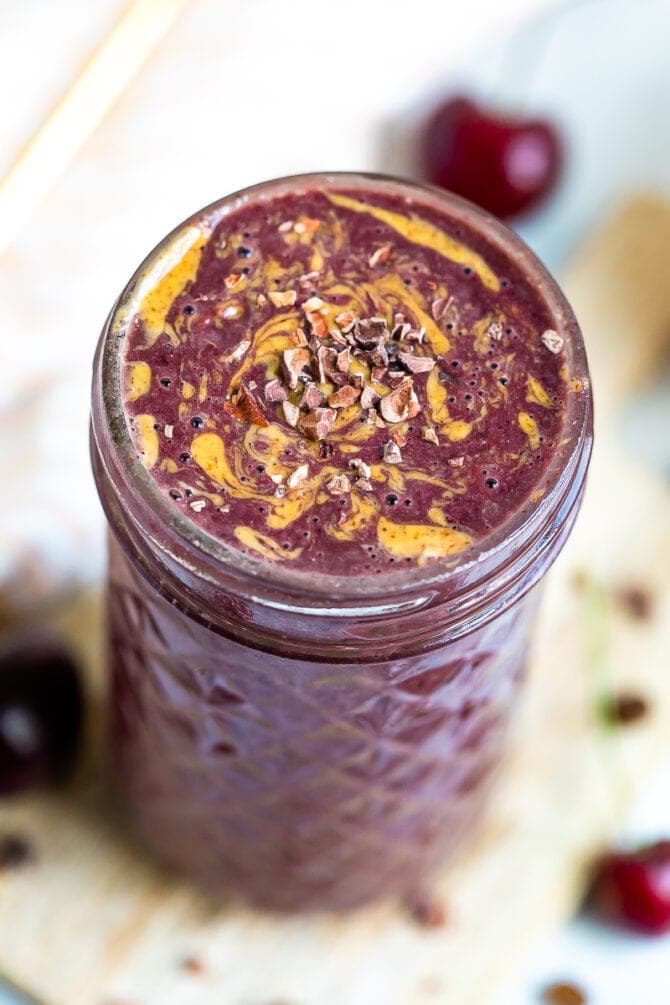 10 Healthy Smoothie Recipes
What's your favorite smoothie recipe?
This post may include affiliate links. Thank you for your support.