Smoothies are delicious and a quick way to get nutrients into your diet. Try my easy smoothie formula, plus 35+ amazing smoothie recipes.
Having a daily smoothie has become part of my routine and I love it because smoothies are convenient, healthy and super quick to whip up and take with you on the go.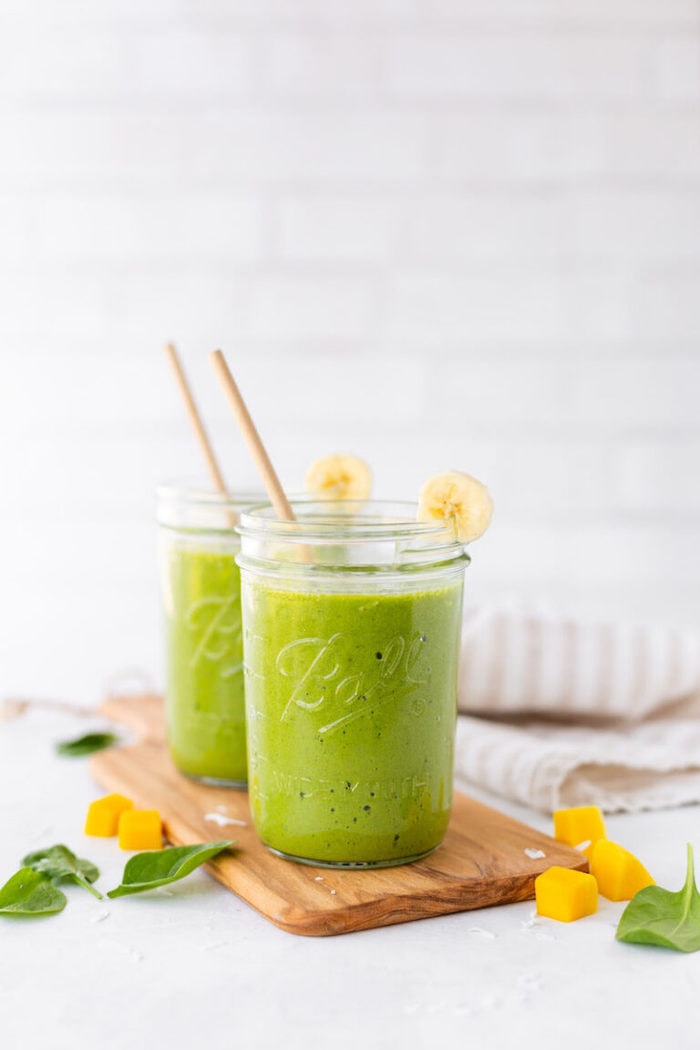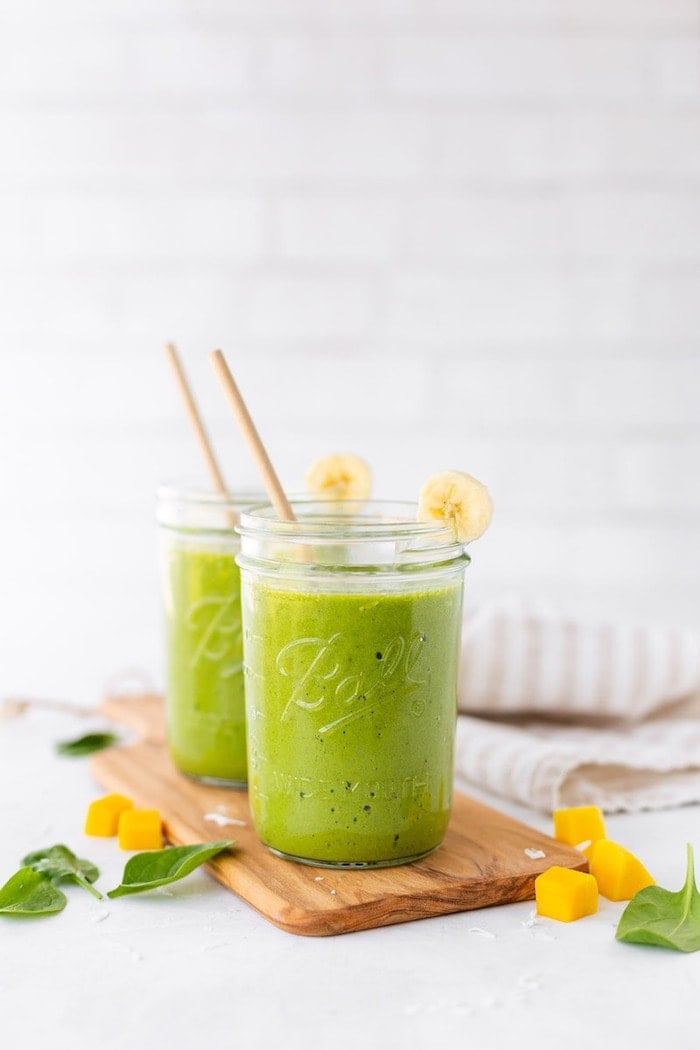 Plus, it's easy to pack in nutritional elements like fruit, vegetables and protein (from protein powder, Greek yogurt, seeds, nuts, etc.)! Not to mention, they taste awesome. Many of my favorites actually taste like dessert, but I get to eat/drink them for breakfast, lunch or as a post-workout or afternoon snack. Love that!
Basic Formula for a Smoothie
Here's my basic formula for a delicious smoothie:
Fruit – 1-2 cups of fruit per smoothie.
Any fruit will work, but I recommend using frozen fruit because it gives smoothies a thick, rich texture (similar to a smoothie you can get from a smoothie shop) and makes the smoothie extra cold. My favorite fruits to use in smoothies include frozen bananas, frozen peaches, mango, cherries, strawberries, blueberries and raspberries.
A general rule of thumb is that the more fruit you add, the higher the sugar and calorie content – which isn't a bad thing! Just something to be aware of because the sugar content in smoothies can add up quickly.
Liquid – 1/2 to 1 cup of liquid per smoothie. This can be water, milk, non-dairy milk or fruit juice.
Protein – Adding protein isn't a requirement, but I like to make my smoothies more filling by adding some sort of protein, usually with Greek yogurt, protein powder or nuts and seeds.
Veggies – Smoothies can be a great way to sneak veggies into your diet. Most of the time they get blended right in and you can't even taste them. Some veggies I recommend include frozen cauliflower, zucchini, cucumbers and greens like spinach and kale.
Blend
Once you have your ingredients ready, it's time to blend. Simply add all the ingredients into your blender and blend until smooth. Once blended check the texture to see if you need to adjust. If the smoothie is too thick you can add more liquid and if it's too thin, add more frozen fruit.
What Type of Blender is Best?
A high-quality blender goes a long way when it comes to making perfectly blended smoothies that have a similar texture to a smoothie you'd get from a smoothie shop. High-powered blenders can process frozen fruit and veggies easily! I've found that my Vitamix blender works great for smoothie bowls like this one, but it's definitely an investment. If you're looking for a budget-friendly option, check out the Ninja Foodi smoothie bowl maker.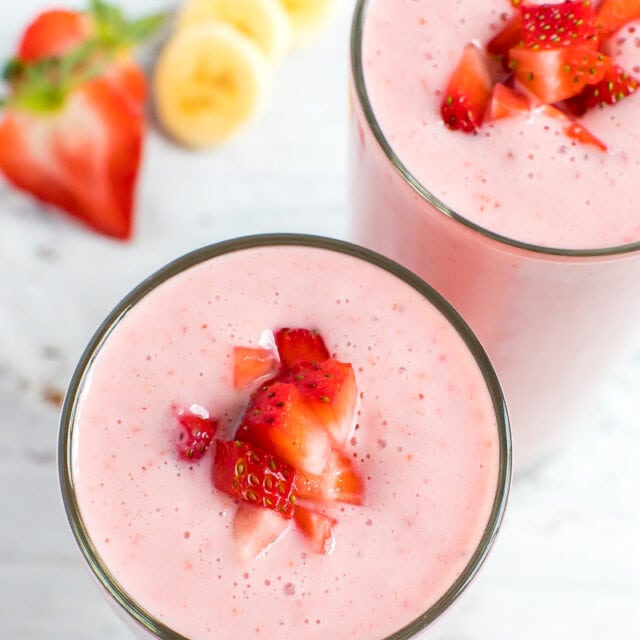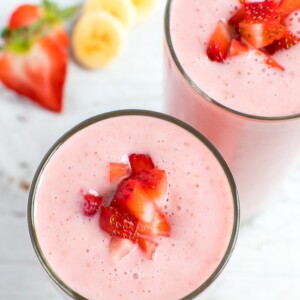 How to Make a Smoothie
Smoothies are delicious and a quick way to get nutrients into your diet. Try my easy smoothie formula, plus 35 amazing smoothie recipes.
Ingredients
½

cup

frozen fruit (like berries, mango, pineapple, etc)

½-1

cup

milk (non-dairy or dairy)

,

or other liquid of choice

¼

cup

plain Greek yogurt or 1 scoop protein powder

optional: handful of greens, chia seeds or flaxseed, nut butter, nuts, etc.
Instructions
Place all ingredients in a high-powered blender, starting with ½ cup milk. Blend until smooth and creamy, adding more milk as needed to get the desired thickness.
Notes
Honey – If you like a sweeter tasting smoothie feel free to add honey, maple syrup, stevia or monkfruit, to taste. 
Dairy-free – You can use non-dairy yogurt or plant-based protein to make this smoothie dairy-free.
Mix-ins – This is a great recipe to build off of so if you're feeling creative go ahead and experiment with other ingredients!
Nutrition
Serving:
1
smoothie (without honey)
|
Calories:
159
kcal
|
Carbohydrates:
34
g
|
Protein:
7
g
|
Fat:
1
g
|
Fiber:
4
g
|
Sugar:
19
g
Nutrition information is automatically calculated, so should only be used as an approximation.
What Are The Healthiest Ingredients to Put in a Smoothie?
I recommend a combination of fruits, vegetables, liquid or yogurt and then sometimes I'll add some protein powder and/or superfoods. Here are some ingredients to consider:
Frozen zucchini – Believe it or not, frozen zucchini makes smoothies super creamy! If you don't like bananas or want a lower sugar smoothie, try zucchini! You can steam it before cooling and freezing if you want the zucchini to be a little easier to digest.
Frozen cauliflower rice – Frozen riced cauliflower is a great way to add volume and creaminess to smoothies. I often time use it instead of frozen fruit when I'm looking to make a low-sugar smoothie. Try my chocolate cauliflower smoothie.
Oats – Adding oats to your smoothie can help you stay feeling full longer. Plus it adds fiber and protein!
Greens – Experiment with adding different greens to your smoothie! Kale, spinach, chard, arugula… the options are endless. If you're new to adding greens, start with spinach because it had the mildest flavor. Try my favorite peanut butter green smoothie.
Herbs – Basil, mint… the options are endless and will give off an extra boost of vitamins, minerals and flavor!
Avocado – Avocados also make smoothies creamy… like really creamy. And they add great healthy fats! Try my avocado mango smoothie.
Juices – Fresh juice is an easy way to add flavor to your smoothie. You'll often see orange juice or pineapple juice in smoothies but there are so many options.
Chia seeds – Chia seeds are a super simple way to add fiber and healthy fats to your smoothie. The flavor is fairly neutral so it goes with pretty much any smoothie! Try my orange banana smoothie.
Flaxseed – Boost nutrients and fiber content with some flax seeds. You can either add ground flaxseed to the smoothie or top a smoothie bowl with whole flaxseed.
Hemp seeds – Just like chia and flaxseed, hemp seeds are a great addition to smoothies.
Nut butter – I love adding different nut butter to my smoothies not only for flavor but for added healthy fats. Peanut butter, almond butter… whatever nut you like! Nut butter makes everything better, including smoothies! Try my almond butter smoothie.
Maca – Maca is an adaptogenic root which means it helps balance your body. Studies have shown that it can help with balancing hormones, energy, fertility, mental state and more! I like adding maca to my chocolate cauliflower smoothie. It gives it a malted milkshake flavor!
Spices – Spices like cinnamon and nutmeg are also great add-ins!
Sweeteners – Some smoothies could use a little added sweetness! A little maple syrup, honey, agave or monk fruit work nicely. Check out my guide to natural sweeteners.
Of course, this is just a shortlist of the smoothie add-ins… there are so many different things you can to your smoothies.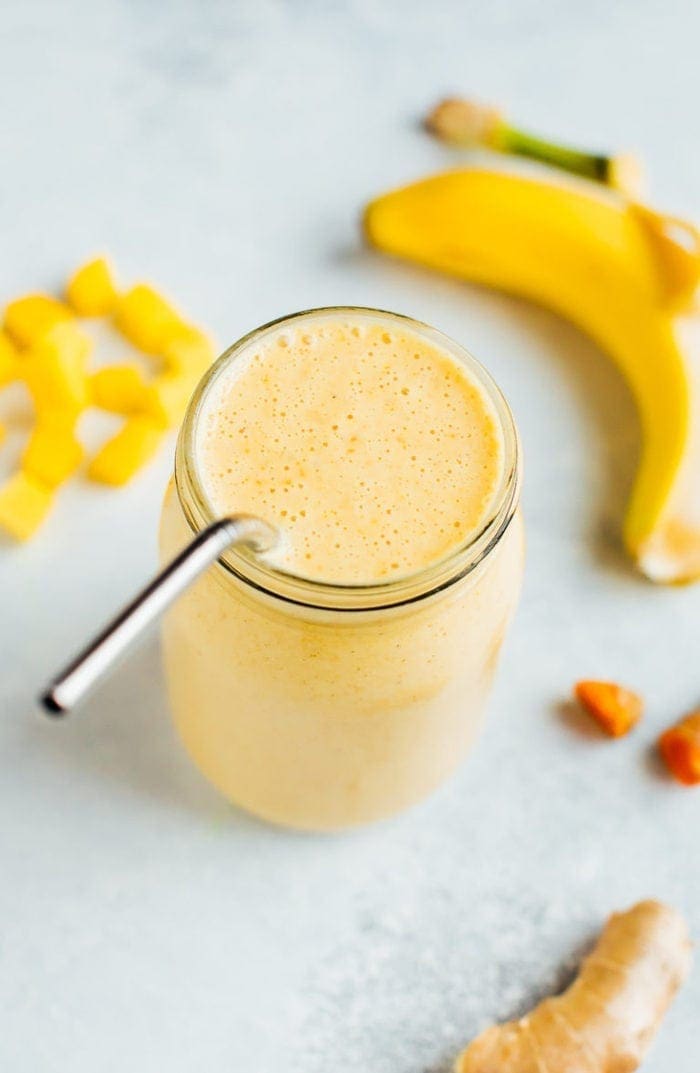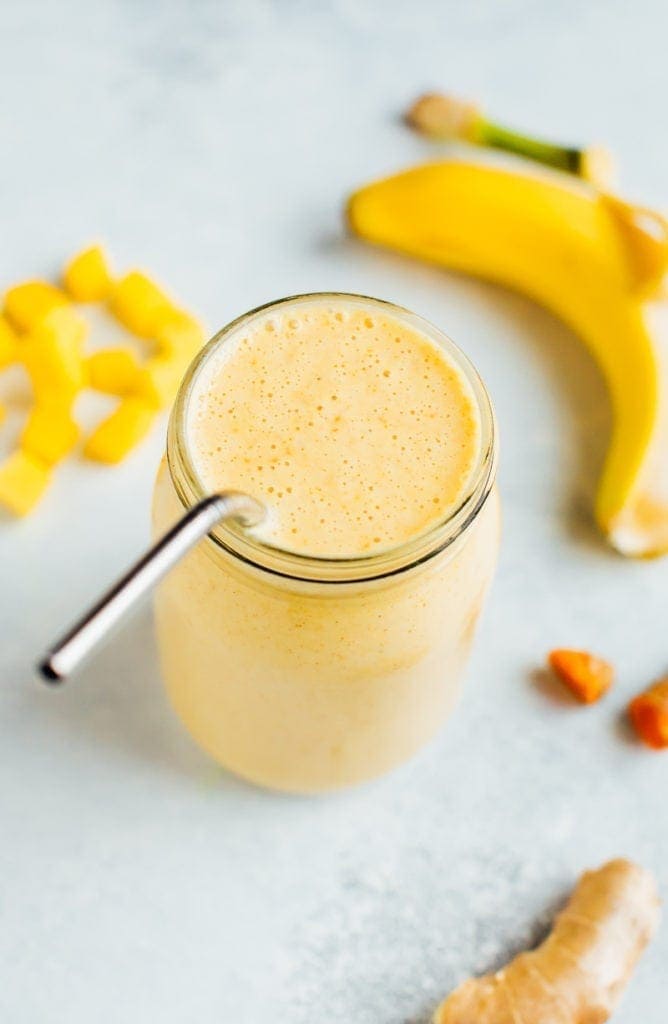 Can Smoothies Replace a Meal?
If it's a well-balanced smoothie with a good amount of protein, fiber and healthy fats you can absolutely use it as a meal replacement. I aim for around 400-500 calories and at least 12-15 grams of protein if I'm having a smoothie as a meal. See my protein shake recipes to get some ideas.
I like to enjoy a smoothie for breakfast or a snack, but it usually isn't filling or satisfying enough for me for lunch or dinner. This strawberry banana smoothie is a great snack option because it's less than 200 calories and has 7 grams of protein!
I've also found that sometimes a smoothie bowl is more filling for me. I like to top them with things to chew (like fresh fruit, nuts and/or granola) and eat the smoothie with a spoon. The process of eating with a spoon and having something to chew makes my brain register the smoothie as a meal and it feels more satisfying. New to smoothie bowls? Try this healthy smoothie bowl as a starter recipe and then try my acai bowl or dragon fruit smoothie bowl.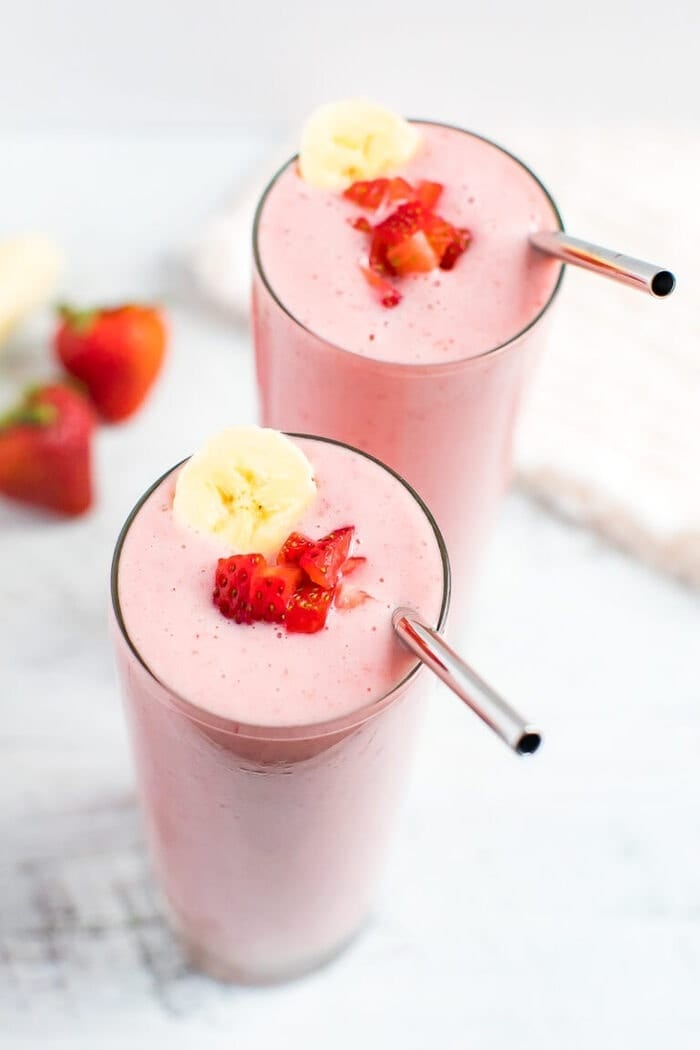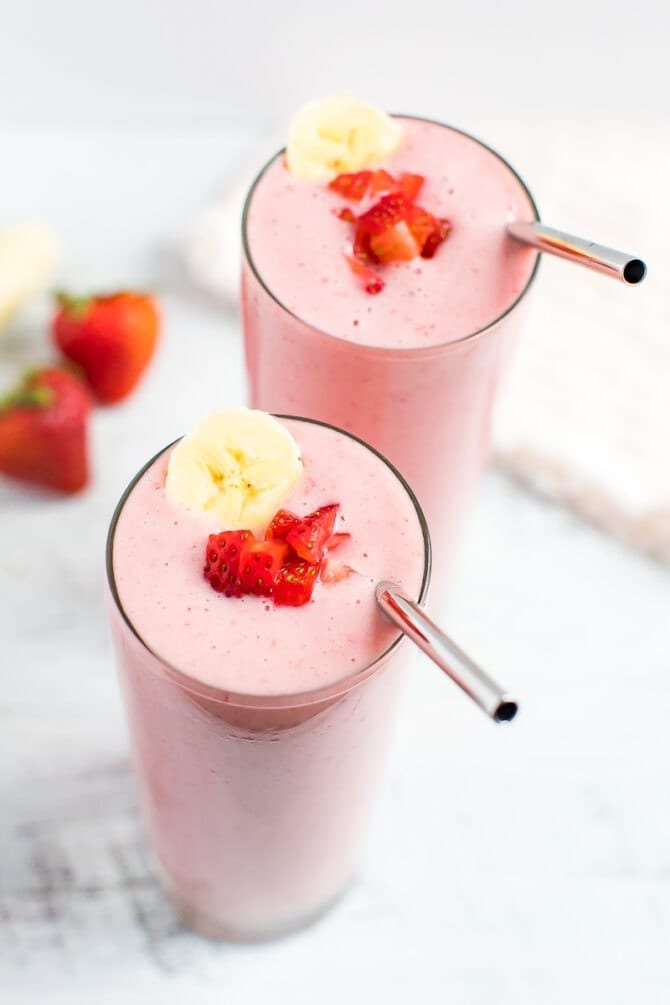 Do You Put Ice in Smoothies?
I don't put ice in my smoothies that often, but you absolutely can! Ice will make your smoothies thicker and extra cold, which is key if you're not using other frozen ingredients. I personally like to use frozen ingredients (like fruit or veggies) rather than ice but you can absolutely throw a few ice cubes in if you want. Just don't add too many or it will dilute the flavor of your smoothie.
If you really want to add ice, try making ice cubes using your favorite milk of choice (like oat milk, coconut milk, almond milk or soy milk) to make ice cubes and add them in.
Need some smoothie recipe inspiration? Try one of these popular smoothie recipes:
Green Smoothies
Fruit Smoothies
Fun Flavored Smoothies
More Collections You Might Enjoy
Be sure to check out all of the EBF smoothie recipes!