This grapefruit detox smoothie is loaded with nutrients to help diminish bloating, boost your metabolism and get you feeling your best! The perfect way to reset after indulging in too many cocktails, traveling and/or celebrating. Recipe made in partnership with Winter Sweetz Grapefruit. 
Hi!!! Since my birthday fell on a Tuesday this year we've basically been celebrating for a week straight and it's been SO fun!
Last Saturday we went out for Mexican at Lalo's Cocina with friends and then headed to The Veil Brewing Co. for drinks and dancing. There were margaritas and tequila shots involved and the night ended with me and Alyssa eating a lobster roll 'lady and the tramp' style. Good times.
We usually skip dining out on Valentine's Day so on Tuesday night (my actual birthday) we made a Terra's Kitchen meal at home. It was delicious, per the usual. Thursday evening Isaac took me out to dinner at L'opossum, which was AMAZING and might be my new favorite restaurant in Richmond.
Last but not least, Sunday night we attended Richmond Magazine's Elbys award ceremony on Sunday night and stayed the night at The Jefferson. The hotel stay was an unexpected birthday surprise from Isaac and ended up being so lovely. It was really cool getting to feel like a visitor in our own city and experience one of Richmond's finest hotels.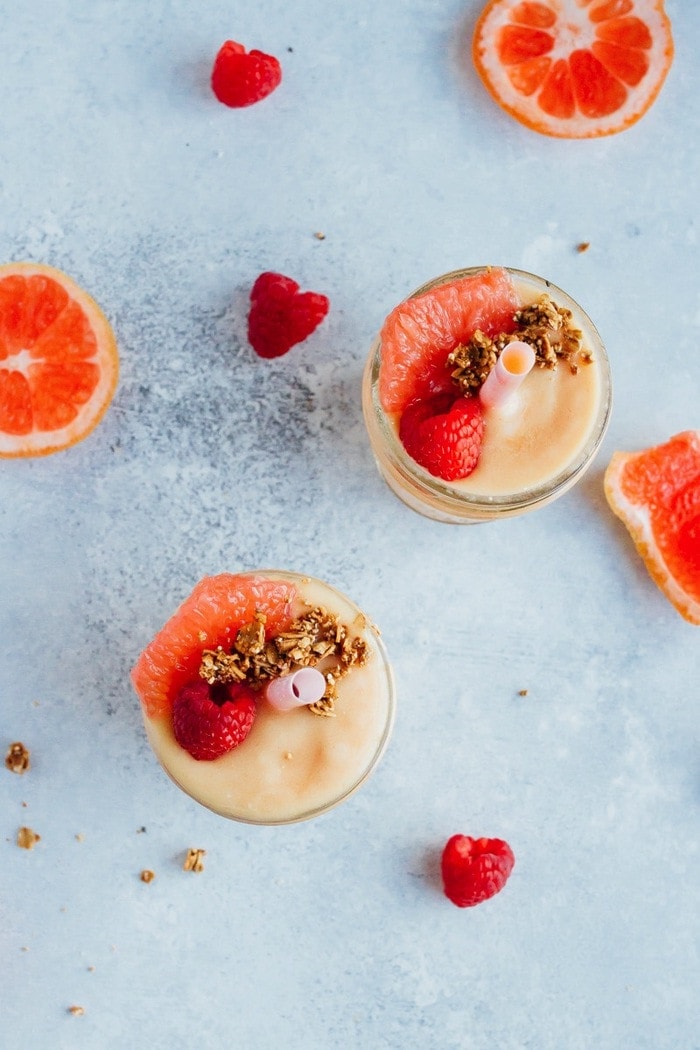 All this said, we've been eating out a lot and indulging in more alcohol than normal. I don't regret a single bite or sip, but I can tell that my body is bloated and in need of a little break. That's where this smoothie recipe comes into play! It's the perfect elixir for resetting.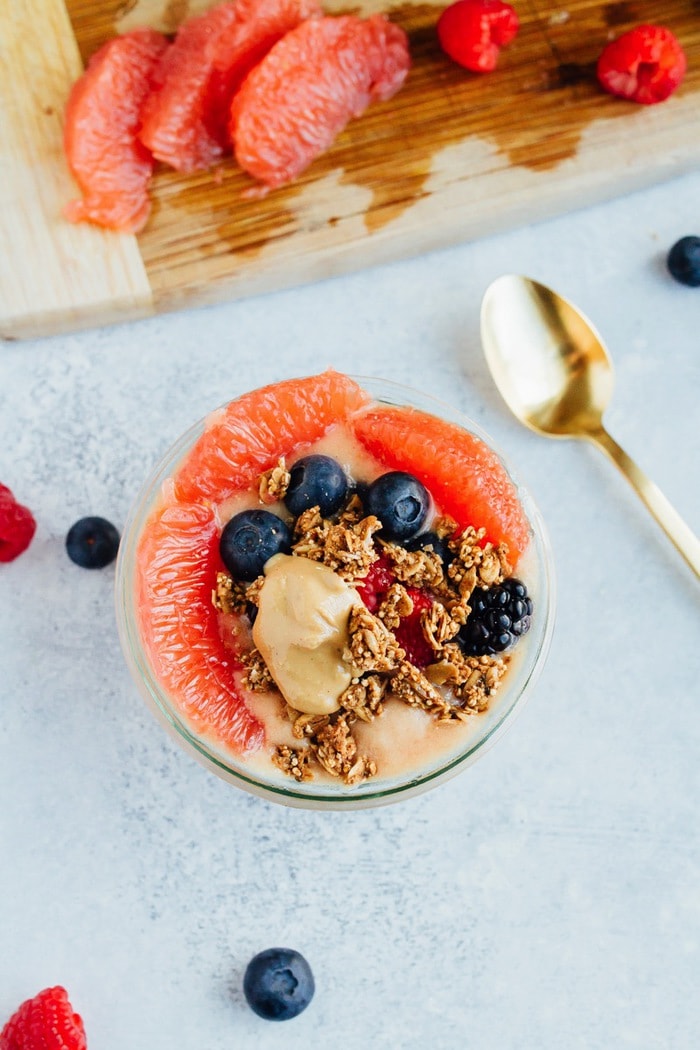 Let's talk about the main ingredients and why I choose them for this grapefruit detox smoothie:
1) Grapefruit is loaded with vitamin C and the antioxidant lycopene, which is shown to reduce inflammation and prevent cell damage. It's also a great source of fiber and has a high water content (which helps with hydration and satiety). Added bonus, grapefruit helps the body use insulin efficiently, which keeps blood sugar under control and boosts calorie burn.
2) Pineapple is packed with nutrients and an important enzyme called bromelain, which metabolizes protein, eases inflammation and decreases bloating. <— Yes please!
3) Plain Greek yogurt is an excellent source of calcium, potassium, zinc and B vitamins. It also has protein (to help with satiety) and probiotic cultures for good gut health.
4) Coconut oil for the medium chain fatty acids, which are easily digested, burned for energy and promote blood sugar stabilization.
5) Fresh ginger, which is amazing for treating nausea and has awesome anti-inflammatory effects.
I knew tossing together this combo of superfoods into a smoothie would be just what I needed to get back on track! Plus the smoothie is so delicious and easy.
The grapefruit brings a tangy sweetness, along with a beautiful pink hue. It's got frozen pineapple which adds a lovely sweet flavor while giving the smoothie a creamy, thick consistency. And last but not least, the fresh ginger gives this smoothie a pop of spice.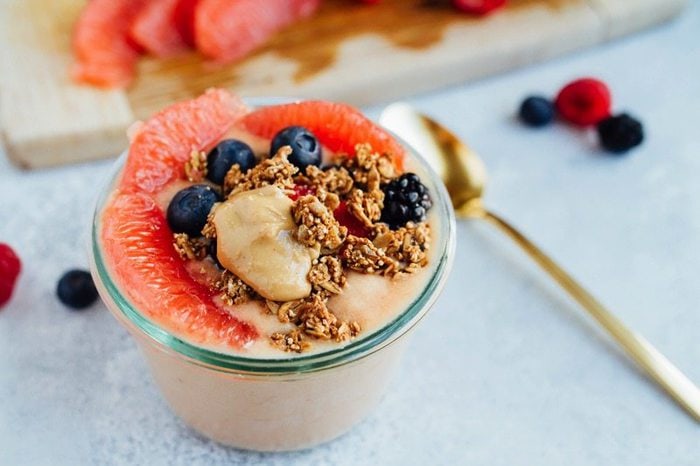 And OMG, can we please talk about the Winter Sweetz grapefruit I used to make this grapefruit detox smoothie!?! It's grown in Texas and quite possibly the sweetest, juiciest grapefruit I've ever had. Now I see why February is National Grapefruit Month… grapefruit is at its peak right now.
To celebrate the season, Winter Sweetz is hosting an A-to-Zing sweepstakes with the chance to win a free shipment of grapefruit or a $500 amazon gift card. Register to win here.
A couple notes:
Use grapefruit segments! Segmenting the grapefruit removes the bitter pith and makes for a sweet and juicy smoothie without any bitter aftertaste. Segment the grapefruit over a bowl so you can catch all the fresh juice and include it in the smoothie as well! I even squeezed all the rind pieces over the bowl to get every last bit of juice.
You can serve the smoothie straight up in a glass or make smoothie bowls. I made sure the smoothie had a thick texture that would work well for smoothie bowls! I topped my bowls with granola, grapefruit segments, fresh berries and little almond butter and it was sooo good!
Print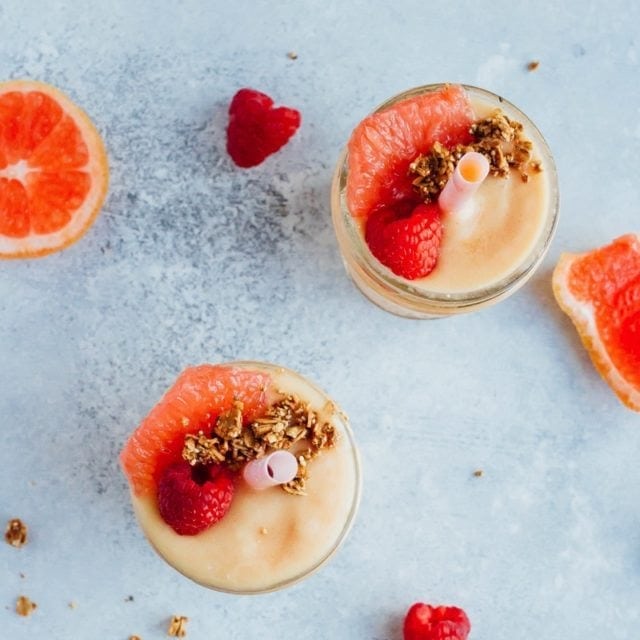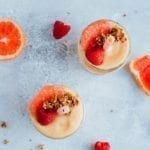 Grapefruit Detox Smoothie
---
Description
This grapefruit pineapple detox smoothie is loaded with nutrients to help diminish bloating, boost your metabolism and get you feeling your best!
---
Scale
Ingredients
1

Winter Sweetz red grapefruit

2 cup

s frozen pineapple chunks

1/3 cup

Greek yogurt

1 Tablespoon

coconut oil

1/4

inch knob of fresh ginger
grapefruit segments, berries and granola (for topping)
---
Instructions
Segment grapefruit over a bowl so you can collect all the juice. Set 2-3 segments aside for topping. Add grapefruit segments, grapefruit juice, frozen pineapple, Greek yogurt, coconut oil and fresh ginger into a high-powered blender and blend until smooth. Taste and adjust ingredients based on your preference. If smoothie is too thick you can add a little non-dairy milk.
Pour into two glasses and enjoy. Or serve in a bowl with your favorite toppings — grapefruit segments, granola, berries, etc.
---
---
Nutrition
Serving Size:

1 smoothie

Calories:

234

Sugar:

28g

Fat:

7g

Carbohydrates:

37g

Fiber:

3g

Protein:

4g