Chunks of chicken are marinated in a light apple cider vinaigrette, threaded onto sturdy rosemary sprigs and grilled to perfection. This recipe makes for healthy and flavorful chicken, as well as, a stunning presentation that's sure to impress friends and family. 
I absolutely love having a backyard garden but since we were busy moving during planting season we didn't have the time or energy to build raised beds and plant one at our new place this year. I was a little sad because I loved all the fresh produce we grew last summer, but our new yard does have an awesome produce related perk — a massive rosemary bush.
I've been really excited about having a surplus of fresh rosemary and have been using it in the kitchen a ton. I saw the idea to use rosemary sprigs as skewers somewhere (Pinterest maybe… I honestly can't remember) but I decided to try my hand at it.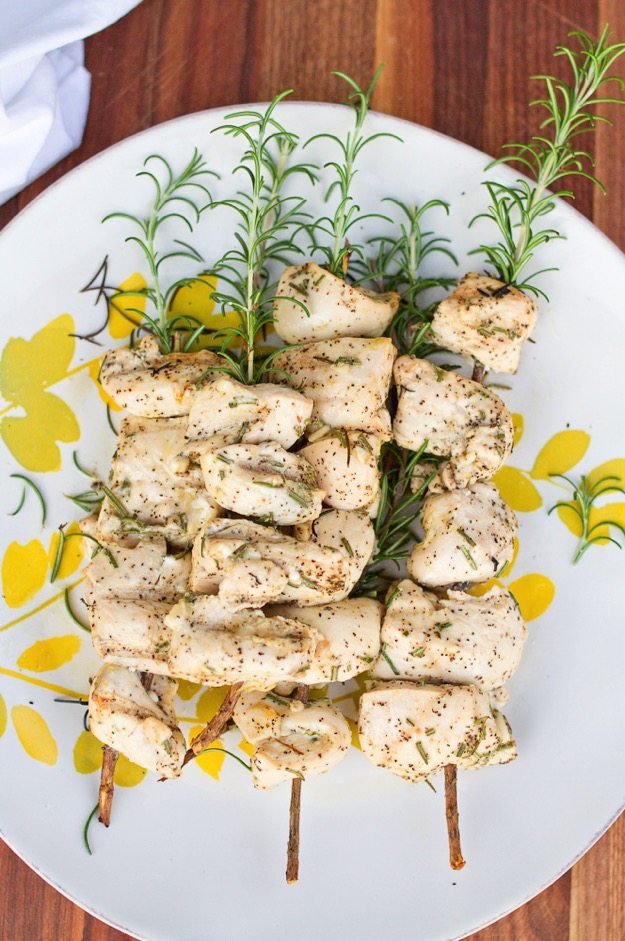 Such a pretty presentation, right? And holy smokes… the flavor! The chicken turned out to be so juicy and delicious. The rosemary skewers quickly became one of our favorite summer meals — we've already made them three times in the past few weeks.
Rosemary chicken skewers look fancy, but here's a little secret — they're really quite simple to make.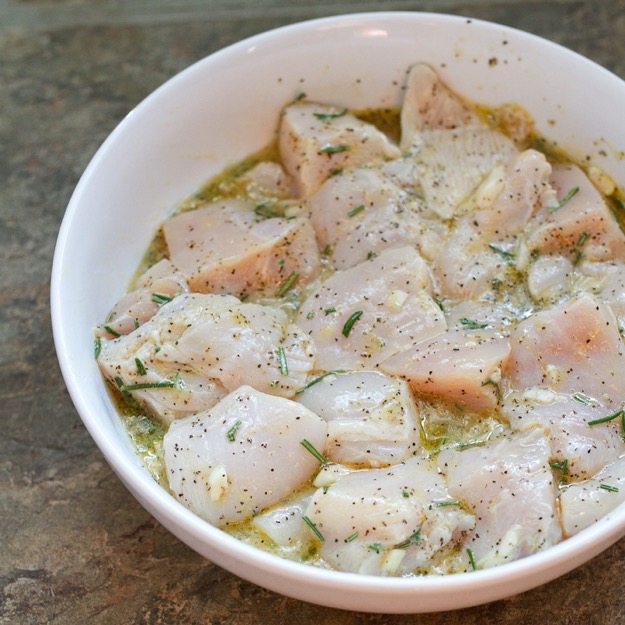 You start by marinating your chicken and soaking your rosemary sprigs. This takes about 30 minutes, but you can totally do other things while this is happening.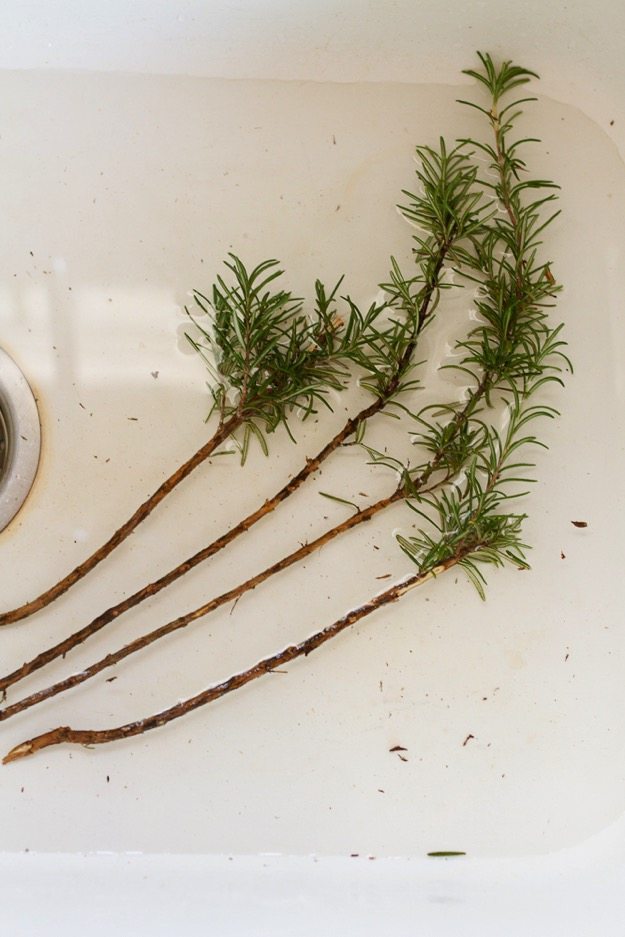 You definitely need thicker sprigs of rosemary or they'll be too flimsy to use as skewers. I've found that most rosemary found in stores has stalks that are too small and thin. If you don't have access to a rosemary bush you can use bamboo skewers. They'll work just fine.
Thread the chicken on the skewers, grill them until cooked through and serve!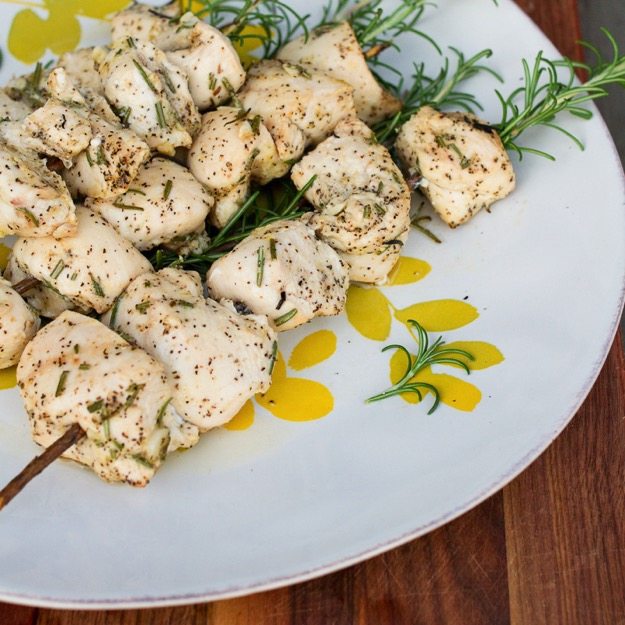 The rosemary marinade makes for flavorful, tender and juicy chicken and using rosemary sprigs as skewers makes for an impressive presentation.
Grilled Rosemary Chicken Skewers
4
adjust servings
Ingredients
1

lb boneless skinless chicken (thighs or breasts), chopped into chunks

1/4

cup apple cider vinegar

2

Tablespoons olive oil

1

Tablespoon minced garlic

1

Tablespoon minced fresh rosemary

1

teaspoon black pepper

1/2

teaspoon sea salt

4

large and sturdy rosemary sprigs + more for garnish
Instructions
Mix together apple cider vinegar, olive oil, garlic, rosemary, salt and pepper in a large bowl. Add chicken to the bowl, cover and marinate in the fridge for 30 minutes.
While chicken is marinating, prep the rosemary sprigs by stripping off most of the leaves, leaving a few inches at the top for garnish. Place skewers in water to soak for 10-20 minutes while chicken is marinating.
Preheat grill. Remove the chicken from the marinade and thread the pieces onto the rosemary skewers. Discard the marinade.
Oil the grill grate and grill the chicken over medium heat, turning occasionally until golden and cooked through, 10-15 minutes total. Don't worry if the heat from the grill causes the rosemary leaves to get a little charred. It happened to us! You can always remove the charred pieces and stick a fresh sprig at the top of each skewer as a garnish.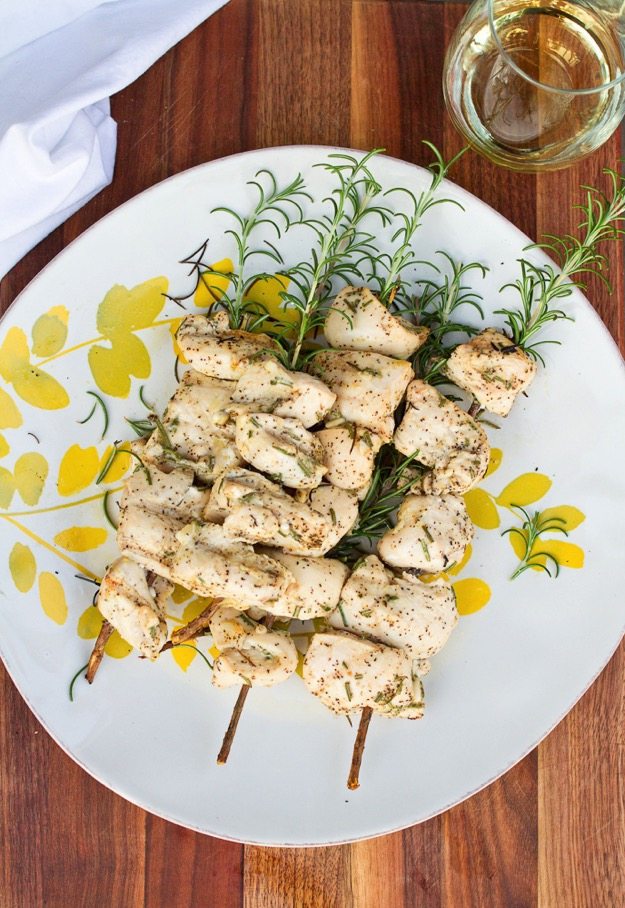 I kept things classy and served the skewers with wine. Somehow Chardonnay has become my wine of choice this summer and it goes great with chicken and seafood!
Now that we know how easy it is to use rosemary sprigs as skewers I'll definitely be using the same apple cider vinaigrette to make veggie and shrimp rosemary skewers before summer is over.