Nutritious and easy to prepare, this colorful fruit salad combines ripe strawberries, blueberries, grapes, kiwi and pineapple chunks with a zesty lime and poppy seed dressing. It's a refreshing summertime dish perfect for brunch, picnics, parties and cookouts.
Going berry picking is such a quintessential summertime activity, but what happens when you get home and have numerous pounds of berries sitting in the kitchen waiting to be used? You find yourself eating them by the handful while frantically scanning Pinterest for new recipes to try before the berries get all wrinkly and start to mold. It happens fast, doesn't it?
Well, look no further because today I'm teaming up with some of my favorite food bloggers to bring you five healthy, paleo-friendly dessert recipes featuring fresh berries.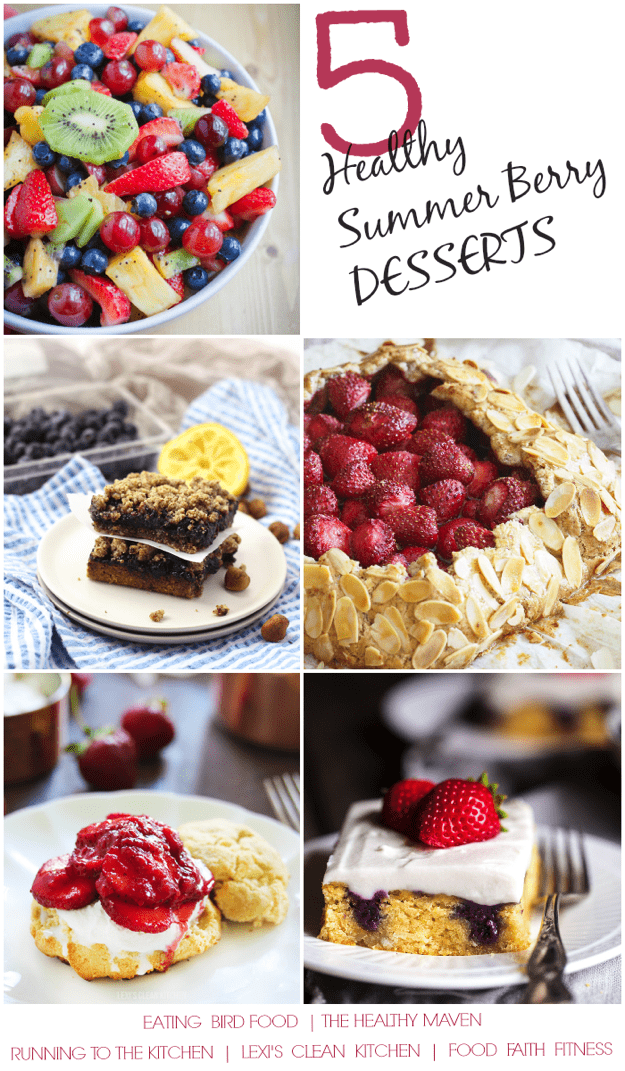 Go berry picking (or hit up your local farmers market) come home with a a bundle of ripe, juicy berries and whip up one of these delicious creations. Are you ready for the lineup?
Gina's Paleo Strawberry Almond Galette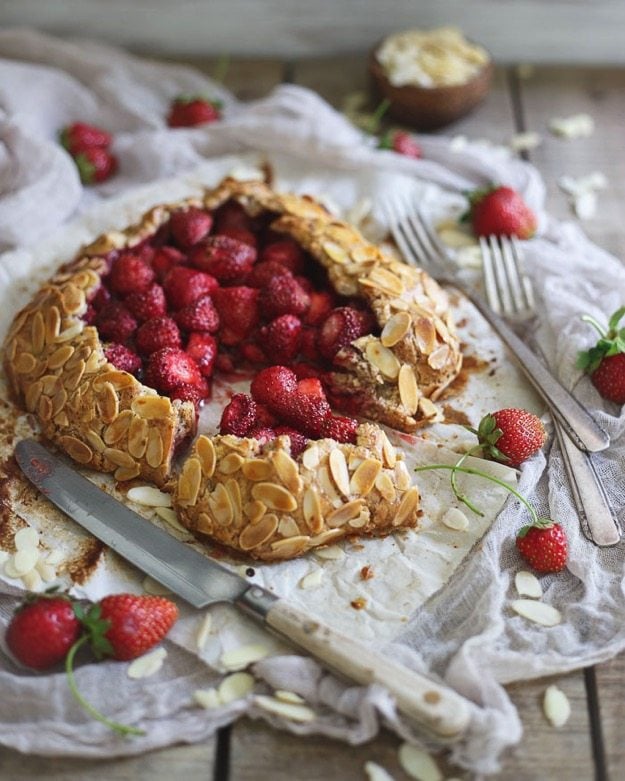 Simple and rustic, galettes are the perfect dessert when you're craving pie but don't want to put all the effort in. This paleo strawberry almond galette will satisfy any sweet tooth in a healthy way!
Lexi's Strawberry Shortcake with Easy Strawberry Sauce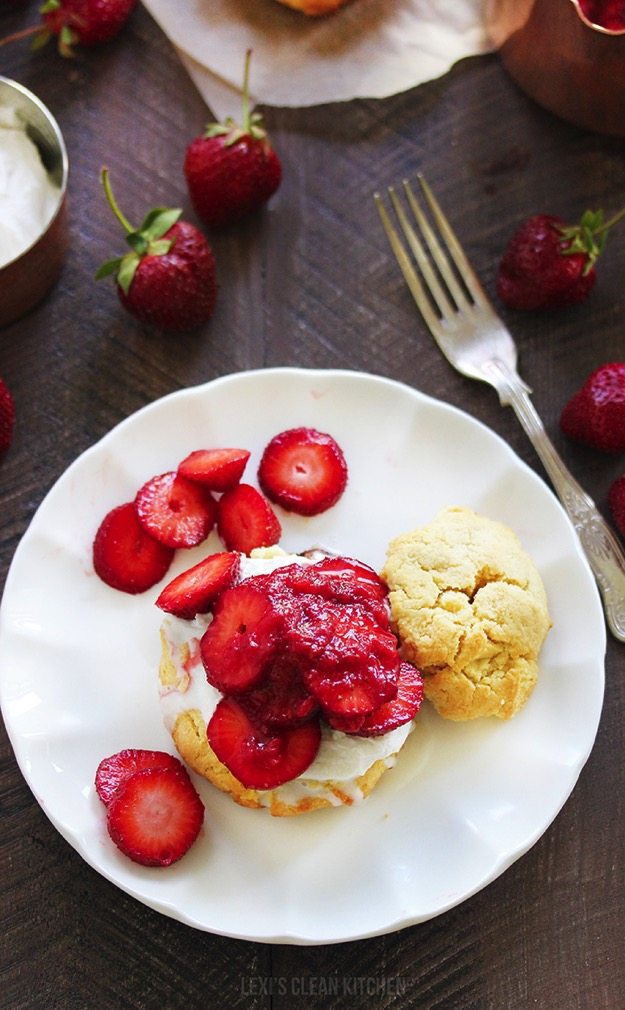 Combine the perfect biscuit with dairy-free whipped cream, fresh strawberries, and easy strawberry sauce for the ultimate classic summer dessert!
Davida's Blueberry Hazelnut Crumb Bars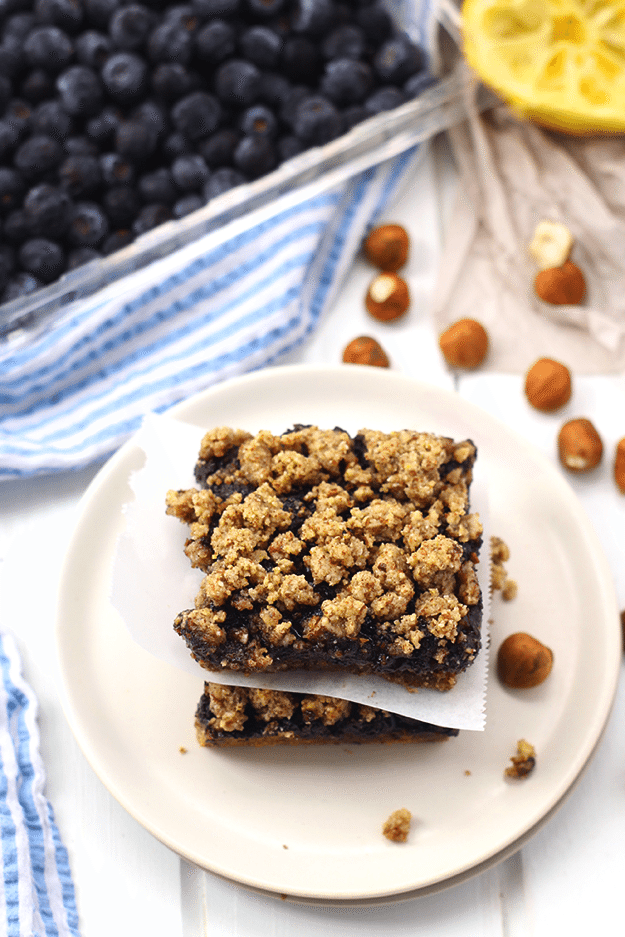 These paleo and vegan Blueberry Hazelnut Crumb Bars are made with wild summer blueberries, sweetened with a touch of maple syrup on a hazelnut crust and crumble. They will fill your sweet tooth all summer long!
Taylor's Red, White and Blueberry Paleo Poke Cake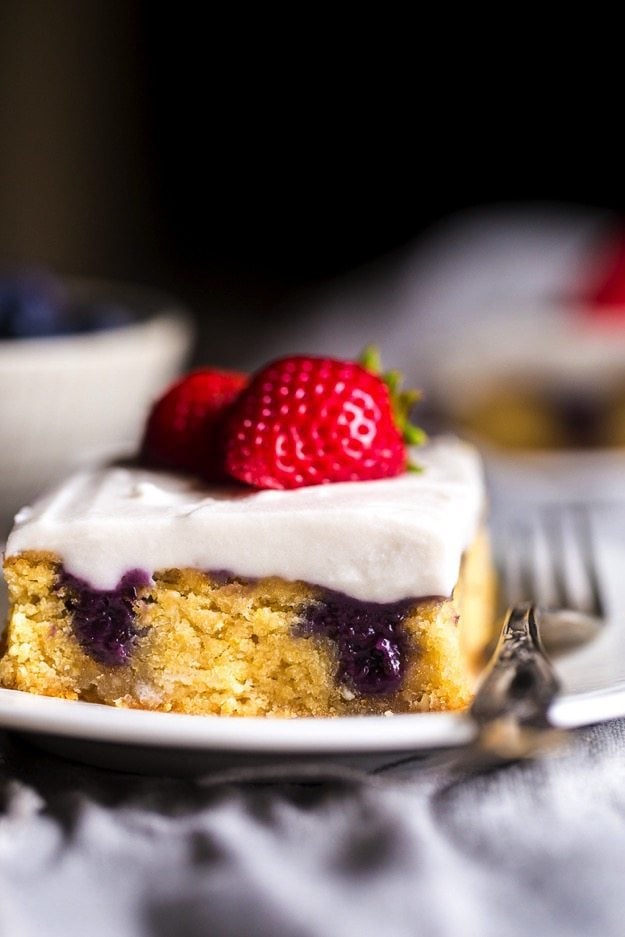 This paleo poke cake has sweet pockets of homemade blueberry filling and is topped with whipped coconut cream and fresh strawberries for an easy, healthier dessert!  Perfect for the Fourth of July!
Last up — my mixed berry fruit salad.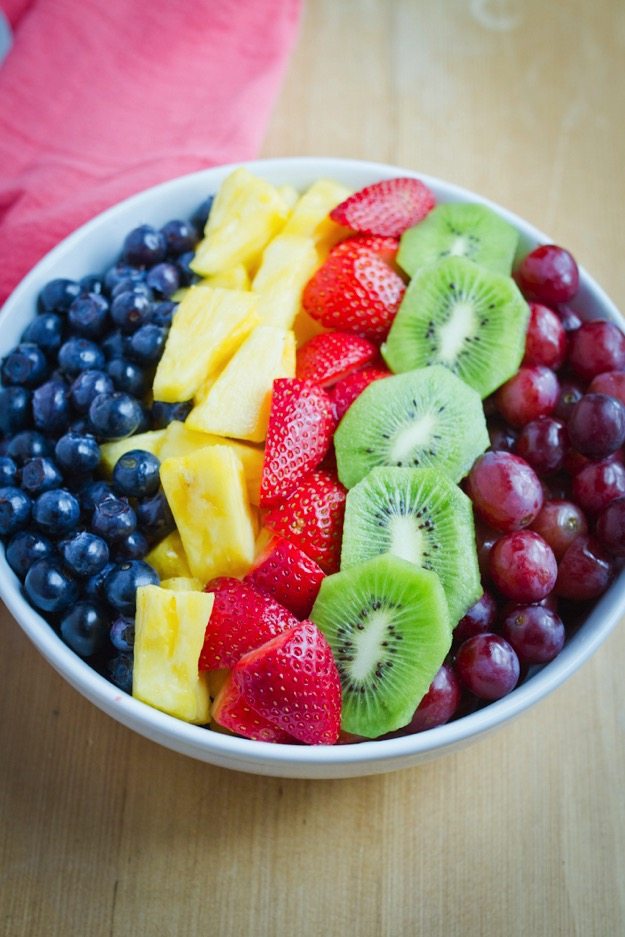 I feel a little embarrassed posting a fruit salad alongside all the creative desserts above, but sometimes a big bowl of nature's goodness is all you need. Fruit salad is quite simple and takes only minutes to prepare but it's a delicious (and healthy) way to end a summer meal.
Plus, you have to admit the rainbow of colors is quite beautiful.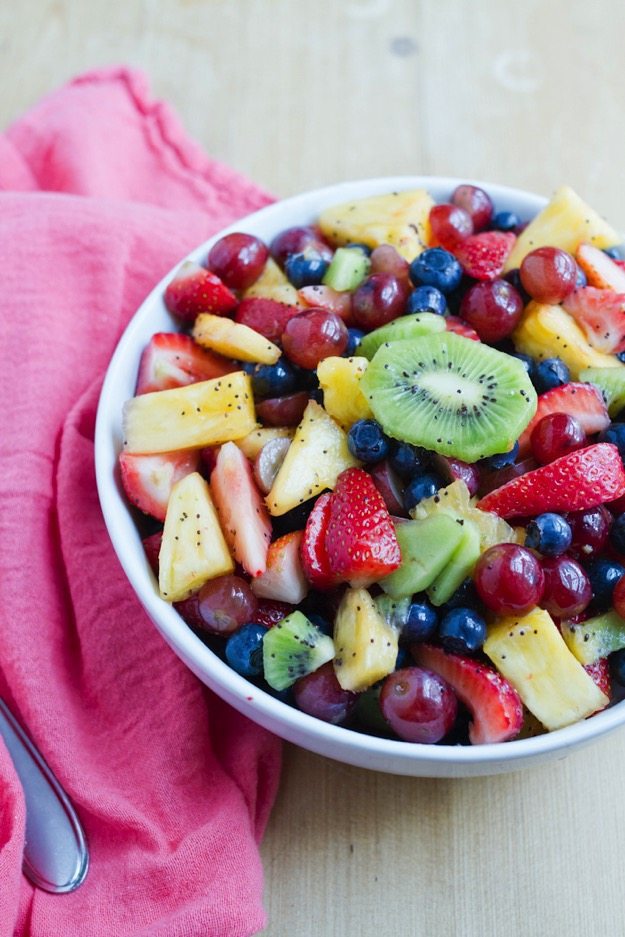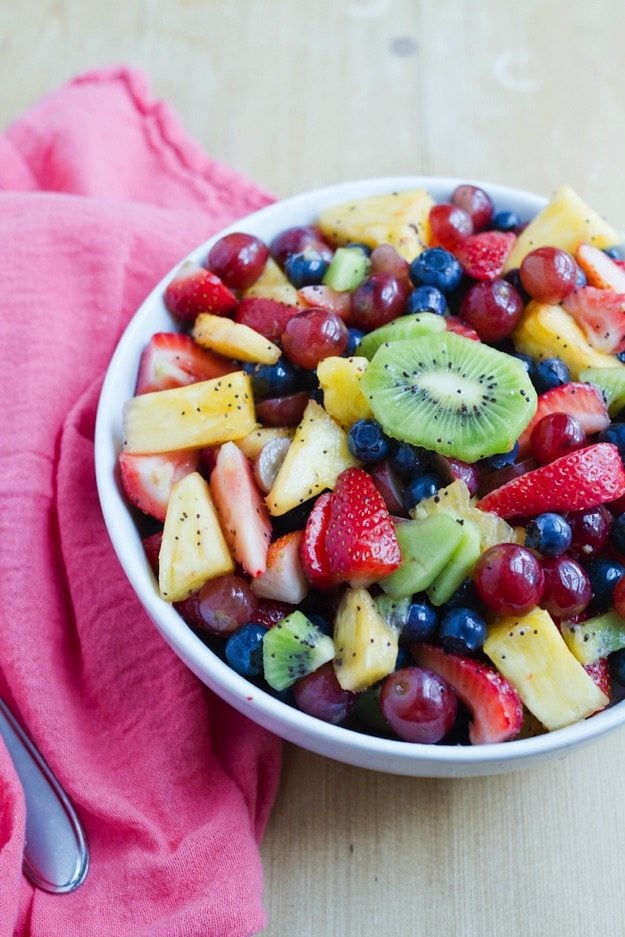 Completely unadulterated fresh fruit salad would typically be my go-to, but the maple sweetened lime poppy seed dressing lime used here enhances the flavor of the fruit, without being over-the-top sweet. It also makes the salad feel fancy enough to serve guests for a potluck, picnic, or party.
I actually took it to my nephew's 3rd birthday party a few weeks ago and it was a big hit with the adults and all the kiddos. Definitely a crowd pleaser!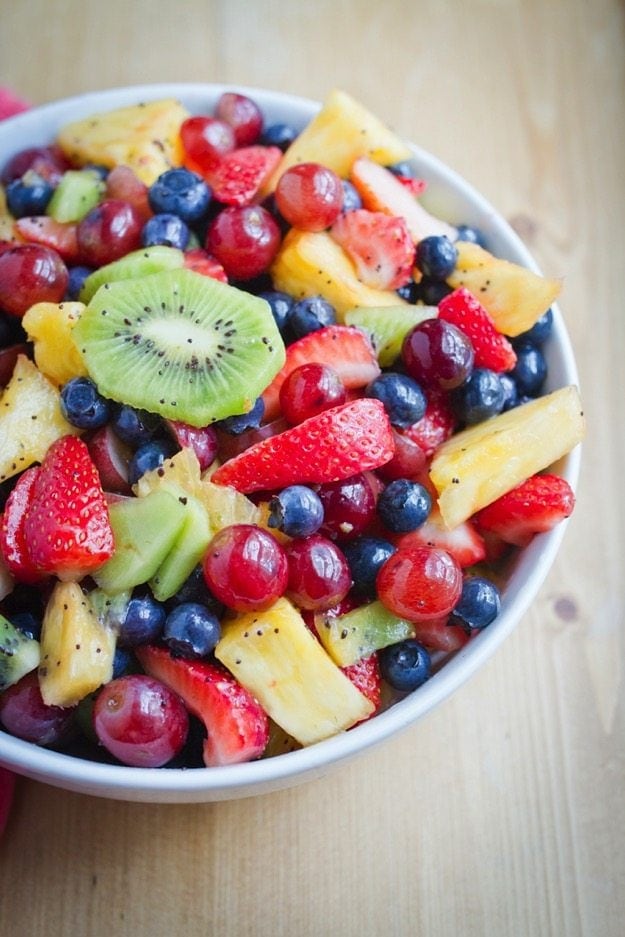 4
adjust servings
Ingredients
1

lb. quartered strawberries

1

pint blueberries

2

cups fresh pineapple chunks

3

kiwi, peeled, halved and sliced

2

cups seedless grapes

2

tablespoons lime juice

1/4

teaspoon grated lime zest

1

tablespoon maple syrup

1/2

teaspoon poppy seeds
Instructions
In a large bowl toss together strawberries, blueberries, pineapple, kiwi and grapes. In a small bowl, whisk together lime juice, lime zest, maple syrup and poppy seeds. Drizzle lime dressing over fresh fruit mixture, toss and serve immediately.
What's your favorite way to use fresh berries?