All the best baked oatmeal recipes in one place, with a flavor for every season and occasion! These recipes are perfect for meal prep and so delicious… you'll want to try them all.
I can't believe I've been sharing one baked oatmeal recipe a month for over a year! I've had so much fun coming up with creative flavors and you love making them so it's a win, win!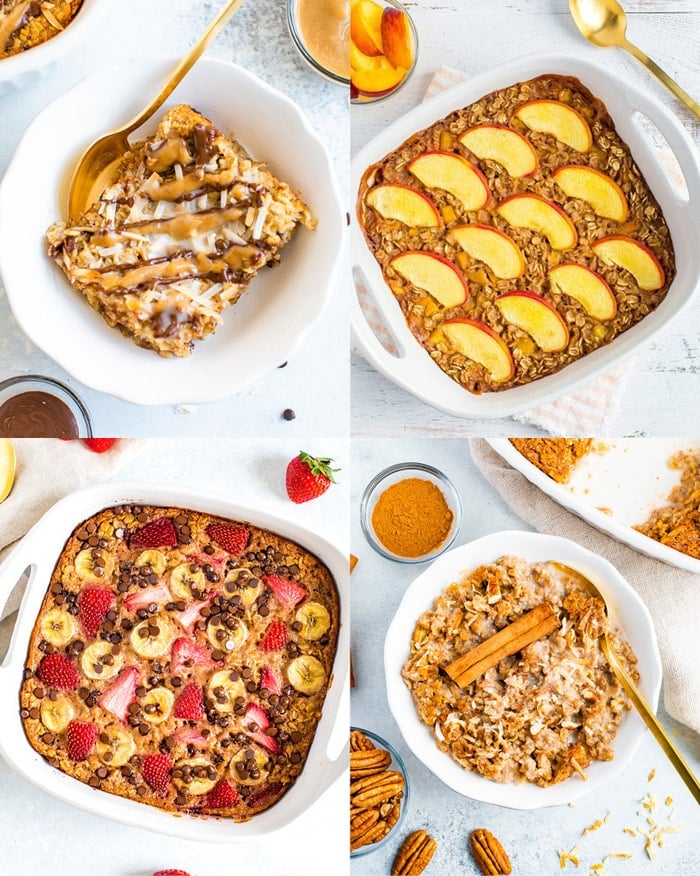 Why Baked Oatmeal?
I honestly LOVE all types of oatmeal (and I have a ton of oatmeal recipes here on EBF), but baked oatmeal is definitely one of my favorite ways to enjoy oatmeal. Here's why:
Topping the list is the fact that it's the perfect meal prep recipe, but also fancy enough for a brunch. I love making baked oatmeal on the weekend and enjoying it for breakfast all week long.
You only need one mixing bowl and one baking dish for these recipes. Minimal dishes? Score.
The flavor combinations are endless! As you can tell, I've shared 14 flavor combinations so far and I don't see myself slowing down anytime soon.
While many of the baked oatmeal recipes sound indulgent, all of the ingredients in my baked oatmeal recipes are wholesome, nutritious ingredients.
They can be allergen friendly. Sensitive to dairy? Use a dairy-free milk. Need to make vegan? Swap in a flaxseed egg in place of a traditional egg. Gluten-free? Check!
Baked Oatmeal Basics
While baked oatmeal recipes don't get much easier, there are some pro tips.
The perfect ratio – Customize your own baked oatmeal but make sure you keep the ratio of liquid to oats the same. For most recipes you'll use 1 part oats to 1 part liquid. I prefer to use unsweetened almond milk, oat milk or coconut milk but any milk works!
Make it vegan – All of my baked oatmeal recipes either call for an egg or a flaxseed egg to bind the dish together. To make a flaxseed egg, mix 1 Tablespoon of ground flaxseed with 3 Tablespoons water and let sit for 5 minutes until the mixture thickens a bit.
Just mix and bake – One of my favorite things about baked oatmeal is that you simply mix all of the ingredients in one bowl and then bake! Super simple and delicious.
Can you Prep Baked Oatmeal Ahead of Time?
One question I get asked often is if you can prep baked oatmeal ahead of time (the night before) and then bake it the next morning. I've tried it a couple times and it does work, but I don't recommend it because the oats absorb quite a bit of the liquid in the fridge overnight. If you want to prep baked oatmeal ahead of time, it's best to prep it and bake it at the same time. Once the oatmeal has cooled you can cover and place in the fridge and then reheat the whole thing before serving the next day. All this said, I think it would be fun to create an overnight baked oatmeal that can be prepped the night before, especially for holiday mornings so I'll work on this! 🙂
But, if you do want to have all the ingredients ready to go so there's less prep in the morning, here's what I recommend:
Mix together your dry ingredients in a bowl, cover and let sit out on the counter until morning.
Mix together all the wet ingredients in another bowl, cover and store in the fridge until morning.
In the morning, simply mix the wet and dry ingredients together, pour oatmeal mixture into your prepared baking dish and bake.
Baked Oatmeal Recipes to Try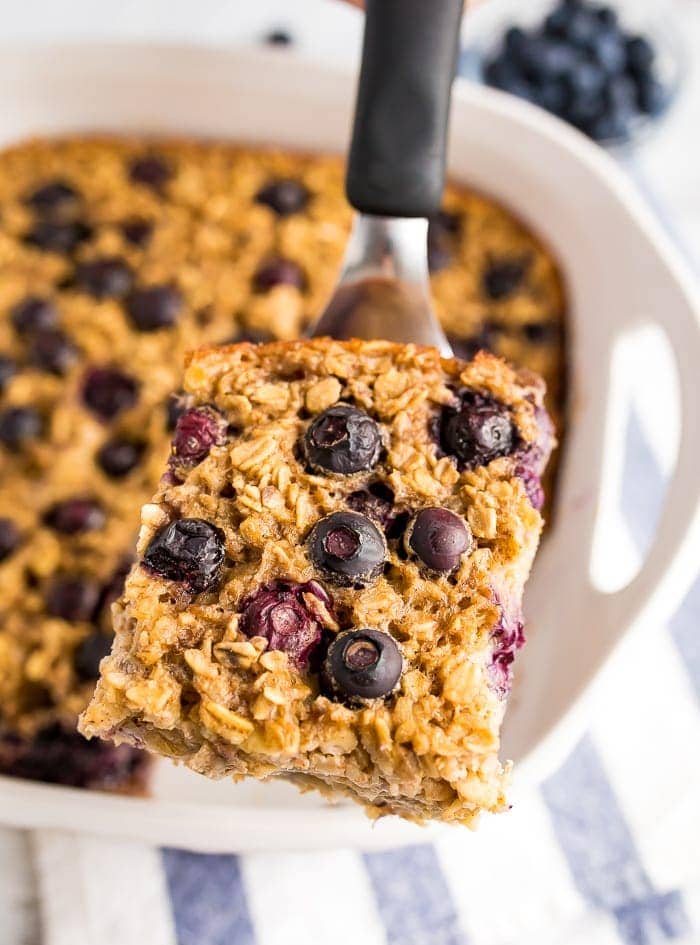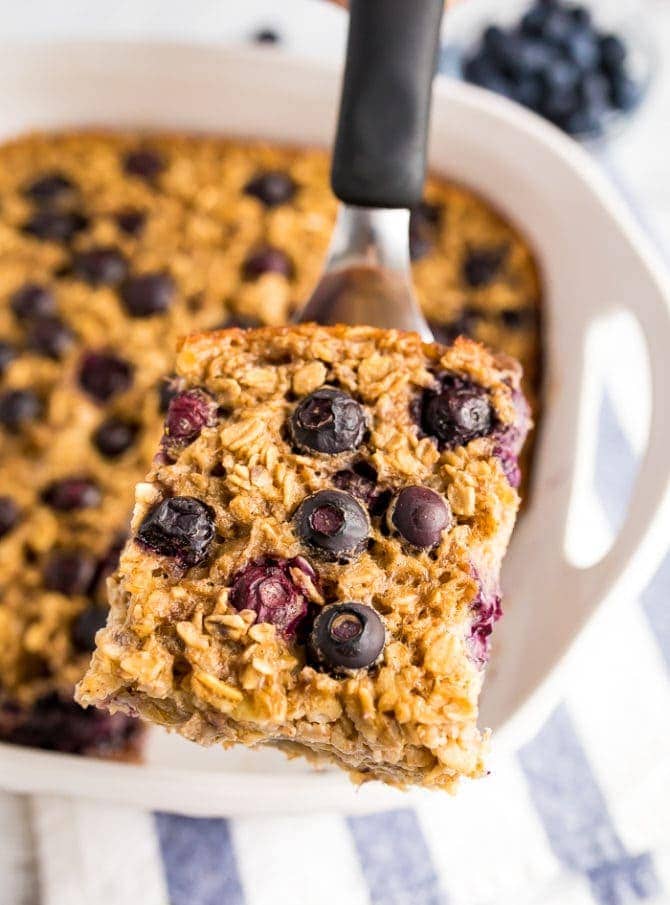 Baked Blueberry Oatmeal – This blueberry baked oatmeal is studded with blueberries and naturally sweetened with bananas and pure maple syrup. Can be made with fresh or frozen blueberries! Gluten-free and vegan-friendly.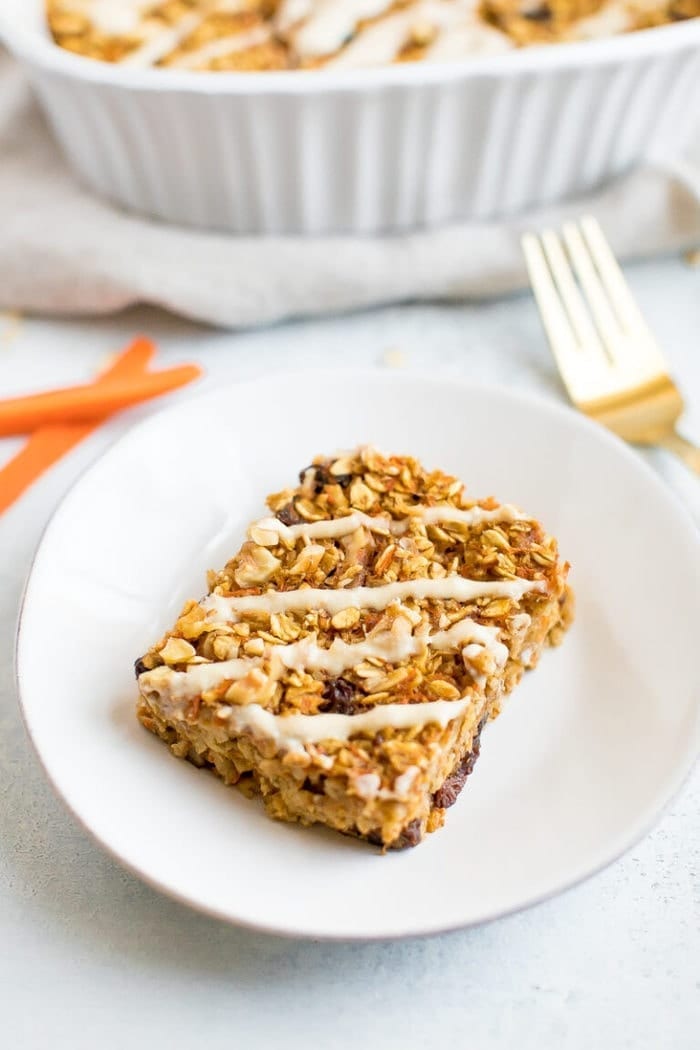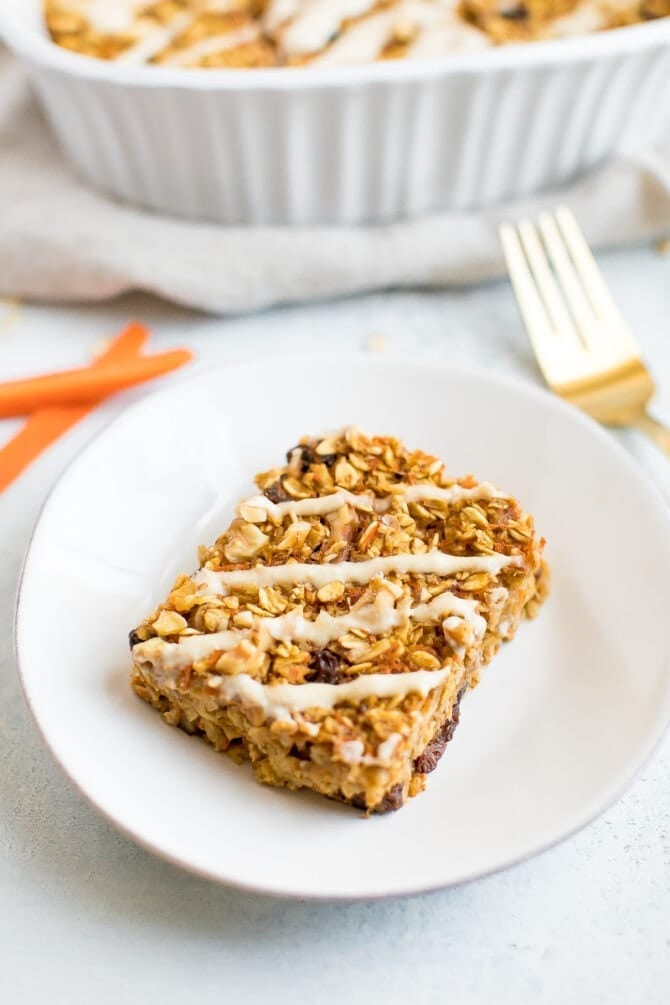 Carrot Cake Baked Oatmeal – This carrot cake baked oatmeal is fancy enough to serve for a special brunch but easy and healthy enough to make for your weekly meal prep. Gluten-free.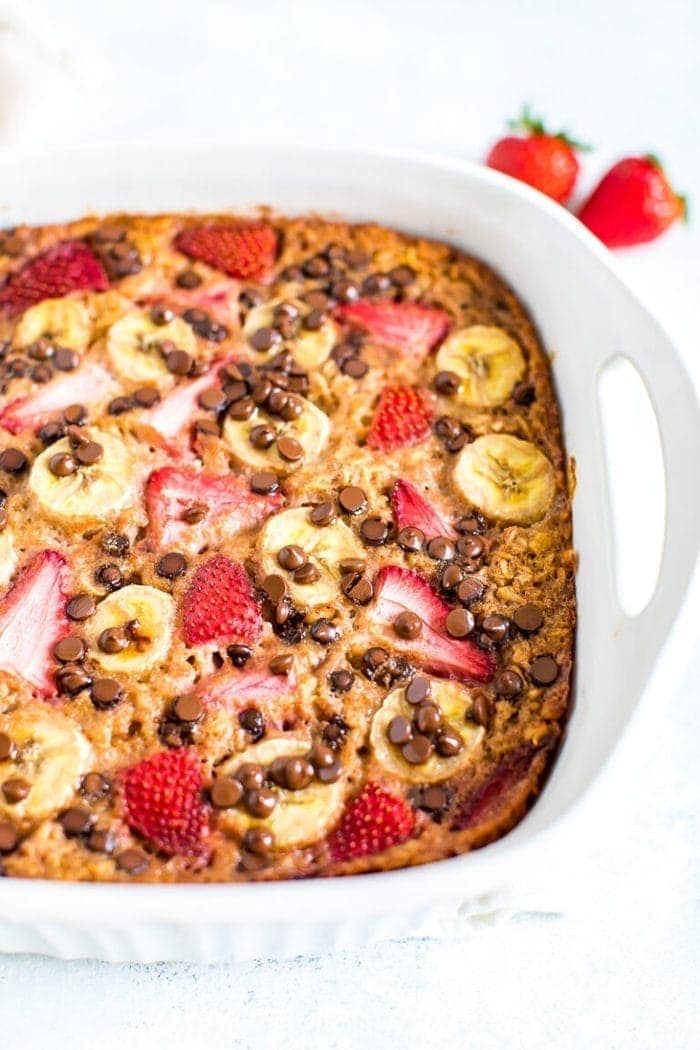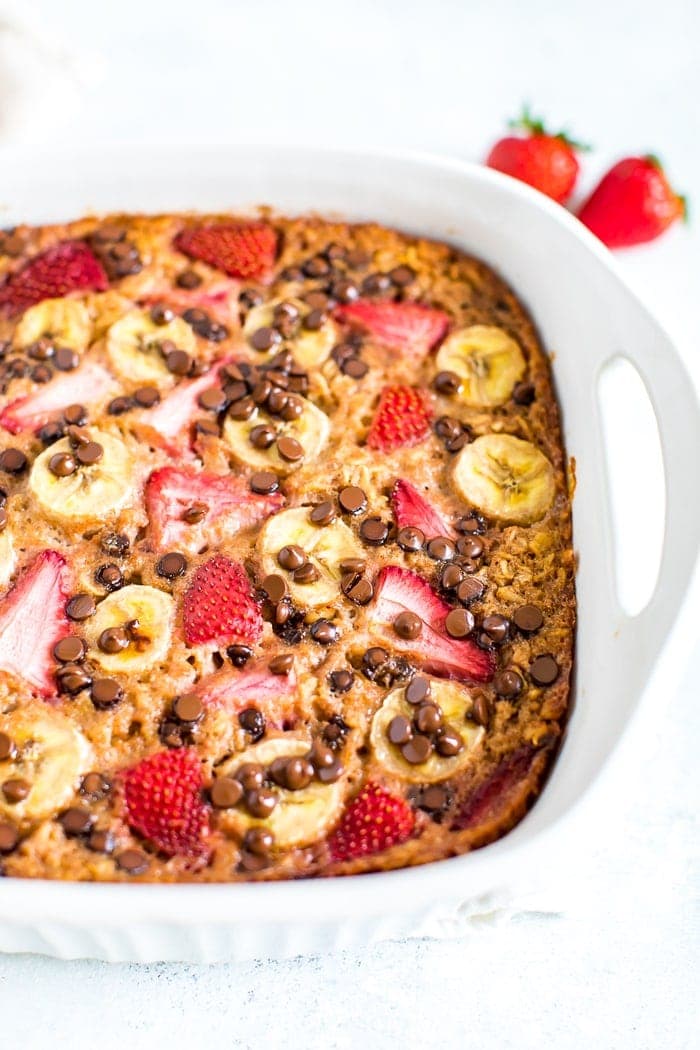 Easy Strawberry Banana Baked Oatmeal – This strawberry banana baked oatmeal recipe is the perfect make ahead breakfast. Strawberry, banana and chocolate… what could be better?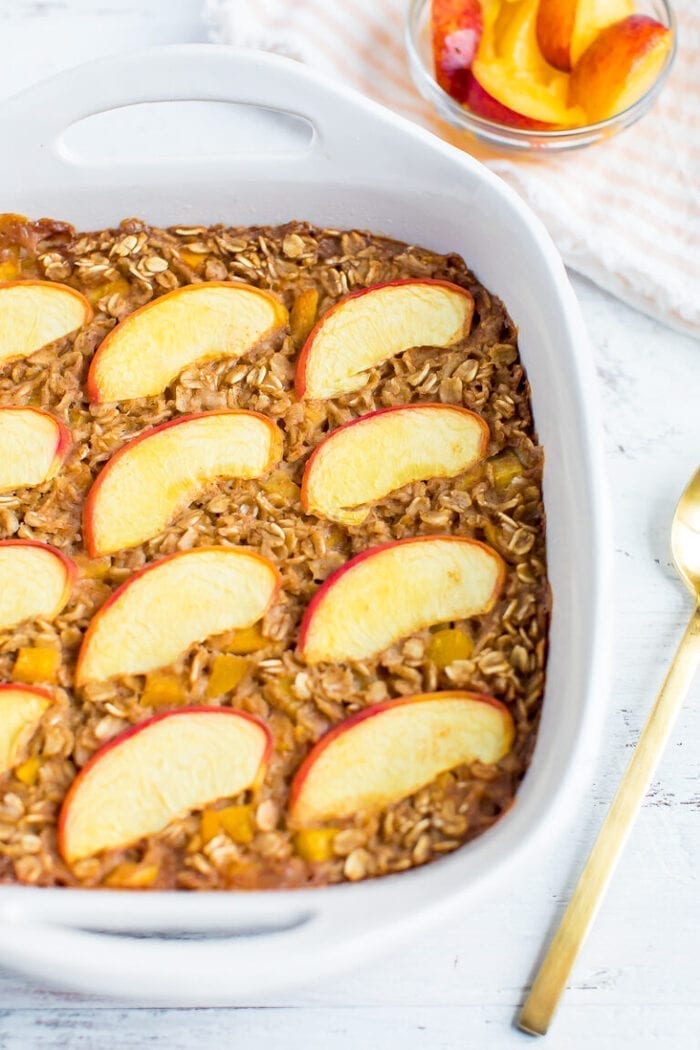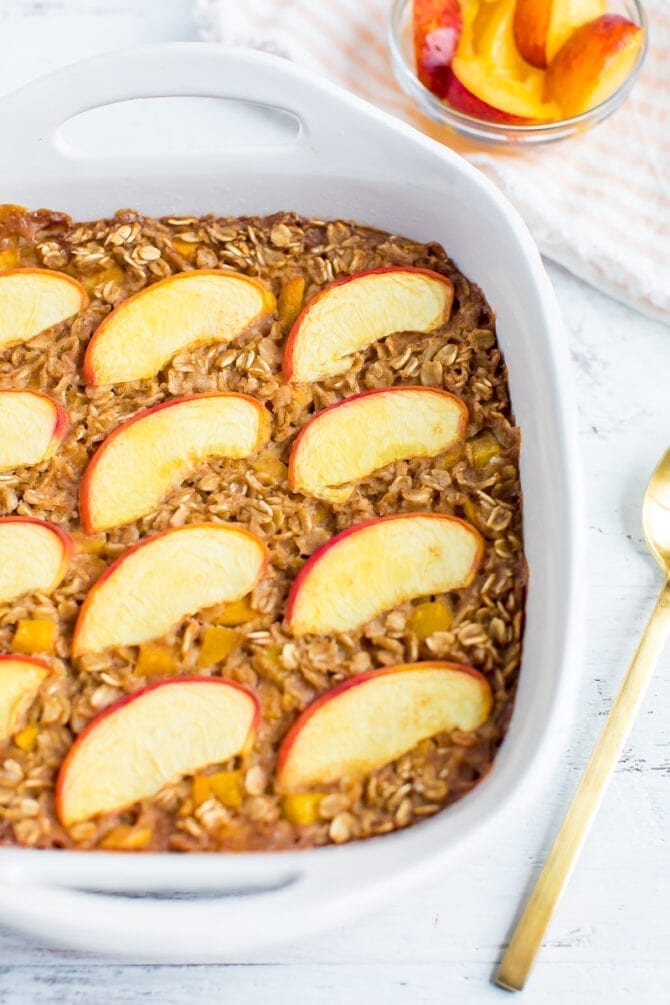 Peach Baked Oatmeal – A healthy baked oatmeal recipe using one of my favorite summer fruits: peaches! Make ahead for meal prep or a weekend brunch.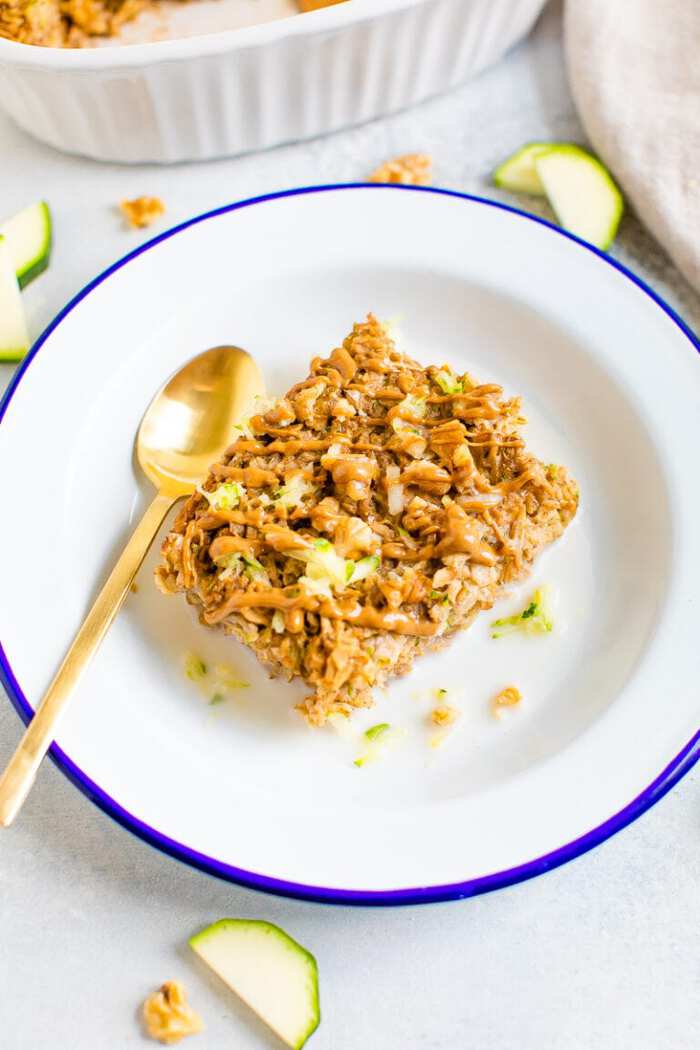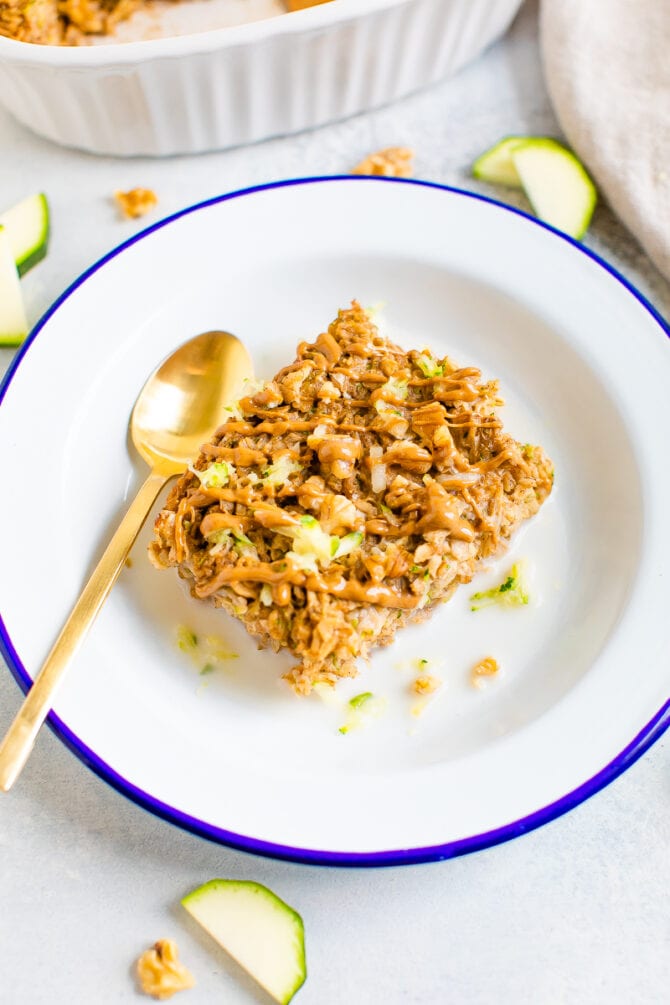 Zucchini Bread Baked Oatmeal – This baked oatmeal recipe makes it easy to sneak veggies into your morning. It's perfect for meal prep — just reheat and serve!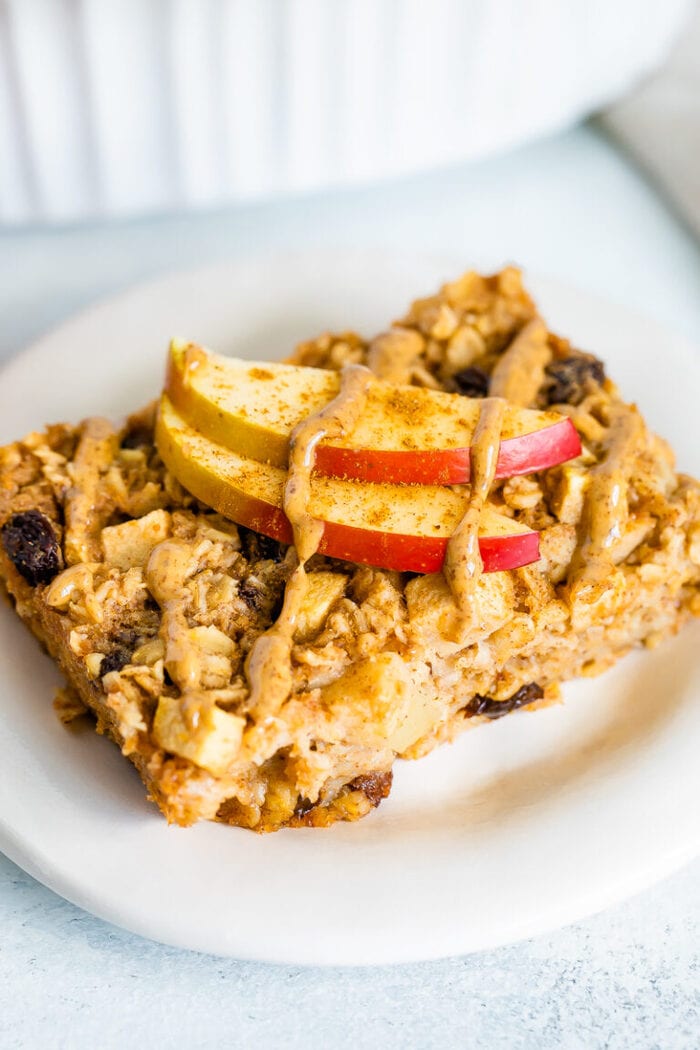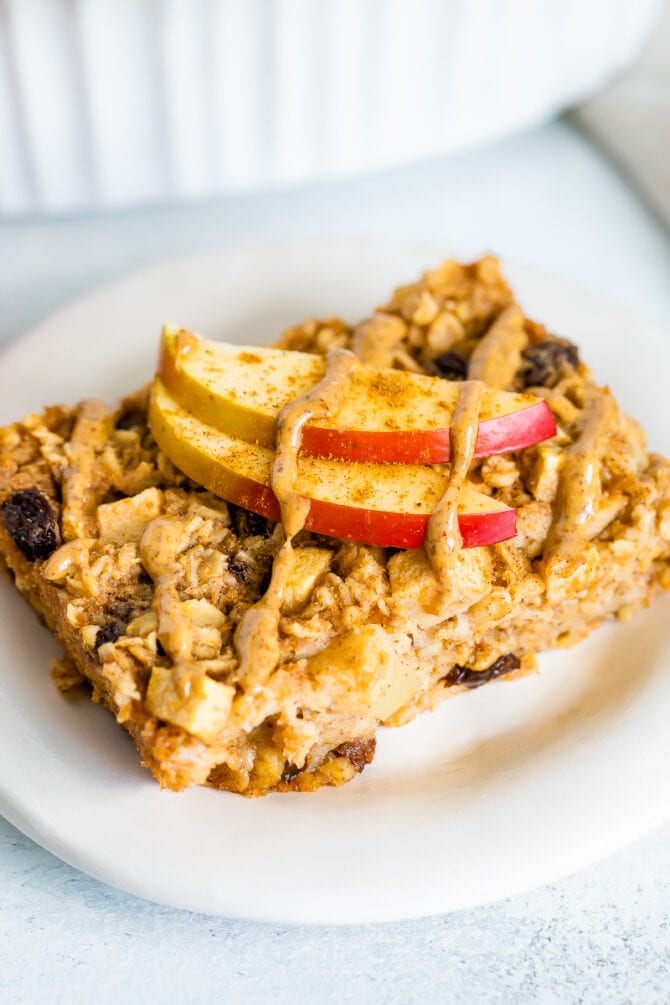 Apple Cinnamon Baked Oatmeal – Inspired by traditional Amish baked oatmeal and studded with apples, raisins and loads of cinnamon flavor. It's vegan, gluten-free and great for meal prep.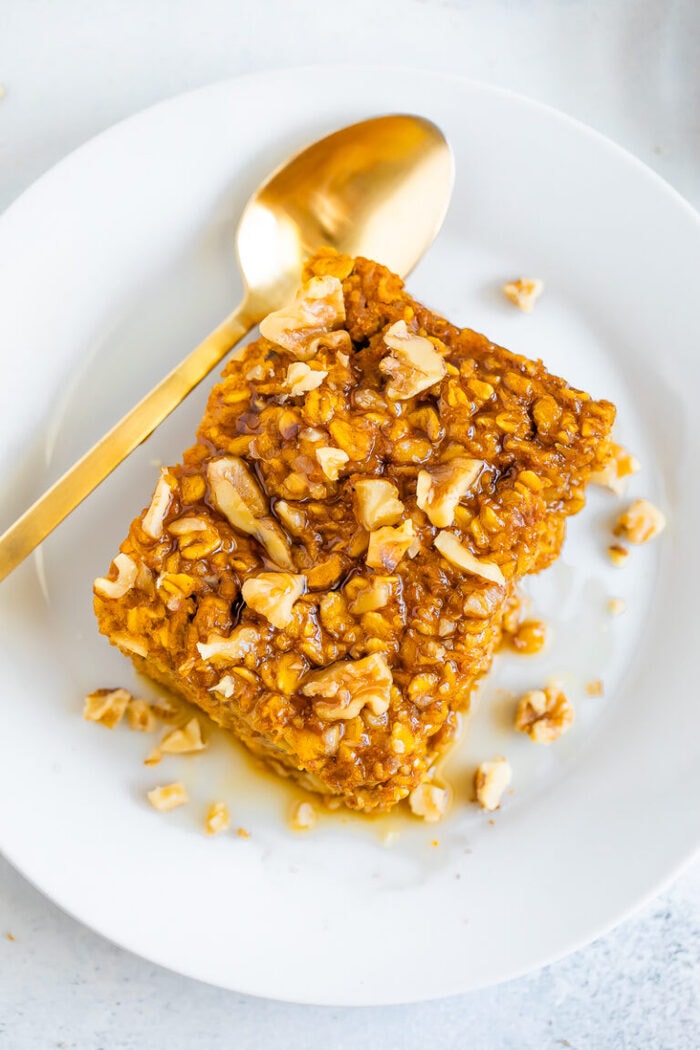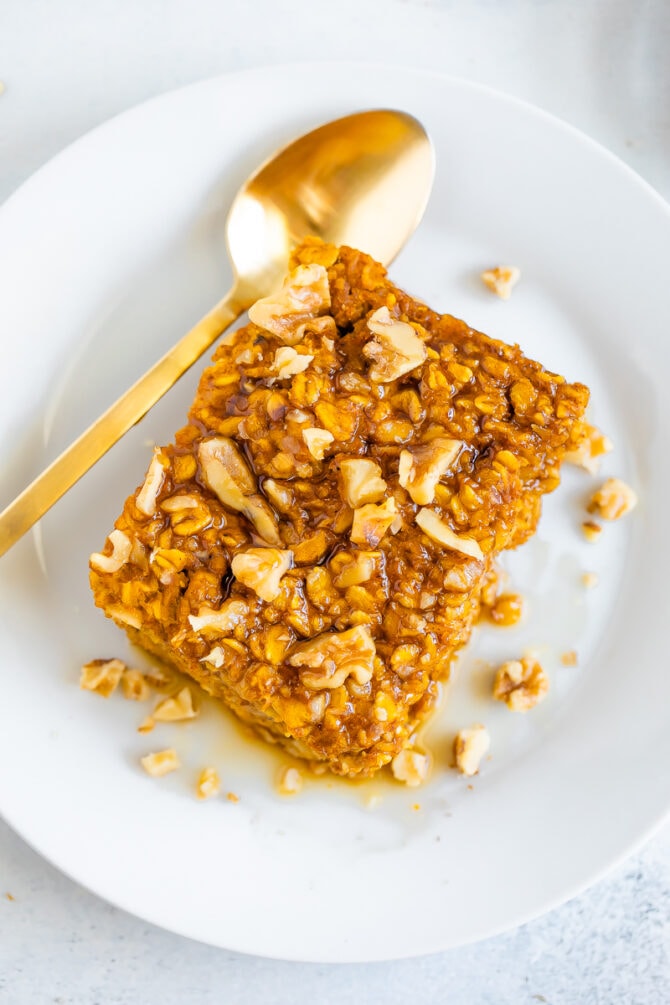 Pumpkin Baked Oatmeal – The best cozy fall breakfast, this pumpkin baked oatmeal is made with oats, pumpkin, maple syrup, pumpkin pie spice and cinnamon.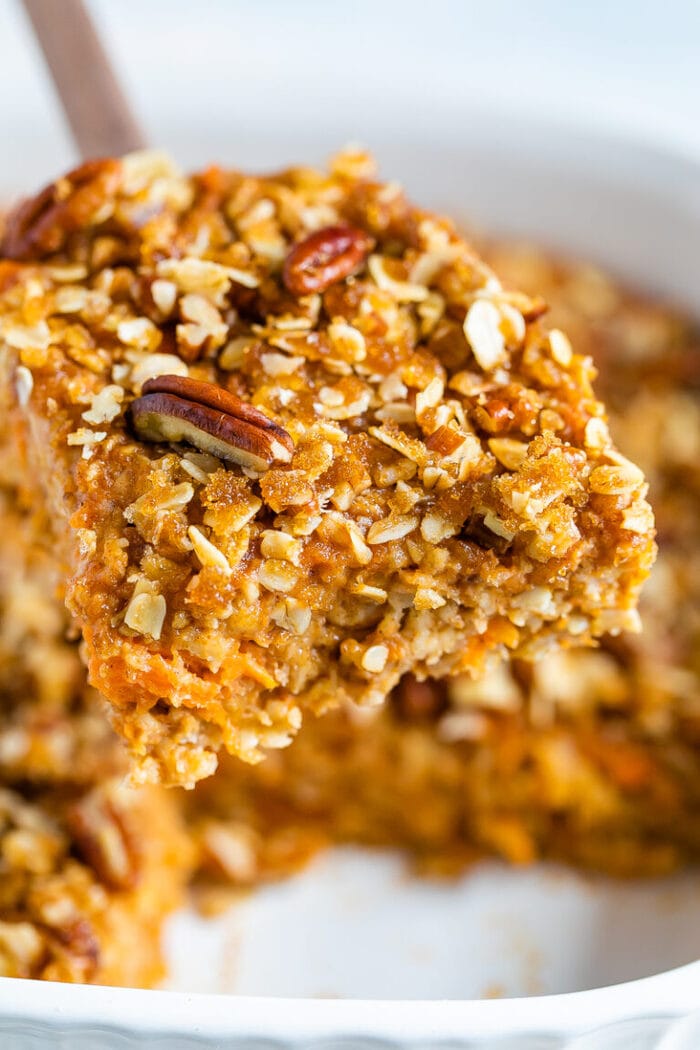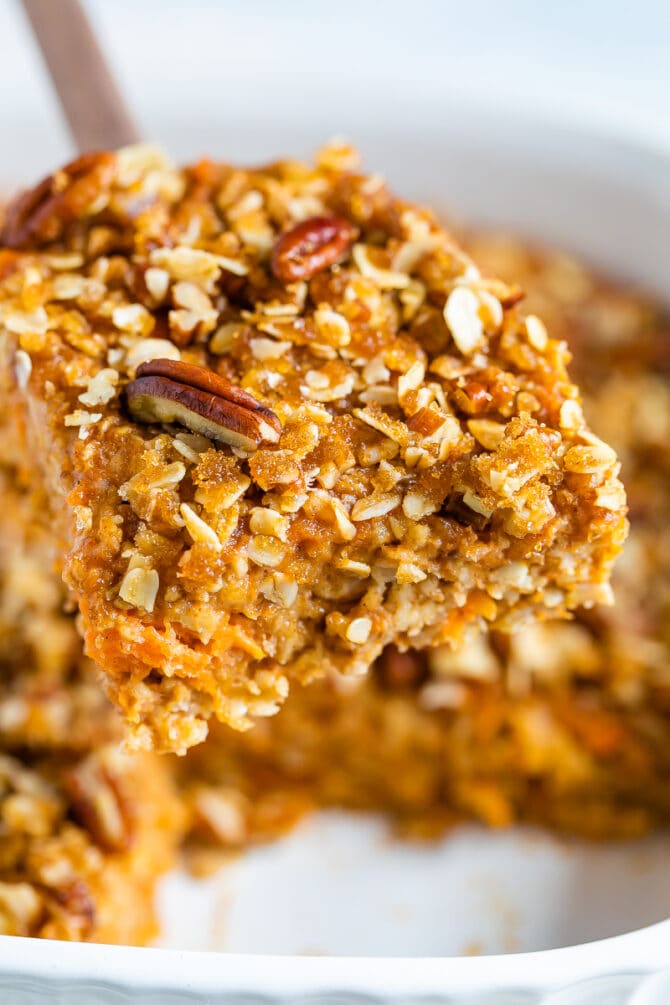 Sweet Potato Baked Oatmeal – Inspired by my favorite fall casserole, this sweet potato baked oatmeal is loaded with sweet potato goodness and topped with a crispy pecan topping.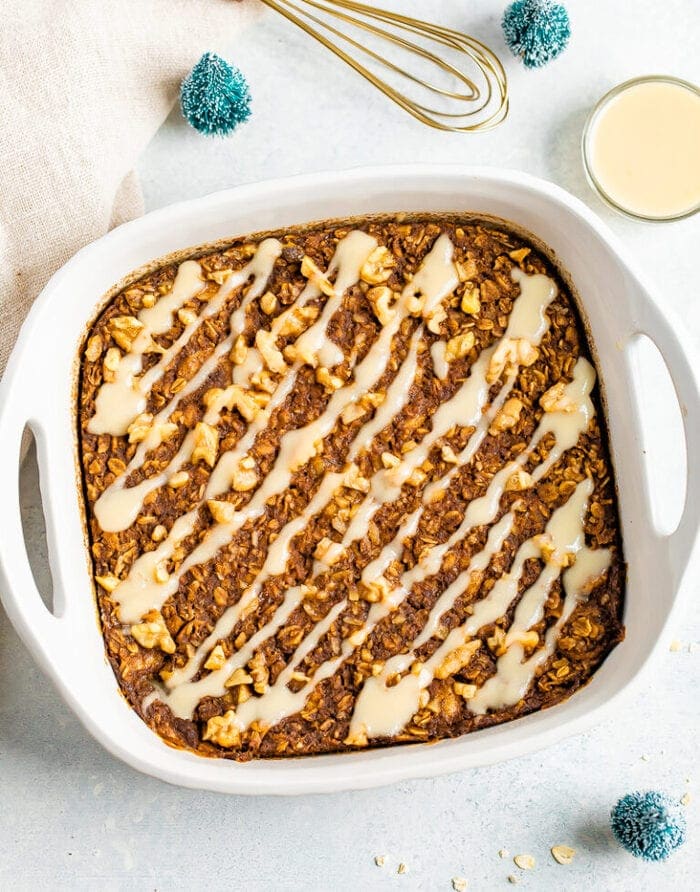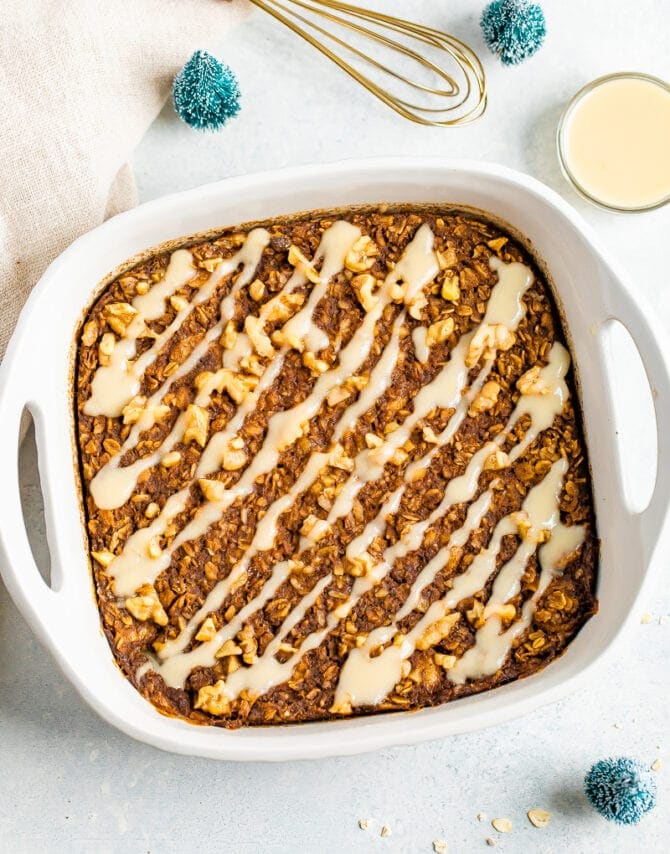 Gingerbread Baked Oatmeal – This baked oatmeal makes for a cozy breakfast with warm spices and molasses. It's super easy to whip up, gluten-free and vegan.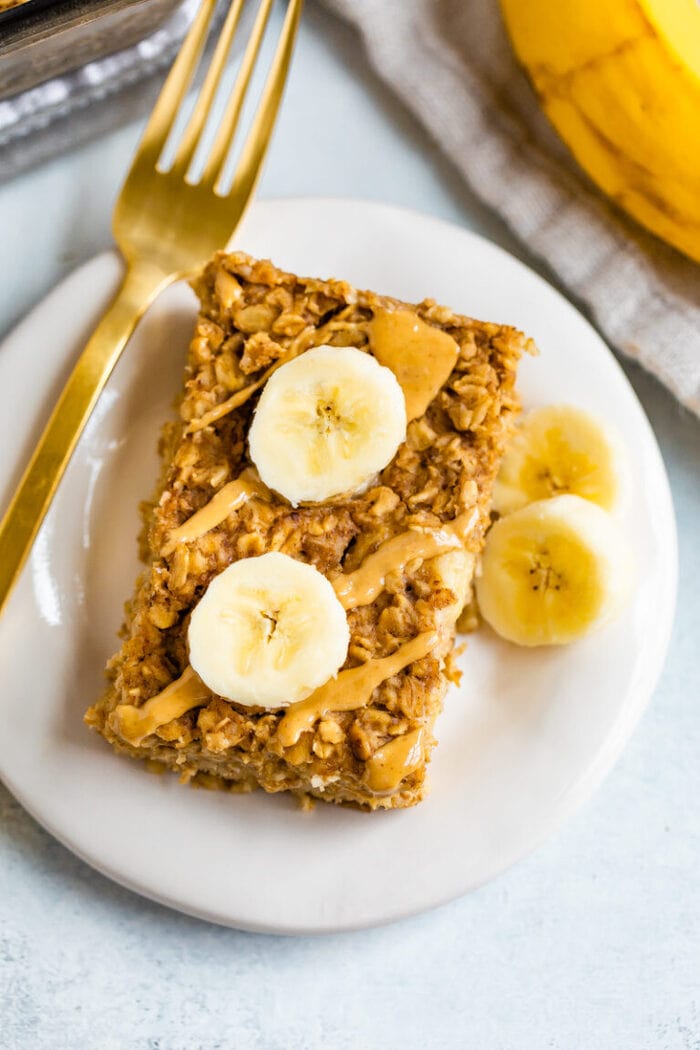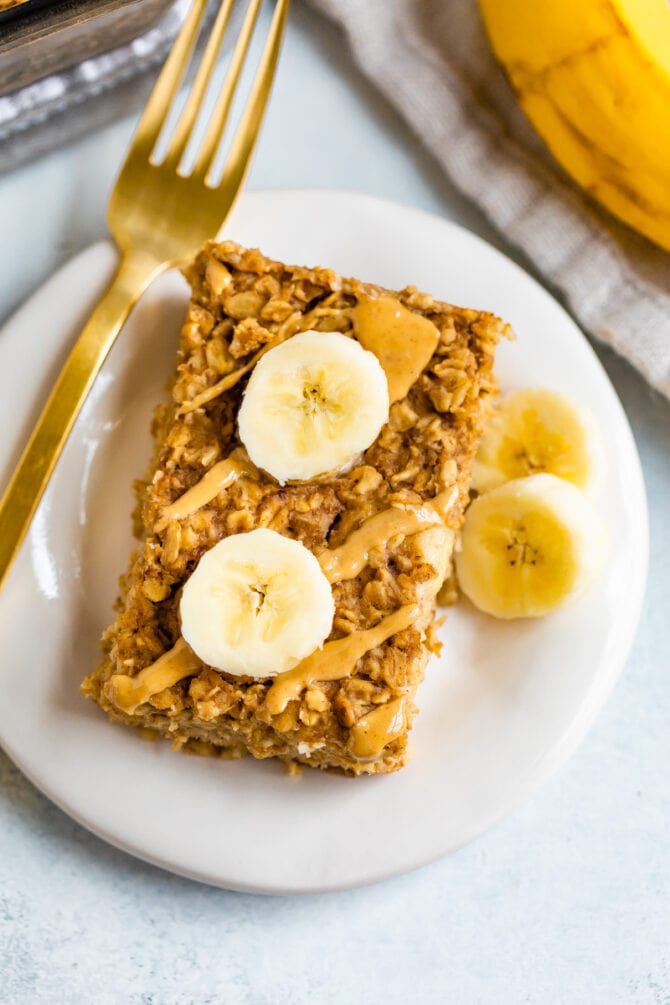 Peanut Butter Banana Baked Oatmeal – This baked oatmeal features the best oatmeal combo ever — peanut butter and banana. You'll love prepping this easy baked oatmeal for the week.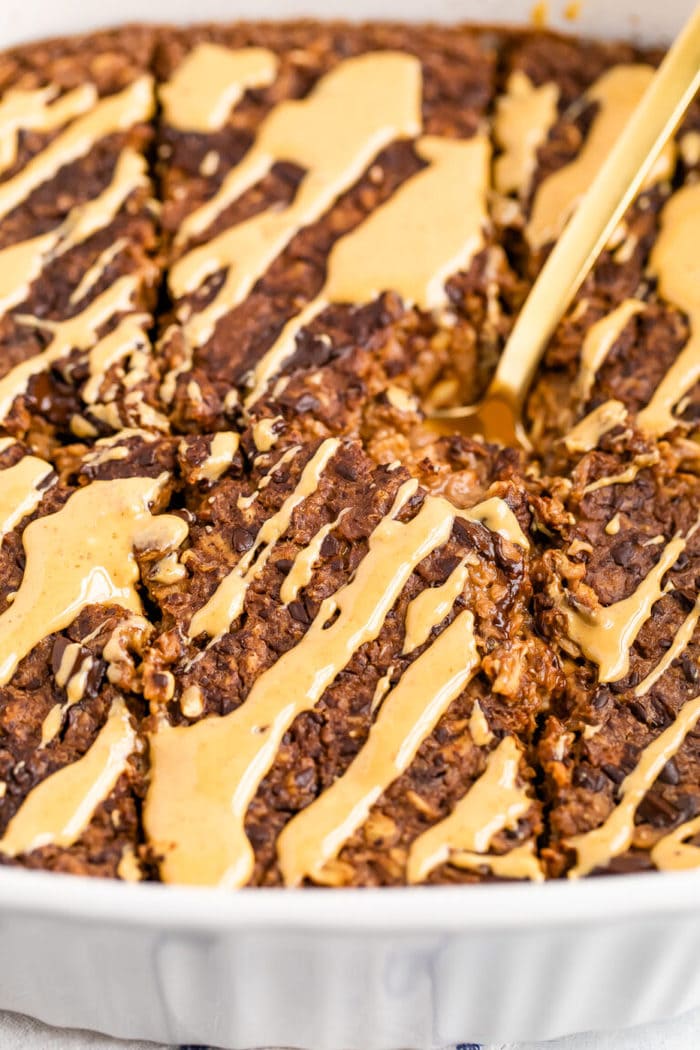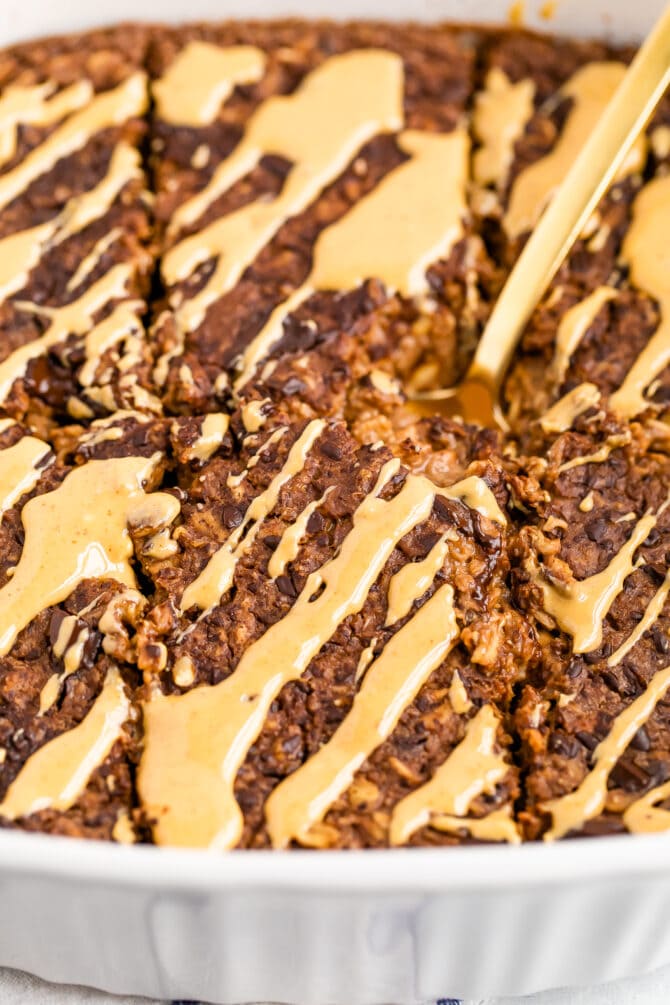 Chocolate Baked Oatmeal – Sounds decadent, but this chocolate baked oatmeal with peanut butter is loaded with healthy ingredients. Of course, it's still absolutely delicious and so easy to whip up.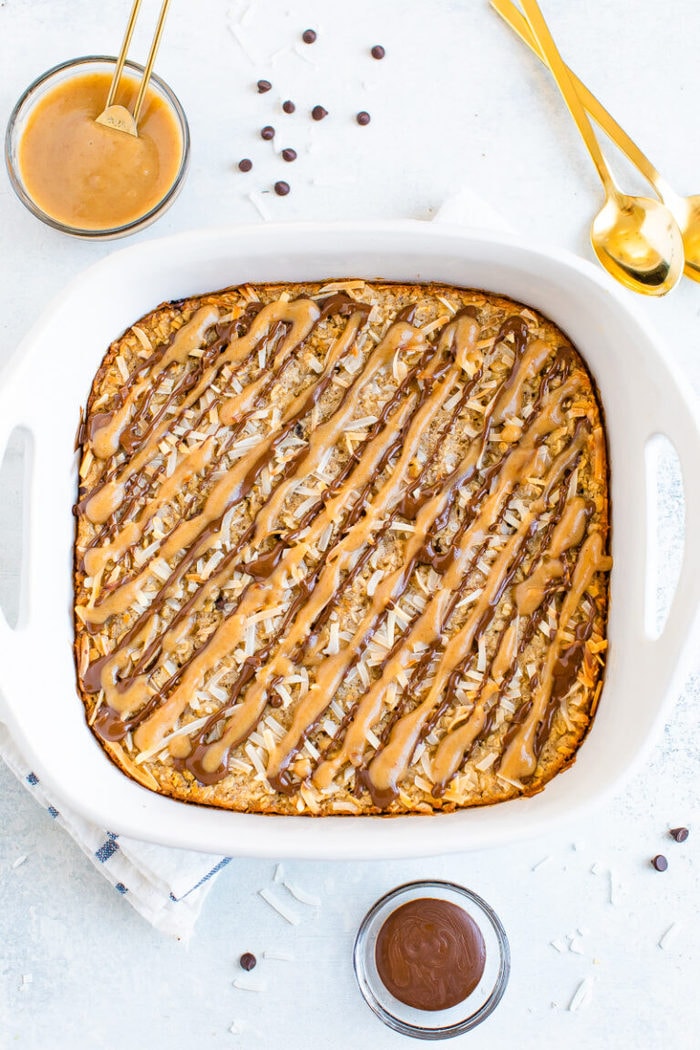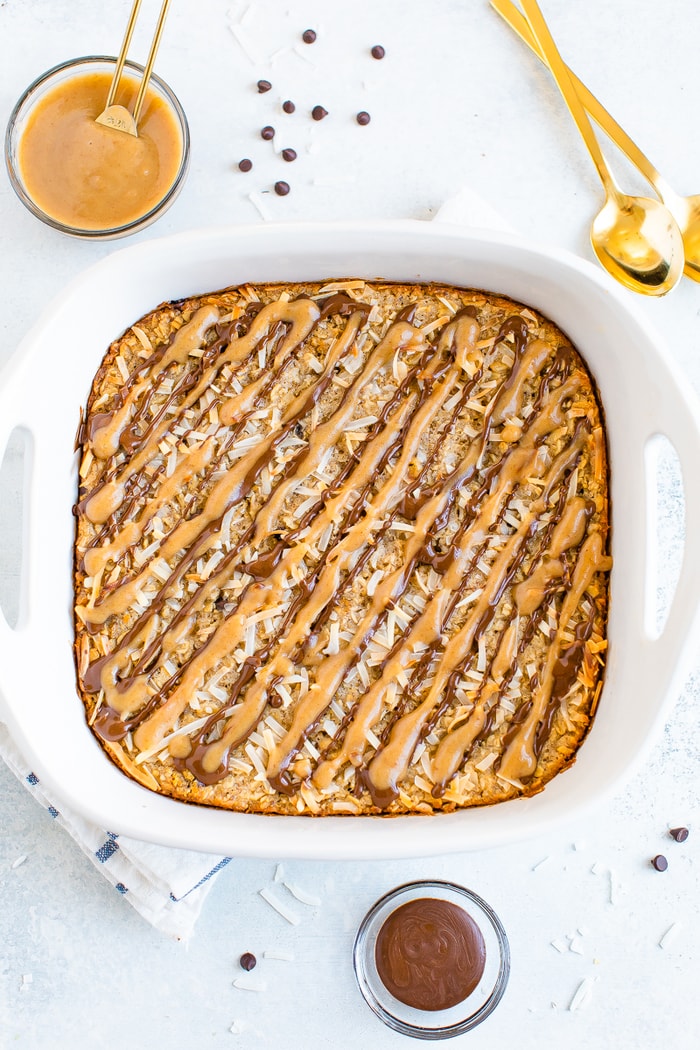 Samoa Baked Oatmeal – Love coconut, caramel and chocolate? You will will adore this healthy Samoa baked oatmeal. It's made with coconut milk, date caramel and a chocolate drizzle.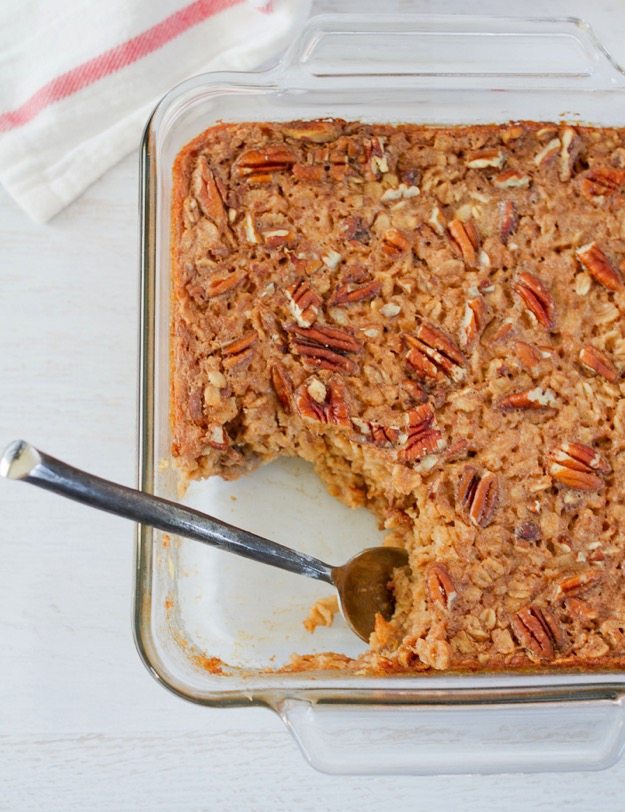 Maple Pecan Baked Oatmeal – Studded with chopped pecans and lightly sweetened with pure maple syrup this maple pecan baked oatmeal is fancy enough to serve for brunch, but awesome as a make-ahead breakfast for the week as well.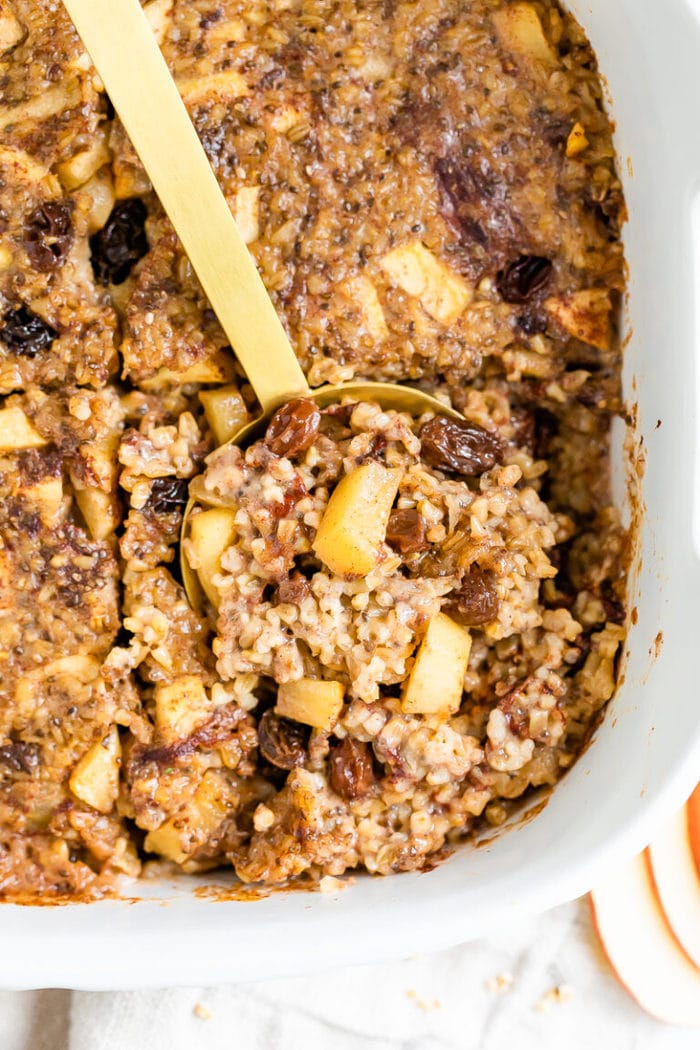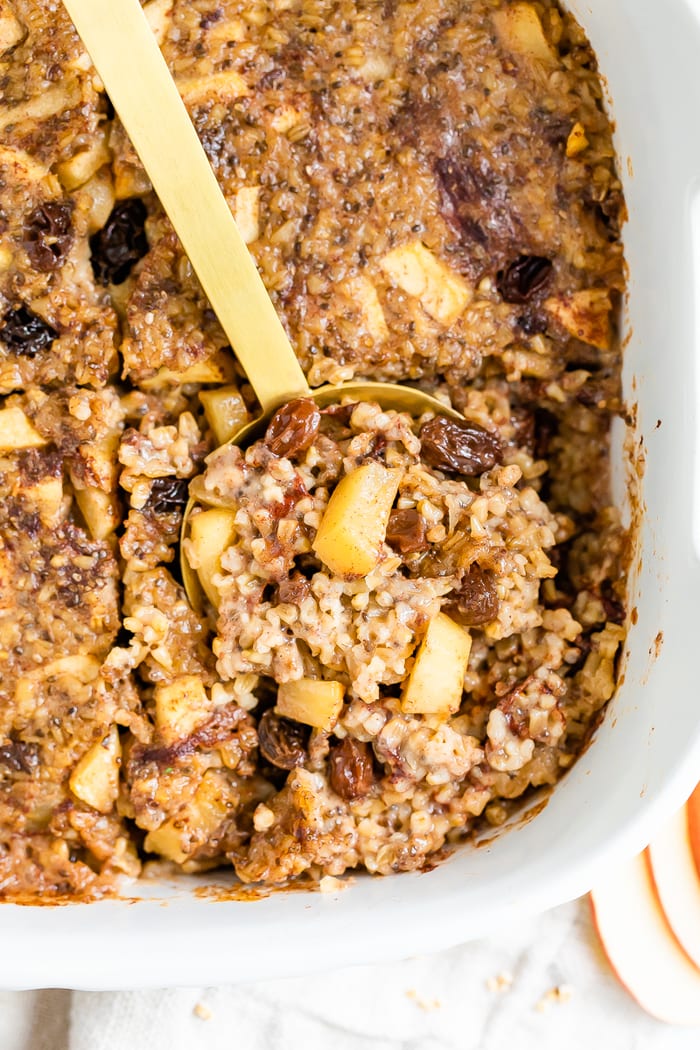 Apple Cinnamon Baked Steel Cut Oatmeal – This baked oatmeal is a lovely make-ahead breakfast option for busy mornings. Studded with sweet apple chunks, raisins and cinnamon, these oats will satisfy your taste-buds and keep you feeling full all morning. I love the added chia seeds in this one!
Is there a baked oatmeal flavor you don't see here that you'd like for me to create? Leave a comment letting me know!  
This post may include affiliate links. Thank you for your support.