Baked Steel Cut Oatmeal
28
Published Jan 14, 2022, Updated Jan 13, 2023
This baked steel cut oatmeal is loaded with banana slices, chia seeds, cinnamon and studded with nuts. It's vegan, gluten-free and the perfect make-ahead breakfast for busy mornings.
I've only shared one other baked steel cut oatmeal recipe and figured it was about time to share more. This is a classic, base recipe that can be customized with additional mix-ins or toppings. It's perfect to make ahead of time to enjoy on a busy morning!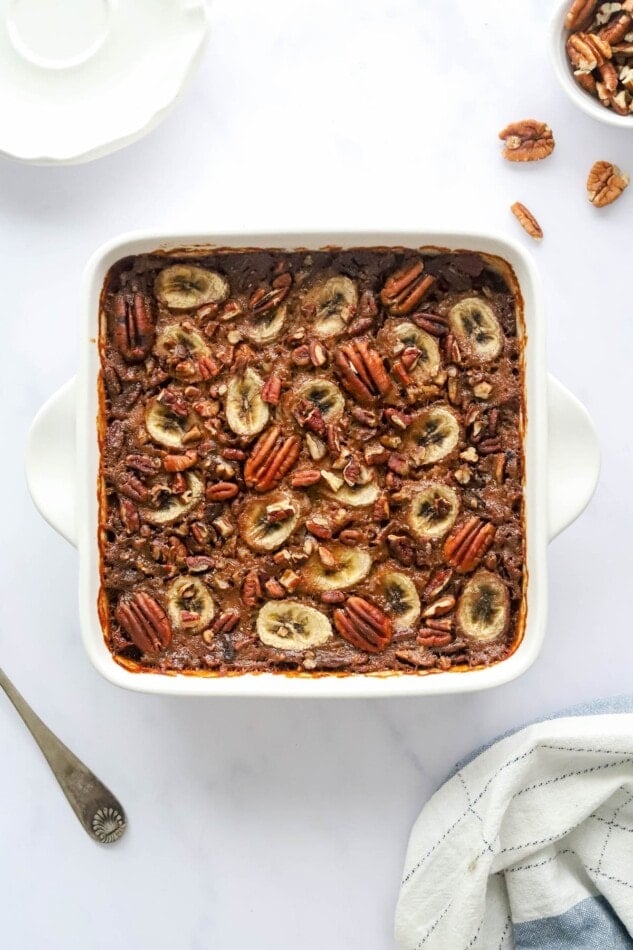 Why You'll Love This Recipe
It's made in one bowl… one! I'm all for minimal kitchen clean up.
It's packed with nutrition. Steel cut oats are the least processed oats so they're packed with fiber and other important nutrients.
It's the perfect meal prep breakfast! I love making a batch on the weekend and enjoying healthy breakfasts all week long.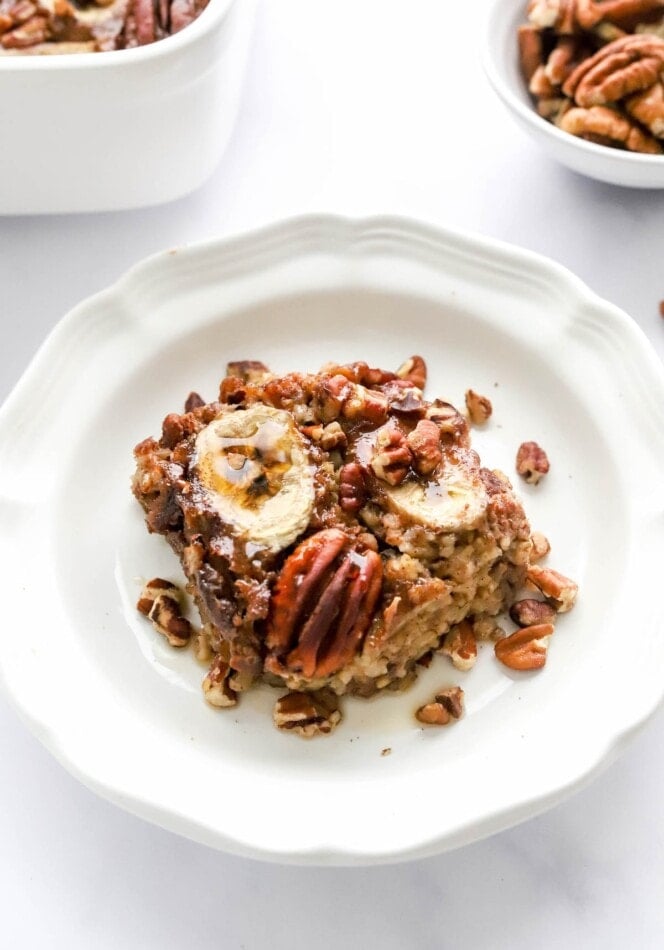 Steel Cut Oatmeal vs. Rolled Oats
To start, let's cover the basics! Steel cut oats are the least processed type of oats. The oat groat (the full oat "grain") is simply cut into two or three parts to get steel cut oats. Because they are less processed, they absorb more liquid and take longer to cook/soak than rolled oats.
Rolled oats are oat groats that are steamed and then rolled. This processing allows rolled oats to soak up liquid rather quickly, which is why traditional overnight oats don't need to be cooked at all.
When it comes to nutrition, there are only minor differences nutritionally. Steel cut and old fashioned/rolled oats both have approximately the same amount of fiber, protein, calories, and other nutrients. I personally don't view one type of oatmeal better than the other. I tend to prefer steel cut oats and rolled oats for breakfast recipes.
I've got over 20 baked oatmeal recipes on my site if you're looking for more.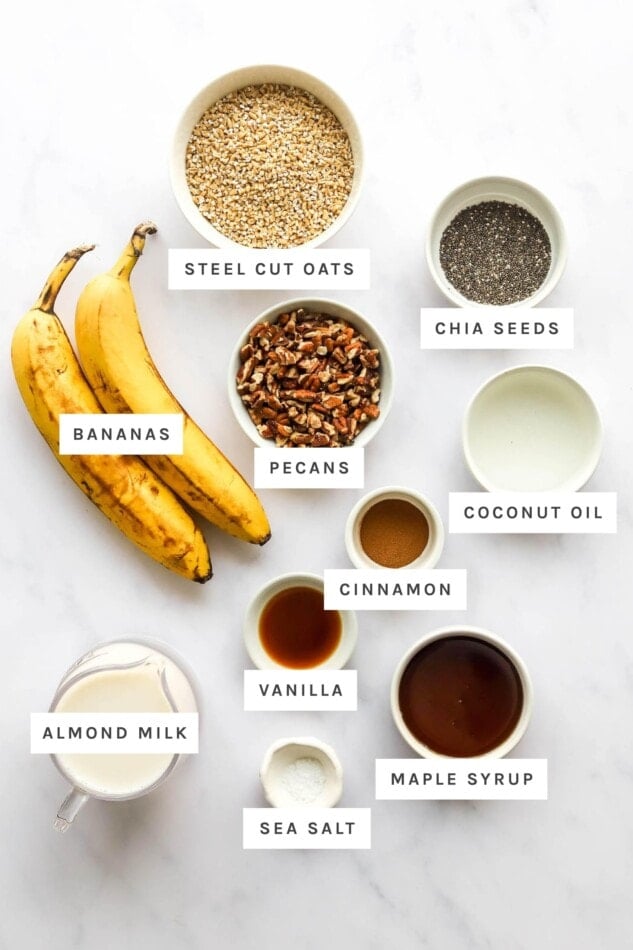 Here's What You Need
steel cut oats – the least processed of all oats and have an awesome chewy texture. They take a little longer to cook than rolled oats but so worth it! I like using Bob's Red Mill steel cut oats.
chia seeds – adds healthy fats and fiber to this recipe and also helps bind the oatmeal together. If you don't have chia seeds on hand, feel free to swap them for ground flaxseed or a regular egg if you don't need this recipe to be vegan!
maple syrup – pure maple syrup is the perfect natural sweetener to use for baked oatmeal in my opinion!
coconut oil – make sure you're using extra virgin coconut oil. I've purchased several different brands of coconut oil before, but Nutiva organic extra virgin coconut oil is my favorite.
cinnamon – adds the perfect spice and flavor to the oatmeal.
vanilla – a flavor enhancer.
sea salt – brings all of the flavors together.
unsweetened almond milk – any dairy-free milk works but I used unsweetened vanilla almond milk. You can make your own following my homemade almond milk recipe. I recommend allowing this to come to room temperature before mixing in for the best results.
pecans or walnuts – any type of nut works in this oatmeal but I like using pecans or walnuts! Nuts add a delicious flavor and texture to the oatmeal, but you can omit them.
bananas – you'll mash one banana to mix into the rest of the batter and then top the oatmeal with slices of bananas. Adds a delicious natural sweetness and banana flavor to the recipe.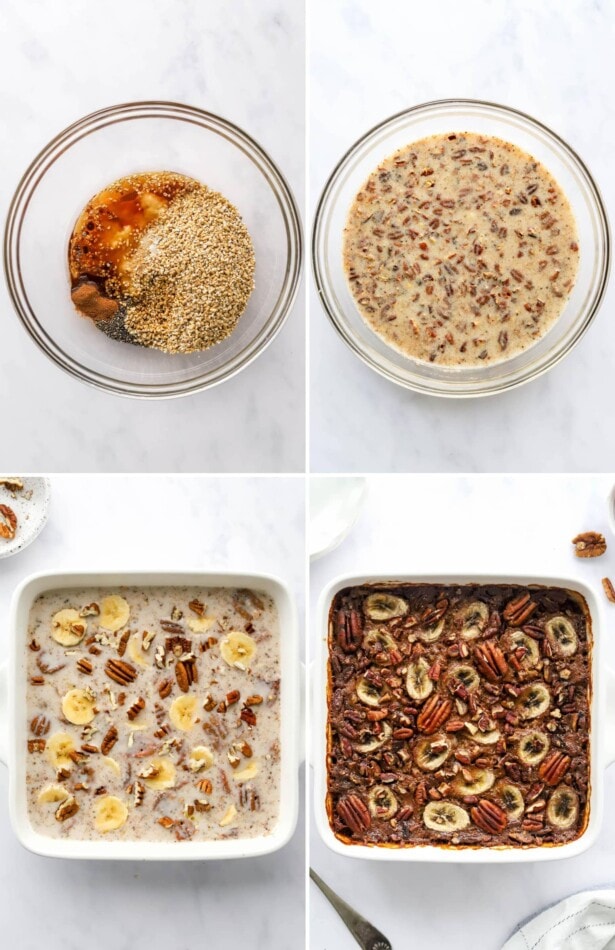 How to Make Baked Steel Cut Oatmeal
Making baked oatmeal is so simple! Start by mashing one banana in a large bowl using a fork. Mix in the oats, chia seeds, maple syrup, coconut oil, cinnamon, vanilla and sea salt. Next, add in the almond milk and half the nuts, then stir everything until combined.
Spray an 8×8 pan with cooking spray or coat with coconut oil. Pour the oatmeal mixture into the baking dish and scatter the remaining nuts and banana slices on top. Bake at 375ºF for 50-60 minutes. The oatmeal is done when the top is golden brown and the center is cooked through – you can insert a toothpick in the center to check! If it's a little gooey, it needs more cooking time.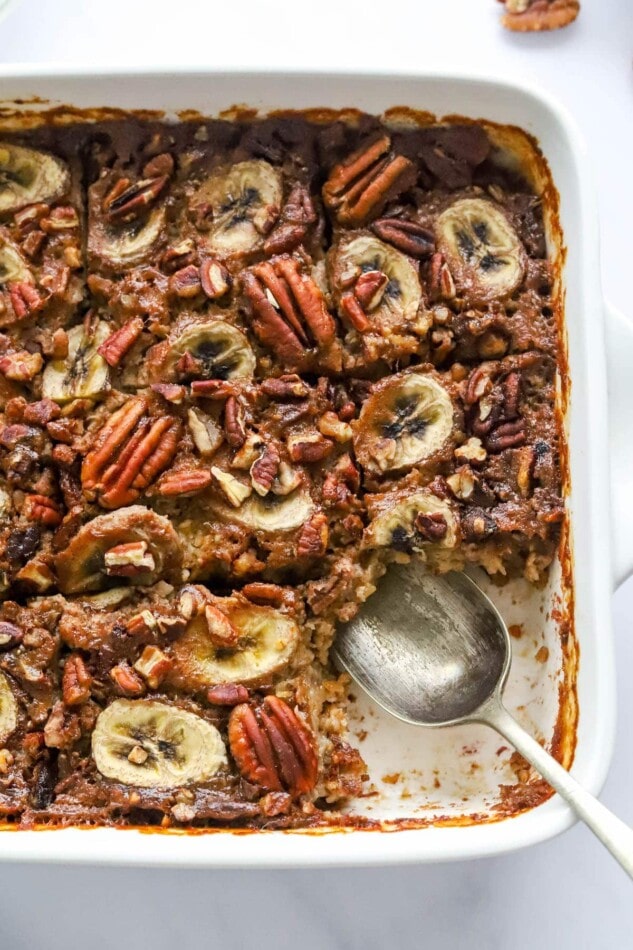 What to Serve with Baked Oatmeal
This recipe is such a great base recipe for breakfast or brunch. A hearty meal on its own, it can also be paired with a variety of foods for a more filling breakfast! Here are some ideas:
How to Store and Reheat
This baked oatmeal is a great meal prep recipe. You can store it in an airtight container in the refrigerator for 4-5 days or in the freezer for up to 3 months. When freezing, I recommend cutting the oatmeal into portions, wrapping each in plastic wrap and placing the portions in a large freezer bag. The individual servings make it easier for reheating.
To reheat the entire pan of baked oatmeal: cover with foil and reheat in the oven at 350ºF for about 20 minutes or until warm.
To reheat individual portions: set oven or toaster oven to 350ºF and bake for 5-10 minutes. You can also reheat in the microwave for 1 minute. Once warm, add your toppings and enjoy!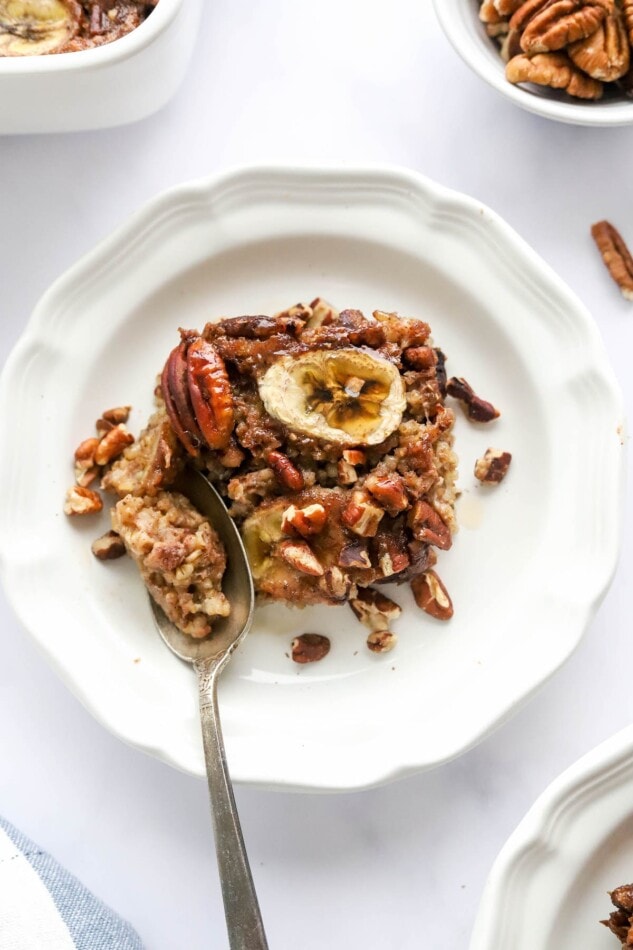 FAQs
Can I swap the chia seeds with something else?
If you don't need this recipe to be vegan, you can swap the chia seeds for 1 regular egg. You could also use ground flaxseed or skip the binder altogether. I've found that the baked oatmeal still turns just fine without using a binder.
What can I use instead of coconut oil?
You can skip the coconut oil or swap it with another oil, melted butter (or ghee) or even applesauce or more mashed banana.
What if I don't like bananas?
You can swap the mashed banana for applesauce, pumpkin puree or mashed sweet potato. I would start with 1/3 cup as a sub for the one mashed banana. You can easily skip the banana slices on top or swap them for another topping of choice… berries, more nuts/seeds, chocolate chips, etc. The flavor variations are endless!
What if I have a nut allergy?
Feel free to skip the nuts all together or swap them with a seed like pepitas or sunflower seeds!
My baked oatmeal turned out soggy. What happened?
This recipe is a bit soft, but shouldn't be too soggy. Make sure the mashed bananas aren't overly ripe or that could add extra liquid. If yours turns out gooey or soggy, you might need to cook it longer.
Can I add protein powder to baked oatmeal?
I've added a scoop of protein powder without adding in more liquid and it turned out just fine! If you're adding more than one scoop of protein powder you might want to add more liquid.
Do I have to use almond milk?
No! Feel free to use any milk of choice (dairy or non-dairy milk works)! You can also use water if you prefer, I just personally like how the milk adds some creaminess.
More Steel Cut Oats Recipes
Popular Baked Oatmeal Recipes
Be sure to check out all of my oatmeal recipes here on EBF.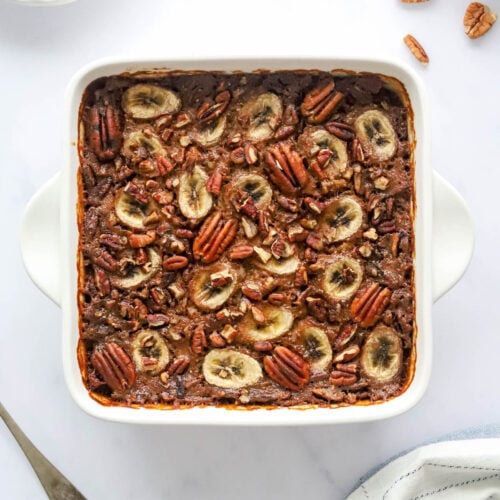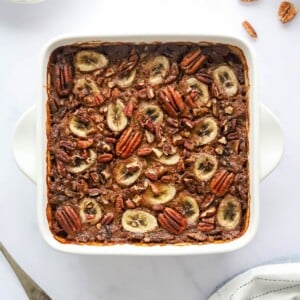 Baked Steel Cut Oatmeal
This baked steel cut oatmeal is loaded with banana slices, chia seeds, cinnamon and studded with nuts. It's vegan, gluten-free and the perfect make-ahead breakfast for busy mornings.
Instructions
Preheat oven to 375°F. Spray an 8×8 pan.

In a large mixing bowl mash one banana using a fork. Then add oats, chia seeds, maple syrup, coconut oil, cinnamon, vanilla and sea salt. Stir well to combine. Add in almond milk, and half the nuts. Stir everything together once more.

Place oatmeal mixture into a greased baking dish. Scatter the remaining nuts and banana slices across the top.

Bake in the oven for 50-60 minutes or until oatmeal is golden brown and the center is cooked through. Remove from the oven, let cool and enjoy.

Place any leftovers in a sealed container in the fridge. Reheat later and enjoy.
Nutrition
Serving:
1
/6 of recipe
|
Calories:
282
kcal
|
Carbohydrates:
38
g
|
Protein:
5
g
|
Fat:
13
g
|
Saturated Fat:
4
g
|
Polyunsaturated Fat:
1
g
|
Monounsaturated Fat:
1
g
|
Sodium:
161
mg
|
Potassium:
237
mg
|
Fiber:
4
g
|
Sugar:
13
g
Nutrition information is automatically calculated, so should only be used as an approximation.