Hi there! How was your long weekend? We had amazing weather here in Richmond but sadly didn't get to enjoy it as much as we would have liked because we spent most of the weekend gearing up for our move. We're feeling really good about the packing progress we made so it was worth it. Plus, we did manage to sneak in some fun activities between packing boxes including a little cookout and a quick game of putt-putt so that nice. Having the long weekend was extremely helpful.
You know what else was helpful? Cold brew coffee! It's been our packing fuel.
As I'm sure many of you know, Isaac and I are big coffee fans and we've been on the cold brew coffee train for years. We routinely make a batch of the concentrate in our Toddy every Sunday to enjoy throughout the week. It's an essential part of our Sunday meal-prep. 🙂
We LOVE cold brew for so many reasons and I pretty much steer clear of regular brewed coffee whenever possible. If I'm traveling and my options are severely limited I'll get an espresso drink or tea but rarely will you see me drinking regular drip coffee. My stomach (and tastebuds) just can't handle it anymore.
Luckily cold brew is quickly becoming more mainstream. You used to only be able to find it at independent coffee shops, but now chains like Caribou Coffee and Starbucks are jumping on board. It's pretty awesome.
So today I'm going to share a few reasons why cold brew is better and tell you a little about how we make ours. Who knows, maybe it will convince you to try cold brew for yourself.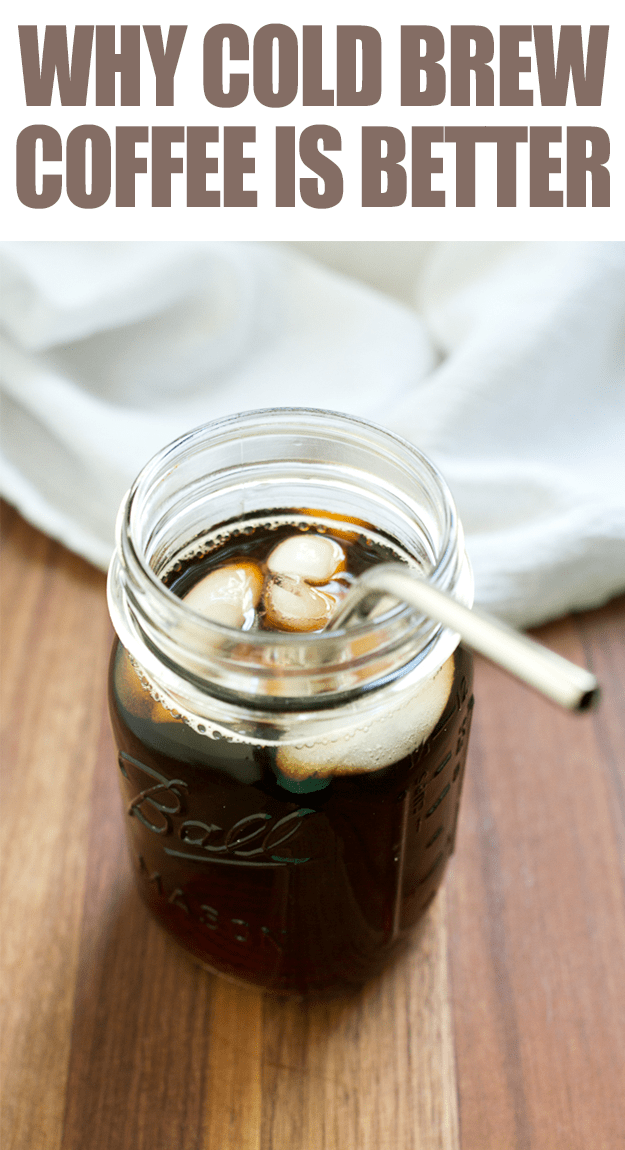 Why is cold brew coffee so much better?
It's lower in acidity – According to a study done by Toddy, cold brew coffee is over 67% less acidic than hot brewed coffee! The acidity of regular coffee can cause heartburn as well as damage to your teeth and the lining of your stomach. The lower acidity of cold brew is also better for keeping your body's pH levels balanced. I can attest to the fact that regular hot-brewed coffee makes my stomach start grumbling almost immediately and often times it sends me directly to the bathroom. Cold brew coffee doesn't have this affect.
It's sweeter and smoother – Because the coffee grounds aren't exposed to high temps, cold brew coffee usually tastes more flavorful and less bitter. Some people find that they need less sweetener and cream when drinking cold brew, which is great if you're cutting back on added sugar or watching your calorie intake. I was honestly never a fan of black coffee until we started drinking cold brew. I still add almond milk to cold brew occasionally (this recipe is THE BEST!) and I do enjoy Bulletproof coffee when I'm drinking hot coffee, but I drink black coffee regularly now.
There's little to no waste – You can use the cold brew concentrate to make a cup of coffee (hot or cold) at the strength you prefer, one cup at a time.  And the concentrate stays good in the fridge for up to 2 weeks. This works out really well for Isaac and me because he prefers his coffee stronger than I like mine. Previous to making cold brew we would use our regular coffee pot or a french press and usually the coffee was either too strong for me or too weak for him. And we were always making more coffee than we drank so inevitably a lot of brewed coffee went down the drain. Now we rarely, if ever, waste coffee.
You can serve it cold or hot – As I mentioned, you can serve cold brew cold or hot. Obviously, it's super simple to make iced coffee — just add cold water and ice to the concentrate. For hot coffee, you simply boil water and add it to your cold brew concentrate. It can also be heated in the microwave if you're in a rush.
So now that you know why cold brew is awesome, let me tell you how to make it. Don't worry, it's not hard!
To start, you'll need a bag of freshly roasted, high quality beans (coarsely ground).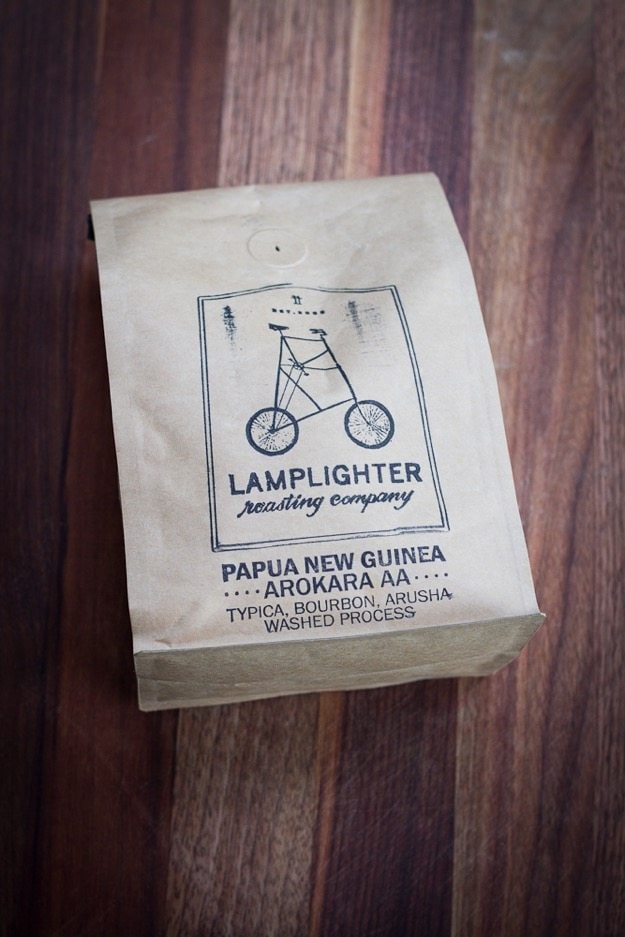 We like buying our beans from local coffee roasters. Lamplighter is one of our favorites.
And then you'll need a few kitchen gadgets — you can either buy a cold brew system (we have the Toddy and love it) OR you can use a big bowl, a strainer and cheese cloth for the DIY method.
For making the cold brew, we basically follow the steps given in the Toddy instruction manual with 12 ounces of ground coffee and 7 cups of water steeped for 12 to 18 hours. You can play around with different coffee roasts and/or the steeping time to find the perfect method for you.
Lately we've been experimenting by adding extra flavors into the mix. Last week we actually made peanut butter cold brew! The draining process was a little slow, but the flavor of the coffee was amazing! Each time I took a sip, the peanut butter lover in me was in 7th heaven. Sometime soon I want to try this version with toasted coconut.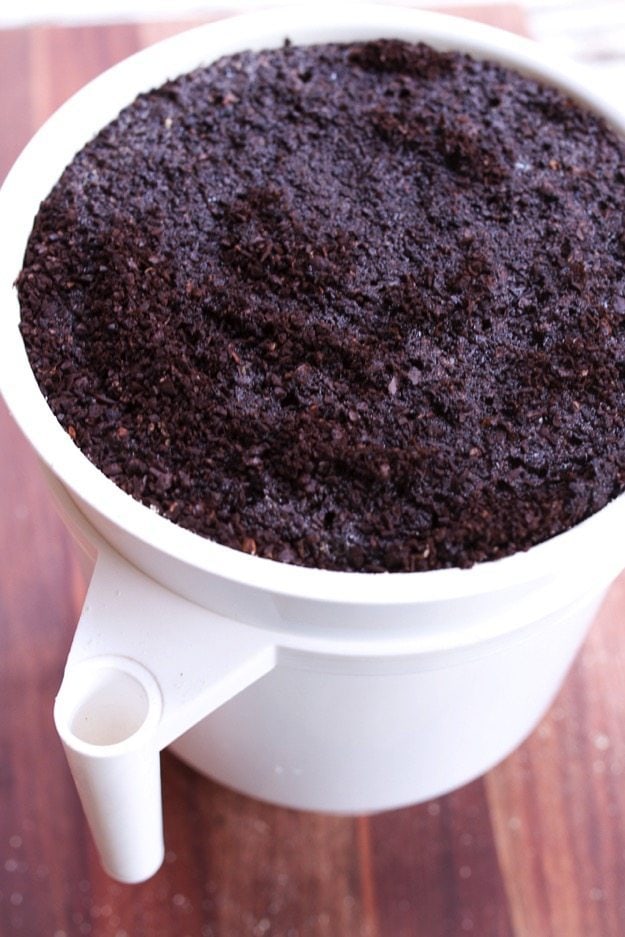 We prep our cold brew on Sunday, let it steep overnight and drain it the next morning. Once drained we store the concentrate in the fridge and use the cold brew concentrate throughout the week. The recommended usage is one part coffee concentrate to three parts water, milk or cream. I follow that method, however, Isaac likes his a bit stronger so he uses less water.
Super simple, right?
Don't have time or the means to make your own cold brew concentrate? Visit a local coffee shop or even check for it at your local grocery store. Whole Foods and Trader Joe's both sell their own cold brew and there are a bunch of bottled cold brew coffee brands on the market now too. If you're local to VA/NC, check out Relay Foods (affiliate link) because they have a good selection of bottled brands.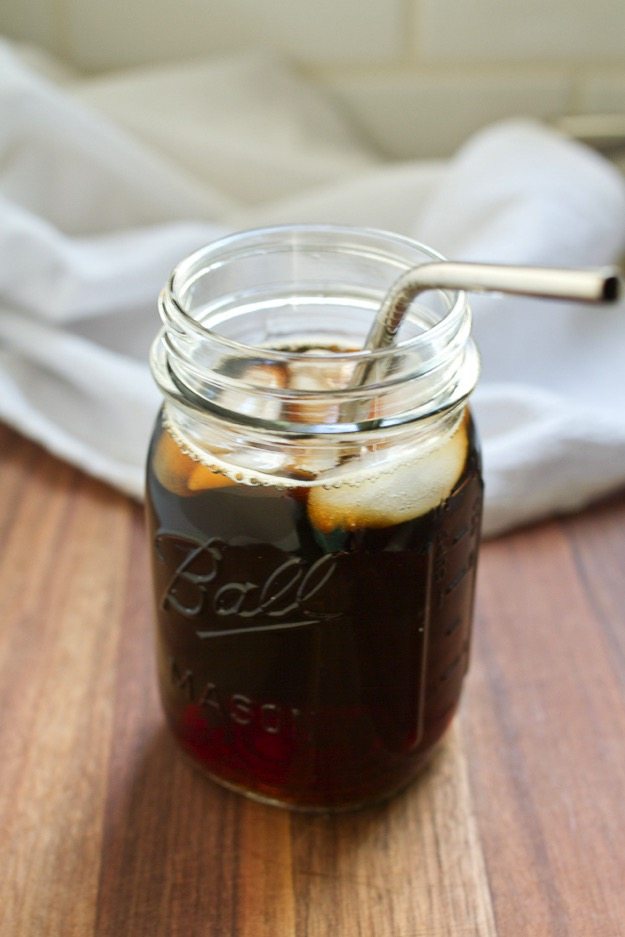 Alright friends, go ahead and brush up on your cold brew coffee making skills (or buy a bottle) because I'll be sharing a recipe that involves cold brew in the next few days!
This post may include affiliate links. Thank you for your support.