Apple cider vinegar detox drinks you'll actually enjoy drinking. Four flavors including: Limeade, Ginger Spice, Honey Cayenne and Apple Pie. 
Every time I hear someone say they take apple cider vinegar shots every morning I cringe. Unless you're diluting that vinegar, shots are not a good thing! Undiluted apple cider vinegar is very acidic and can damage your teeth and esophagus. Always, always, always dilute apple cider vinegar when you're drinking it, ideally using a 10:1 ratio. If you're using a shot glass with the 10:1 ratio, just do 1 teaspoon of apple cider vinegar and fill the rest of the shot glass with water.
And let's be honest here. Shots of apple cider vinegar (even when diluted) are similar to alcohol. They're tolerable, but they're certainly not fun and they taste pretty awful.
That said, the health benefits of apple cider vinegar are undeniable so I'm always looking for ways to include it in my diet that I actually enjoy. I started with basic recipes (like this apple cider vinegar dressing, apple cider vinegar coleslaw and apple cider vinegar chicken) and then I found the Bragg's apple cider vinegar drinks at Whole Foods and other natural markets!
These drinks are a game-changer because they actually taste good.
I tried them a couple years ago and immediately became hooked and I decided to start creating my own at home. My first recreation went live almost four years ago (see my grape apple cider vinegar drink recipe here) and I've since expanded my testing to come up with four delicious and easy combos that I absolutely adore. I now make one of these apple cider vinegar drinks every day!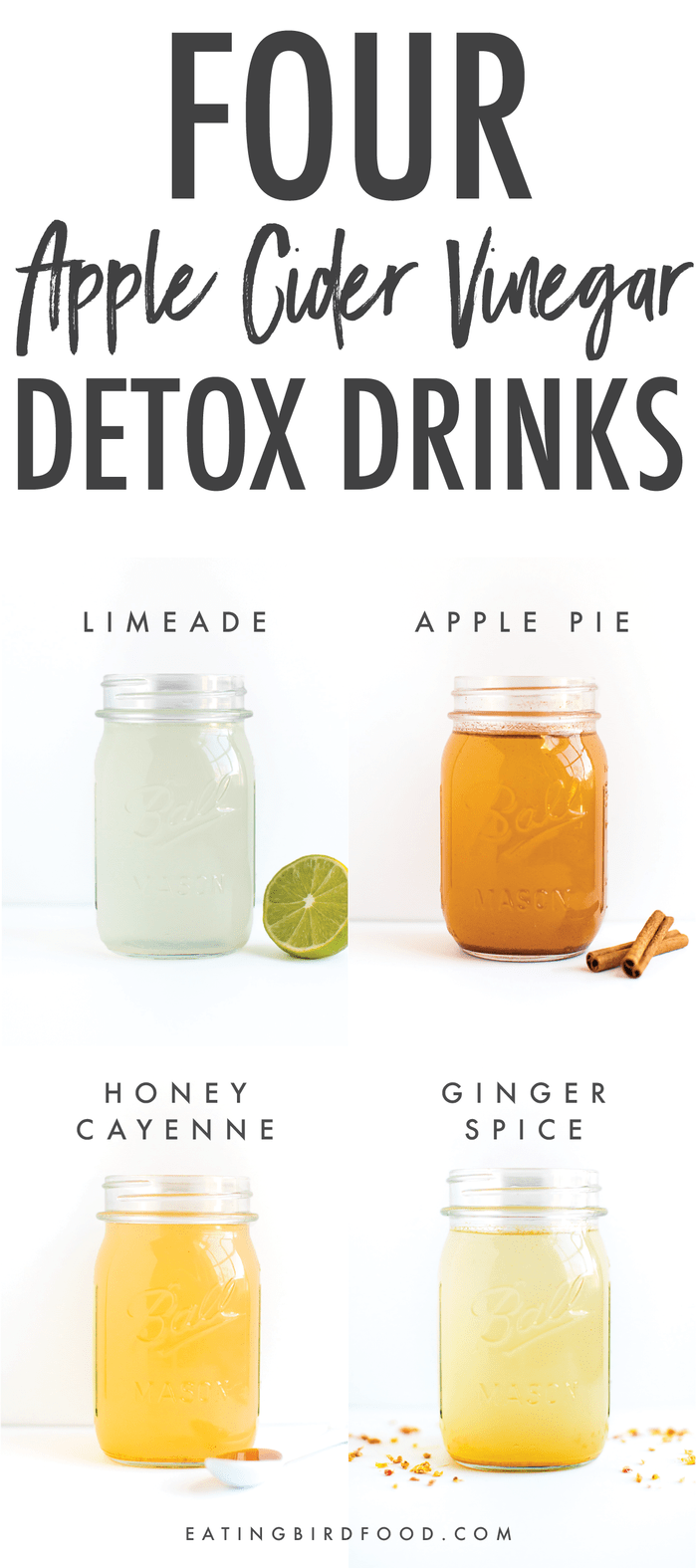 Yup, I've created apple cider vinegar detox drinks that you'll actually enjoy drinking and with four flavors to choose from you're bound to find one that you love. You might find yourself finishing these quickly because they're delicious, not because you feel like you need to chug them down to get it over with.
Important notes for making your own apple cider vinegar detox drinks:
Be sure to use unrefined, unpasteurized and unfiltered apple cider vinegar "with the mother". I always buy Bragg's apple cider vinegar.
Three of the four drinks are sweetened with stevia. I've tried a ton of different brands, but for these drink I really like using the Wholesome Sweetener organic stevia blend with organic erythritol and stevia. I've also used the NuNaturals liquid stevia drops and like those as well. If you use another brand or liquid stevia you'll likely have to play around with the amount to meet your taste preference. I've found that 1 teaspoon of powdered stevia is equivalent to about 10-12 drops, but brands differ so I'd recommend experimenting.
I usually make these drinks in a pint size mason jar. Just add the ingredients, top with a lid and shake.
I find that the drinks taste best when they're really cold. Feel free to shake with ice (like a cocktail) or chill in the fridge before drinking.
See all the flavors and recipes below: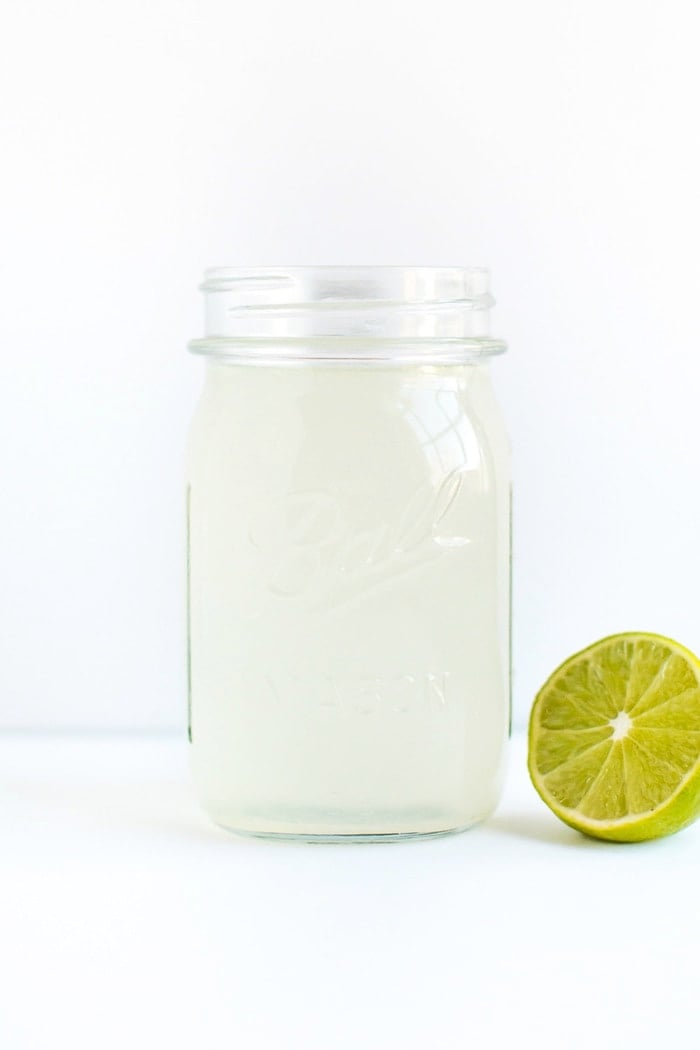 If you like lemonade or citrusy drinks, this one will definitely be your jam beacuse it legit tastes like limeade. My husband, Isaac, requests that I make this one for him all the time.
Limeade Apple Cider Vinegar Drink
1 1/2 Tablespoons apple cider vinegar
1 Tablespoon fresh lime juice
1 teaspoon stevia
2 cups of cold water
Mix together and serve cold.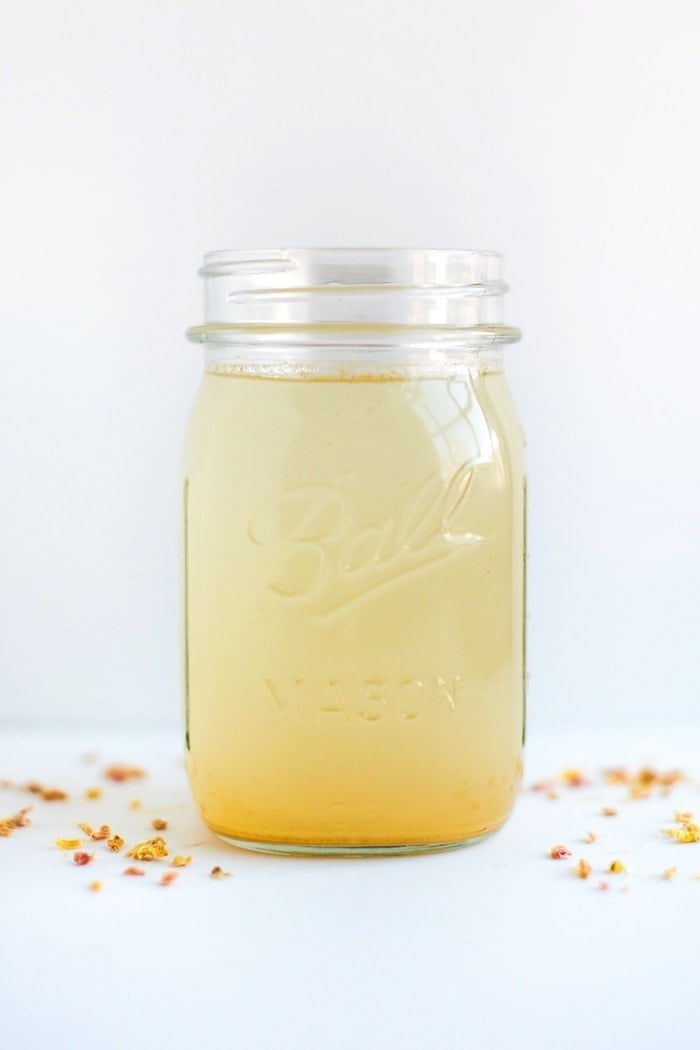 It's hard to pick favorites because all the flavors are good, but this one is probably my absolute favorite. The ground ginger adds a hint of spice, it's perfect for soothing an upset tummy and I love how easy it is to whip up with the ground ginger.
Ginger Spice Apple Cider Vinegar Drink
1 Tablespoon apple cider vinegar
1/4 teaspoon ground ginger
1 teaspoon stevia
2 cups of cold water
Mix together and serve cold.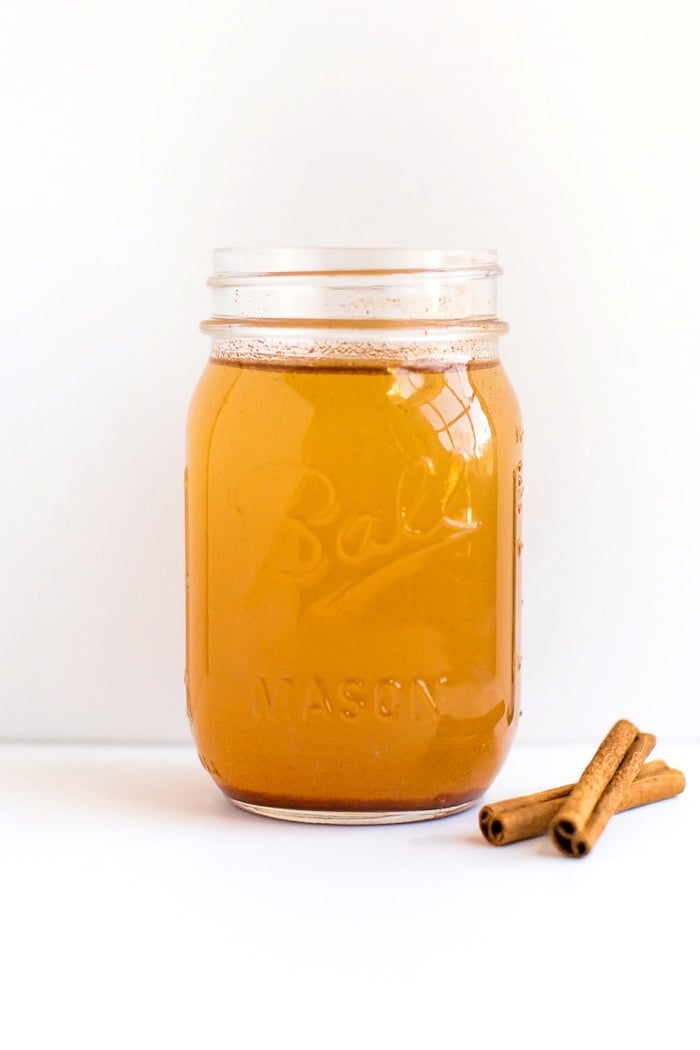 The apple pie flavor is a classic in my mind because it's very similar to my original apple pie drink. It's extra sweet with the apple juice and cinnamon so it's the perfect way to kick an craving for sweets. I love to enjoy this one right after dinner or as a way to get through the afternoon munchies.  
Apple Pie Apple Cider Vinegar Drink
1 Tablespoon apple cider vinegar
2 Tablespoons organic apple juice
3/4 teaspoon stevia
1/4 teaspoon ground cinnamon
2 cups of cold water
Mix together and serve cold.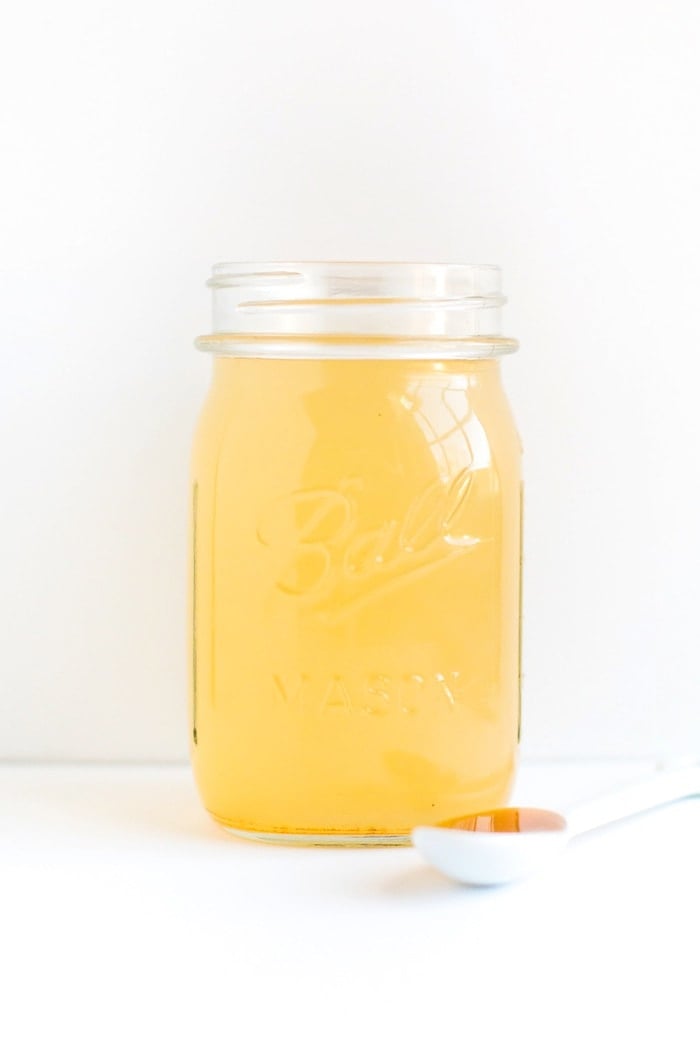 The honey cayenne flavor is great for anyone who prefers not to use stevia and doesn't mind a little natural sugar. It has a hint of cayenne, which gives it a metabolism boosting effect. I recommend making this one with warm or hot water because otherwise the honey doesn't really dissolve. Once the honey has dissolved you can drink it warm/hot or put it in the fridge to chill before drinking! I love serving it up warm as a relaxing drink before bed on a cold, winter evening, but it's also great for soothing a sore throat. And feel free to leave the cayenne out if you don't want the added spice.
Honey Cayenne Apple Cider Vinegar Drink
1 Tablespoon apple cider vinegar
2 Tablespoons honey (ideally raw and local)
1 dash cayenne pepper
2 cups of warm/hot water
Mix together until honey has dissolved. Serve warm or pop in the fridge to chill.
I can't wait to hear what you think of these apple cider vinegar detox drinks! Let me know how they turn out in the comment section or share a photo on social media. Just be sure to tag me (@eatingbirdfood + #eatingbirdfood) so that I see it!