If the thought of drinking kale, spinach, collard greens and swiss chard makes you cringe, please don't leave just yet! I promise that you can make them taste good and they'll make you feel good too!
I've always liked green smoothies but never tried drinking them on a regular basis until recently.
It all started when about two weeks ago I stumbled upon Amiee Dufresne's, 10 Day Green Smoothie Challenge and decided to join. I was already following the TIU Beach Babe nutrition plan which includes a lot of smoothie recipes and recommends having one as a mid-afternoon snack so all I really had to do is start making sure all my smoothies had some sort of green. Easy peasey! The 10 Day Challenge has come and gone (it ended June 7th) but Aimee decided to continue it to 30 days and I was more than happy to continue incorporating them in my diet. I'm still going strong with having a green smoothie everyday.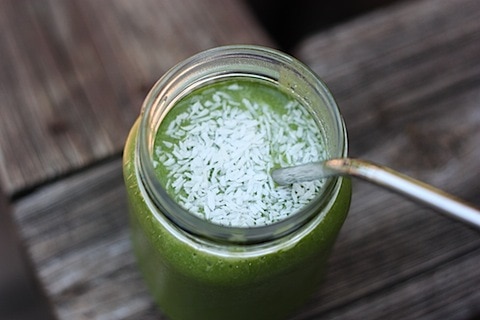 It's been amazing! I've made a a bunch of different green smoothies over the past two weeks and I've been feeling awesome. I used to be one of those people who couldn't have "just a smoothie" for a meal or snack. I needed something more… something to chew on. However, since incorporating the green smoothies into my daily routine I've noticed that I can have a smoothie for my afternoon snack (around 3) and not crave anything else, or become hungry again until dinner time, which varies from 6:30-8:00 depending on what I have planned after work. Another added benefit = I've lost a few of those pounds I mentioned back in April! I know it wasn't just the green smoothies that did this as I've also been following the TIU Beach Babe plan and did the 5 Day Slim Down, but I definitely think the smoothies have helped.
The main point of all this = leafy greens are one of the most nutritious foods you can eat and putting greens in your smoothie is super easy and it doesn't taste bad!
Greens are high in calcium, magnesium, iron, potassium, phosphorous, zinc and vitamins A, C, E and K. They are crammed with fiber, folic acid, chlorophyll and many other micronutrients and phytochemicals. I recommend buying organic greens whenever possible, but also remember that eating non-organic greens is better than not eating any greens at all!
Benefits of Eating Dark Leafy Greens
Blood purification
Cancer prevention
Improved circulation
Strengthened immune system
Promotion of healthy intestinal flora
Promotion of subtle, light and flexible energy
Lifted spirit and elimination of depression
Improved liver, gall bladder and kidney function
Cleared congestion, especially in lungs by reducing mucus
Getting Started with Green Smoothies
Start by adding a handful or two of baby spinach into your smoothies then work your way up to adding a larger amount of spinach or different greens that are a little more pungent like collards and kale.
Use frozen fruit! Frozen bananas and mango add a nice sweetness, great texture and cover up the taste of the greens really well. <– Just make sure your bananas are ripe and that you peel them before freezing. I like to break them in half and put them in freezer bags or tupperware containers before placing in the freezer.
I recommend using a high-powered blender. If you don't have one you can still make green smoothies, but you'll probably have to deal with pieces of un-blended greens. Just be sure to check your teeth. 😉
Remember that green smoothies don't have to be green. When you include other colorful fruits (like berries) into the smoothie the color isn't always pretty.
I've been using vanilla brown rice protein powder (Sunwarrior or Perfect Fit) in my smoothies. Both of these are sweetened with stevia and that definitely helps to make the smoothie taste delicious.
At some point I want to do a full post with green smoothie recipes but for now I'll share one of my favorites as of late.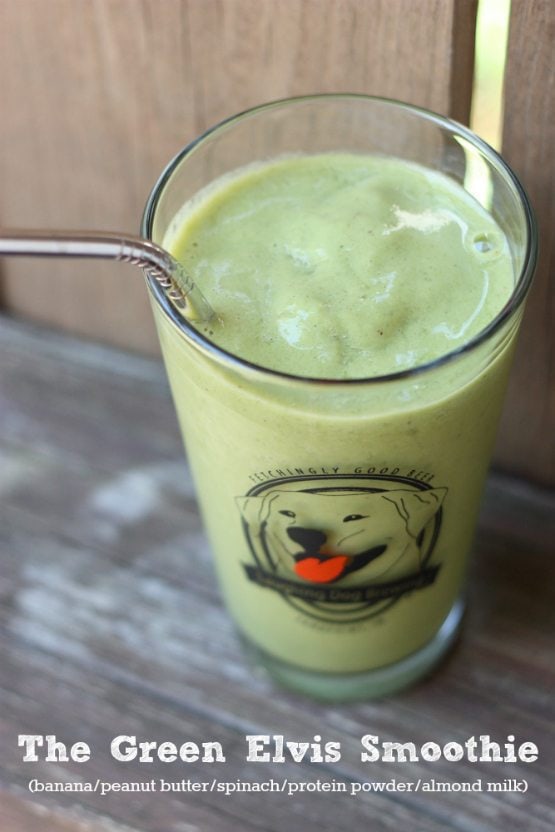 Drinking a green smoothie out of a pint glass = classy!
This is a great green smoothie to start out with because banana and peanut butter combos never disappoint! And, I promise you won't taste the spinach. 🙂
I hope this post will inspire you to try a green smoothie, if you haven't before and if you have, perhaps it will be a friendly reminder to add a green smoothie or two back into your routine. Drink up and enjoy all the great benefits!
Print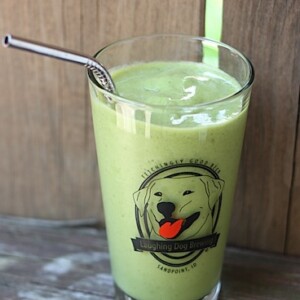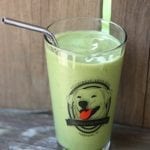 The Green Elvis Smoothie
Author:

Brittany Mullins
Prep Time:

5 minutes

Total Time:

5 minutes

Yield:

1

1

x
Category:

Breakfast

Method:

Blend

Cuisine:

Smoothie
---
Description
This is a great green smoothie to start out with because banana and peanut butter combos never disappoint! And, I promise you won't taste the spinach. 🙂
---
Scale
Ingredients
1/2

of a large frozen banana

1

–

2

Tablespoons peanut butter, PB2 or powdered peanut butter

1

scoop vanilla protein powder (I like Sunwarrior and Perfect Fit)

3/4 cup

cold unsweetened vanilla almond milk (or other milk)

1/4 cup

cold water

2

handfuls of baby spinach
---
Instructions
Blend until smooth and enjoy.
---
Equipment
---
Nutrition
Serving Size:

1 smoothie with 1 T peanut butter

Calories:

320

Sugar:

11g

Sodium:

237mg

Fat:

16g

Saturated Fat:

5g

Carbohydrates:

25g

Fiber:

6g

Protein:

23g
More Green Smoothies: