I think spring is officially here to stay. Okay, maybe not for our friends in CO, but in the Virginia the temps are rising. Isaac and I have been on quite a little grilling kick with all the nice weather we've been experiencing. I'm pretty sure we've grilled dinner at least 10 times in the last couple weeks. It's just so easy and the food is so flavorful. It's like the spring/summer version of roasting. We can't get enough.
Something else I can't get enough of? Smoothies! When it's cold I don't typically crave smoothies but once the temps rise above 70, it's smoothie time. Every day, all day.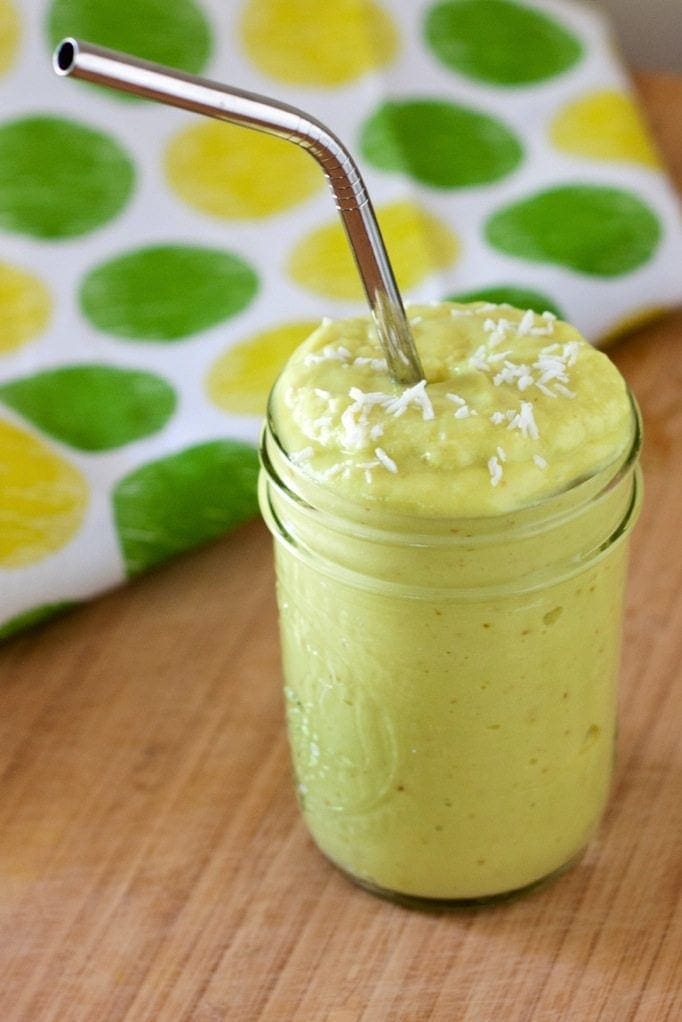 They're so easy and perfect for when you're in a rush. You can literally just toss everything into the blender, blend for a minute, pour into a glass and your meal is ready.
I'm a big proponent of eating breakfast within an hour of waking and recommend smoothies (or overnight oats) to all my clients who think they're too busy to make breakfast in the morning.
You can make your smoothie prep unbelievingly simple and fast — here's how:
Prep your smoothie ingredients ahead of time. Measure out your fresh and frozen ingredients and place them in storage container in the freezer. When you're ready to make your smoothie, dump frozen ingredients into the blender, add your liquid and any other ingredients (protein powder, nut butter, hemp seeds, chia seeds, etc) and blend! You can do this for 2-3 smoothies if you have enough containers.
Pre-make and freeze your smoothie. Let the smoothie thaw, shake and drink. Or let thaw a bit and then re-blend before drinking.
Make a double batch and save the leftover smoothie for later.
Tips for saving a smoothie for later:
Store the smoothie in a glass container with an airtight lid (I use mason jars, but a thermos would probably work really well too). Seal the container and place in the fridge as soon as possible.
Try to fill the container to the top to avoid extra air which will cause the smoothie to oxidize.
Add a little lime or lemon juice to prevent oxidation.
Take the smoothie out of the fridge when you're ready to drink it. Give it a good shake and enjoy.
Plan to drink the smoothie within 24 hours — it probably won't keep much longer than that.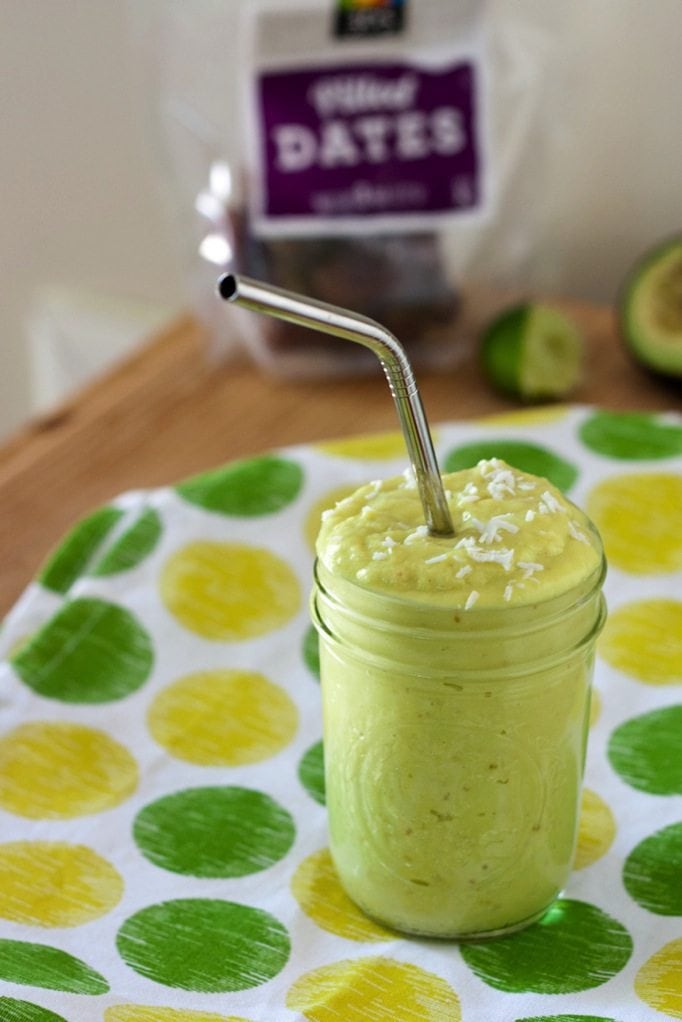 I had two smoothies yesterday — one for breakfast and then this one became my afternoon snack.  I had all intentions of taking the photos and saving it for breakfast today, but one sip and I knew there would be no saving it.
I don't know what I was thinking. It's like when I tell myself I'm going to eat half a nutrition bar or half a cookie. Yeah, that never works.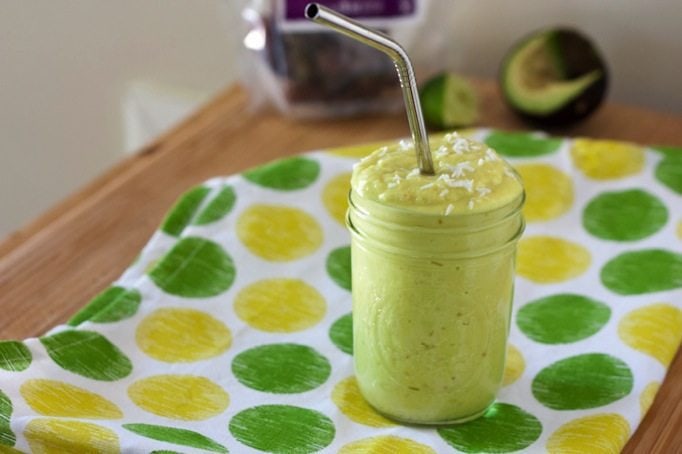 Anyhow, this smoothie is so delicious and creamy. It reminds me of my avocado and lime tart, but in smoothie form. If you haven't tried avocado in your smoothies yet, now's definitely the time. It's.the.best.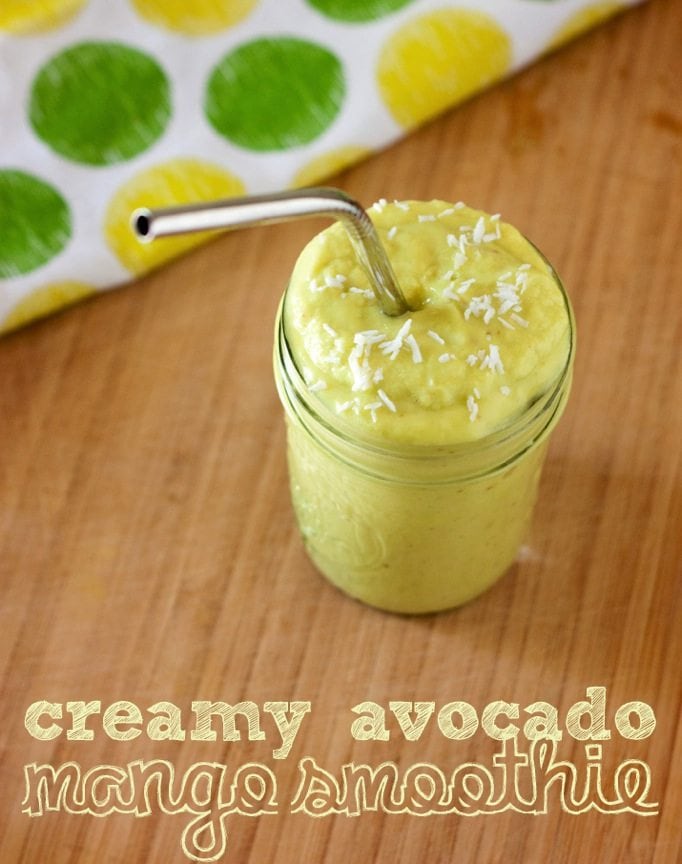 Print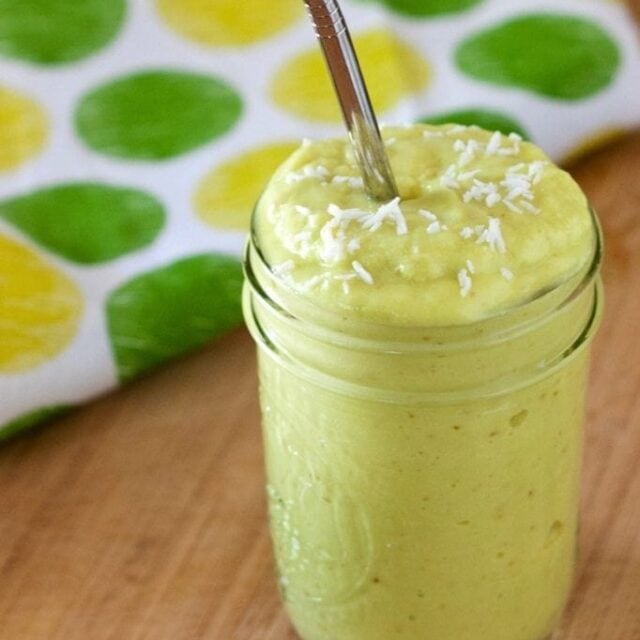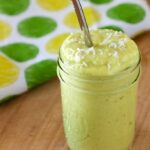 Creamy Avocado Mango Smoothie
---
Description
I blended cold water with shredded coconut to get coconut water but you can certainly use coconut water if you have it on hand. If you use coconut water you may or may not need the medjool date since coconut water is pretty sweet. Feel free to add protein powder, chia seeds or hemp seeds If you want to add a protein boost to this smoothie.
---
Scale
Ingredients
1 cup

cold water

1 Tablespoon

s unsweetened shredded coconut

½

medium avocado (

50

grams), pitted, flesh scooped out

1 cup

frozen mango cubes

1

pitted medjool date

1 teaspoon

fresh lime juice

1/2 teaspoon

vanilla
---
Instructions
Place water and shredded coconut into your blender and blend until the water becomes cloudy — about 10-30 seconds. Add all remaining ingredients into blender and blend until smooth.
---
---
Nutrition
Serving Size:

1 smoothie

Calories:

257

Sugar:

25g

Fat:

13g

Carbohydrates:

37g

Fiber:

8g

Protein:

2g
Do you make smoothies and save them for later? Have any additional tips — I'd love for you to share 'em in the comment section.