A creamy tropical green smoothie with banana, mango, coconut, spinach, protein powder and chia seeds. The perfect healthy smoothie for summer!
The weather is starting to heat up here in Virginia. It's officially time to start packing away my winter wardrobe, busting out the shorts and incorporating more warm weather foods, like overnight oats and smoothies, into my diet.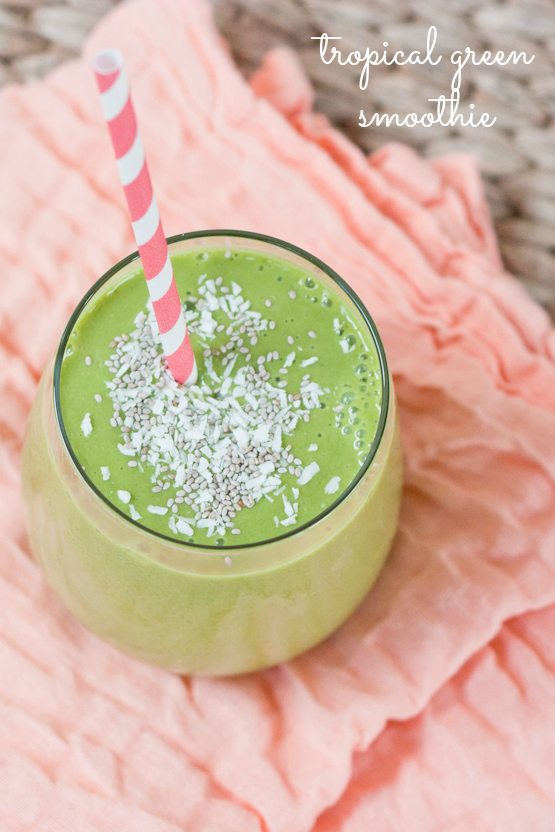 I'm pretty sure you guys already know this, but I'm pretty much hooked on adding greens to all of my smoothies. If you haven't tried my green lemonade smoothie, what are you waiting for? Just kidding, kind of. No, but really, it's good and I do recommend trying it.
I've grown to like the "green" taste in my smoothies but the recipe I'm sharing today is perfect for those just getting hopping on-board the green smoothie train. It uses frozen banana and mango, both of which are super sweet and do a great job masking just about anything. Of course, it's still a winner for those of us that have been drinking green smoothies for ages — you can't really go wrong when combining banana, mango and coconut.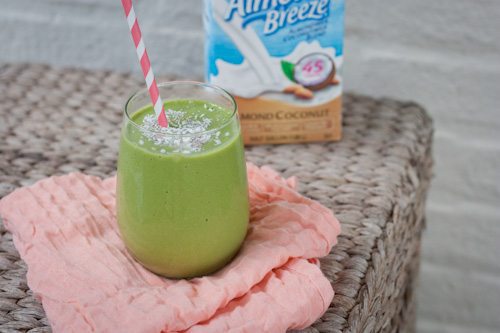 The recipe is actually inspired by one of my favorite smoothies from the Tone It Up Beach Babe edition: the Monkey's Mango and Coconut Cream Smoothie. It has tropical flavors, which gives me a reminder that after all the stress of planning a wedding, our day will be here (and be amazing!!) and then Isaac and I will be headed to the Caribbean to relax and soak up the sun while sipping tropical flavored drinks similar to this one, but with a splash or two of rum. 😉
1
adjust servings
Ingredients
1/2

frozen banana

1/2

cup frozen mango

1

cup Almondmilk Coconutmilk Almond Breeze

1-2

cups baby spinach

1

scoop brown rice protein powder

1/2

Tablespoon chia seeds

1

teaspoon unsweetened shredded coconut (optional)
Instructions
Place all ingredients except the shredded coconut into a high-powered blender and blend until smooth. Sprinkle a few extra chia seeds and the unsweetened coconut on top. Enjoy!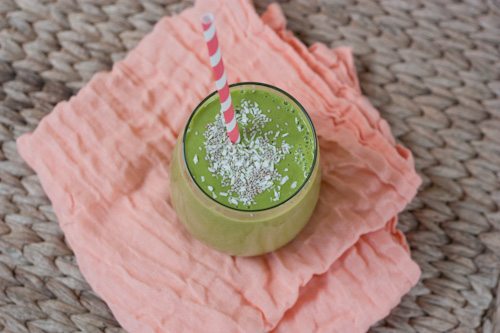 I normally buy and use Unsweetened Vanilla Almond Breeze but this week I decided to switch it up and buy the Unsweetened Almondmilk Coconutmilk blend. It's perfect for this tropical smoothie but I also love the subtle coconut flavor it adds to my morning iced coffee. I've been enjoying it this week while day dreaming about laying on the beach with my toes in the sand. Can you tell I'm ready for our honeymoon?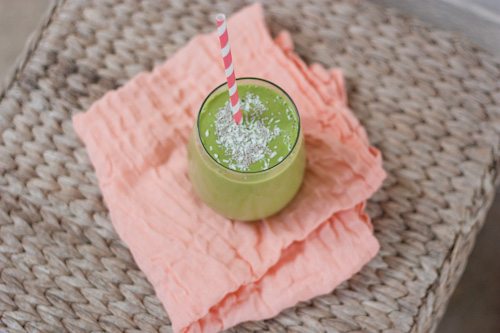 What's your favorite green smoothie combo?