How to Freeze Bananas
7
Published Jan 21, 2022, Updated May 26, 2023
Don't let your ripe bananas go to waste! Here's a step by step guide on how to freeze bananas (2 ways!) so you can always have them on hand for smoothies, ice cream and baked goods.
I know we've all been there… you buy a bunch of bananas feeling really motivated to up your fruit intake and then a few days later you have overripe, spotty bananas that you're not sure what to do with.
If you feel like you're racing against the clock to come up with a recipe, let me propose a new idea for you: freeze your bananas.
Instead of composting or tossing your ripe bananas, freeze them for later use! There are so many ways to use frozen bananas and if you like to plan ahead, you may find that you want to freeze a few right when you get home from the grocery store.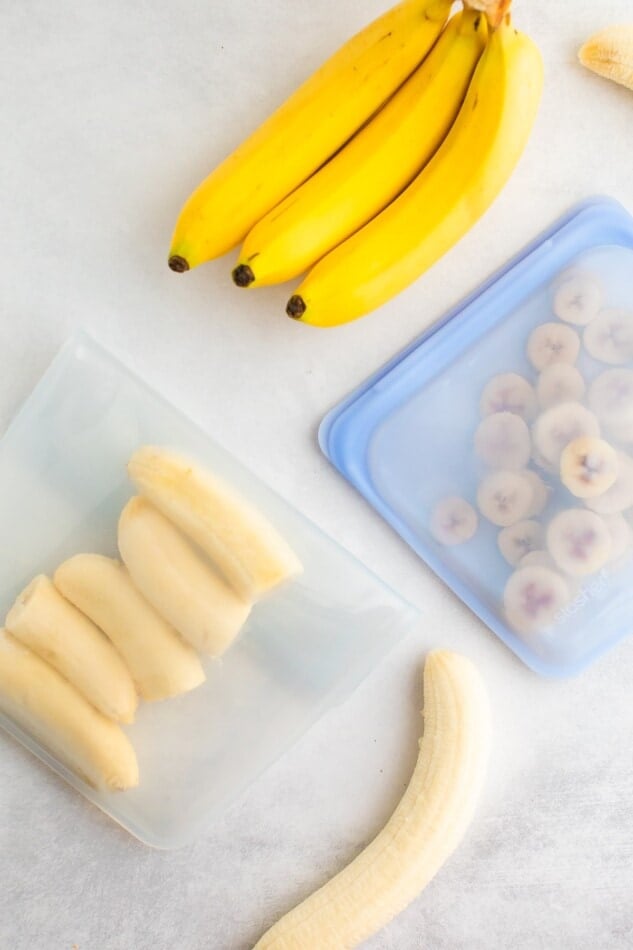 How to Freeze Bananas
Peel – The most important step is to peel your banana before freezing! I've frozen whole bananas with the skin on before and it was such a mess to get the peel off. Trust me, you're going to want to peel first.
Slice – So first things first, peel your banana. After you peel your banana you can either cut the fruit in half or slice it into 1/2-inch thick rounds and place them on a baking sheet lined with parchment paper or a silicone baking mat. Make sure the pieces of banana are arranged in a single layer and that they are not touching each other so they can freeze without sticking together.
Smaller slices are great if you like adding slices to oatmeal or smoothies or if your blender can't handle larger chunks of frozen banana. Of course, you can always chop your frozen banana, if needed. Frozen bananas are hard but you can still cut through them with a sharp knife.
Freeze – Freeze for 1-2 hours or until the bananas are frozen solid. The slices will freeze faster than the halves.
Transfer – After the bananas have are frozen, you can transfer them to a freezer-safe storage container for more efficient storage. You can just toss them into a bag without freezing, but this usually causes them to stick together and makes it harder to pull just one or two pieces out at a time.
Label – I also recommend labeling the container with the freeze date so you can remember how old they are! If you go through your frozen bananas quickly there's no need to worry about labeling. The bananas will keep for up to 3 months in the freezer.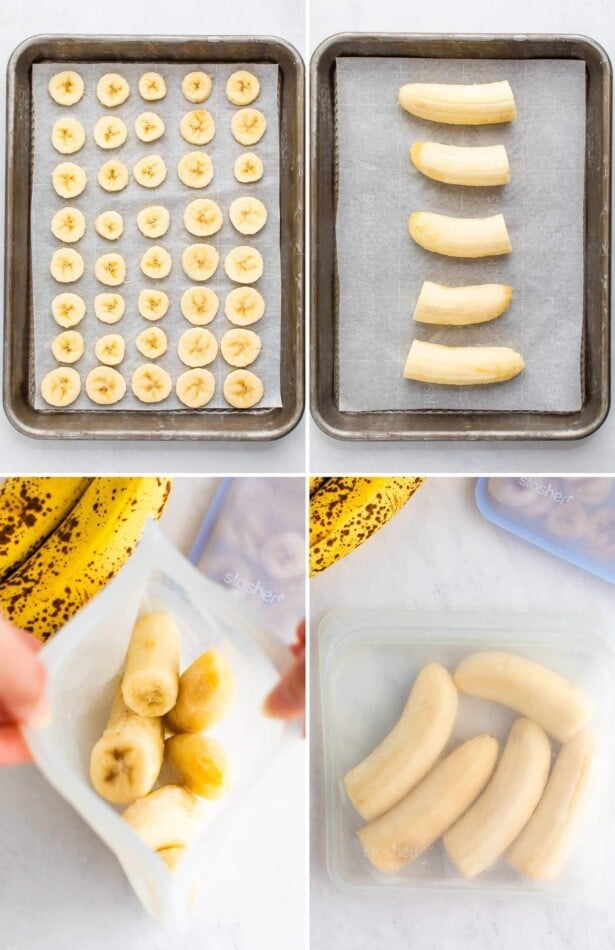 Can You Freeze Whole Bananas?
Yes! You can absolutely freeze whole bananas, but I would still recommend peeling them. I typically freeze mine in halves because it's easier for me to measure when I'm using a frozen banana for a recipe and a lot of smoothie recipes call for 1/2 a banana so that makes it easy.
But if I'm freezing really ripe bananas for banana bread I usually freeze them whole because I can just pull out 2-3 whole bananas, let them thaw and use them for the recipe!
Can You Freeze Unpeeled Bananas?
Yes you can! I know some people prefer to do this, but I've tried it and I'm not a fan.
When frozen, banana peels will turn dark and get soft. The bananas are still safe to eat, but it does make the peel very hard to remove. They also won't be as 'fresh' as they would be if you frozen them without the peel.
When to Freeze Bananas
Since most recipes call for ripe bananas, make sure your bananas are ripe before freezing, this way they'll be softer and sweet! If you're freezing the bananas as part of meal prep, just make sure the bananas are fully yellow. If you have bananas that seem to be at the end of their life (spotted brown or almost entirely brown) those are perfect for freezing for banana bread or baking!
How to Prevent Bananas From Turning Brown
Too much air exposure will cause bananas to brown, so make sure to use an airtight container and remove as much air as possible before storing. I love using my Stasher bags for storing as they're freezer-safe and seal properly!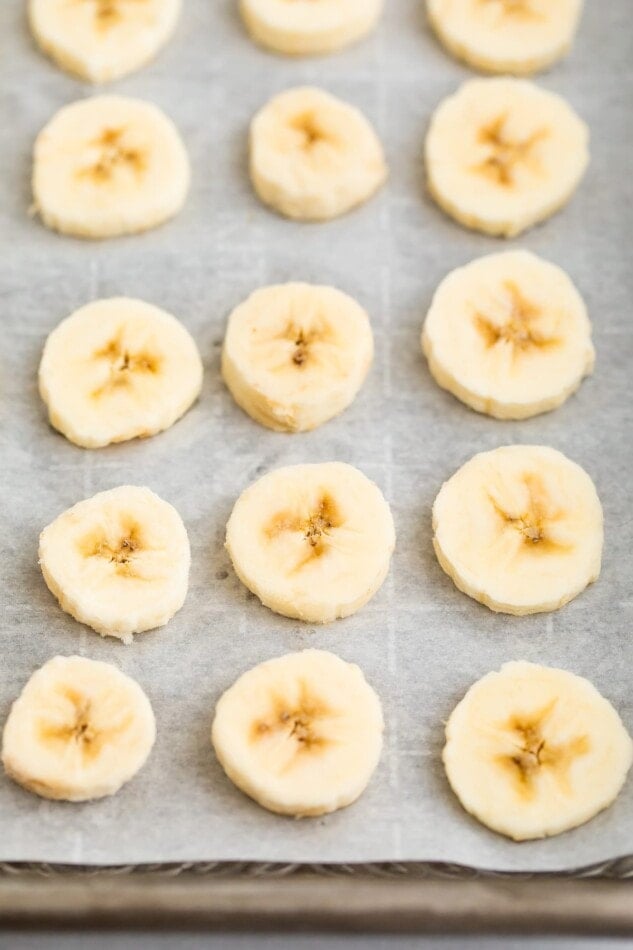 How to Thaw Frozen Bananas
If you're using your frozen bananas in baked goods, I recommend thawing them first. You can either let them thaw overnight in the refrigerator or let them thaw at room temperature for about two hours. You can also use the defrost setting on your microwave if you're in a rush.
Thawed, frozen bananas will release a lot of water but this is normal! Don't drain the banana before using it in a recipe like banana bread – that liquid is part of the banana, necessary and has lots of flavor that will enhance the recipe!
One thing to note is that when you bring your bag of frozen bananas out, be sure to grab what you need and place the bag immediately back in the freezer because if the bananas start to thaw, they will freeze together once you put them back in the freezer.
How to Use Frozen Bananas
There are so many ways to use frozen bananas! Not only do frozen bananas give smoothies the most amazing texture, but you can make dairy-free banana ice cream just by blending them up! You can also add frozen bananas to your oatmeal as it cooks. Try it with my peanut butter banana oatmeal. And of course thawed frozen bananas are great for baking!
I also have a ton of recipes that call for frozen bananas and then plenty of recipes where you can use thawed frozen bananas instead of fresh.
Recipes That Call For Frozen Bananas
Baking Recipes With Bananas
For more inspiration, check out all the banana recipes here on EBF and my guide for how to freeze peaches.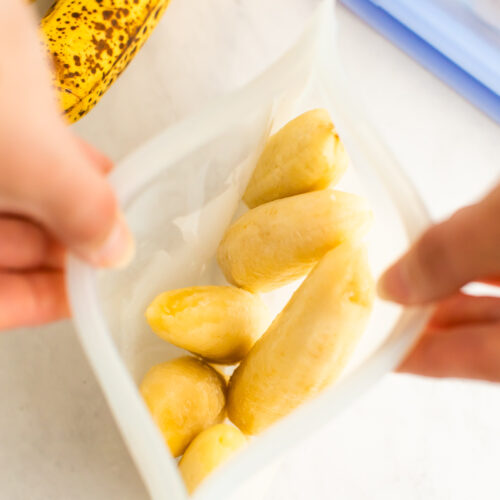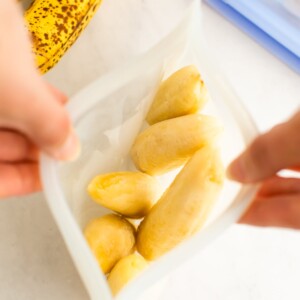 How to Freeze Bananas
Don't let your ripe bananas go to waste! Here's a step by step guide on how to freeze bananas (2 ways!) so you can always have them on hand for future smoothies, ice cream and baked goods.
Ingredients
3

large ripe

bananas

,

peeled (or as many as you have)
Instructions
Line a baking sheet with parchment paper or a silicone baking mat.

If you haven't already, peel the bananas. Either cut bananas in half or slice into 1/2-inch rounds and place on prepared baking sheet in a single layer so they aren't touching or overlapping.

Place baking sheet in freezer and freeze bananas until solid, at least 1-2 hours.

Transfer the frozen bananas to a freezer-safe storage bag labeled with the date. Seal the bag, removing as much air as possible. Return to the freezer for later use. They will stay fresh up to 3 months in the freezer.
Nutrition
Serving:
1
banana
|
Calories:
105
kcal
|
Carbohydrates:
27
g
|
Protein:
1
g
|
Sodium:
1
mg
|
Potassium:
422
mg
|
Fiber:
3
g
|
Sugar:
14
g
Nutrition information is automatically calculated, so should only be used as an approximation.