Mason jars are the best way to pack a salad for lunch! Not only are they super quick and easy but you don't have to worry about your lettuce getting soggy or bringing a separate container for dressing! Check out this post for all my mason jar salad tips.
Ever since Mason Jar Salad Week, I wanted to share an actual 'how to' resource for building salads in a jar! They're so fun to make and a great for taking on-the-go. Any salad can be prepped in a mason jar – have fun with creating your own but use this guide to make sure you keep your salad nice and fresh!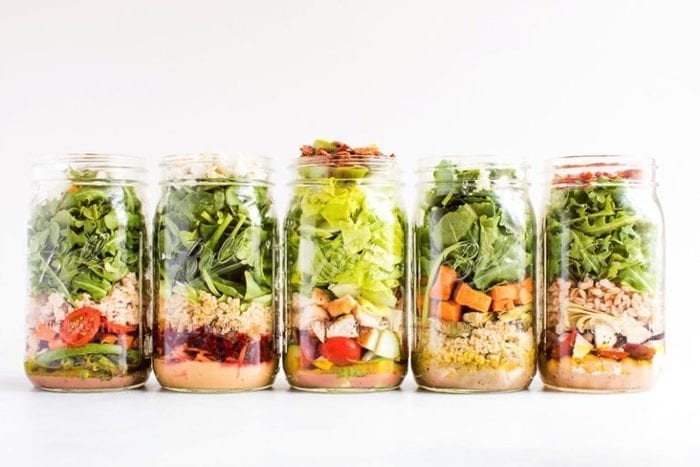 The one thing to remember about salad in a jar is that your dressing goes on the bottom and you should only use things that do well "marinating" in dressing (like hearty veggies, tofu, beans, etc.) for the next layer as it's going to be touching the dressing. The rest is pretty easy, but here's a quick guide on how I made my salads in a jar. The most important thing to remember = put your dressing at the bottom! This prevents #soggysalad because nobody likes that…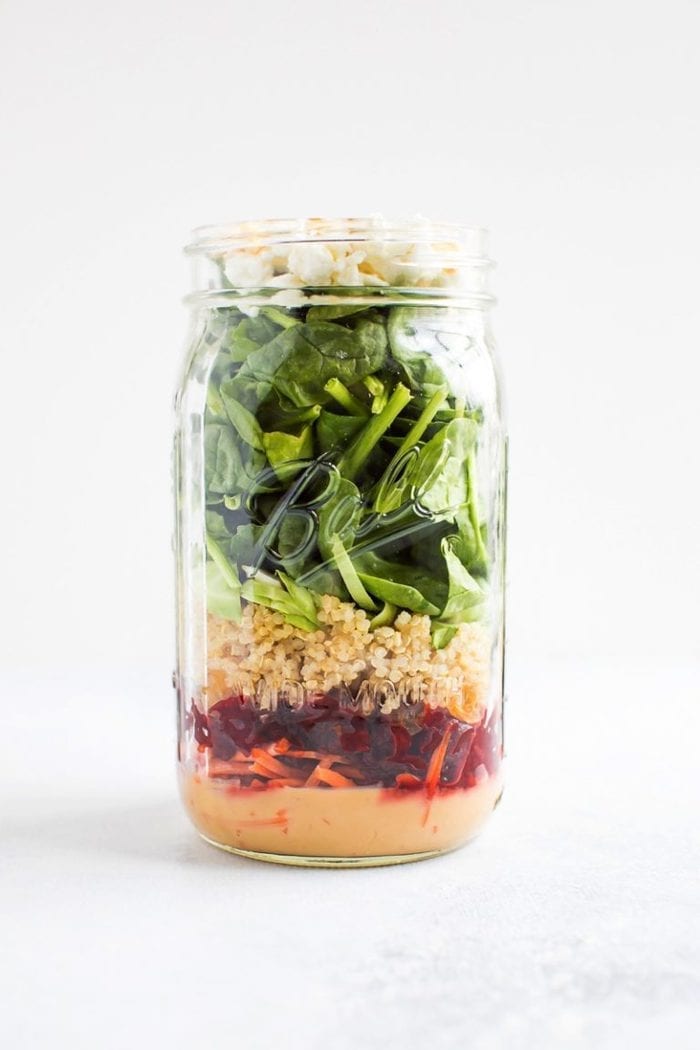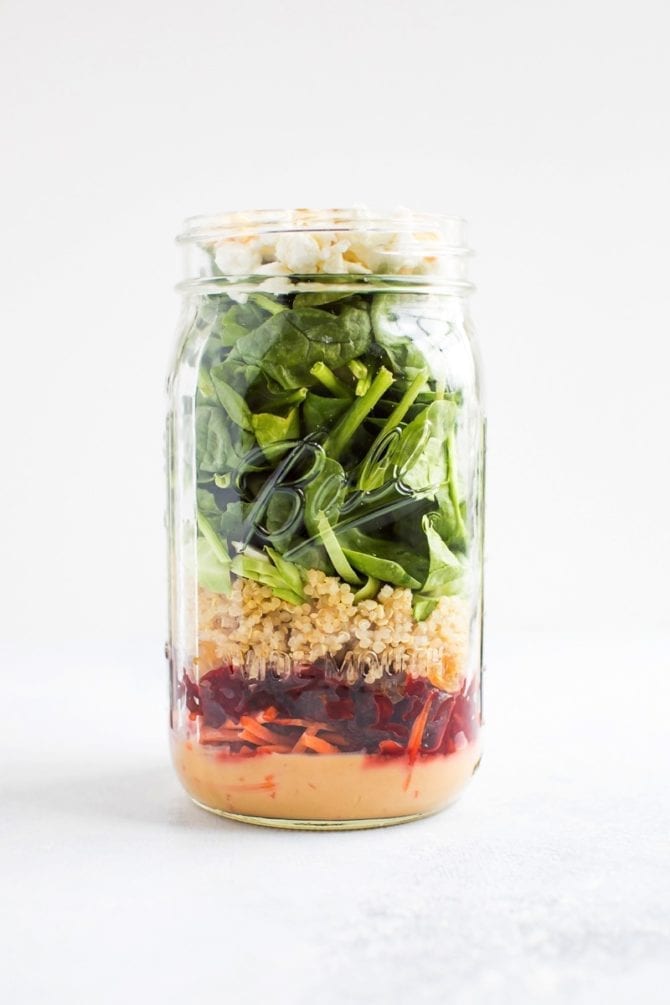 Start by putting 2 Tablespoons of dressing into the bottom of the jar.

Add items that will respond well to marinating in the dressing:

cucumbers

squash

mushrooms

carrots

beets

Add your remaining veggies, legumes, and greens.

tomatoes

red bell pepper

broccoli

broccoli slaw

avocado sprinkled with lemon juice to prevent browning

chickpeas

spring mix (lots of this – you can really pack it in)

Add remaining ingredients.

grains

protein

nuts

fruit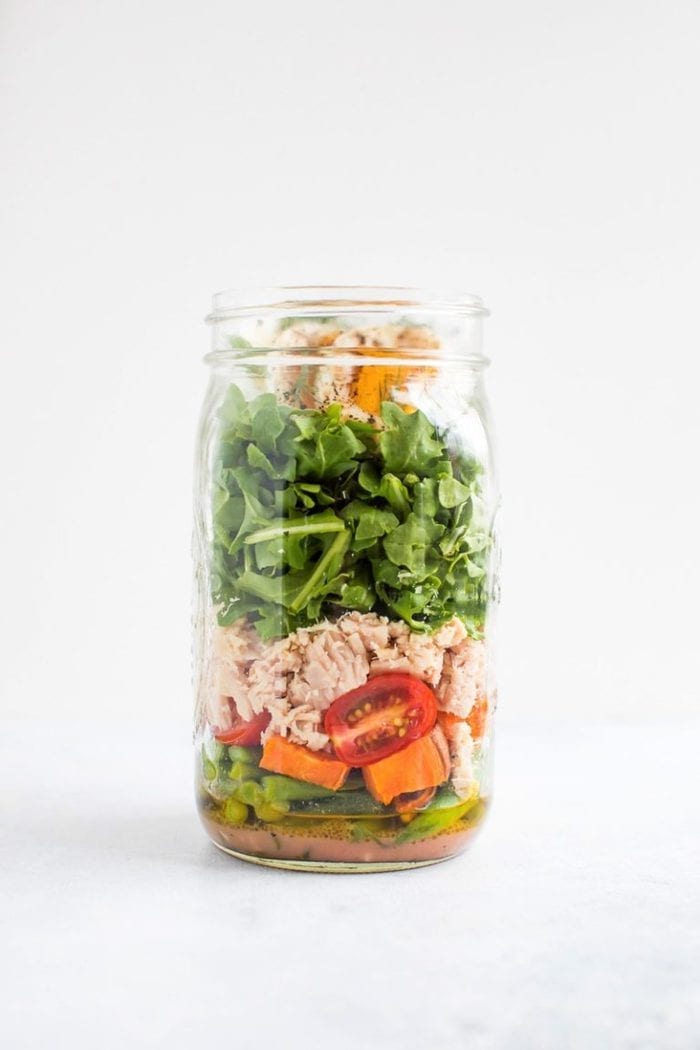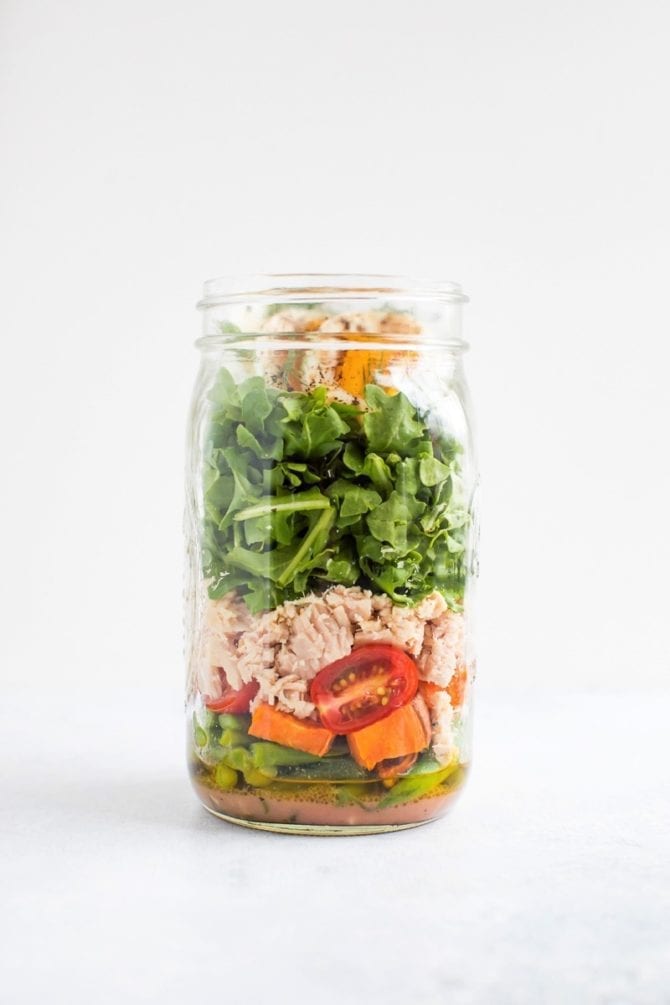 A few bonus tips:
The quart sized mason jars make one big, meal sized salad. You could probably split it between two people if it were being served as a side salad.

I recommend using wide-mouth Ball jars instead of ones with the regular size mouth. It's just easier to get the ingredients in and out of the jars when using the wide-mouth.

Have fun experimenting with different dressings, veggies, protein, and toppings!

Leave a little room at the top of the jar so that you can shake it up right before serving. It helps make sure all parts of the salad have some dressing.

You can totally eat the salad out of the jar, but they are a little deep for forks so I like pouring the salad into a dish.
Want some mason jar salad inspiration? Check out these recipes!
Here are a few Healthy Homemade Salad Dressings you can try.
This post may include affiliate links. Thank you for your support.