Let me present to you the solution to all your problems…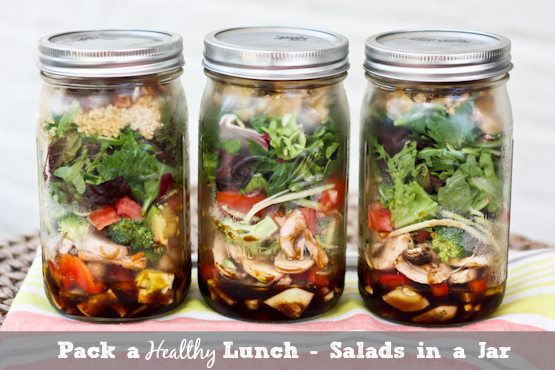 Okay so maybe these guys aren't going to save the world. However, when it comes to eating healthy, we all know that being prepared is the key to success, and these salads in a jar will save you plenty of time when it comes to prepping a nutritious lunch (or dinner).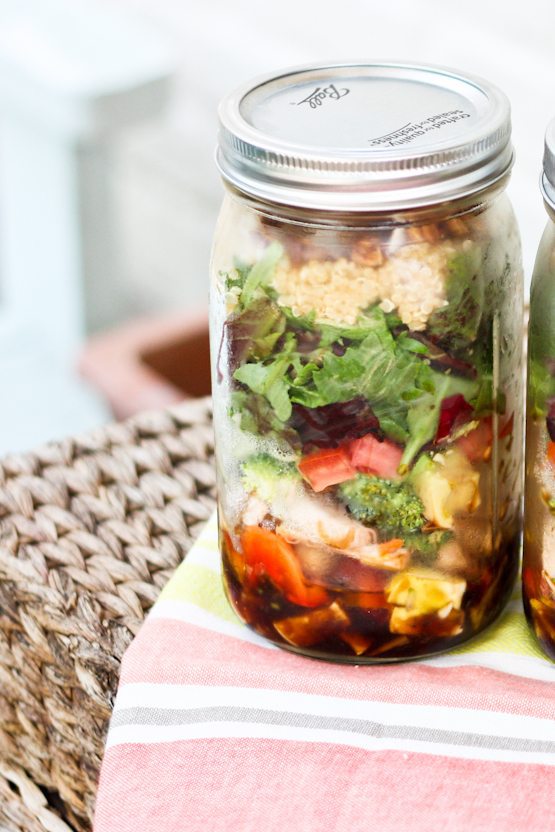 Basically Ball jars are the perfect reusable salad container – they are easy to transport, a cinch to clean and work great for shaking up the salad before serving. And don't worry – so long as the dressing is at the bottom of the jar, the veggies stay nice and fresh and your lettuce doesn't get soggy!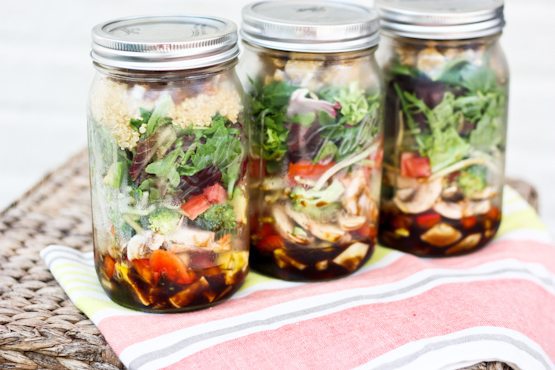 I actually saw the idea on Healthy. Happy. Life over the weekend and decided right away I wanted to make some for the week ahead. I had already bought a case of quart (32 oz) sized Ball jars in case we needed them for the canning adventure on Saturday, so all I needed to do was get the salad ingredients ready. Easy peasy.
As Isaac and I were chopping veggies for a vegetable/tofu curry dish on Sunday evening, I chopped up extra veggies and whipped up a basil balsamic dressing for the salads. I wanted to make sure each salad had protein so for one I used leftover quinoa and chickpeas and for the other two I used 3 oz. of baked plain tempeh.
Balsamic Salad in a Jar
The one thing to remember about salad in a jar is that your dressing goes on the bottom and you should only use things that do well "marinating" in dressing (like hearty veggies, tofu, beans, etc.) for the next layer as it's going to be touching the dressing. The rest is pretty easy, but here's a quick guide on how I made my salads in a jar.
Start by putting 2 Tablespoons of dressing into the bottom of the jar (I used the Basil Balsamic Dressing posted below)
Add items that will respond well to marinating in the dressing.
Add your remaining veggies, legumes, and greens.

tomatoes
red bell pepper
broccoli
broccoli slaw
avocado sprinkled with lemon juice to prevent browning
chickpeas <– Salad 1 had this.
spring mix (lots of this – you can really pack it in)

Add remaining ingredients.

quinoa <– Salad 1 had this.
baked tempeh <– Salad 2 and 3 had this.
pecans
a few dried cherries
Print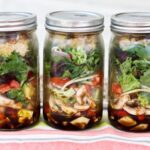 Salad in a Jar with Basil Balsamic Dressing
Author:

Prep Time:

5 mins

Total Time:

5 mins

Yield:

3
---
Description
Makes 6 Tablespoons / 3 servings
---
Ingredients
1/2 cup balsamic vinegar
2 teaspoons honey (or agave nectar)
2 teaspoons finely chopped basil
1/2 teaspoon Braggs liquid aminos (or sea salt)
1/4 cup olive oil
---
Instructions
Combine all ingredients except olive oil in a blender and blend.
Continue to blend at a low speed as you add olive oil until it is completely emulsified.
So far I've had two of the salads this week for lunch and they've been excellent. I absolutely love how the veggies that have marinating in the dressing taste – super flavorful and semi-pickled!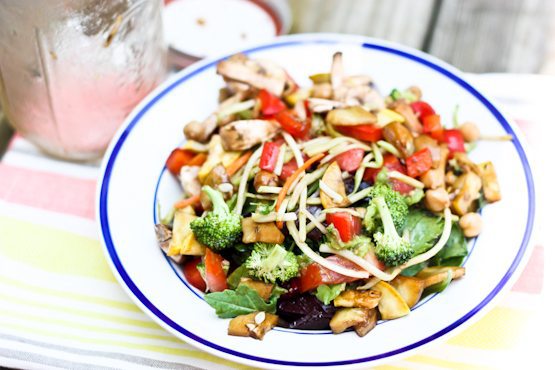 A couple tips:
The quart sized jars make one big, meal sized salad. You could probably spilt it between two people if it were being served as a side salad.
I recommend using wide-mouth Ball jars instead of ones with the regular size mouth. It's just easier to get the ingredients in and out of the jars when using the wide-mouth.
My recipe is just a guideline. Use whatever dressing, veggies, protein and toppings you like. Have fun experimenting!
Leave a little room at the top of the jar so that you can shake it up right before serving. It helps make sure all parts of the salad have some dressing.
You can totally eat the salad out of the jar, but they are a little deep for forks so I like pouring the salad into a dish.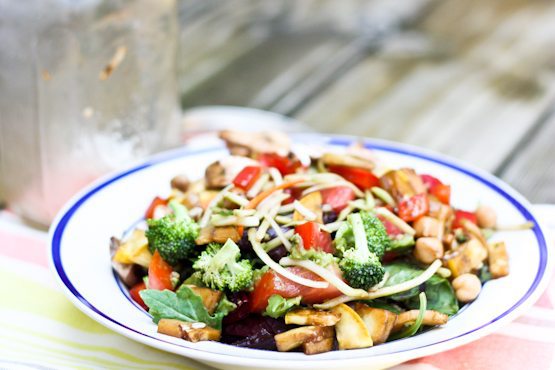 Yum!
I only made three salads because I didn't have enough protein for five. Now it's Wednesday, I'm down to one salad-in-a-jar and I'm kicking myself for not making five. I guess I better make more tonight!