How to Make Oatmeal
199
Published Jan 05, 2022, Updated Jul 24, 2023
Here's how to make oatmeal in less than 10 minutes with just 5 simple ingredients. It's heart-healthy and so delicious.
Over the years I've shared so many oatmeal recipes and even today it's still one of my all-time favorite breakfasts! It's so warm, comforting and healthy. As a volume eater I love the fact that with oatmeal I get to eat a huge bowl in the morning and the fact that it takes less than 10 minutes to whip up.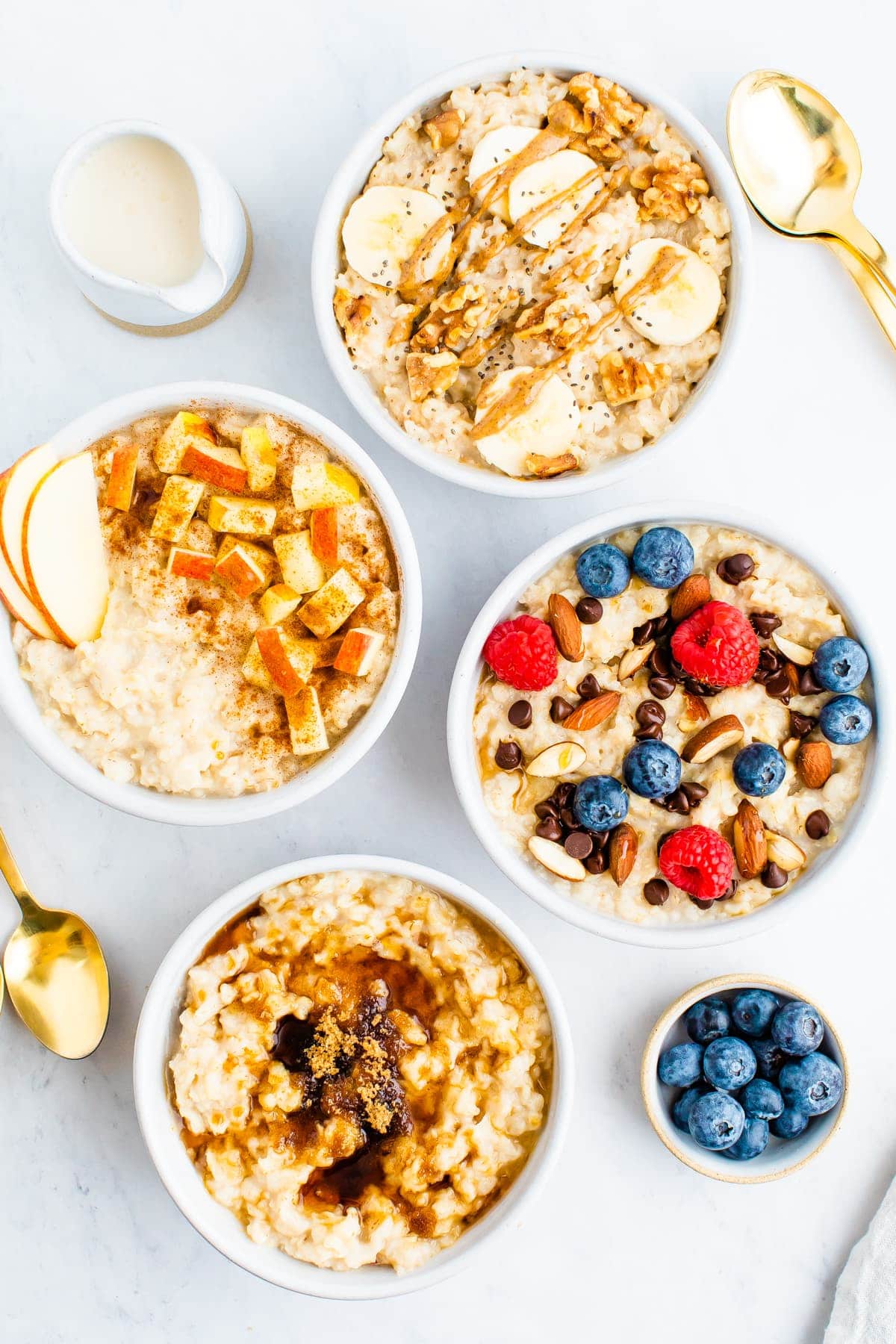 What You Need to Make the Perfect Bowl of Oatmeal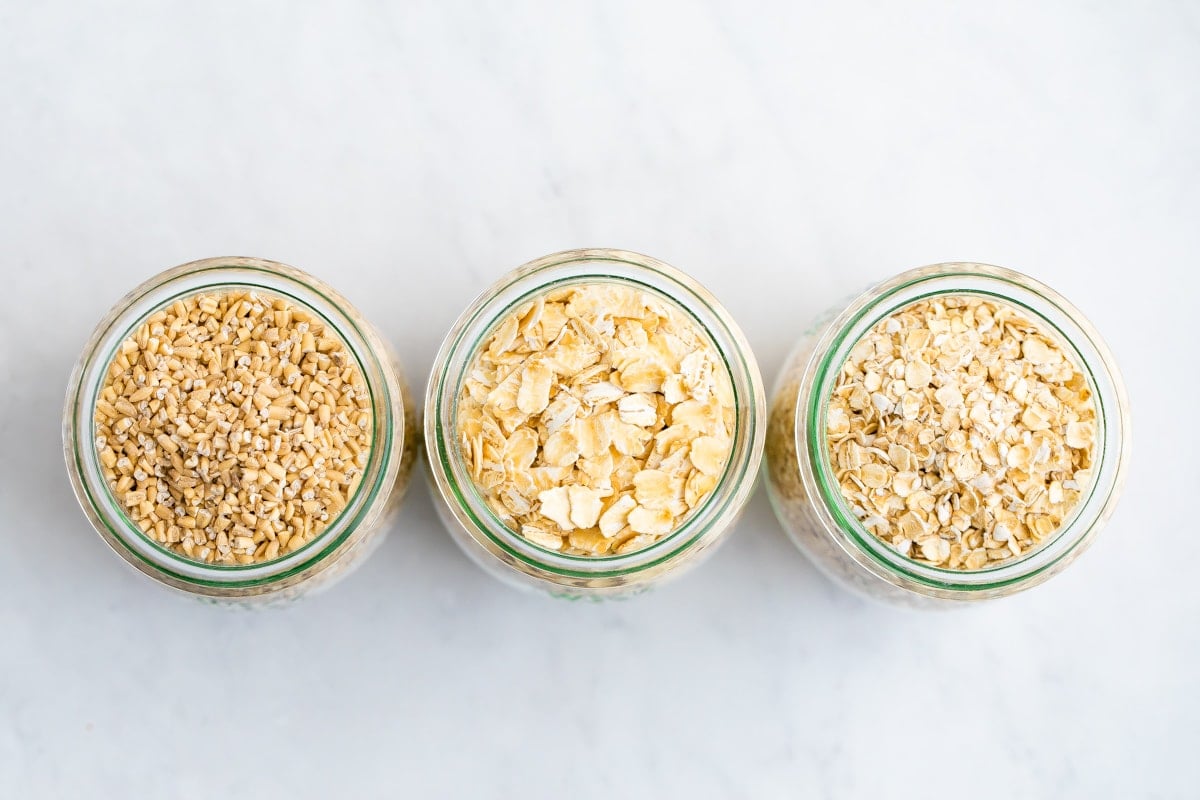 Different Types of Oats Explained
There are a few different oat options at the store and although they're nutritionally all about the same, there are some differences in processing and cooking.
Steel cut oats: these are the least processed type of oats. The oat groat (the full oat "grain") is simply cut into two or three parts to get steel cut oats. Because they are less processed, they absorb more liquid and take longer to cook. Here's my go-to cooking method for steel cut oatmeal.
Old fashioned rolled oats: for this type of oat, the oat groats have been steamed and then rolled. This bit of processing speeds up the cook time for all of us at home. Rolled oats make for a super creamy bowl of oatmeal and are my personal favorite!
Quick or instant oats: these are the most processed of all the oat varieties. They are pre-cooked, dried, and rolled and pressed slightly thinner than rolled oats. They cook faster than steel cut or rolled oats, but they also lose a bit of texture in the cooking process so they tend to be mushy and less voluminous.
Nutritional Differences
While steel cut oats are less processed than regular rolled oats, there are only minor differences nutritionally. Steel cut, old fashioned/rolled, and quick oats all have approximately the same amount of fiber, protein, calories, and other nutrients. I personally don't view one type of oatmeal better than the other. I tend to prefer steel cut oats and rolled oats for breakfast recipes, but I'll occasionally use quick oats for baking. Quick oats work great for my healthy no bake cookies and these lactation cookies.
How To Make Make Oatmeal
There are so many ways to cook oats. You can bake them, cook them on the stove top, make them in the slow cooker, make overnight oats or even make oatmeal in the microwave.
For this post, we're going to focus on my basic recipe for making stovetop oatmeal.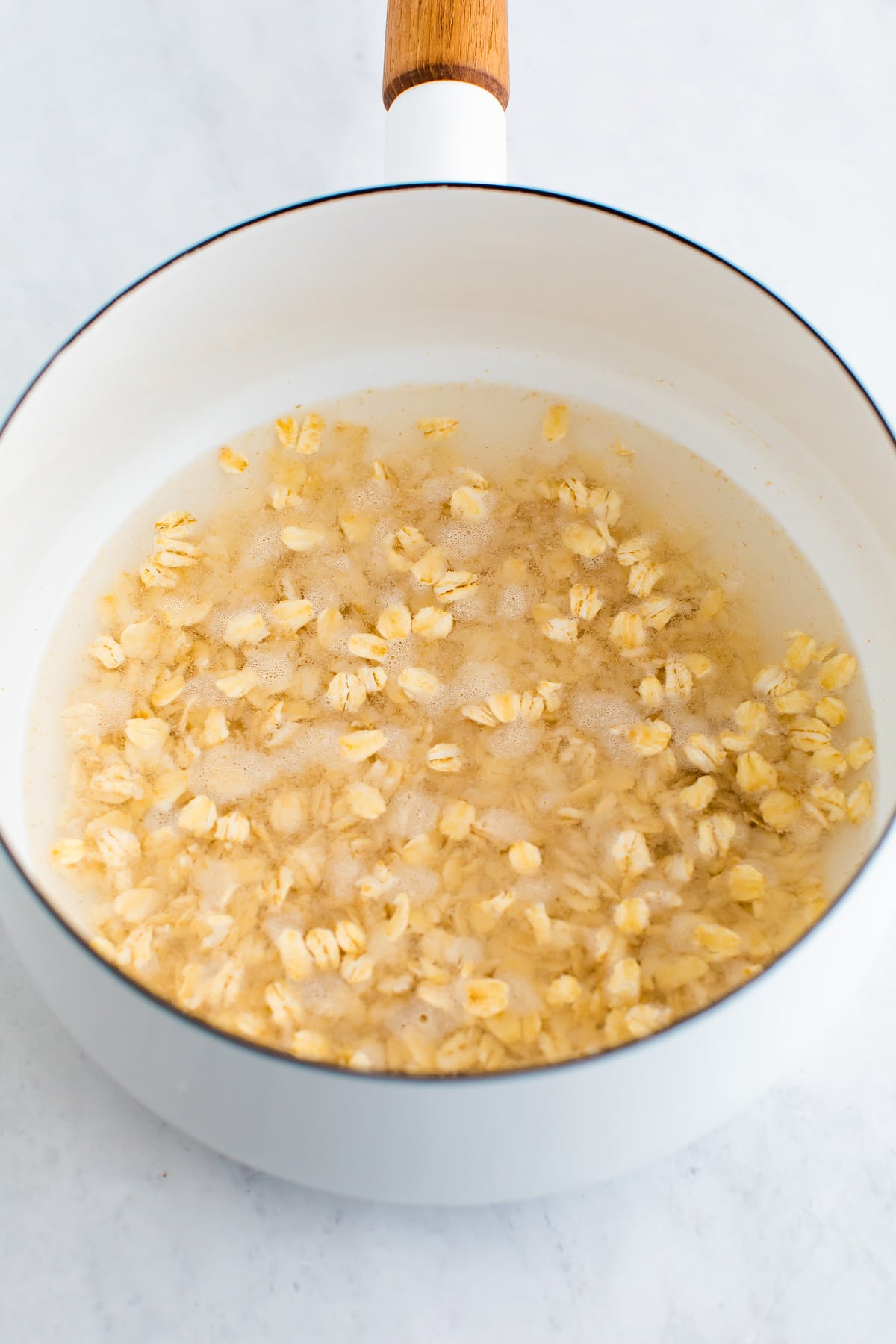 Combine ingredients – Add ½ cup rolled oats, 1 cup water or milk and a dash of salt to a pot and heat over medium/high heat.
Simmer – Bring the mixture to a boil, reduce heat and cook for about 5-7 minutes, stirring occasionally.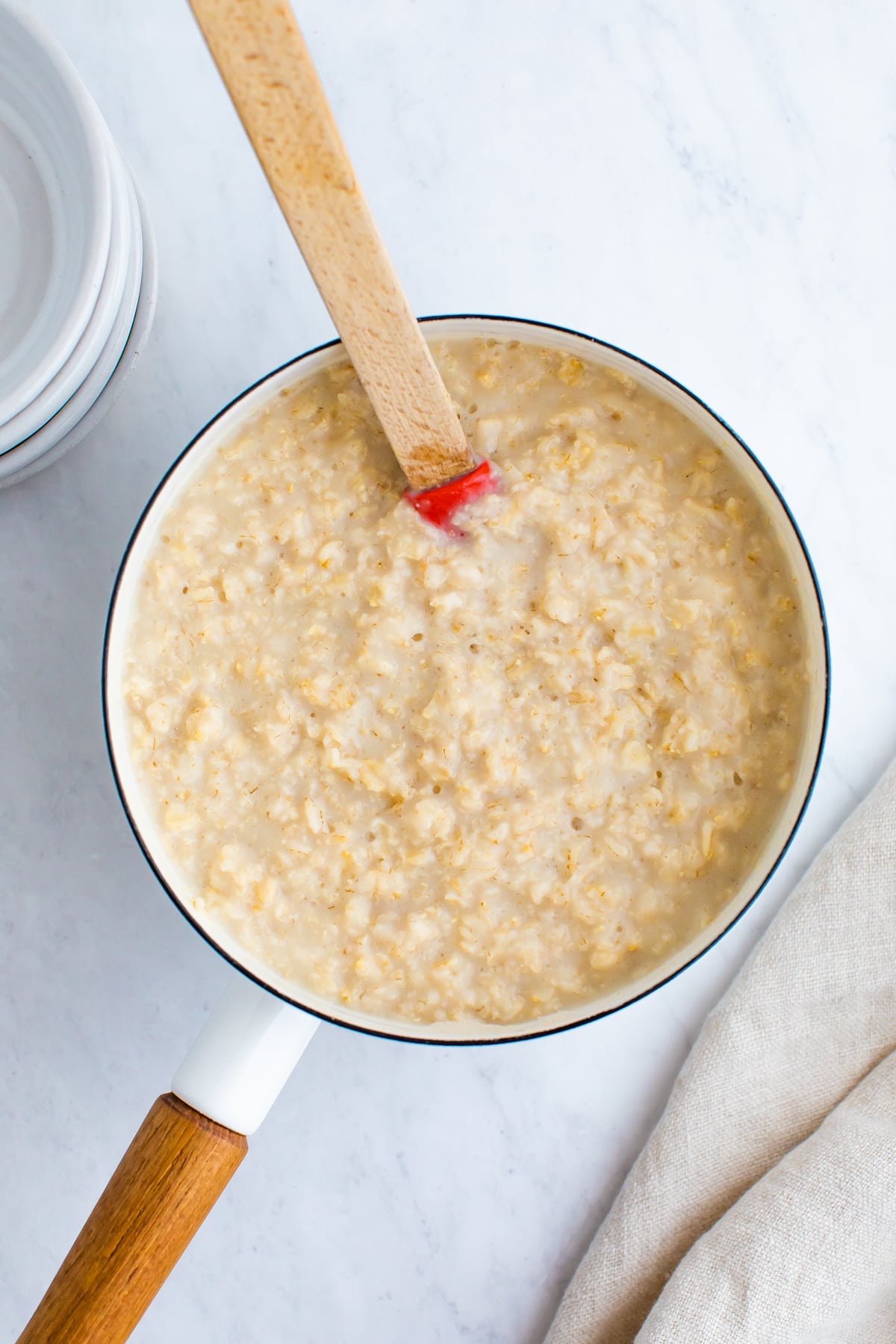 Serve – The oatmeal is ready when the oats have soaked up most of the liquid and are creamy. See photo above!
Add toppings and enjoy – Transfer oats to a bowl and add your favorite toppings.
Best Oatmeal Toppings
Flavor Variations
Once you've mastered the base recipe, it's time to get creative with variations! Here are four delicious ideas to get you started:
How to Cook Oatmeal in the Microwave
I prefer to cook my oatmeal on the stovetop, but you can also microwave it!
Just add ½ cup rolled oats with 1 cup water or milk and a dash of salt into a microwave safe bowl with plenty of room for the oats to bubble up. Microwave for 1 minute, stir and then microwave at 30 seconds increments, stirring between each one.
Cook until the oatmeal is the consistency you like – I typically cook mine for about 3 minutes but you'll know it's ready when most of the liquid is absorbed and the oats are hot.
Skip the Instant Oatmeal Packages
I know it can be tempting to purchase the little packages of instant oatmeal out of convenience, but you should skip them. They often have a lot of sugar in them, they're more expensive and they honestly don't taste as good as rolled oats cooked on the stove. That said, it's best just to make your own!
I love mixing in fruit, nut butter and a variety of textures to take my oatmeal to the next level. No more boring bowls of oats!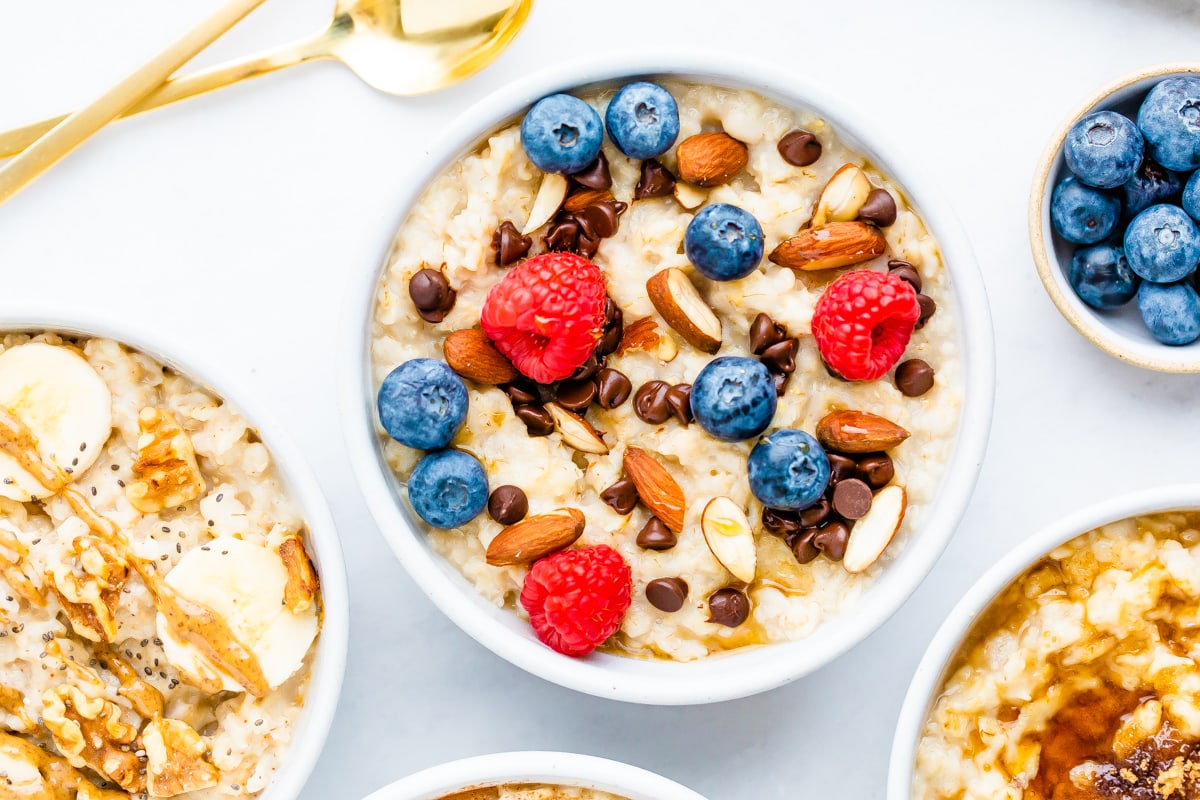 Oatmeal FAQ
Is it okay to eat oatmeal every day?
Yes, it's totally fine to eat oatmeal every day. It's not only nutritious and filling, but it's easy to change up the flavor profile of your oats with different mix-ins and toppings so you won't get bored having oatmeal on the daily.
Is oatmeal good for weight loss?
Oatmeal is known to be a healthy breakfast option because it contains soluble fiber, which can keep you feeling full and aid in weight loss. Of course, you'll want to be mindful of what you mix-ins and topping you use for your oatmeal as these things can add a lot of extra calories, sugar and fat.
Does oatmeal make you poop?
Oatmeal is packed with soluble fiber, a type of fiber that absorbs water and helps to moisten and soften stools for easier passage. So yes, oatmeal can help with constipation and make you poop more regularly.
Is oatmeal healthy?
Yes! Oatmeal is loaded with so many health benefits! For starters, oats are a whole grain, low in saturated fat, low in cholesterol, naturally gluten-free and a good source of fiber, thiamin, magnesium, phosphorus and manganese. The soluble fiber in oatmeal can also help lower cholesterol levels and reduce risk of cardiovascular disease.
How can you make oatmeal more filling?
I'll be the first to admit that plain oatmeal usually isn't filling enough for a meal unless you pair it with a little protein and some healthy fats. For added protein, I like making one of my protein oatmeal recipes, savory oats (with an egg on top) or serving it with a couple hardboiled eggs on the side. For healthy fats, I like adding chopped nuts (like almonds, walnuts and cashews) and seeds (like chia, flax and sunflower seeds). Or adding a big spoonful of nut butter on top!
More Stove Top Oatmeal Recipes
More Popular Oatmeal Recipes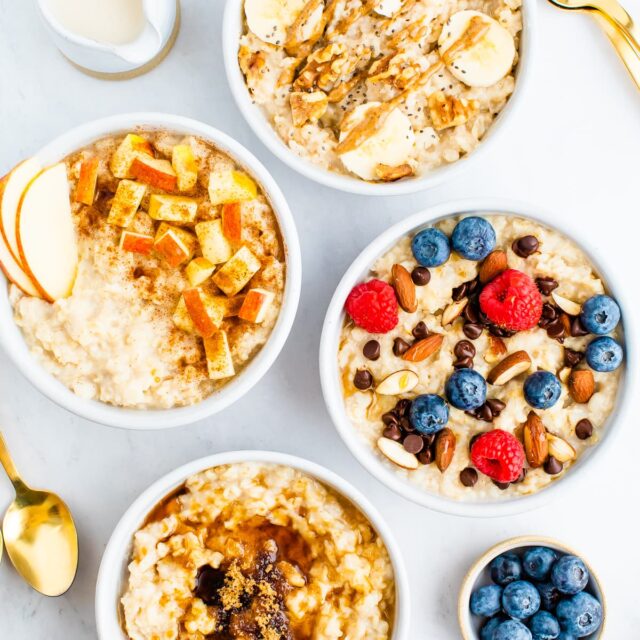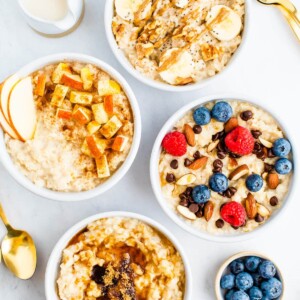 How to Make Oatmeal
A basic healthy oatmeal recipe, with instructions for how to cook old fashioned oatmeal on the stovetop or in the microwave and four different topping variations.
Ingredients
1

cup

water or milk

pinch

of sea salt

¼

teaspoon

of ground cinnamon

,

optional

¼

teaspoon

vanilla extract,

optional
Instructions
Add oats, water or milk, salt, cinnamon and vanilla (if using) to a pot or saucepan over medium/high heat.

Bring mixture to a low boil, reduce heat to a low simmer and continue to cook for about 5-7 minutes; stirring occasionally. Oatmeal is ready when the oats have soaked up most of the liquid and are creamy.

Transfer to a bowl and add toppings of choice. See flavor ideas within the post for maple brown sugar, apple cinnamon, banana nut and berry almond variations.
Notes
Microwave Method:
Add to a bowl and microwave: Add 1/2 cup oats and 1 cup water or milk into a large microwave-safe bowl and stir to combine. Microwave for 1 minute, then stir and continue to microwave in 30 second increments, stirring between each, until the oatmeal is the consistency you like. I usually cook them for a total of 3 minutes, but you'll know it's done when most the liquid is absorbed and oats are hot.
Serve with toppings: Carefully remove from microwave (bowl will be hot) and top with your favorite oatmeal toppings. See topping ideas above for maple brown sugar, apple cinnamon, banana nut and berry almond.
Nutrition
Serving:
1
bowl made with water (no toppings)
|
Calories:
153
kcal
|
Carbohydrates:
27
g
|
Protein:
5
g
|
Fat:
3
g
|
Saturated Fat:
1
g
|
Sodium:
157
mg
|
Fiber:
4
g
|
Sugar:
1
g
Nutrition information is automatically calculated, so should only be used as an approximation.