Do you ever wonder what blogs bloggers read? Me too!
To be perfectly honest, I don't read as many blogs as I used to. I simply don't have the time and some of my favorites are no longer around (still waiting for YHL to come back!) but I do have quite a few favorites that I check in on regularly. As a fun way to share those blogs with you, I thought I'd do a roundup featuring oatmeal recipes from some of my favorite blogs in honor of National Oatmeal Day.
In case you didn't know, I'm a huge oatmeal fan. Rightfully so, oats are a whole grain, low in saturated fat, low in cholesterol, naturally gluten-free and a good source of fiber, thiamin, magnesium, phosphorus and manganese. The soluble fiber can also help lower cholesterol levels and reduce risk of cardiovascular disease.
Plus, there's something about oatmeal that warms the soul. Hopefully this roundup will give you a few oatmeal recipes to try as well as a couple new blogs to check out. Enjoy!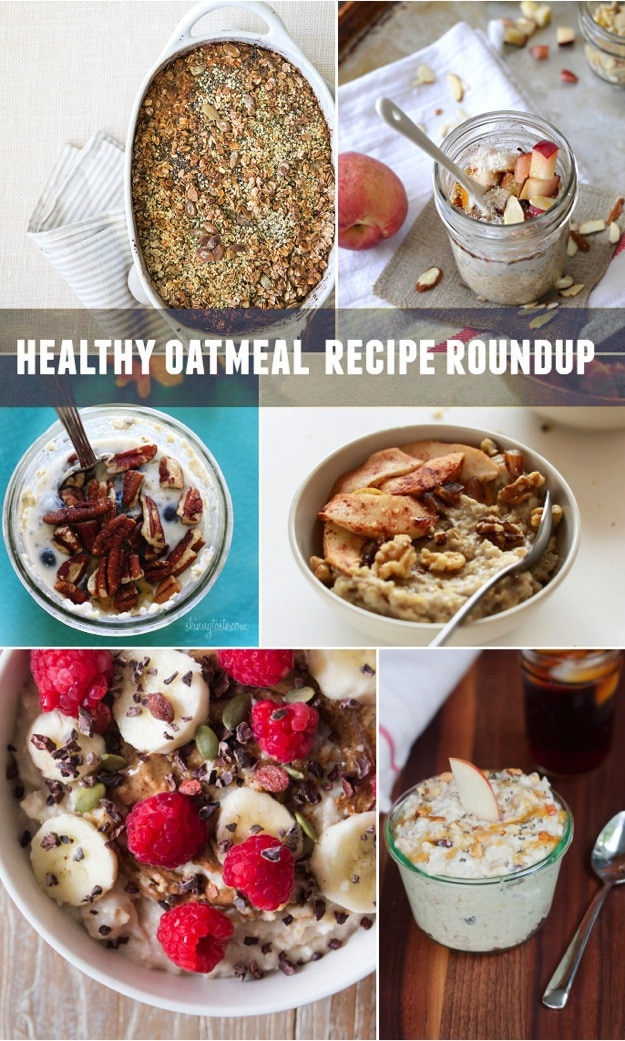 pear + sage baked oatmeal — what's cooking good looking // I would never think to add sage to oatmeal but I'm so glad that Jodi did. This combo sounds amazing.
Super Speedy Porridge — delicious ella // In a rush? Whip up a batch of these lightening fast oats.
Toasted Four Grain Cereal — 101 cookbooks // A warm bowl of grains featuring oats, rye, barley and spelt. The toppings are limitless.

Easy Steel-Cut Overnight Oats (with peaches, almonds, coconut & maple) — the pig & quill // Yup, you can make overnight oats using steel-cut oats!
Brown Sugar Apple Bran Oatmeal — pinch of yum // This reminds me of my childhood obsession with brown sugar instant oatmeal packets.
Almond Joy Oats — running to the kitchen // Candy bar flavored oatmeal that's actually healthy — sounds like a great Halloween breakfast.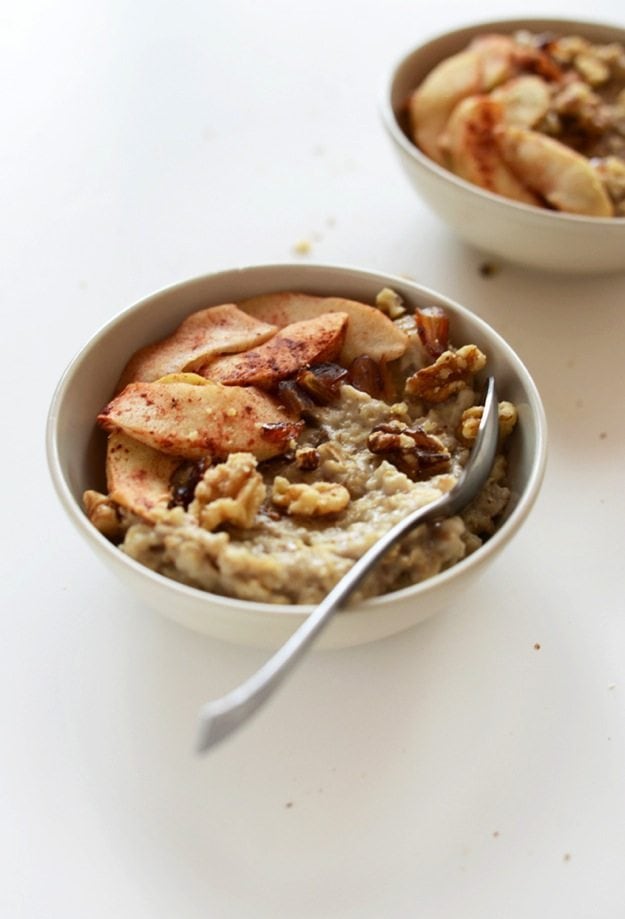 Date Sweetened Apple Pie Oatmeal — minimalist baker // You simply can't go wrong with date sweetened oats that taste like apple pie. 
Superfood Overnight Oats — choosing raw // A mixture of chia seeds, oats and two of my fav super berries — goji berries and dried mulberries.
Dark Chocolate Chunk Cheesecake Baked Oatmeal — how sweet it is // Because sometimes you really do need chocolate at breakfast.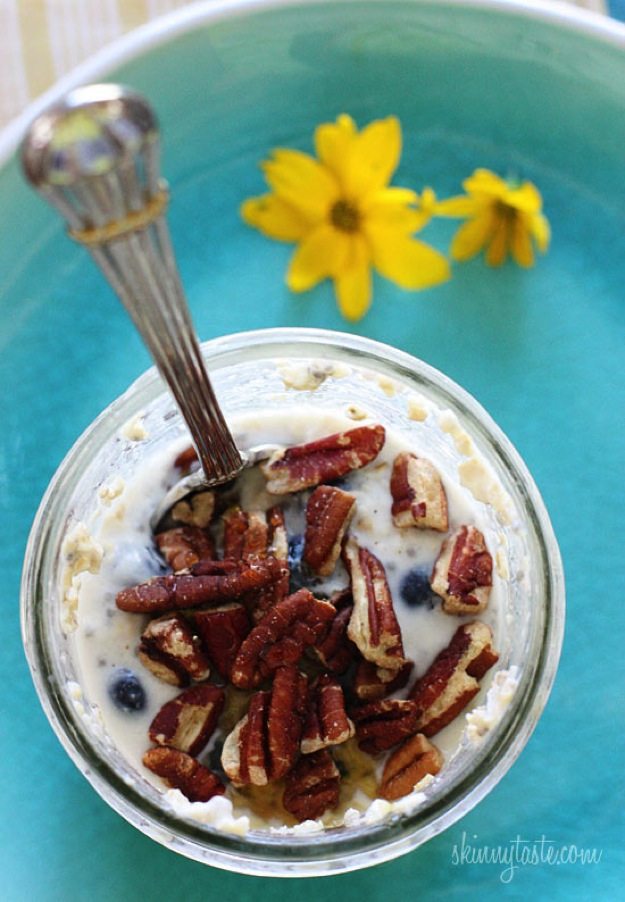 Skinny Overnight Oats In a Jar — skinnytaste // I had to include at least one "oats in a jar" recipe or this roundup wouldn't be complete.
Eggnog Overnight Oats — pb fingers // Eggnog season will be here before we know it. Actually, I bet it's already in stores now.
Baked Pumpkin Oatmeal Cups // Make ahead oatmeal cups that are portable. 
Everyday Oatmeal with Amaranth, Coconut and Maple Sautéed Apples  — 80twenty // Kris had me at maple sautéed apples. 
Protein-Packed TVP Oats — barr and table // I still haven't tried TVP oats but this reminds me that I need to.
Baked "Apple Pie" Oatmeal — naturally ella // In case you can't tell, if there's apple pie involved, I'm in!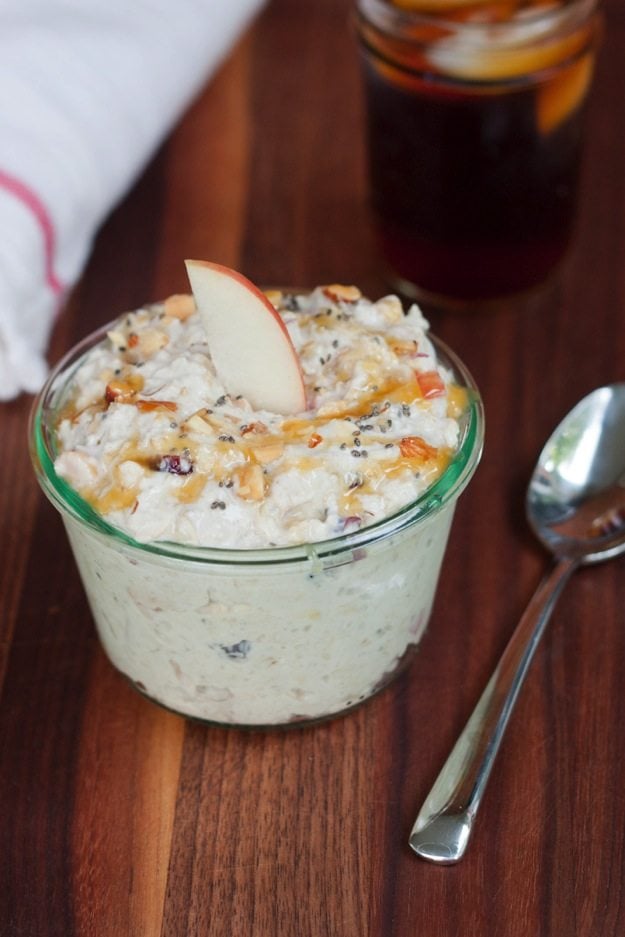 Chilled Swiss Oatmeal // A copycat version of the Corner Bakery's swiss oatmeal.
Blueberry Oatmeal Bake — nosh and nourish // Kelly's husband said it tasted like cake so basically I HAVE to try it.
Overnight Autumn Steel-Cut Oats — fitnessista // Pumpkin pie spice, dried cranberries and apples cooked overnight in the slower cooker. Delish!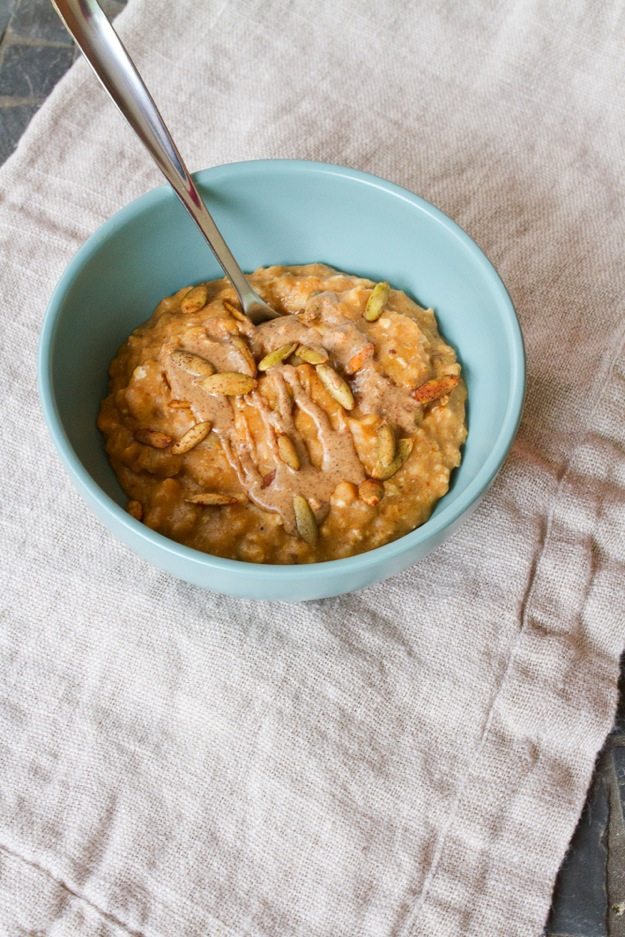 Pumpkin Oatmeal with Egg Whites // Fluffy protein packed oatmeal with a fall twist.
Spiced pear oatmeal — the roasted root // Spiced pears = perfect for fall.
Apple Ginger Cashew Cream Oatmeal — will frolic for food // Love the addition of ginger.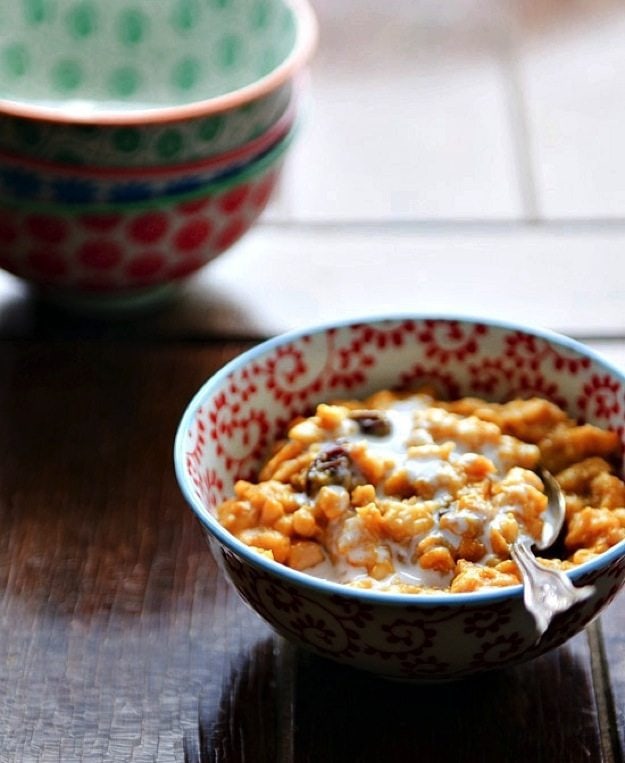 Chai Pumpkin Oatmeal — healthy green kitchen // This is right up my alley.
Strawberry Rhubarb Apple Oatbake — a house in the hills // This looks like dessert, but it's for breakfast. Woot!
Make Ahead Freezer Oatmeal — edible perspective // Love this idea. And all the toppings that Ashley used — yum!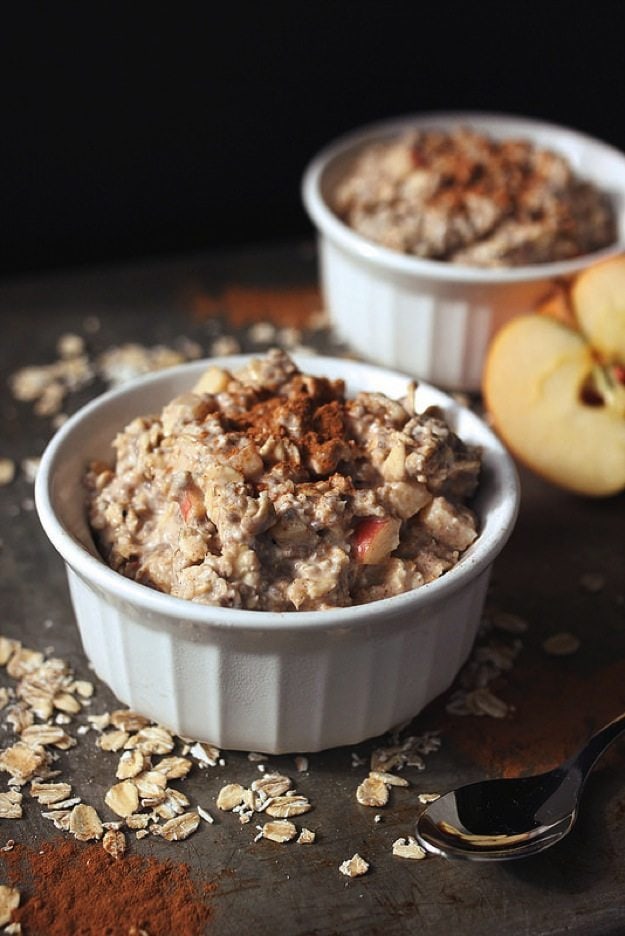 Apple Cinnamon Overnight Oats — tasty yummies // Love overnight oats + I'm really into all things apple right now. 
Coconut Blueberry Oatmeal — skinny confidential // Coconut + blueberry + banana = awesome topping combo.
Slow Cooker Apple Cinnamon Steel-Cut Oatmeal // No time to wait for steel-cut oats to cook in the morning? Make them in your crock pot the night before.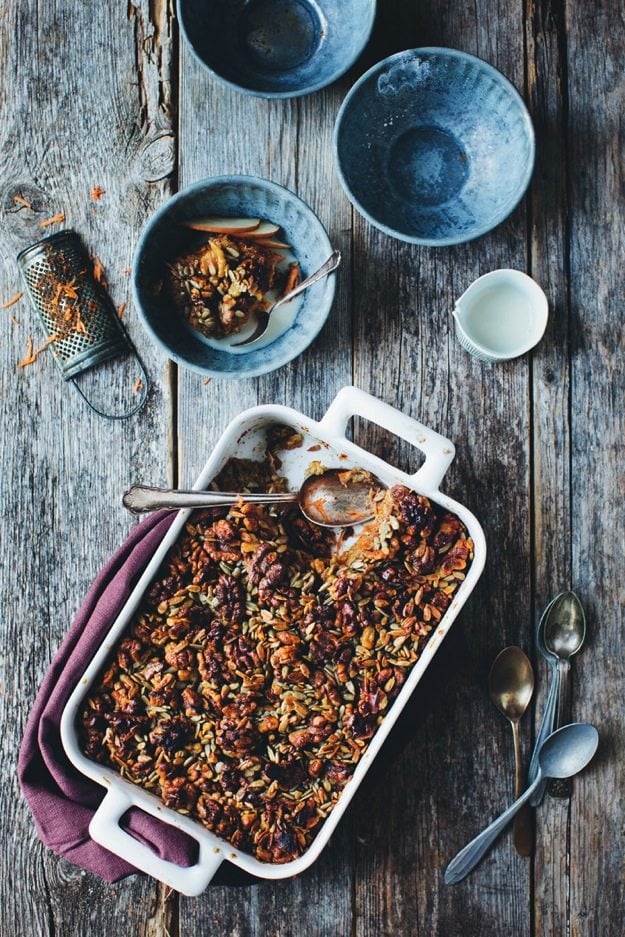 Baked Carrot Cake Oatmeal — green kitchen stories // Omg. This looks so good. 
Brownie Batter Peanut Butter Swirl Oatmeal — fit foodie finds // Anything that looks like chocolate sauce but is also a breakfast food is good in my book.
Morning Glory Oatmeal — cookie + kate // Carrots, coconut milk and spices. Need I say more?
What's your favorite oatmeal recipe? I'd love for you to link to it in the comments so others can check it out! 🙂