Healthy homemade strawberry chia seed jam made with just strawberries, chia seeds and no added sugar.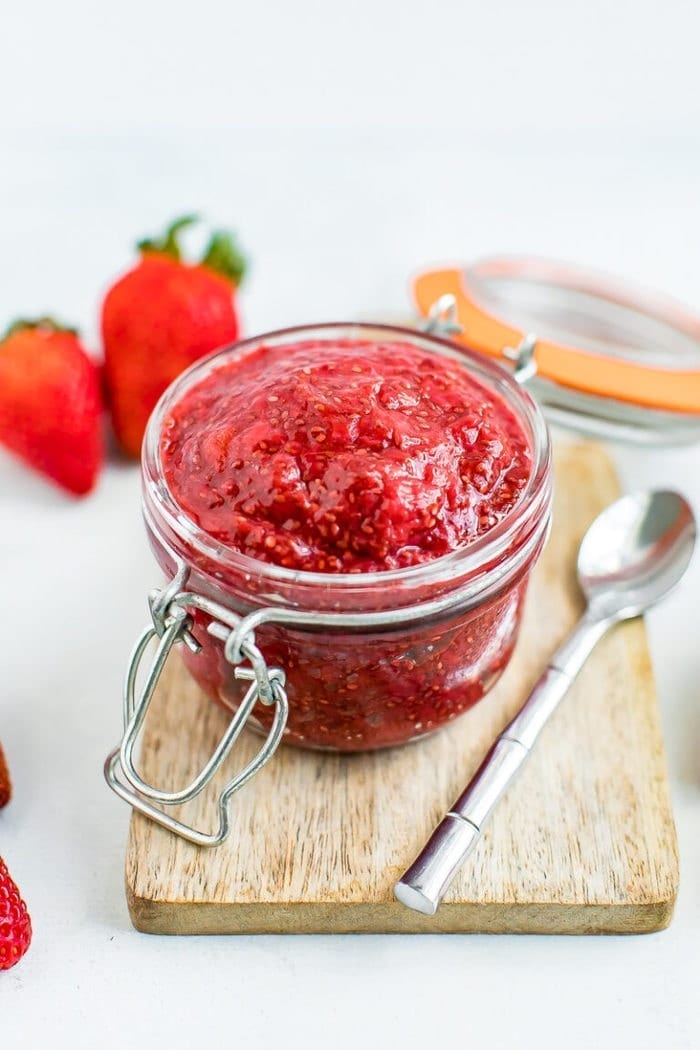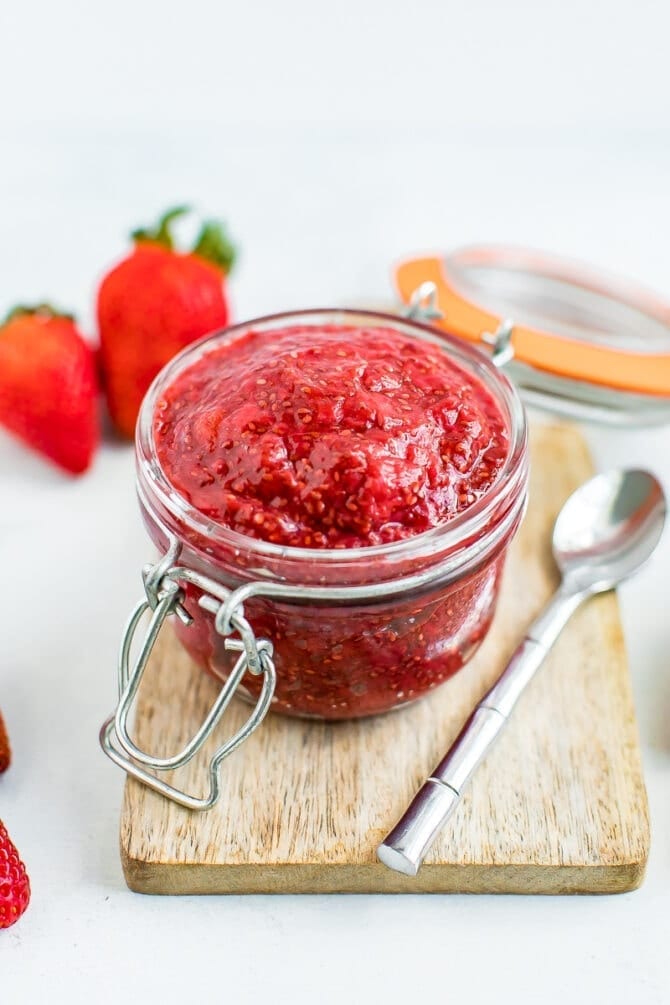 Chia Seed Nutrition
I've written about the health benefits of chia seeds before and as most of you probably know, they're so nutritious and healthy! Here's a little reminder of the benefits:
Chia seeds are a good source of omega 3 fatty acids – Omega 3 and Omega 6 fatty acids are essential fatty acids, meaning that you need to get from food sources because your body cannot produce them itself. Omega 3′s reduce inflammation and may help lower risk of chronic diseases such as heart disease, cancer, and arthritis. They're also said to help with weight reduction related to their regulation of blood sugar levels and insulin.
Chia seeds are a plant-based protein – We all know protein is an essential macronutrient needed for many functions in the body, including muscle building.
Chia seeds are loaded with antioxidants – Antioxidants help rid our body of free radicals, which have been linked to cancer and heart disease.
Chia seeds are a good source of fiber – Helps with weight loss by keeping you feeling full, prevents constipation and enhances regularity.
Chia seeds also contain magnesium and potassium – Two minerals needed for good health.
I try to include chia seeds in my breakfast daily and it's pretty easy to do (especially when having chia pudding, overnight oats or protein pancakes) but I'm always looking for new ways to incorporate them in my meals.
I'm not sure why it took me so long to make some chia jam, but I'm sorry I didn't try it sooner because I LOVE it! And I'm not exaggerating – I made one batch and ate it all plain as a snack… in one sitting. Yes, that happened!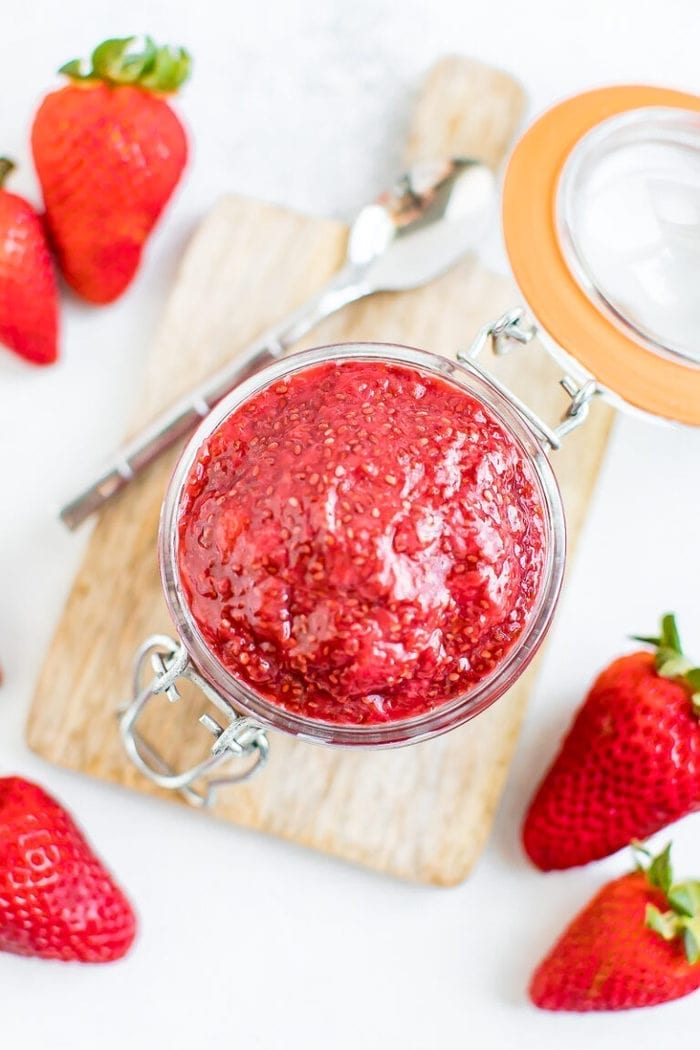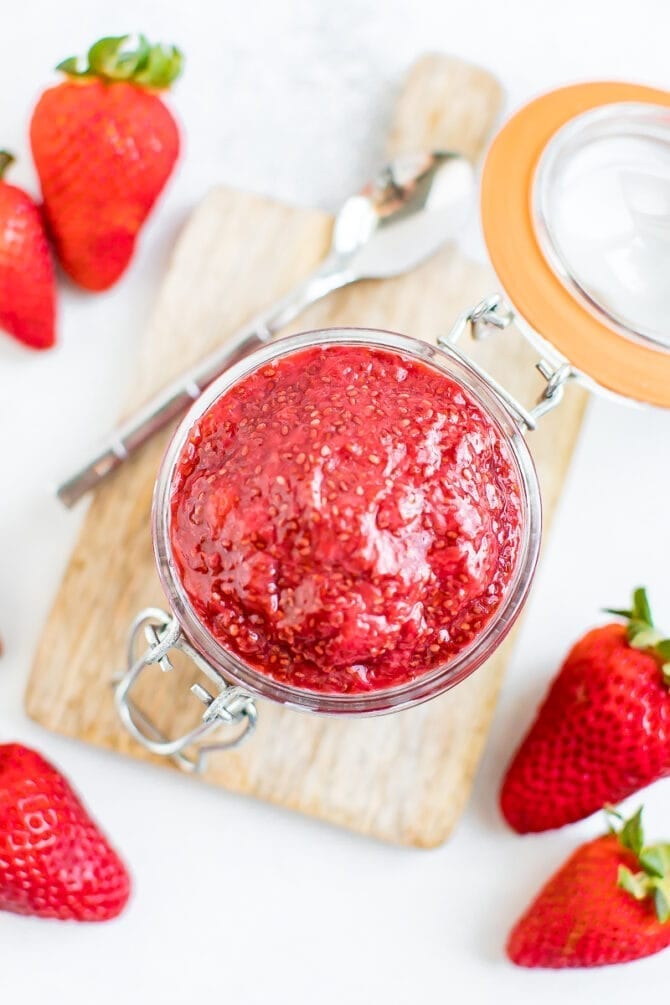 I had to make another batch for pictures, which worked out quite well because now I have some to put on my protein pancakes and greek yogurt this week! As I said, there are quite a few different recipes out there, but I'll share how I made mine, which is probably the simplest version ever.
Print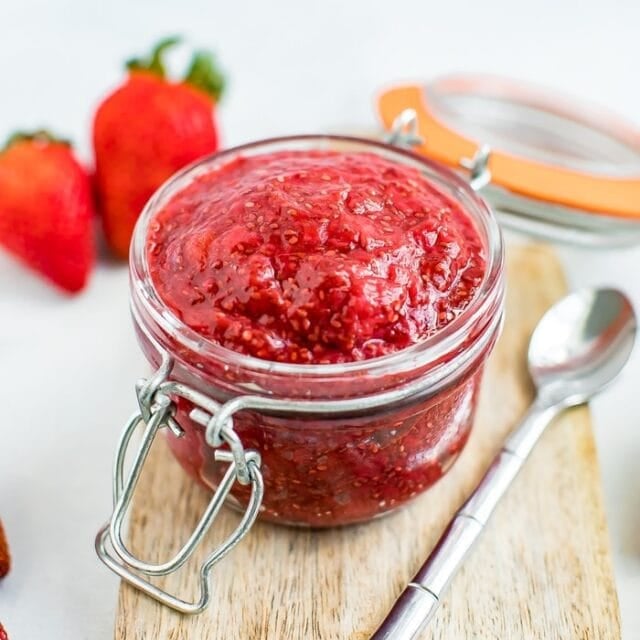 Easy Strawberry Chia Seed Jam
---
Description
Eat this straight from the container as a snack (like I did), as a spread on pancakes, mixed into oats or yogurt, on a sweet and savory egg biscuits or just make a good ol' peanut butter and jelly sandwich — the possibilities are endless!
---
Scale
Ingredients
1 cup

strawberries (frozen or fresh)

1 Tablespoon

chia seeds

1 Tablespoon

water
stevia, to taste (or other sweetener, like maple syrup)
---
Instructions
If using frozen strawberries, let them thaw. I try to limit my use of the microwave so I just sat mine in a bowl out on the counter for an hour or so.
Mash strawberries with a fork or blend them. I mashed one batch and used my immersion blender for another – both methods worked great, but the blended version was more like jelly and less like jam.
Mix in chia seeds, water and stevia, if using. I used 2-3 drops of liquid stevia, but I don't think it would be necessary with super sweet berries. It just depends on how sweet you want your jam.
Cover the mixture and place in the fridge to set up for a while, 30-60 minutes is ideal.
---
More Chia Recipes: