Learn how to make coconut butter at home in your blender or food processor! Once you figure out how easy, inexpensive and delicious it is you're going to want to spread coconut butter on everything.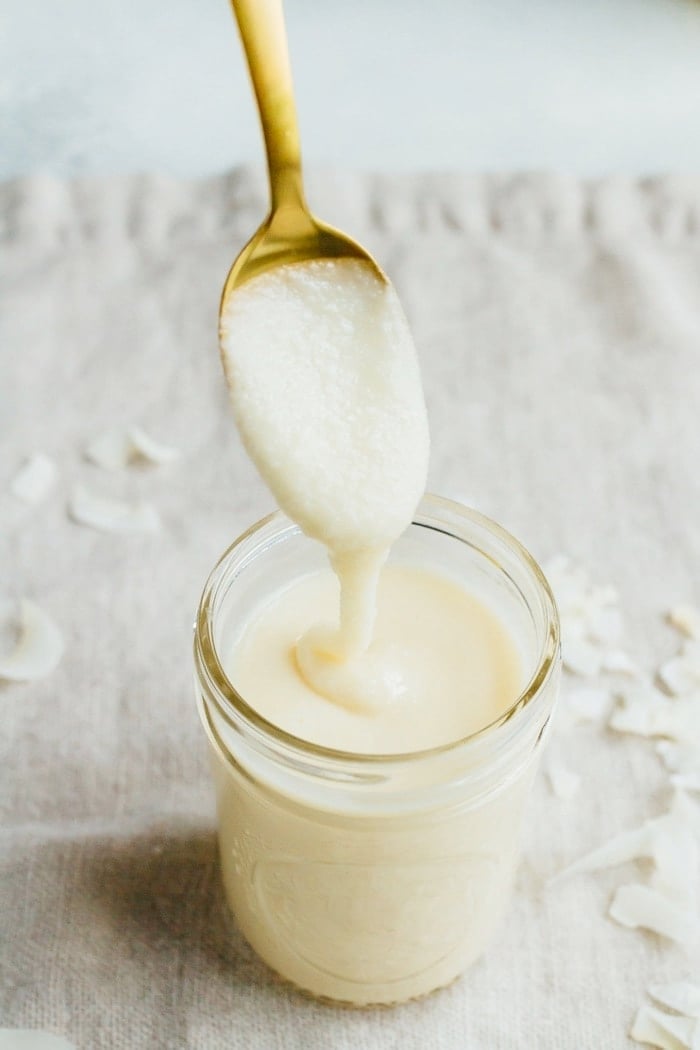 I was first introduced to coconut butter a few years ago when I stumbled upon a raw dessert recipe that called for it. I searched my local grocery stores for coconut butter without much success and ultimately just ended up figuring out how to make my own. Now you can find coconut butter at almost any natural grocery store (or order it online). That said, one jar can set you back around $15 so making your own is an easy and inexpensive alternative.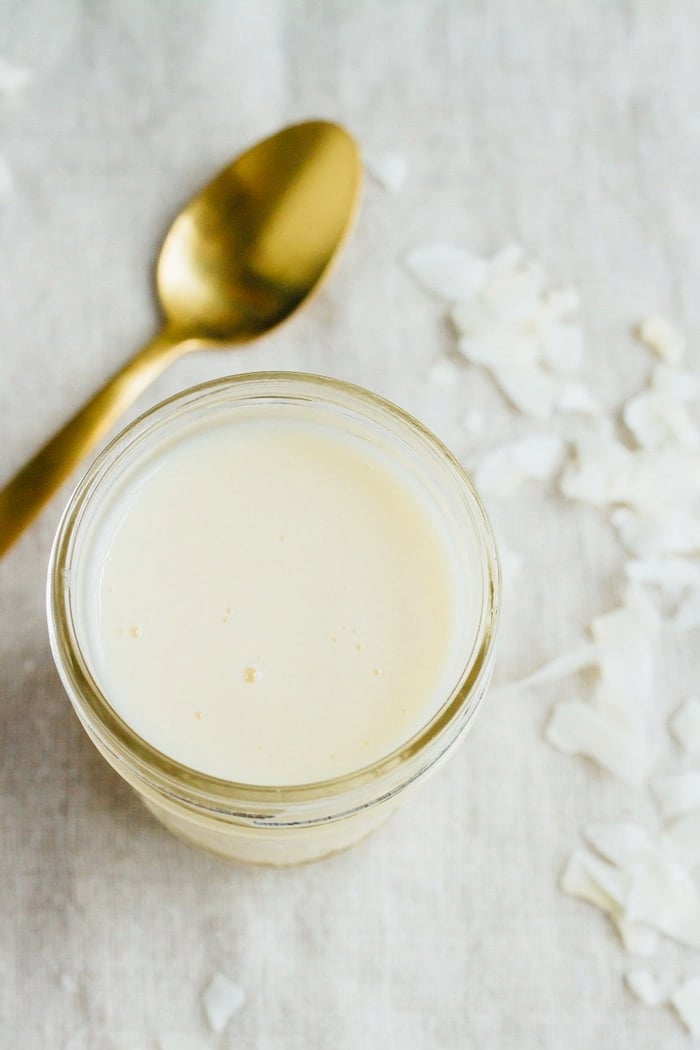 Before we get started with how to make coconut butter I just want to point out that there is a BIG difference between coconut butter and coconut oil and they're used for different things.
Coconut butter is made by grinding dried coconut meat into a paste. So a jar of coconut butter is the pureed meat but it has some coconut oil in there too — just like almond butter has a little almond oil in it.
Coconut oil on the other hand is JUST the oil that's been extracted from the coconut meat.
When you think of it like almond butter and almond oil or tahini and sesame seed oil it makes a ton of sense!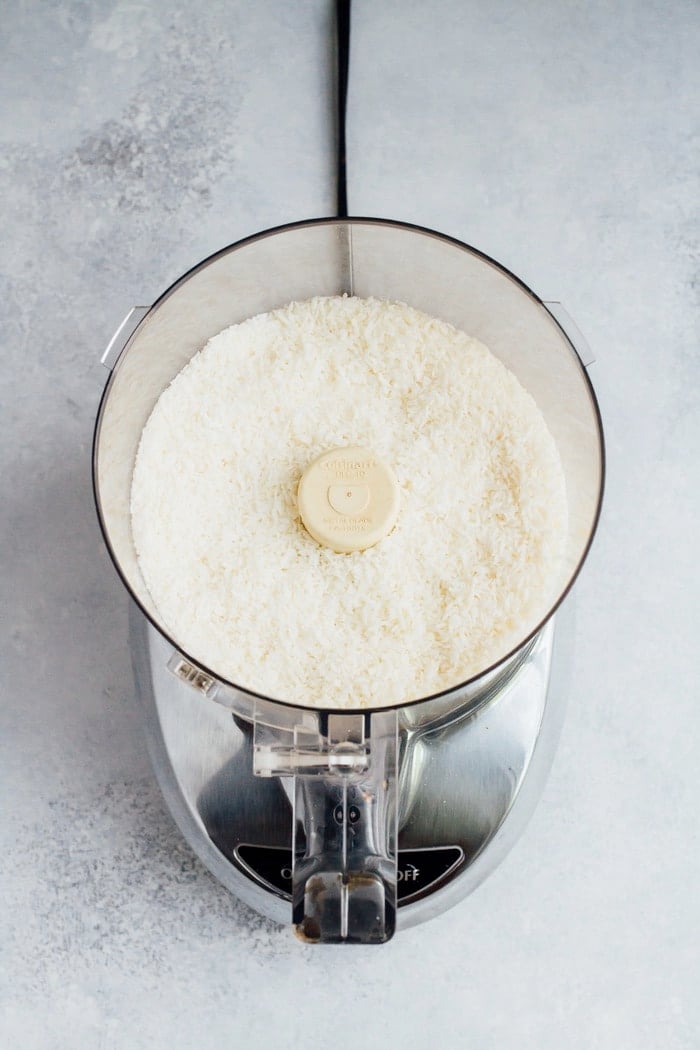 Like coconut oil, coconut butter is solid at room temperature so in order to use it as a spread or drizzle you have to warm it up. I like using the water bath method — placing the sealed jar in hot water for 5-10 minutes until it's melted and you're able to stir it. If you're in a rush the microwave also works.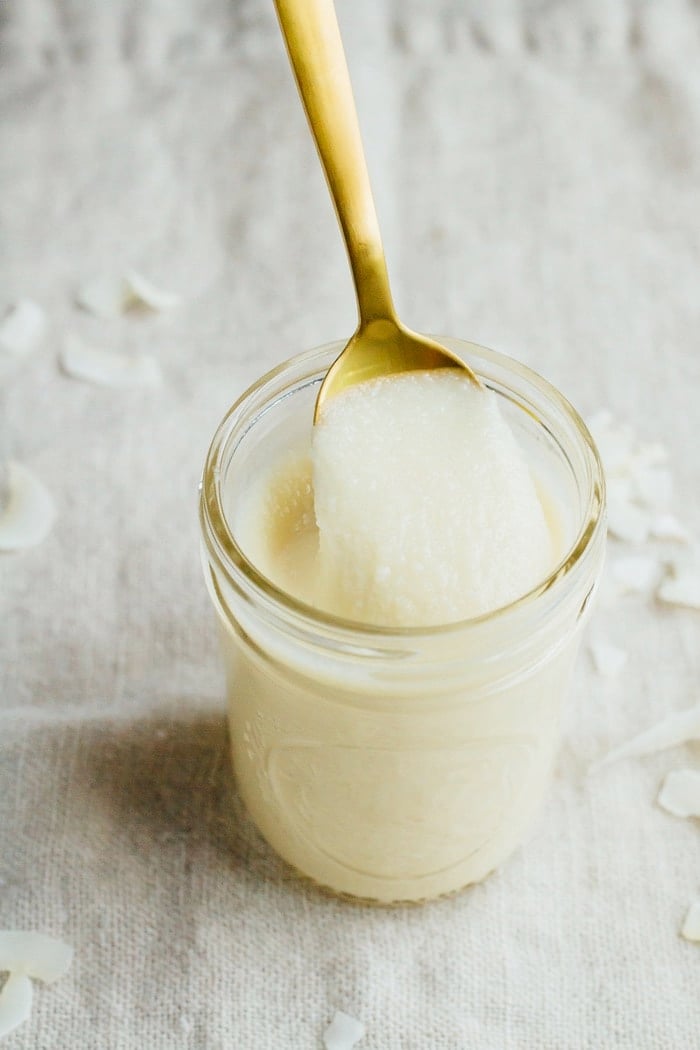 Once melted, you can use coconut butter to replace cream, cream cheese and butter or blend it into smoothies, sauces, dressings, desserts and baked goods. I'll do a roundup post soon with lots of coconut butter ideas. For now, let's make some!
Print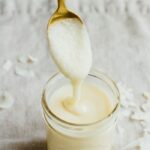 Homemade Coconut Butter
Author:

Brittany Mullins
Prep Time:

0 minutes

Cook Time:

15 mins

Total Time:

15 minutes

Yield:

16

1

x
---
Description
Making coconut butter at home is easy and inexpensive! Here's how:
---
Scale
Ingredients
4 cup

s unsweetened shredded or flaked coconut
---
Instructions
Place coconut shreds or flakes in a food processor or high powdered blender and process until a smooth, runny butter forms. It will take about 15 minutes in a food processor and about 2 minutes in high powered blender. (I've found that my Vitamix works best for this.) You may need to scrape the sides of your food processor or blender mid-way through the processing.
---
Notes
Store coconut butter in an airtight jar at room temperature. It's shelf-stable and doesn't need to be stored in the fridge. Depending on the temperature of your house the coconut butter will likely harden up so you'll need to warm it up before using. The water bath method works great or you can scrape a chunk off the top and place it on something warm to melt (like pancakes, waffles or toasted bread) or simply pop it in the microwave for a few seconds.
---
Nutrition
Calories:

99kcal

Sugar:

2g

Sodium:

6mg

Fat:

9g

Saturated Fat:

8g

Trans Fat:

0

Carbohydrates:

4g

Fiber:

3g

Protein:

1g

Cholesterol:

0
GET EVERYTHING YOU NEED TO MAKE THIS RECIPE: