I've mentioned before that I've been trying to amp up my protein intake. As a pescaterian it's pretty easy for me to get a good amount of protein at each meal, but sometimes it's hard to find protein packed snacks that I WANT. There are a ton of options out there, I'm just more partial to sweet or carby snacks.
Plain Greek yogurt with stevia (to take away the tartness) and granola has been my go-to for a while, but I was still in need of something else.
I searched high and low for protein bar recipes but never found anything that looked great. I tried the microwaved protein cake recipe that's been floating around the blogoshpere. <– It ended up being tossed after a few bites because it tasted like I was eating a sponge. I was about to give-up but then I saw Mama Pea's Protein Truffles and Gina's Amaze-Balls and decided these ladies might be on to something.
I made a batch of both.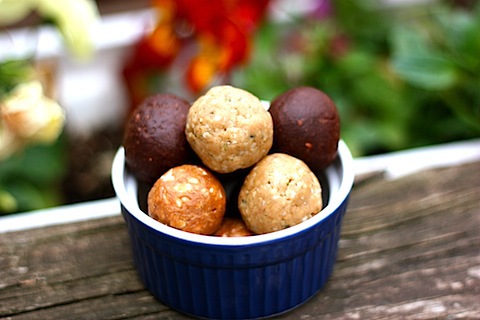 Mama Pea's recipe was easy PEAsy and made about 10 Truffles (the darkest ones in the photo). I really enjoyed the chocolatey flavor! Although, I would not recommend using raw cacao powder instead of the cocoa powder like I did. My balls turned out a little on the bitter side. Next time I'll plan on adding some stevia to the batter or just use regular cocoa powder.
Gina's balls (the tan ones) were easy to make as well and resulted in 4 balls. I followed her recipe for the most part but left out the chocolate chips, reduced the maple syrup and added 1/2 T of water. They turned out to be delicious- the almond butter flavor is prominent (YUM!) and I love the crunchiness of the coconut pieces.
Being inspired, I decided to make a protein ball recipe of my own (the lightest ones).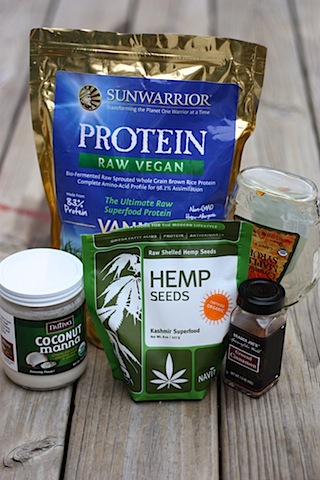 I've had a jar of Nutiva's Coconut Manna, a creamy coconut spread very similar to what other companies call coconut butter,  in my pantry for ages and decided it would be a good base for a ball. After liquifying the manna (like coconut oil and butter, it becomes solid at temperatures below 70°), I combined it with protein powder and hemp seeds (extra protein!!) and added some sweetness. The end result turned out great so here's the recipe.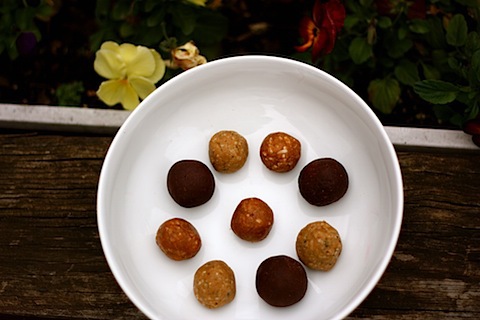 Coconut Protein Balls
Makes 4 balls / Print Recipe
Ingredients
2 tbsp vanilla protein powder**
2 tbsp hemp seeds
2 tbsp coconut manna (or coconut butter)
1/2 tbsp maple syrup
1/2 tbsp water
1/2 tsp cinnamon
Preparation
Put all ingredients in a mini chopper/processor and pulse a few times to incorporate.
Give the dough a stir and start to roll the mixture (with your hands) into 1 tbsp sized balls. It should make about 4. **If the dough is too crumbly add a few drops of water.
Eat right away or store in an airtight container at room temp.
Nutritional Facts: 1 ball has approx. 100 calories, 7g Fat, 2g fiber, 5g carbs, 1.8g sugar, 8g protein
** You can use any type of vanilla protein powder. I've been using Sun Warrior Vanilla Protein Powder ever since Isaac's mom got me hooked on it a year or so ago. It's pricey, but it's also the best tasting protein powder I've found. It's raw, vegan brown rice protein powder, which is easier to digest. I also like that it's sweet without any sugar and doesn't taste chalky like other brands I've tried. I buy Sun Warrior online and always stock up when Gina has special Open Sky deals on it.
If you like coconut, you'll love these balls! They're perfect if you have a sweet tooth because they taste sweet, but are also super satisfying and filling. As it turns out, all of these balls are great as a pre or post workout snack, mid-afternoon pick me up or even an after dinner treat.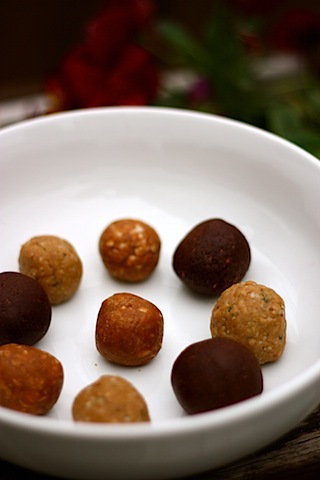 Definitely try these balls, but if you're looking for other protein packed snack ideas that are on the sweet side, here's a little list I complied after asking my twitter friends for advice:
Nuts and Berries
Greek Yogurt
Sweet hummus with fruit
Edamame
Protein powder, peanut butter, oatmeal
Quinoa, yogurt, blueberries, stevia
Soy chips
Alright friends, I'm off to enjoy my snowy Sunday (I can't believe it's snowing!!). I hope you plan to do the same.
PS- Thank you for all the kind comments, emails and tweets about my medical news. I'll be doing a lot of research and getting a second opinion in the next few weeks. As always, I will keep you posted. In the meantime, I'm staying positive. 🙂