Make your own healthy, naturally sweet snack bites with this recipe for Homemade Blueberry Muffin Larabar Balls. They really do taste like blueberry muffins!  
Hi from sparkly snow covered land. Our yard is still glistening.
Did you get a ton of snow too? Are you getting cabin fever yet?
We kinda, sorta are. Our cars are horrible in the snow so they haven't left the garage in over three days. We did get out of the house yesterday for brunch, but that involved bundling up and trekking two miles in the snow. It's funny because every time we get a big snow storm (which is anything over 2 inches for us!) Isaac and I talk about wanting/needing a 4×4 vehicle. The snow eventually melts and we forget about it… until the next snow storm. Who knows maybe 2016 will be the year we finally do it! Do you have a 4×4? Do you love being able to get out? Help convince me that we need to get one. 🙂
Okay so enough about snow. Let's talk about these balls.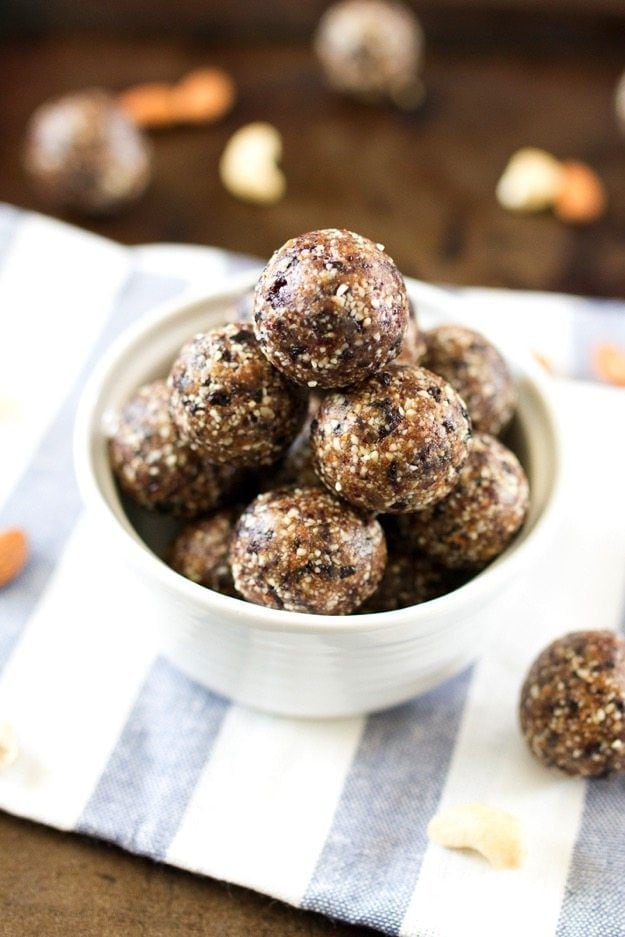 Do you remember the Cherry Larabar Balls I posted earlier this month? They are super tasty and today's version is very similar, but with you guessed it — dried blueberries instead of cherries.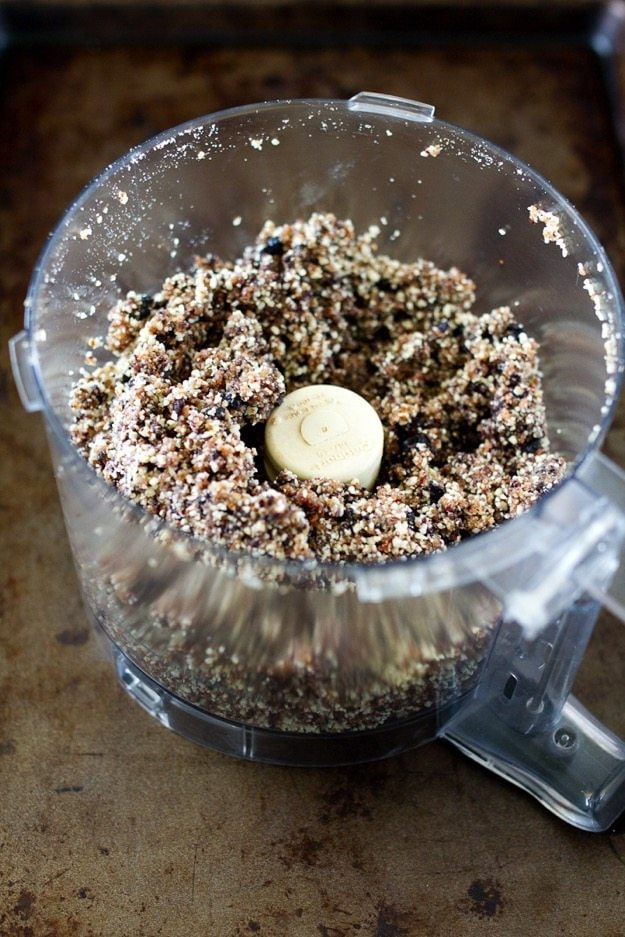 I got the idea for this version from a friend who liked the cherry recipe on Facebook but commented that she'd love a blueberry version.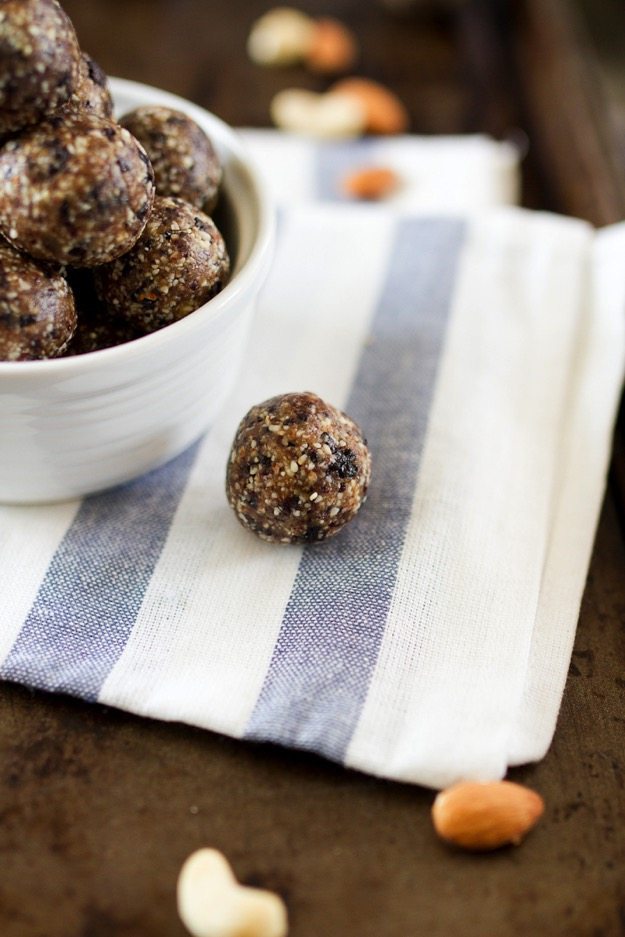 I aim to please, especially when a reader requests something so I quickly tested out a blueberry version. They turned out to be delicious and a littler sweeter than the cherry version, which I like. And they really do have a flavor reminiscent of blueberry muffins or cobbler. Yum!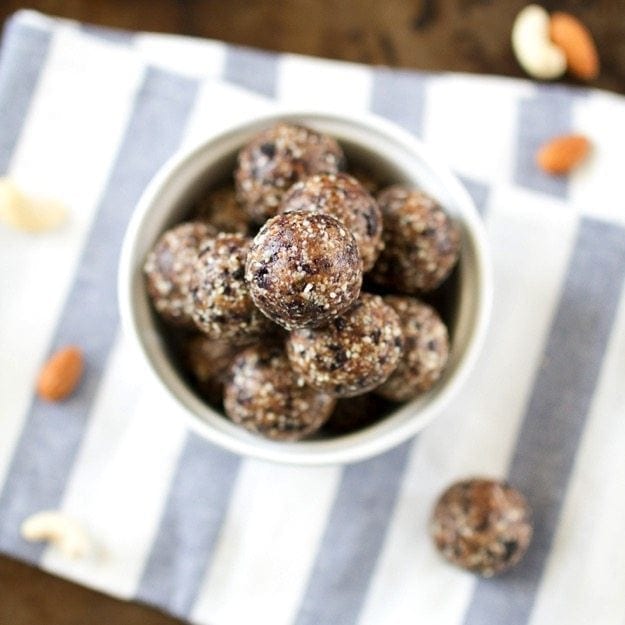 The best part –> they're super duper easy to make and the recipe makes around 25 so you'll have balls to snack on for days. I like using them as a mid-afternoon snack, after a workout or as an after dinner dessert when I'm craving something sweet.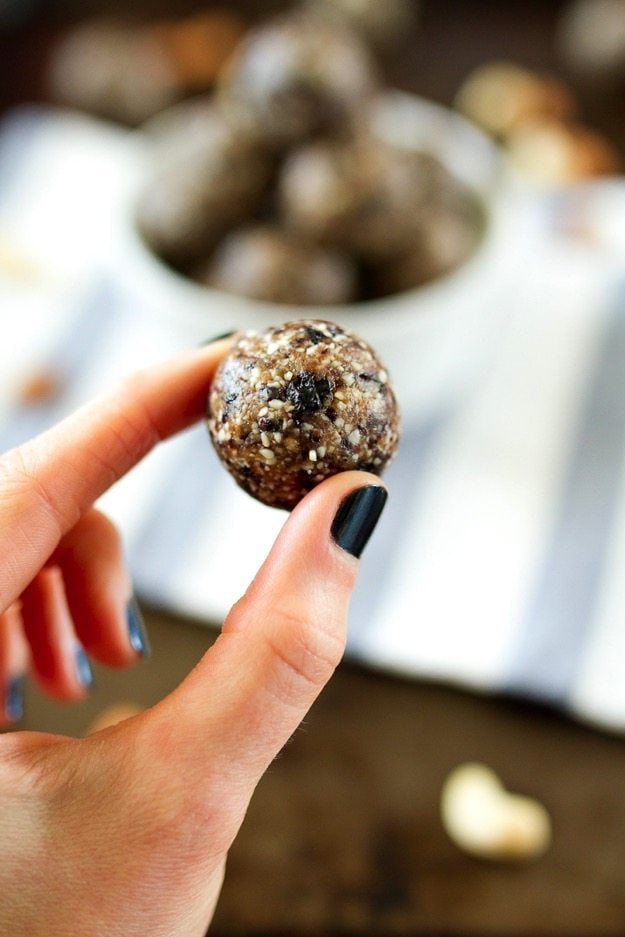 I hope you like these as much as we do! If you happen to try the recipe please let me know how it turns out in the comment section or better yet, share a photo via social media. Don't forget to tag me (@eatingbirdfood) so that I see it.
Print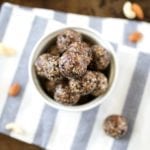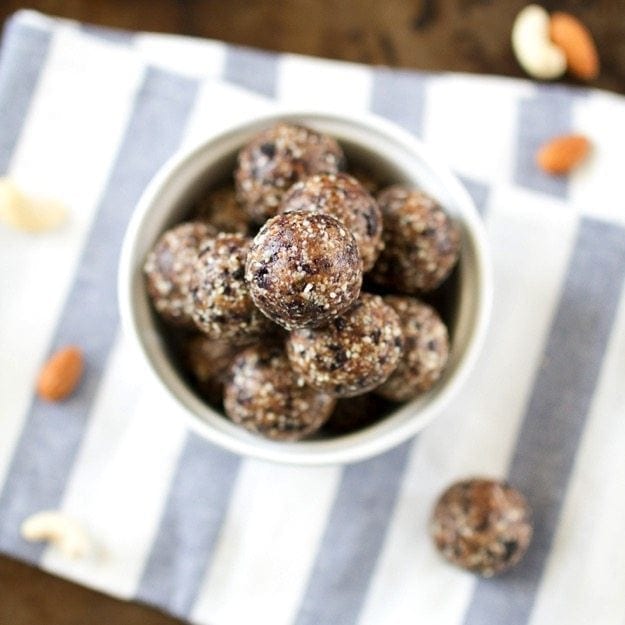 Blueberry Muffin Larabar Balls
Author:

Prep Time:

10 mins

Total Time:

10 mins

Yield:

25
---
Description
Make your own healthy, naturally sweet snack bites with this recipe for Blueberry Muffin Larabar Balls. They really do taste like blueberry muffins!
---
Ingredients
1 cup raw almonds
1 cup raw cashews
1 cup Medjool dates (about 12-14), pitted
1 cup dried blueberries
1 teaspoon vanilla
1 teaspoon lemon juice
pinch of sea salt
---
Instructions
Place almonds and cashews into food processor and pulse until they are chopped into small pieces. Place nut mixture in a bowl and set aside.
Put dates into the food processor and pulse until a paste forms (the dates will probably form into a sticky ball).
Add nuts back into the processor with the dates. Add in blueberries, vanilla, lemon juice and sea salt. Pulse until everything is well combined.
Scoop dough from food processor* and form into small balls using your hands. Place balls into a sealed storage container and store in the fridge (for 1-2 weeks) or freezer (for 1-2 months).
---
Notes
*The dough may seem a little loose or crumbly at first, but it should be sticky enough to form into balls. If it seems way too crumbly, your dates may have been too dry. Simply add a little water (starting with 1-2 teaspoons) until the mixture is sticky enough to hold together and form into balls.
---
Nutrition
Serving Size:

1 ball

Calories:

108

Sugar:

13g

Fat:

5g

Carbohydrates:

16g

Fiber:

2g

Protein:

2g
Love Homemade Larabar recipes? You might want to try some of these: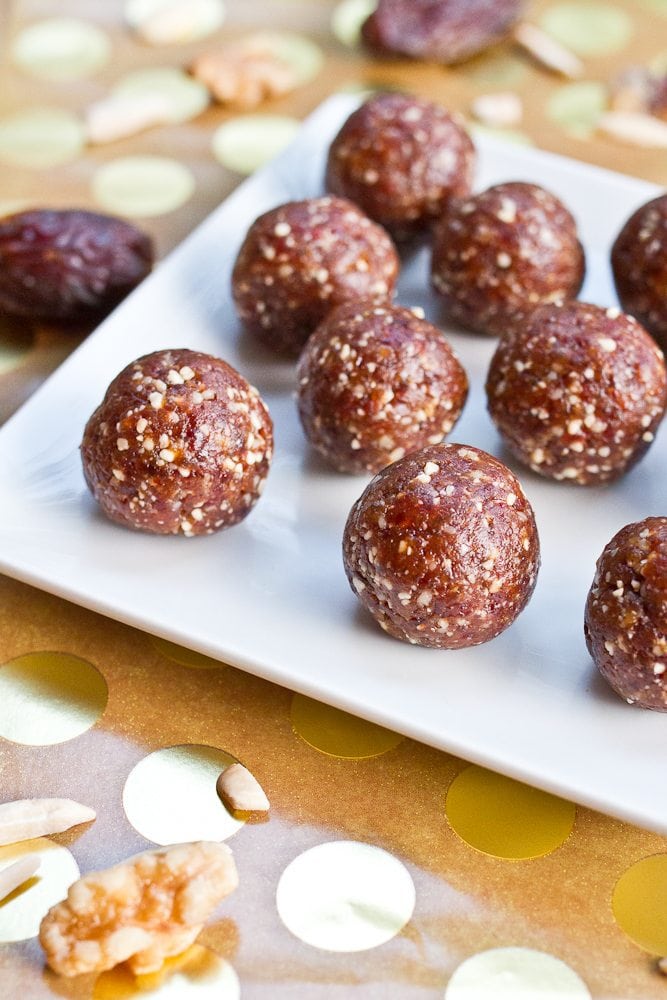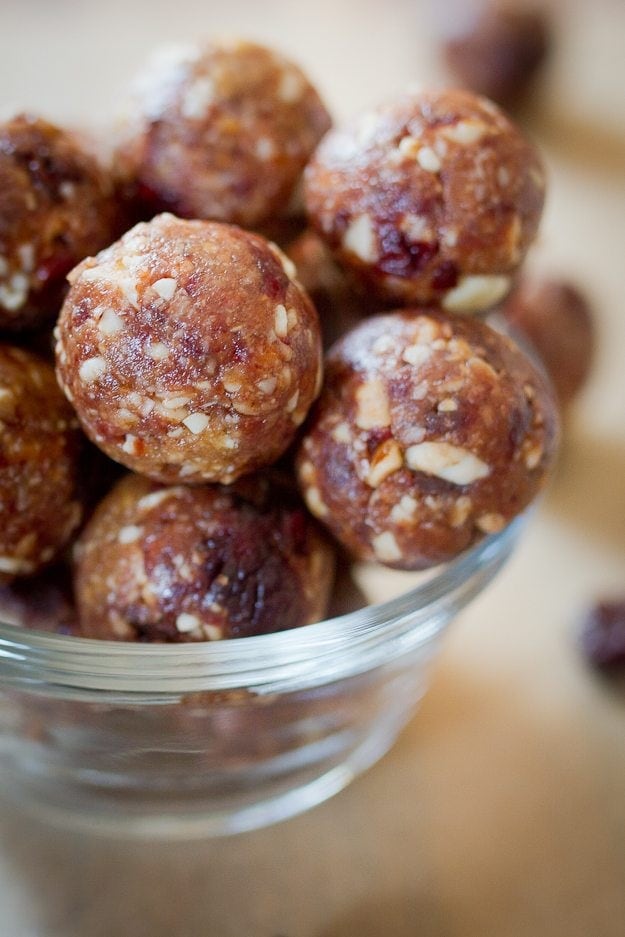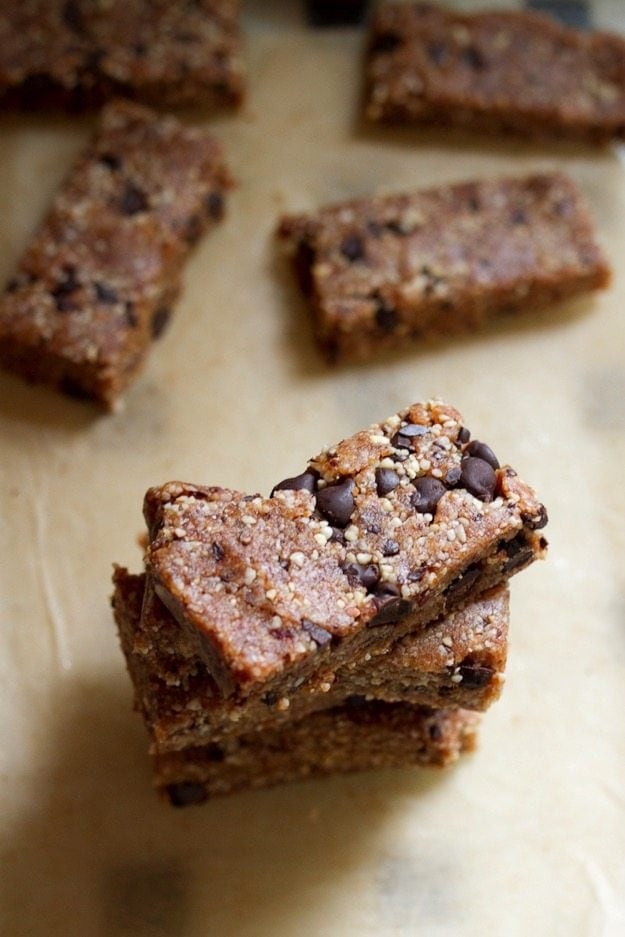 Coconut Chocolate Chip Larabars
Don't see your favorite Larabar flavor? Leave me a comment with which flavor you'd like me to make next.