One question I get asked a lot is what protein powder I use so I thought today would be a great day to post about my favorites.
Let me start by saying that I don't think you need protein powder to eat healthy and lose weight. I find that protein powder is perfect for quick snacks and on the go meals, but I try to get most of my daily protein intake from whole, minimally processed foods like fish, dairy products, eggs, beans, grains, nuts and seeds.
A lot of times people, myself included, can get too caught up in buying all the right super foods, supplements, powders, etc. These things are great and I definitely love them for creating healthy recipes, but I also know that they can get pretty expensive.  When it comes down to it, you don't have to have fancy products to be healthy and lose weight. In college, when I lost over 20 lbs, I didn't know about any of these things (much less have the money to buy them) – I just ate healthy foods and guess what, it worked! So, if you can't afford/don't have access to protein powder, chia seeds, cacao powder, goji berries and the like, please know that it's okay!
Back to the point of this post… protein powders.
Almost all my recipes that include protein powder call for brown rice protein powder and that's because my two favorite brands are made of brown rice protein and that's what I always use. Why? For starters, I try to avoid soy milk and soy protein products because I already consume enough soy through eating edamame, tofu and tempeh. And I've tried quite a few other varieties, namely whey and hemp, but my favorite is still brown rice based.
Besides flavor (which is one of the big factors for me), here are some overall advantages of brown rice protein powder:
It's a natural protein source with natural fiber. It is derived from brown rice and carries all of the essential amino acids.
It's hypoallergenic, meaning that it causes fewer allergic reactions than other protein powders, like egg and whey. It is also free of soy, milk, yeast, wheat, and other allergens that often cause allergic reactions.
The body utilizes rice protein powder more efficiently than soy.
Rice protein powder is vegan friendly. No animal products or byproducts are included.
The natural flavor of rice protein powder is mild and sweet, making it good to blend with water, juice, or other mixers.
In terms of brand, I pretty much stick with two brands: Sun Warrior and Perfect Fit. I've tried others like Nutribiotic and although many may be cheaper, they don't taste nearly as good.
Sun Warrior became my favorite a couple years ago when Isaac's mom introduced me to the Classic Vanilla Brown Rice Protein Powder. It was the first protein powder that didn't taste artificial or chalky to me and I've been hooked on it ever since.  What I love about it:
Short ingredient list with only 5 ingredients – Raw sprouted whole grain brown rice protein, Vanilla, Pectin, Xanthan, Stevia
Great nutrition facts –  1 scoop = Calories: 70, Fat: 1g, Carbs: 4.2g, Protein: 16g, Sugar: 0
It's raw, vegan, gluten-free, GMO Free, 85% pure protein powder
Easy to digest
Doesn't contain soy or dairy
Works great in recipes
The vanilla flavor adds a hint of sweetness
A couple notes: I really like the chocolate Sun Warrior as well, but usually I just buy the vanilla in bulk and add cocoa powder to recipes that I want to be chocolate flavored. Sun Warrior also has a new
Warrior Blend
that's made of several different sources of raw protein including pea protein, cranberry protein and hemp protein. The new blend seems to have a stronger flavor and thicker texture than their classic brown rice protein powder, but I really like it, so sometimes I'll buy this variety. Lastly, the nutrition facts for the Warrior blend are similar to their brown rice protein powder – 1 scoop has 84 calories, 16 grams of protein and 1 grams of sugar.
I'll also add that, I'm a 
Sun Warrior affiliate
 and get a small amount of $ when someone buys Sun Warrior protein powder after clicking on my link. This is no way affects my opinion of the product. I loved it long before I became an affiliate.
My other favorite protein powder is Perfect Fit, a vanilla brown rice protein powder that just launched this year.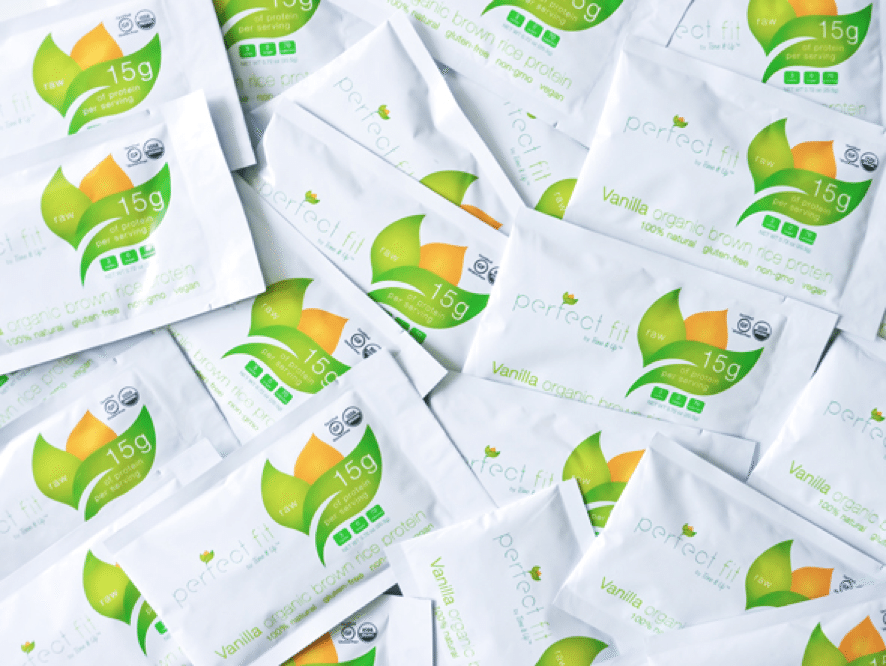 This protein powder is very similar to Sun Warrior in nutrition and taste, although I must say, I think it makes the best protein pancake I've ever had. What I love about it:
It's organic, gluten-free, raw, vegan, non-GMO, kosher, non-fat, low in sodium, and free of sugar, dairy, lactose, cholesterol, soy, corn, wheat and allergens
Short ingredient list of pronounceable ingredients – Organic Sprouted Whole Grain Brown Rice Protein, Organic Vanilla Flavor, Organic Guar Gum (Thickener/Stabilizer), Organic Stevia (Sweetener), Sea Salt (Flavor Enhancer)
Great stats – 1 packet = Calories: 70, Fat: 0g, Carbs: 3g, Protein: 15g, Sugar: 0
The single serving packets are great for traveling
The Perfect Fit brand was created by the Tone It Up trainers, whom I love.
A note: Perfect Fit only comes in single serving packets right now, but they're about to launch bigger bags (50 servings) soon.
Which one should you buy? It's up to you! I use both brands and would highly recommend either. They're about the same price per serving and have to be purchased online (I've never seen either in stores) so really it's up to you to decide. If you want to try brown rice protein powder, I say try them both and decide which is your favorite.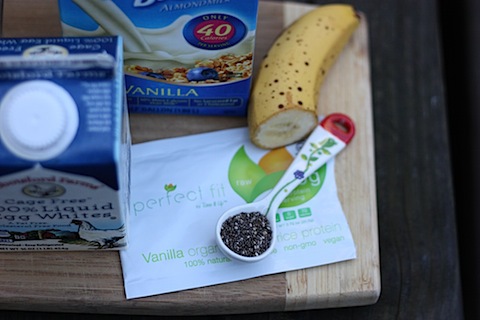 If you're in need of some tasty recipes that use vanilla brown rice protein powder, I have quite a few: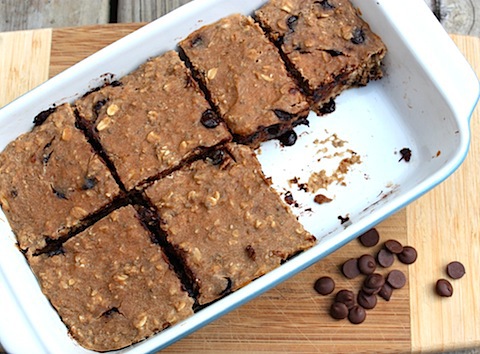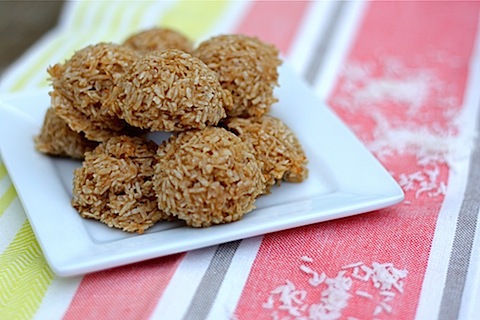 And here are some addition recipes with protein powder from a few of my friends:
 So tell me, what's your favorite variety of protein powder? What's your favorite recipe with protein powder? Have you tried Sun Warrior or Perfect Fit?