Want to start using a plant-based protein powder but not sure which one to try? Here are my favorites — they're all gluten-free, organic, non-gmo and plant-based. 
One question I get asked a ton is what protein powder I use!
Let me start by saying that I don't think you need protein powder to eat healthy and lose weight. I find that protein powder is perfect for quick snacks and on the go meals, but I try to get most of my daily protein intake from whole, minimally processed foods like fish, dairy products, eggs, beans, grains, nuts and seeds.
I've found that oftentimes people, myself included, can get too caught up in buying all the right supe foods, supplements, powders, etc. These things are great and I definitely love them for creating healthy recipes, but I also know that they can get pretty expensive.  When it comes down to it, you don't have to have fancy products to be healthy or lose weight. In college, when I lost over 20 lbs, I didn't know about any of these things (much less have the money to buy them) — I just ate healthy foods and guess what, it worked! So, if you can't afford/don't have access to protein powder, chia seeds, cacao powder, goji berries and the like, please know that it's okay!
Back to the point of this post… protein powders.
Almost all my recipes that include protein powder call for plant-based protein powders because my body doesn't process whey protein very well.
Besides good flavor (which is one of the big factors for me), this is what I look for when choosing a protein powder:
Complete protein with all of the essential amino acids.
High in protein (obviously) — at least 15g per serving.
Low in sugar — less than 5g per serving.
No artificial sweeteners like sucralose or aspartame.
Free of soy, milk, yeast, wheat, and other allergens that often cause allergic reactions.
In terms of brands and specific products, I have a few that I like: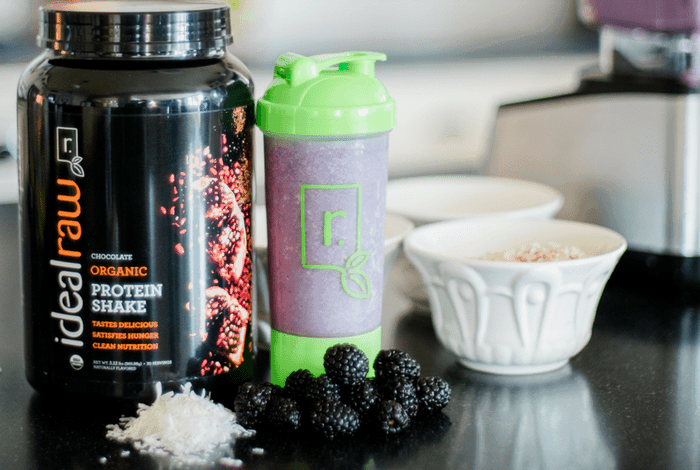 My picks: Peanut Butter Chocolate, Chocolate and Vanilla 
Short ingredient list
Great nutrition facts
Vegan, gluten-free, organic, non-gmo
Easy to digest
The chocolate flavor is SO GOOD! It reminds me of the Vegan Chocolate Shakeology but costs way less!
I like the vanilla IdealRaw as well, but the chocolate flavor is definitely my favorite in terms of taste! You can order a
sample pack
to see which flavor you like best before ordering a full container.
Use code EBF10 for $10 off IdealRaw protein.
My picks: Vanilla Classic or Vanilla Classic Plus
Sun Warrior became my favorite a couple years ago when Isaac's mom introduced me to i. It was the first protein powder that didn't taste artificial or chalky to me and I've been hooked on it ever since.  What I love about it:
Short ingredient list
Great nutrition facts
It's raw, vegan, gluten-free, non-gmo, 85% pure protein powder
Easy to digest
Doesn't contain soy or dairy
Works great in recipes
I really like the Chocolate Classic Plus as well, but usually I just buy the Vanilla and add cocoa powder to recipes that I want to be chocolate flavored. You can order a
saample pack
to see which flavor you like best before ordering a full container.
My pick: Vanilla
This protein powder is very similar to Sun Warrior in nutrition and taste.
Short ingredient list
It's organic, gluten-free, raw, vegan, non-GMO, kosher, non-fat, low in sodium
Free of sugar, dairy, lactose, cholesterol, soy, corn, wheat and allergens
Sweetened with monkfruit instead of stevia (wanted to mention this because I know many people don't like stevia)
A note: Perfect Fit only comes in single serving packets right now, but they're about to launch bigger bags (50 servings) soon.
Which one should you buy? It's up to you! I use all three brands and would highly recommend them all. When it comes to protein powders it seems like everyone has to try a few before they find one the absolutely love!
I also really like collagen protein powder. See my full post about collagen here.
If you're in need of some tasty recipes that use protein powder, I have quite a few:
So tell me, what's your favorite protein powder? What's your favorite recipe with protein powder?