My Fave Plant-Based Protein Powders
90
Published Feb 18, 2023, Updated Mar 13, 2023
Want to start using a plant-based protein powder, but not sure which one to try? Here's a guide for choosing the right protein powder for you, a list of my favorites and coupon codes.
One question I get asked all the time is what protein powder I use! I'm happy to share my favorites because I know how challenging it can be to find a good quality protein powder that actually tastes great too. It's no fun to spend money on a huge tub of protein powder only to realize it has a chalky texture and has the flavor of wet cardboard. Been there done that!
Whether you're making protein shakes or using protein powder in recipes, the type/brand of protein powder you use will definitely affect the recipe's outcome. For the recipes here on EBF, I currently use the protein powders seen here.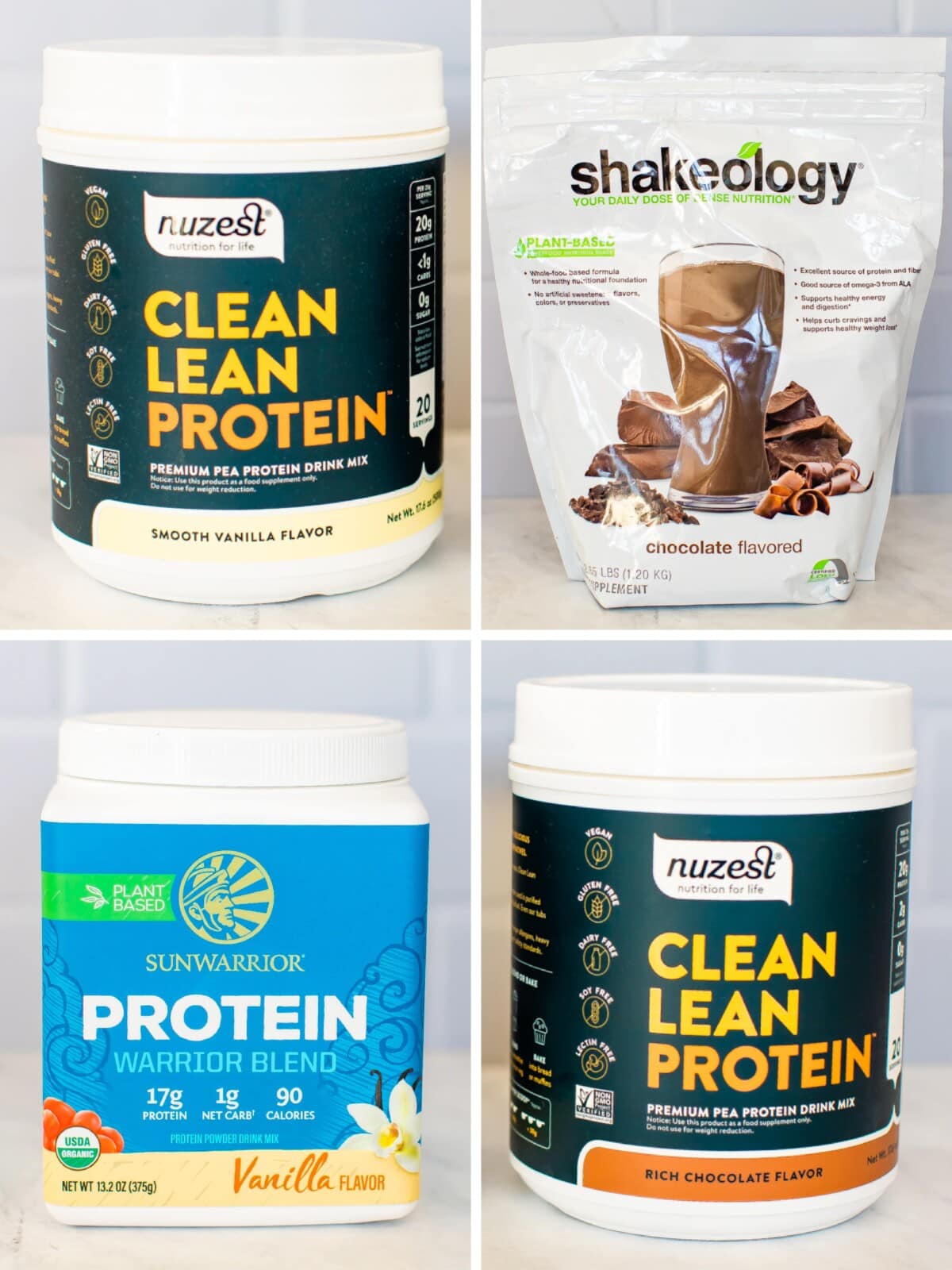 How to Choose the Best Protein Powder?
There are so many protein powders on the market. From whey, soy, egg white, casein, collagen, hemp, rice, pea, etc. If you're new to protein powder, learn more about the seven best types of protein powder. In general, it's hard to know which protein powder is right for you. It really depends on your dietary needs and how well your body digests the different protein sources.
I personally like plant-based protein powder options because my body doesn't process whey protein very well and I'm not a big fan of processed soy. Besides good flavor (which is one of the biggest factors for me!), this is what I look for when choosing a protein powder:
Complete protein with all nine essential amino acids.
High in protein (obviously) — I look for powders with at least 15 grams of protein per serving.
Low in sugar — I look for options with less than 5 grams of sugar per serving.
No artificial sweeteners like sucralose or aspartame. I'm okay with natural sweeteners like stevia and monkfruit.
Free of soy, milk, yeast, wheat, and other allergens that often cause allergic reactions.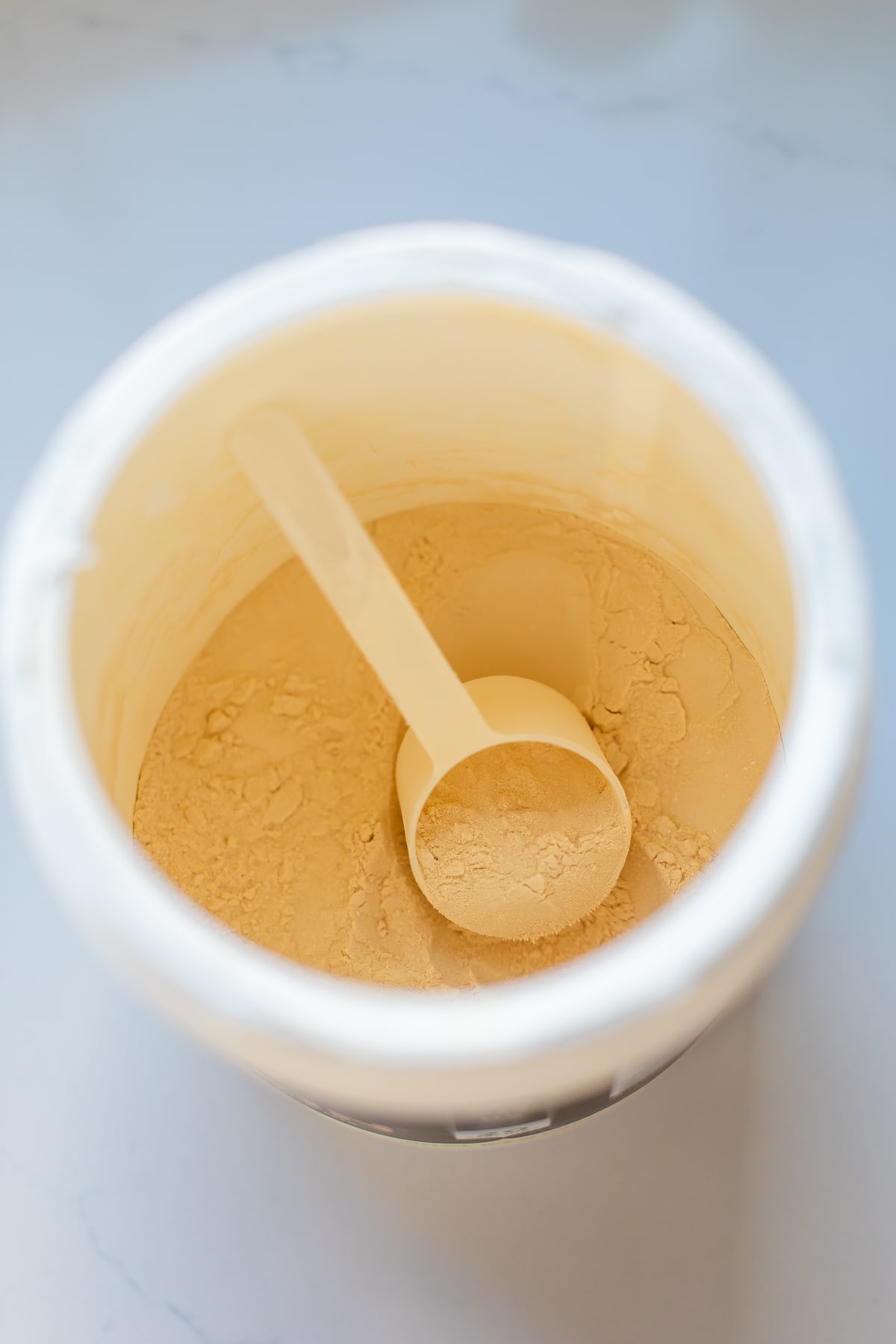 Why Use Protein Powder?
Let me start by saying that I don't think you need protein powder to eat healthfully or lose weight. In college, when I lost over 20 lbs, I didn't use any supplements or protein powder (much less have — I just ate healthy real food). At this point in my healthy eating journey I try to get most of my daily protein intake from whole, minimally processed foods like fish, dairy products, eggs, beans, grains, nuts and seeds. But protein powder makes for quick protein-packed snacks and on-the-go meals when needed.
I personally love using protein powder to help make macro-balanced meals and snacks. If you've been a blog reader for a while, you know that I recommend having every meal consist of lean protein, fiber and healthy fats. I love adding protein powder to certain meals (especially snacks) to up the protein level, especially after a workout. The extra protein makes meals more satisfying and keeps you feeling full longer. Some examples?
My Favorite Plant-Based Protein Powders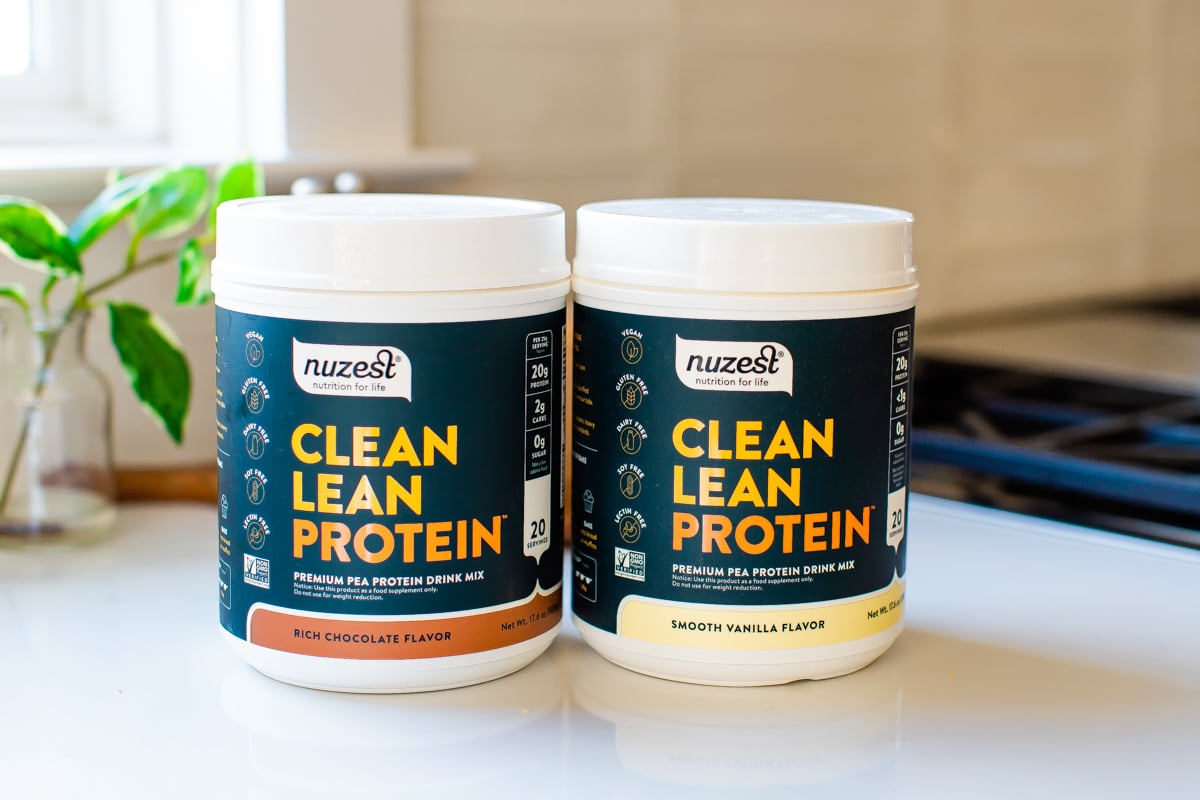 Nuzest Clean Lean Protein
Why I like Nuzest:
Short ingredient list
Great nutrition facts
Vegan, gluten-free, dairy-free, soy-free, lectin-free and non-GMO
Easy to digest
Both the vanilla and chocolate have a great flavor and aren't chalky.
My picks: Smooth Vanilla + Rich Chocolate
Coupon Code: use code eatingbirdfood for 15% off your order.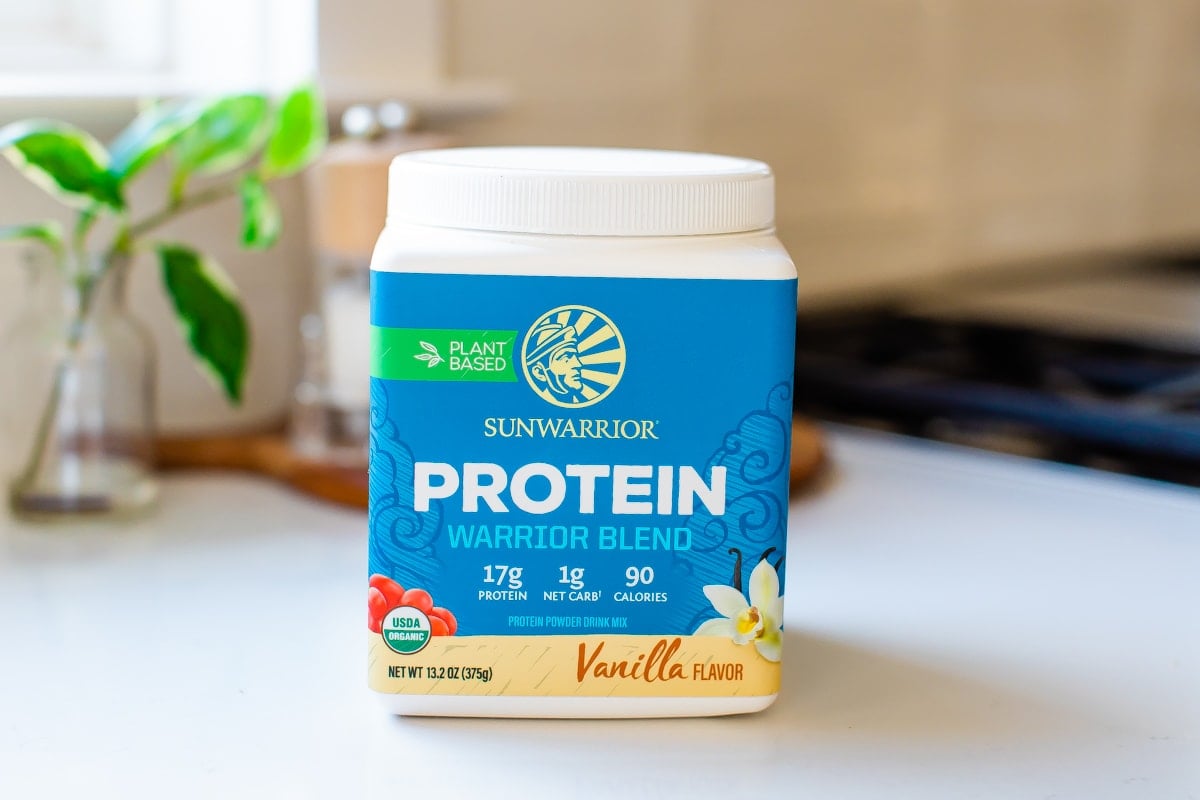 Sun Warrior
Why I like Sun Warrior:
Great nutrition facts

Vegan, gluten-free, dairy-free, soy-free, organic, synthetic free and non-GMO
Easy to digest
Complete amino acid profile with 6 grams of BCAA'S per serving
No added sugar! It's stevia sweetened
Delicious flavor! It's not chalky at all
My pick: Vanilla Warrior Blend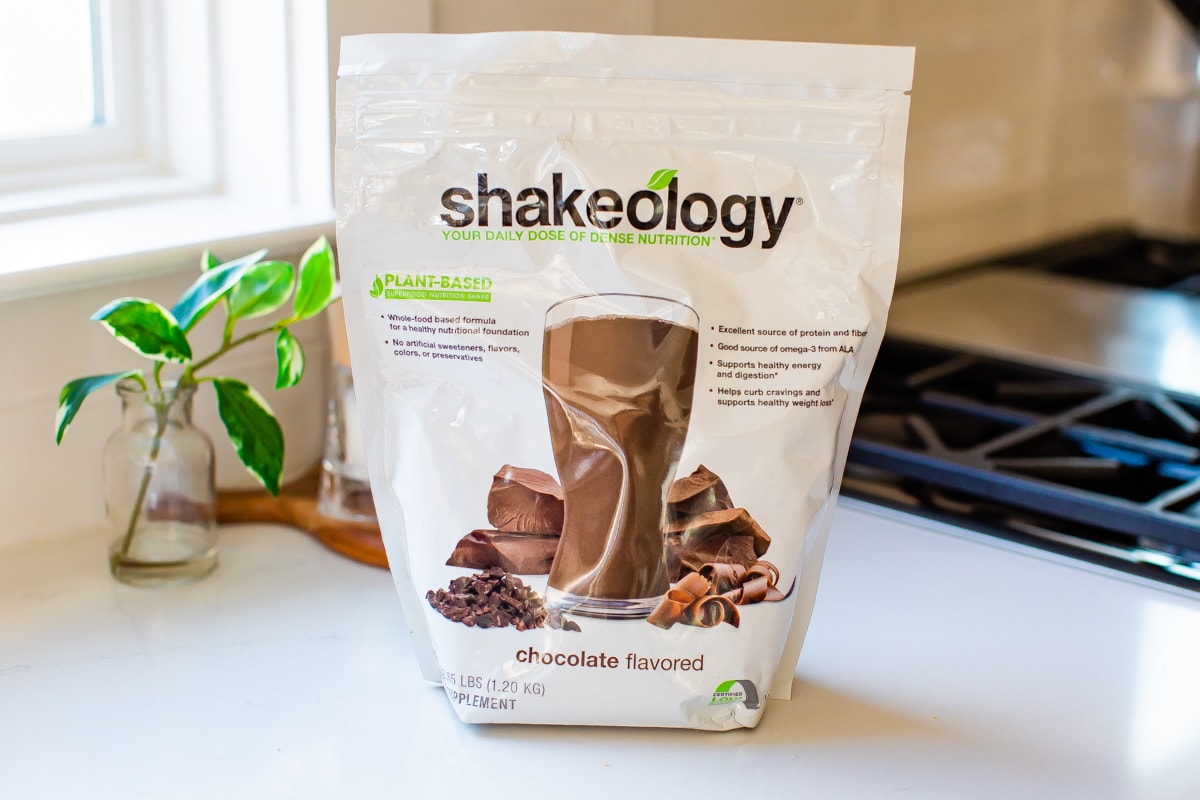 Shakeology
Why I like the plant-based chocolate Shakeology:
Vegan, gluten-free, low glycemic index and no artificial sweeteners, flavors, colors or preservatives

Good source of omega-3 from ALA
Excellent source of fiber, probiotics, prebiotics and digestive enzymes
Easy to digest
Has a delicious flavor! The chocolate one tastes like dessert to me and it's the one protein powder that I can mix almond milk and enjoy it

Includes super-greens, super-fruits and adaptogen

s
My pick: Chocolate Plant-Based Vegan
Can You Eat Protein Powder Every Day?
Yes, absolutely! I wouldn't recommend that you have protein powder with every single meal and snack. I like to get my protein from a variety of sources – chicken, fish, tofu, beans, legumes and yes, protein powder. When possible, I recommend incorporating real, whole food sources of protein and using protein powder as a supplement when needed.
Can You Use Protein Powder While Pregnant or Nursing?
Most protein powders say to consult your physician if you're pregnant or nursing on the package, which I recommend as well. For me personally, I felt comfortable using organic, plant-based protein powders and collagen while pregnant, but to be honest it wasn't something I craved so I didn't have it very often. I also feel comfortable using protein powder and collagen while nursing. Since having Olivia I've been incorporating more protein-based snacks and using collagen to help with postpartum hair loss.
Can I Let My Kids Eat Protein Powder?
I get asked this question a lot, especially because some of my recipes like the protein balls and protein muffins are something kids would certainly enjoy the flavor of. For me personally, I don't make things with protein powder for Olivia, my 3 year old, to enjoy as I think protein powder isn't necessary in her diet. And I don't give anything made with protein powder to my littlest, who isn't one year.
If I'm eating something like a protein smoothie or homemade protein bar and Olivia asks for a bite, I will share some with her but that's about it. So I feel comfortable to an extent but it's not something I give to her often. Of course it's best to always ask your pediatrician as they will have more knowledge about whether it's safe for children to consume protein powder or not.
Protein Powder vs. Collagen
I also really like using collagen, which is different than regular protein powder. I have a post all about collagen so if you're interested in collagen be sure to check that out!
Protein Powder Recipes:
Sharing my top 6 favorite protein powder recipes below, but also be sure to check out the full collection of protein powder recipes on EBF!