With protein overnight oats you can have your oatmeal and get your protein in! Over 20 grams per serving.
As I mentioned, I've been increasing my protein intake. The original overnight oat recipes I started out making don't have much protein so I decided to come up with a new version to have on days I don't have time for stove-top oats and I'm not craving a smoothie.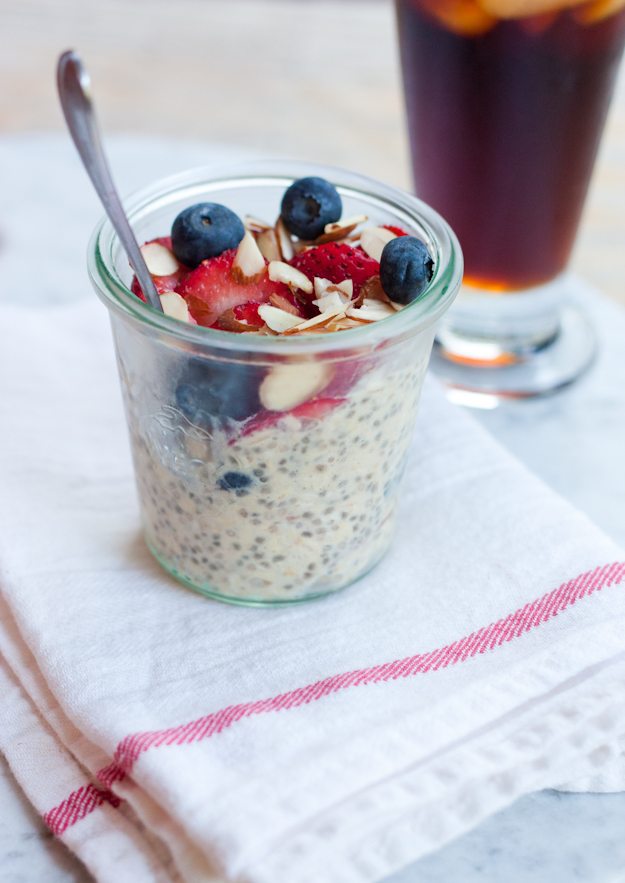 They're quick, easy and so tasty! I love having oatmeal for breakfast but during the summer months it can get too hot for warm oatmeal. Overnight oats are the perfect way to satisfy your oatmeal craving and this version provides you with a good amount of protein as well!
1
adjust servings
Ingredients
1/2

cup old fashioned oats (not instant)

1/2

-3/4 cup unsweetened vanilla almond milk or water

1

- 2 Tablespoons vanilla protein powder

1/2

Tablespoon chia seeds

1/2

teaspoon vanilla extract

1/4

teaspoon cinnamon

berries, sliced almonds, almond butter (for topping)
Instructions
Combine all ingredients in a small container, seal with a lid and place in the fridge overnight.
Bring out of the fridge in the morning and stir. You'll notice that the protein powder, oats and chia seeds soak up a lot of the liquid so you may want to add a little more almond milk or water before serving.
Top with toppings of your choice and enjoy. I love berries and sliced almonds or almond butter.
Alright friends, I'm off to the gym… have a lovely Friday!