5 Ways to Make Protein Oatmeal
42
Published Apr 26, 2019, Updated Jun 12, 2023
Want to make your oatmeal even healthier? I've got you covered with 5 delicious and easy ways to boost the protein content of oatmeal so that it will keep you full until lunch.
Everyone is crazy about oatmeal recipes! I guess I'm rubbing off on you… 😉 I wanted to dedicate a full post to protein oatmeal because if oatmeal has one fault, it's that it typically isn't very high in protein! For those of you that think oatmeal isn't very filling or you're hungry 1 hour after eating it, all you need to do is add some protein and healthy fat.
Once those are in the mix, you'll have a healthy, balanced breakfast – AKA a bowl of oats will keep you full and satisfied all morning long!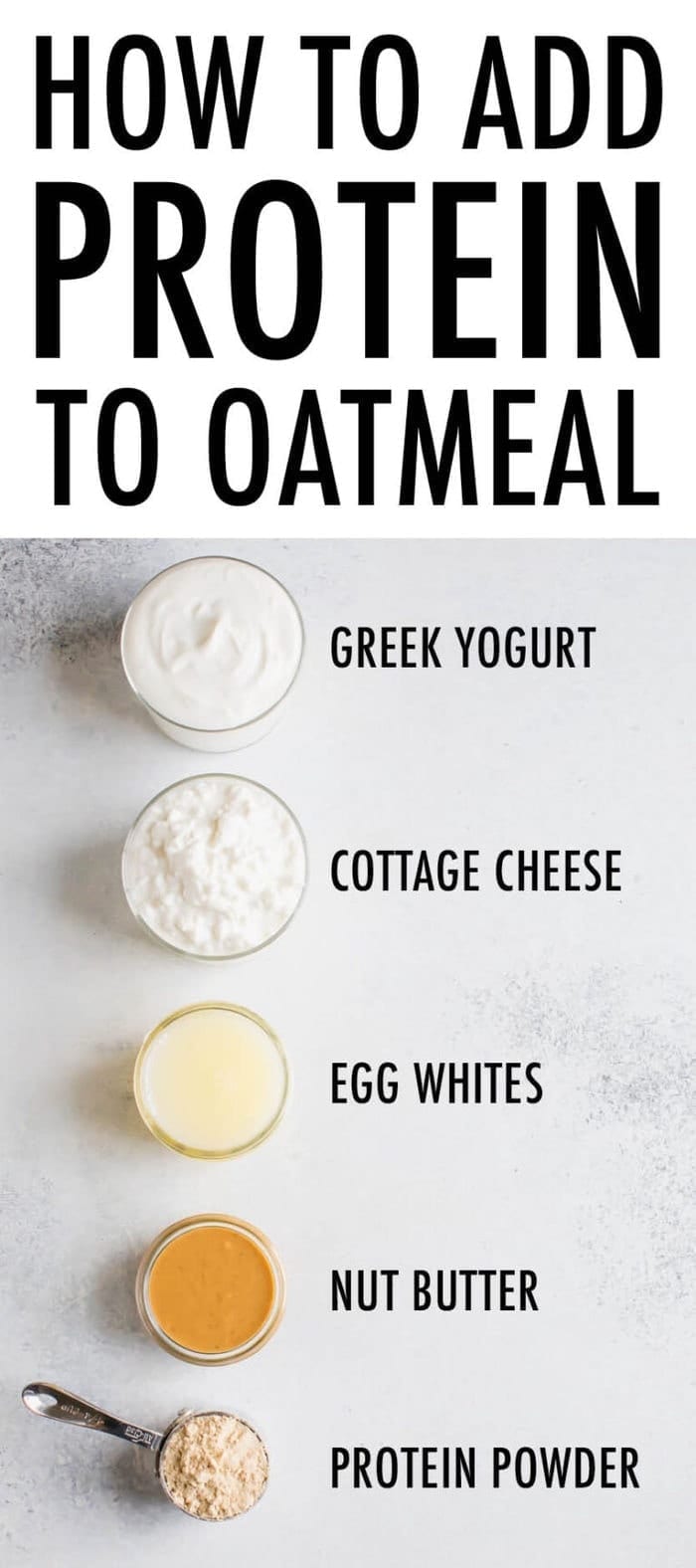 How to Make High Protein Oatmeal
As I'm sure you know, oatmeal on its own isn't very high in protein so I have a few go-to ingredients that I add in to up the protein level. I'll cover each in more detail below but here's a quick run-down:
Protein powder
Cottage cheese
Greek yogurt
Eggs or egg whites
Milk
Nuts and seeds
Nut butter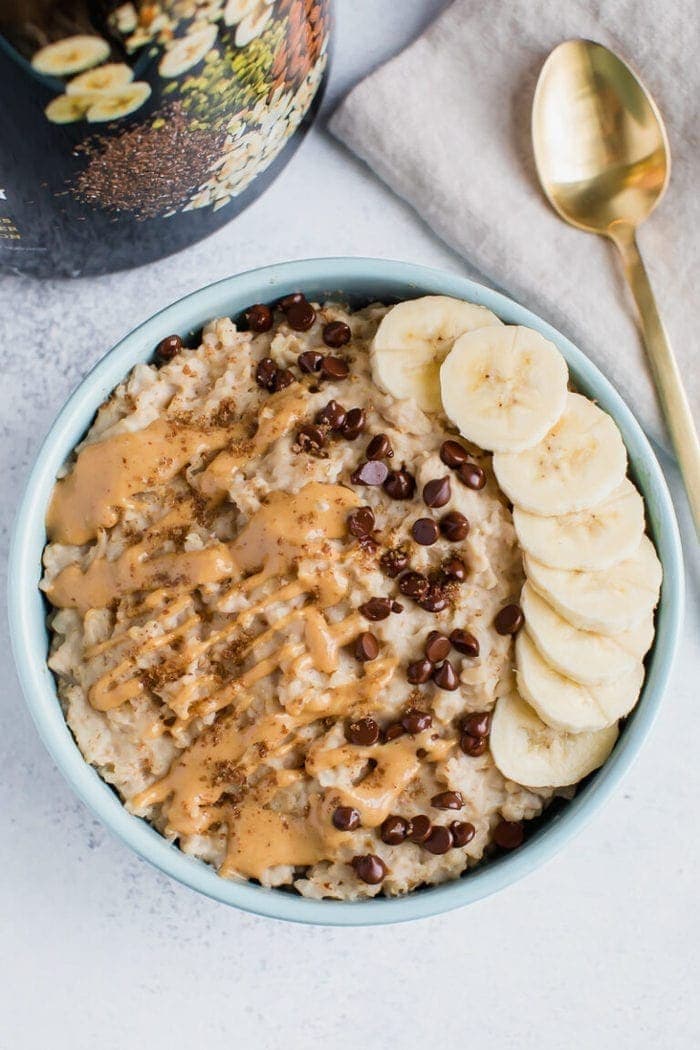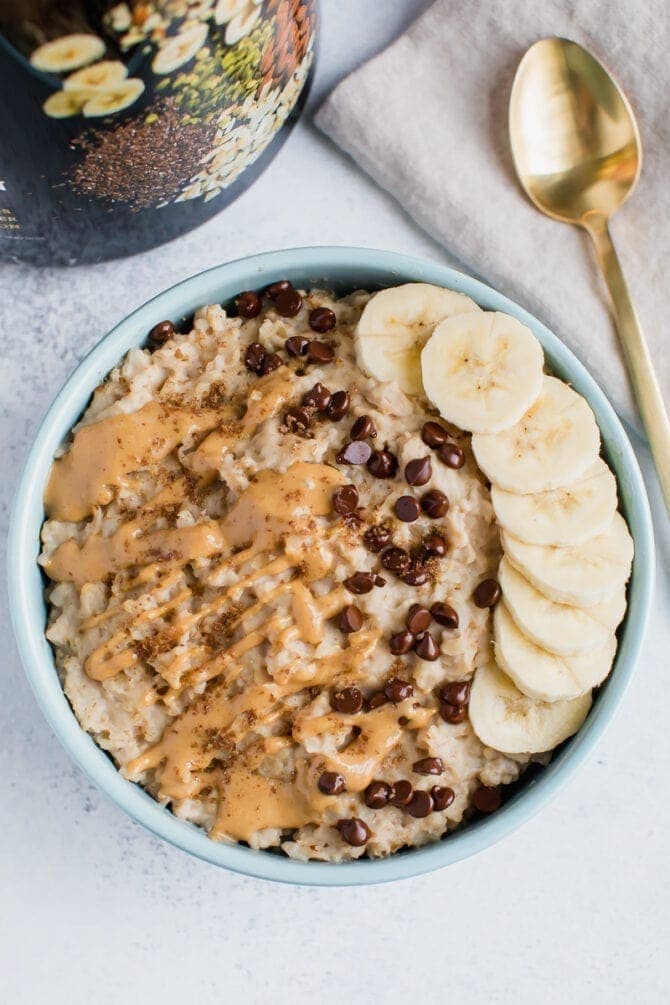 Protein Powder in Oatmeal
I know adding protein powder to oatmeal might seem like something only body builders or athletes do, but I have been adding protein powder to my oatmeal and I love it!. It adds a ton of protein, is super simple to add and can add a fun flavor to the oatmeal as well. This chocolate peanut butter protein oatmeal gets its chocolate flavor from the protein powder. Double win! Protein powder works great in pretty much any kind of oatmeal – mix it into overnight oats or to stovetop oatmeal. 1 scoop of protein powder has about 15-20 grams of protein.
Protein powder is also a great option if you're vegan or avoid eggs or dairy, considering a lot of the easy protein options (like yogurt and eggs) won't work for you. Wondering which protein powder to use? Check out this post where I share all my favorite plant-based protein powder brands.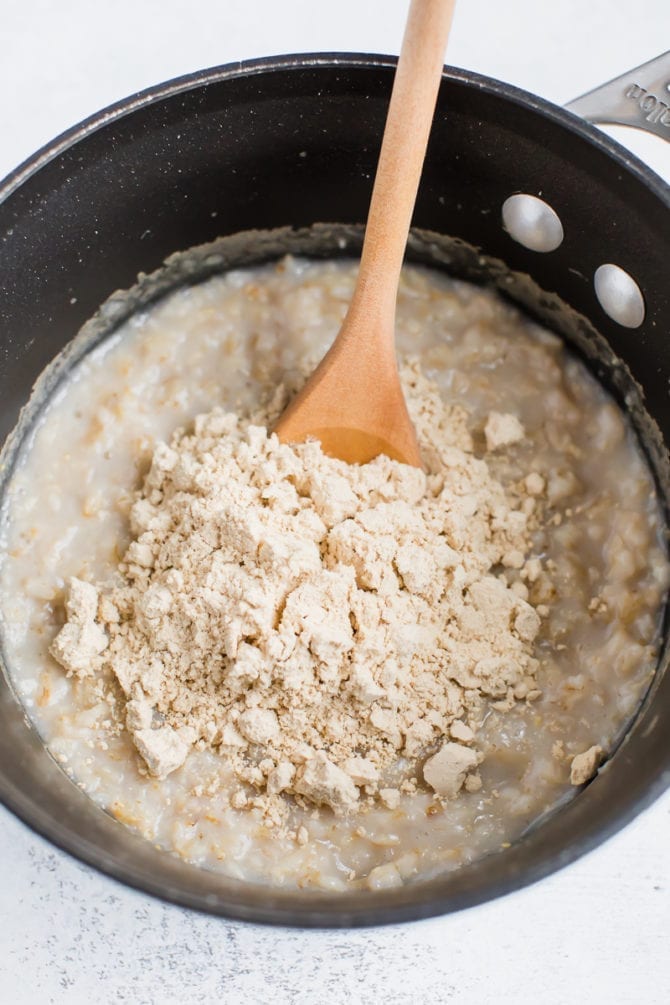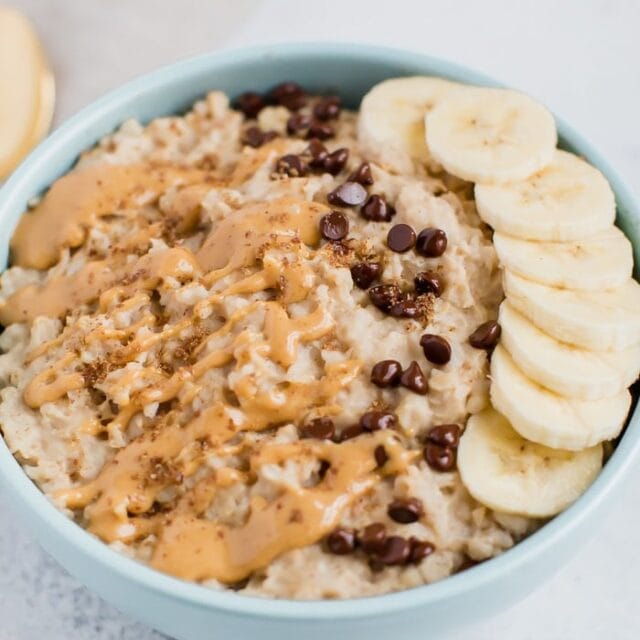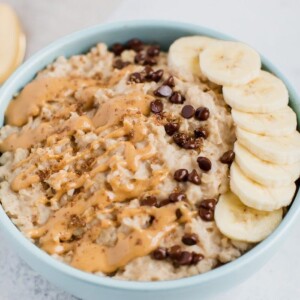 Protein Powder Oatmeal
Add protein powder to your morning oats for a protein-packed breakfast that will keep you full all morning. 
Ingredients
1/2

cup

old fashioned rolled oats

1

cup

water

1/2

banana

,

sliced (optional)*

pinch

of sea salt

1/2

teaspoon

cinnamon + 1/2 teaspoon vanilla

,

optional

1

scoop protein powder

Your favorite toppings
Instructions
Add oats, banana slices and sea salt to a pot. Add water and stir to combine. Add cinnamon and vanilla, if using. Heat over medium-high heat for 8-10 minutes or until all the liquid has been absorbed. Be sure to stir the oats several times while cooking to make sure the banana slices melt into the oats. You'll know the oatmeal is done when all the liquid is absorbed and the oats are thick and fluffy.

Remove oats from the heat and stir in protein powder. If the consistency of the oats gets too thick, add in a little more water or milk. Transfer oats to a bowl and top with your favorite oatmeal toppings. I used chocolate chips, peanut butter and bananas.
Nutrition
Serving:
1
bowl
|
Calories:
325
kcal
|
Carbohydrates:
49
g
|
Protein:
26
g
|
Fat:
5
g
|
Sodium:
206
mg
|
Fiber:
9
g
|
Sugar:
11
g
Nutrition information is automatically calculated, so should only be used as an approximation.
There Are so Many Ways to Add Protein to Oatmeal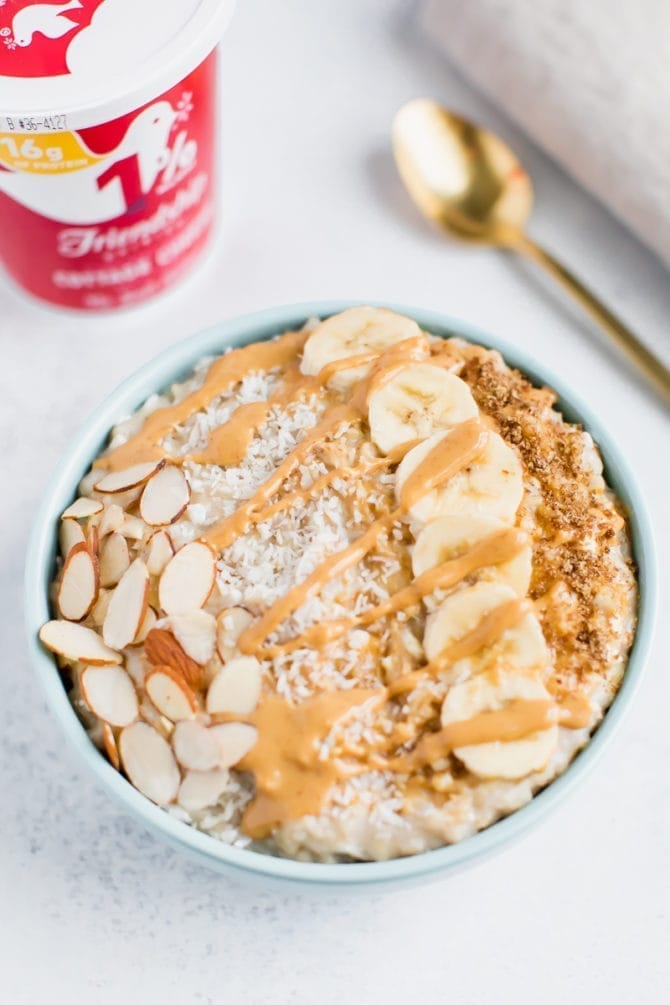 Cottage Cheese Oatmeal
I feel like people are either in the "I love cottage cheese" camp or the "I despise cottage cheese" camp… Before you jump to any conclusions about cottage cheese, hear me out. You won't taste the cottage cheese in oatmeal! It makes oatmeal so much creamier (win) and ups the protein content (win)! 1 cup of cottage cheese has 25g of protein.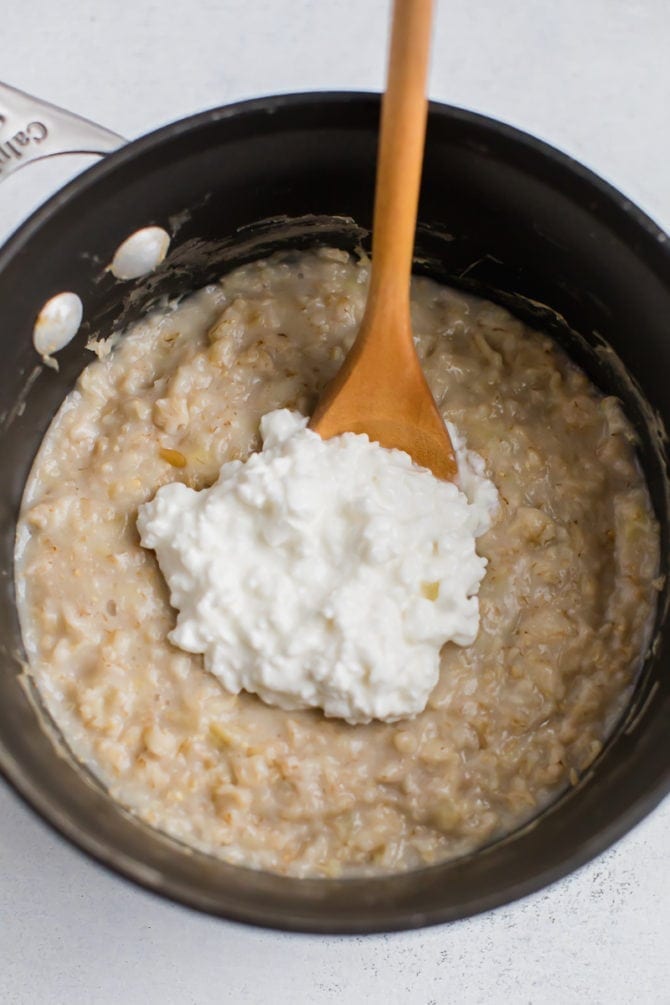 Granted, you probably aren't going to mix in a whole cup but still! So much protein. Again, you can mix cottage cheese into any kind of oatmeal. I will say that if you're not a big cottage cheese fan because of the texture, you'll want to mix it into warm oatmeal so the "chunks" (for lack of better word) break down and mix in.
Check out my cottage cheese oatmeal recipe.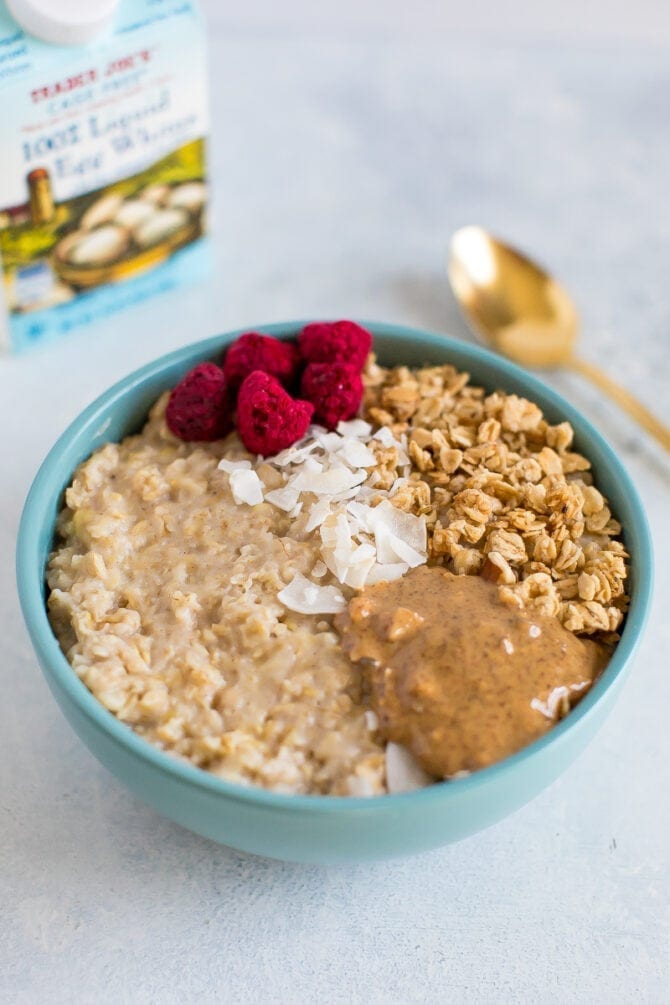 Egg White Oatmeal
I love adding egg whites to my oatmeal! I've found it works best to add in egg whites to stovetop oatmeal while you're cooking. The key is to avoid scrambling the egg whites. To do this, you simply have to continuously stir/whisk the egg whites while you're adding them to the saucepan and as they cook. Trust me on this… one time I got distracted and ended up with a bowl of oatmeal with scrambled egg white chunks. Not so appetizing.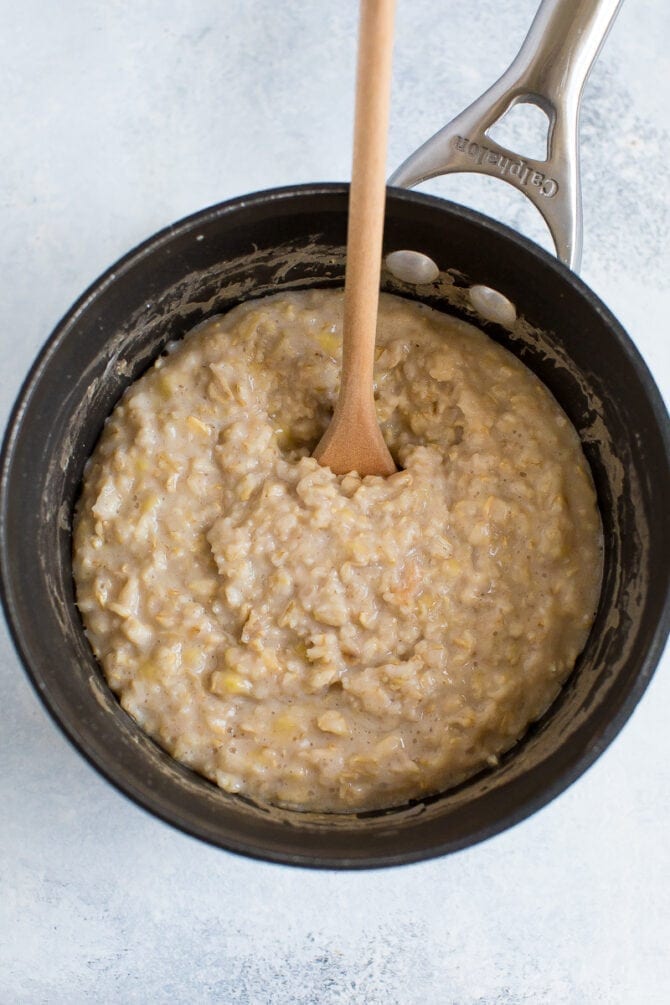 Obviously this method of making high protein oatmeal only works for oats that you're cooking – please don't add raw egg whites to overnight oats! 1 cup of egg whites has about 26 g of protein. Again, you won't be adding in 1 cup of egg whites but they pack a punch! Try this protein pumpkin oatmeal with egg whites whipped in or try my egg and oat combo bowl with egg whites scrambled on the side.
Check out my egg white oatmeal recipe.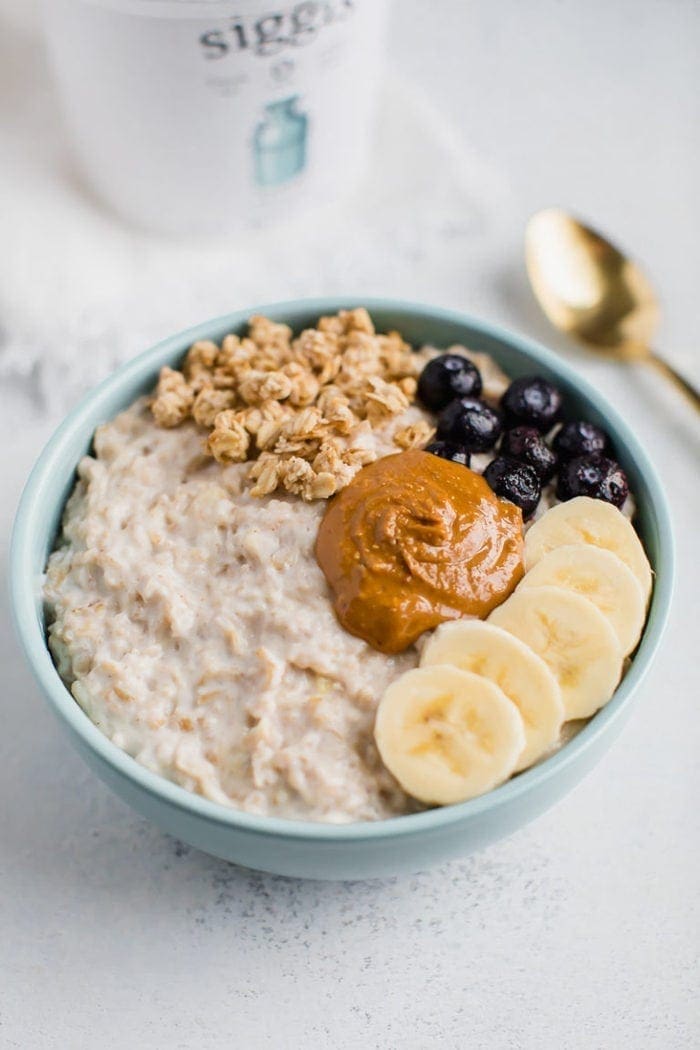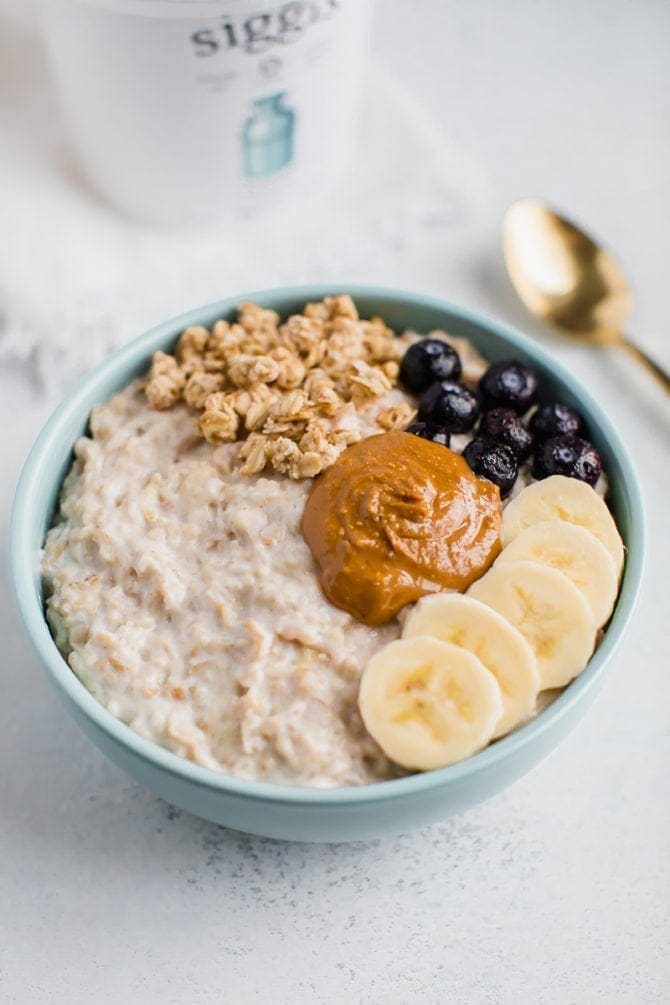 Greek Yogurt Oatmeal
Similar to cottage cheese, you can mix in Greek yogurt to your oatmeal to increase the protein (and probiotics!). I typically reach for full fat and plain just because the flavored kind can have a lot of added sugar. Greek yogurt works great in any kind of oatmeal – cold or hot!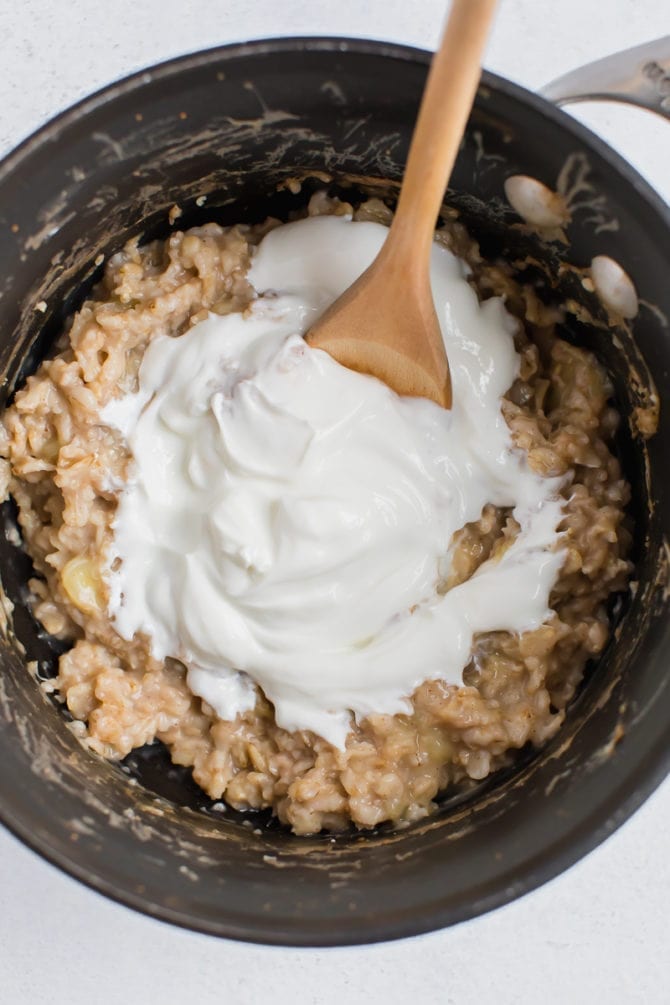 1 personal container of Greek yogurt (about 5 ounces) has 17 grams of protein… that's as much as a scoop of protein powder! I love using Greek yogurt in overnight oats like this banana bread overnight oats.
Check out my Greek yogurt oatmeal recipe.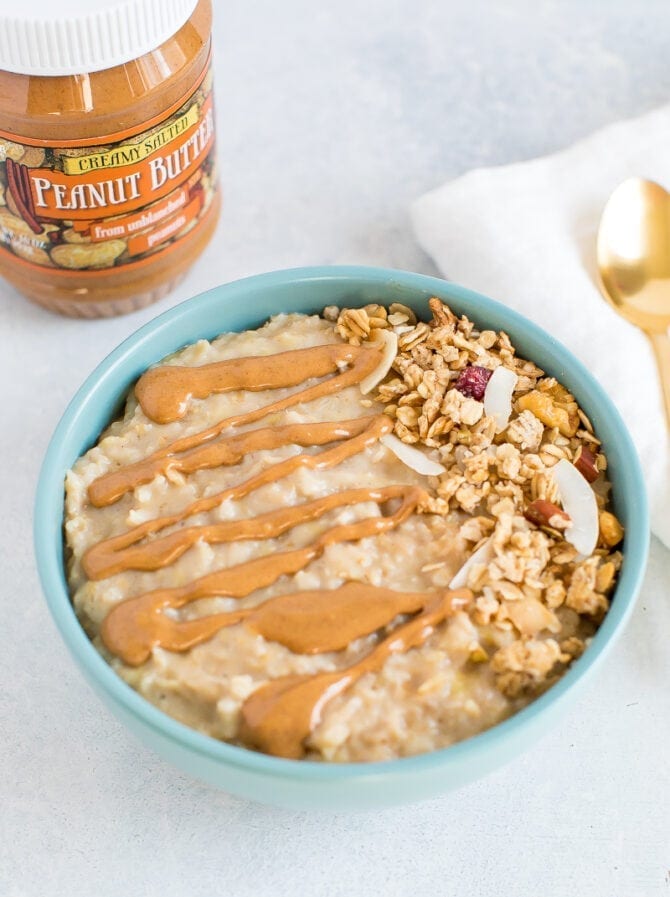 Nuts or Nut/Seed Butter Oatmeal
Adding nut and seed butter is another great way to increase the protein in oatmeal. You can mix it right into the oats or drizzle on top for added flavor. 2 tablespoons of peanut butter has 8g of protein, 2 tablespoons of almond butter has about 7 g of protein and 2 tablespoons of sunbutter (sunflower seed butter) has about 6g of protein. Try my 3-minute peanut butter protein oatmeal or my peanut butter cup overnight oats.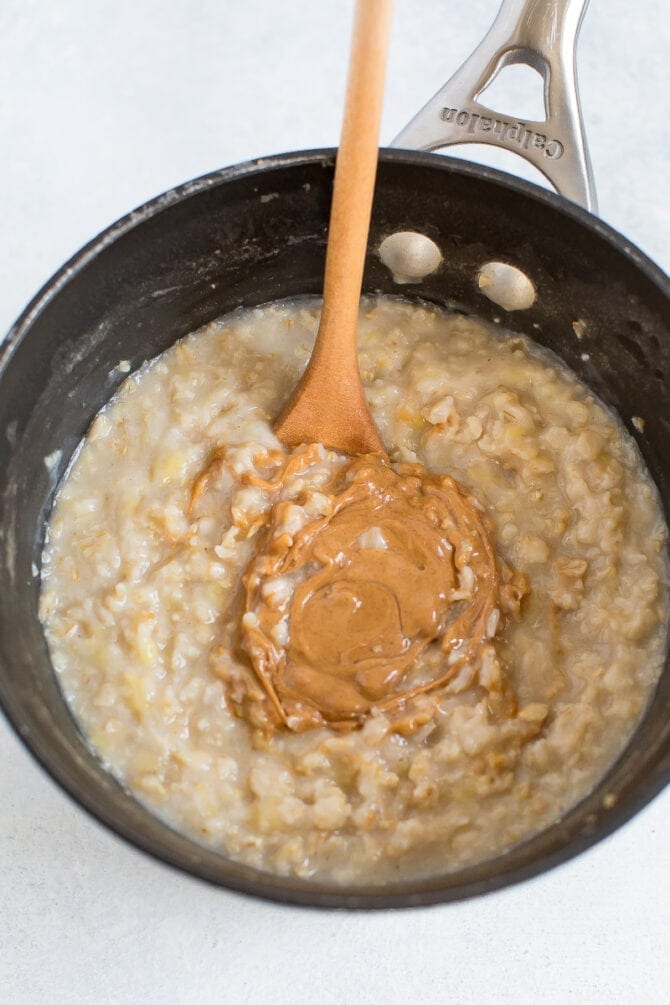 Other Ways to add Protein to Oatmeal
Use milk instead of water or almond milk to cook the oats. Most non-diary milks don't have that much protein, but 1 cup of soy milk has about 8 grams and 1 cup of skim milk has 8 grams as well.
Top oats with high-protein toppings like hemp seeds, chia seeds and flaxseed.
More Protein Packed Recipes
Be sure to check out all of my oatmeal recipes as well as all of the protein recipes here on EBF!