This protein pumpkin oatmeal recipe is loaded with pumpkin flavor and protein. The secret is whipping egg whites into the oats while they cook!
I have a growing list of posts that I need to write so I want to keep things short and sweet today with a quick and easy breakfast recipe that I've been loving this fall. There's pumpkin involved and it's packed with a hefty dose of protein. Get excited!!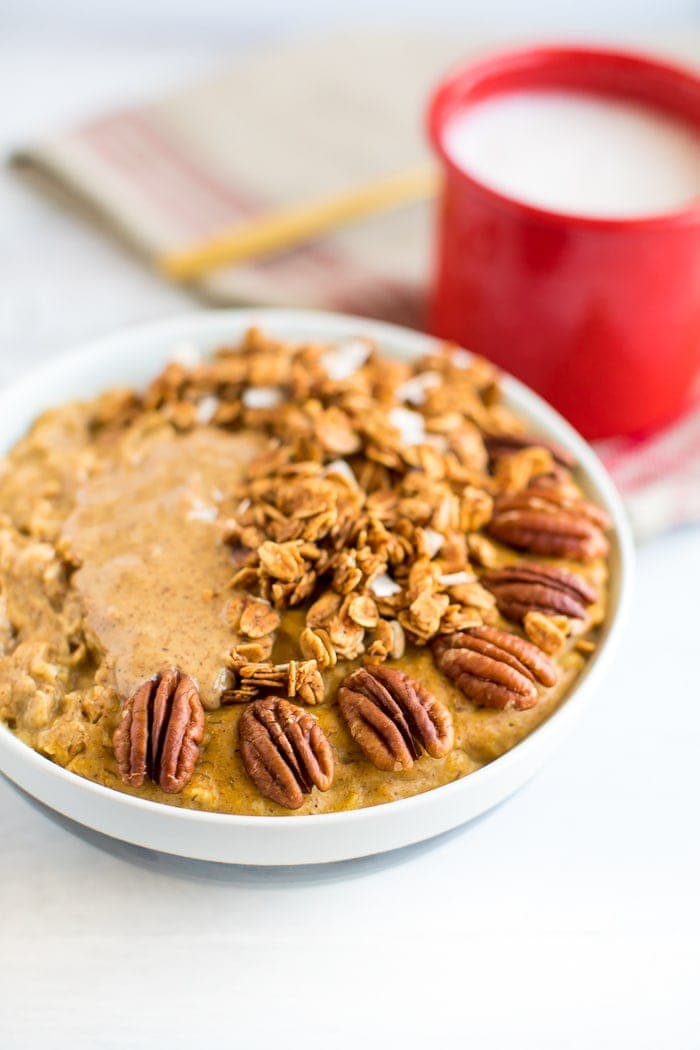 I've been adding egg whites to my oatmeal for years, but hadn't had them in a while since I didn't really eat much hot oatmeal over the summer. Julie's post for Three Minute Egg White Oatmeal inspired me to bring back the egg white oats and I figured now would be a great time to share the recipe.
I know adding egg whites to your oatmeal sounds a little odd if you've never done it before, but it's actually pretty awesome. You end up with a nice and fluffy (not to mention filling) bowl of oatmeal.
The key is to avoid scrambling the egg whites. To do this, you simply have to continuously stir/whisk the egg whites while you're adding them to the saucepan and as they cook.
Trust me on this… one time I got distracted and didn't keep up with the stirring… I ended up with a bowl of oatmeal + scrambled egg white chunks. Not so appetizing.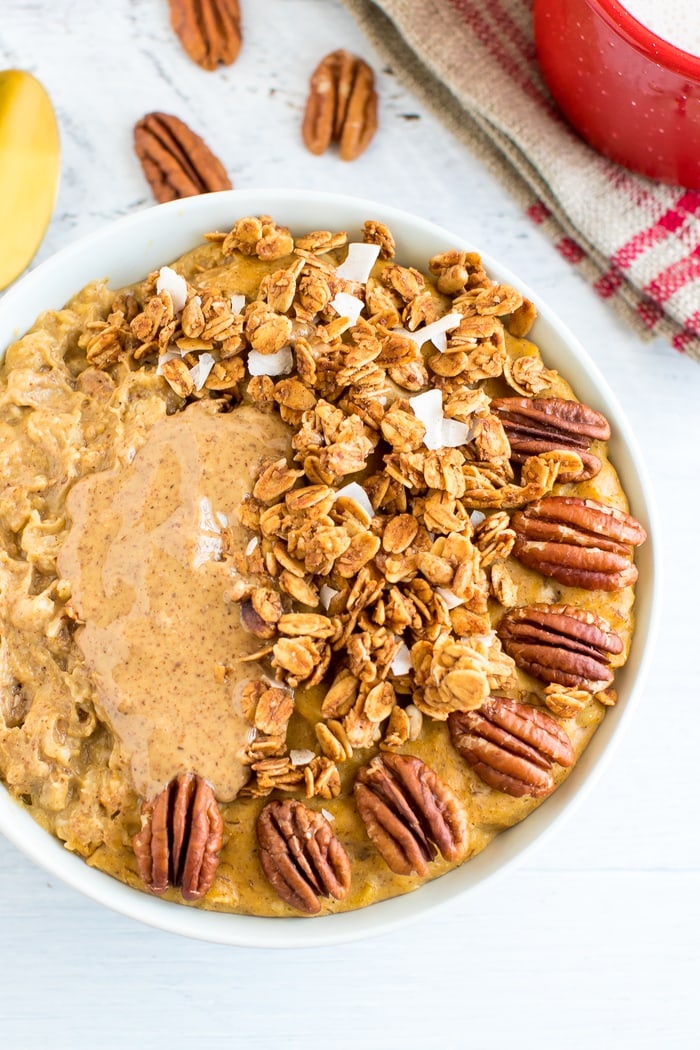 Don't worry though, if you take my advice and follow the recipe, you'll end up with a delicious looking bowl of protein oats like what you see below. Pinky promise. 😉
I'm loving this pumpkin version, but you can add egg whites to whatever flavor oatmeal you like. I've tried it with my peanut butter chia oatmeal and it worked like a charm.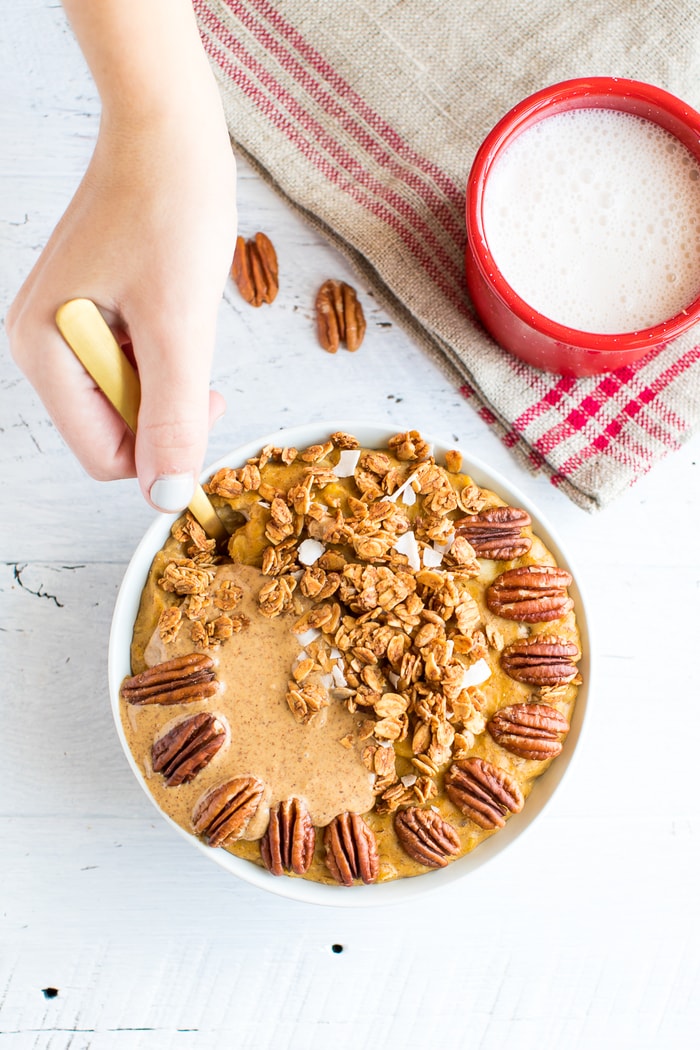 Protein Pumpkin Oatmeal with Egg Whites
1 bowl
adjust servings
Instructions
In saucepan over high heat, combine the almond milk, water, banana slices, pumpkin puree, pumpkin pie spice, salt and cinnamon. Bring to a boil.
Once boiling, add the oatmeal. Turn the heat down and cook until most of the liquid is absorbed (about 5-6 minutes).
Pour in egg whites and stir/whisk constantly. Stirring will keep the egg whites from cooking so that they turn into a thick, fluffy consistency instead. This should take 1-2 minutes.
Once all the liquid is absorbed and the oatmeal is cooked through, place in a bowl and add your favorite toppings. I used almond butter and pumpkin spice pepitas, but feel free to use a variety of nuts, nut butter or sweeteners. Enjoy!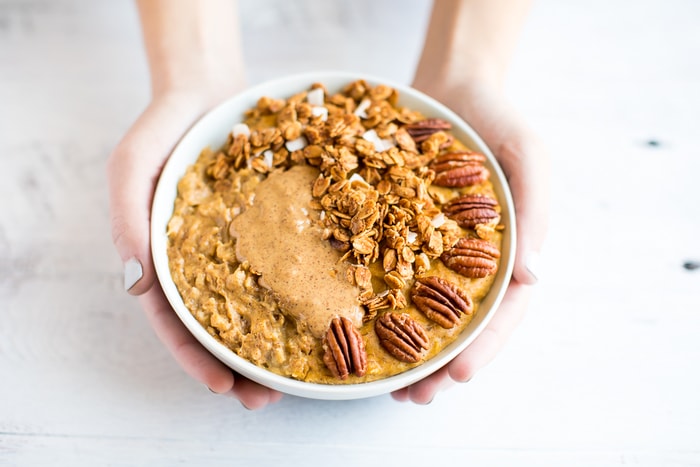 If you make this protein pumpkin oatmeal let me know how it turns out in the comment section or share a photo on social media. Just be sure to tag me (@eatingbirdfood + #eatingbirdfood) so that I see it!