Have pumpkin pie for breakfast with this healthy slow cooker pumpkin pie oatmeal recipe featuring steel-cut oats cooked overnight with pumpkin puree and spices.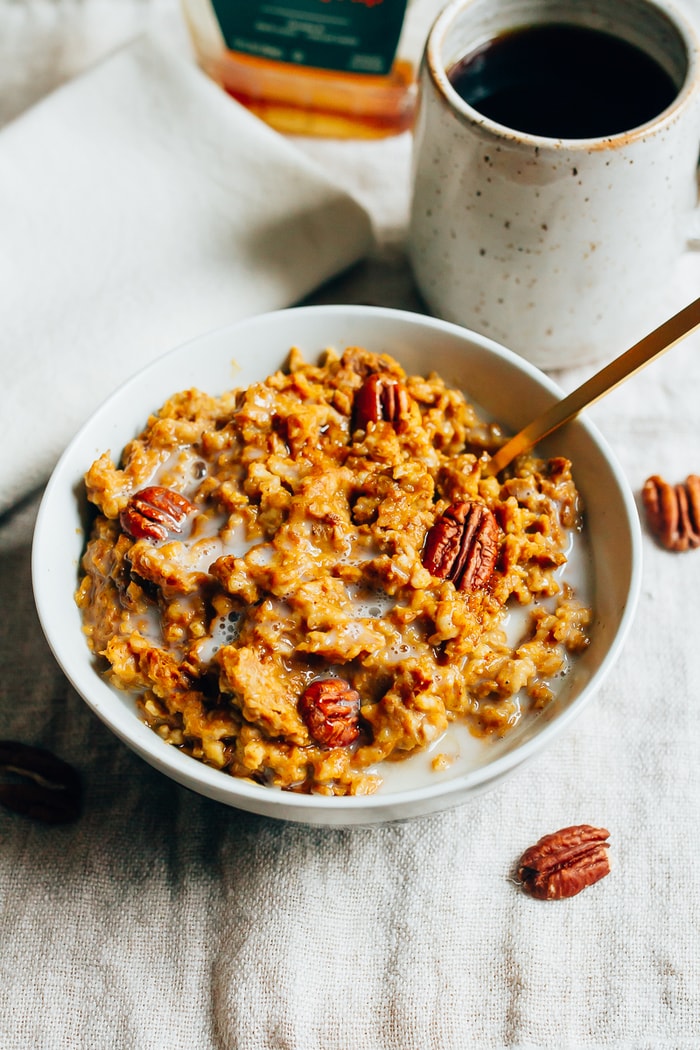 Hi from New Jersey! We drove up here last night, stayed the night with Isaac's brother and now we're headed to Maine! This little road-trip adventure is a mix of business and pleasure. Isaac needed to drive up to Maine to pick up beer so I decided to tag along and we're making a weekend out of it. We'll be staying with some friends for the first half of our trip and then staying at a hotel in downtown Portland for the second half. Isaac visited Portland over the summer and keeps saying that I'll love it so I'm really excited to visit and explore. If you happen to have any suggestions of things we should definitely do or see, I'd love for you to let me know in the comments. 🙂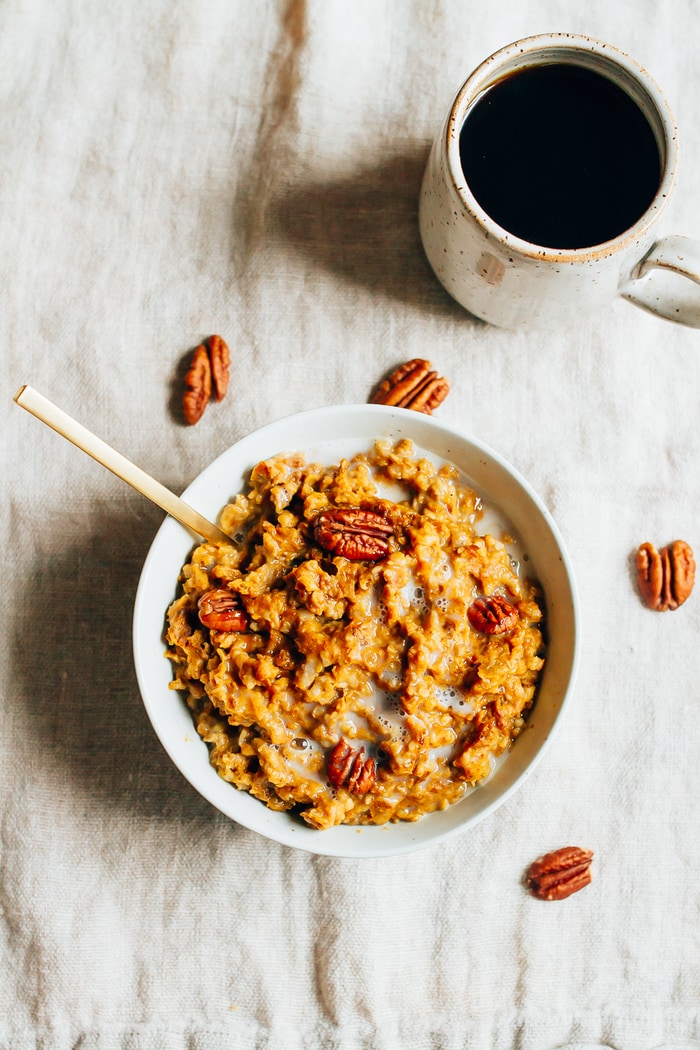 Back to this slow cooker pumpkin pie oatmeal! I actually had another post on my calendar for today, but I made these oats for the second time this week and I couldn't hold out on you guys any longer. They're way too good not to share. Plus tomorrow is National Oatmeal Day!!! <– I highly recommend putting these oats in your slow cooker tonight so you can celebrate.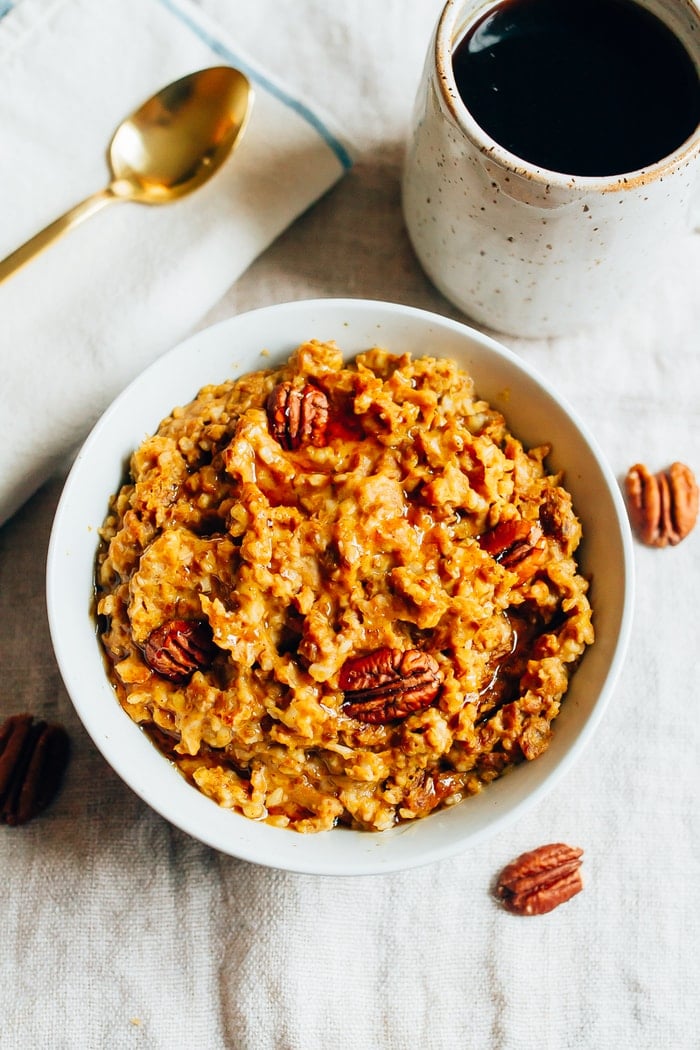 This recipe is inspired and adapted from my
slow cooker apple cinnamon oatmeal
which features steel-cut oats cooked with warm apple chunks, cinnamon and vanilla. I love cooking steel-cut oats in the slow cooker so a pumpkin pie version was a natural progression.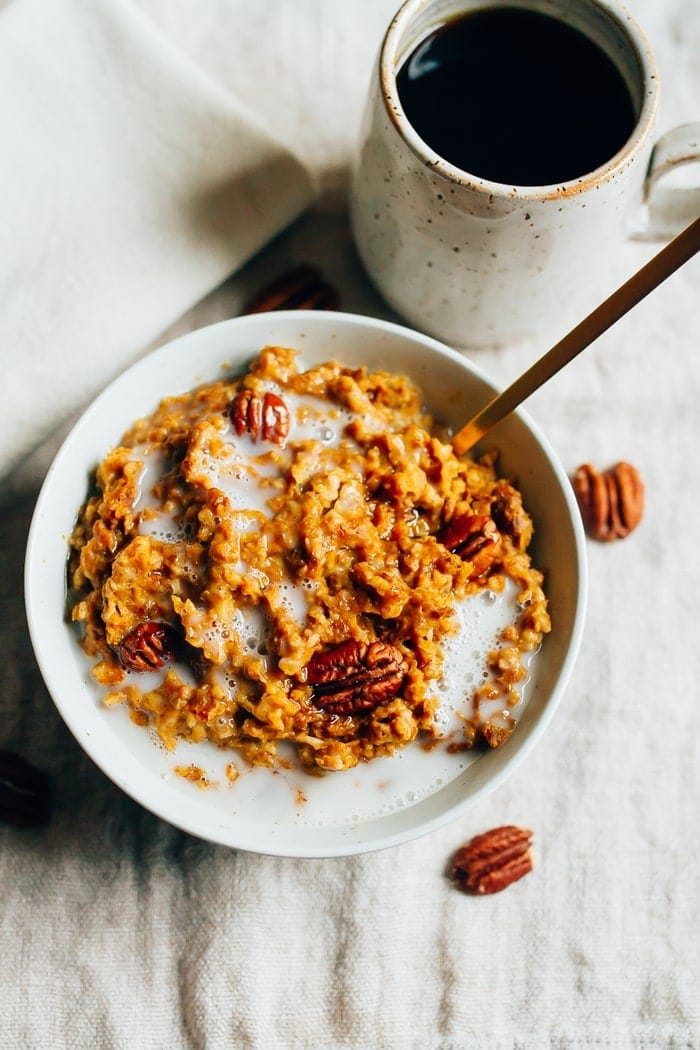 The thing about pumpkin pie is that most people only have it once a year — on Thanksgiving. For people like me who love pumpkin pie this is kind of sad so we improvise and make things like pumpkin pie overnight oats, pumpkin pie yogurt bowls, pumpkin pie smoothies and slow cooker pumpkin pie oatmeal to get our pumpkin pie fix all season long. All year long, if we're being honest.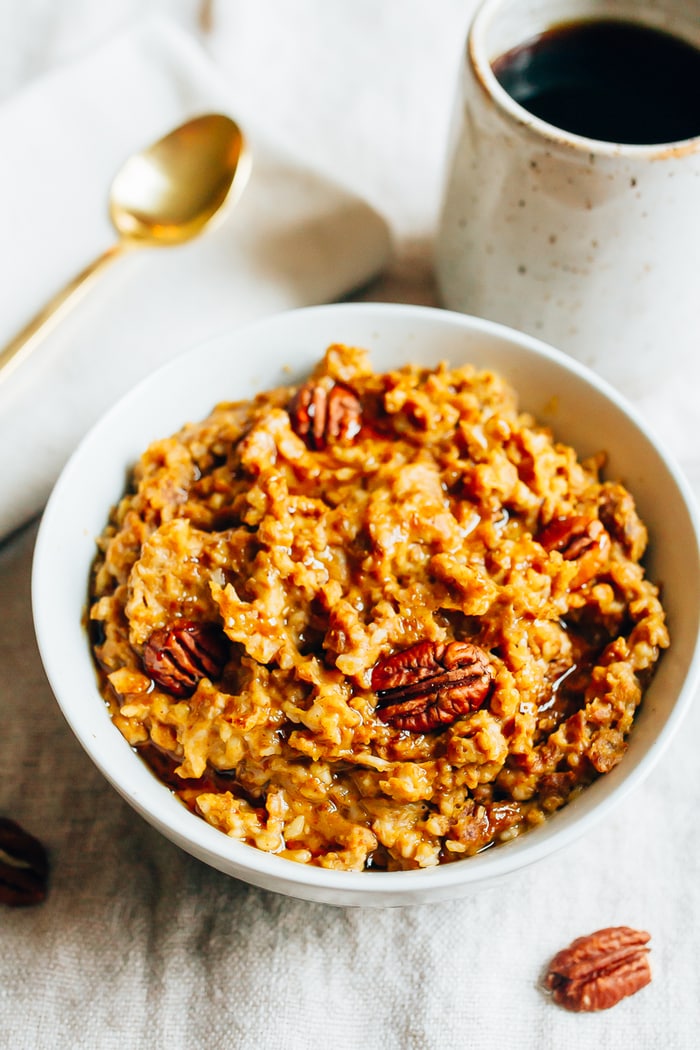 These oats have all the flavor components of pumpkin pie — pureed pumpkin, pumpkin pie spice, a little sweetness (from the maple), cinnamon and vanilla. They're absolutely delicious and take only about 10 minutes of prep work. Throw everything into your slow cooker and wake up to a warm and comforting bowl of pumpkin pie oatmeal!
Slow Cooker Pumpkin Pie Oatmeal
4
adjust servings
Ingredients
cooking spray, butter or coconut oil (for coating the slow cooker)

1

cup steel-cut oats

2 1/2

cups water

1 1/2

cups unsweetened almond milk

1

cup pumpkin

3

Tablespoons maple syrup

1

teaspoon vanilla

1

teaspoon pumpkin pie spice

1/2

teaspoon cinnamon

1/4

teaspoon salt

pecans, maple syrup and almond milk for serving
Instructions
Coat your slow cooker with cooking spray, butter or coconut oil. Add all the ingredients into slow cooker and mix well. Cook on low for 6-8 hours. If you have a programmable slow cooker, set it to cook on low for 7 hours and then switch to warm.
In the morning, give the oats a good stir as the oats will settle to the bottom. Portion into a bowl to serve and top with pecans, maple syrup and almond milk.
If you make this slow cooker pumpkin pie oatmeal let me know how it turns out in the comment section or share a photo on social media. Just be sure to tag me (@eatingbirdfood) so that I see it!