Have pumpkin pie for breakfast with this healthy Pumpkin Pie Overnight Oats recipe. It's fast, easy, vegan, gluten-free and delicious! 
Hi and happy Monday to you! How was your weekend? I hope it involved a little sunshine because mine certainly didn't. We've been drowning in rain over here. Luckily that's all we've seen of hurricane Joaquin, though. No intense winds, crazy flooding or any of that jazz so I'm thankful. Despite the dreary weather we were pretty productive. Isaac did a bunch of small projects around the house. He fixed a leaking/clogged bathroom pipe, updated electrical outlets in my office and organized his massive collection of beer! I got in two great workouts (Pure Barre + Orangetheory), did some house cleaning, completely cleared my email inbox (which took way longer than expected) and prepped a little for the week ahead.
We're leaving for Aruba later this week so I'm on a mission to prep/pack early so I'm not running around like a crazy woman the night before like I usually do before trips. We'll see how it all pans out. Oh, and if you've been to Aruba before and have any recommendations of places we should check out, please leave me a comment. I'm all ears. 😛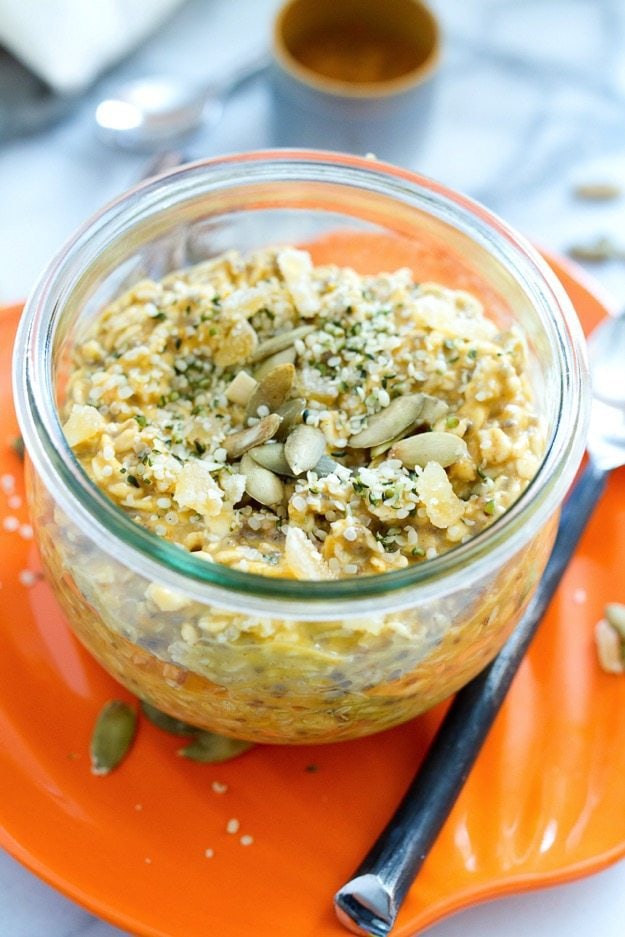 Anyhow, I hope you are ready for all things pumpkin because as you know, October is here and I'm obsessed. Call me basic if you want, but I love pumpkin flavored things (and I know many of you do as well) so let's celebrate. And by celebrate I mean, enjoy as much pumpkin goodness as possible… without our skin turning orange.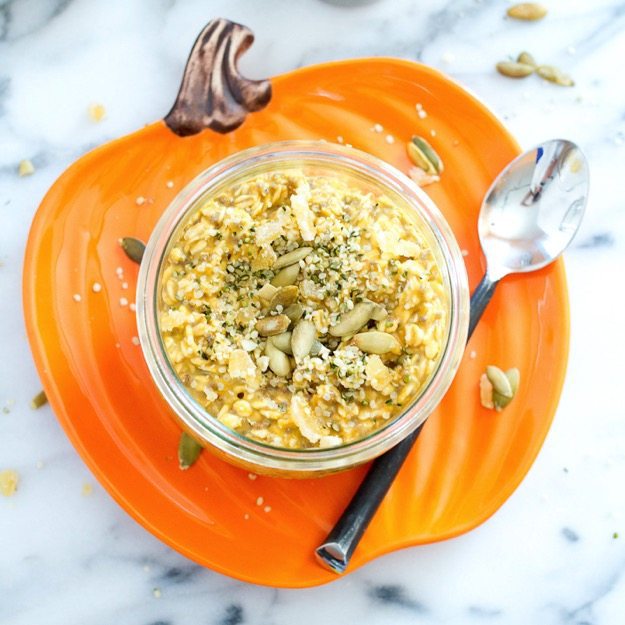 Most of you probably know what overnight oats are, but just in case we have some newbies, here's a simple explanation — overnight oats are simply plain rolled oats (not instant) that soak up liquid overnight in the fridge. You can use any type and combination of liquid/wet ingredients you like. My favorite is unsweetened vanilla almond milk, coconut milk and/or Greek yogurt. For this particular batch I'm using almond milk and canned pumpkin for my wet ingredients. After letting the oats soak up the liquid overnight (or a few hours if you're pressed for time) you're ready to eat. You take the oats out of the fridge, give them a good stir, top with your favorite toppings and enjoy. There's no cooking involved!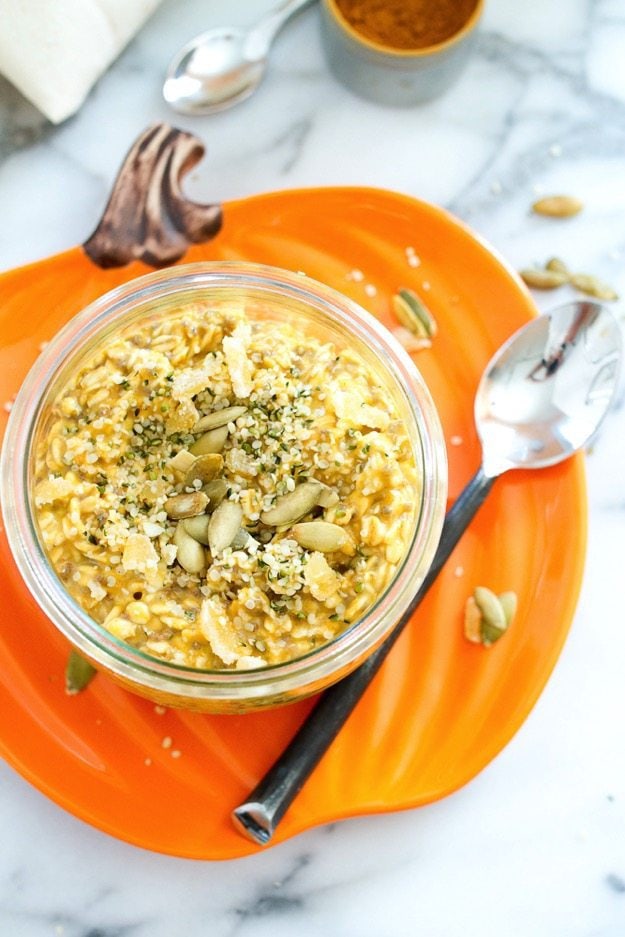 This particular overnight oat combo is one of my absolute favorites and I basically wait all year for it! Pumpkin puree, pumpkin pie spices and almond milk give the oats a creamy texture and fall flavor that I love. If I'm craving more protein I'll add a little protein powder or greek yogurt to the mix but I don't always find it necessary — especially if I'm adding pepitas (raw pumpkin seeds) and hemp seeds as a topping. The add ins and toppings are totally customizable so feel free to experiment with what works for you!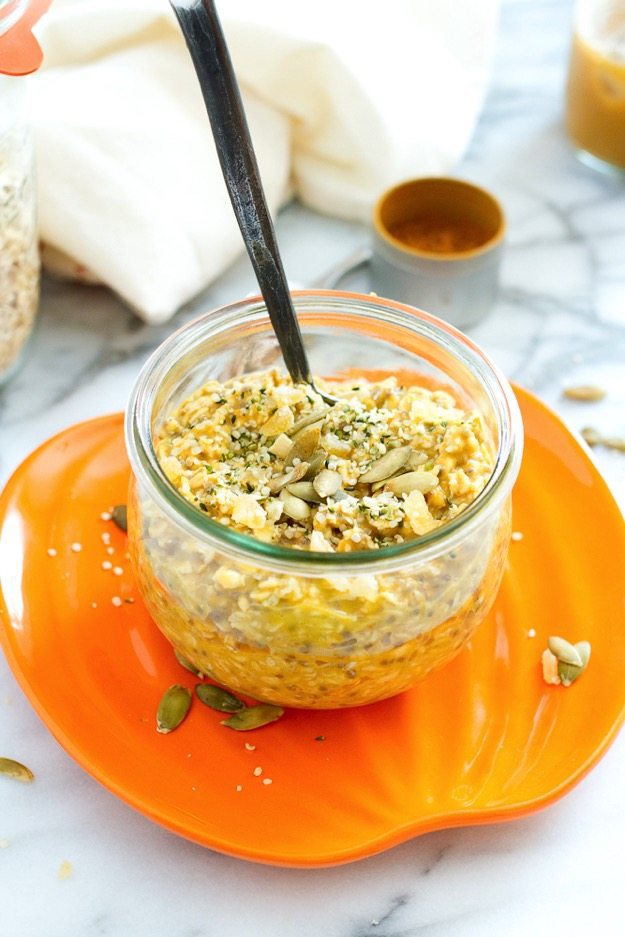 Pumpkin Pie Overnight Oats
1
adjust servings
Ingredients
1/2

cup old fashioned oats

1/2

cup almond milk

1/2

teaspoon pumpkin pie spice

1/4

cup canned pumpkin (not pumpkin pie filling)

1/2

Tablespoon chia seeds

1

Tablespoon maple syrup

2

teaspoons hemp seeds

2

teaspoons pepitas

optional: 1/2 scoop protein powder or 1/4 cup plain Greek yogurt for added protein
Instructions
Combine all ingredients in a bowl except for the hemp seeds and pepitas. If you're using greek yogurt or protein powder, add that in now.
Stir everything together, cover, and let sit in the fridge overnight. That's it!
Take the mixture out of the fridge, stir and sprinkle on hemps seeds and pepitas. Feel free to add a scoop of almond butter or an extra drizzle of maple syrup before serving if you'd like. Enjoy!
Eating something that tastes like pumpkin pie for breakfast is an amazing way to start the day. Seriously, you have to try it! If you're short on time or forgot to prep your overnight oats, I've got you covered… make this pumpkin pie smoothie instead. 🙂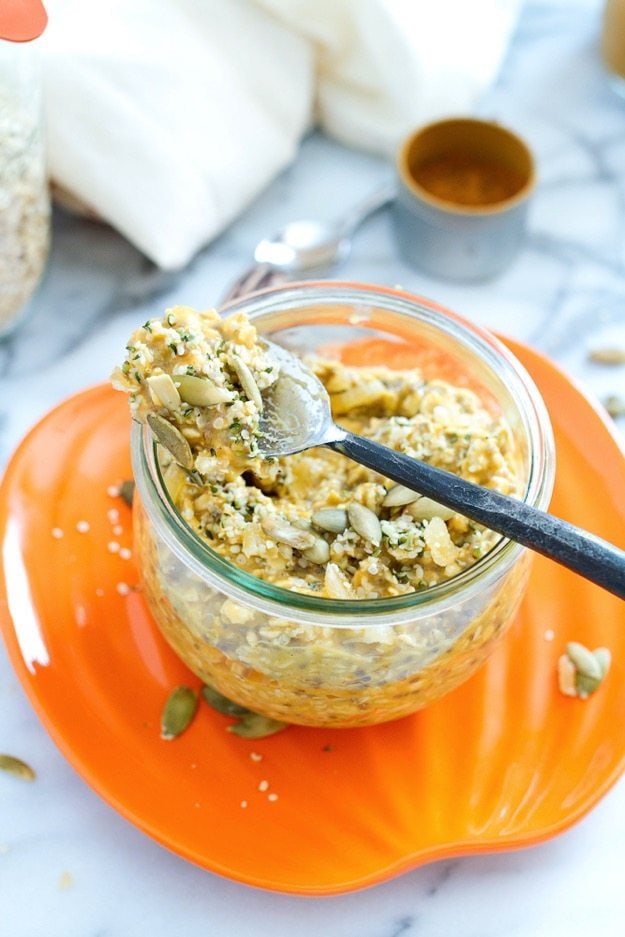 Are you a pumpkin lover as well?!? If so, what's your favorite pumpkin dish to make this time of year?