It's so sad to think that Christmas is already over. There's so much anticipation and then the day just flies by…
That said, we made some really fun memories yesterday. I was able to spend a relaxing Christmas morning with Isaac and Olive, hang with my family, eat a delicious meal prepared by my mom and play with my nephew on his first Christmas. It was quite lovely.
On Christmas morning Isaac wasn't super hungry so I was on my own for breakfast. Apparently his belly was still full from the Indian food we had at Lehja on Christmas Eve. (?!?) Not sure how that's possible considering no matter how much I eat the night before, I'm always hungry for breakfast. Knowing that I would indeed want breakfast on Christmas morning, I planned ahead and made a batch of festive eggnog overnight oats—sans the alcohol and eggs.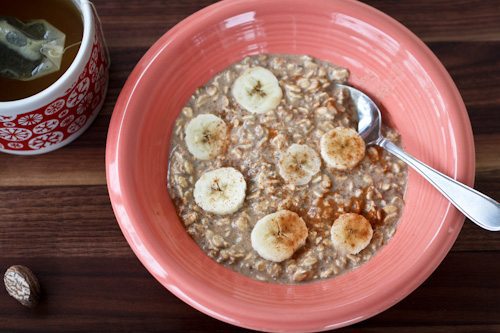 Vegan Eggnog Overnight Oats
1
adjust servings
Ingredients
1/2

cup uncooked old fashioned oatmeal

3/4

cup unsweetened vanilla almond milk

1/2

scoop vanilla brown rice protein powder

1

teaspoon chia seeds

1/2

teaspoon ground cinnamon

1/4

teaspoon freshly grated nutmeg (ground will work too)

1/2

banana, sliced (optional)
Instructions
Combine all ingredients in a small container (expect banana), seal with a lid and place in the fridge overnight. You'll notice that the protein powder, oats and chia seeds soak up a lot of the liquid so you may want to add a little more almond milk or water before serving. Top the oats with banana slices and a sprinkle of nutmeg and cinnamon.
I'm not sure I even like eggnog on it's own (It's been way too long since I've tried it), but these overnight oats were amazing! I loved them so much, I had them again for breakfast this morning. The flavor is great and it's fun to take a little piece of Christmas and extend it beyond the holiday.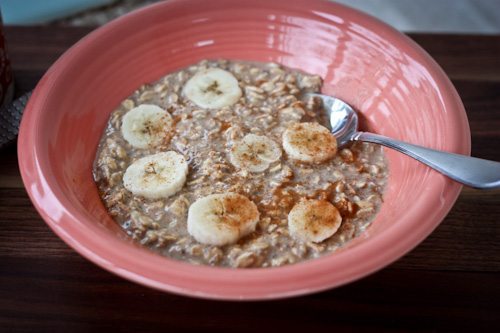 The real key to making these eggnog overnight oats is the nutmeg.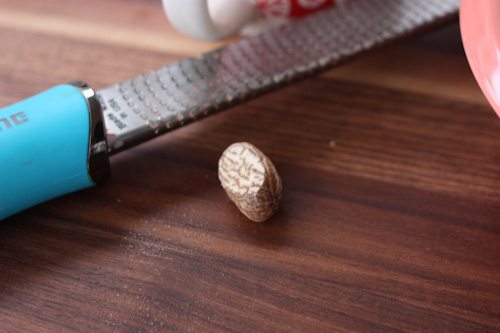 Lucky for me, Isaac recently brought home a fresh nutmeg seed (I really want to call it a knob for some reason) from school. Now that I'm thinking about it, I don't know why they had these at his school, but whatever, I'm just happy he brought it home to me. It was my first time working with whole nutmeg and surprisingly, it wasn't hard at all. I just used my Microplane zester/grater to grate the seed and I quickly had a fine dusting of fragrant, ground nutmeg.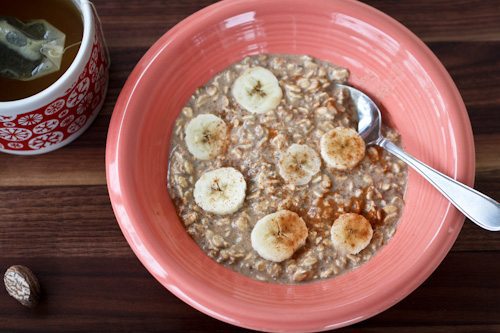 If you're like me and wish Christmas wasn't over already, I highly recommend trying these eggnog overnight oats. They're sure to keep you in the holiday spirit for a tad longer. At least until the tree has to come down, which is always the saddest (and messiest) part of Christmas.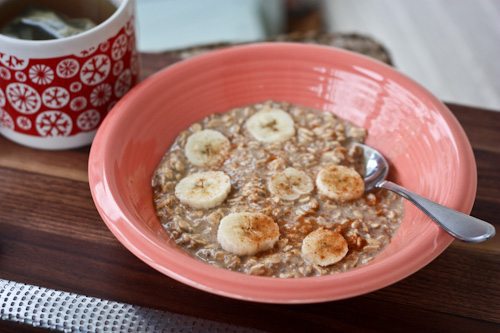 I hope you're having a lovely Wednesday. It's been rainy and blah all day here. I'm still wishing it was snow instead of rain. :/ On a happy note, I'll be back soon with a couple seasonal recipes and a giveaway that I'm really excited about!