A healthier take on festive holiday eggnog, this clean eating dairy-free eggnog uses almond and coconut milk, egg whites and pure maple syrup. It's lighter in calories and dairy-free but still just as delicious as real deal nog. This post is sponsored by Pete and Gerry's Organic Eggs.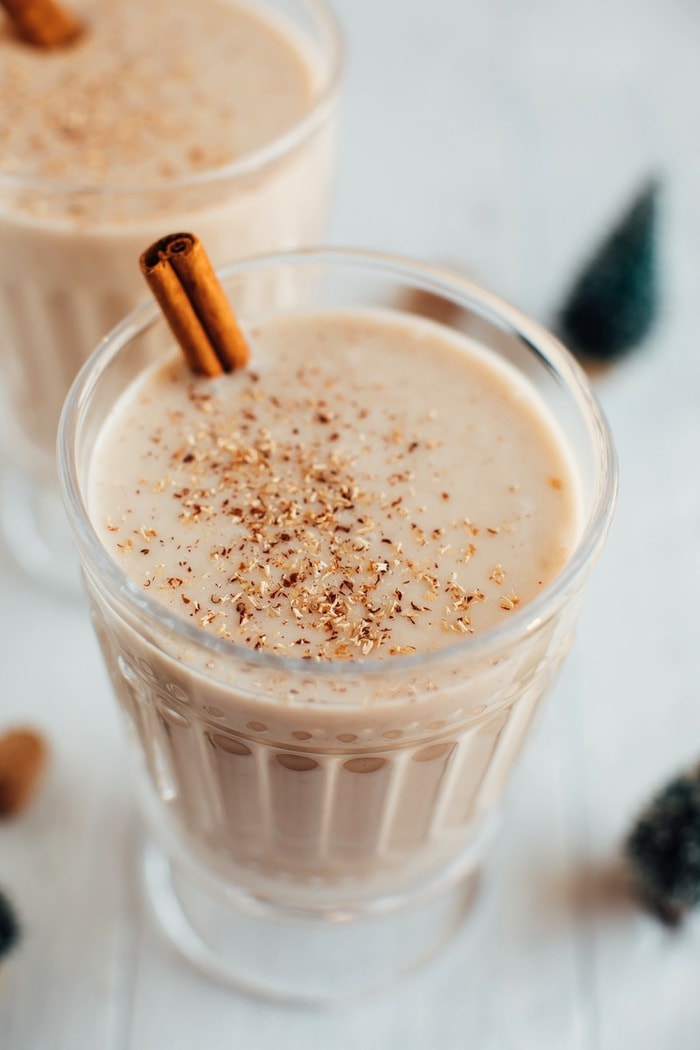 Eggnog is one of those things people tend to absolutely love or hate. I didn't grow up drinking eggnog as a holiday tradition, but Isaac likes it so he introduced me to it a few years ago. As I'm typing this I'm realizing that it's kind of funny that my Jewish husband is the one who introduced ME to eggnog.
Anyhow, once I tried eggnog I realized that while I adore the taste of it, I'm not so fond of its heaviness. Plus, there are a ton of ingredients in the packaged stuff that aren't so EBF-friendly. Heavy cream, corn syrup, thickening agents and preservatives to name a few.
With that in mind I was inspired to create a lightened-up, clean eating eggnog recipe that's dairy-free, but still rich, thick and loaded with festive holiday spices. I ended up with a delicious creamy beverage that I'd be happy to drink all December long.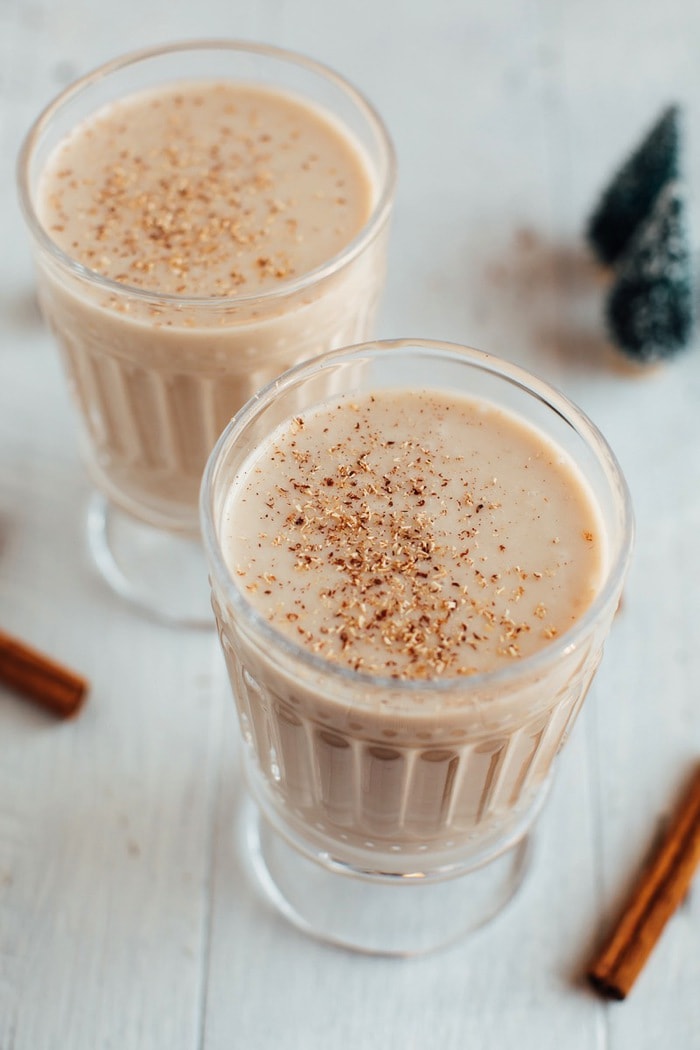 I'm excited to be teaming up with Pete and Gerry's for this recipe. Not only do I love that their eggs are organic, free-range and certified humane, but I like the fact that they offer cartoned egg whites, something I find myself buying often — particularly for egg white oats and my egg and oat combo bowls.
I'm fully aware that eating the yolk is healthy, but I often use egg whites to boost the protein content in a meal without adding any extra fat. Cartoned liquid egg whites make this super easy and I like that I'm not wasting a bunch of egg yolks.
Liquid egg whites are pasteurized so they're a great option to use in eggnog if you're worried about the risk of consuming raw eggs. With that being said, there's no need to worry because this version is cooked over medium-heat before being chilled and served.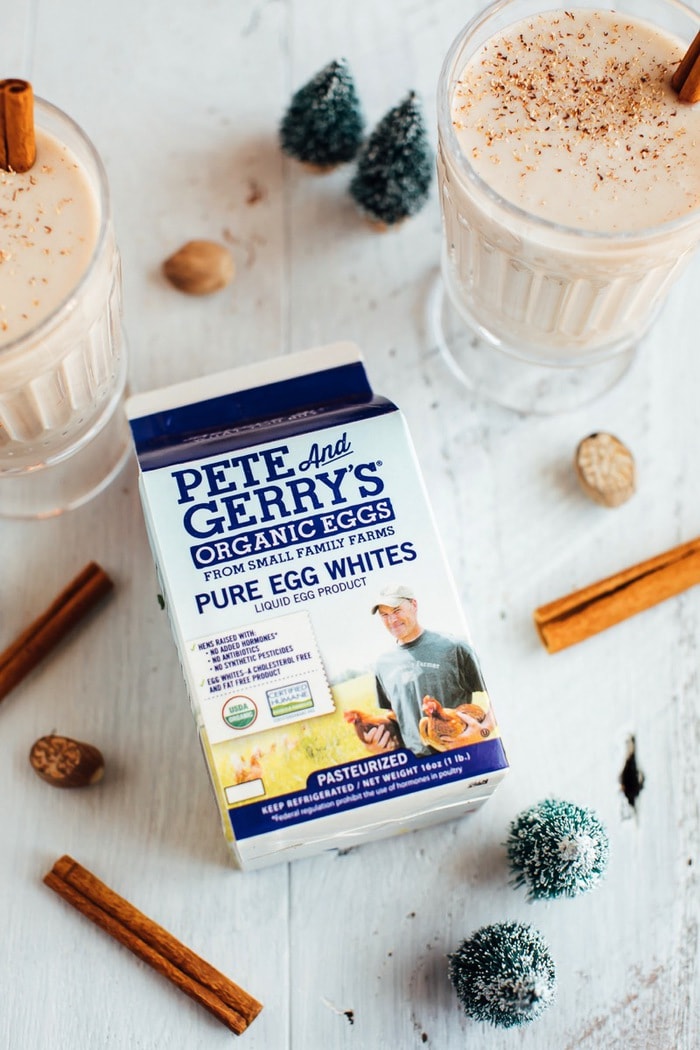 To keep this eggnog light I choose to use a blend of almond and coconut milk, egg whites and pure maple syrup. No heavy cream or refined sugar here!
I really like the light and sweet flavor that the maple syrup adds, but feel free to experiment with your favorite sweetener. I have a feeling that honey would work really well. You could also try a sugar-free version with stevia. The texture might change a little bit, but I think the eggnog would still taste great.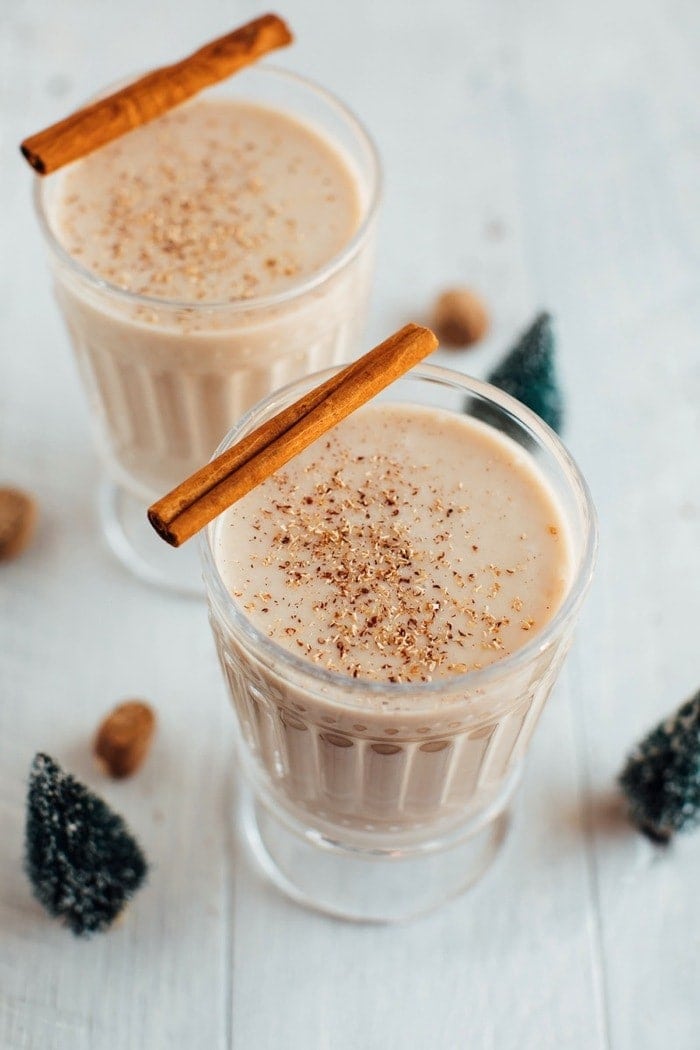 We've enjoyed sipping this eggnog over the past few weeks and I can't wait for you to try it! It's such a lovely drink to enjoy during the holiday season, with or without a splash of alcohol. One batch makes at least four drinks so it's perfect for parties too!
I'm also really excited to use it to create other recipes as well — I'm thinking eggnog pancakes, muffins and/or oatmeal need to happen over the next couple weeks.
Print
Dairy Free Eggnog
Author:

Prep Time:

10 mins

Cook Time:

15 mins Inactive Time: Total Time: 25 mins

Total Time:

-25572787.35 minute

Yield:

4
---
Ingredients
2 cups unsweetened vanilla almond milk
15 oz can light or regular coconut milk
3 Pete & Gerry's Organic egg whites (or 1/3 cup liquid egg whites)
1/3 cup maple syrup
1 teaspoon vanilla
1/2 teaspoon cinnamon
pinch freshly ground nutmeg
pinch ground clove
rum or whiskey (optional)
---
Instructions
Place all ingredients except alcohol in a blender and process for 2-3 minutes.
Pour eggnog mixture into a saucepan and heat over medium-low heat. Simmer for 15 mins — whisking constantly, being careful not to boil or burn the liquid — until the mixture has reduced and thickened. At this point the eggnog should be thick enough to coat the back of a spoon. 
Remove from heat and let eggnog cool before placing in the fridge to chill. Once cool, I transferred the eggnog into a large mason jar for storing in the fridge until ready to use.
Serve chilled over a cube or two of ice with a pinch of extra nutmeg on top. Add a splash of rum or whiskey, if using.
---
Nutrition
Serving Size:

1 cup

Calories:

184kcal

Sugar:

20g

Fat:

8g

Carbohydrates:

24g

Fiber:

1g

Protein:

3g
If you make this clean eating dairy-free eggnog let me know how it turns out in the comment section or share a photo on social media. Just be sure to tag me (@eatingbirdfood + #eatingbirdfood) so that I see it!