This homemade nutella rugelach uses a traditional recipe but with nutella in place of jam or chocolate chips. The perfect sweet treat for Hanukkah.
Boy do I have a delicious little treat for you this morning. Over the weekend I tried my hand at baking my first-ever batch of Rugelach and let's just say that it definitely won't be my last! Something that tastes this good has to be made more than once a year.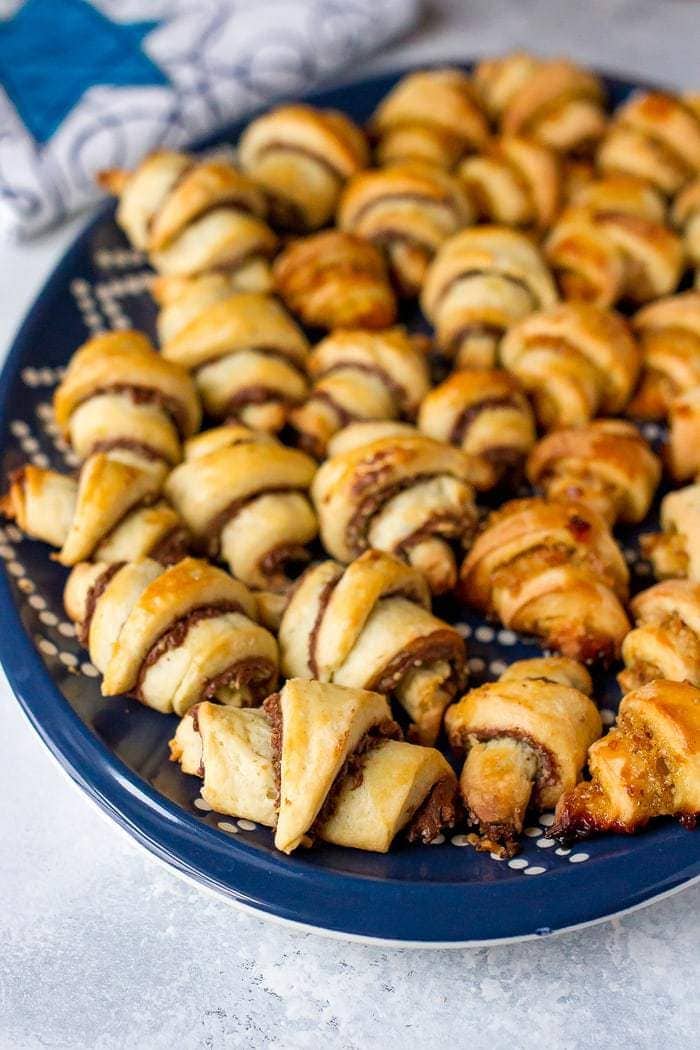 Rugelach is a Jewish pastry that literally means "little twist" in Yiddish. I went the traditional route and made crescent shaped rugelach with real butter, sugar, cream cheese and chocolate. <–What some might call the good stuff! I'm all for healthifying recipes but since this was my first time making rugelach I stuck with the real deal. I wanted it to be authentic and taste amazing as I was making it for Isaac's family. 😉
I tweeted for rugelach recipes and ended up using this recipe from Martha Stewart. I followed the recipe for the most part, however for one batch of the dough I took it upon myself to make Nutella rugelach. I saw the jar in the pantry and simply couldn't resist. It was calling my name. 🙂
3 words – A MAAY ZING! The nutella filling was incredible paired with the pastry dough and walnut mixture, however I also really liked the apricot/chocolate filling. Apricot is one of my favorite jams and chocolate is well… chocolate, so it makes sense that the combo was delicious.
The process of making the rugelach was pretty easy. Although, I did have to google "how to roll pastry dough out in a circle" after having my first disk of dough roll out into quite an odd shape. Thank goodness for google!
Print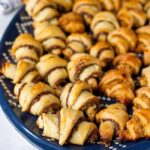 Nutella Rugelach
Author:

Prep Time:

20 minutes

Cook Time:

25 minutes

Total Time:

45 minutes

Yield:

48

Category:

Dessert

Method:

Bake

Cuisine:

Jewish
---
Description
This homemade nutella rugelach uses a traditional recipe but with nutella in place of jam or chocolate chips. The perfect sweet treat for Hanukkah.
---
Ingredients
FOR THE DOUGH
8 ounces (2 sticks) unsalted butter, room temperature
8 ounces cream cheese, room temperature
1/2 cup sugar
3 large egg yolks
1 teaspoon pure vanilla extract
Pinch of coarse salt
2 1/3 cups all-purpose flour, plus more for rolling out dough
FOR THE FILLING
4 ounces walnuts
1/2 cup sugar
1/4 teaspoon of cinnamon
Pinch of salt
12 oz nutella
FOR FINISHING
3 egg whites, lightly beaten
---
Instructions
Make the dough: In the bowl of an electric mixer fitted with the paddle attachment, beat together butter and cream cheese at medium speed. Add sugar, and beat until fluffy. Beat in egg yolks, one at a time, beating to combine after each addition. Add vanilla and salt, and beat to combine. Reduce speed to low, and beat in flour. Remove from bowl, and divide into 3 pieces on a lightly floured surface. Pat into disks, and wrap in plastic wrap. Refrigerate for at least 1 hour, and up to overnight.
Make the filling: In a food processor, combine walnuts, sugar, cinnamon, and salt. Pulse until fine.
Preheat the oven to 350°. Line baking sheets with parchment paper. On a lightly floured surface, roll one piece of dough into a 12-inch round, less than 1/8 inch thick. Spread evenly with nutella (it may help to have the nutella a bit melted so it doesn't tear the dough while spreading). Sprinkle with one-third of the walnut mixture. Gently press ingredients into dough with your fingers.
Cut the round into 16 equal-sized wedges (triangle shaped like pizza slices). Beginning at the base of each wedge, roll to enclose filling, forming crescent shapes. Pinch to seal. Place on prepared baking sheets. Repeat with remaining dough and filling ingredients. Brush tops with beaten egg white. Bake until golden brown, 25 minutes.
---
Keywords: nutella rugelach
Nutella rugelach sitting in the dusting of snow we got this weekend.
Saturday night we went over to Isaac's parent's house to celebrate Hanukkah with the fam and I surprised them with my homemade rugelach. I'd say it was a hit considering we left when an empty container.
For dinner everyone enjoyed latkes again. Isaac's mom (Ellen) and I wanted something a little healthier so I picked up some Whole Foods spinach and feta latkes with sides from the hot bar: garlicky kale, marinated veggies and my fave, Cracklin' Cauliflower.
As you can see, Isaac was surprised and thrilled to find out he got a Madolin!! He's been wanting one for years.
I've received some lovely Hanukkah gifts as well – including a Threads for Thought tee, hiking sneakers, a Hand Blender and this lovely tea kettle.
I've already put almost all my presents to good use – I wore the tee the day after I received it (so soft and comfy), made soup with the hand blender last night and I've been drinking tea and hot water like it's my job. The only thing I haven't used are the hiking boots and for good reason – baby, it's cold outside. 🙂