This recipe for homemade pumpkin granola is loaded with nutty pecans and studded with mini chocolate chips for the perfect hint of chocolatey goodness. Vegan + gluten-free.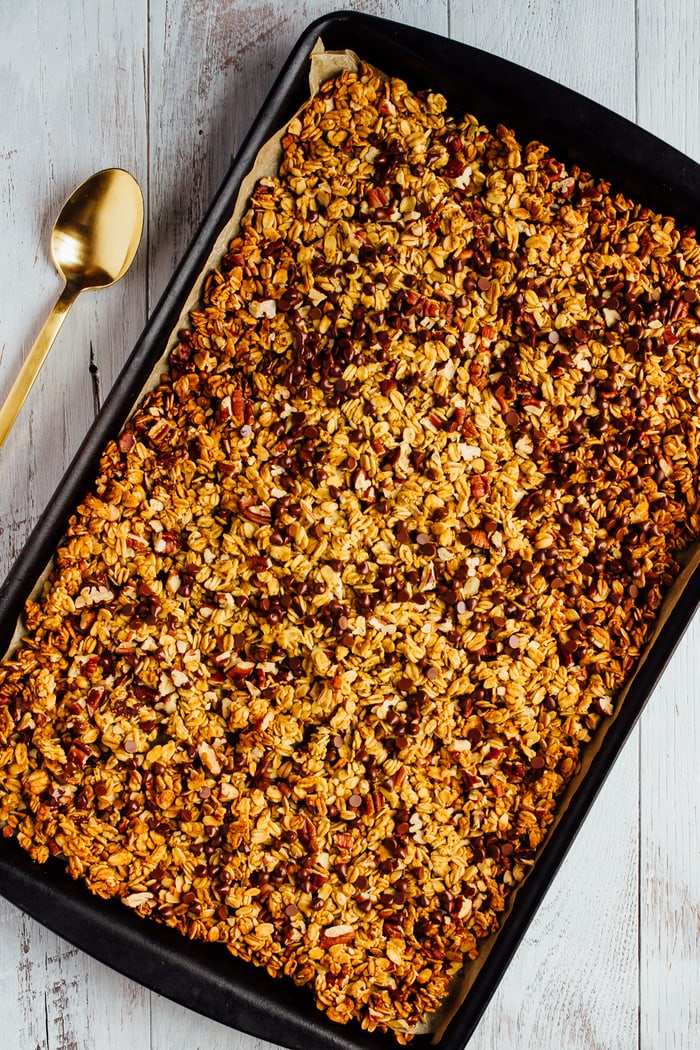 There's really nothing better than making a big batch of  homemade pumpkin granola on a fall day. Not only does it make the house smell amazing, but it's so awesome to have on hand for snacks throughout the week.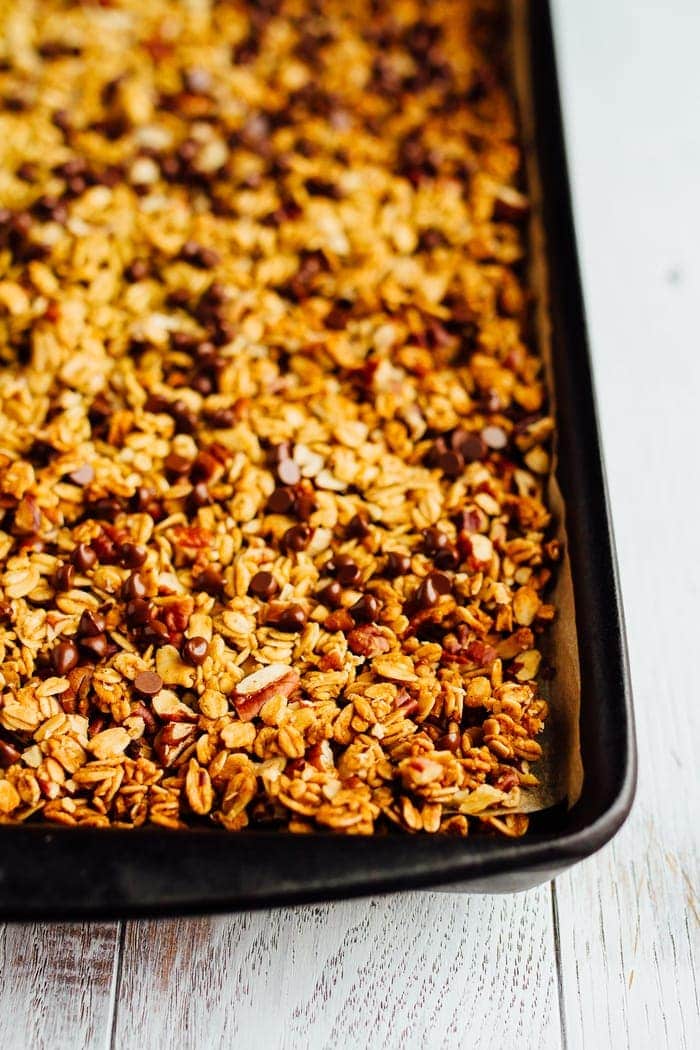 Isaac is on the road a ton and we've found that granola is an easy snack option that he can take with him in the truck.
He can use it as a topping for yogurt, eat it by the handful when things get busy or add granola to a jar of peanut butter and eat it by the spoonful. The granola peanut butter trick is somewhat of a new thing he's been doing. I've had peanut butter and granola together — mainly as a topping for yogurt and smoothie bowls, but I've never poured granola into a jar of nut butter and eaten it with a spoon. Not going to lie, it sounds amazing so I'll have to try it soon.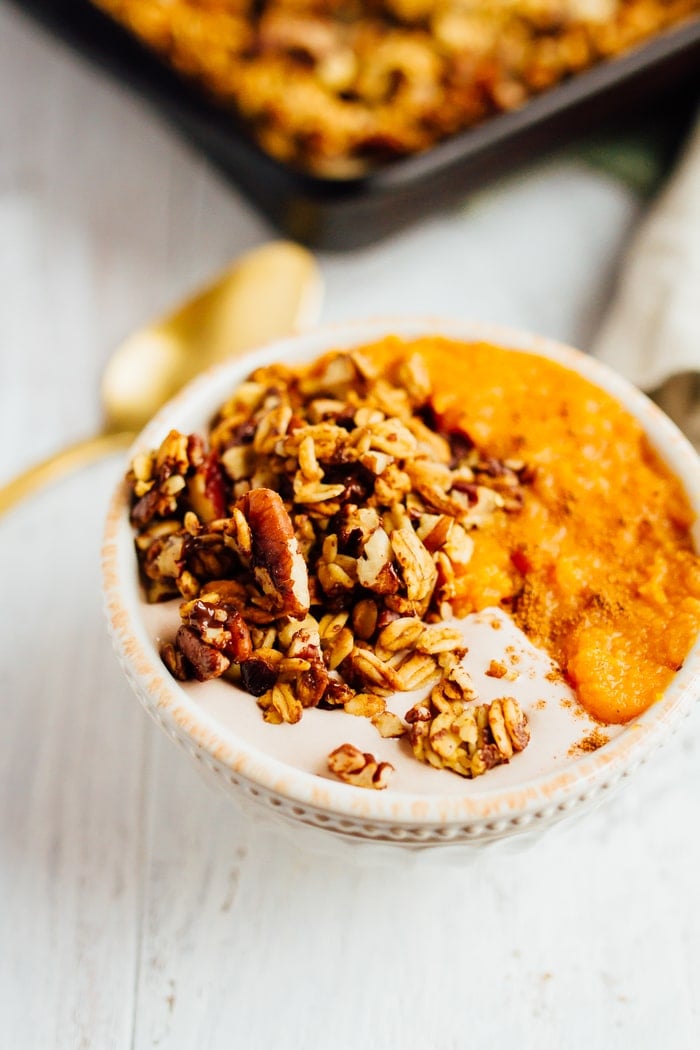 Anyhow, given the granola snacking situation we have on our hands, I've been making more granola at home and this recipe is my latest creation.
I love the combo of pumpkin, maple and pecan on it's own, but the chocolate chips give the granola a little hint of extra sweetness and make it tad more decadent. You add them to the granola right after baking, while the oat mixture is still warm, so they get melty and coat the oats and nuts a bit. It can get a little messy, but it's so worth it!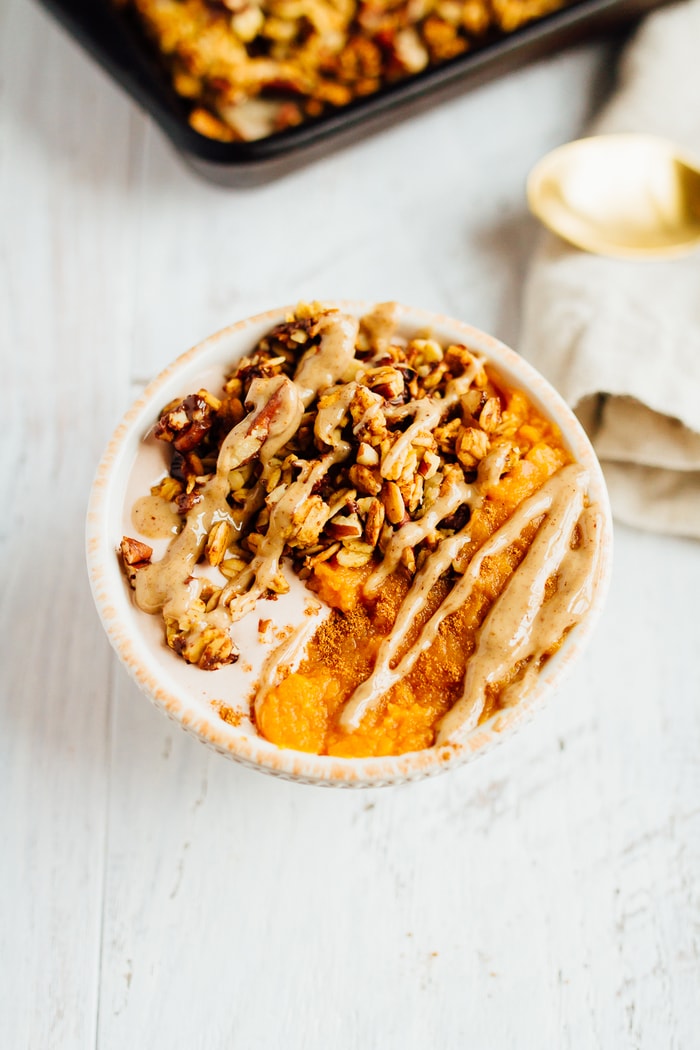 If you really want to get the full pumpkin granola experience, I highly recommending making this pumpkin pie yogurt bowl with yogurt, pumpkin puree, homemade granola and a drizzle of nut butter. It's SO good!
Chocolate Pecan Pumpkin Granola
20
adjust servings
Instructions
Preheat the oven to 325°. Line a rimmed baking sheet or baking stone with parchment paper.
Mix all ingredients except the chocolate chips in a large bowl.
Spread mixture onto the prepared baking sheet.
Bake in the center of the oven for 40-50 minutes or until oats are golden brown, dry and crisp. Allow the granola to cool for about 5 minutes, then sprinkle the chocolate chips over granola while it continues to cool. The chocolate chips will melt a bit.
Once granola is completely cool, transfer to an airtight container (I use a mason jar) and store in a cool place. I like keeping mine in the fridge so it lasts longer and stays extra crunchy.
If you make this chocolate pecan pumpkin granola let me know how it turns out in the comment section or share a photo on social media. Just be sure to tag me (@eatingbirdfood + #eatingbirdfood) so that I see it!