Pumpkin, coconut milk and chia seeds are combined and topped with toasted coconut flakes and an almond butter drizzle to make a thick and creamy pumpkin chia pudding for fall.  It's paleo-friendly, vegan and great for breakfast or as a snack. 
You didn't think that my fav bloggin' ladies and I would skip over everyone's favorite fall flavor did you? Of course not!! Today we're teaming up to share with you SIX healthy, paleo-friendly PUMPKIN recipes that will rock your world. And OMG, all of these recipes look sooo good. I honestly think this might be our best round-up yet! Although I'm a pumpkin lover so I may be a tiny bit biased.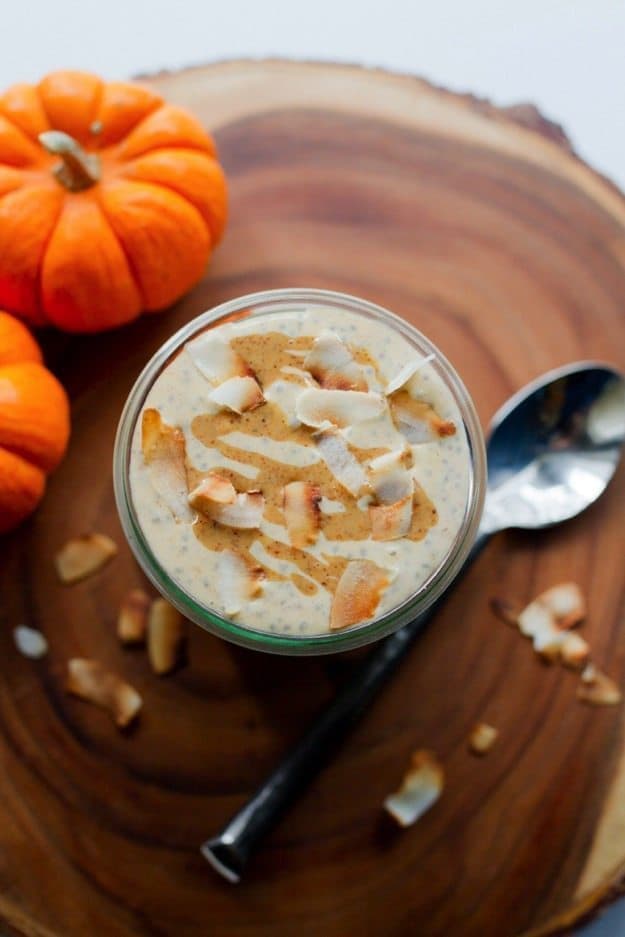 My contribution is a thick and creamy pumpkin spiced chia pudding that's made with full-fat coconut-milk. It's rich, satisfying and perfect as a make-ahead breakfast or as a snack. I love eating it as a snack so I keep a batch in the fridge and eat a couple spoonfuls whenever I'm craving something sweet. Usually right after dinner. Because it's loaded with healthy fats I feel satisfied with just a few bites.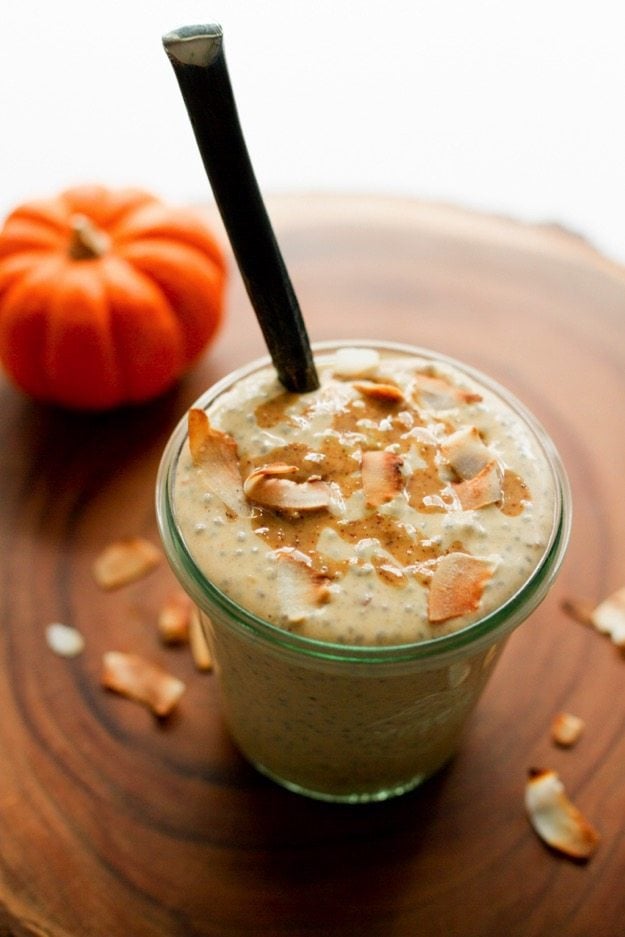 The coconut and pumpkin flavor go together perfectly and the maple syrup adds just a hint of subtle sweetness. To make it even more deacdent I like adding toasted coconut flakes and little almond butter drizzle over the top. It's delish!
And here's my secret to making almond butter drizzle-able — simply put your almond butter in a small bowl with a teaspoon or two of coconut oil and microwave it for a few seconds. Give the mixture a stir and it should be thin enough to drizzle.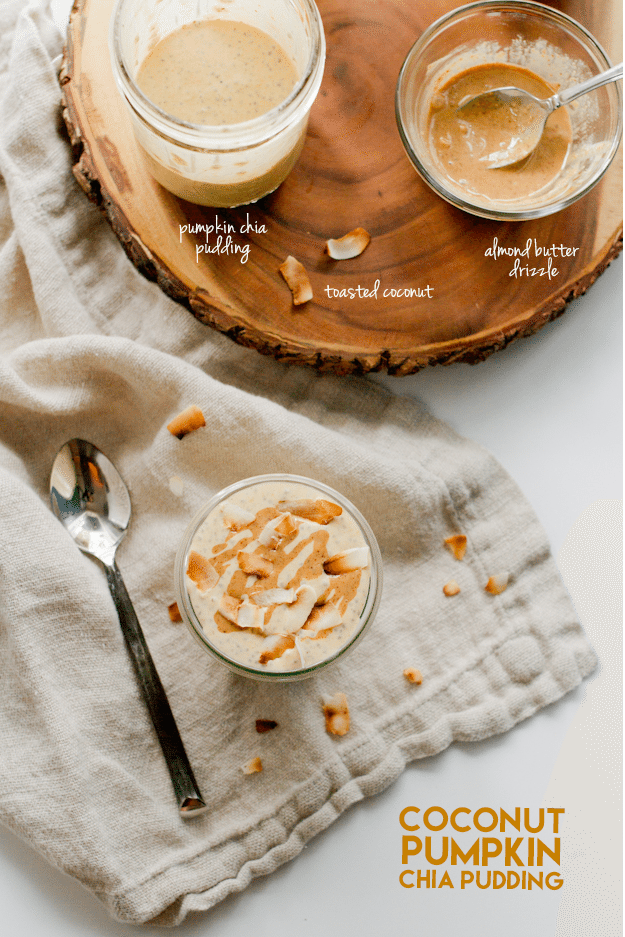 Coconut Pumpkin Chia Pudding
4
adjust servings
Instructions
Stir together chia seeds, coconut milk, pumpkin, pumpkin pie spice, vanilla and maple syrup (if using). Half the mixture and pour into two containers. Cover and refrigerate overnight. If you're in a rush, less time will do — I'd recommend at least 3-4 hours. You'll want to wait until you're ready to serve the chia pudding before preparing your toppings.
Toast your coconut — Preheat a sauté pan to medium heat. Add coconut flakes and stir constantly until they turn a golden color (this will take about 1-3 minutes). Remove the coconut flakes from the pan and allow to cool.
If needed, put almond butter and coconut oil in a small ramekin, heat in the microwave for a 5-10 secs, or until coconut oil has melted. Stir together. If you're almond butter is already thin enough to drizzle you can skip this step.
Stir the chia seed pudding to make sure there aren't any big clumps and then spoon into four serving dishes and top with coconut flakes and almond butter drizzle.
If you're not planning to eat all four servings at one time. Simply leave the toppings and chia seed pudding in separate air-tight containers in the fridge until ready to serve. The chia seed pudding should last about 3 days in the fridge so you can make a batch at the beginning of the week and have it for breakfast or a snack on multiple days.
Ready to see all the DELICIOUS PUMPKIN creations?!? Read on…

Get festive with your breakfast and make these delicious Paleo Pumpkin Pancakes that are grain-free, packed with pumpkin, and paleo-friendly!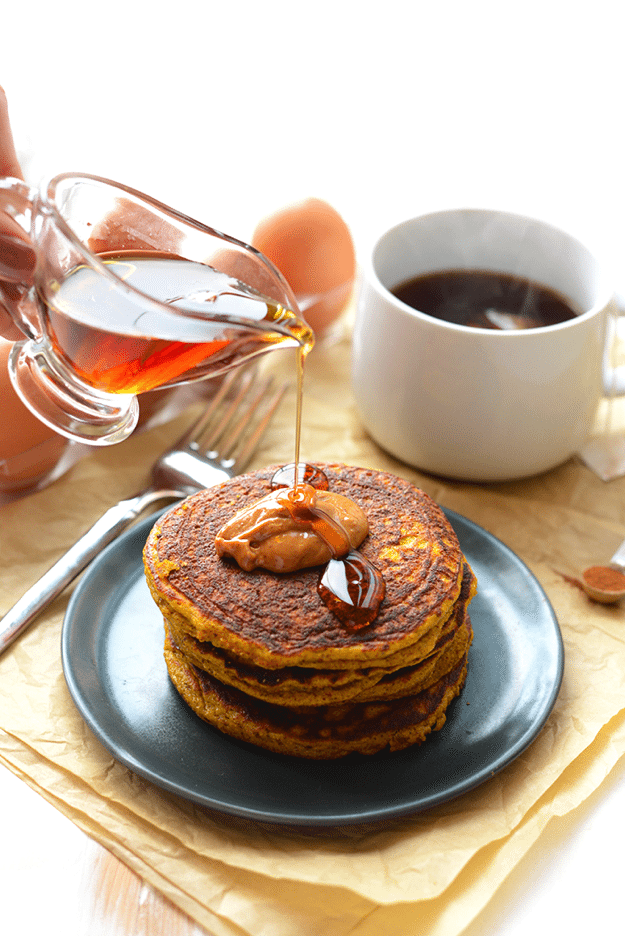 Paleo toasted pine nut herb pumpkin muffins are a savory side perfect for serving with your fall soup, stew or chili. Maybe even replace the Thanksgiving biscuits this year with a basket of these!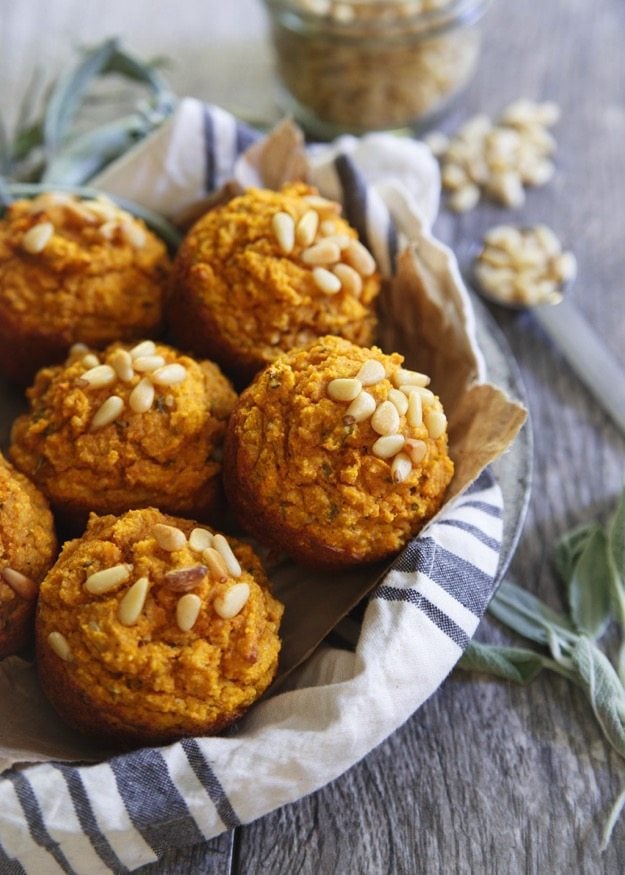 This is the perfect Fall soup for all of you pumpkin lovers! Delicious, flavorful, and packed with nutrients. Creamy pumpkin topped with a drizzle of chili garlic oil and roasted pumpkin seeds. You'll enjoy this soup all season long!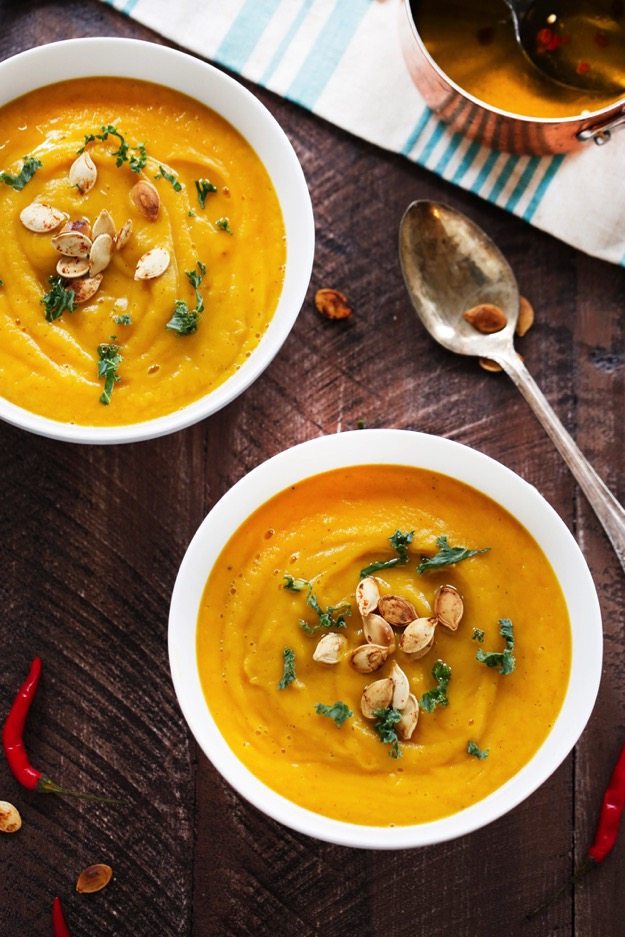 Healthy Pumpkin Spice Freezer Fudge made with just 5-Ingredients! Free of refined sugar, dairy and gluten, this healthy dessert recipe will make you fall in love with fall.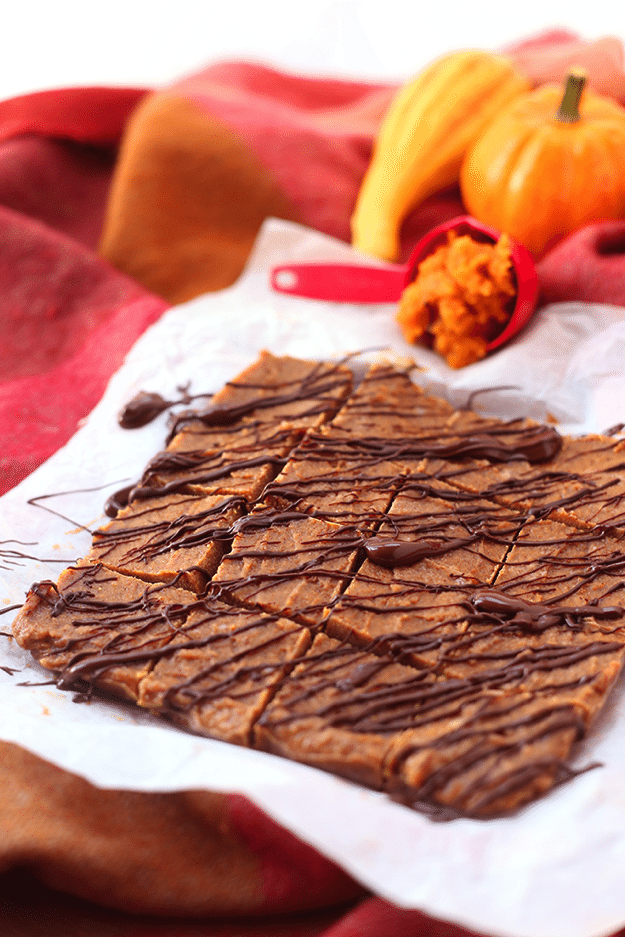 These pumpkin blondies are so dense, and sweet that you'd never know they're a healthier treat, with no butter or oil, for only 105 calories! They're paleo and vegan friendly too!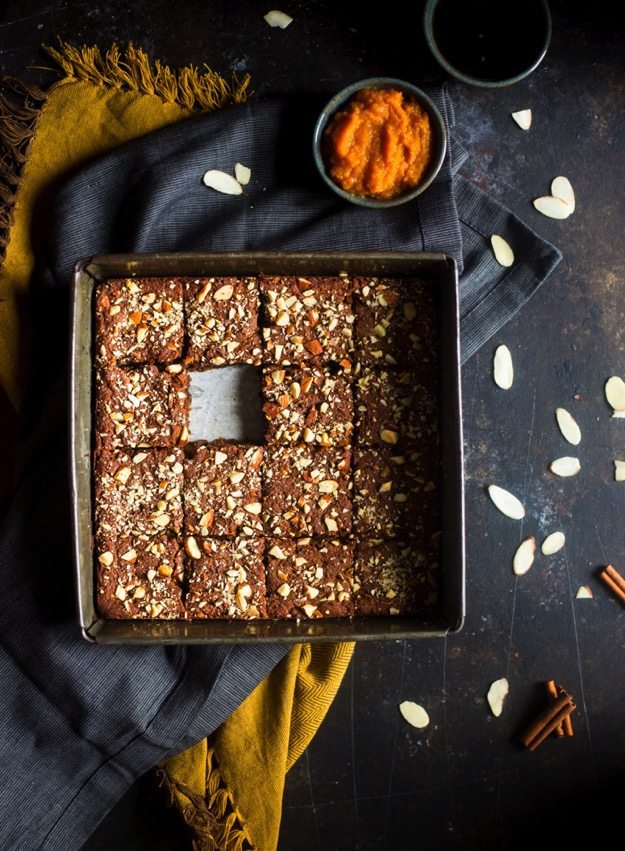 Now that you have a few ideas, go buy some pumpkin and get your booty in the kitchen. 🙂