This past weekend was lovely for many reasons.
For starters, I did hot yoga on Saturday and Sunday at House Hot Yoga. I was a sweaty mess after both sessions and loved it!
On Sunday my Dad came to visit. We had lunch together and a long overdue catch up session. <– I heart my Dad so much.
Last but not least, I made the world's easiest cookies. I'm talking only three ingredients, 15 minutes easy.  And they taste amazing too!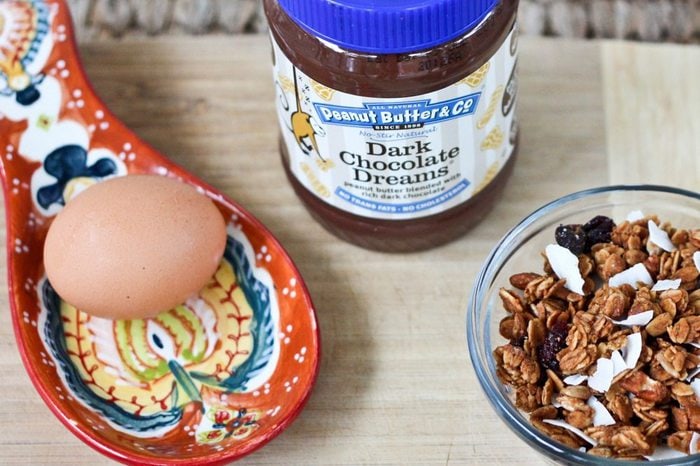 What's not to love about PB & Co's Dark Chocolate Dreams and LOVE Grown Foods granola mixed together?
Umm… nothing.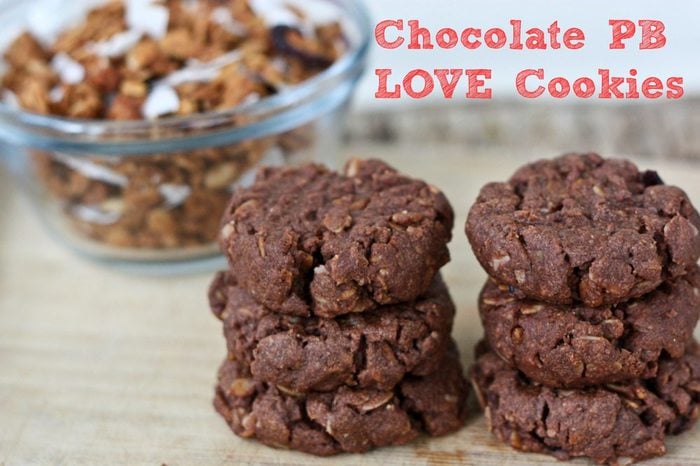 As a Love Blogger I'm always on the lookout for fun ways to use their Oat Clusters and Love so when I saw this recipe for Chocolate Peanut Butter Granola Cookies in the latest issue of Food and Wine, I knew I need to make a batch with the Sweet Cranberry Pecan. The cookies turned out perfectly. They have my two favorite flavors – peanut butter and chocolate mixed with one of my favorite treats – Love Grown Foods granola. I honestly don't think there is a better cookie for me out there. Well… it might be a tie between these and Cinnamon Oatmeal Raisin Cookies. 😉
Print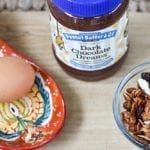 Chocolate Peanut Butter Granola Cookies
Author:

Prep Time:

10 mins

Cook Time:

12 mins

Total Time:

22 mins

Yield:

20
---
---
Ingredients
2 cups granola, divided in half
1 cup PB & Co. Dark Chocolate Dreams peanut butter
1 large egg
---
Instructions
Preheat the oven to 350°. Line 2 baking sheets with parchment paper or use baking stones.
Pick out any dried fruit from 1 cup of the granola and add them to the remaining 1 cup of granola. Transfer the fruit-free granola to a food processor and pulse until finely ground; transfer to a medium bowl.
Add the peanut butter and egg to the bowl. Stir the mixture until smooth. Add the remaining fruit-filled granola and stir until combined.
Form cookie dough into tablespoon sized balls and arrange them on the prepared baking sheets. Flatten the balls with the tines of a fork to 3-inch rounds.
Bake one sheet at a time in the center of the oven for about 12 minutes, until the cookies are lightly browned around the edges. Let the cookies cool completely on the baking sheets.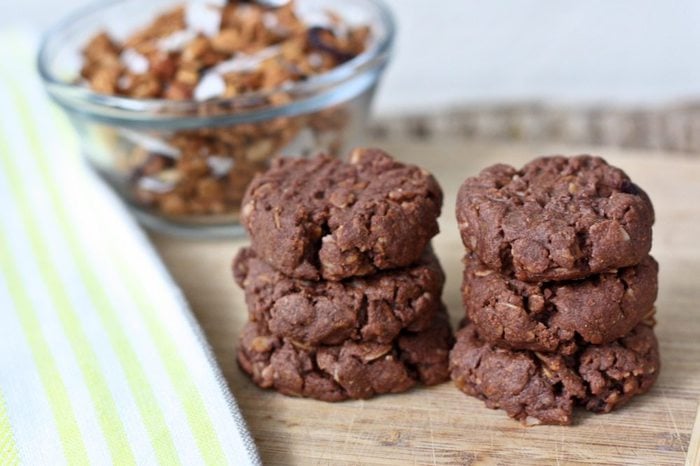 The best part… each cookie only has around 120 calories, 12 grams of carbs, 7 grams of fat and 4 grams of protein.
If you're following along with the Office Arm Challenge: The moves for week three are now up on the Workplace Wellness page! I'm pumped because this week includes two of my favorite moves – plank ups and Tone It Up Tummy Tucks. 🙂 Happy Monday!