These are the best flourless black bean brownies!! No one will be able to tell that they're made with beans and natural maple syrup.
Brr! I'm literally wearing a scarf inside my house right now because it's so cold today.
Annnndd it's snowing! We're actually in the middle of what might be Richmond's first big snow storm of the year so naturally everyone is in a tizzy. And by everyone I mean all the teachers… namely Mr. Isaac. Teachers and their obsession with snow — I think they're worse than the kids. 😉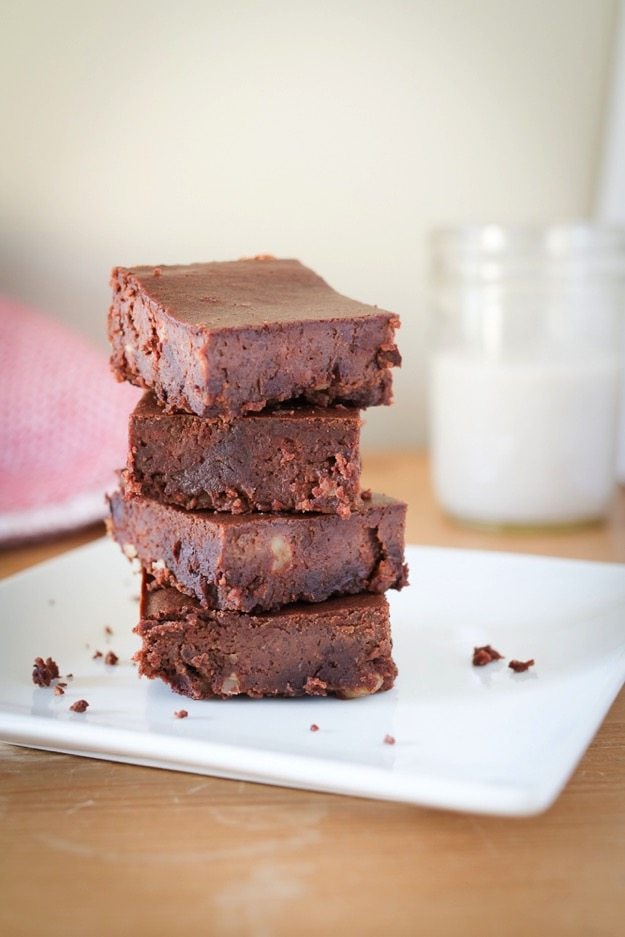 Speaking of Mr. Isaac, today's fudgy maple black bean brownie recipe was actually inspired by one of his previous students. When we got married in 2013 his class made us a cookbook as a gift. Each student submitted a favorite recipe to include in the book so it's filled with taste-tested recipes, many of which are hand written and include adorable pictures.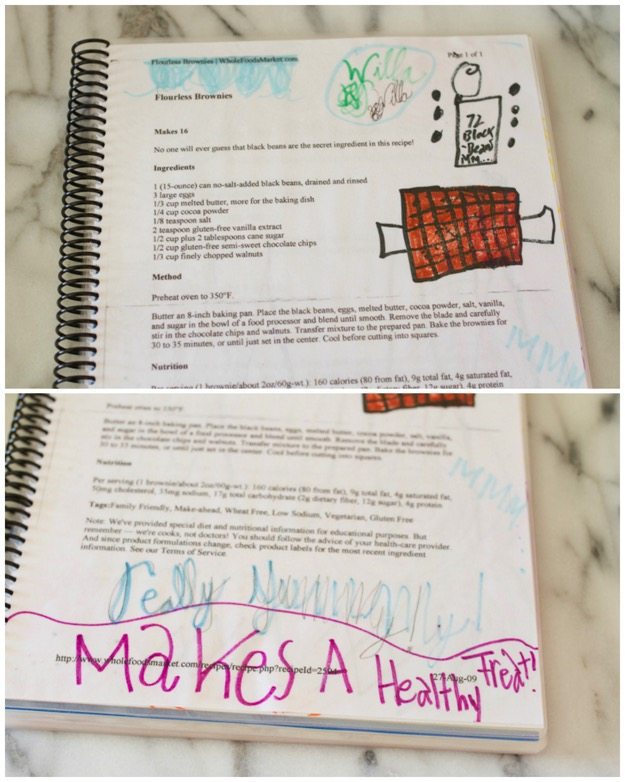 It was such a sweet gift and we've made several of the recipes over the past year and half.  When we received the cookbook I bookmarked these flourless black bean brownies almost immediately. The "really yummy" and "makes a healthy treat" notes are what caught my eye. 😉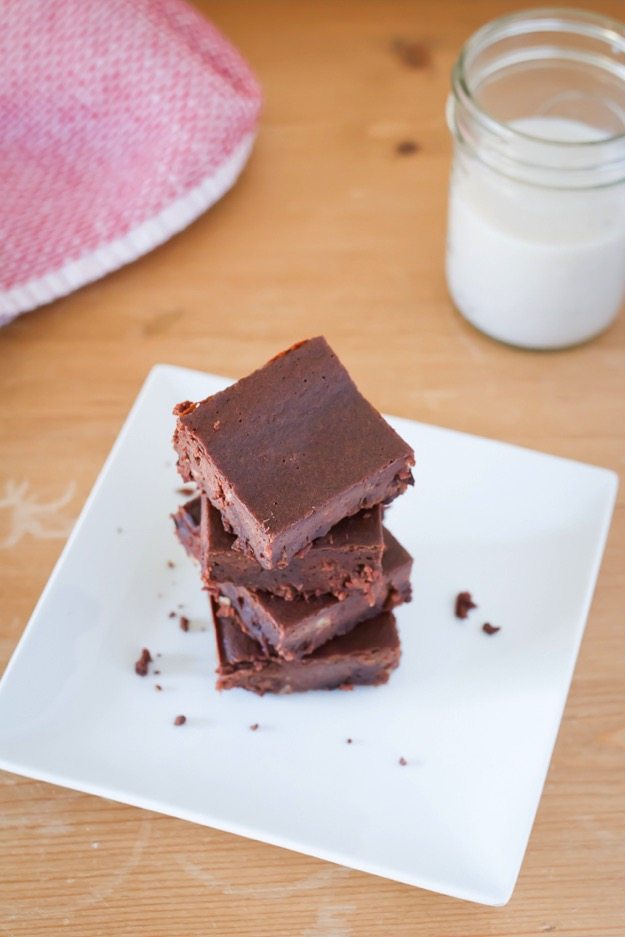 I've made the brownies a couple times. The first time I followed the recipe exactly to get an idea of how they should turn out and then I made a batch with some EBF-friendly changes. My version uses maple syrup instead of sugar, coconut oil instead of butter and raw cacao powder.
The biggest change is the maple syrup. I love using maple syrup (especially in baked goods) so we always have a big jug of it in the fridge. Because maple syrup isn't processed, it contains higher levels of potentially beneficial minerals, including calcium, potassium, sodium and copper, making it a great sugar alternative. If you're interested in learning more about the benefits of maple syrup or how to use it as a substitute for sugar or other sweeteners, here's a great infographic.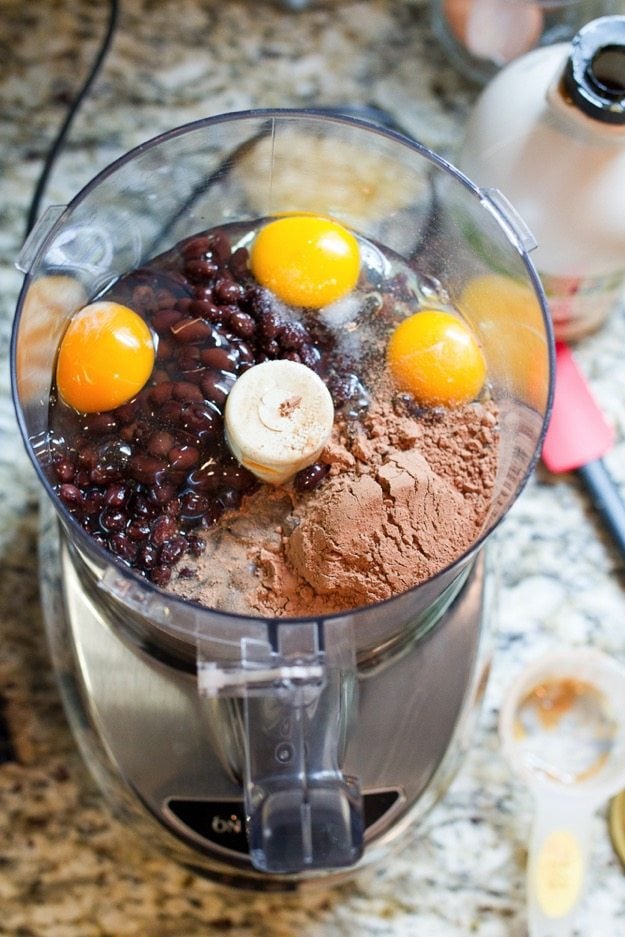 And don't let the name scare you. Yes, these brownies are made with black beans but no one will see or taste the beans. Trust me!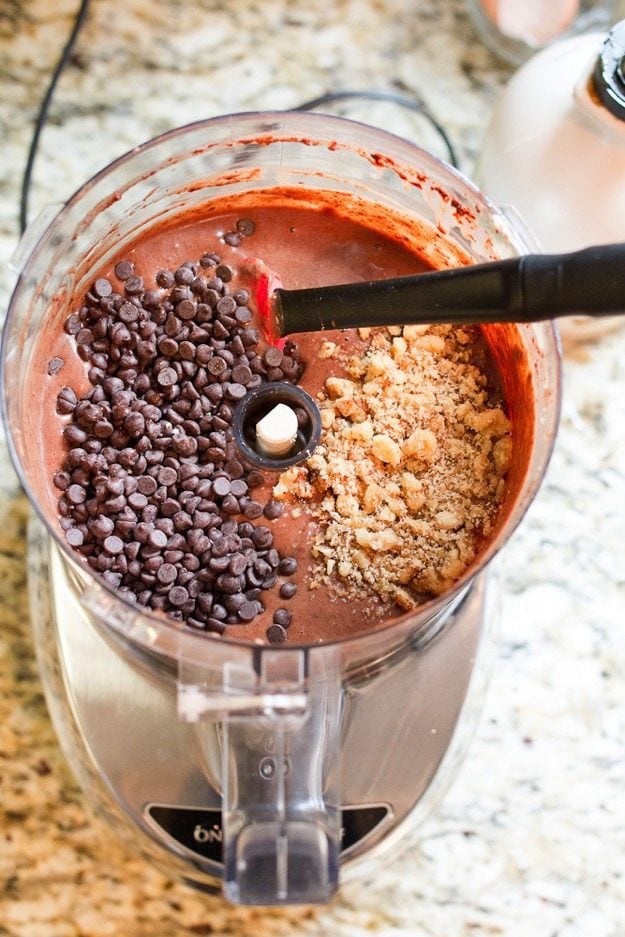 The beans sub in for the flour so there's no gluten in these brownies. Not only is this awesome for dietary purposes but it also means that you can blend the batter right in your food processor or blender! Having less dishes to wash is always a plus in my book.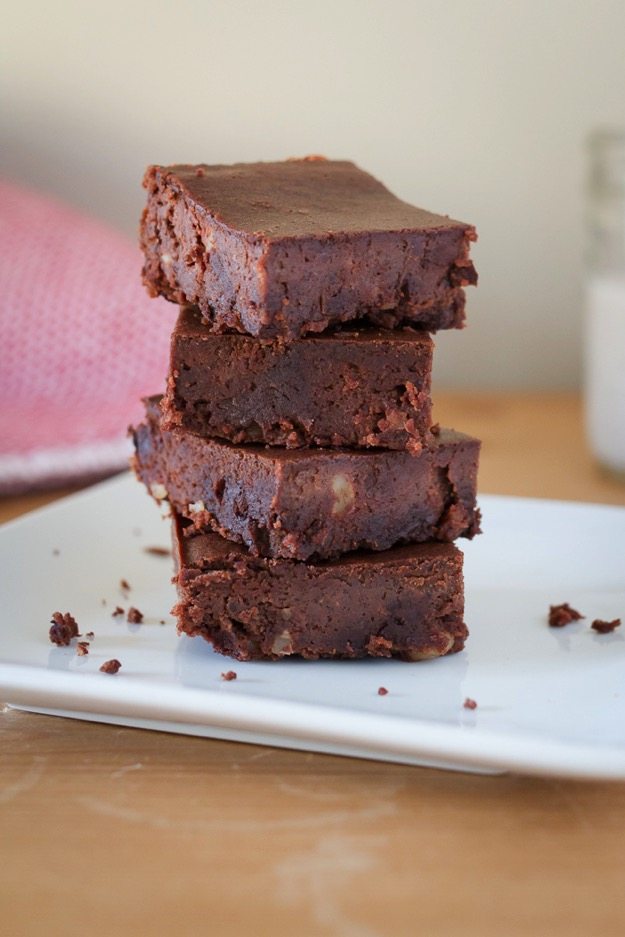 The brownies are a breeze to whip up and come out tasting moist, flavorful and plenty sweet. I love the fudgy consistency of brownies and the little bits of texture from the chopped walnuts. I've tried other black bean brownie recipes before and none have turned out as good as this recipe. I think you're going to LOVE them just as much as we do!
Print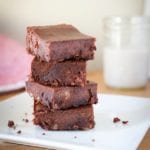 Fudgy Maple Flourless Black Bean Brownies
Author:

Prep Time:

10 mins

Cook Time:

35 mins

Total Time:

45 mins

Yield:

16 brownies
---
Description
These are the best flourless black bean brownies!! No one will be able to tell that they're made with beans and natural maple syrup.
---
Ingredients
1 (15-ounce) can black beans, drained and rinsed
3 large eggs
1/3 cup coconut oil, melted (or butter)
1/4 cup raw cacao powder (or cocoa powder)
1/8 teaspoon sea salt
1 teaspoon pure vanilla extract (gluten-free)
1/2 cup pure maple syrup
1/2 cup gluten-free/dairy-free chocolate chips (I use Enjoy Life)
1/3 cup chopped raw walnuts (optional)
---
Instructions
Preheat oven to 350°F.
Grease an 8×8-inch baking pan.
Place beans, eggs, coconut oil, cacao powder, salt, vanilla and maple syrup in the bowl of a food processor or blender and blend until smooth. Remove the blade and gently stir in your chocolate chips and walnuts.
Transfer mixture to the prepared pan.
Bake for 35 minutes, or until brownies are set in the center and a toothpicks comes out clean. Cool completely, cut into squares and enjoy!
Store brownies in the fridge for 3-5 days.
---
---
Nutrition
Serving Size:

1 brownie

Calories:

180

Sugar:

10g

Fat:

10g

Carbohydrates:

19g

Fiber:

3g

Protein:

5g
If you end up making the brownies, please let me know in the comment section or share a picture via social media. Don't forget to tag me (@eatingbirdfood) so that I get to see it and can re-share it. 🙂
This post is part of a partnership with Pure Canada Maple. Maple syrup is one of my favorite natural sweeteners and as always, opinions are my own.