A fun take on traditional brownies, these flourless peanut butter hummus brownies are gooey, chocolatey and absolutely delicious. No flour or oil needed!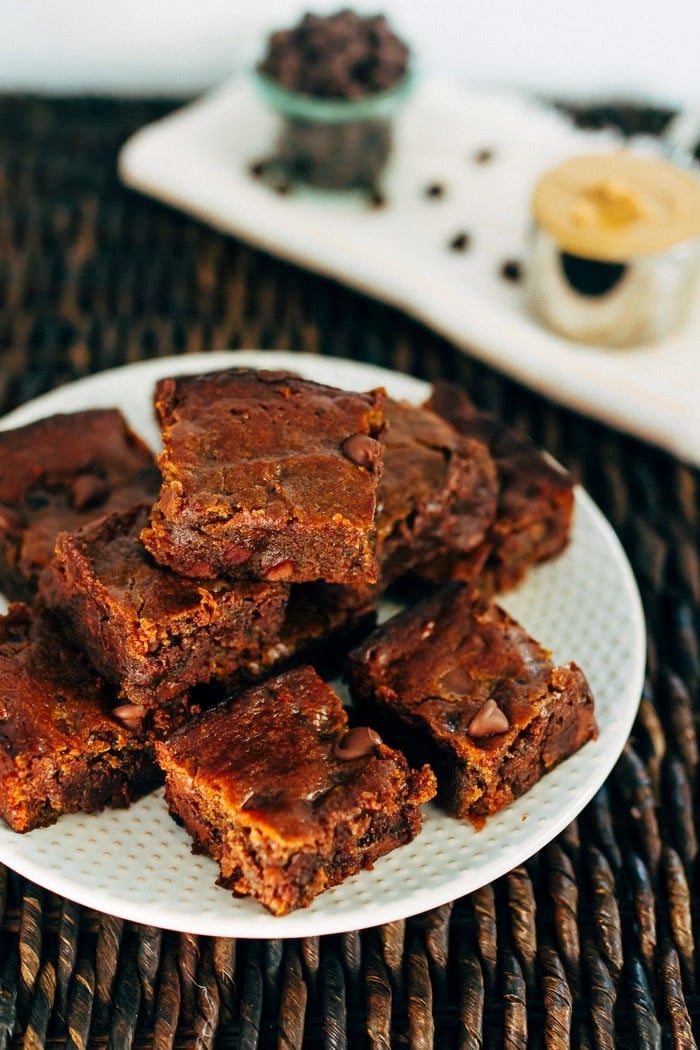 You put what in my brownies. Hummus?!?
Yup, it happened and I'm not mad about it. I'm actually pretty pumped because after experimenting in the kitchen for what felt like weeks I finally came up with a hummus brownie recipe that tastes really really good!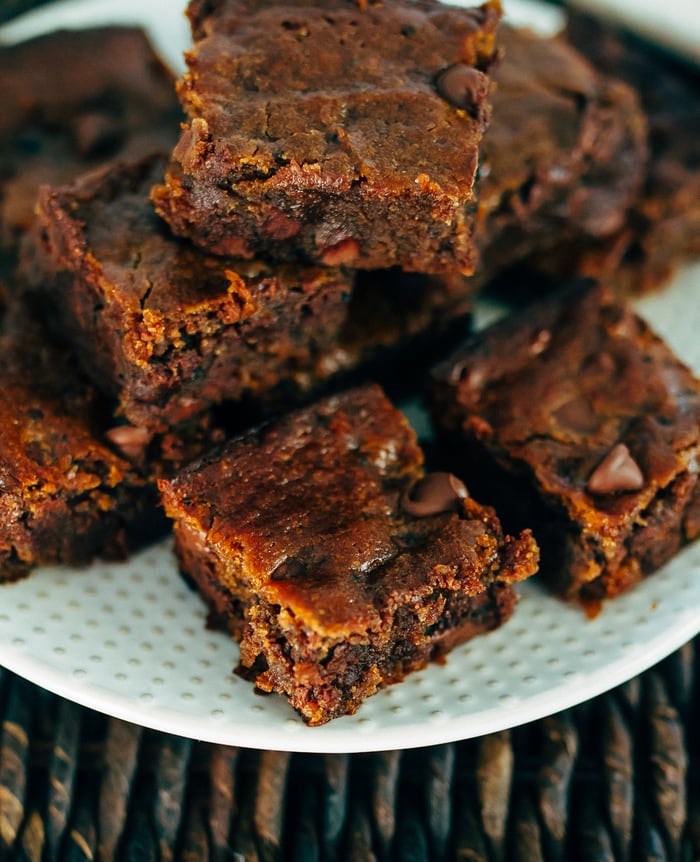 I know what you're going to ask. What kind of hummus did you use and can you taste the tahini? I used Sabra's Classic Hummus and yes, you can still taste the tahini a tiny bit, but it actually kind of gives the brownies an interesting savory/bittersweet component that's kind of nice. And, the peanut butter flavor definitely helps balance everything too!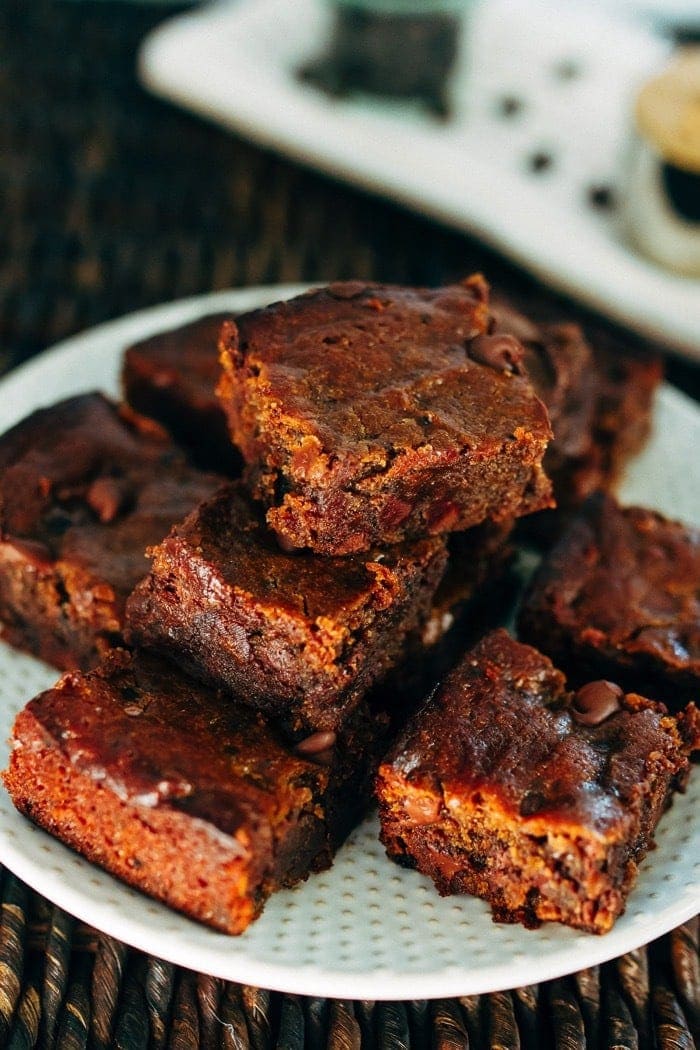 If you're worried about the tahini flavor (or the garlic for that matter) there are a couple work arounds. For one, you can use homemade hummus — try my smooth hummus recipe but skip the garlic and lower the tahini to 1 tablespoon. Another option is to buy a dessert hummus like Hope's Dark Chocolate Hummus or Delighted By's Brownie Batter Hummus. I haven't tried the recipe with a dessert hummus, but I'm kind of feeling compelled to hit up the store and make another batch today just to test it. hmmmm…..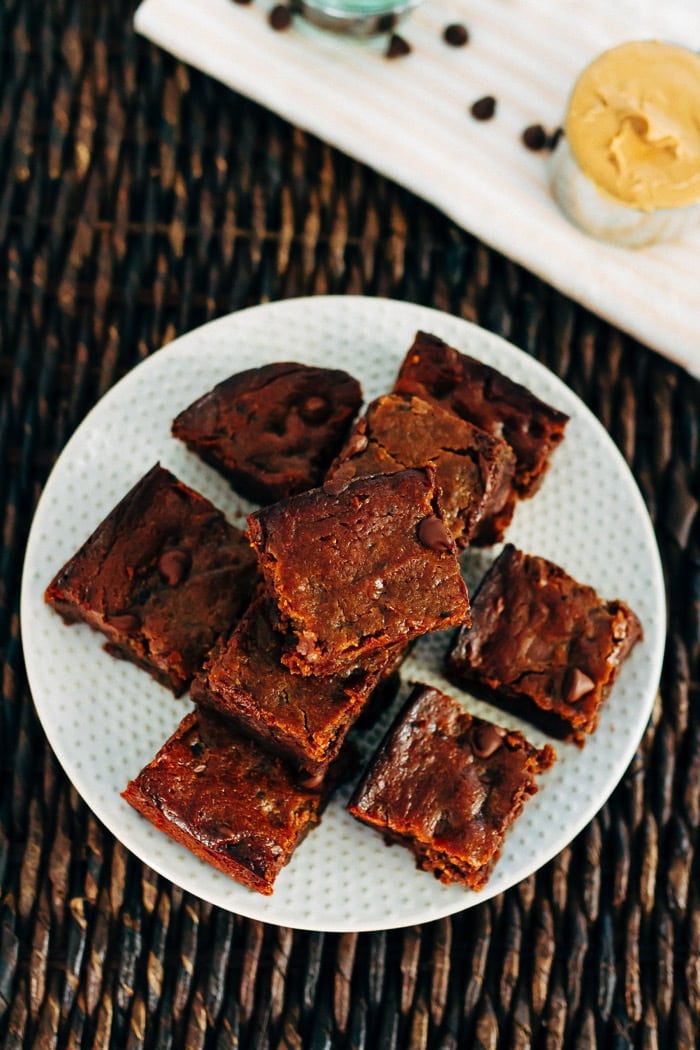 I have to say that of all the recipes on EBF this one is probably the one I've tinkered with the longest. There was one week where I made like six or seven batches of hummus brownies. Our whole kitchen was seriously filled with brownies! But luckily this recipe was finally created and I teamed up with Glossy Productions, a local production company to make a little video as well. I hope you all like it!
If you're brave enough to try these hummus brownies, please let me know how they turn out. 🙂
Peanut Butter Hummus Brownies (Video)
16
adjust servings
Ingredients
1

large egg

1/2

cup honey

1/2

cup creamy peanut butter

1/2

cup hummus (use plain or dessert store-bought hummus or homemade hummus)

1/4

cup organic sugar

2

Tablespoons cocoa powder

1

teaspoon vanilla extract

1

teaspoon baking powder

1/2

teaspoon sea salt

1

cup chocolate chips
Instructions
Preheat oven to 350°. Prepare an 8x8 inch baking dish with coconut oil or nonstick cooking spray.
In a large bowl, whisk the egg. Add in honey, peanut butter, hummus, sugar and vanilla extract. Stir to combine.
Add in cocoa powder, baking powder and sea salt. Stir to combine.
Gently stir in chocolate chips.
Pour brownie batter into the prepared baking dish.
Bake for 40-45 minutes until cooked through. The edges will get a little dark and crispy, which I like!
Allow the brownies to cool at least one hour before cutting. You can stick them in the fridge or freezer if needed.
Once cool, cut into 12-16 brownies and serve. Store left over brownies in an air-tight container in the fridge for up to 1 week.