You'll love this basic hummus recipe. It's extra delicious made with dried chickpeas but you can use canned if you're rushed for time! Added bonus: I'm sharing my secret tip for making super smooth hummus at home.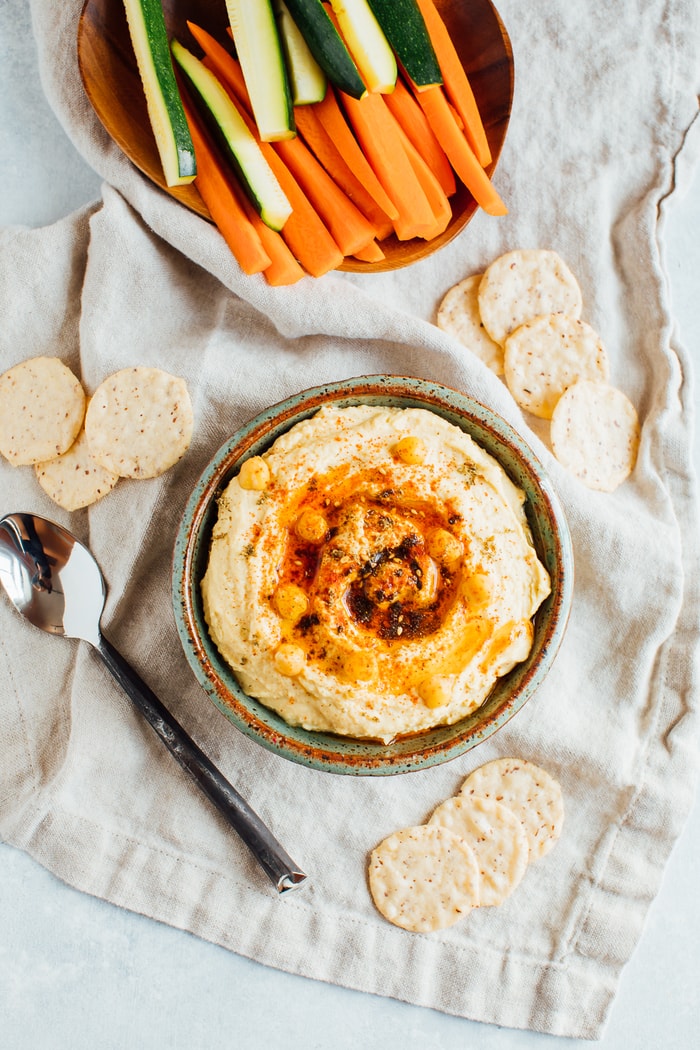 I've always loved hummus, but since visiting Israel I have a new-found obsession with making it at home. I buy store-bought all the time (usually Cava or Sabra) but I have to admit that homemade hummus is definitely better, especially if you start with dried chickpeas. It takes some forethought because you need to soak and cook the beans, but the process is pretty hands-off and it's totally worth it.
There are a ton of different hummus variations out there, but the recipe I'm sharing today is your basic hummus with garlic, lemon juice, tahini and olive oil. It's mellow in flavor, creamy and oh so smooth!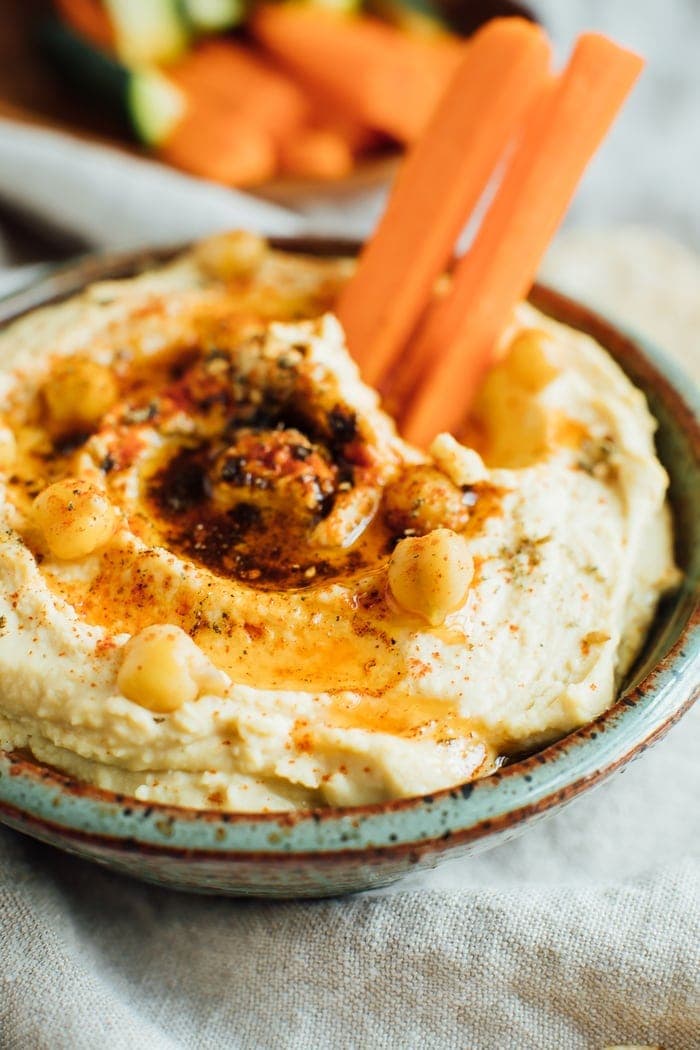 Along with my basic hummus recipe I also want to share a secret tip for making extra smooth and creamy hummus.
Here it goes –> If you want really smooth hummus you have to remove the chickpea's skin. Yup, chickpeas have skin — who knew!? And if you don't remove the skin, you end up with hummus that's not 100% smooth. The process of removing the skins does take some extra time (about 15 minutes for about 2 cups of chickpeas), but it's a mindless task. Just turn on your favorite podcast and get to work.
How to remove chickpea skins from canned chickpeas:
Place drained, canned chickpeas into a pot of boiling water.
Let boil for 2 minutes.
Remove from heat, place in strainer, and run cold water over the chickpeas. Let cool.
Once they've cooled a bit (about 5 minutes). Take each chickpea in your hand and easily peel off the skin. I found that using my thumb and index finger to pop the skin off works really well. Here's what you'll end up with.
** The same process applies to dried chickpeas. Just cook them as directed and start with step 3.
I'll admit that I don't always take the time to remove the chickpea skins, but I love how smooth and creamy my hummus gets when I do take the time to do it.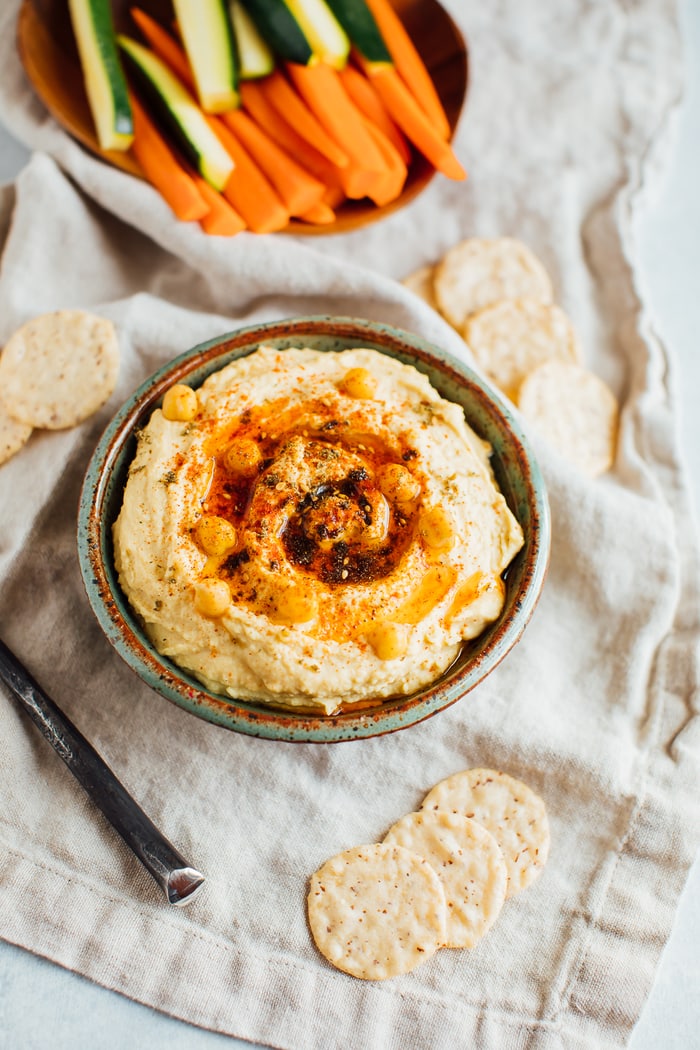 8
adjust servings
Ingredients
1 1/2

cups cooked chickpeas with reserved cooking liquid or 15 oz can of chickpeas

3

Tablespoons tahini

3

Tablespoons lemon juice

2-3

Tablespoons extra virgin olive oil

1

- 2 cloves garlic

1/2

teaspoon salt

2-3

Tablespoons reserved cooking liquid or water

Toppings: olive oil, cooked chickpeas, za'atar, cayenne pepper and/or paprika
Instructions
If you're using dried chickpeas, you'll want to start with 1 cup of dried chickpeas, soak them overnight in cold water. Discard the soaking liquid and add to a large pot with 6 cups of water and 1/2 teaspoon of baking soda. Bring the mixture to a boil, reduce to a simmer and cook for 40-60 minutes or until chickpeas are very tender, but not mushy. Remove any chickpea skins that have floated to the top. Drain, rinse with cold water and peel the skin from any chickpeas that didn't lose their skin during the cooking process.
If using canned chickpeas, you'll need to drain and rinse them. Remove skin from chickpeas, per instructions above. (This step is optional.)
In a food processor, add lemon juice and tahini. Process for 1 minute. Scrape down the sides of your food processor bowl and add chickpeas, olive oil, garlic and salt. Process until smooth (about 1 -2 minutes more) gradually adding reserved cooking liquid or water as desired to thin dip and scraping down sides of the processor bowl as needed.
Once the hummus is completely smooth, taste and season as needed.
Transfer to a bowl for serving. Top with an extra drizzle of olive oil, cooked chickpeas, za'atar, cayenne pepper and/or paprika. Store any leftovers in the fridge for up to three days.
If you make this recipe for smooth hummus let me know how it turns out in the comment section or share a photo on social media. Just be sure to tag me (@eatingbirdfood + #eatingbirdfood) so that I see it!