The secret to making smooth and creamy hummus is removing the skin from the chickpeas. Let me show you how!  
If you're like me, you love smooth and creamy hummus and have spent days wondering just how Sabra does it.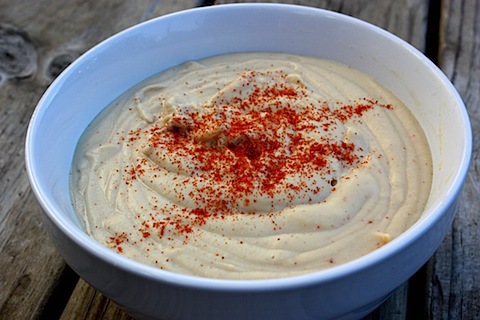 Well, as it turns out there is a secret to smooth hummus and I'm willing to share to the secret with you all, my lovely readers! If you want really smooth hummus you have to remove the chickpea's skin.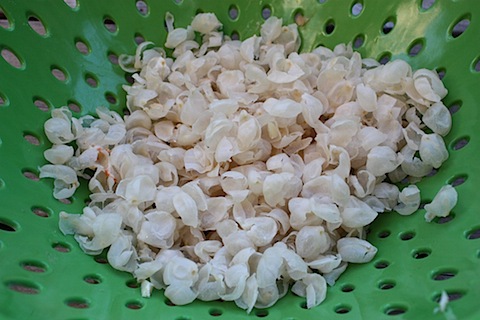 Yup – that's the skin. I'm not even going to write what I think this bowl of chickpea skins looks like, but let's just say the end result is worth it and although a bit time consuming, it's actually pretty easy.
How to remove chickpea skins:
Place drained, canned chickpeas into a pot of boiling water.
Let boil for 2 minutes.
Remove from heat, place in strainer, and run cold water over the chickpeas. Let cool.
Once they've cooled a bit (about 5 minutes). Take each chickpea in your hand and easily peel off the skin. I found that using my thumb and index finger to pop the skin off works really well.
Use this method when preparing your favorite hummus recipe or try my recipe below.
Classic Smooth and Creamy Hummus
Ingredients
1

can chickpeas (drained, with liquid reserved)

2

Tablespoons tahini

2

Tablespoons extra-virgin olive oil

1-2

Tablespoons freshly squeezed lemon juice

1

medium clove garlic, sliced

1/2

teaspoon sea salt

1/4

cup reserved liquid or water, more or less to thin dip as desired

freshly ground black pepper and sea salt, to taste

ground cayenne pepper, to taste (optional)
Instructions
Remove peels from chickpeas, per instructions above.
In a food processor, combine all ingredients except bean liquid. Purée until smooth, gradually adding liquid as desired to thin dip and scraping down sides of bowl as needed.
I added a sprinkle of cayenne pepper to add a bit of heat! We like things a bit spicy here at Casa EBF.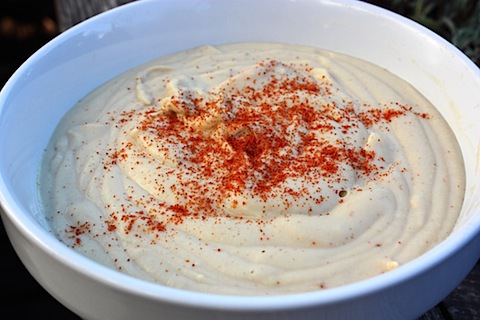 Over the weekend I served the hummus with fresh veggies and gluten free chips!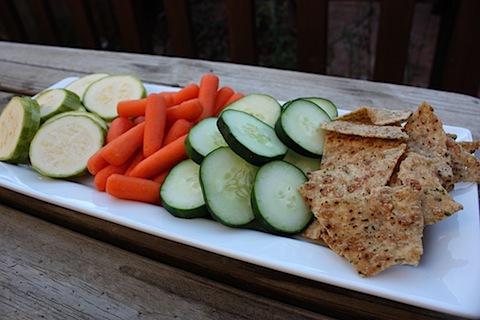 I hope this tip is as exciting to you as it was to me!! Now go enjoy some super creamy, smooth and delicious hummus.