The Super Bowl is riiiight around the corner! Whether you're in it for the football, the commercials, the halftime show or it's just a regular ol' Sunday for you, I wanted to round up some healthy game day recipes for you! I've got everything from appetizers and snacks to sides and main dishes. And they are all crowd-pleasers, promise.
The Super Bowl is one of those days that can lead to overeating if you're mindlessly snacking all day. No matter whether you're enjoying your Sunday at home or heading to a friends house, my best tip is to make sure there are plenty of veggies on the table to snack on.
This doesn't necessarily mean veggies and dip (it can!) but it can be something more "exciting" like buffalo cauliflower wings, jicama fries, etc. Besides getting veggies in, make sure you are drinking plenty of water and trying to be mindful of how many times you're visiting the food table. Most importantly? Don't stress! This is often a time to gather with friends and family and indulge a little. 😉
Let me know if you try any of these healthy game day recipes! Tag me on Instagram (@eatingbirdfood) so I can see your creations.
Healthy Game Day Soups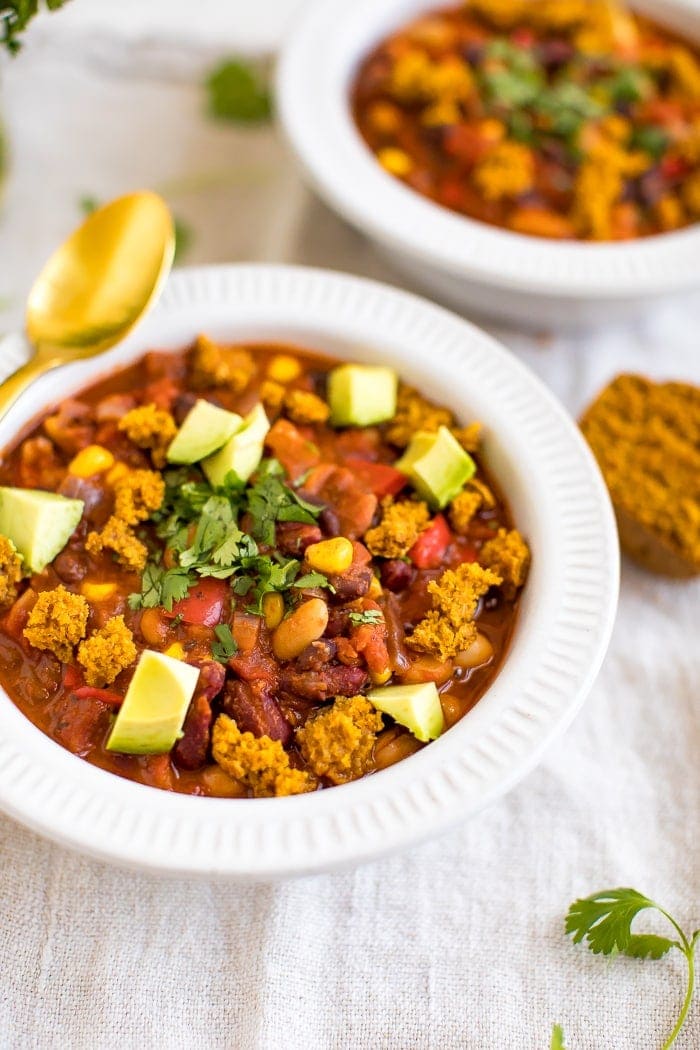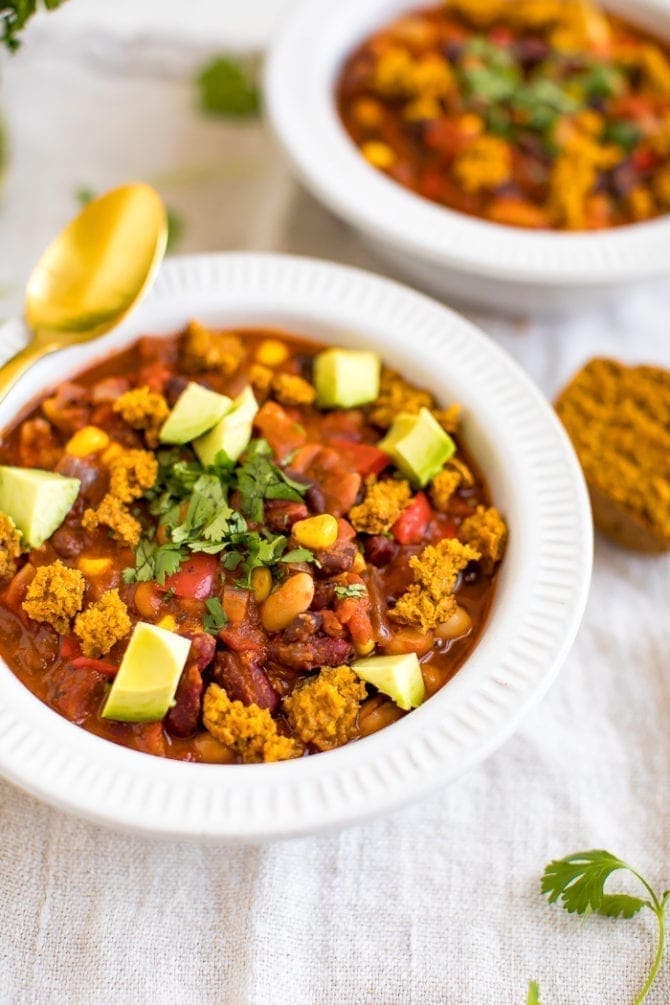 Veggie Chili – My go-to healthy and easy vegetarian chili recipe. It's so easy to make and has a rich, robust flavor thanks to a couple secret ingredients, peanut butter and cocoa powder. Vegan + gluten-free.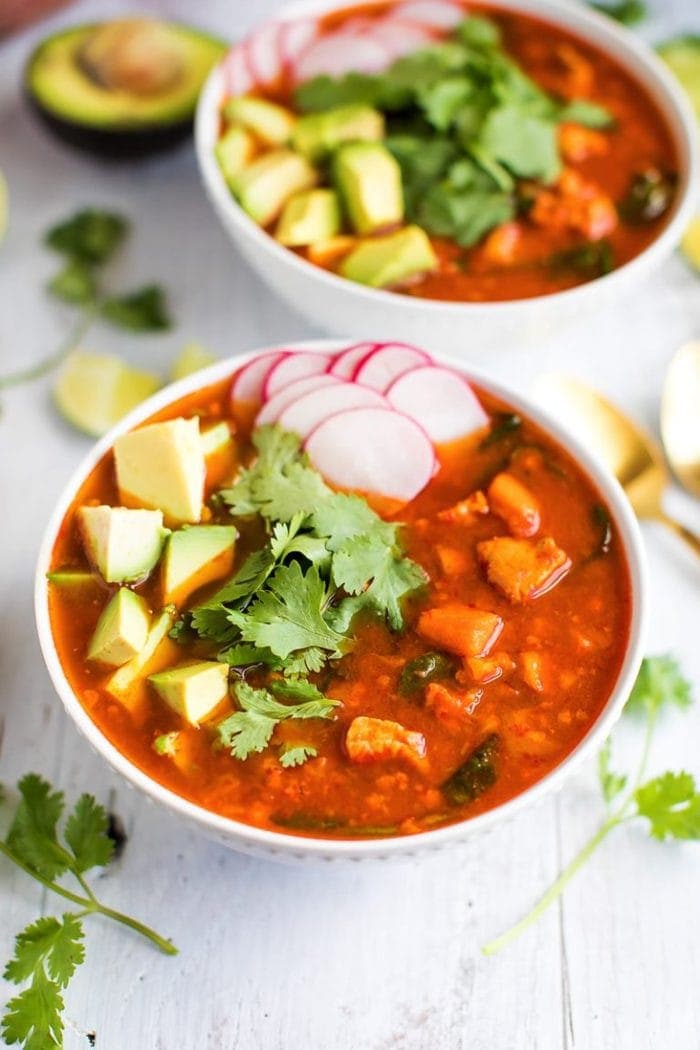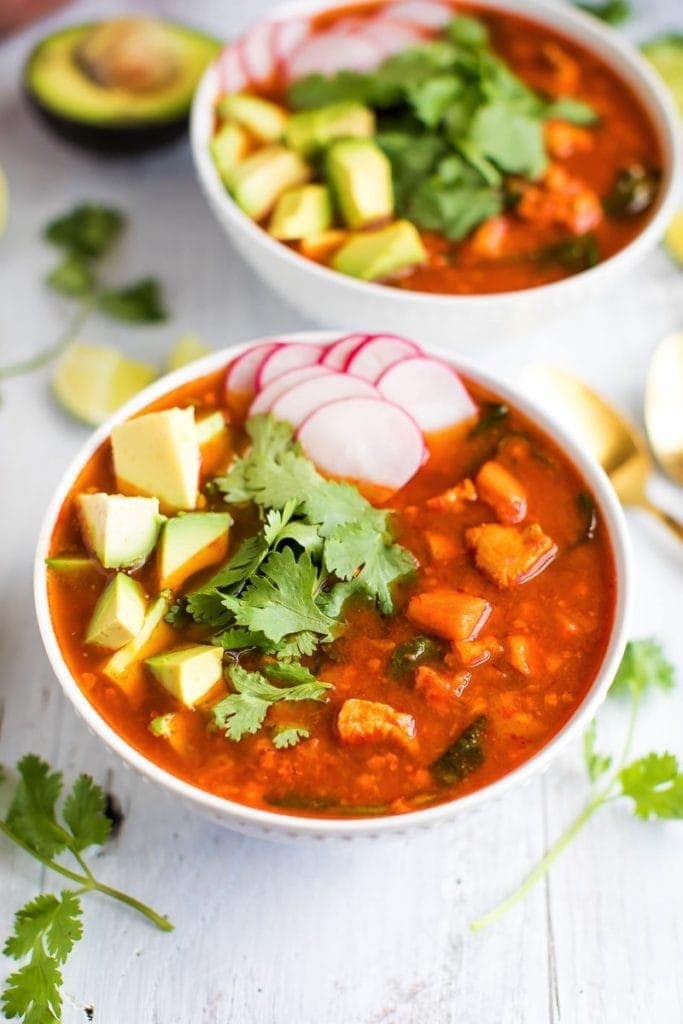 Mexican Sweet Potato Chicken Soup – This hearty Mexican sweet potato chicken soup is loaded with veggies, lean protein and has a smoky, sweet flavor from dried guajillo Mexican peppers. Grain/gluten-free, diary-free, paleo and whole30 friendly.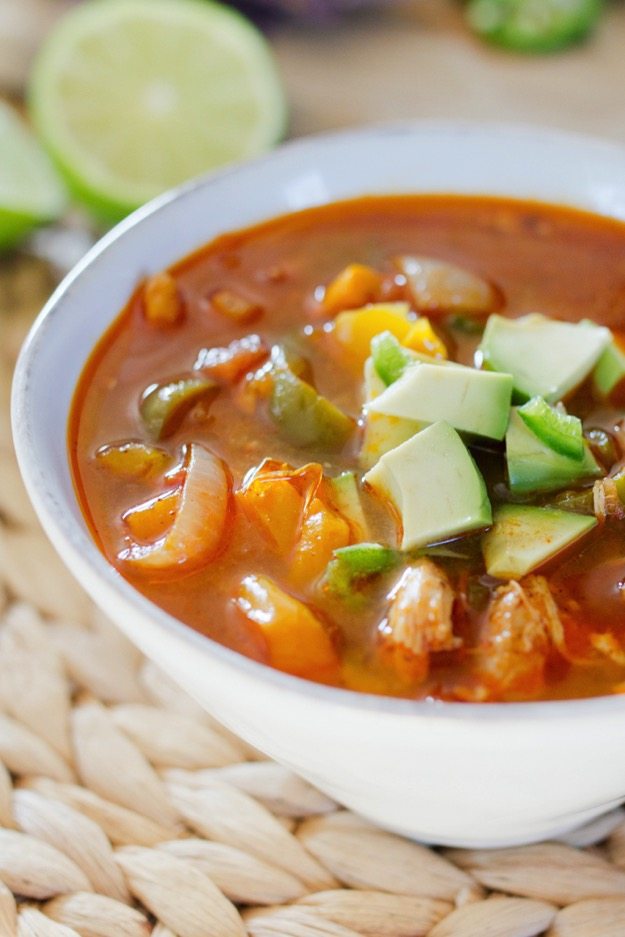 Slow Cooker Chicken Fajita Soup – Craving Mexican? Simply toss all the ingredients for fajitas in your slow cooker and a few hours later you'll have a comforting soup that's packed with flavor and a hint of spice. This fajita soup is gluten-free and paleo.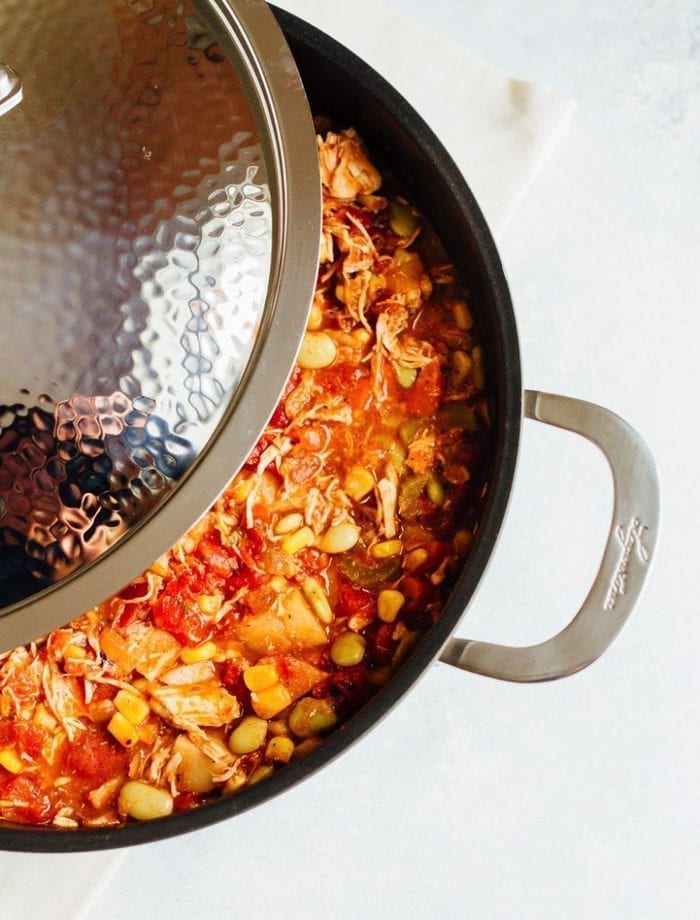 Brunswick Stew – This healthy Brunswick stew is just like the southern classic, but made with simple and wholesome ingredients — no ketchup or bbq sauce needed!
Healthy Game Day Dips and Appetizers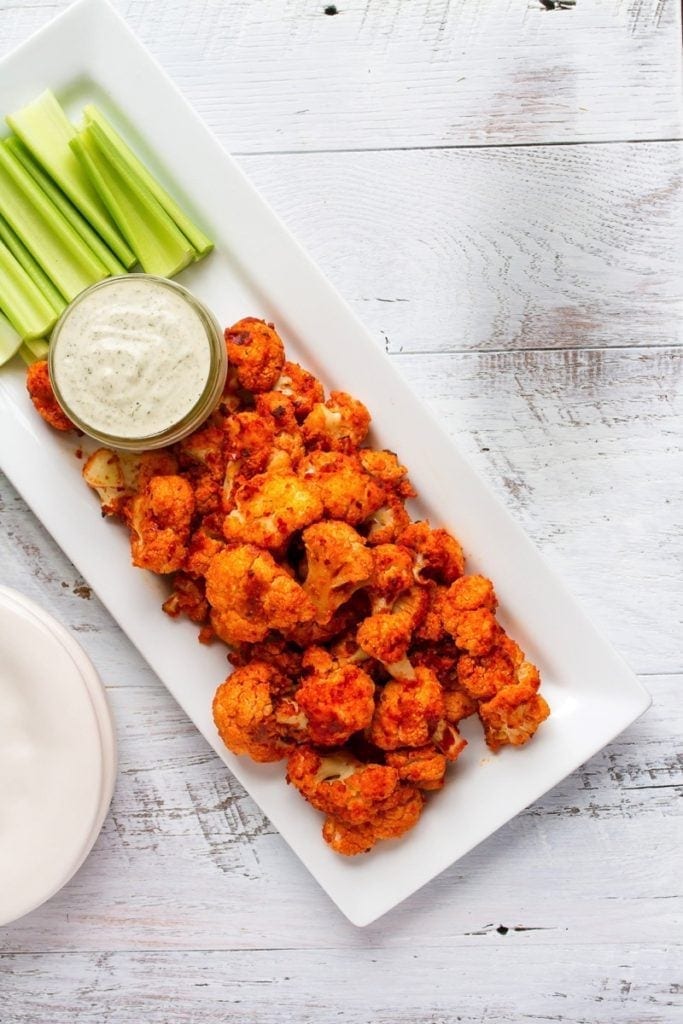 Buffalo Cauliflower Wings – These buffalo cauliflower wings are absolutely delicious and easy to whip up. Serve with a creamy cashew dressing. Vegan + gluten-free.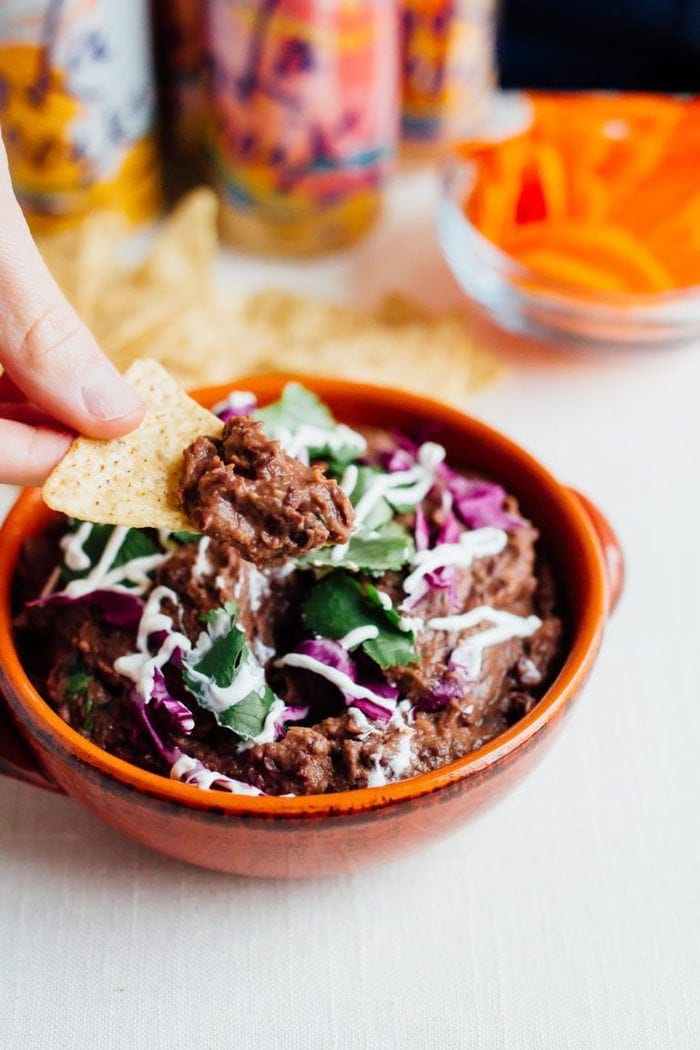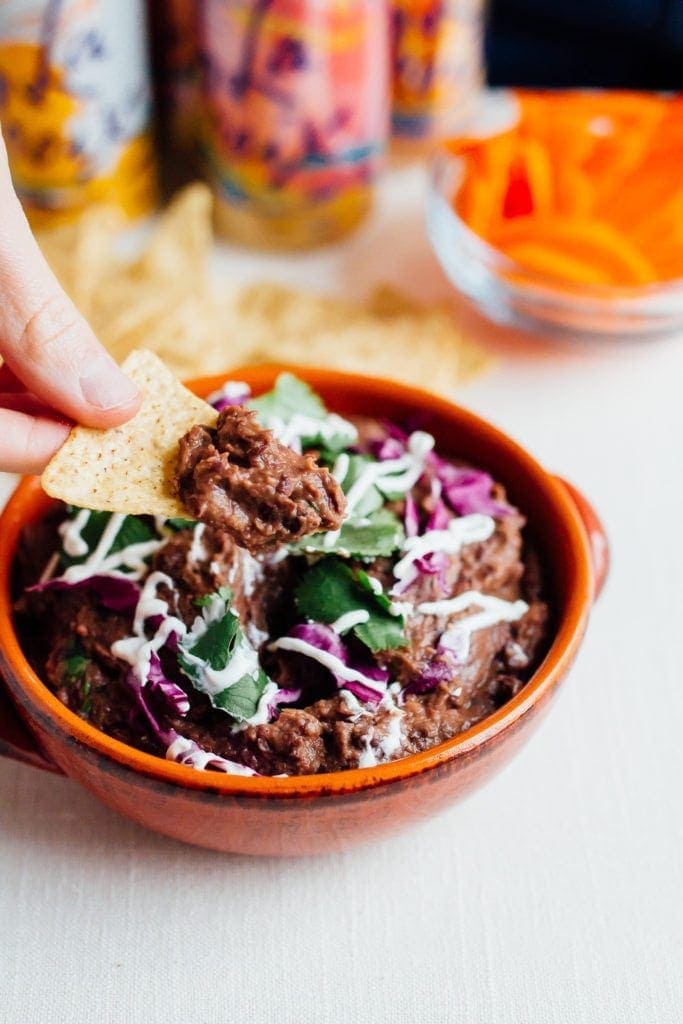 Easy Black Bean Dip – Healthy and easy black bean dip that takes only 15 minutes to whip up. Perfect for parties, game day or Mexican night. Just serve with veggies or tortilla chips!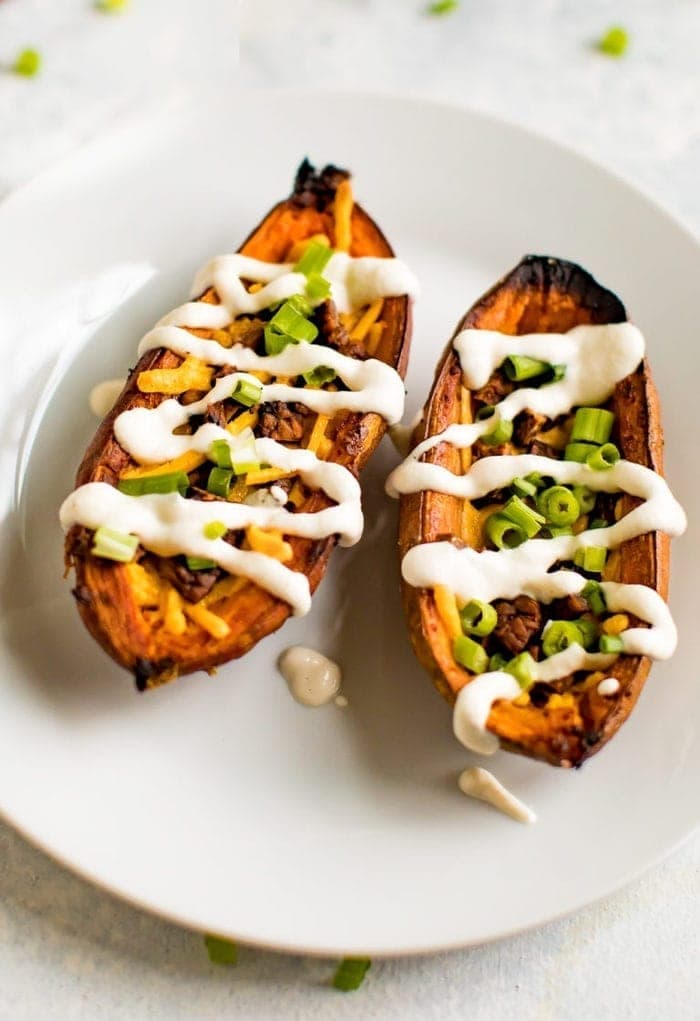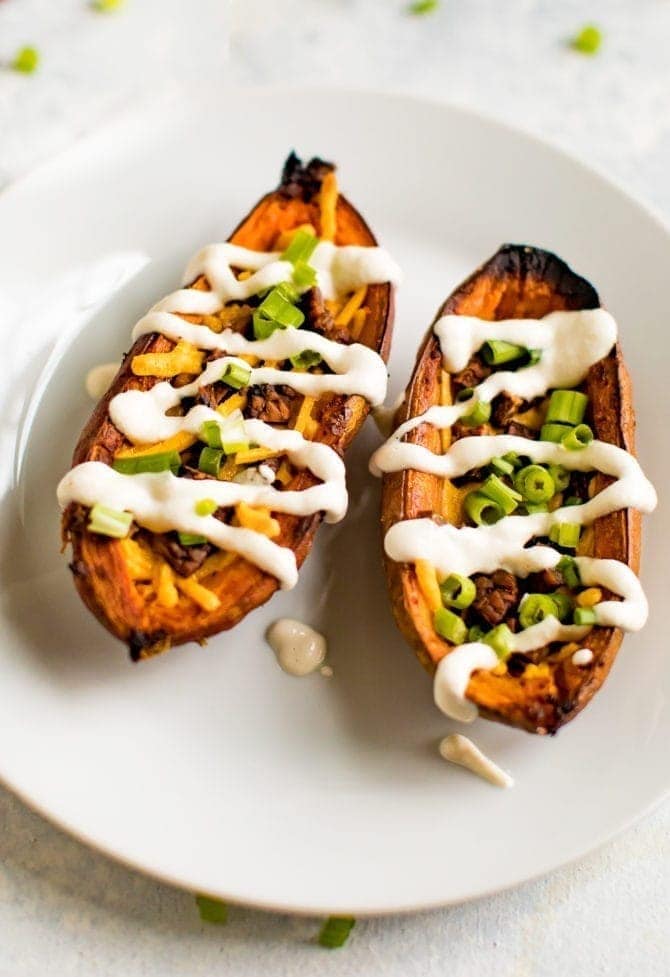 Sweet Potato Skins – Healthy sweet potato skins with cashew sour cream, dairy-free cheese and tempeh bacon. Crispy and loaded with cheesy, smoky flavor, no one will guess these are plant-based!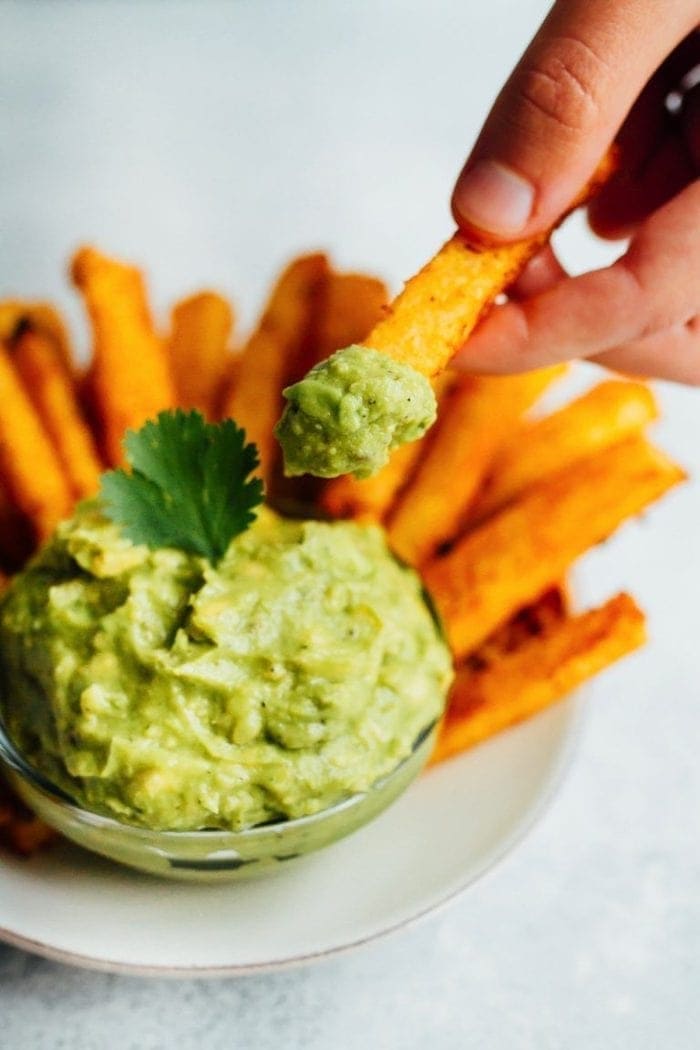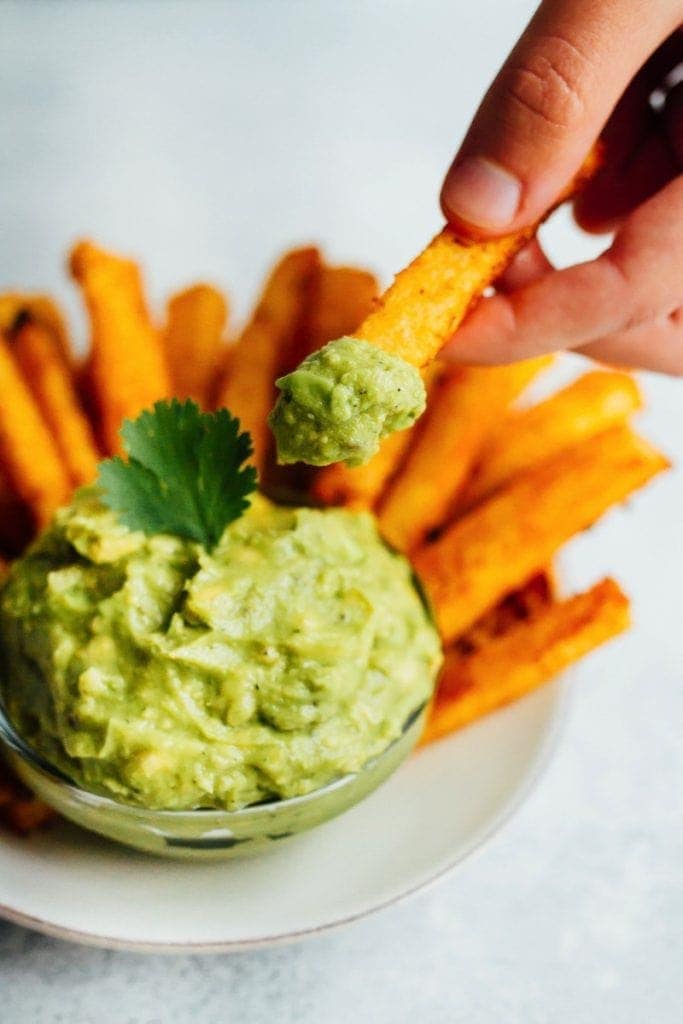 Jicama Fries – Gut-friendly baked jicama fries with turmeric and black pepper. Serve with fresh guacamole for a delicious game day side! Vegan, paleo, low-carb and keto.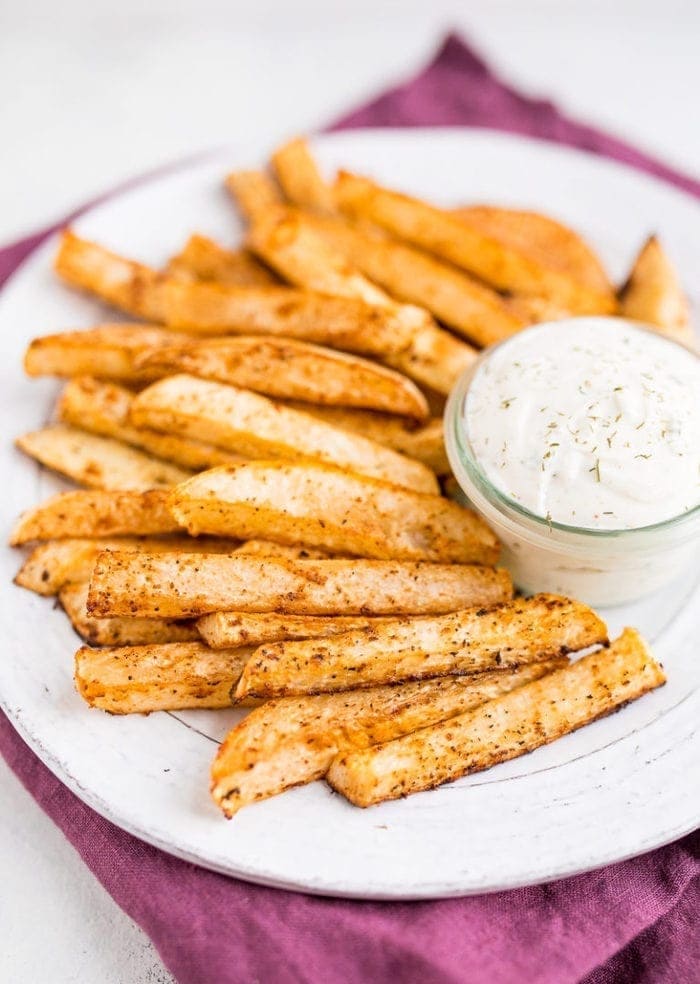 Turnip Fries – Fries made from turnips? Yup! If you've never tried a turnip, now is the time. These flavorful turnip fries are the perfect way to get more vegetables on your table.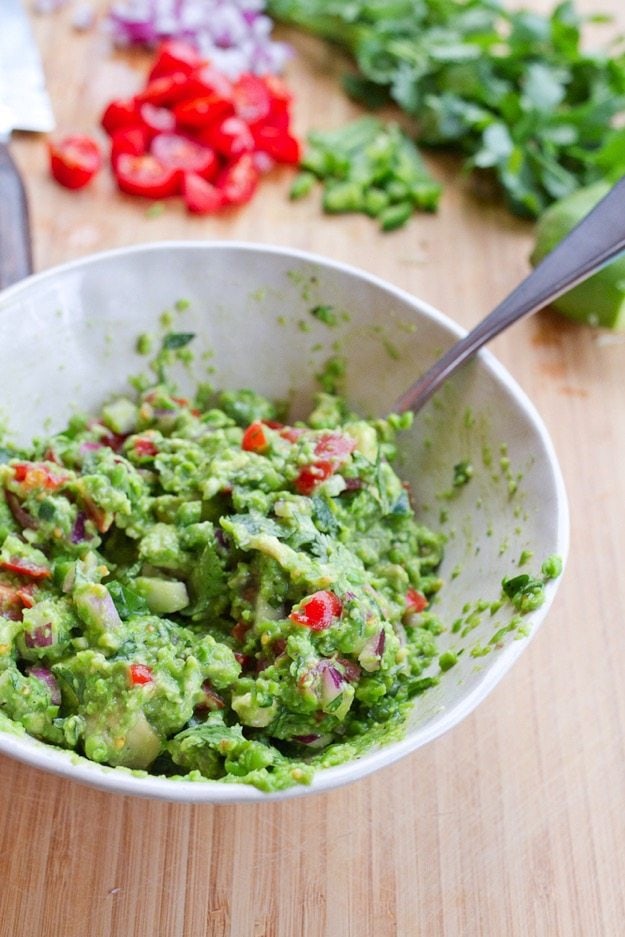 Pea Guacamole – This healthy guacamole with frozen peas is lower in fat and calories, but tastes just as delicious as the real deal. The peas add a subtle sweetness and give the guac a vibrant green color!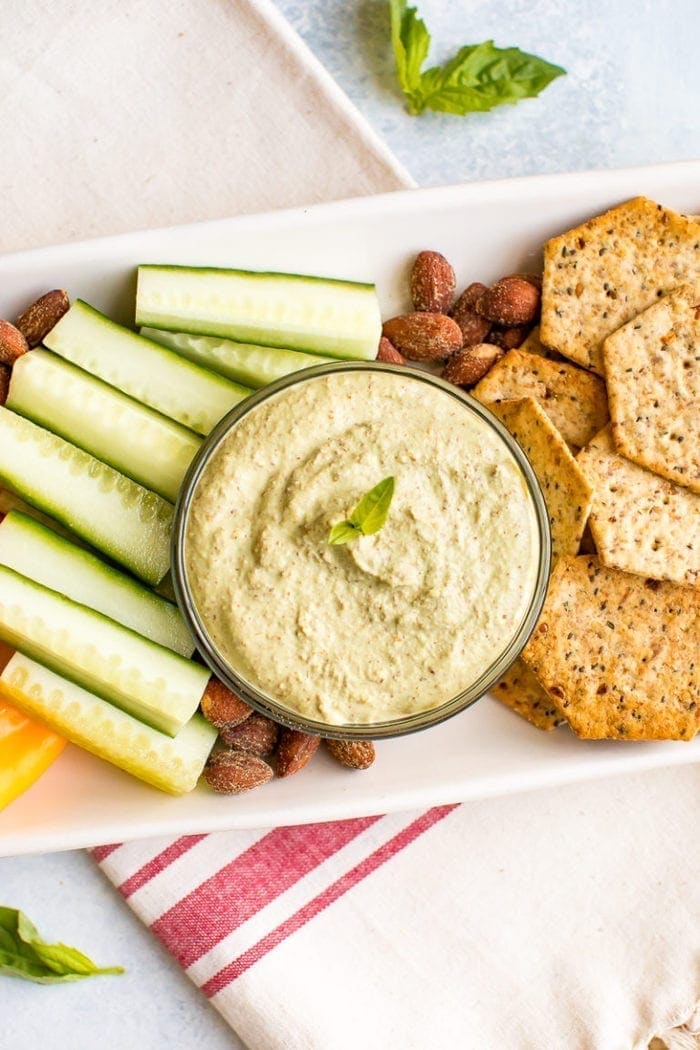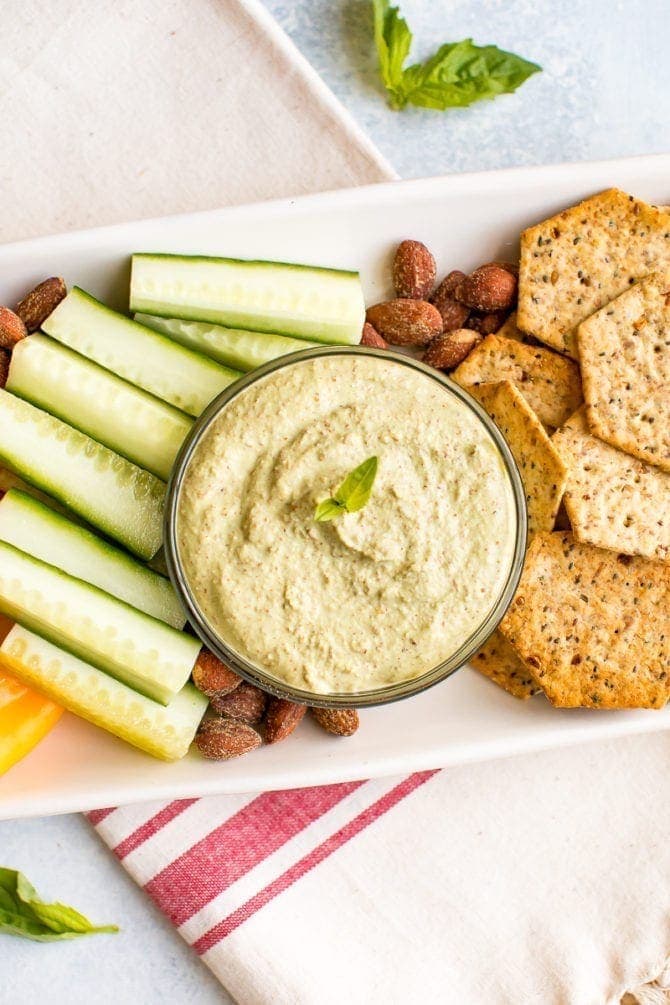 Almond Pesto Dip –  This creamy almond pesto dip is made with just seven delicious ingredients. Trust me, you'll want to dip everything in it! Vegan, gluten-free, low-carb and high in protein.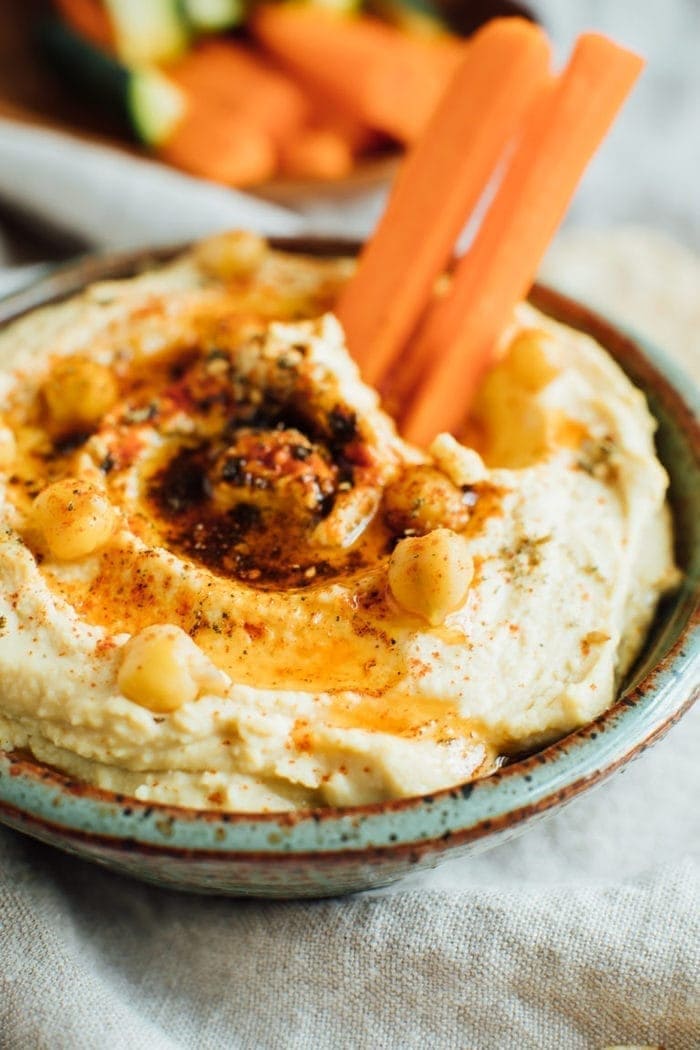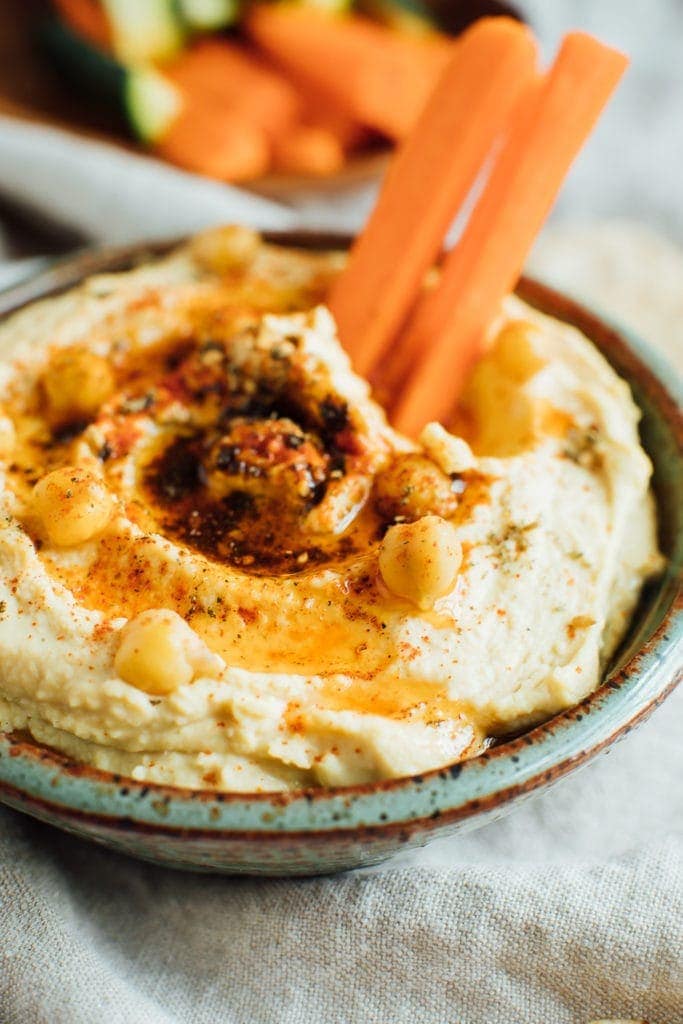 Smooth Hummus – You'll love this basic hummus recipe. It's extra delicious made with dried chickpeas but you can use canned if you're rushed for time! Added bonus: I'm sharing my secret tip for making super smooth hummus at home.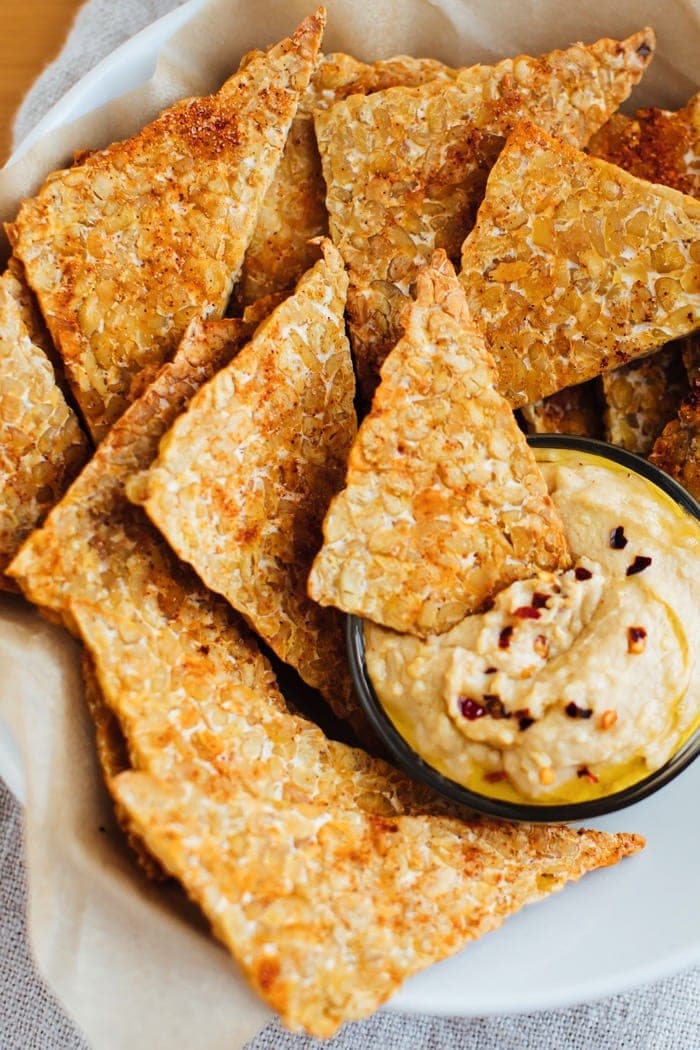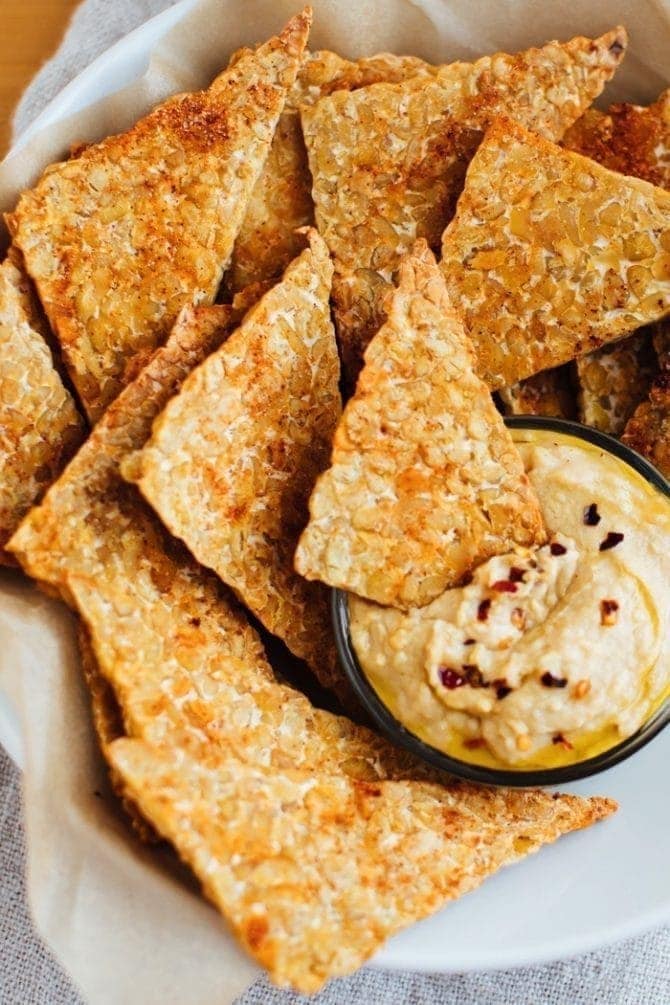 BBQ Baked Tempeh Chips – A chip snack that's high protein? Yup, it's possible! These BBQ baked tempeh chips are packed with plant-based protein and super satisfying.
Healthy Game Day Desserts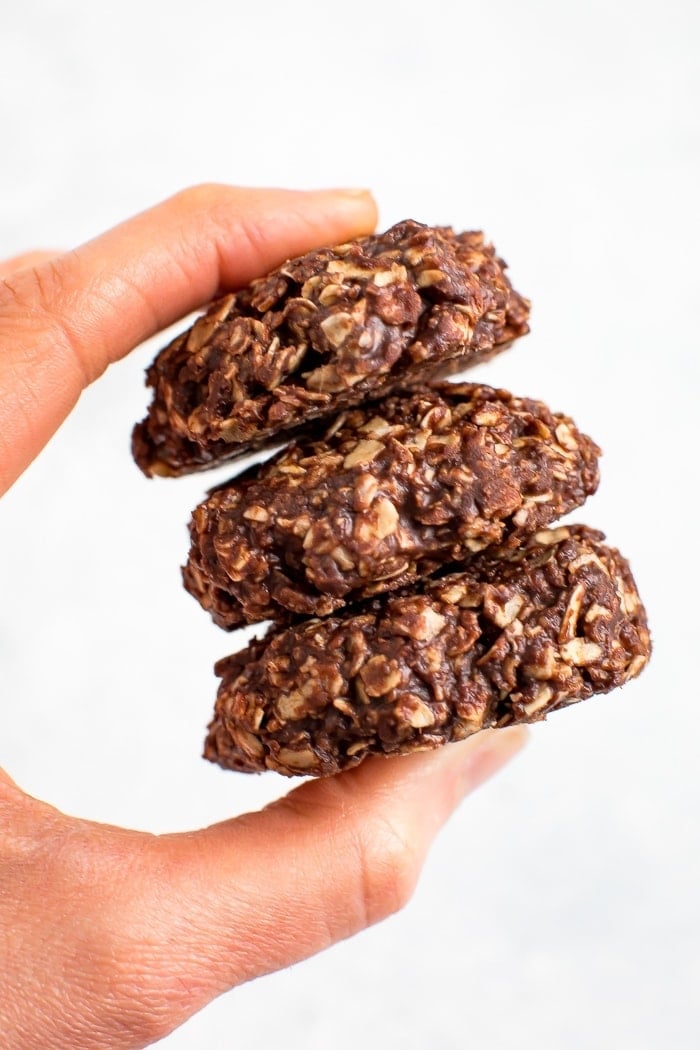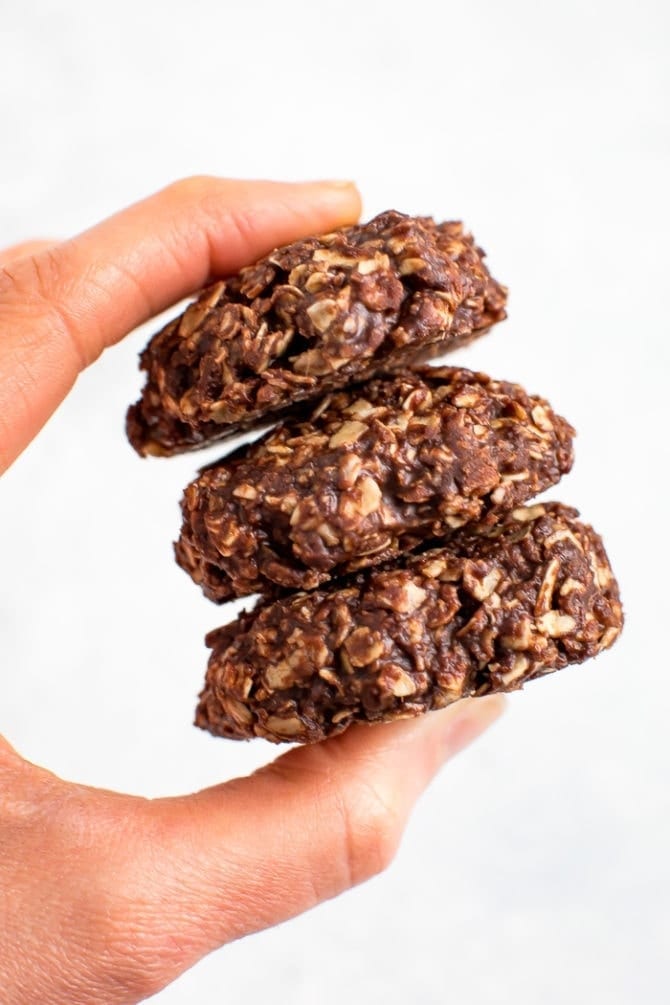 No Bake Cookies – Peanut butter chocolate healthy no bake cookies made with half the amount of sugar in traditional no bake cookies and coconut oil instead of butter. Dairy-free, vegan and refined sugar free.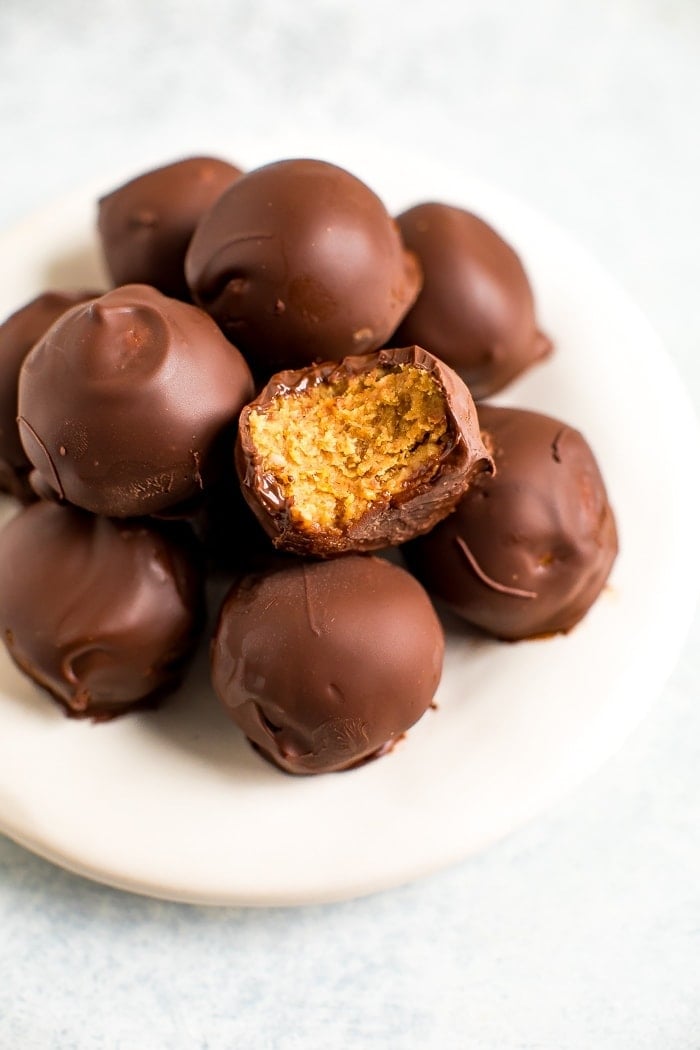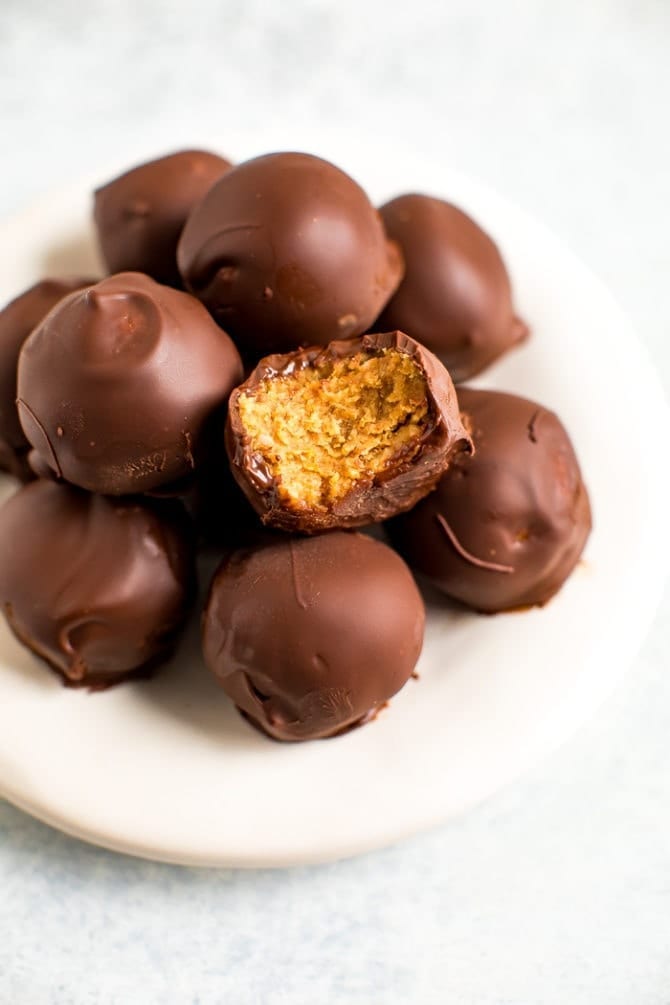 Healthy Peanut Butter Balls – Make healthy peanut butter balls with only 5 simple ingredients: peanut butter, oats, dates, chocolate and coconut oil! No powdered sugar or butter needed. These peanut butter balls are dairy-free, gluten-free and vegan!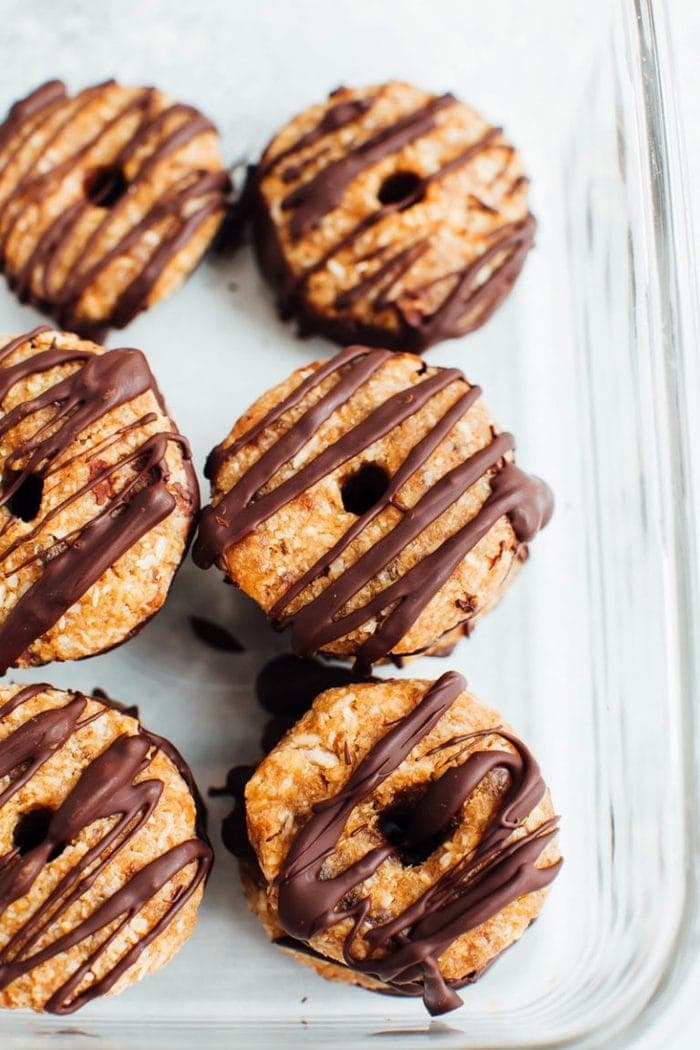 4-Ingredient Samoas – It's Girl Scout cookie season and I've got a treat for you. Healthy and simple (but incredible!) 4-Ingredient Samoas that might just taste better than the real deal. Shh…. don't tell the Girl Scouts. Vegan, gluten-free and paleo-friendly.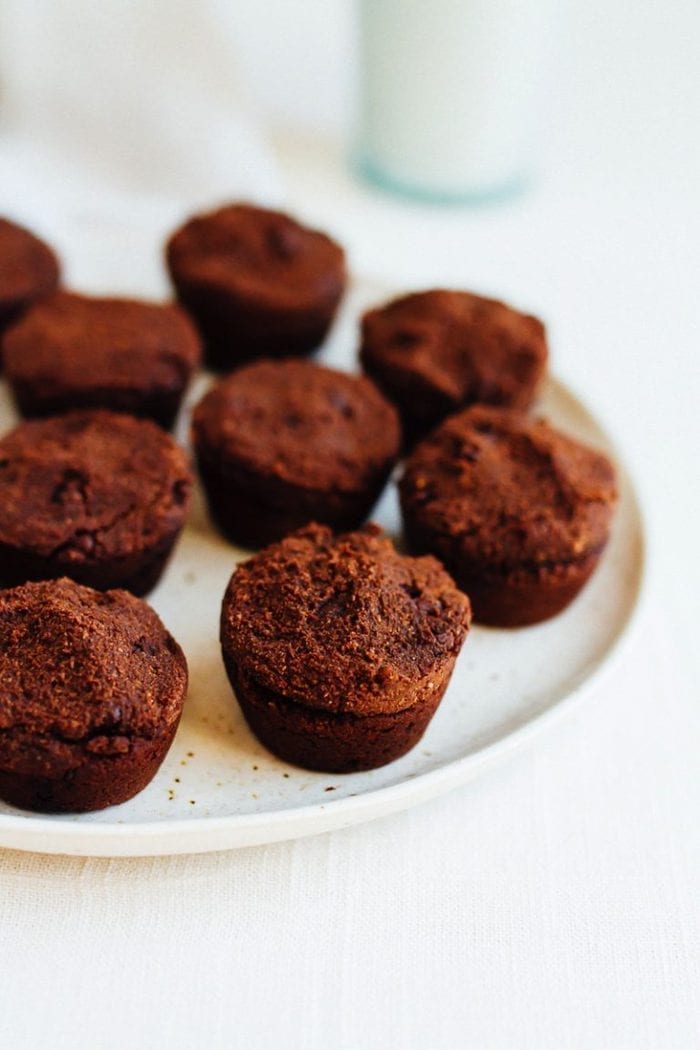 Sweet Potato Brownie Bites – Sneak some veggies into your brownies with these vegan + gluten-free sweet potato brownie bites. No one has to know the secret ingredient.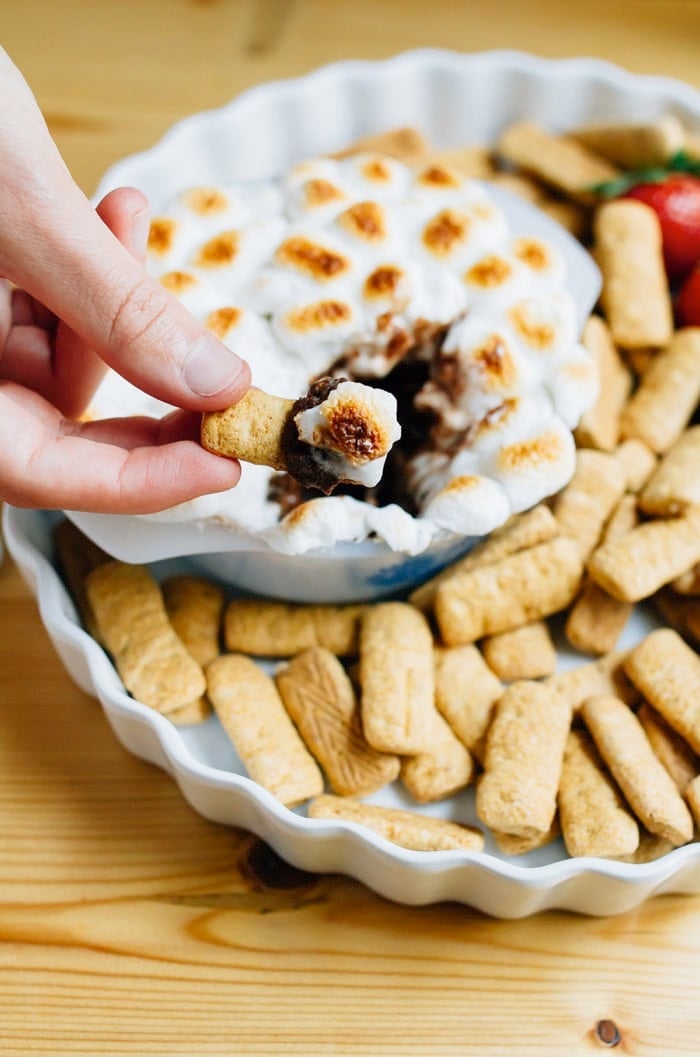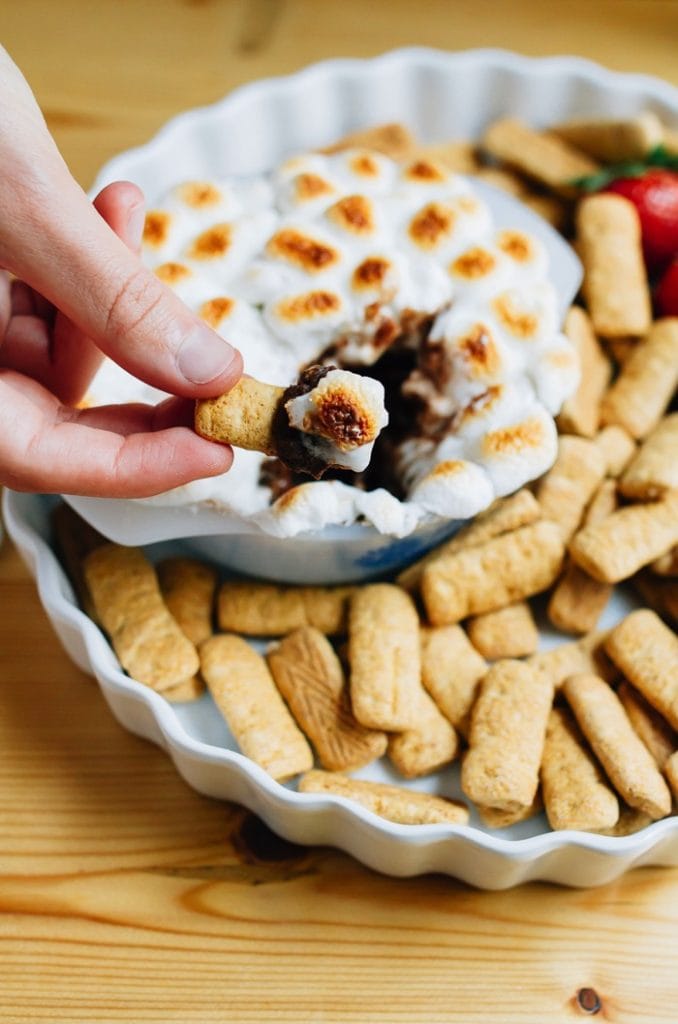 S'mores Dip – Bring your favorite campfire dessert inside with this easy and healthy s'mores dip, made with brownie batter hummus and oven-toasted marshmallows.
This post may include affiliate links. Thank you for your support.