Hosting a gathering to watch the big game? Here are a few healthy game day recipes that are sure to be crowd-pleasers!
The Super Bowl is riiiight around the corner! Whether you're in it for the football, the commercials, the halftime show or it's just a regular ol' Sunday for you, I wanted to round up some healthy game day recipes for you! I've got everything from appetizers and snacks to sides and main dishes. And they are all crowd-pleasers, promise.
The Super Bowl is one of those days that can lead to overeating if you are mindlessly snacking all day. No matter whether you're enjoying your Sunday at home or heading to a friends house, my best tip is to make sure there are plenty of veggies on the table to snack on.
This doesn't necessarily mean veggies and dip (it can!) but it can be something more "exciting" like buffalo cauliflower wings, jicama fries, etc. Besides getting veggies in, make sure you are drinking plenty of water and trying to be mindful of how many times you're visiting the food table. Most importantly? Don't stress! This is often a time to gather with friends and family and indulge a little. 😉
Let me know if you try any of these healthy game day recipes! Tag me on Instagram (@eatingbirdfood) so I can see your creations.
Healthy Game Day Soups and Sides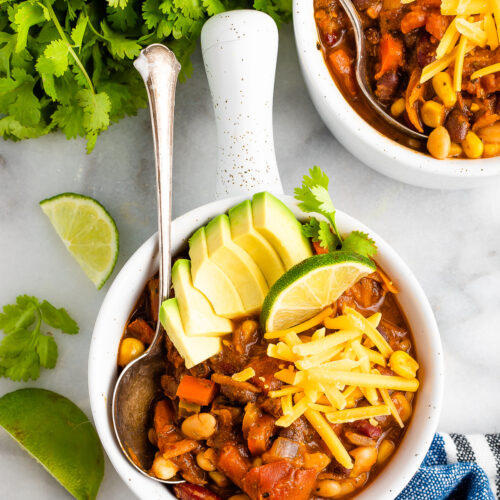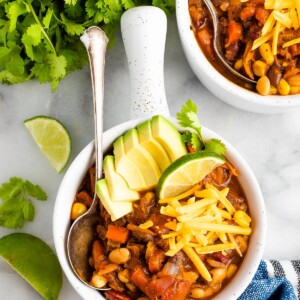 Easy Vegetarian Chili
The best vegetarian chili recipe made with three different beans, veggies and sweet corn. It's thick and hearty, comes together quickly on the stovetop and has such a rich, robust flavor thanks to a few secret ingredients.
View Recipe
Healthy Game Appetizers
Dips and Sauces
Healthy Game Day Desserts
More Collections You Might Enjoy