Baked Sweet Potato Fries
48
Published Oct 09, 2019, Updated Jul 22, 2021
Satisfy your craving for fries with healthy baked sweet potato fries that are actually crispy! Perfect for serving on their own or alongside a burger.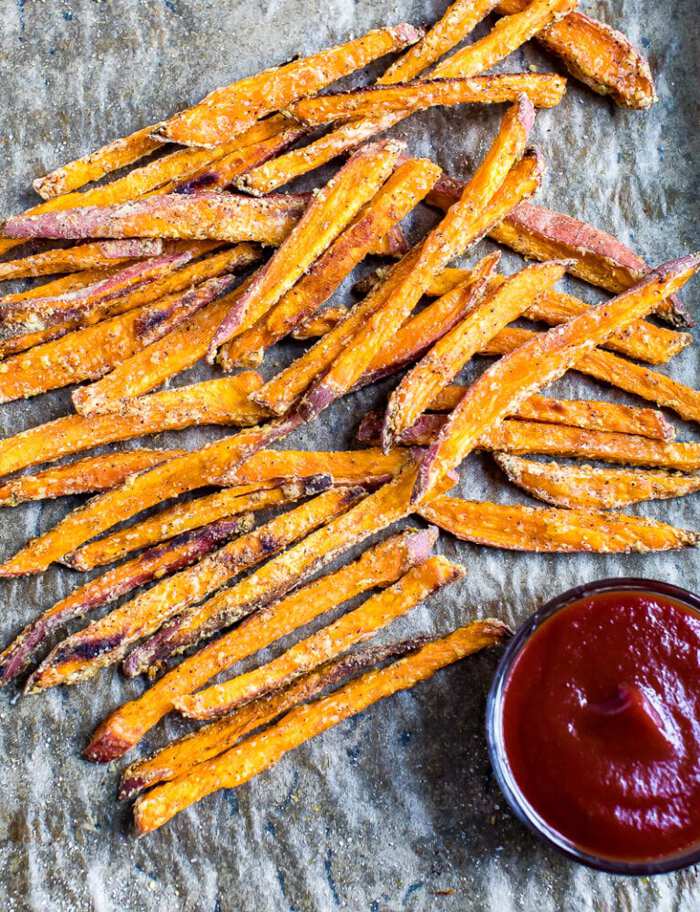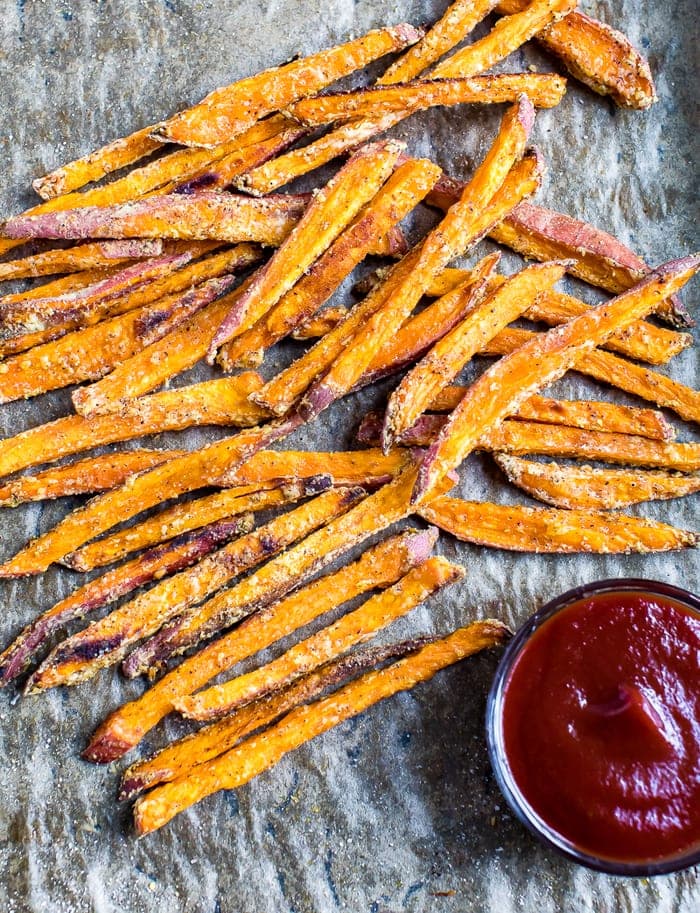 Sweet Potato Fries Are My Love Language
I don't know about you, but I'm a potato girl. When it comes to carbs I'll take potatoes over bread any day and I'll eat them just about any way you cook them. I grew up eating the not-so-healthy type of potatoes like fast food fries, chips and my mom's fried potatoes.
Now I still eat potatoes, but I usually choose sweet potatoes over regular and skip the fried stuff (for the most part) — I'll occasionally indulge in regular sweet potato fries because they're just too good to pass up. <–YOLO. And if I'm at a restaurant that has fries on the menu I secretly hope that someone at the table orders them so I can steal a few. Please tell me I'm not the only one that does this. 🙂
That said, I rarely have a craving for the fried version because I make baked sweet potato fries (and sweet potato croutons) at home all the time and they're just as tasty!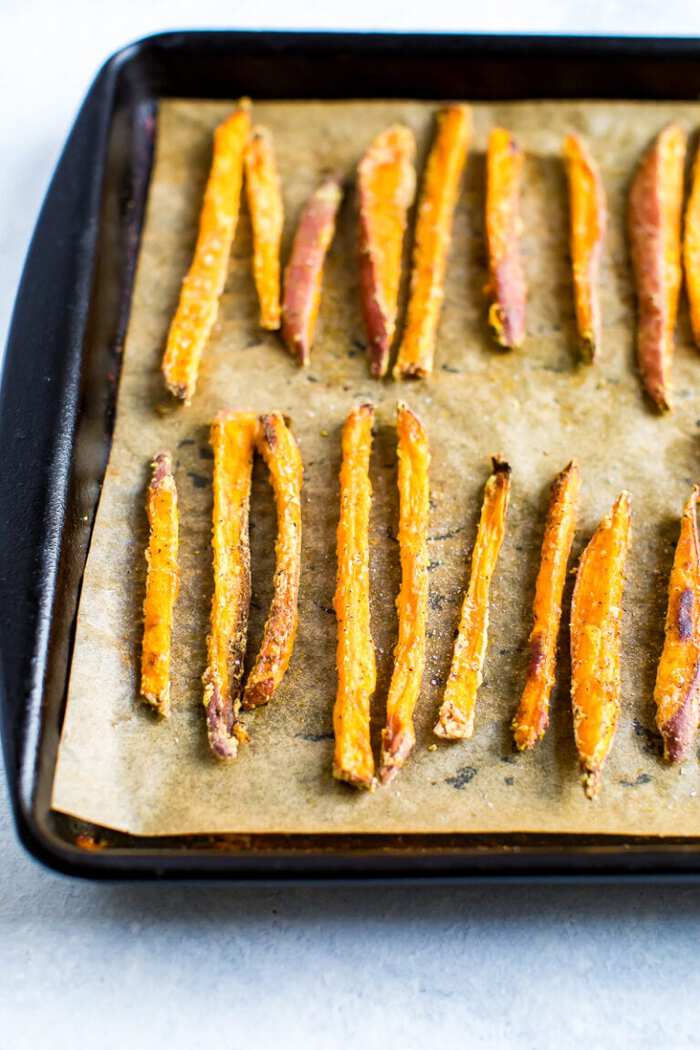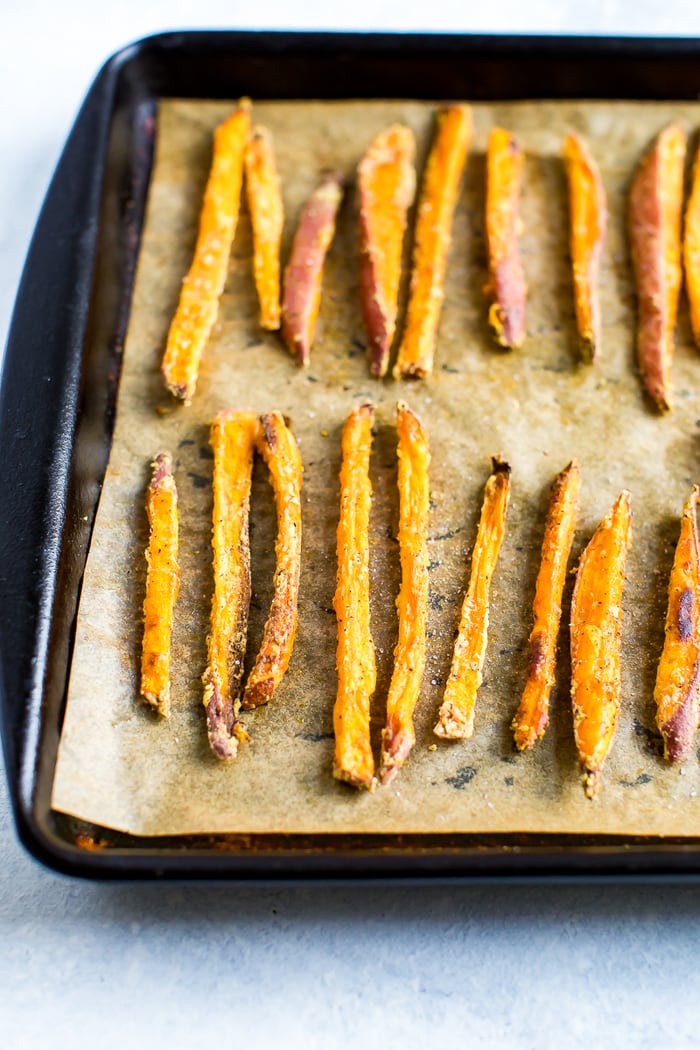 How to Make Crispy Baked Sweet Potato Fries
The one thing about baked sweet potato fries is that they're not usually as crispy as fries that are fried, BUT I've found a couple tricks to help baked fries crisp up!
Arrowroot powder or cornstarch: Adding a little arrowroot powder or cornstarch to the seasoning mix. Either of these starches will help soak up any liquid and make your fries crispier.
Space them out: Just like with roasted veggies, baked fries need room on the baking sheet or else they'll steam and never crisp up. If you're making a big batch, you might find that you need to use a large baking sheet or two baking sheets instead of one to give the fries enough space.
Salt after: Don't add salt to your fries until after they're done baking. Sprinkle on salt just before serving!
Soaking: After you cut your potatoes into fry-shape, lots of people recommend soaking them in salted salted cold water for about 15-20 minutes before baking to pull out extra moisture and remove extra starch. I honestly tried this trick and didn't feel like it make that much of a difference with the sweet potato fries. Maybe it works better with baked white potatoes since they're starchier?
Less oil: You'd think that more oil = more crispiness, but when you're baking sweet potato fries this isn't the case. A little bit of oil goes a long way and if you use too much you're fries will be soggy. I've found that 1/2-1 Tablespoon for oil for 1 medium/large sweet potato is the perfect amount, but you can experiment with using less too!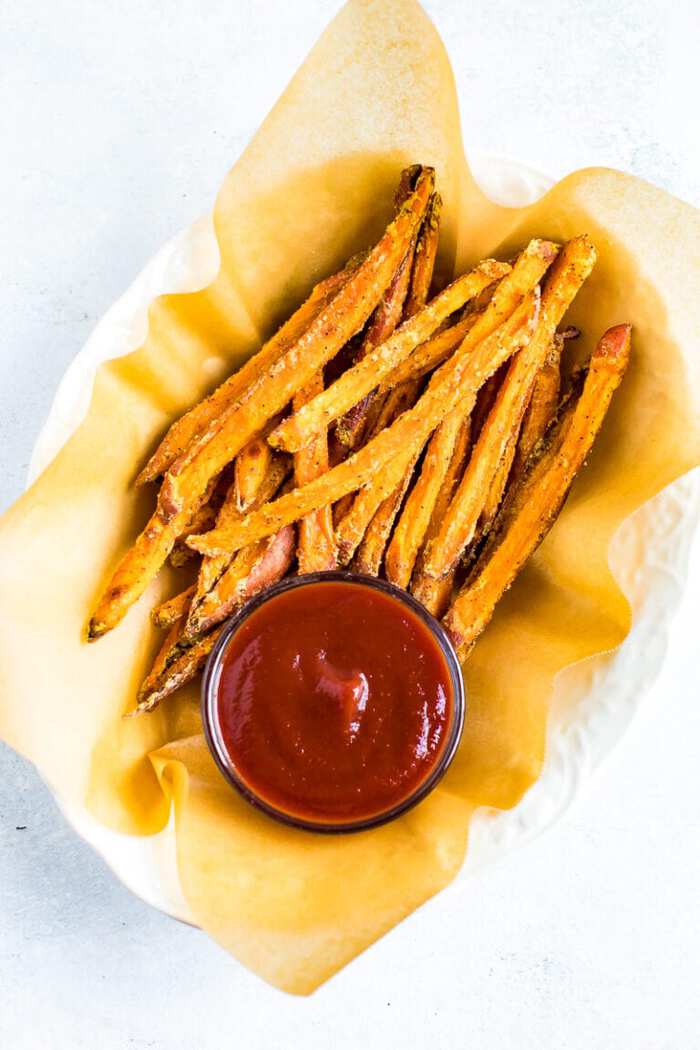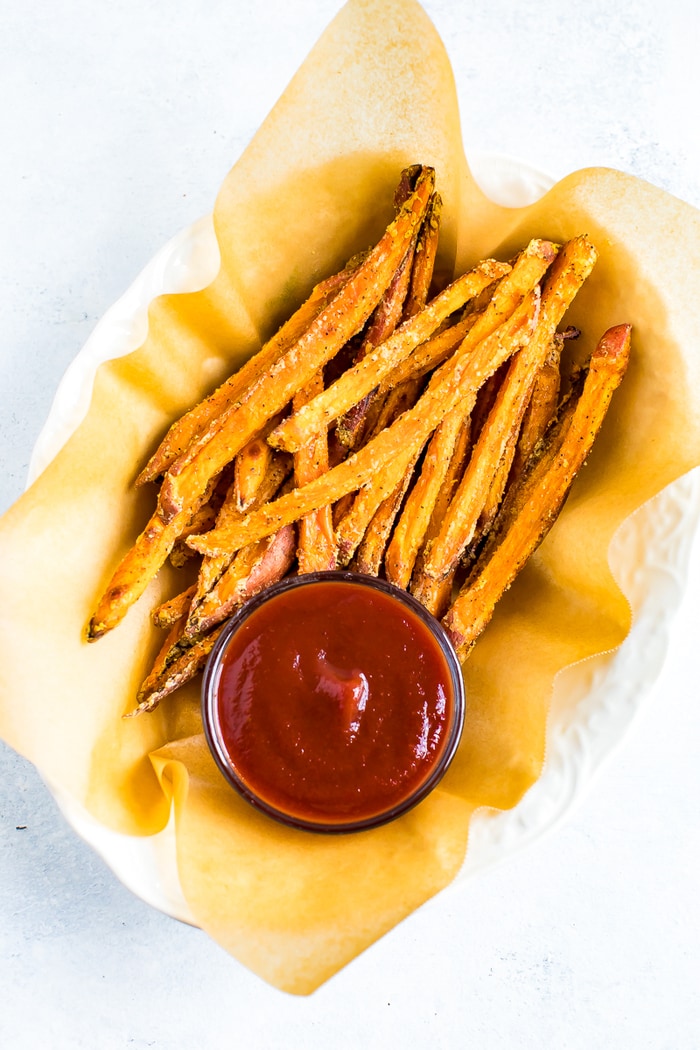 How to Serve Sweet Potato Fries
I'm a firm believer that sweet potato fries go with just about anything. I know it sounds weird, but I love pairing a meal sized salad with side of fries, but I also like serving sweet potato fries alongside burgers like these sweet potato black bean burgers (double dose of sweet potatoes) or this spinach feta turkey burger. Or eating them straight from the baking sheet dipped in ketchup…
Seriously, give me a baking sheet full of sweet potato fries and I'm a happy camper. A happy camper that's loading up on vitamin A, vitamin C and antioxidants like beta-carotene. 🙂
Oh and I should note that it's crazy easy to eat a full potato's worth of these fries by yourself so double the recipe if you're serving a few people.
Love Veggie Fries? Try These Variations Too:
More Tasty Sweet Potato Recipes:
If you try this recipe for baked sweet potato fries please be sure to leave a comment and star rating below. Your feedback is super helpful for the EBF team and other EBF readers who are thinking about trying the recipe.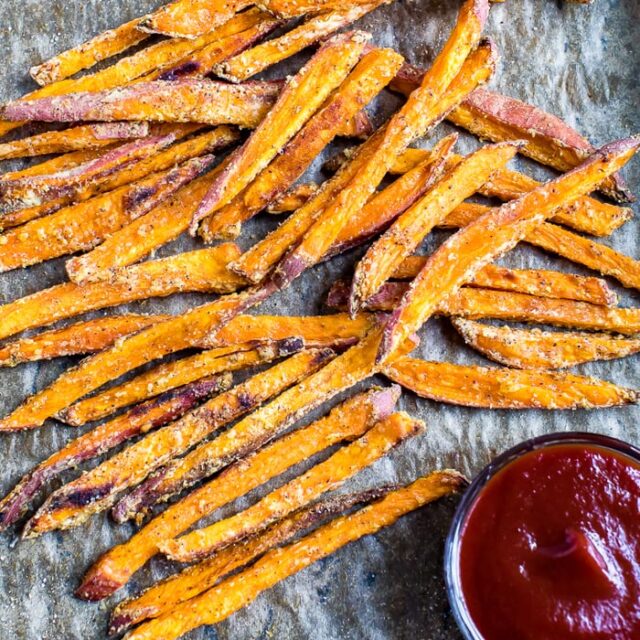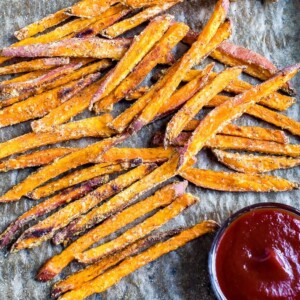 Baked Sweet Potato Fries
Satisfy your craving for fries with healthy baked sweet potato fries that are actually crispy! Perfect for serving alongside a burger or sandwich.
Ingredients
2

medium - large sweet potato

,

cut into thin slices (about 1/4 inch)

2

Tablespoons

avocado or olive oil

1

Tablespoon

arrowroot powder or cornstarch

1/2

teaspoon

garlic powder

1/2

teaspoon

pepper

sea salt,

to taste (added after baking)
Instructions
Preheat oven to 425°F and line a large baking sheet with parchment.

Place sweet potato slices into a large bowl and toss with oil, arrowroot powder, garlic powder and pepper.

Spread the fries onto your prepared baking sheet, making sure the fries aren't crowded. You may find that you need to use two baking sheets. The fries can't be crowded or else they will start to steam and get soft rather than crispy.

Bake for 15 minutes, take them out of the oven and flip, then bake for another 15-20 minutes.

Keep an eye on them the last 5 minutes as some of the smaller pieces might start to burn.
Nutrition
Serving:
1
/2 potato, cut into fries
|
Calories:
152
kcal
|
Carbohydrates:
21
g
|
Protein:
2
g
|
Fat:
7
g
|
Saturated Fat:
1
g
|
Sodium:
473
mg
|
Fiber:
3
g
|
Sugar:
6
g
Nutrition information is automatically calculated, so should only be used as an approximation.