Gut-friendly baked jicama fries with turmeric and black pepper. Serve with fresh guacamole for a delicious summer side! Vegan, paleo, low-carb and keto.
As temperatures rise in Richmond and we get into the heart of summer, I've found myself not only craving more H2O (read my last post on infused waters to spice up your life!), but also naturally snacking on more water dense foods: cucumbers, strawberries, spinach, radish and bell peppers to name a few.
I associate these refreshing fruits and vegetables with the height of summer's bounty displayed vibrantly at local farmers markets, and childhood memories of ripe watermelon juice dripping down my face on sticky humid days.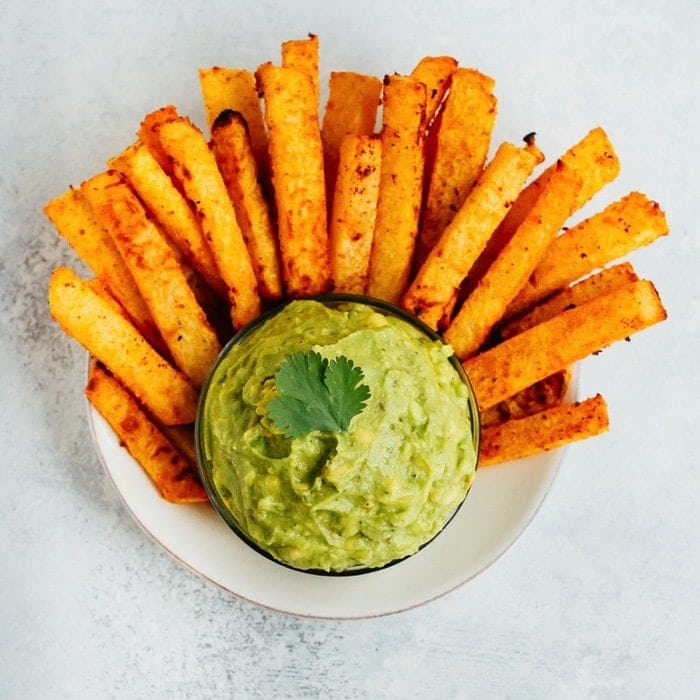 However, this year I have found a new favorite, and I'm mildly obsessed with it's unique flavor profile. It's nutty and sweet, crunchy and juicy, and pairs well with both savory and sweet ingredients.
Not only is it a party in your mouth, but it's also a gift to your gut due to its high nutrient content, water density, and prebiotic nature. Differing from probiotics (beneficial bacteria and yeast that live in your digestive tract), prebiotics contain non-digestible fiber that serve as food for probiotics. This superfood is straight golden gut glory.
Have you guessed it yet? It's Jicama!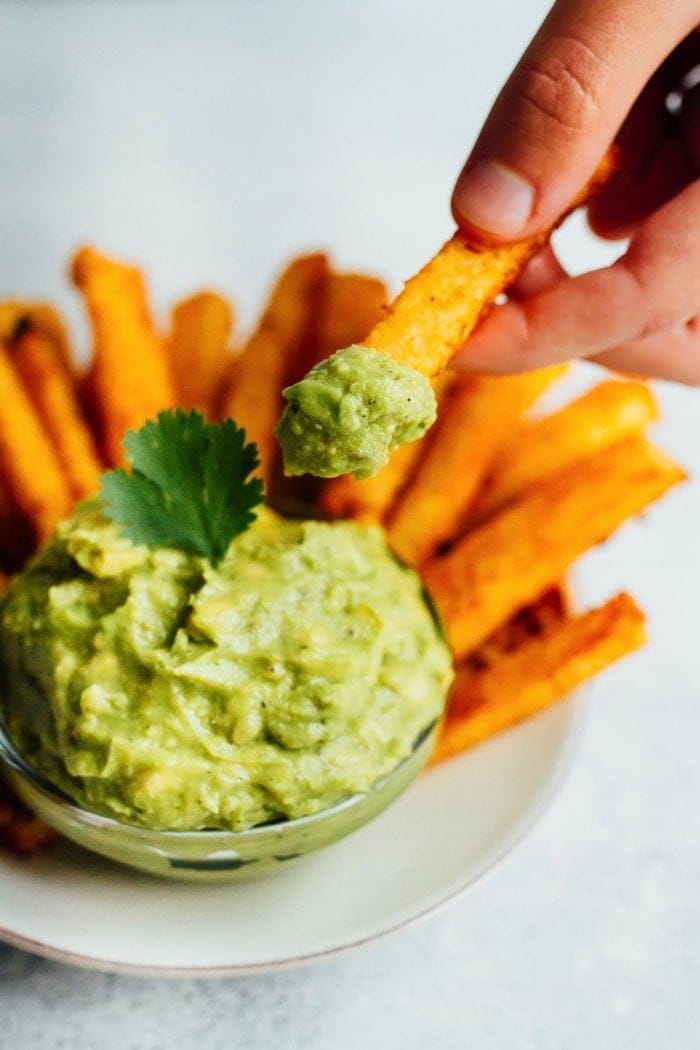 What is Jicama?
Jicama is a root vegetable, which shares the same color and shape as a turnip, but is about 2-3 times the size. It has a weathered brown skin (to be peeled before eating) that covers a white flesh, with a texture similar to that of a water chestnut or crisp pear. Some people describe the taste of jicama similar to that of an apple, but more neutral and certainly less sugary.
How to Eat Jicama
I love it raw (favorite snack recipe coming soon!) and have been reaching for it instead of carrot sticks as an afternoon snack with hummus or almond butter. Helpful trick: peel + cut your jicama into sticks ahead of time, and store with prepped carrots, bell peppers, celery, and cucumber for easy snacking throughout the week. Another option is to buy the pre-chopped jicama sticks at Trader Joe's. A little more expensive, but so convenient.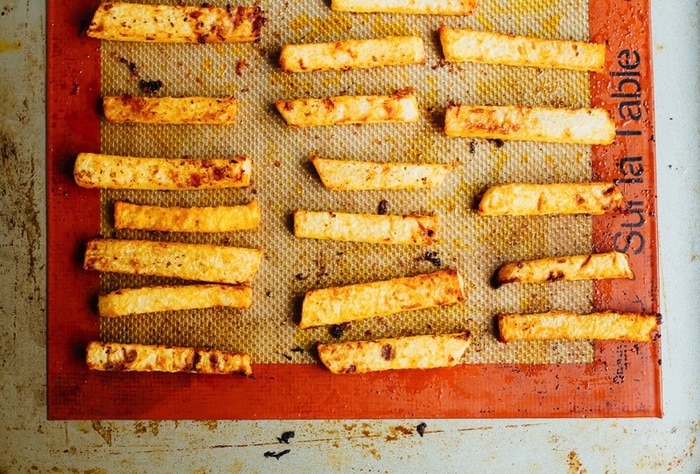 Health Benefits of Jicama
Jicama is low fat, low calorie (50 calories/cup), and high in soluble fiber (6 grams/cup), which will help you feel full for longer periods of time. The specific fiber it contains, oligofructose inulin, is prebiotic and low on the glycemic index making it ideal for diabetics and those looking to lose weight. Inulins prebiotic nature promotes "good" bacteria (probiotics) growth in the intestines, as well as promotes bone health by enhancing absorption of calcium from other foods.  It has an insanely high water content, about 90 percent, and provides you with a dose of calcium, magnesium, potassium, vitamins A, C, and beta carotene, which makes it an incredible post workout recovery fuel as well!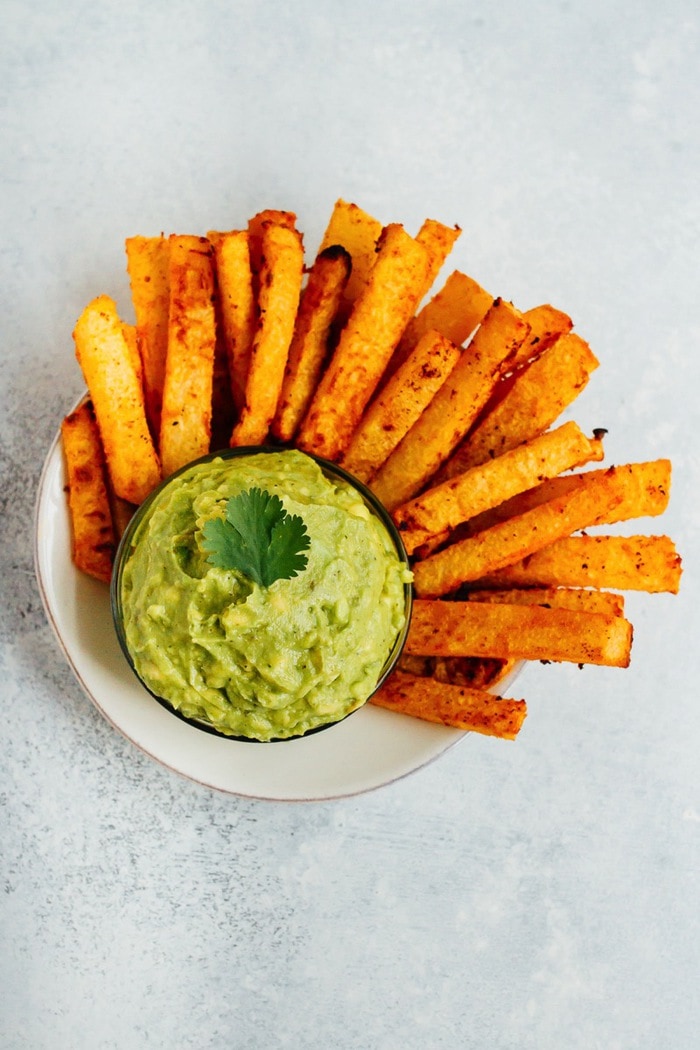 *Note – since jicama is a high fiber food you may experience some digestive discomfort like bloating and gas when you first incorporate it into your diet, so I suggest you start small. If you tend to eat a lot of fiber already like me, you will be fine, but don't dive in too heavy or consider yourself warned!
Now that I've completed nerding out on the health benefits of jicama, I should have your mouth drooling from the pictures I teased you with along the way. These are my golden gut baked jicama fries, which offer a lighter alternative from heavier root vegetables like sweet potato and parsnips in the summer. Sprinkled with an array of spices, including my favorite anti-inflammatory herb turmeric, these fries are tasty on their own, on a salad or dipped in my healthy guacamole.
Just a friendly reminder, turmeric's golden color has a tendency to stain all that it touches so be careful while making the fries. If staining does occur, this article has some great tips for removing turmeric stains from your dishes, counters and fingers.
If you try this recipe for baked jicama fries be sure to leave a comment and star rating below. Your feedback is super helpful for the EBF team and other EBF readers. 
Print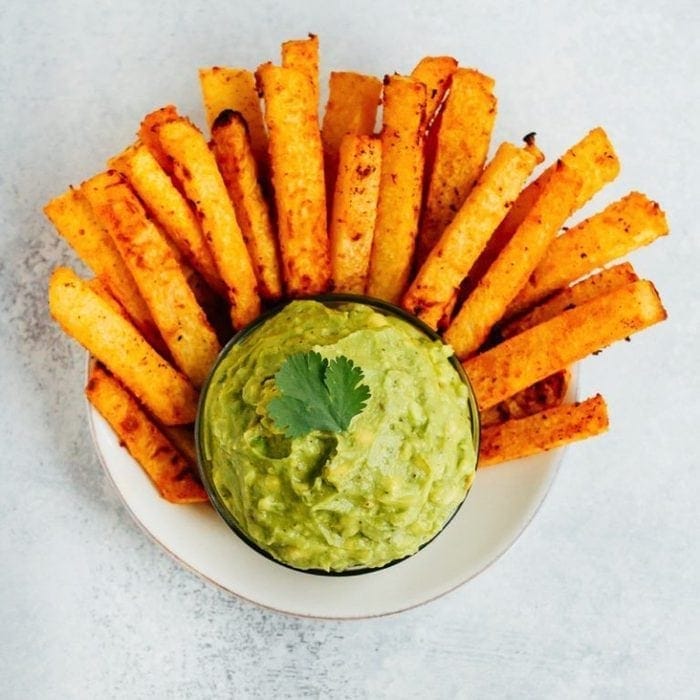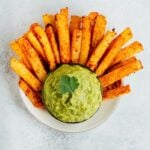 Baked Jicama Fries
Author:

Brittany Mullins
Prep Time:

10 minutes

Cook Time:

60 minutes

Total Time:

1 hour 10 minutes

Yield:

4

1

x
Category:

Lunch/Dinner

Method:

Bake

Cuisine:

American
---
Description
Low-carb, gut-friendly baked jicama fries with turmeric and black pepper. Serve with guacamole for a delicious summer side. Paleo, vegan and keto-friendly.
---
Scale
Ingredients
1

medium jicama, peeled and cut into thin slices about 1/4 inch thick (about

4

–

5

cups)

1 Tablespoon

avocado oil

1/2 teaspoon

turmeric

1/2 teaspoon

garlic powder

1/2 teaspoon

onion powder

1/2 teaspoon

sea salt

1/4 teaspoon

black pepper
homemade guacamole, for serving (store-bought works too)
---
Instructions
Preheat oven to 400°F.
Place jicama slices into a large bowl, add oil, turmeric, garlic powder, onion powder, salt and pepper and toss to coat evenly.
Spread the fries onto a baking stone or a baking sheet lined with a silpat mat or parchment paper making sure the fries aren't crowded. They need space or else they will start to steam and get soft rather than crispy.
Bake for 30 minutes, take them out of the oven and flip, then bake for another 20-30 minutes or until fries are a little brown and have reached the desired texture.
Remove from oven and serve with guacamole for dipping.
---
---
Notes
These jicama fries might be a tad on the crunchy side given jicama's natural texture. If you want them with less crunch you can boil the jicama slices for 8-10 minutes, drain the water and pat the fries dry before coating them with the spices and baking. I like the texture and don't feel this step is necessary.
Recipe adapted from Healthier Steps.
---
Nutrition
Serving Size:

1 cup

Calories:

97

Sugar:

3g

Sodium:

246mg

Fat:

4g

Saturated Fat:

0g

Trans Fat:

0g

Carbohydrates:

15g

Fiber:

8g

Protein:

1g

Cholesterol:

0