These caramelized roasted root vegetables with sweet potatoes, carrots and parsnips are such easy and healthy side dish. Great for the holidays or everyday meals.
Thanksgiving week is here! I'm already in holiday mode and getting super excited for the Healthy Holiday Challenge, which starts next Monday. Over 50 people have already signed up and I can't wait to kick things off next week.
In the meantime, I've had Thanksgiving on my mind, planning what dish(es) to make for our Thanksgiving meal with Isaac's fam this year.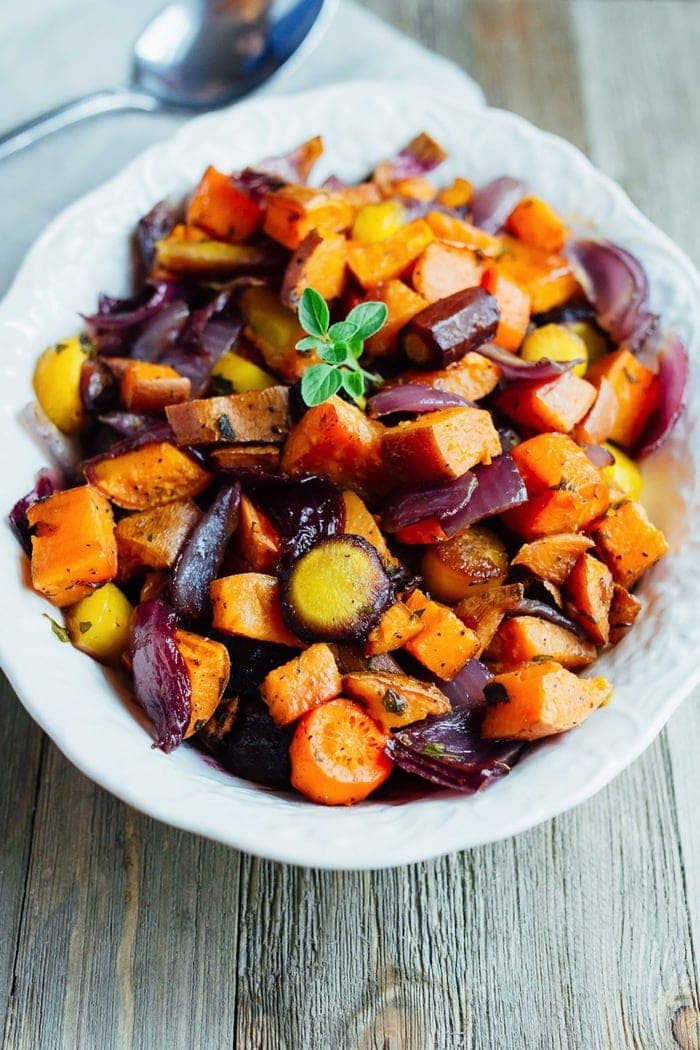 This sweet potato casserole is my usual go-to, but I've already made it twice this month for Friendsgivings so I'm leaning toward something different. Maybe my shredded kale and brussels sprouts salad (a total crowd pleaser) or perhaps a big batch of roasted root vegetables. I should probably just make both.. that seems like the best idea.
And no matter what I know I'm making these creamy pumpkin pie bars for dessert. That's already been decided.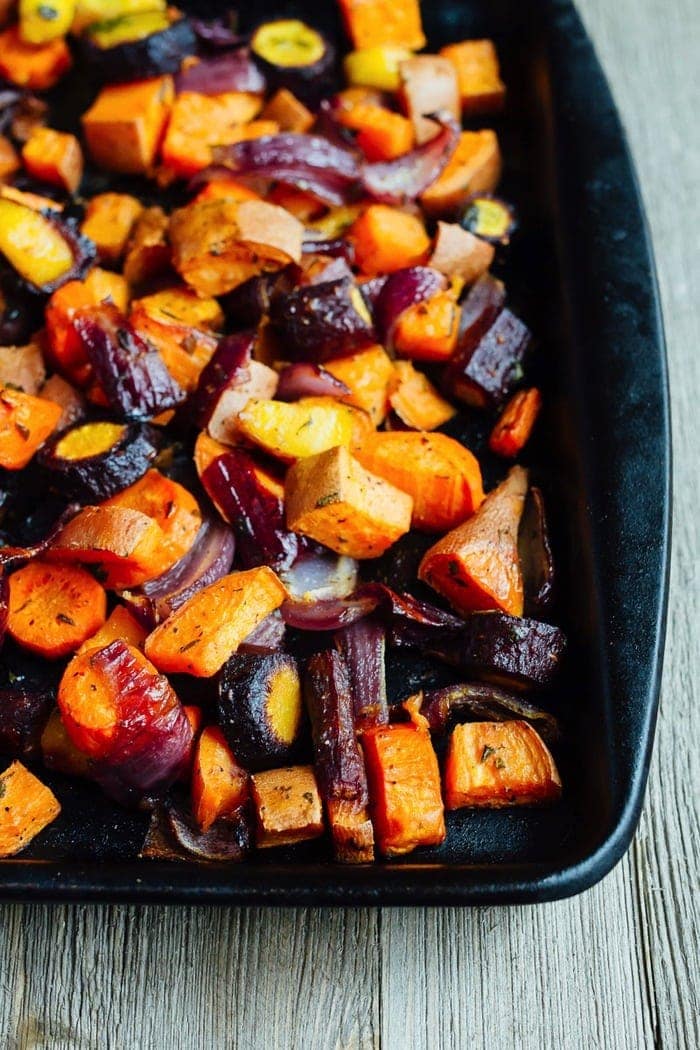 This roasted root vegetable recipe is one that I've been using for years, but the photos aren't so great so I remade the recipe a few weeks ago so I could repost it in time for Thanksgiving.
As I mentioned when sharing this root vegetable tagine a couple weeks ago, root vegetables are a great source of complex carbs. They're packed full of antioxidants, fiber, essential vitamins and minerals. And according to ayurveda, root vegetables have a grounding energetic property so when we eat them we feel balanced, rooted and less spacey. If you feel like you could use a little grounding during the holiday season (don't we all), load your plate up with root vegetables like onions, sweet potatoes, beets, parsnips, carrots, daikon, turnips, rutabaga, radish and yuca.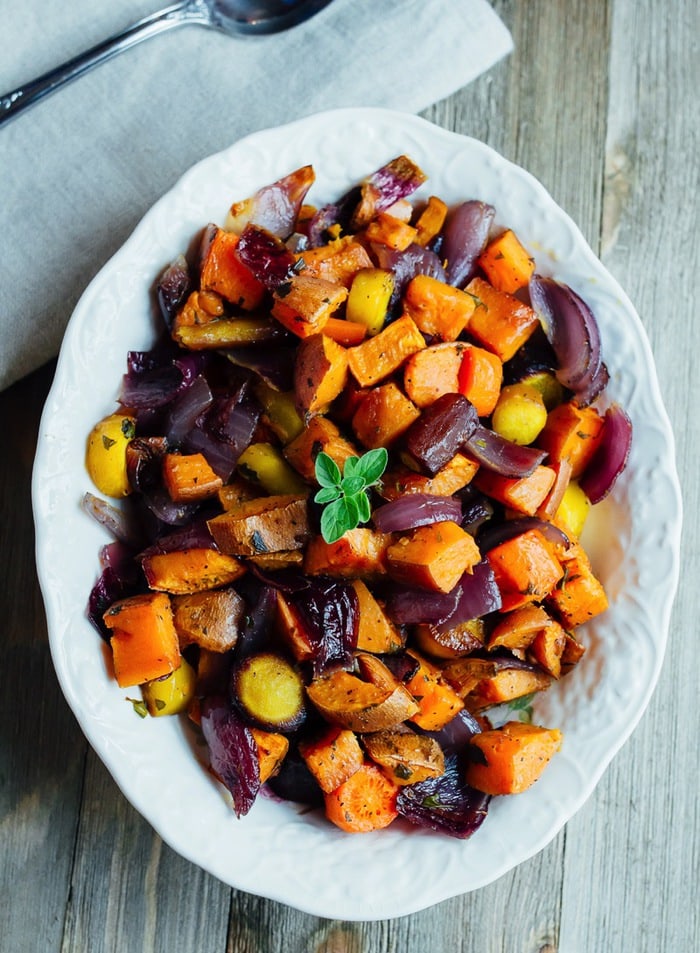 Roasted root vegetables can also cure a craving for sweets. The roasting process caramelizes the natural sugar of the root vegetables so after roasting they taste amazingly sweet and delicious.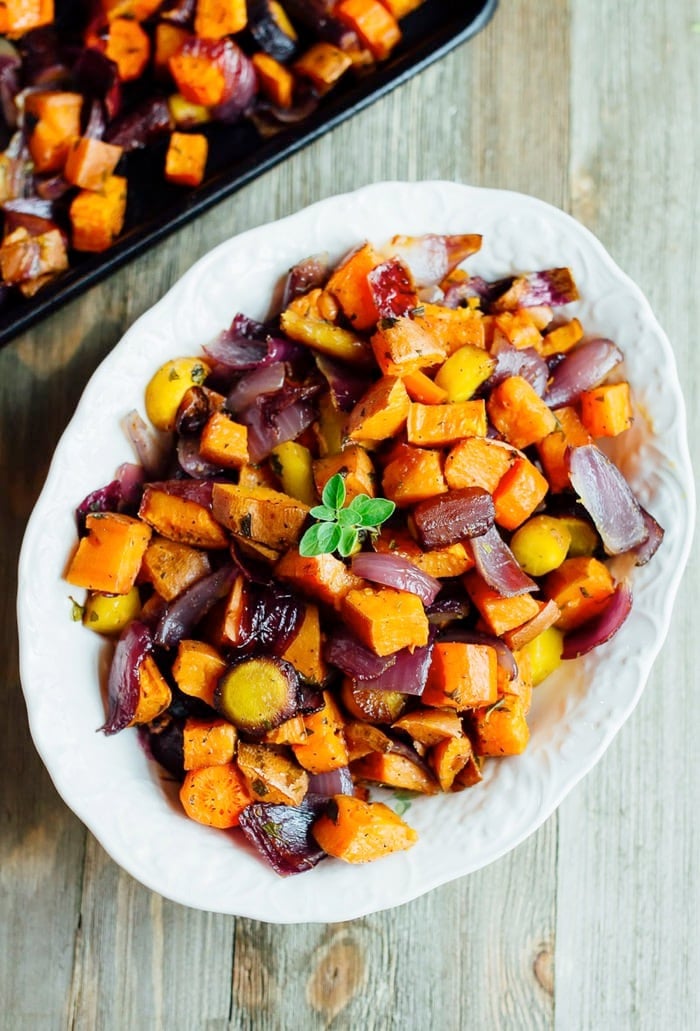 I love making big batches of roasting root vegetables for special occasions or as part of my weekly meal prep. This particular recipe is seasoned very simply with a little oil to coat the veggies, sea salt, pepper and fresh oregano. For the veggies, I'm all about using sweet potatoes, carrots, parsnips and red onion to create a beautiful array of colors, but feel free to experiment with your favorite root vegetables.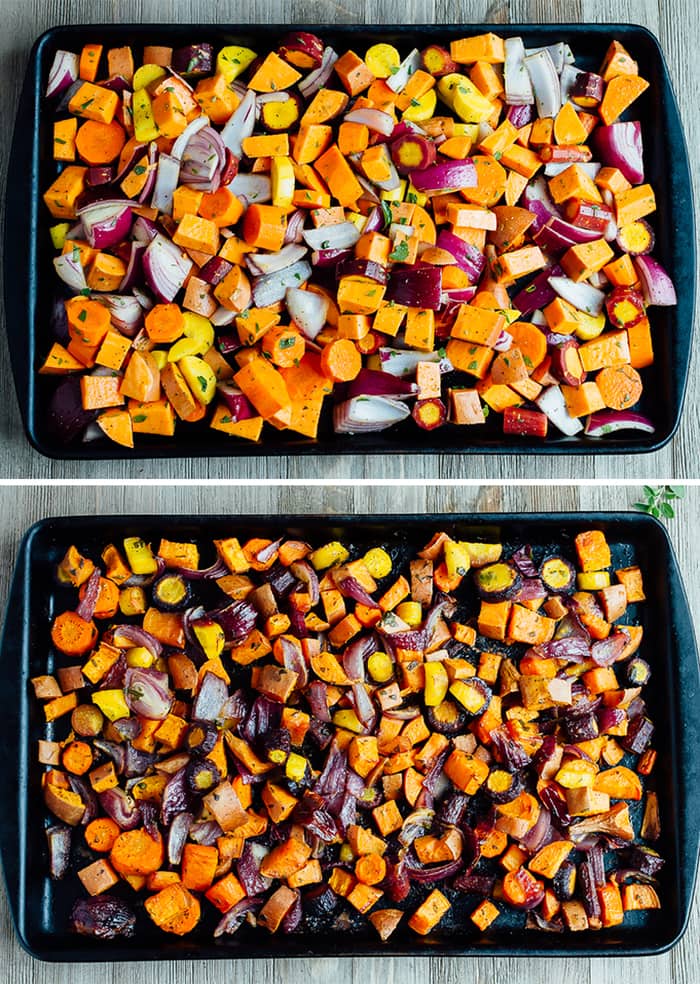 Print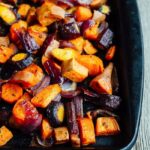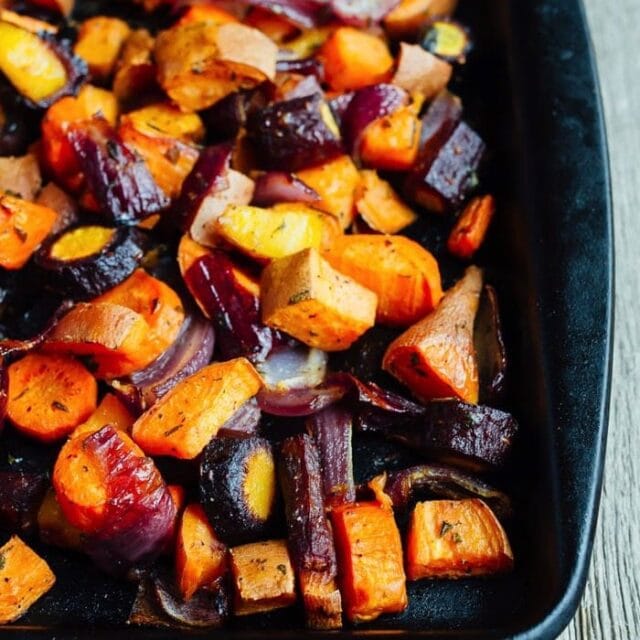 Roasted Root Vegetables
Author:

Cook Time:

50 mins

Total Time:

50 mins

Yield:

8 cups
---
Ingredients
2 Tablespoons avocado or melted coconut oil
2 Tablespoons fresh oregano, chopped
2 medium sweet potatoes, chopped into chunks
1 pound carrots or parsnips, peeled, cut into 3/4 inch thick rounds (about 4 cups)
1 medium red onion, peeled, and cut into 1/2 inch thick wedges
1 teaspoon sea salt
1/2 teaspoon ground pepper
---
Instructions
Preheat oven to 425ºF.
Stir the oil and oregano in a large bowl. Add sweet potatoes, carrots (or parsnips) and onion. Toss to coat veggies. Sprinkle vegetables generously with sea salt and pepper and spread on a baking sheet. Make sure the veggies are in one layer so they roast instead of steam. Roast veggies until tender, about 50 minutes. Remove from the oven half-way through cooking to toss veggies.
This dish can be made up to 4 hours ahead. Let it stand at room temperature. If desired, rewarm in 350ºF oven for about 15 minutes, or serve at room temperature.
---
Nutrition
Serving Size:

2 cups

Calories:

184

Sugar:

9g

Fat:

8g

Carbohydrates:

28g

Fiber:

6g

Protein:

2g

Are you doing any cooking for Thanksgiving? If so, what are you making?