These coconut oil roasted sweet potatoes with cinnamon, sea salt and cayenne are crispy on the outside while soft and pillowy on the inside. They make for a quick and easy side that you can pair with just about any main dish. 
This coconut oil roasted sweet potato recipe is quickly becoming one of my go-tos. I've been making a batch every week (sometimes twice a week) while doing my food prep. I'll have a big pot of quinoa cooking, eggs boiling, these little gems roasting all while chopping veggies for the week. Doing a bit prep work like this makes tossing together meals throughout the week a breeze and is a total game changer when it comes to healthy eating.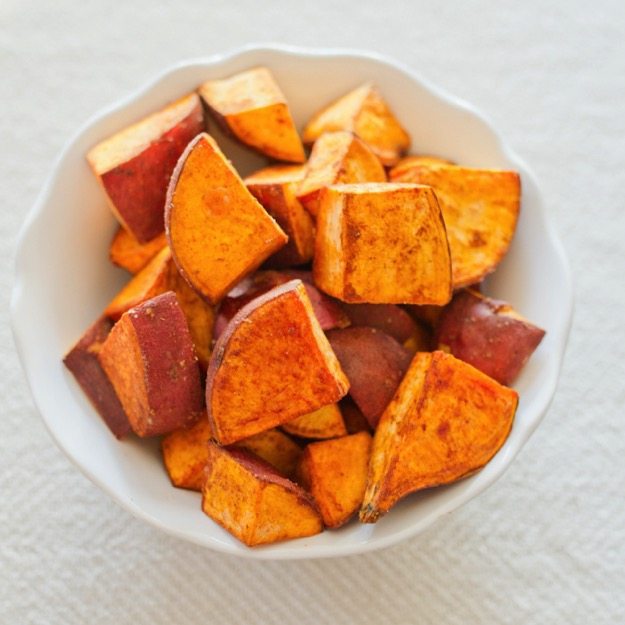 Another game changer — these sweet potatoes!!
When sweet potatoes are roasted this way they turn out crispy on the outside while soft and pillowy on the inside. If it weren't for the skin, they'd simply melt in your mouth.
I eat the taters throughout the week. I'll have a few with eggs for breakfast, use a couple as a salad topper for lunch and occasionally eat a few as a snack. Sometimes I'll reheat them in the toaster oven, but I also like them cold, straight from the fridge. <– Is that weird?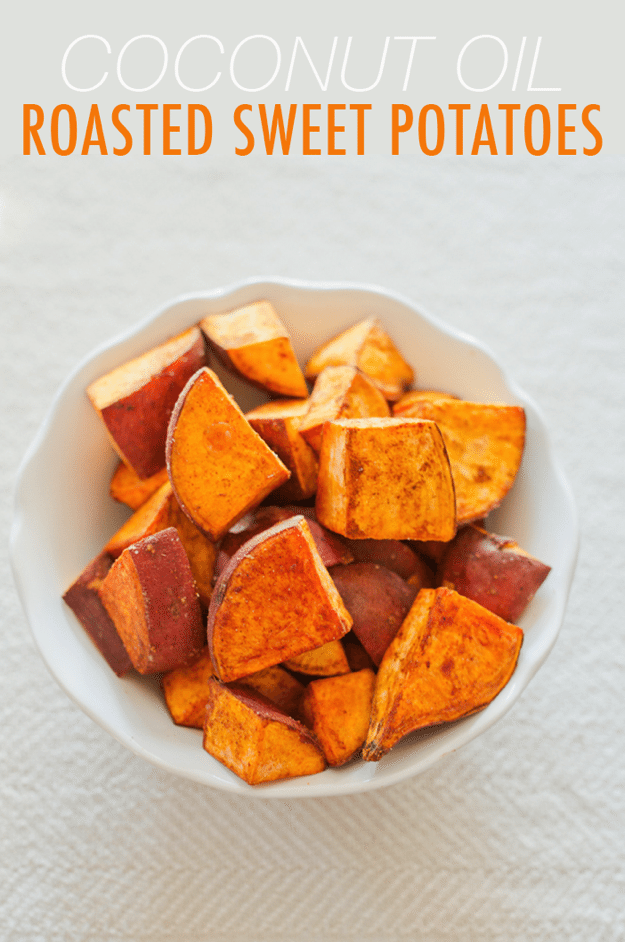 There's honestly nothing crazy special about the recipe, but I wanted to share it for a few reasons 1.) Roasted sweet potatoes rock! 2.) This recipe is a weekly staple. 3.) I'm going to be featuring one of my favorite breakfast recipes in the next few days and these sweet potatoes are part of it. Get excited. 🙂
Y'all know I love my coconut oil and use it whenever I'm roasting veggies. This recipe is no different. The coconut oil adds a hint of nuttiness and a little sweetness, which works beautifully with sweet potatoes. I like adding cinnamon, salt and cayenne pepper for a sweet, savory, spicy flavor profile. Sometimes I'll skip the cinnamon and cayenne pepper and just use sea salt. I highly recommend playing around with the seasonings to find the perfect combo for you.
Coconut Oil Roasted Sweet Potatoes
⅓ of recipe
adjust servings
Ingredients
2

medium sweet potatoes

1

Tablespoon coconut oil, in a liquid state

1

teaspoon cinnamon

1/2

teaspoon sea salt

sprinkle of cayenne pepper (optional)
Instructions
Preheat oven to 375°. Chop sweet potatoes into medium-sized chunks. Not too small, but not too big either. Try to make them around the same size so that they are all done cooking at the same time.
Place sweet potatoes, coconut oil, cinnamon, salt and cayenne pepper in a large bowl and toss to combine. Pour onto a baking sheet lined with parchment paper and cook for 30-45 minutes, tossing once half-way through. Remove from oven and enjoy.
One last thing — lately I've been thinking about how many photos I post and if three to five photos of one recipe is necessary. For this post I decided to keep it simple and roll with one photo of the finished product. What do you all think? Do you think one photo is enough? Would you rather see more? What about text on the photos — do love it, hate it or do you not care either way?