Roasted Honeynut Squash
0
Published Oct 30, 2023, Updated Nov 14, 2023
This roasted honeynut squash is so easy to make perfectly caramelized. Serve it with a drizzle of maple syrup for the ultimate sweet and savory side dish.
It's winter squash season and I'm here to introduce you to my new favorite variety… honeynut squash! Smaller, sweeter and more flavorful than its cousin butternut squash, the honeynut squash has taken center stage in my kitchen this season.
Its natural sweetness, super creamy texture and the fact that you don't need to peel it makes it the ultimate simple side dish. And this roasted honeynut squash recipe is my favorite way to serve it… with a sprinkle of cinnamon and drizzle of maple syrup, which really elevates its natural sweetness.
You're definitely going to want to be on the lookout for honeynut squash at your local grocery store or farmers market next time you go because it's the squash to make this season!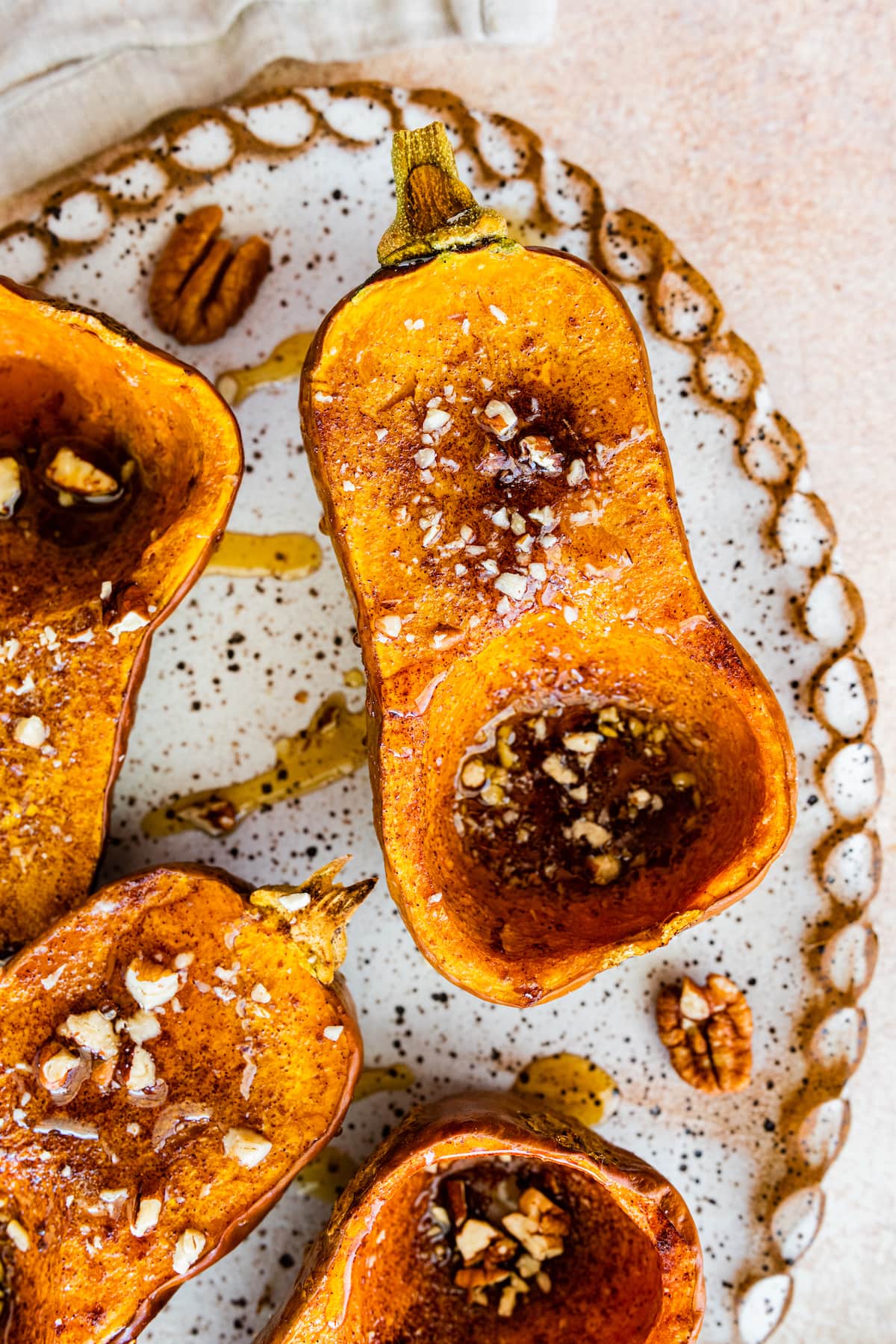 Why You'll Love This Recipe
Easy to make: No peeling or chopping necessary! Just cut your squash in half, coat with oil and spices and roast! How easy is that?
Delicious: The squash is so tender and caramelized – it basically melts in your mouth – and it has the perfect balance of sweet and savory.
Healthy: It's not just tasty, but packed with nutrients. Honeynut squash is rich in vitamin A, vitamin C and potassium. It's also low in calories and packed with fiber!
Customizable: This is a great base recipe. Feel free to customize it with different spices or toppings.
Easy side dish: This squash recipe makes for a great side dish for just about any meal from simple weeknight dinners to holiday feasts.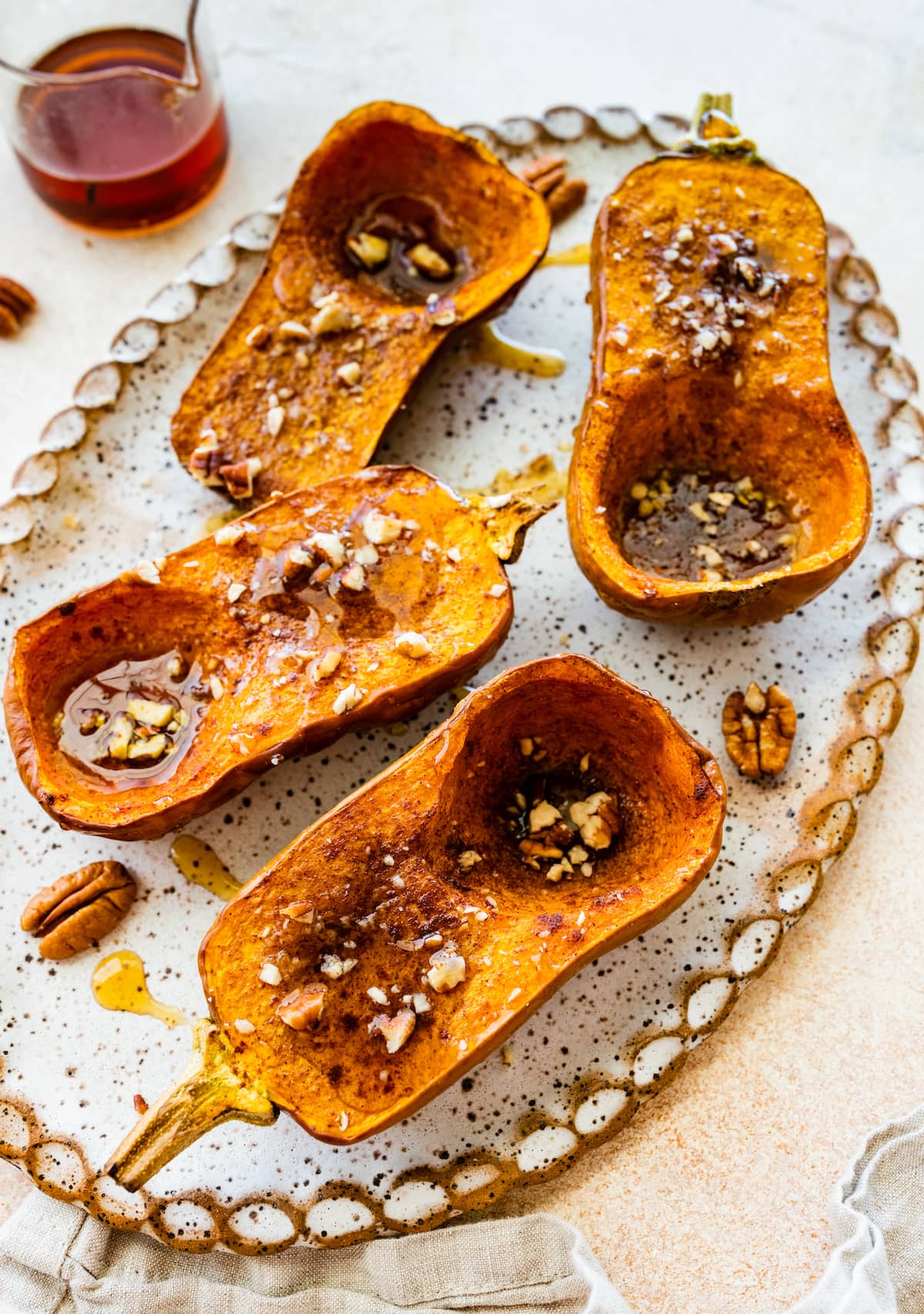 What is Honeynut Squash?
Honeynut squash is becoming one of my favorite types of squash! It is a relatively new and increasingly popular variety of winter squash that's essentially a smaller, sweeter version of butternut squash, usually just 4 to 6 inches tall.
It typically has honey-colored skin (hence the name) with a bright orange flesh that becomes smooth and creamy when cooked. It's flesh is known for its incredibly sweet and nutty flavor that becomes even sweeter when roasted. The skin is edible and thin enough that you can eat it after cooking, so no need to peel!
Like most winter squashes, honeynut squash is a versatile vegetable that is delicious on its own or mixed in a soup, stew or casserole. It's also a good source of fiber and vitamins and minerals, including vitamin A, vitamin C and potassium.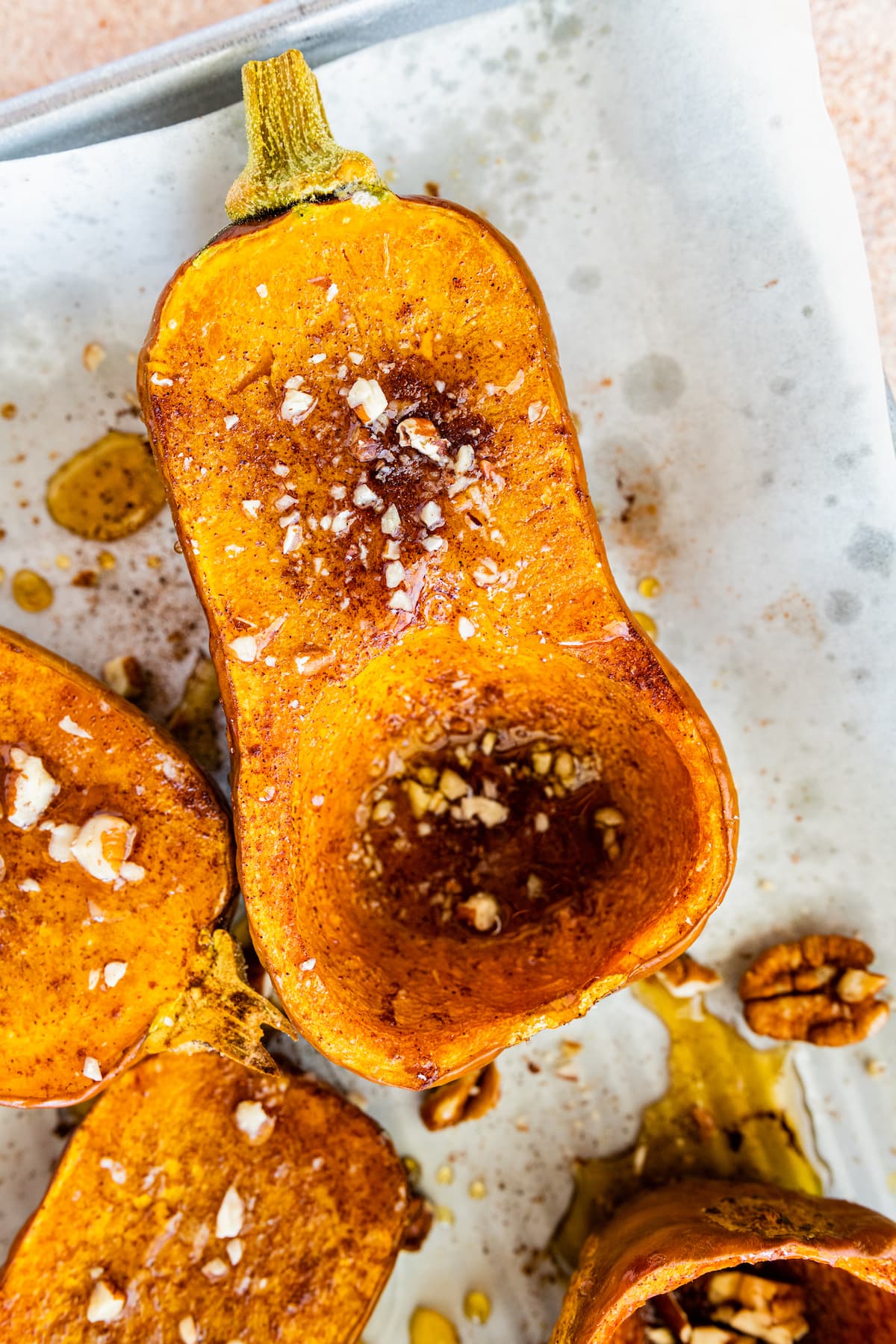 Can You Eat the Skin?
You can peel the squash if you prefer but it's not necessary. The skin is quite edible and gets softer during the baking process. This makes preparation easier and also adds an extra element of nutrition and texture to your dish. Just give the outside a good wash, cut it in half, and you're ready to go!
Where to Find Honeynut Squash
Honeynut squash is a winter squash, so it's typically available in the fall and winter months (usually from late September-December) at grocery stores and farmers markets. I've found it recently at Sprouts, Whole Foods and Trader Joe's. Since it's a newer variety of winter squash it might not be as readily available as other squash varieties, but the hunt is worth it for this sweet, nutty treat.
When selecting, look for squash with an even, deep tan color and a firm, heavy feel in hand. Avoid any with soft spots or extreme blemishes.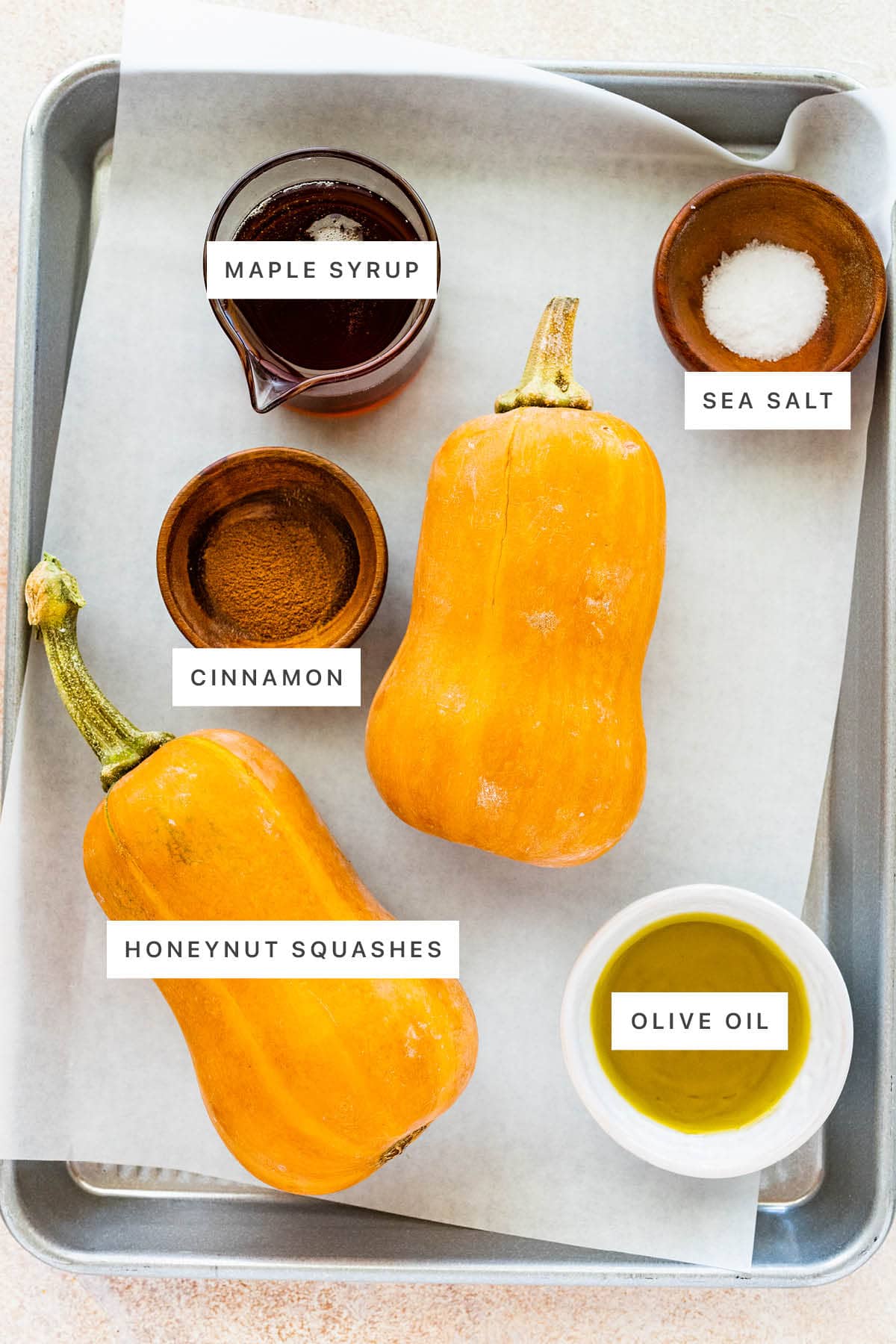 Ingredients Needed
honeynut squash – the star of the recipe that's a smaller, sweeter version of butternut squash.
olive oil – this is the secret to a perfect roast! It gives your squash that desirable texture and helps the seasoning stick for an even, flavorful coat. No olive oil? No problem. Coconut oil or avocado oil are good substitutes! You could also swap the oil with butter for a richer flavor.
sea salt – enhances the natural sweetness of the honeynut squash.
cinnamon – a sprinkle to add warmth and a bit of spice to each bite.
maple syrup – for a touch of natural sweetness after baking. Pure maple syrup offers the best taste, but you could use honey as a substitute.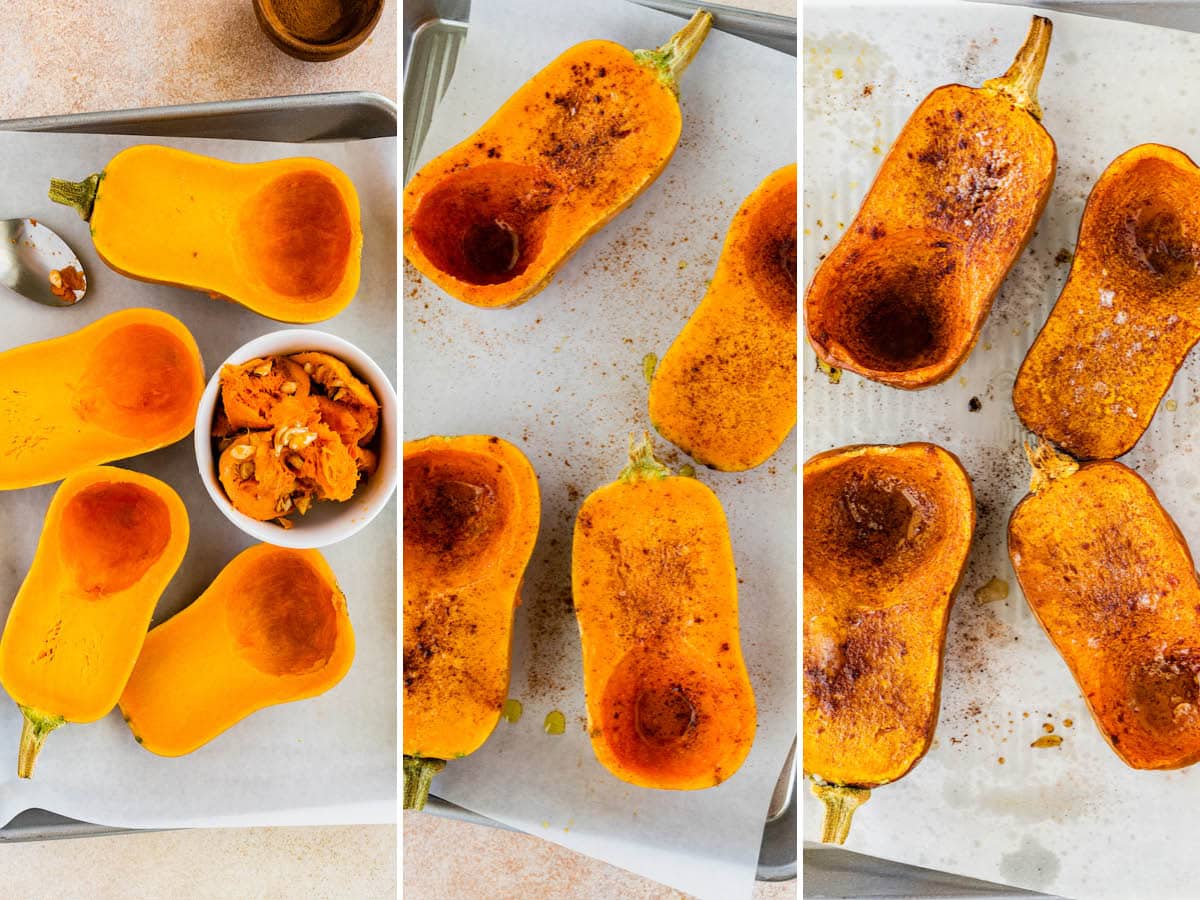 How to Make Roasted Honeynut Squash
Prep squash: Start by preheating your oven to 400°F and lining your baking pan with some parchment paper for easy clean up. Take your honeynut squash, slice them in half from top to bottom using a large sharp knife. Then, use a spoon to scoop out the seeds.
Season: Lay your squash halves on the baking sheet, cut-side up. Drizzle your olive oil evenly over each, then do the same with the cinnamon and a bit of sea salt.
Bake: Pop your seasoned squash into the oven for about 25-30 minutes. You'll know they're ready when the flesh is showing off a light caramelization, and they're tender enough to pierce with a fork.
Serve: Once out of the oven and cool enough to handle, drizzle a little maple syrup over the squash and serve!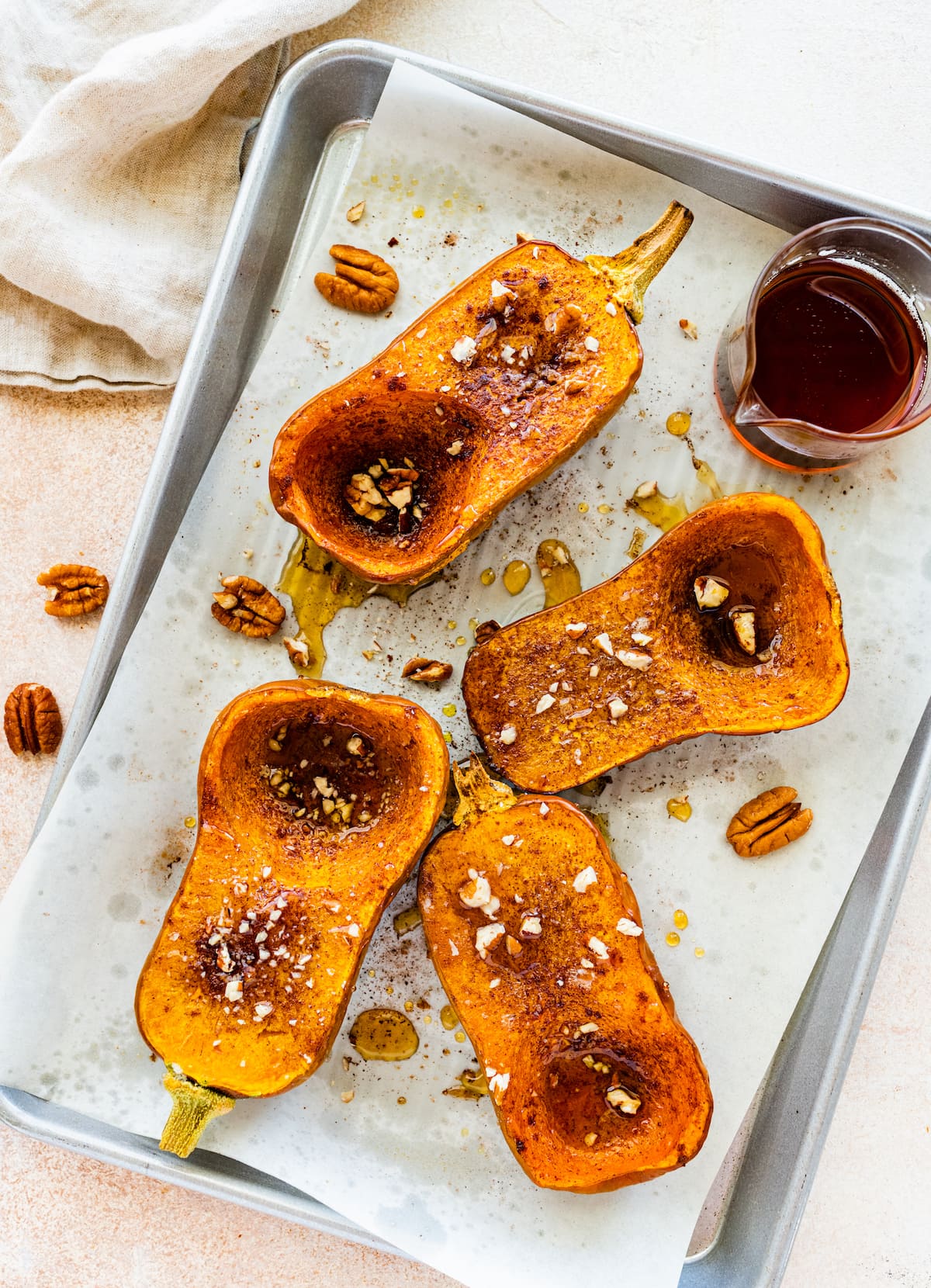 Roasted Honeynut Squash Variations
Plain: If you don't want the added cinnamon and maple flavor you can just roast your squash with some oil and salt. It'll still be delicious!
Spice it up: Feel like a kick? Add some spices, like black pepper, red pepper flakes or ginger to the mix for a bit of spice.
Garlic herb: Swap out the cinnamon and maple for fresh herbs (like rosemary or thyme) and some fresh garlic for a more savory profile.
Add nuts A sprinkle of chopped pecans or walnuts adds a delightful crunch and flavor contrast.
Cheese: A little crumbled feta or goat cheese over the top before serving adds a creamy, tangy dimension that pairs beautifully with the squash's sweetness.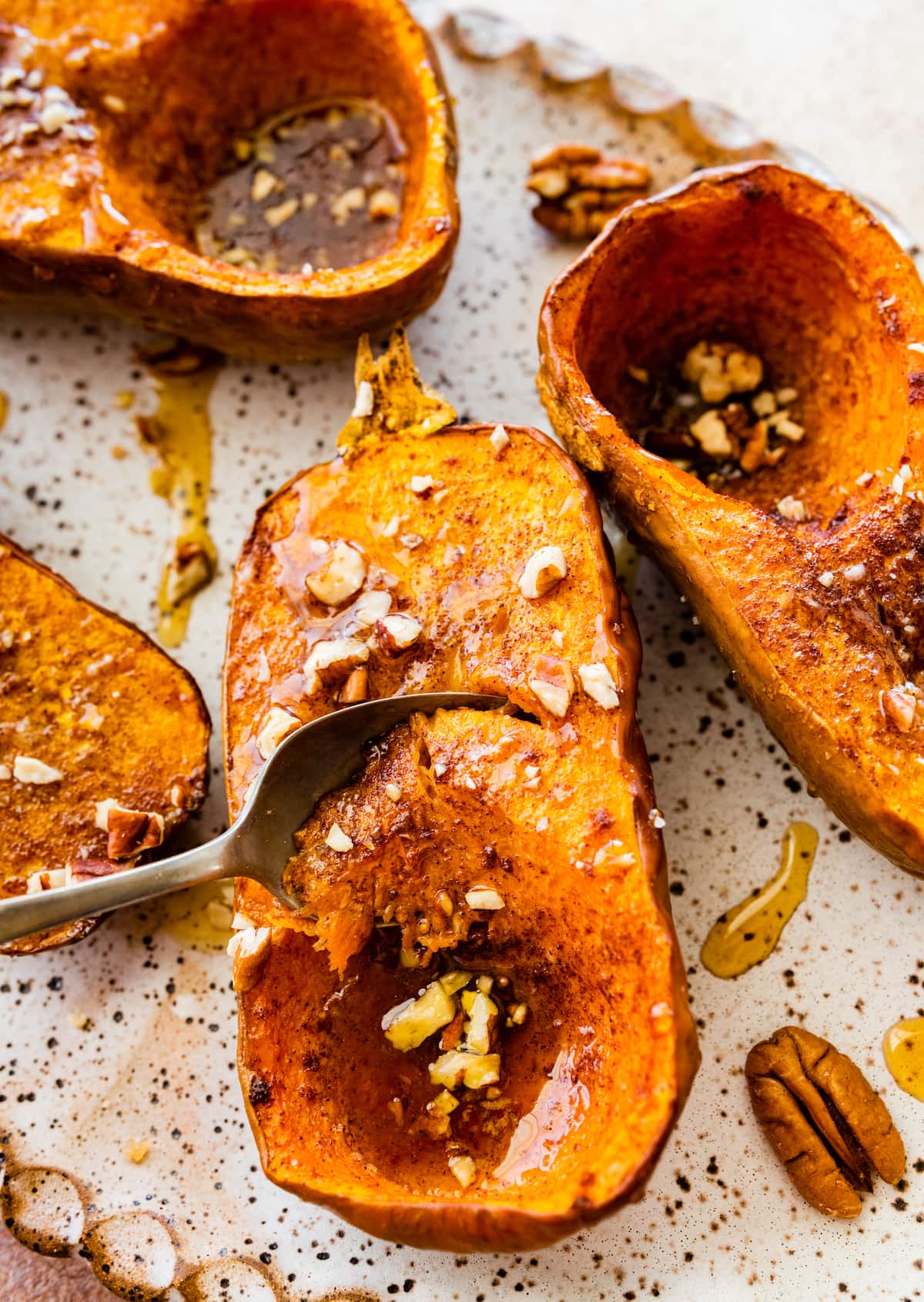 Serving Suggestions
There are so many ways to enjoy this roasted honeynut squash! Here are some ideas:
Storing Leftovers
You can store any leftovers in an airtight container in the refrigerator for up to 3 days. When you're ready to enjoy the squash again, take the halves out of the fridge and reheat the squash in the oven or microwave until warm.
Roasted Veggies to Try:
More Squash Recipes to Try:
Be sure to check out all of the side dishes on EBF!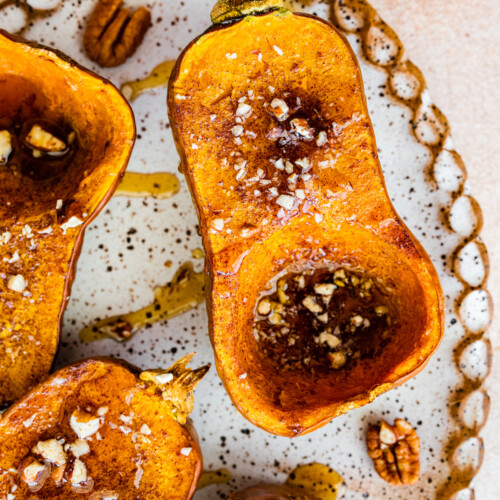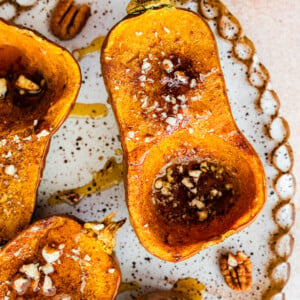 Roasted Honeynut Squash
This roasted honeynut squash is so easy to make perfectly caramelized. Serve it with a drizzle of maple syrup for the ultimate sweet and savory side dish.
Ingredients
2

medium

honeynut squashes

2

teaspoons

olive oil

,

divided

½

teaspoon

cinnamon,

divided

½

teaspoon

sea salt,

divided

4

teaspoons

maple syrup,

for serving
Instructions
Preheat oven to 400°F and line a baking sheet with parchment paper.

Prepare the squash by cutting it in half lengthwise and scraping out the seeds.

Place honeynut squash halves on prepared baking sheet and drizzle each half with ½ teaspoon olive oil, ⅛ teaspoon cinnamon and ⅛ teaspoon salt.

Bake squash for 25-30 minutes or until fork tender. Remove from oven and drizzle each half with 1 teaspoon maple syrup. Enjoy!
Nutrition
Serving:
1
/2 squash
|
Calories:
183
kcal
|
Carbohydrates:
41
g
|
Protein:
3
g
|
Fat:
2
g
|
Monounsaturated Fat:
2
g
|
Sodium:
305
mg
|
Potassium:
1135
mg
|
Fiber:
7
g
|
Sugar:
11
g
Nutrition information is automatically calculated, so should only be used as an approximation.