A healthier take on traditional sweet potato casserole with a crunchy pecan topping. It's absolutely delicious, vegan and gluten-free!
Mondays after a holiday are pretty much the worst. Ugh!
Thankfully the Monday after Thanksgiving doesn't seem so bad because it's Cyber Monday. Basically  you get to listen to Christmas music and shop the sales online all day on your lunch break. Gosh, I'm so excited that the holiday season is officially here! Isaac and I picked  out our Christmas tree over the weekend and I got a bunch of our Hanukkah and Christmas decorations out from hiding. I can't wait to have everything looking festive.
Speaking of the holidays, sweet potato casserole has always been my FAVORITE holiday dish. Growing up my mom made it three times a year — Thanksgiving, Christmas and Easter — and I was always so pumped to have it. Smooth sweet potatoes topped with a crunchy brown sugar topping = the best!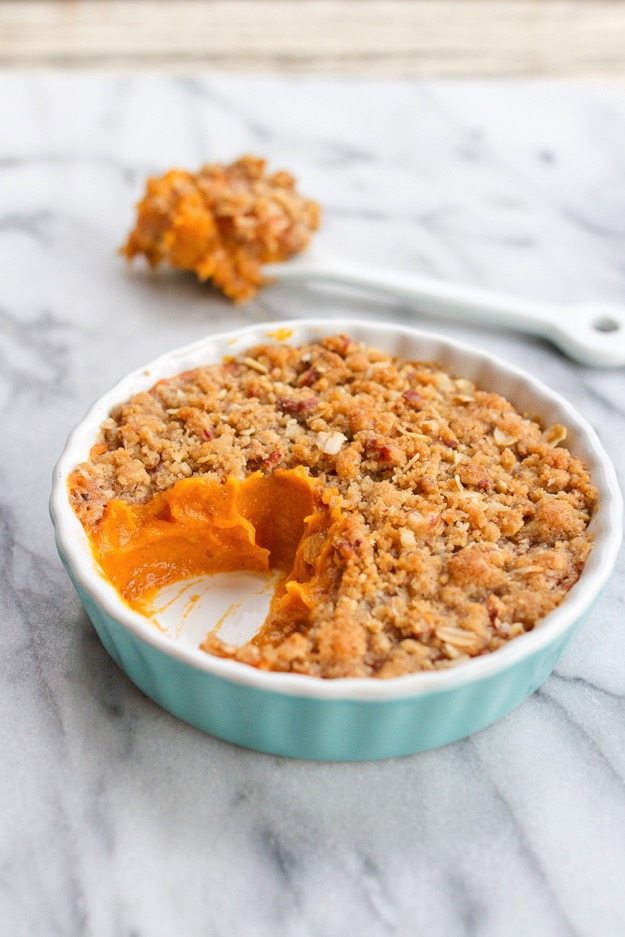 Nowadays we typically spend Thanksgiving with Isaac's family and they do the sweet potatoes with marshmallows on top. I like them, but I miss my mom's version with the crunchy brown sugar pecan topping. This year I decided to use my mom's recipe as a guide to make a healthier (yet still decadent and delicious) version to contribute to the Thanksgiving meal.
My mom's version uses canned yams, white sugar, white flour, eggs and butter. With a few small tweaks I was able to make a vegan and gluten-free version of the casserole that was absolutely perfect.
I used fresh sweet potatoes, oat flour and oatmeal for the topping, coconut oil and flaxseed to replace the butter and eggs, and maple syrup instead of white sugar to sweeten the filling. The one thing I didn't change was the brown sugar for the topping. I wanted to make sure it still came out crunchy like the original version so I stuck with organic brown sugar. I think coconut sugar might work tool, but I haven't tried it yet.
I LOVED this casserole so much… maybe even a tiny bit more than mom's, but we'll keep that a secret. I wasn't the only one who loved it — it seemed like everyone at our Friendsgiving and Thanksgiving meal really liked it too. Yay!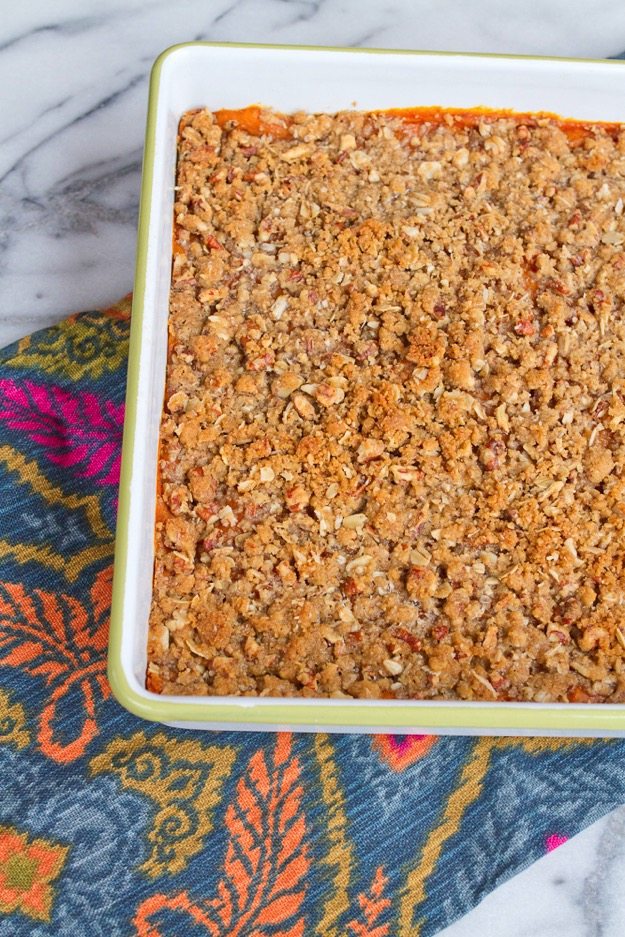 I wanted to share this recipe before Thanksgiving, but I couldn't get a blog-worthy photo of the casserole on Sunday when we did Friendsgiving so I took the photos on Thanksgiving day instead.
The full version (above) is what I took to dinner with us. The mini version (below) was made strictly for blog purposes — I wanted to get pictures without messing up the dish I was taking to Isaac's family's house. 🙂
I thought about waiting until next year to share the recipe, but then I figured that you may want to make it for another holiday meal this year. And if not, you can simply save or pin the recipe for next year. Either way, this recipe was way too good not to share today.
I hope you love it as much as we do!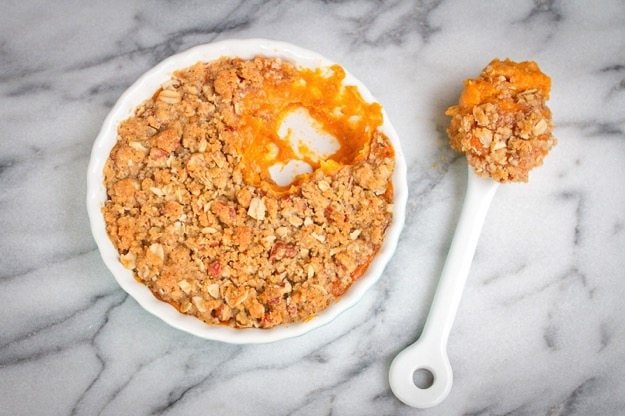 Sweet Potato Casserole (Gluten-Free and Vegan)
16
adjust servings
Ingredients
8

cups sweet potatoes (about 4 large potatoes)

1

cup light coconut milk

1/4

cup maple syrup

1/4

cup coconut oil, melted

1

Tablespoon ground flaxseed

1

teaspoon vanilla

1

teaspoon cinnamon

1/2

teaspoon sea salt

1/2

teaspoon freshly grated or ground nutmeg
Topping
1/2

cup brown sugar or coconut sugar

1/2

cup chopped pecans

1/3

cup gluten-free old-fashioned oats

1/3

cup gluten-free oat flour or almond flour

3-4

tablespoons coconut oil, in solid form
Instructions
Peel and chop the sweet potatoes into large chunks. Place the chunks in a large saucepan and cover with cold water, bring to a boil and reduce to simmer. Simmer until the sweet potatoes are fork tender, about 15-20 minutes. Once done, drain well and let cool.
Meanwhile, preheat your oven to 350° and spray a little cooking spray on a 9x13 or 9x9 inch casserole dish.
In a mixing bowl, combine the pecans, oats, oat flour, and brown sugar. Cut in coconut oil with a fork or knife until the mixture is sandy with pea-sized chunks of oil. Set aside.
Place sweet potatoes into a stand mixer with the coconut milk, maple syrup, oil, flaxseed, vanilla, cinnamon, nutmeg, and salt to the mixer. Beat until everything is combined and the chunks of sweet potato have diminished. You can also use a blender or food processor, blending the sweet potatoes in batches. Don't over process or the mixture will become more like a puree.
Pour the sweet potatoes into the prepared dish and sprinkle on the brown sugar and pecan mixture. Bake uncovered for 40-45 minutes, until the top is golden brown and the sweet potatoes are bubbling.
by Brittany Mullins