A healthier take on traditional sweet potato casserole with a crunchy pecan topping. It's absolutely delicious, vegan and gluten-free!
Sweet potato casserole has always been my FAVORITE holiday dish. Growing up my mom made it three times a year — Thanksgiving, Christmas and Easter — and I was always so pumped to have it. Creamy sweet potatoes topped with a crunchy brown sugar topping = the best!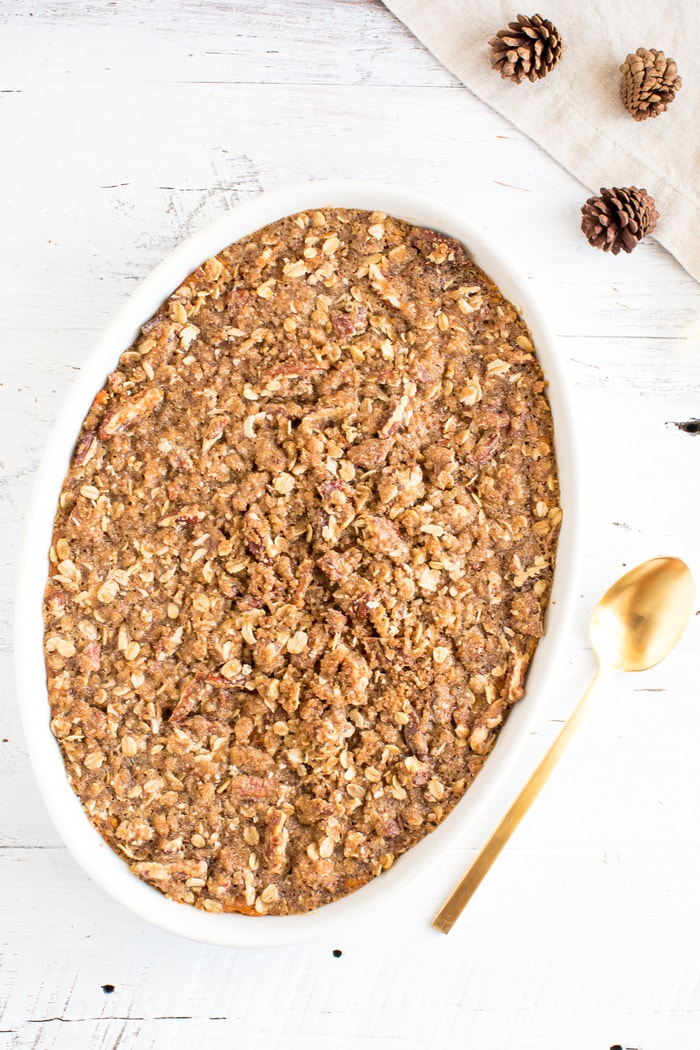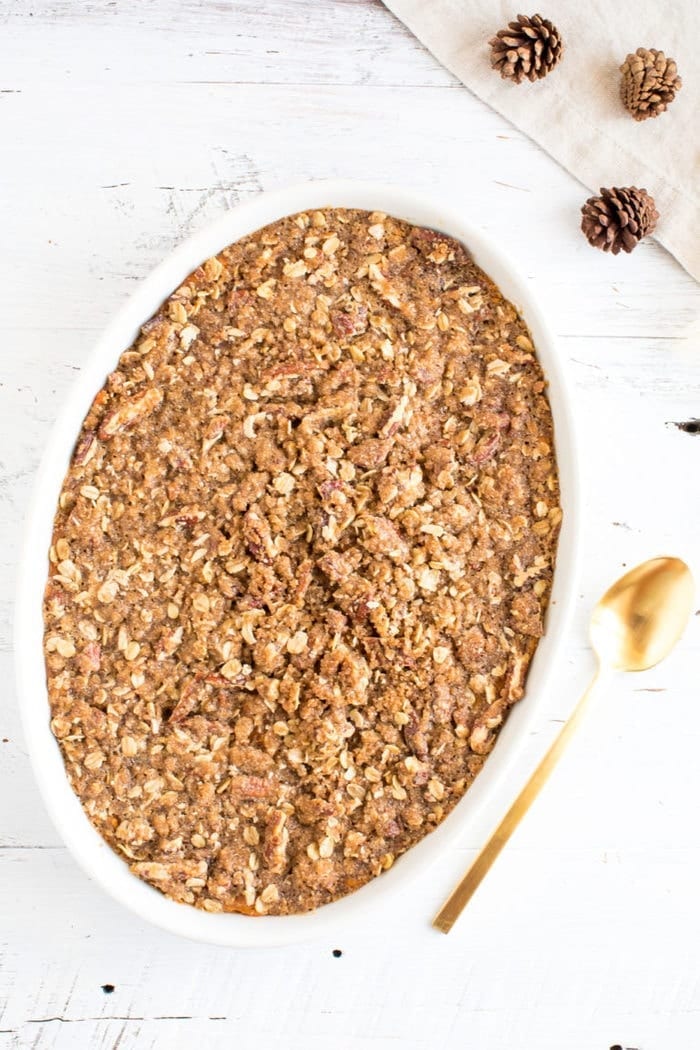 Nowadays we typically spend Thanksgiving with Isaac's family and they do the sweet potatoes with marshmallows on top. I like them, but I miss the crunchy, brown sugar pecan topping. This shouldn't be too surprising given my obsession with all things crunchy.
I finally decided to use my mom's recipe as a guide to make a healthier (yet still decadent and delicious) version, which I'm sharing today. My mom's recipe uses canned yams, white sugar, white flour, eggs and butter. With a few small tweaks I was able to make a vegan and gluten-free version of the casserole that was absolutely perfect.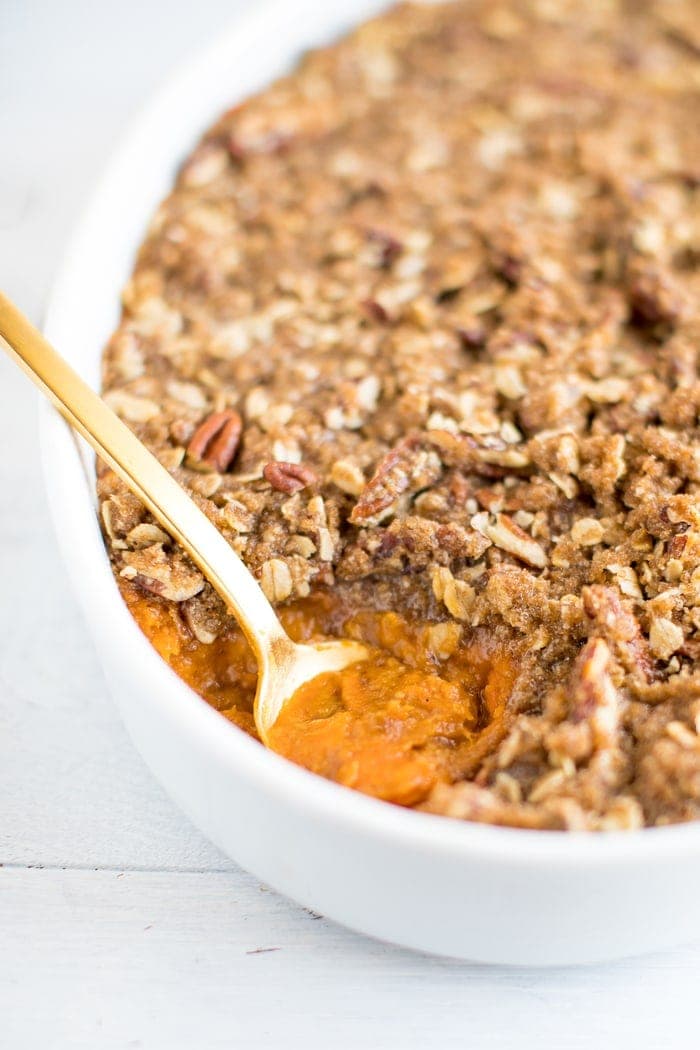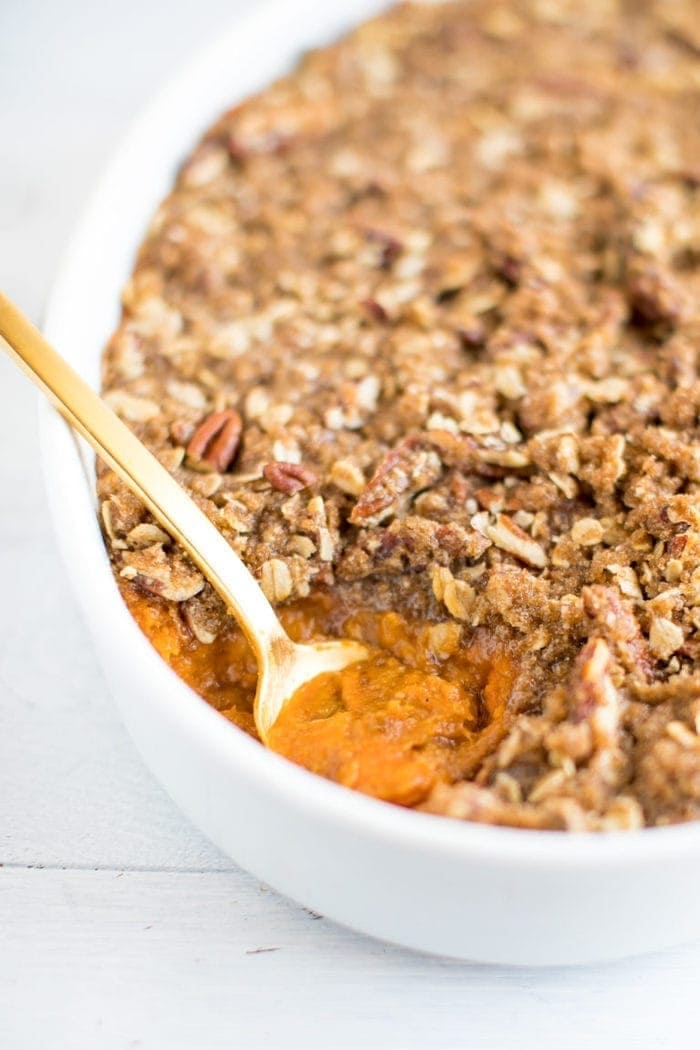 I used fresh sweet potatoes, oat flour and oatmeal for the topping, coconut oil and flaxseed to replace the butter and eggs, and maple syrup instead of white sugar to sweeten the filling. The one thing I didn't change was the brown sugar for the topping. I wanted to make sure it still came out crunchy like the original version so I stuck with organic brown sugar. Coconut sugar might works well too if you happen to have that on hand.
I LOVED this healthy version of the casserole so much… maybe even a tiny bit more than mom's, but we'll keep that a secret. I wasn't the only one who loved it — it seemed like everyone at our Friendsgiving and Thanksgiving meal really liked it as well. Woot woot!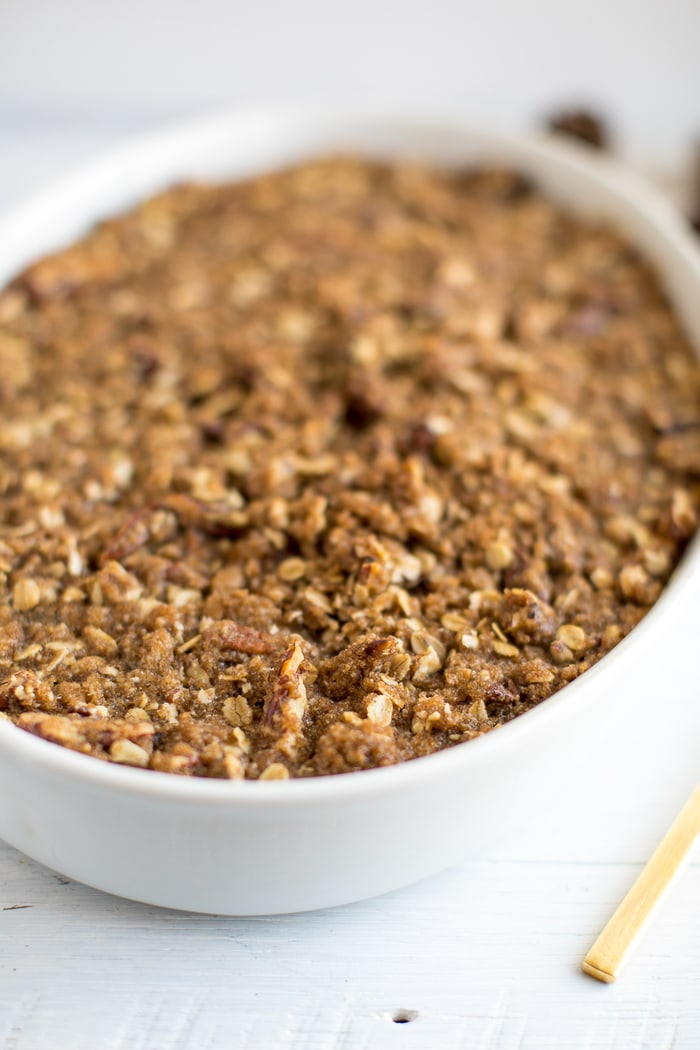 I hope you love it as much as we do.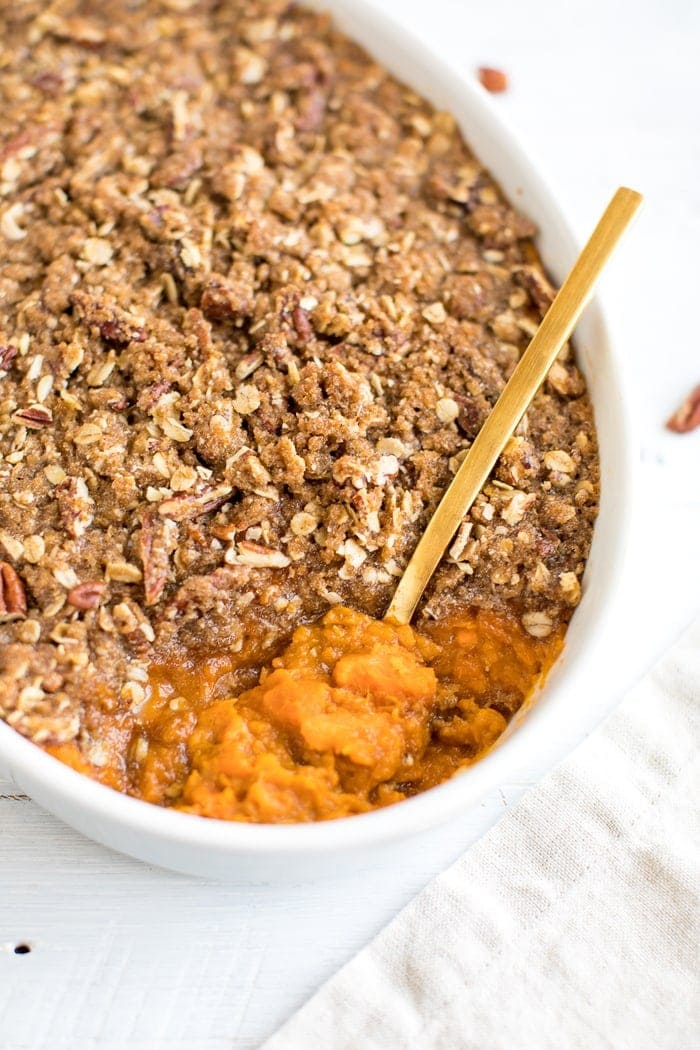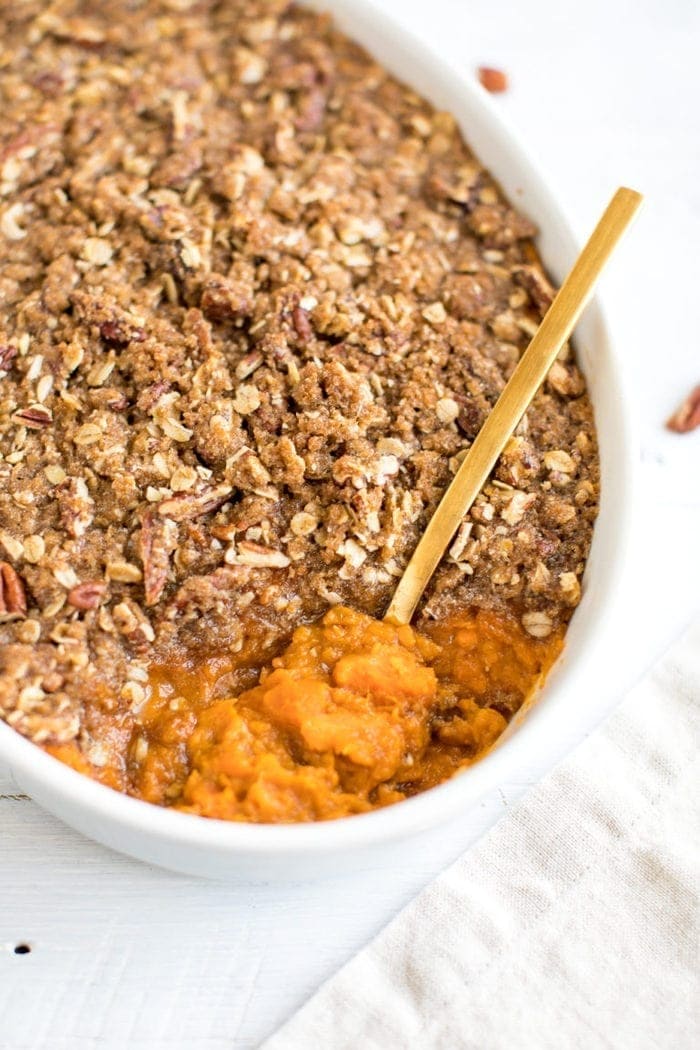 Print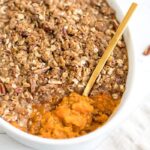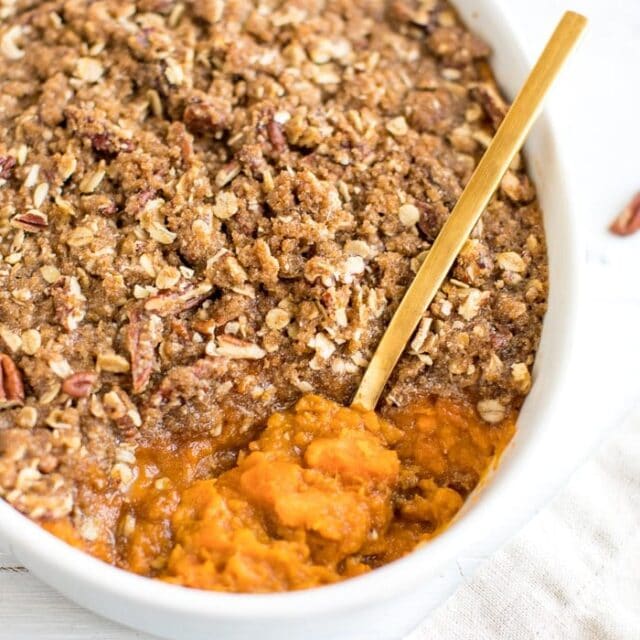 Sweet Potato Casserole
Author:

Prep Time:

25 minutes

Cook Time:

45 minutes

Total Time:

1 hour 10 minutes

Yield:

16
---
Description
I tweaked my mom's recipe to make a healthy sweet potato casserole with a crunchy pecan topping that's absolutely delicious, vegan and gluten-free!
---
Ingredients
8 cups sweet potatoes (about 4 large potatoes)
1 cup canned coconut milk (light or regular)
1/4 cup maple syrup
1/4 cup coconut oil, melted
1 Tablespoon ground flaxseed
1 teaspoon vanilla
1 teaspoon cinnamon
1/2 teaspoon sea salt
1/2 teaspoon freshly grated or ground nutmeg
Topping:
1/2 cup brown sugar or coconut sugar
1/2 cup chopped pecans
1/3 cup gluten-free old-fashioned oats
1/3 cup gluten-free oat flour or almond flour
3-4 tablespoons coconut oil, in solid form
---
Instructions
Peel and chop the sweet potatoes into large chunks. Place the chunks in a large saucepan and cover with cold water, bring to a boil and reduce to simmer. Simmer until the sweet potatoes are fork tender, about 15-20 minutes. Once done, drain well and let cool.
Meanwhile, preheat your oven to 350° and spray a little cooking spray on a 9×13 or 9×9 inch casserole dish.
In a mixing bowl, combine the pecans, oats, oat flour, and brown sugar. Cut in coconut oil with a fork or knife until the mixture is sandy with pea-sized chunks of oil. Set aside.
Place sweet potatoes into a large bowl and mash them with fork before adding coconut milk, maple syrup, oil, flaxseed, vanilla, cinnamon, nutmeg, and salt to the ball. Mix until everything is combined.
Spoon the sweet potato mixture into the prepared dish and sprinkle on the brown sugar and pecan mixture. Bake uncovered for 40-45 minutes, until the top is golden brown and the sweet potatoes are bubbling.
---
Nutrition
Serving Size:

1/16 of recipe

Calories:

237

Sugar:

18g

Fat:

10g

Carbohydrates:

35g

Fiber:

4g

Protein:

3g