Thanksgiving Salad
6
Published Nov 03, 2023, Updated Nov 10, 2023
This Thanksgiving salad is a delicious and festive recipe to add to your holiday menu. It combines spring mix, roasted butternut squash, pomegranate arils, roasted pepitas, fresh apple and goat cheese all tossed in a simple mustard dressing.
This Thanksgiving, let's shake up tradition with a fresh addition: a vibrant Thanksgiving Salad! It's an ode to autumn, combining the season's stars like roasted butternut squash, juicy apples, and tangy pomegranate. This salad is sure to impress your guests, and it might just nudge the turkey for the spotlight!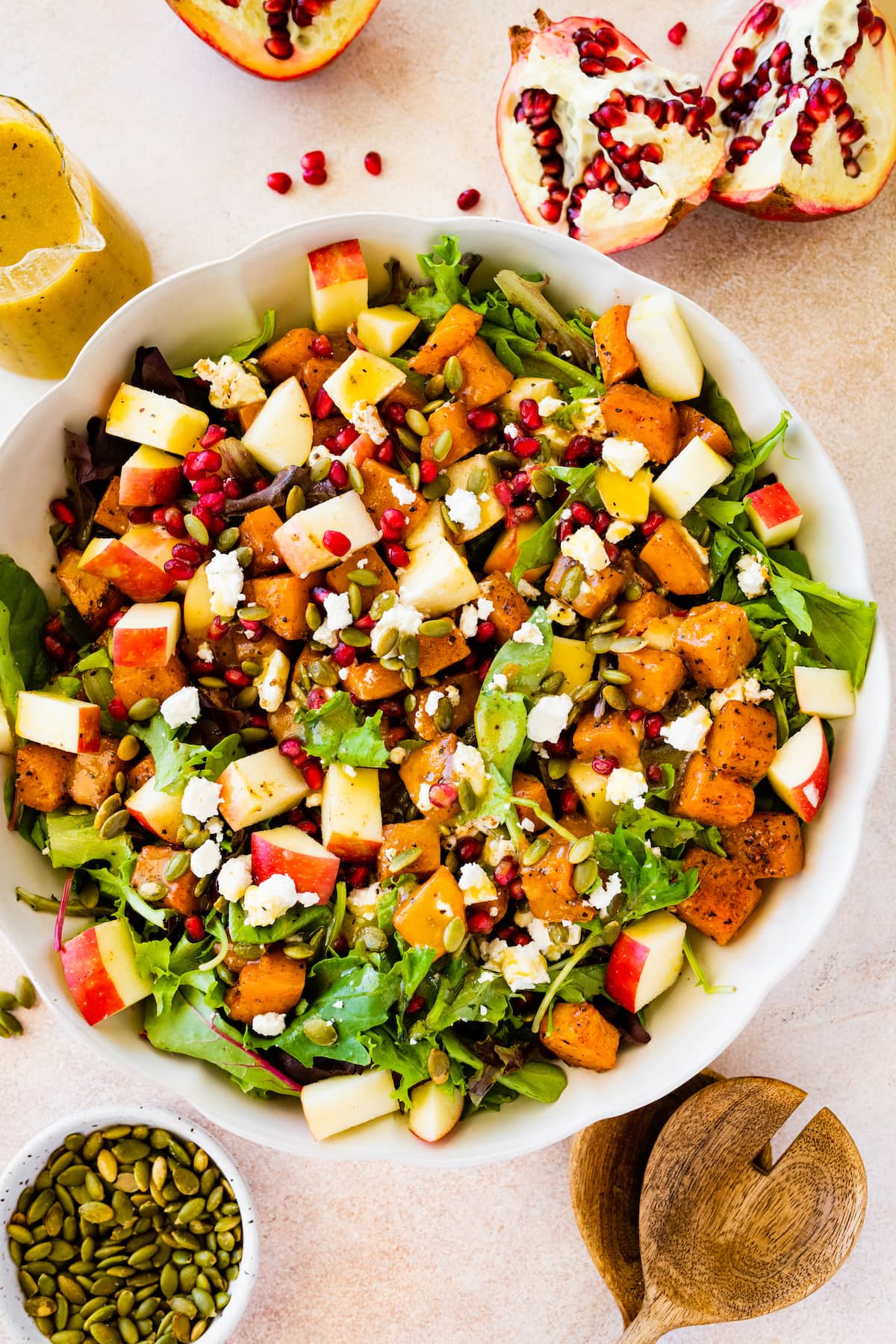 Why You'll Love This Salad
Presentation: This salad is a festival of flavors with bright orange, red, and green colors that will look stunning amongst the plethora of other dishes this Thanksgiving.
A Healthy Twist: Amidst hearty holiday meals, this nutrient-dense salad offers a lighter, refreshing counterpoint without skimping on the festive vibe.
Adaptable: Perfect as a starter or side, this salad's versatility makes it a seamless fit for any course during your feast.
Prep-Friendly: Prepare components like the roasted squash and dressing ahead, making the holiday ensemble stress-free and efficient.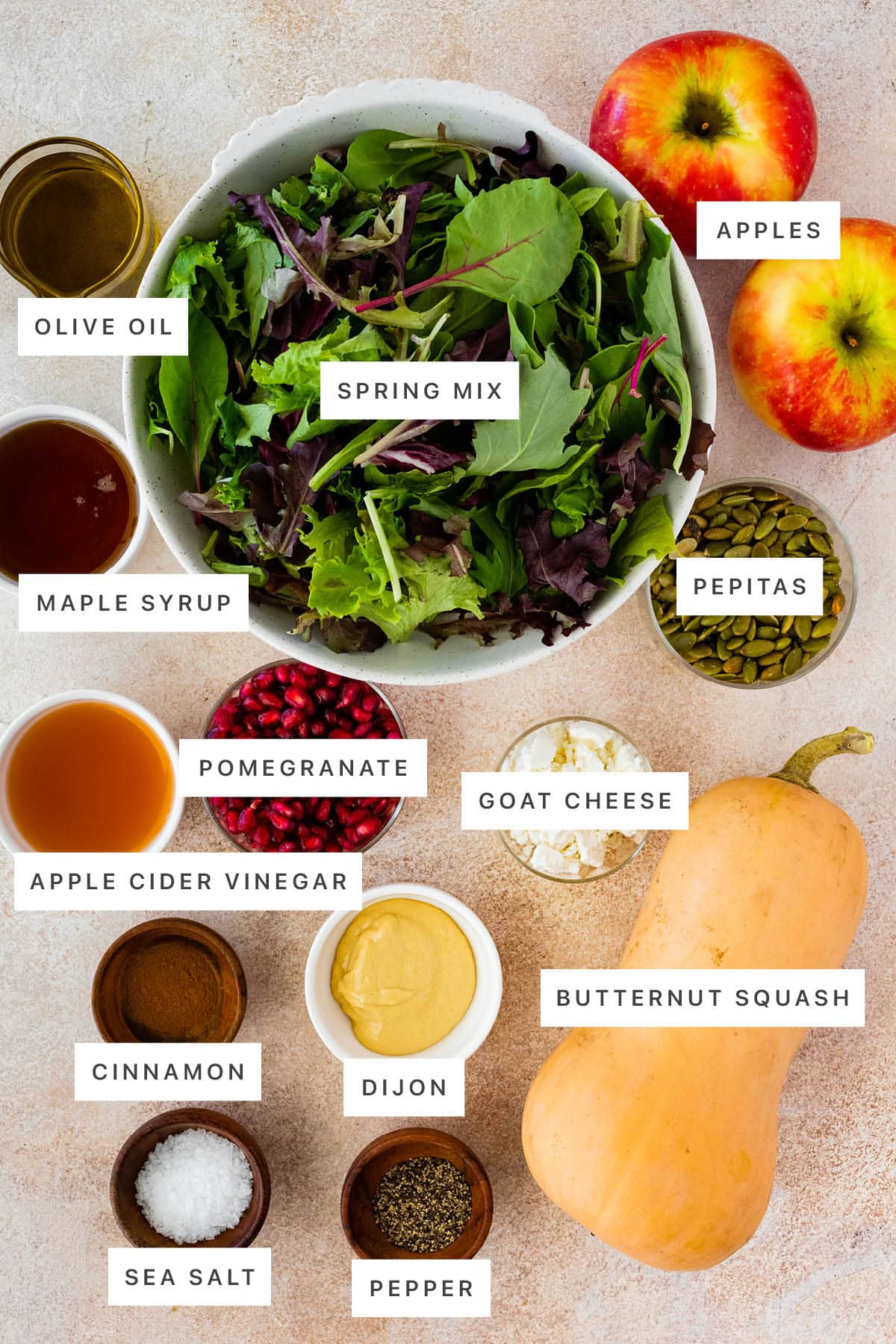 Ingredients Needed
spring mix – the foundational layer of your salad, providing a medley of leafy tastes and textures.
pomegranate seeds – adding a splash of color and juicy sweetness.
salted roasted pepitas – these bring in a delightful crunch.
apples (honey crisp or pink lady) – for a sweet and tangy bite.
goat cheese – offers plenty of protein and a creamy tang that pairs well with all the other ingredients.
butternut squash – sweet and earthy, this is a hearty addition that brings the fall flavors.
olive oil – helps in roasting the squash and combines with other ingredients for the dressing.
maple syrup – enhances the squash's sweetness and balances the dressing's acidity.
sea salt – brings out the flavors.
cinnamon – adds a hint of warm spice.
black pepper – a subtle kick for depth of flavor.
dressing – a blend of extra virgin olive oil, apple cider vinegar, dijon mustard, maple syrup, sea salt, and black pepper, perfectly tying together the salad components.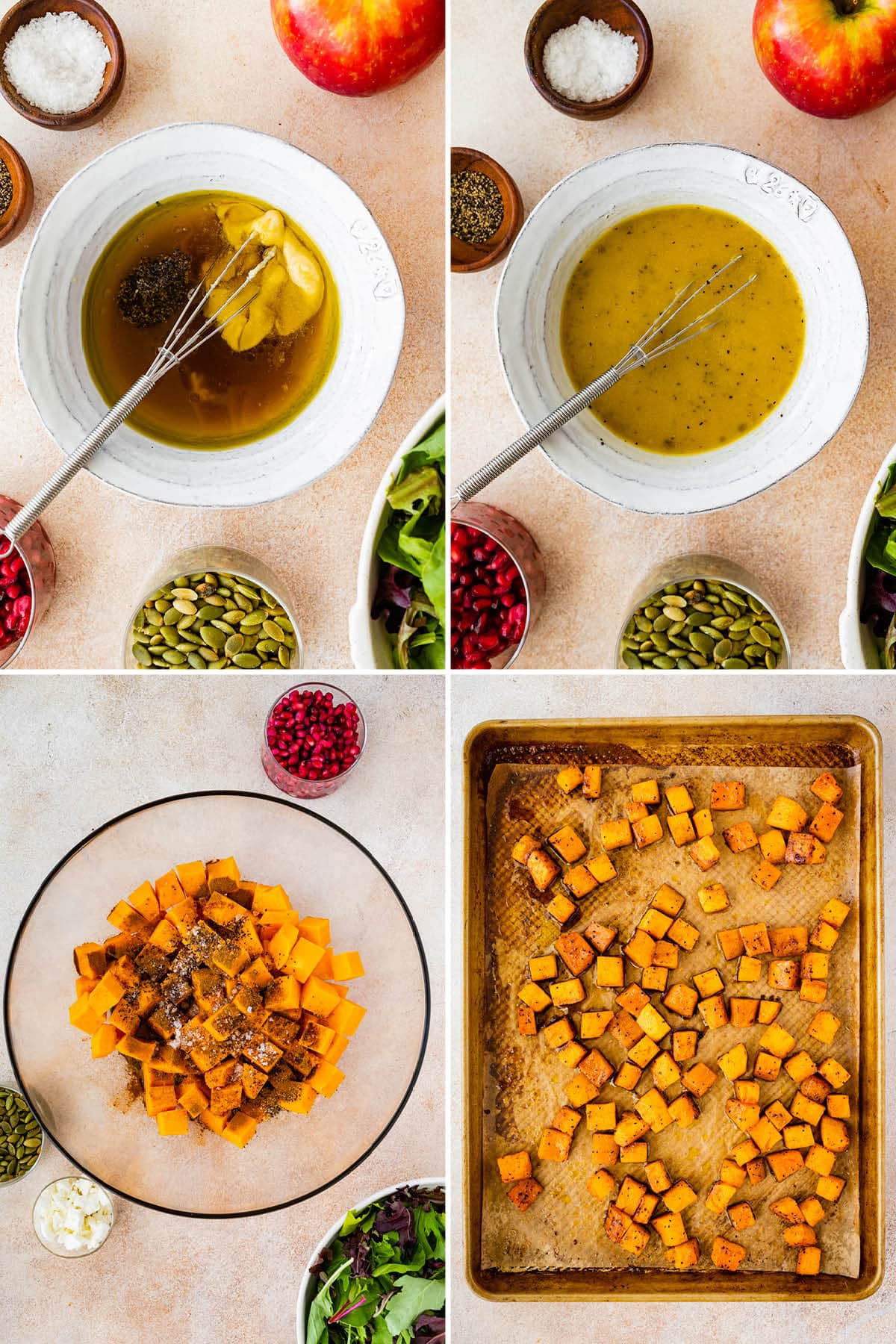 How to Make this Thanksgiving Salad
Prep the oven and squash: Start by heating your oven to 400°F. Get your butternut squash peeled, de-seeded, and cubed, then toss it with olive oil, maple syrup, salt, cinnamon, and pepper.
Roast the squash: Lay out the squash on a parchment-lined baking sheet. It'll need about 30 minutes in the oven, with a bit of a stir partway through, to get that lovely, caramelized texture. Let it cool after.
Craft your dressing: While the squash is doing its thing, mix up your dressing. Just whisk together your olive oil, apple cider vinegar, mustard, maple syrup, salt, and pepper until it's emulsified.
Assemble the salad: In a big bowl, create a bed with the spring mix. Add the cooled squash, pomegranate arils, pepitas, and apple chunks on top. Give everything a good toss with your dressing.
Finish with cheese: Crumble creamy goat cheese over the top, and you're ready to serve! This salad is all about freshness, so enjoy it the same day for the best experience.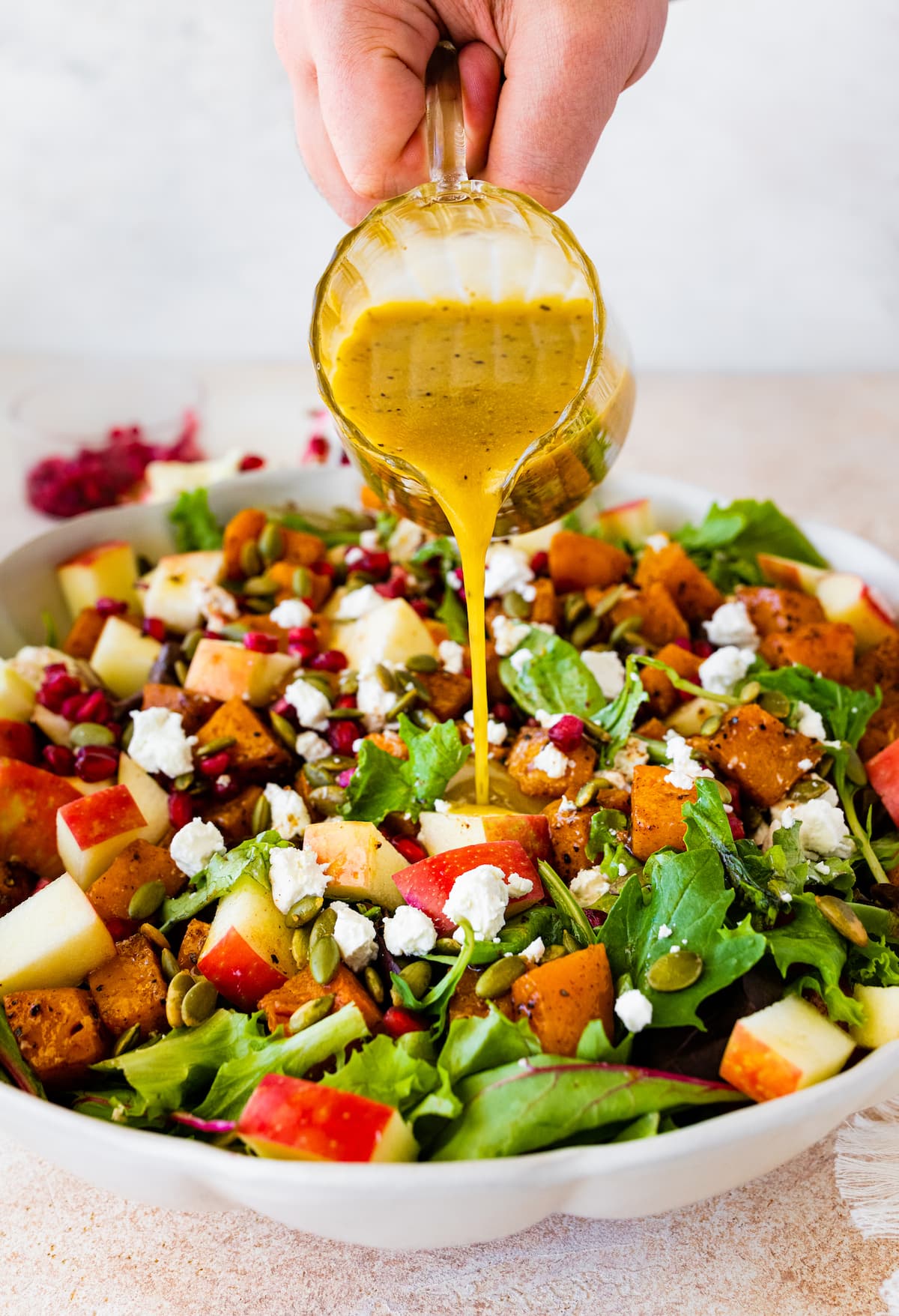 Substitutions & Notes
goat cheese – Not a fan or got a dairy allergy? Skip it or swap for a dairy-free cheese alternative. Blue cheese or feta cheese also work if you're just looking for a flavor switch.
butternut squash – Out of butternut? Acorn squash, sweet potatoes, or even roasted beets can step in for a similar sweet, earthy vibe.
pomegranate arils – These are for that burst of juicy sweetness. No pomegranates? Dried cranberries or cherries could bring that sweet-tart balance.
pepitas – These little pumpkin seeds add crunch. Any seed or chopped nut will do the trick if you're out. Think sunflower seeds, slivered almonds, walnuts, or even candied pecans.
maple syrup – It's there for natural sweetness. Honey or agave are great stand-ins.
for the dressing – Want a different acid kick? Substitute apple cider vinegar with red wine vinegar or fresh lemon juice for a twist.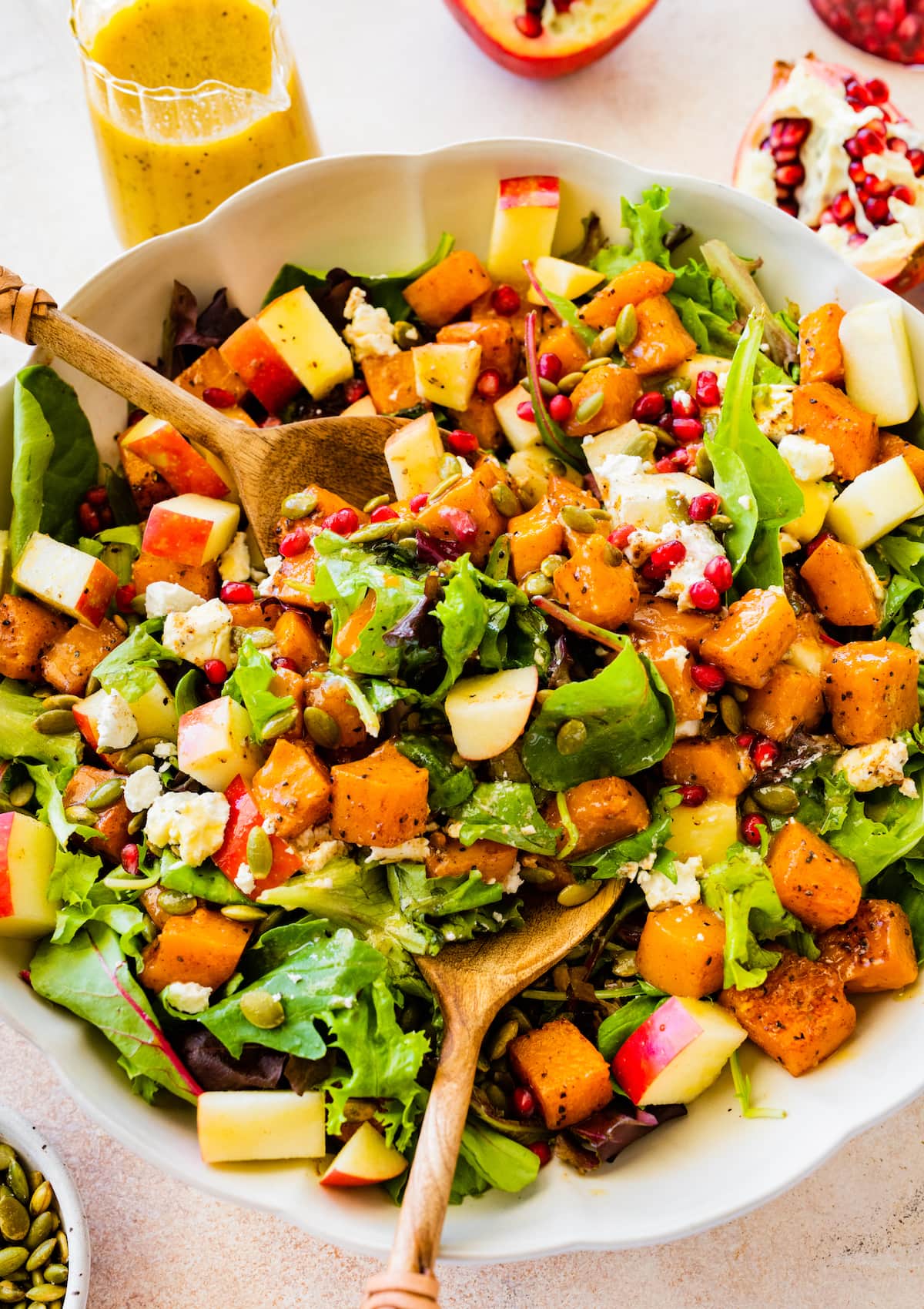 What to Serve with this Thanksgiving Salad
This Thanksgiving salad is a festival of flavors and can stand alone, but it also plays well with others. Here are a few dish ideas that would make great companions at your thanksgiving feast:
turkey or ham: The classic main dish of a Thanksgiving spread naturally complement the flavors in this salad.
stuffing: A scoop of warm, herbaceous stuffing contrasts beautifully with the crisp freshness of the salad. Try this sourdough stuffing or this delicious wild rice stuffing.
dinner rolls or cornbread: Soft, buttery bread items are a must-have that provide a comforting touch to the dinner table.
casseroles or roasted vegetables: More veggies, why not? They add a delightful variety and an extra dose of nutrients to your meal. Here are some excellent options for some inspiration: healthy green bean casserole, roasted brussels sprouts on the stalk, roasted carrots, roasted cauliflower, or roasted broccoli.
something sweet: Finish off on a sweet note with classic desserts like this pecan pie, a healthy apple crisp, or these decadent baked pears. After all, what's Thanksgiving without a slice of pie?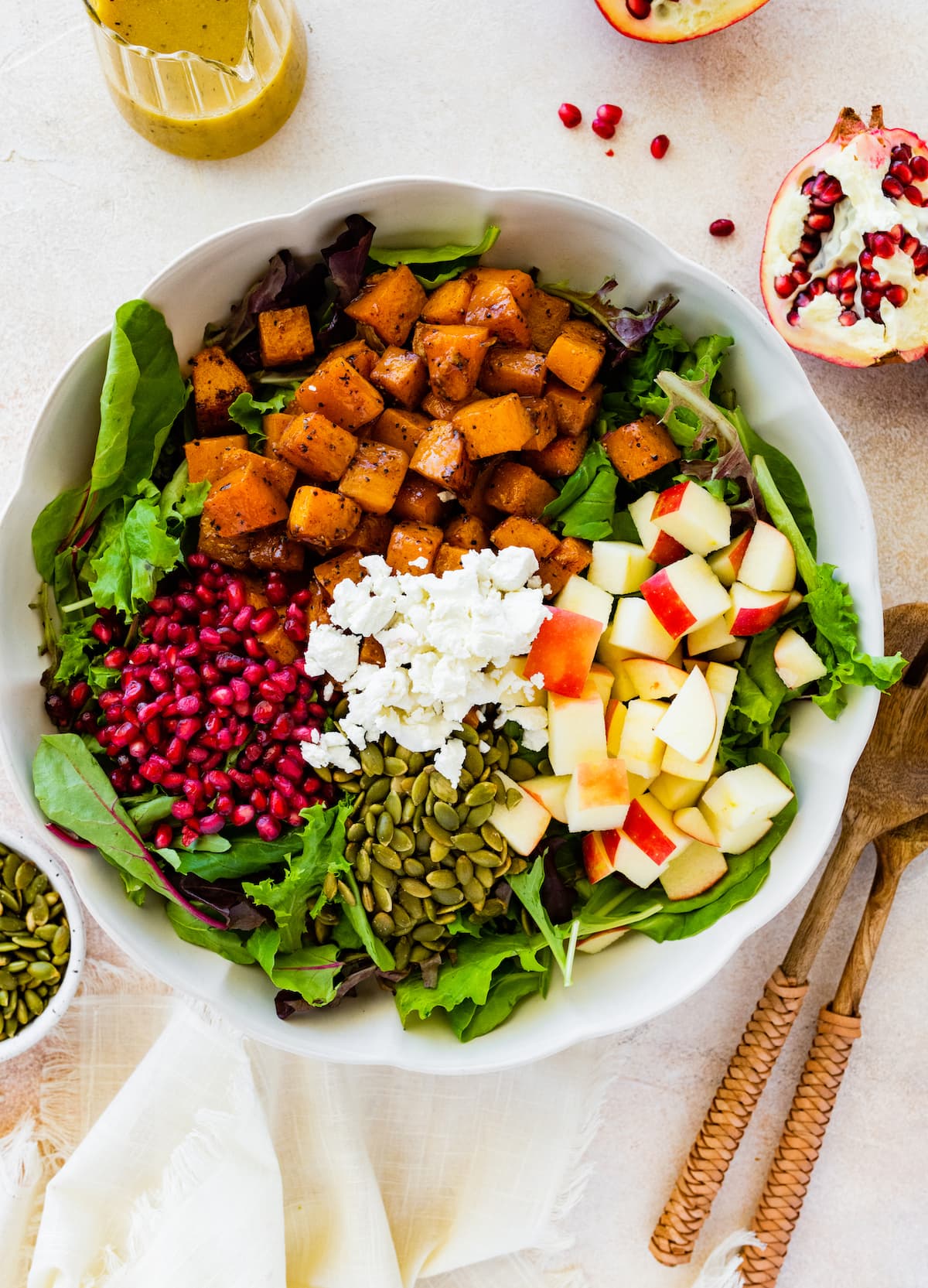 Preparing in Advance
Getting ahead on your Thanksgiving menu can save you a lot of stress, and this salad is ideal for that. Here's how to do it without losing any freshness or flavor:
Roasted butternut squash: You can roast the squash a day or two ahead, let it cool, and then store it in an airtight container in the refrigerator. Just bring it to room temperature before adding it to your salad so it doesn't wilt your greens.
Dressing: Whisk up the dressing 3-4 days in advance and store it in a jar or airtight container in the fridge. Give it a good shake or stir before drizzling it over your salad.
Chopping: Get your apples and any other add-ins prepped the night before, but to keep apples from browning, toss them in a little lemon juice. Store prepped ingredients in separate airtight containers in the fridge.
Assembly: It's best to assemble the salad the day of serving to keep the spring mix crisp. Add the dressing and toss just before your meal to avoid soggy leaves.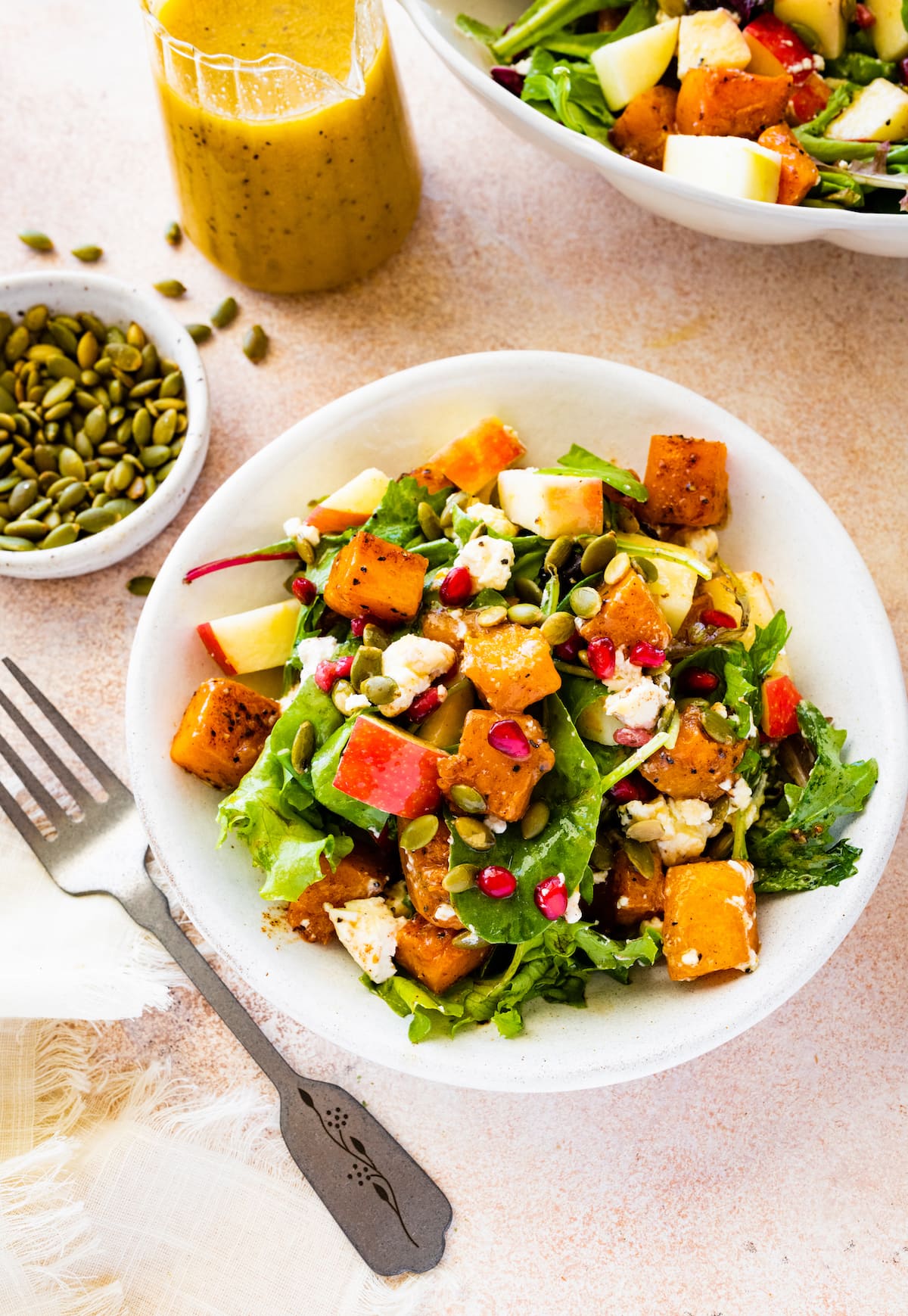 Storing Leftovers
Salads can be a bit tricky to store once dressed, but don't let any go to waste! Here's how:
If you anticipate leftovers, consider dressing only what you'll eat right away. Store the remaining salad and dressing separately, allowing you to enjoy a fresh salad again the next day.
Already mixed? Place your leftovers in an airtight container and refrigerate. It's best to eat it within a day for the best quality, as the greens can wilt and the ingredients may lose their crunch.
Revive a refrigerated dressed salad by adding a fresh splash of lemon juice or a quick drizzle of olive oil just before serving. It can help refresh the flavors and bring a little life back to wilted greens.
More Thanksgiving Side Dishes
More Salad Recipes to Try
Be sure to check out the full collection of Thanksgiving recipes as well as all of the side dishes on EBF!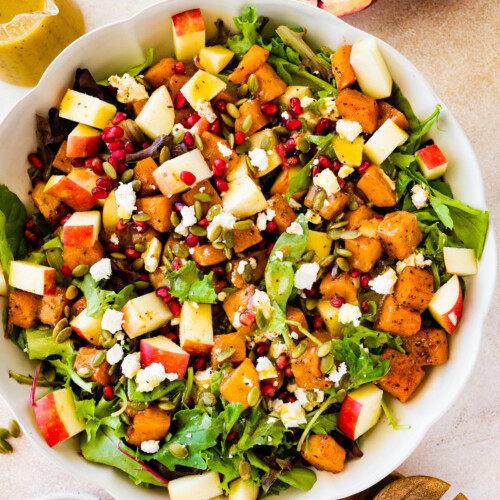 Thanksgiving Salad
This Thanksgiving salad is a delicious and festive recipe to add to your holiday menu. It combines spring mix, roasted butternut squash, pomegranate arils, roasted pepitas, fresh apple and goat cheese all tossed in a simple mustard dressing.
Ingredients
Salad
1

5 oz container

spring mix

½

cup

pomegranate arils

½

cup

salted roasted pepitas

2

honey crisp or pink lady apples

,

chopped into chunks

2-3

oz

goat cheese
Instructions
Preheat the oven to 400°F and line a baking sheet with parchment paper.

Prepare the squash by peeling it, cutting it in half and scraping out the seeds. Cut the squash into 1 inch cubes.

Add squash to a large mixing bowl along with olive oil, maple syrup, salt, cinnamon and pepper. Toss to combine.

Spread the cubes onto a baking sheet lined with parchment paper. Roast the squash for about 30 minutes, turning once or twice, until all the pieces are fork-tender and are slightly caramelized. Remove from oven and set aside to cool.

While squash is roasting make dressing. In a small bowl whisk together dressing by combining olive oil, apple cider vinegar, mustard, maple syrup, sea salt and pepper. Set aside until ready to use.

In a large salad bowl add a base of spring mix. Top with cooled roasted butternut squash, pomegranate, toasted pepitas and apple chunks. Drizzle dressing over salad and toss to combine. Top with goat cheese and serve!
Nutrition information is automatically calculated, so should only be used as an approximation.