Hi friends. How's your Sunday going? We've spent most of the morning gearing up for Sandy… we went to Whole Foods for a few pantry staples, Lowes for a new flashlight and 711 for ice. I'm really hoping the storm creates less damage than what the meteorologists are predicting, but it's always good to be prepared.
While we're on the subject of pantry staples, I was recently asked to contribute to a Blisstree article on healthy pantry staples for fall and winter – check out the article to see what my favorite pantry staple is.
In other news, I've been eating a ton of pumpkin this fall. I'm truly sorry if you hate pumpkin. Not only are you missing out on a boatload of nutritional benefits, but I just noticed that all the recipes I posted recently have pumpkin in them – even the healthy apple cinnamon muffins. Like I said, I've been eating a lot of pumpkin… But you'll be happy to know that today I have a pumpkin-less recipe that features my other fall produce favorites – butternut squash, apples and greens. I've been eating these things separately or in other dishes, but finally decided to throw them all together for a tasty salad.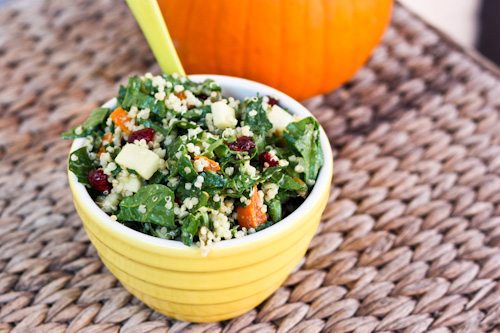 Hearty fall salads are seriously the best! In this salad, the roasted butternut squash makes it sweet and satisfying, while the apple and pepitas add a nice crunch. Quinoa adds some staying power and the spinach nourishes the body in a way that no other food (besides other leafy greens) can. If you like my garlicky kale salad, you'll love this one because the dressing is almost exactly the same – I just added a little maple syrup to sweeten it up a bit.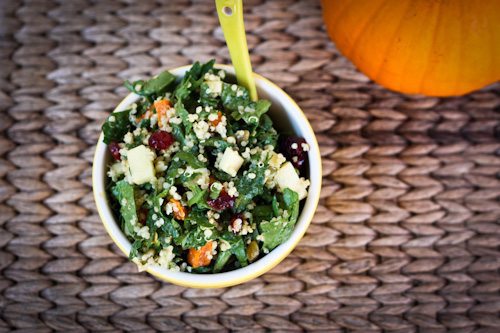 Fall Harvest Spinach Salad
Ingredients
4

cups fresh baby spinach, chopped

1 1/2

cups cooked quinoa (cooked according to package directions)

3/4

cup butternut squash, chopped

1

medium apple, peeled and chopped

1/3

cup pepitas (pumpkin seeds)

3

Tablespoons dried cranberries

2

Tablespoons tahini

2

Tablespoons apple cider vinegar (or water)

2

Tablespoons lemon juice

2

Tablespoons Bragg's liquid aminos (tamari or soy sauce would work too)

4

Tablespoons nutritional yeast

2

teaspoons minced garlic (1 – 2 cloves of garlic)

2

teaspoons maple syrup
Instructions
Prepare the squash by peeling it, cutting it in half and scraping out the seeds.
Cut the squash into ½ inch cubes, place on a lightly oiled baking sheet and roast at 400° for 30-40 minutes, turning once or twice, until all the pieces are tender and have a few small brown spots.
While roasting the squash, toss together spinach, cooked quinoa, apple, pepitas and cranberries in a large salad bowl.
Prepare dressing by placing all remaining ingredients (tahini through maple syrup) in a blender and blend until smooth.
Once the butternut squash is done roasting, allow it to cool and then place into the salad bowl with the other ingredients. Pour the dressing over the salad and toss to coat. Serve immediately.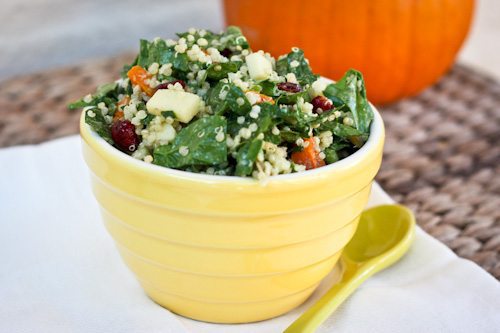 I'm off to get in a workout before the day gets away from me. I'm actually thinking of starting P90x tomorrow!!! I'm a little nervous but I really want to get my butt in gear before my dress fitting in January and I feel like I need a structured program or else I'm going to continue on my path of just doing whatever workout I feel like when I wake up each morning (which I what I do currently). Have you done P90x before? Would you recommend it?
P.S. – Don't miss my Health Warrior Chia Bar giveaway. You have until tomorrow night at midnight to enter.