Craving a light and fresh lunch? This packable crunchy detox salad is loaded with nourishing veggies and perfect for traveling or an office lunch. Vegan + gluten-free. This post is sponsored by Rubbermaid BRILLIANCE Lunch. 
I talk about my love for salad all the time. I've done salad challenges, shared how to build a meal-sized salad and have way too many salad recipes here on EBF to count, but today's salad is a little different for a couple reasons 1. It's 100% plant-based and 2. It's packable so it's perfect for an on-the-go lunch. Whether your planning a summer road-trip and want to be prepared with a healthy option to enjoy on the drive or simply looking to pack a nutritious lunch for the office, this crunchy detox salad is going to be just the thing to pack in your tote bag.
It's loaded with fresh, crunchy cruciferous veggies (like kale and cabbage) that are packed with nutrients to help you glow from the inside out. Along with all the veggies, there's a trio of plant-based protein toppings — quinoa, edamame and almonds. The apple chunks and sesame ginger dressing add a hint of sweetness while the creaminess from the avocado ties the whole salad together perfectly. I don't know what it is about this combo, but I'm hooked and will definitely be making this salad again and again.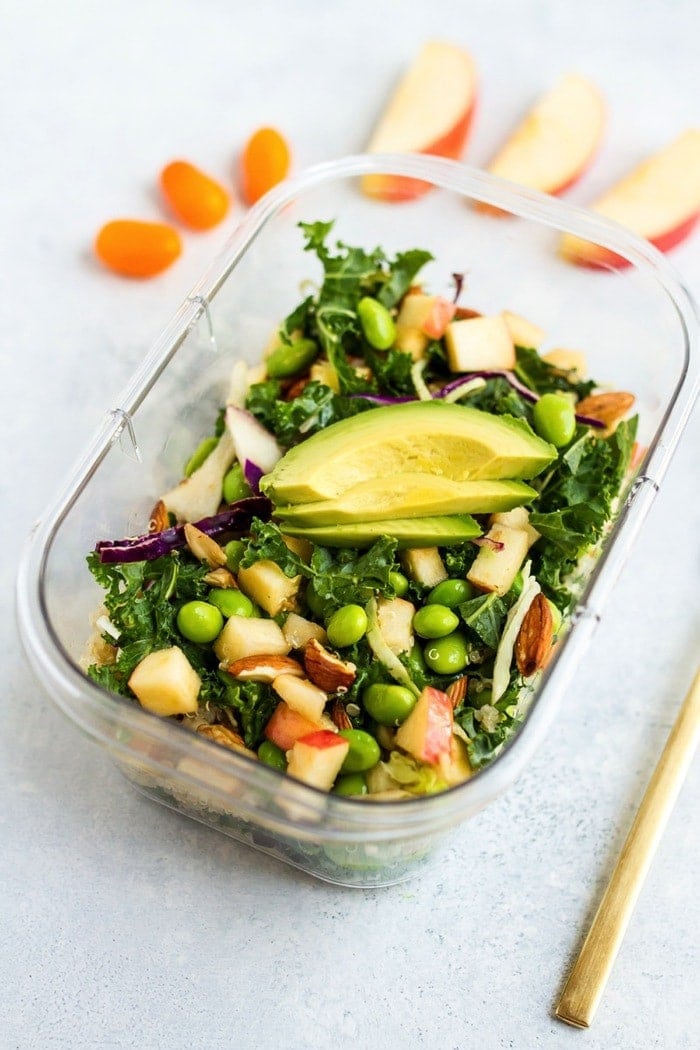 The containers that I used to pack this salad are from the Rubbermaid BRILLIANCE Lunch collection, 100% leak-proof food storage containers designed for ready-to-go meals and snacks. When Rubbermaid reached out to me about partnering to create a recipe for their salad/snack container I said yes without hesitation. Me, create a healthy salad recipe? I can do that in my sleep. I mean, have you seen my Instagram? 😉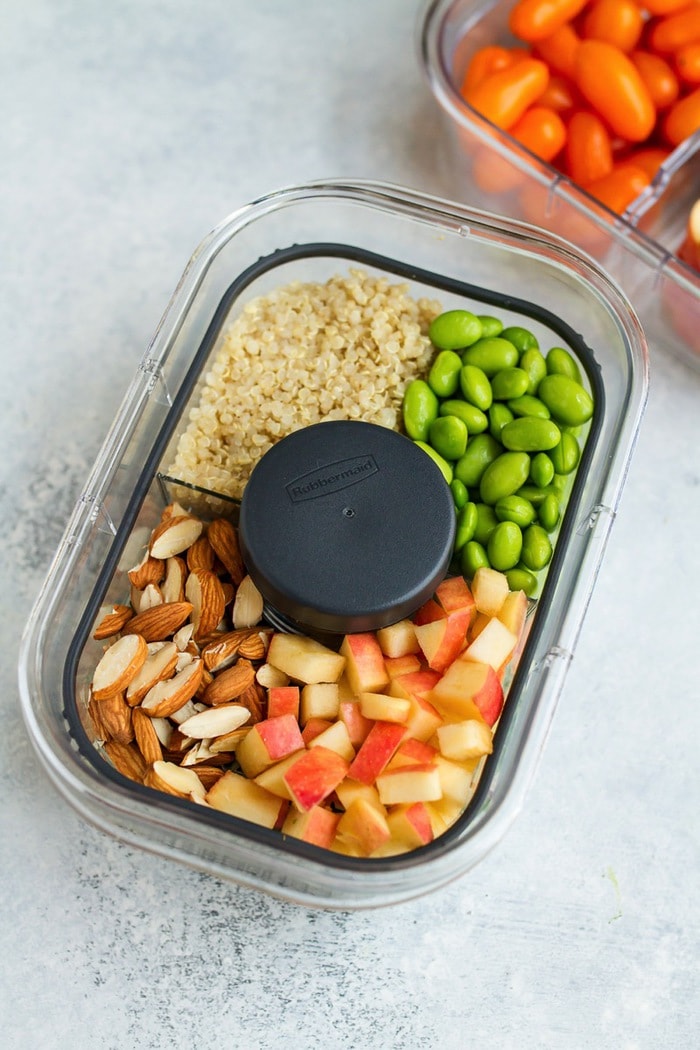 Plus, I was pretty excited about the containers too! They're 100% leak-proof (guaranteed), BPA-free and stain-resistant.
The salad container is my jam. I love that the bottom layer keeps salad greens fresh and crisp, while the top tray has plenty of room for lots of salad toppings as well as a separate little container for your dressing.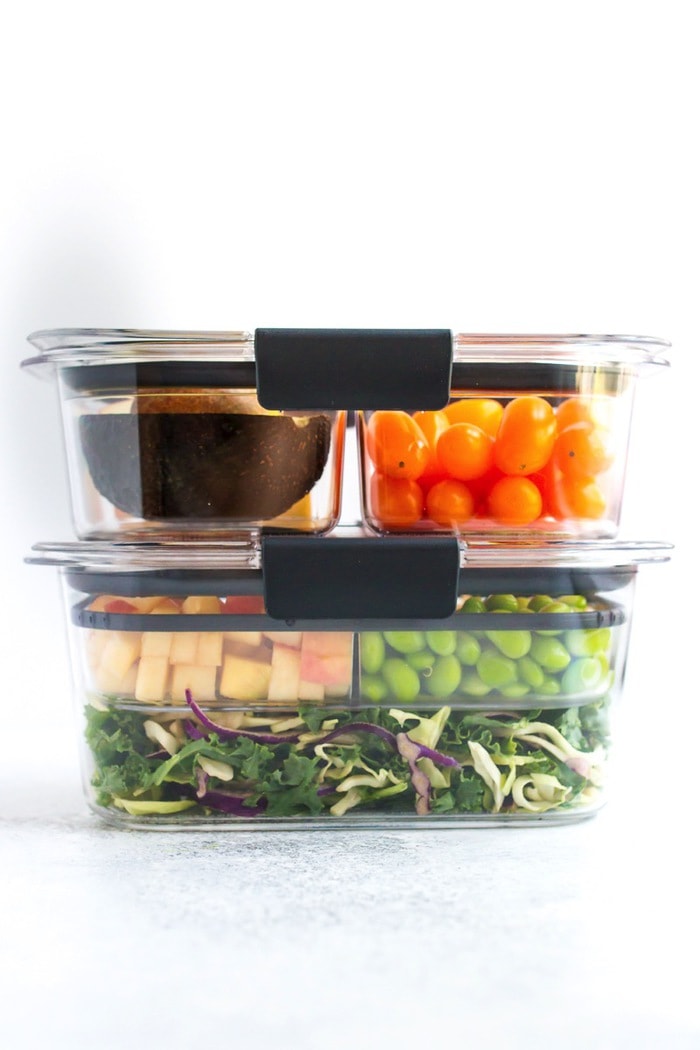 In the BRILLIANCE salad/snack set you get two containers, one for your salads and one for packing extra snacks. For this recipe I loaded up the snack container with tomatoes, apple slices and an avocado.
The best part is that when you're ready to eat the salad, you can remove the toppings tray and pour the toppings over the greens, drizzle on your dressing and dig in! The container is larger than it looks in the photos so you have plenty of space to toss the salad and you can eat it directly from the container.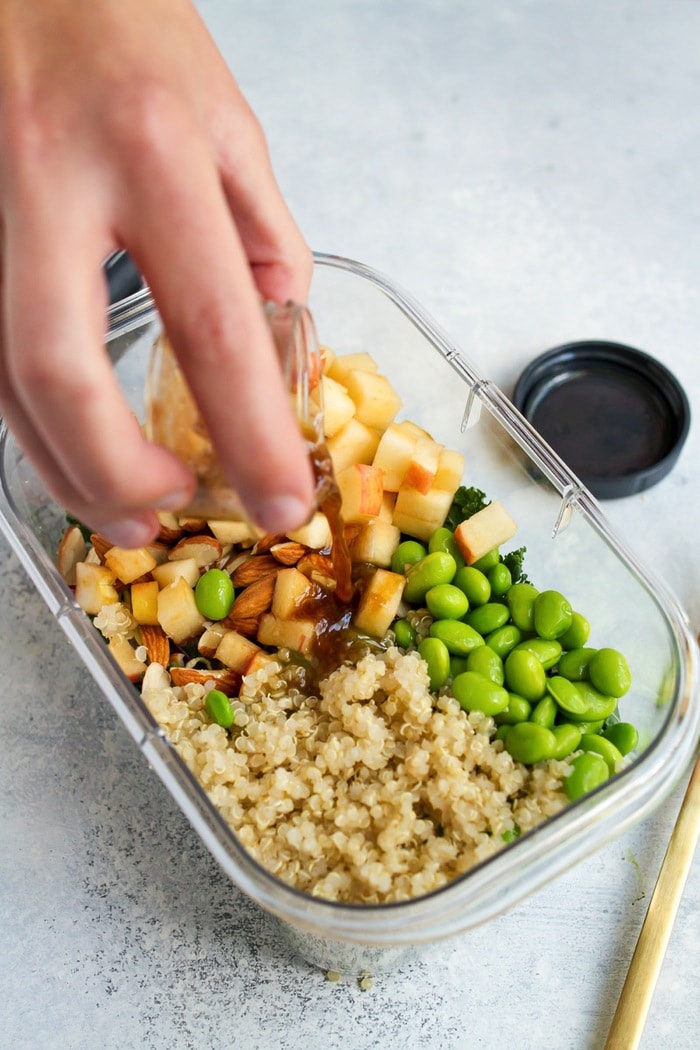 I can already tell that this salad container is going to get a ton of use. I might need to buy a few more so I can meal prep multiple salads at once!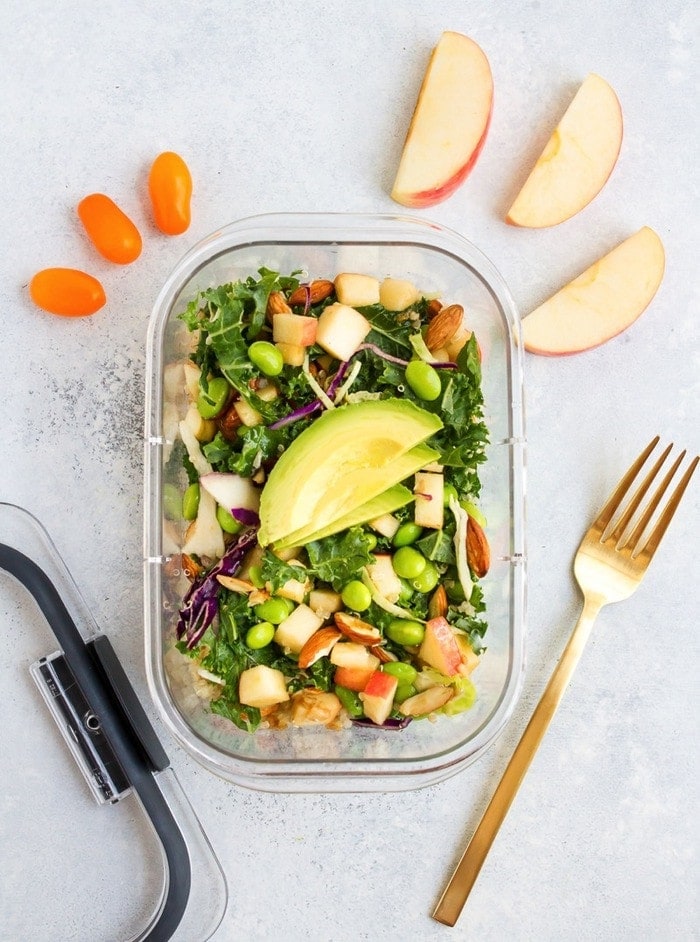 Ready to make this delicious crunchy detox salad for yourself? Here's the recipe:
Print
Packable Crunchy Detox Salad with Sesame Ginger Dressing
Author:

Brittany Mullins
Prep Time:

15 mins

Cook Time:

Inactive Time: Total Time:

Total Time:

-25972805.533333 minute

Yield:

1

1

x
---
---
Scale
Ingredients
1 1/2 cup

s kale and cabbage mix (I used Trader Joe's Cruciferous Crunch Collection)

1/4 cup

cooked quinoa

1/3 cup

cooked edamame

1/3 cup

bite-size apple chunks (about

1/2

an apple)

1/4 cup

chopped almonds

1/2

avocado
sriracha (optional)
Sesame Ginger Dressing:
1 Tablespoon

olive oil

1 1/2 Tablespoon

s rice vinegar

1 teaspoon

tamari

1 teaspoon

sesame oil

1 teaspoon

maple syrup

1 teaspoon

minced garlic

1 teaspoon

grated fresh ginger
pinch of black pepper
---
Instructions
Whisk together all the dressing ingredients in a small bowl.
Package salad ingredients in a portable container until ready for lunch. Toss greens with the toppings. Add sliced avocado and drizzle on the dressing. Add a squirt of sriracha if you like to spice things up a bit and enjoy!
---
---
Nutrition
Serving Size:

1 salad

Calories:

617

Sugar:

17g

Fat:

42g

Carbohydrates:

484g

Fiber:

12g

Protein:

13g

Cholesterol:

0
Last but not least, as part of Rubbermaid's Summer Tote Challenge I have one BRILLIANCE Lunch salad/snack set (with a cute summer tote) to give away! Simply leave a comment with why you'd like to win this set and/or what salad you'd pack in it and I'll choose one winner next week! If you don't end up winning and want to buy your own salad/snack set, you can find it on Amazon or at Target.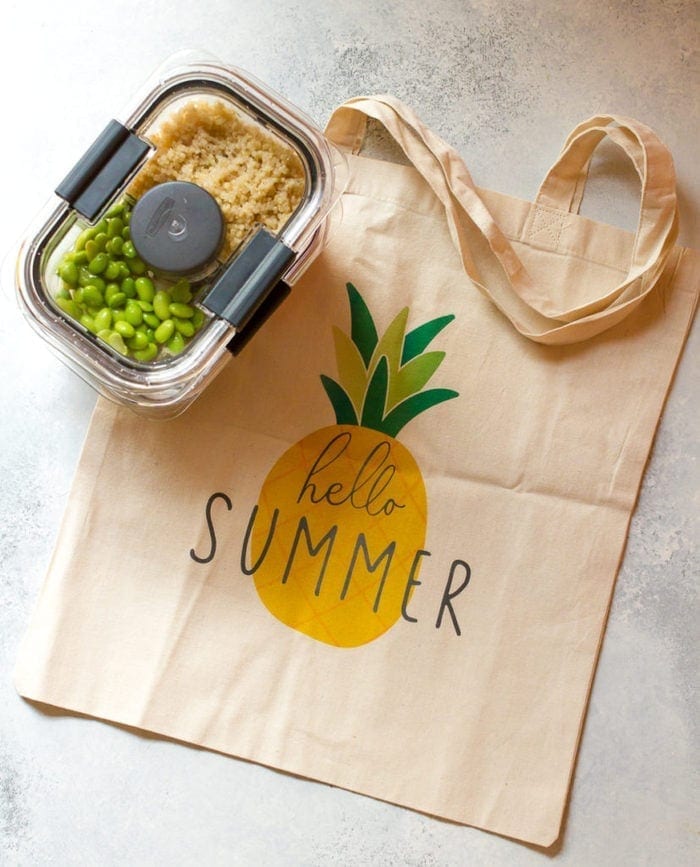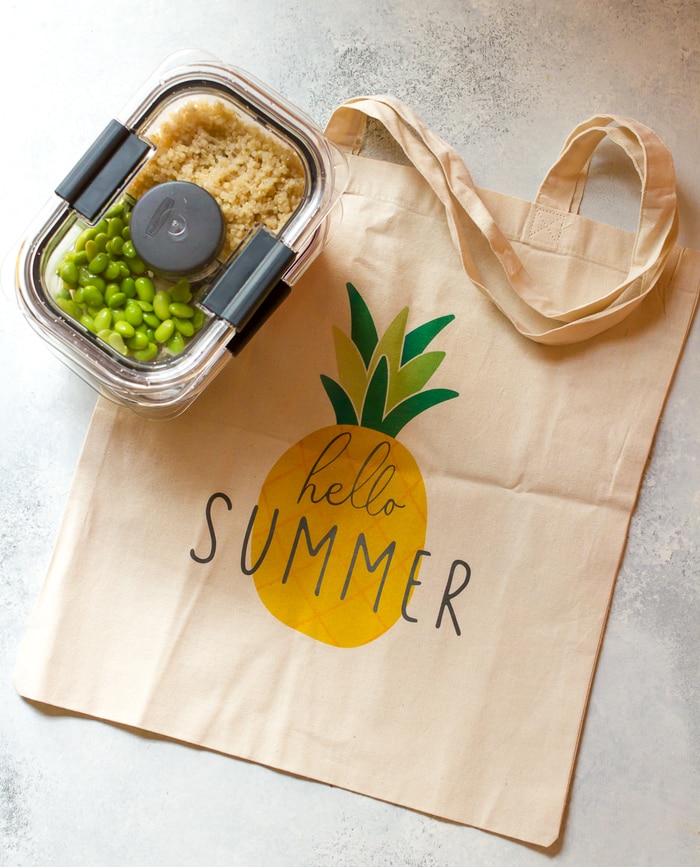 If you try this recipe, be sure to let me know. Leave a comment here or share a photo via social media and tag me (@eatingbirdfood) or use the hashtag #eatingbirdfood in the post. Seeing you try my recipes makes me all warm and fuzzy inside and it's honestly what keeps me posting. That and your comments. I simply love connecting with you!