Have you ever felt like you needed to detox? I usually feel like I need it most after a vacation or a weekend that's full of indulgences — like wine with the girls on Friday night, date night that includes a decadent dinner on Saturday and a day full of snacking on Sunday. This makes sense because alcohol, high sugar foods and processed foods can slow down or hinder our digestive systems.
Of course our bodies have their own natural detoxification system but sometimes it doesn't hurt to get back to the basics and help your body with the process. That's my goal for the next two weeks.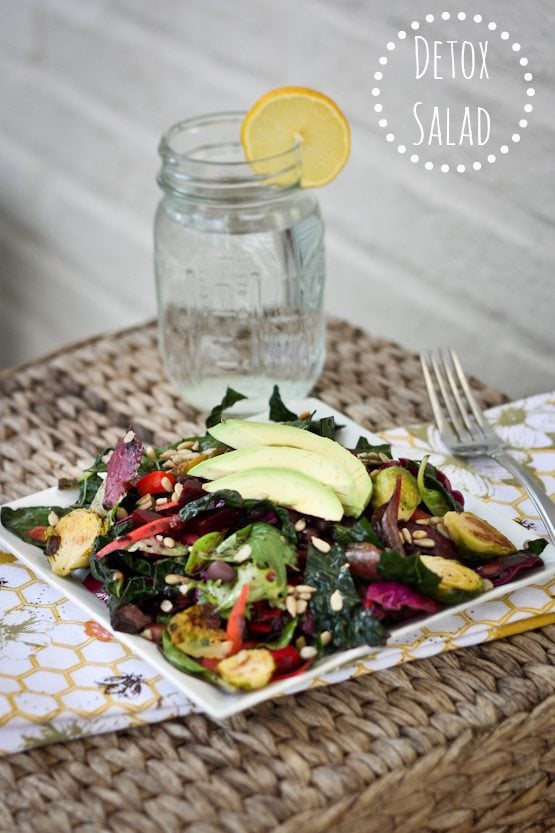 Today I want give you a recipe for one of the salads I've been enjoying this week. It's packed full of delicious foods that contain vital nutrients and are perfect for cleansing. And it's tasty too!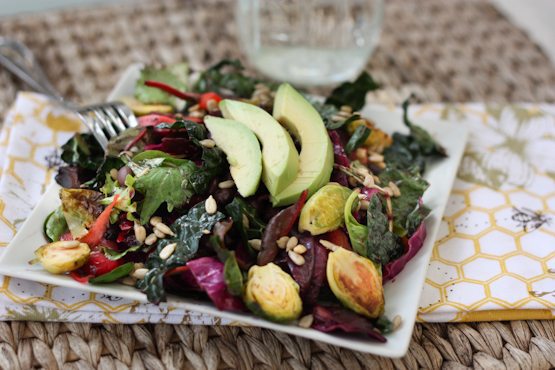 I love how vibrant it is.

Detox Salad
I must give you a fair warning that several ingredients in this salad do need to be prepped beforehand -- like marinating the mushrooms and roasting the beets and brussel sprouts. These things do take a bit of time so it might be easier to do them the day/night before and keep the veggies in the fridge until you're ready to prepare the salad. That's what I did and it worked out great because the veggies were already cool. Feel free to use this as a guide and substitute ingredients with what you have on hand as well, I'm sure it will still turn out wonderfully.
Author:
Eatingbirdfood.com
Ingredients
½ bunch of kale, de-stemmed and chopped into bite size pieces
4 oz. organic spring mix
⅓ of a small head of red cabbage, chopped into bite size pieces
2 carrots, chopped or cut into thin ribbons with a vegetable peeler
½-1 cup cooked black beans
2 portobello caps, chopped and marinated in dressing for at least 1 hour, but overnight is best
1 large or 2 small roasted beets, chopped into bite size pieces
½ cup chopped red pepper
1 cup roasted brussels sprouts
¼ cup raw sunflower seeds
½ avocado, sliced
Balsamic Dressing
¼ cup balsamic vinegar
2 Tablespoons olive oil
2 Tablespoons maple syrup
1 teaspoon minced garlic
1 teaspoon dijon mustard
juice of ½ lemon
½ teaspoon sea salt
½ teaspoon ground pepper
Instructions
Prep all your veggies. Start with the things that take the longest like roasting the beets and brussels sprouts as well as marinating the mushrooms.
To marinate the mushrooms, simply combine all ingredients for the dressing in a bowl and place mushrooms into the bowl to marinate. Stir occasionally (or shake if you're using a tupperware container) to make sure all the pieces are getting coated in the dressing.
After marinating the mushrooms, add the mushrooms and remaining dressing into a large bowl with all the rest of the salad ingredients except the roasted brussels sprouts, sunflower seeds and avocado.
Mix everything together. A large tupperware container works great for this because you can put the lid on it and shake all the ingredients to mix them up, but if you don't have one, stirring everything together in a big salad bowl with a spoon will work.
You can let the salad marinate a bit more before serving (this will help to soften the kale a bit) or you can serve immediately. To serve, place salad portion on to a plate or bowl and top with roasted brussels sprouts, avocado slices and then sprinkle on some sunflower seeds.
Left overs can be stored in the fridge for a day or two. You should be able to get at least 3 large salads out of it. You could combine any left over brussels sprouts, avocado and sunflower seeds with the salad for easier storage if you'd like. I usually keep them separate because the beets discolor everything and the sunflower seeds get a little soggy. If you're not worried about how pretty your avocado and brussels sprouts look for food photos or soggy sunflower seeds, than don't worry about keeping those items separate.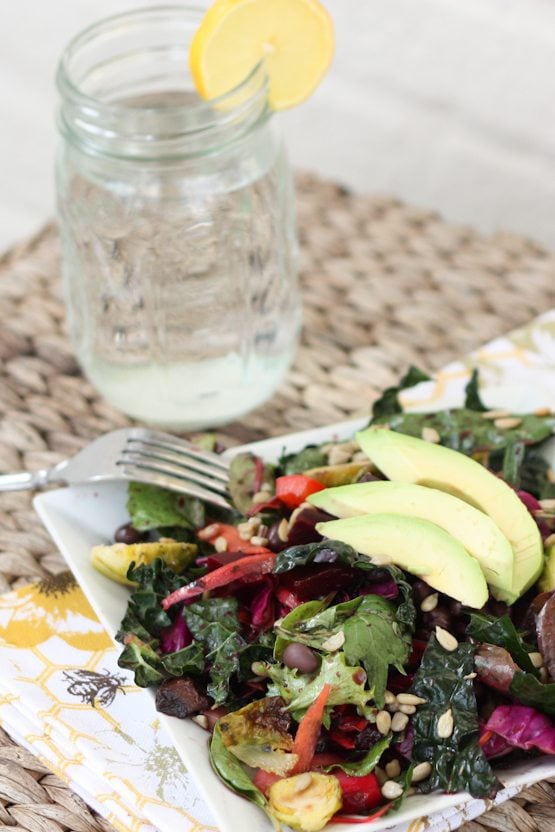 It's great to have on hand for fast meals and it gets even better as the ingredients have time to marinate in the dressing. I ate the salad as my meal for lunch one day and then had it again for dinner with a side of broiled salmon.
The ingredients not only taste good, but they'll make you feel good as well. Happy detoxing. 😉