Looking for tempeh recipes? Check out these protein-packed vegan recipes that prove tempeh can be absolutely delicious and healthy.
Let's chat about tempeh for a sec. Have you tried it?
If not, I'm going to give you the tempeh basics and share 13 easy and unique recipes to get you started. If you already know all about tempeh, simple skip this part and hop straight to the recipes. I don't mind!
What is Tempeh?
It's a plant-based protein made of cooked soybeans (think edamame) that have been fermented. The fermentation process binds the soybeans into a cake/patty, which is what you'll find at your local grocery store. It's similar to tofu, however there are some differences – tempeh is less processed, fermented, has a stronger flavor and a bit more texture. The flavor is usually described as nutty or earthy, but there are different varieties with subtle taste differences. I've tried a ton of different tempeh varieties and Lightlife is definitely my favorite for a few reasons: it's organic, gmo-free and easy to find a mainstream stores. I gravitate towards the Three Grain variety because it is the mildest in terms of taste, but I like the Original, Garden Veggie, Wild Rice and Flax too!
Is Tempeh Cooked?
Packaged tempeh is pre-cooked so you can easily enjoy it right from the package (on sandwiches, salads, etc), but for extra flavor I highly recommend marinating it ahead of time. Another option is to steam it. Steaming for about 12-15 minutes before using it in your recipe mellows the flavor and makes it even more digestible. I find the extra step of steaming unnecessary so I just marinate it with a good sauce (usually for a couple hours or overnight) and cook it up either by pan-sautéing or baking it. Some folks will fry tempeh and I'm sure it's delicious prepared this way but I don't eat fried foods on the regular so I haven't tried it.
Like tofu, tempeh absorbs a ton of flavor from it's marinade so always look for recipes that offer a flavorful marinade or sauce, like those featured here.
Health Benefits of Tempeh
Tempeh is a fermented food with a specific fungus called rhizopus oligosporus. I have no clue how to pronounce that particular fungus, but I do know that it produces an antibiotic that is effective against certain bacteria, including including staphylococcus aureus.
Tempeh is a complete source of plant-based protein (1 cup had 31 grams) and a great source of B vitamins, manganese and isoflavones. The protein and nutrients in the soybeans are easier to digest after the fermentation process and tempeh is less likely to cause gas or indigestion. Less gas and bloating FTW!
Tempeh Recipes
Alright, so now that you know WHY you should be eating tempeh, here's the HOW. I have complied some of my favorite easy and healthy tempeh recipes for you to try! Grab your tempeh and get cooking.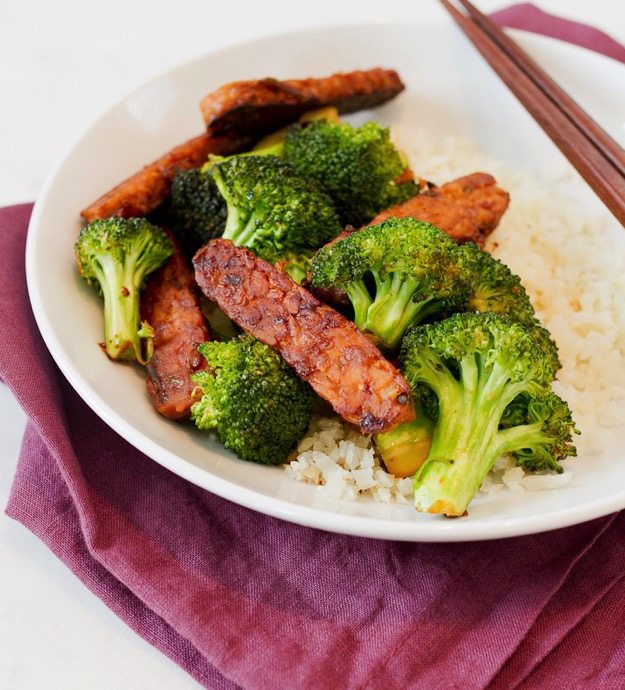 Garlic Teriyaki Tempeh and Broccoli – A vegetarian version of beef and broccoli, this one-skillet teriyaki tempeh and broccoli recipe is loaded with flavor and perfect for weeknights when you need to get a healthy meal on the table fast!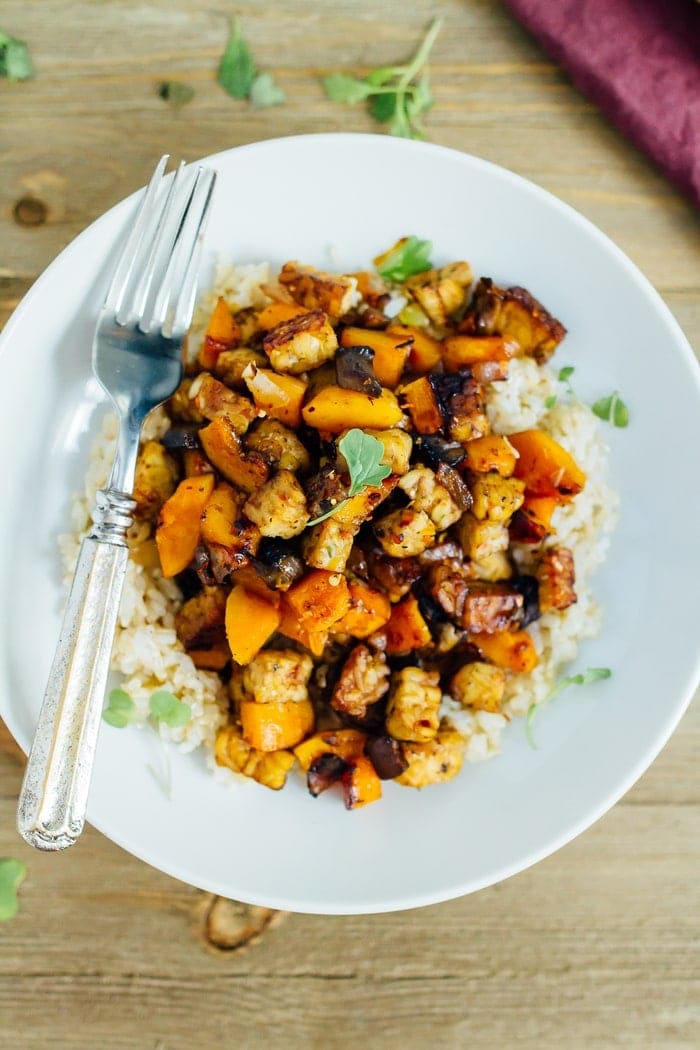 Tempeh Butternut Squash Bake – This tempeh butternut squash bake makes Meatless Monday a breeze. Just throw everything in one pan and bake! It's loaded with protein (29 grams), vegan, gluten-free and absolutely delicious.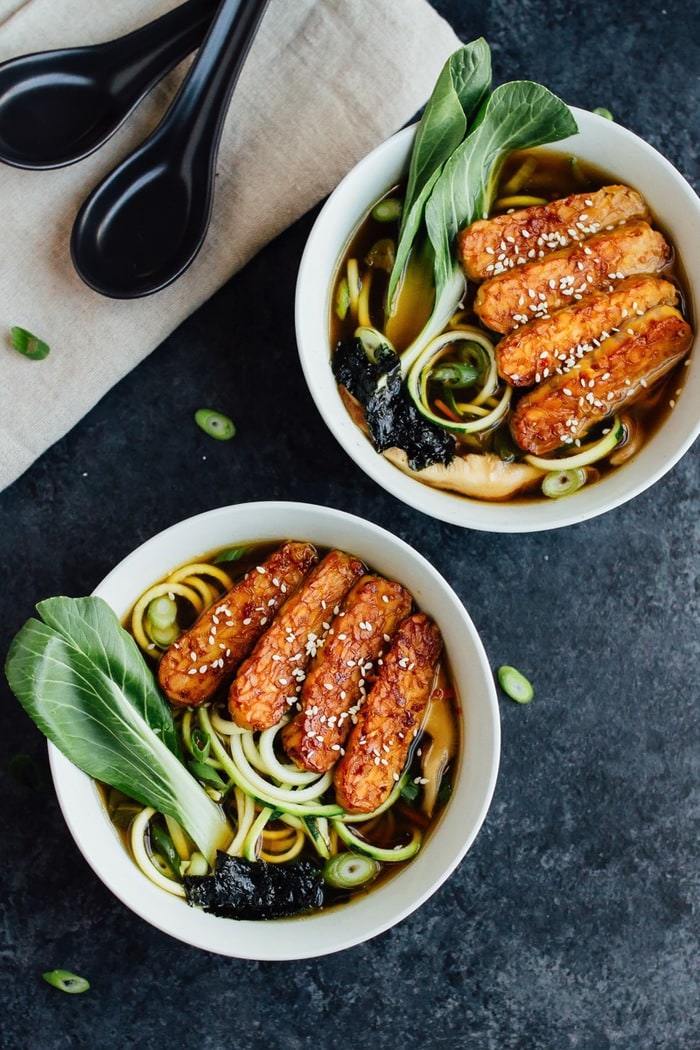 Zucchini Noodle Ramen with Tempeh – Vegan zucchini noodle ramen bowls with marinated tempeh in a quick-cooking miso mushroom broth. This ramen is savory, healthy and absolutely delicious. 17 grams of protein per bowl! Vegan and gluten-free.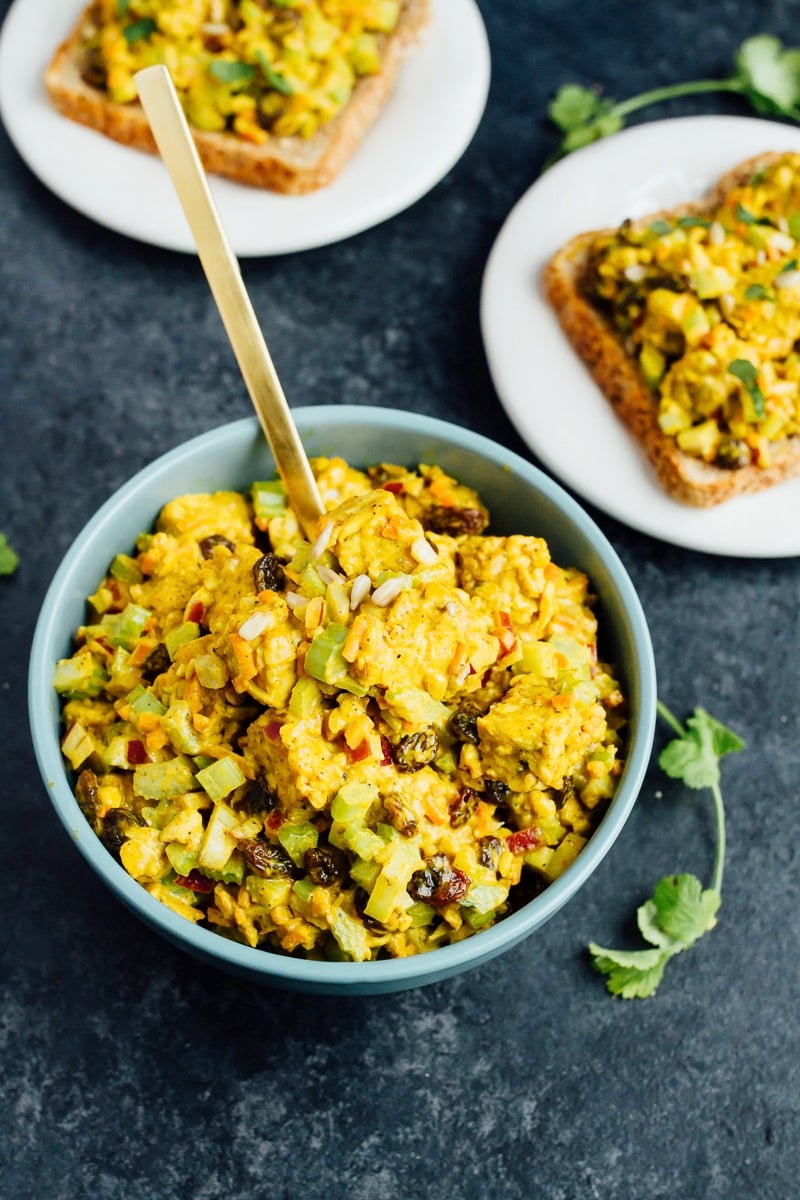 Curried Tempeh Salad – This flavorful and filling plant-based curried tempeh salad is perfect for spreading on bread for a hearty sandwich, adding to a wrap or serving over crisp greens. Vegan and gluten-free.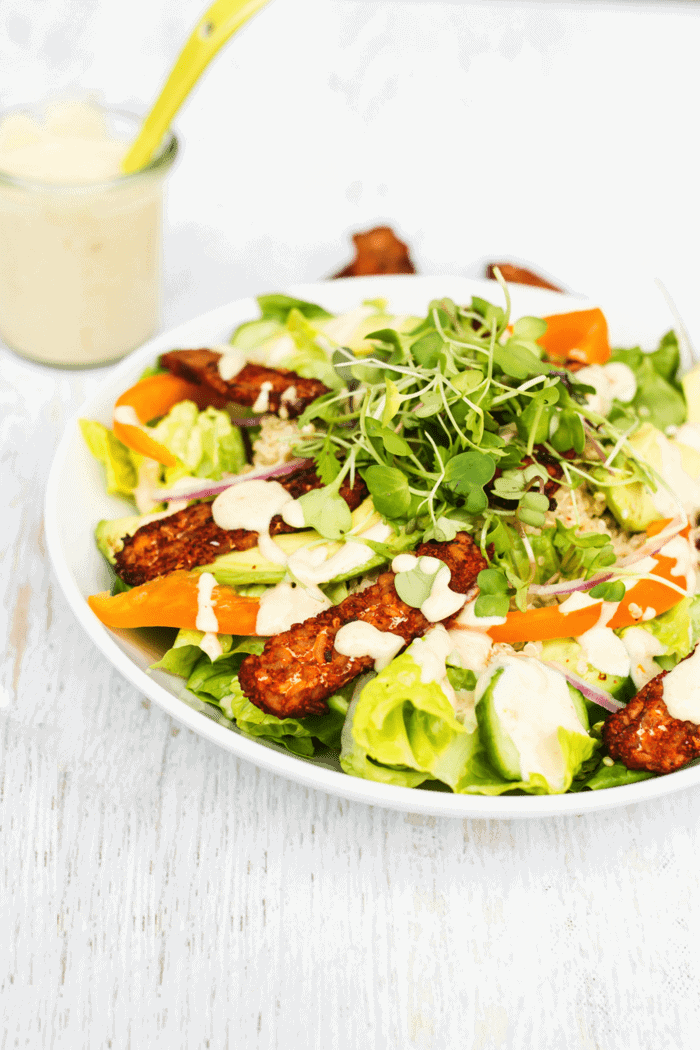 Blackened Tempeh Salad – Plant-powered blackened tempeh salad with fresh romaine, quinoa, red onion, bell pepper, avocado and a creamy orange tahini dressing.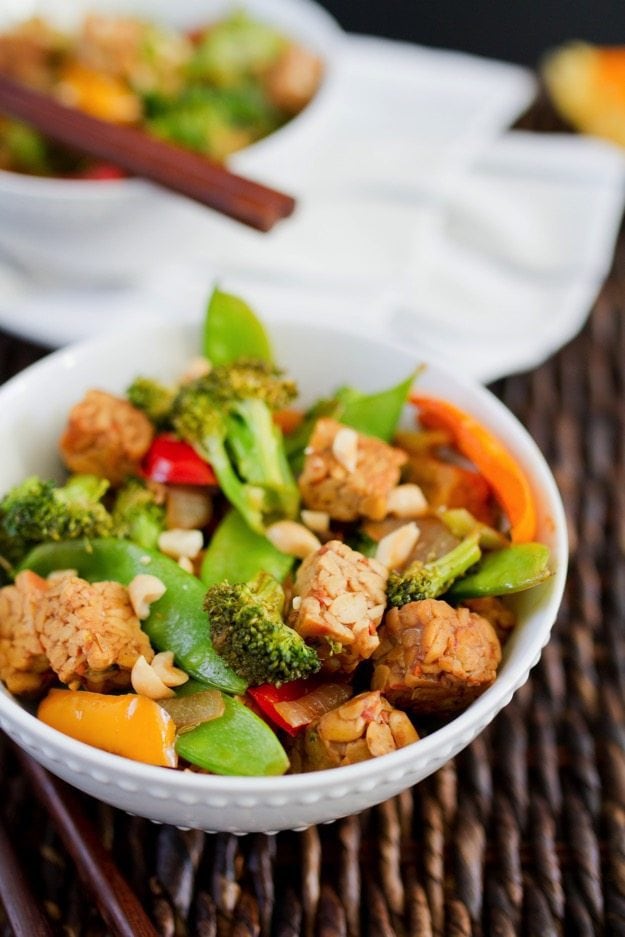 Kung Pao Tempeh – A flavorful tempeh stir-fry with fresh veggies and a spicy orange Szechuan sauce. The dish comes together in less than 30 minutes, making it quick and easy to enjoy the benefits of fermented foods.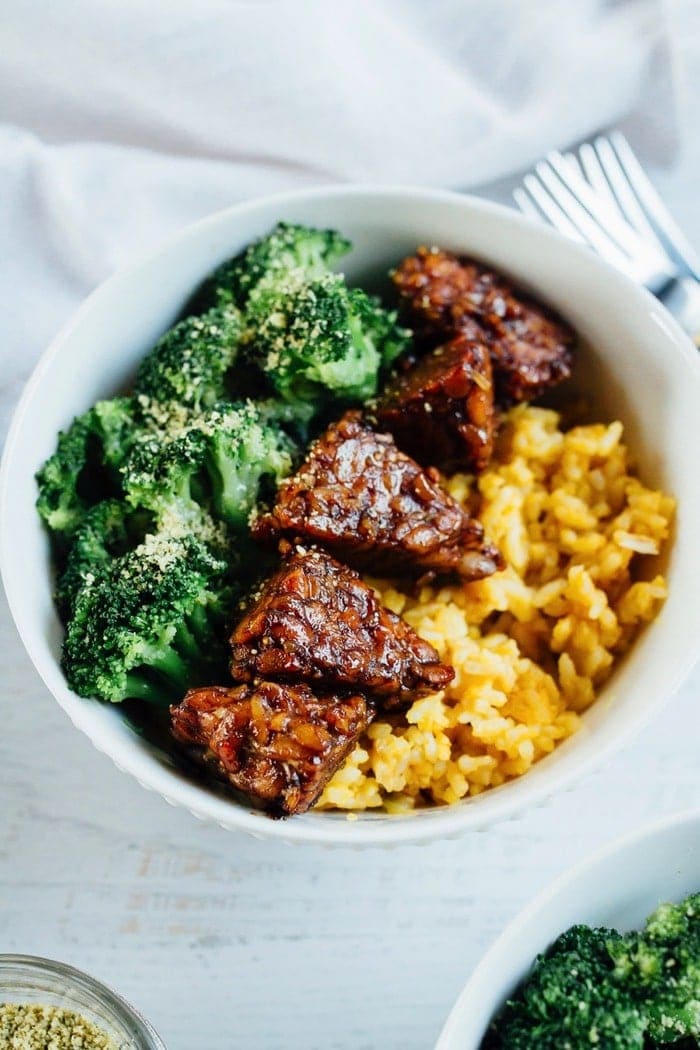 Maple Balsamic Tempeh Bowls – Tips and tricks for cooking with tempeh, plus a delicious recipe for Maple Balsamic Tempeh Bowls with creamy pumpkin rice and steamed broccoli.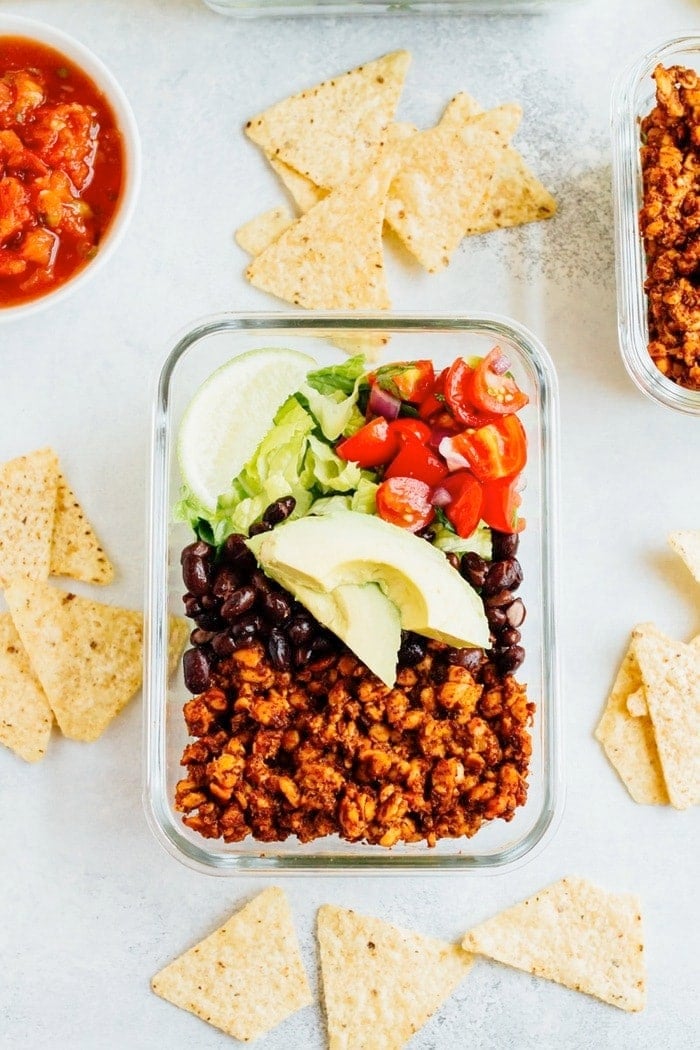 Tempeh Taco Salad Meal Prep Bowls – Looking for an easy on-the-go option for lunch? These tempeh taco salad meal prep bowls are perfect! The combo of protein-packed tempeh taco meat, black beans and veggies makes for a delicious and satisfying plant-based meal. Plus they're vegan and gluten-free.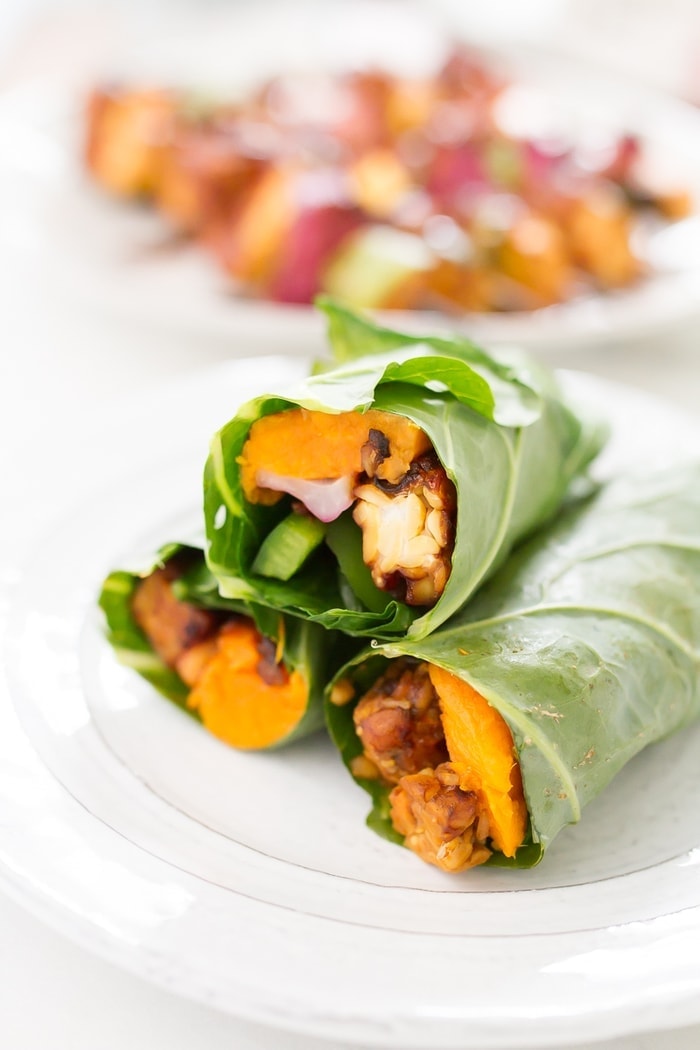 Tempeh Sweet Potato Collard Wraps – Delicious tempeh collard wraps with hummus, slices of baked sweet potato, green pepper, red onion and cranberries.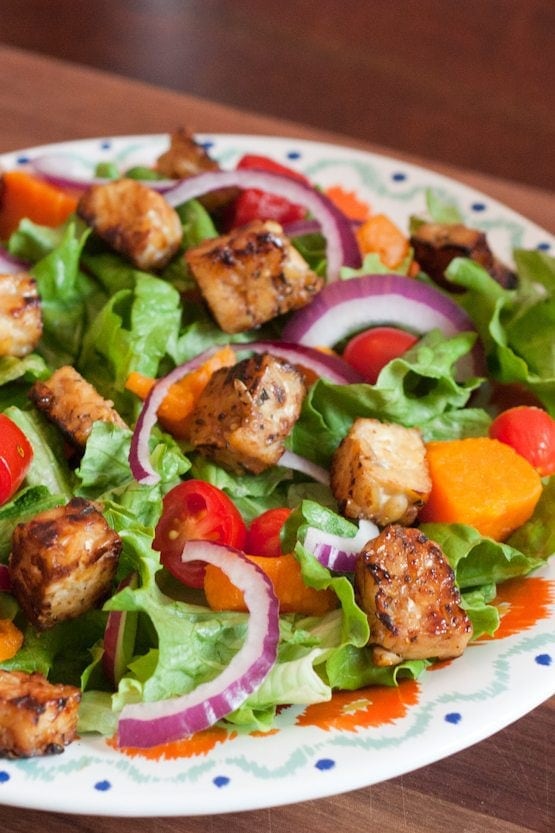 Maple Lemon Tempeh Cubes – This quick and easy tempeh recipe with lemon and maple syrup is perfect to use for topping salads.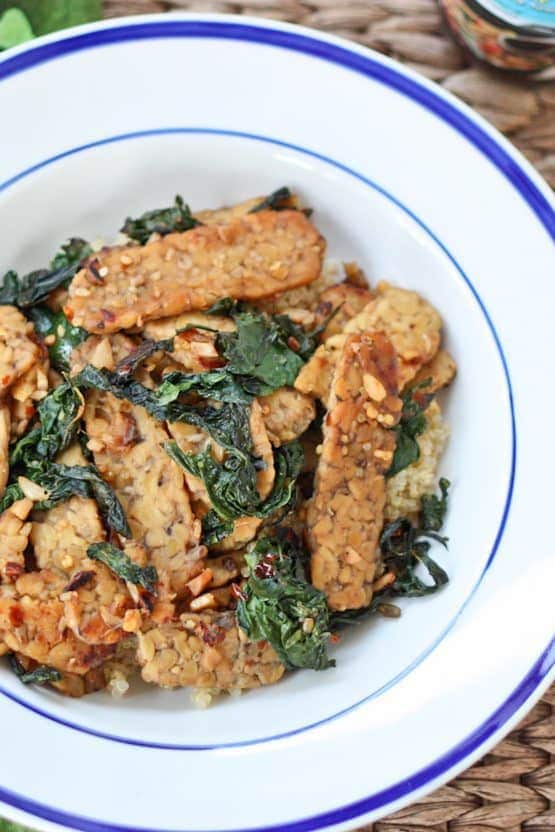 Tempeh with Kale + Coconut Aminos – A flavorful one skillet meal with tempeh, sautéed kale and coconut aminos.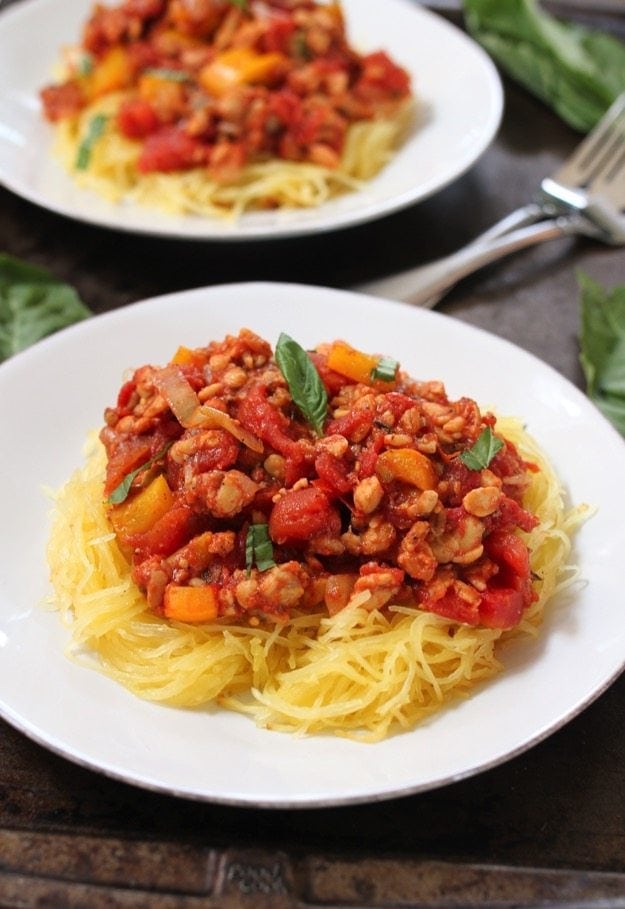 Tempeh Bolognese – This bolognese sauce is made with ground tempeh and served over spaghetti squash for a hearty meal that's easy to make, packed with protein and super healthy!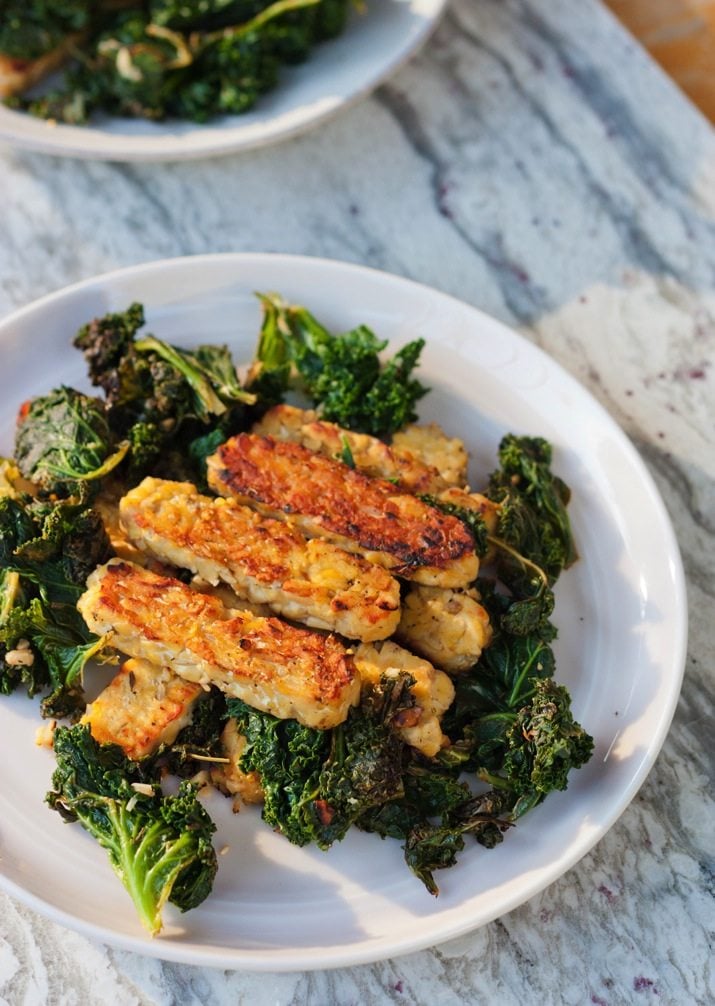 21 Day Fix Lemon Garlic Tempeh – A simple, refreshing meal of lemon garlic tempeh cooked in coconut oil served with blanched kale.
Do you have a favorite tempeh recipe? Leave a comment below and let us know what it is so we can all try it!