What Is Tempeh (and How to Cook It)
13
Published Jan 08, 2022, Updated Sep 07, 2023
What is tempeh and how do you cook it? Here I'm sharing a guide to all things tempeh along with my favorite marinated tempeh recipe.
If you're new to tempeh, you're in the right place because I have created a guide to teach you all about tempeh, it's health benefits and how to cook it!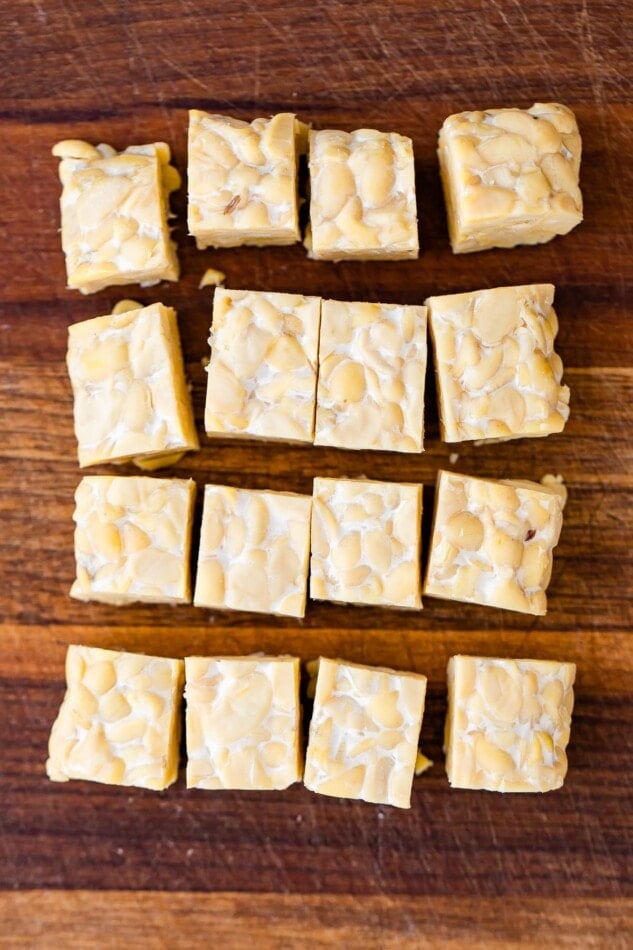 What is Tempeh?
You may have seen some of my tempeh recipes and wondered what tempeh is. For starters, it's a plant-based protein made of cooked soybeans (think edamame) that have been fermented. The fermentation process binds the soybeans into a cake/patty, which is what you'll find at your local grocery store. Some varieties of tempeh only include soybeans, but others will contain grains like barley, rice, flax or millet along with the soybeans.
What Does Tempeh Taste Like?
Tempeh on its own has a mild, nutty flavor that's often described as earthy. Like most proteins, it really takes on the flavor of the dish! When prepared with marinades or sauces, it absorbs those flavors and the end result is so tasty.
Tempeh vs. Tofu
Tempeh is related to tofu, but they aren't the same thing! They are both made from soy, but other than that they're actually quite different.
Tempeh is less processed, fermented and has a stronger flavor and a bit more texture. Tofu is more processed and has a milder flavor with basically no texture! Tofu can be blended up into a creamy sauce or soup or can be fried for more texture, but in general it is much smoother than tempeh.
I also find tempeh a bit easier to work with because there's minimal prep work. With tofu you have to account for extra time to press it and with tempeh you simply open the package and you're ready to chop and cook!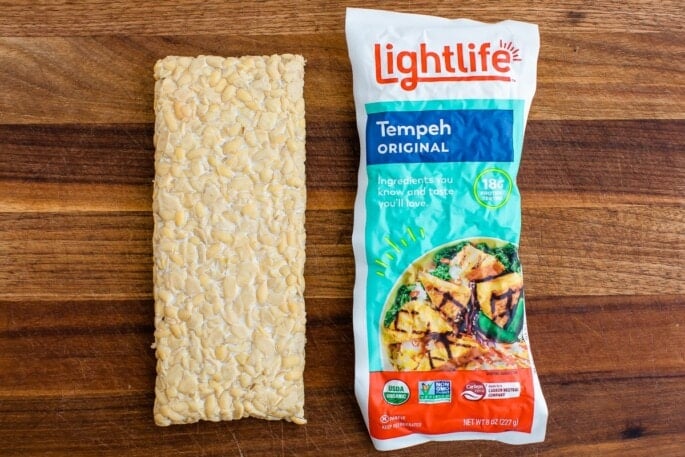 My Favorite Brand of Tempeh
I've tried a ton of different tempeh varieties and Lightlife is definitely my favorite for a few reasons: it's organic, GMO-free and easy to find in mainstream stores. I gravitate towards the Three Grain variety because it is the mildest in terms of taste, but I like the original as well!
You can buy tempeh in most major grocery stores and at every health food store. You'll find it in the refrigerated section, usually by the produce or other plant-based proteins.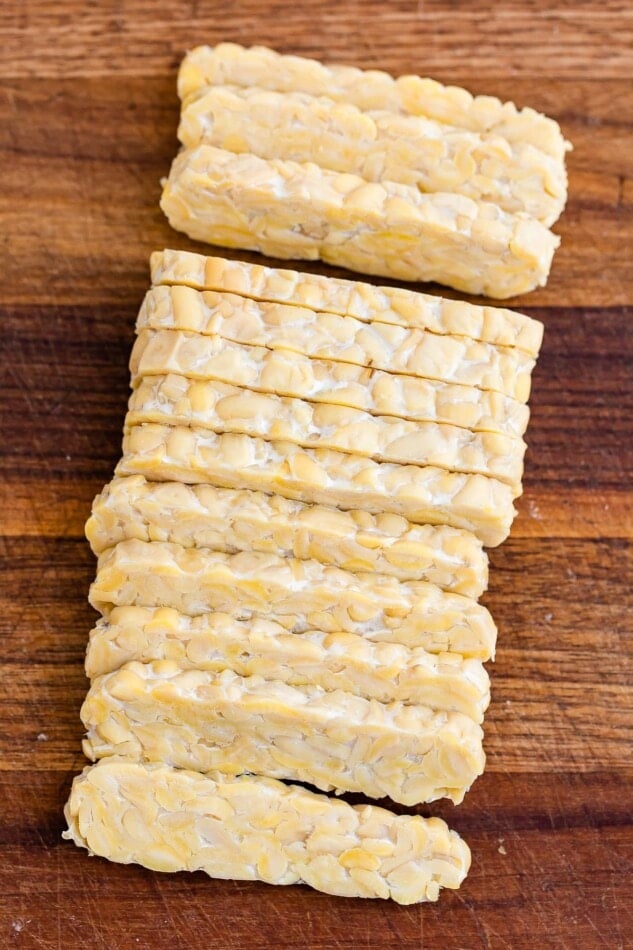 Health Benefits of Tempeh
Tempeh is incredibly healthy! Not only is it a complete protein, but it's a good source of iron, prebiotics, B vitamins and manganese. A 1 cup serving of tempeh has a whopping 31 grams of protein!!
As I mentioned above, tempeh is a fermented food. This fermentation process breaks down phytic acid, which can inhibit mineral absorption. This means the minerals in tempeh are easier to digest and tempeh is also less likely to cause gas or indigestion when compared to other beans. I don't know about you, but less gas and bloating is always a win in my book!
Is Tempeh Healthy?
Yes, tempeh is very healthy. It's an excellent source of plant-based protein, prebiotics and a variety of vitamins and minerals, including iron.
Is Tempeh Healthier Than Tofu?
Tempeh and tofu are both healthy options, however tempeh does provide more protein, fiber, iron, and potassium per serving when compared to tofu. It is also considered less processed than tofu. That said, tofu is lower in calories and does have more calcium per serving.
Is it Safe to Eat Raw Tempeh?
Most packaged tempeh is pasteurized so it is safe to eat raw, but it will taste much better if you cook it!
Where Do You Buy Tempeh?
You can find tempeh at most major grocery stores now. Look for it in the refrigerated section, usually by the produce or other plant-based proteins.
Alright, so now that you know why you should be eating tempeh, let's cover how to prepare and cook tempeh so you can feel confident next time you put a block of tempeh in your shopping cart.
Cutting Tempeh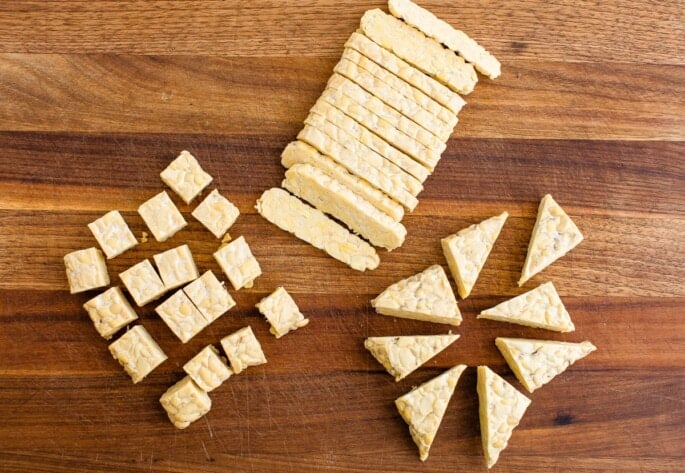 There are so many different ways to cut tempeh, but here are my go-to methods:
Thin slices: if I'm using tempeh to make my tempeh bacon, blackened tempeh salad or vegan breakfast sandwich I like to cut the tempeh into 1/4" thick strips/slices.
Cubes or triangles: if the tempeh is the star of the recipe like in this vegan sweet and sour or tempeh butternut squash bake I like to cut it into cubes or triangles. For cubes, just try to keep cut them into the same sized cubes so they cook evenly. To cut tempeh into triangles, cut the tempeh in half width-wise. Cut each half in a star pattern to get 16 mini triangles per package of tempeh, 32 triangles total.
Crumbled: crumbled tempeh is a great substitute for recipes that typically have ground meat like these tempeh tacos or this tempeh bolognese sauce. To crumble tempeh, simply break it apart with your hands until you reach a desired consistency, similar to that of ground meat.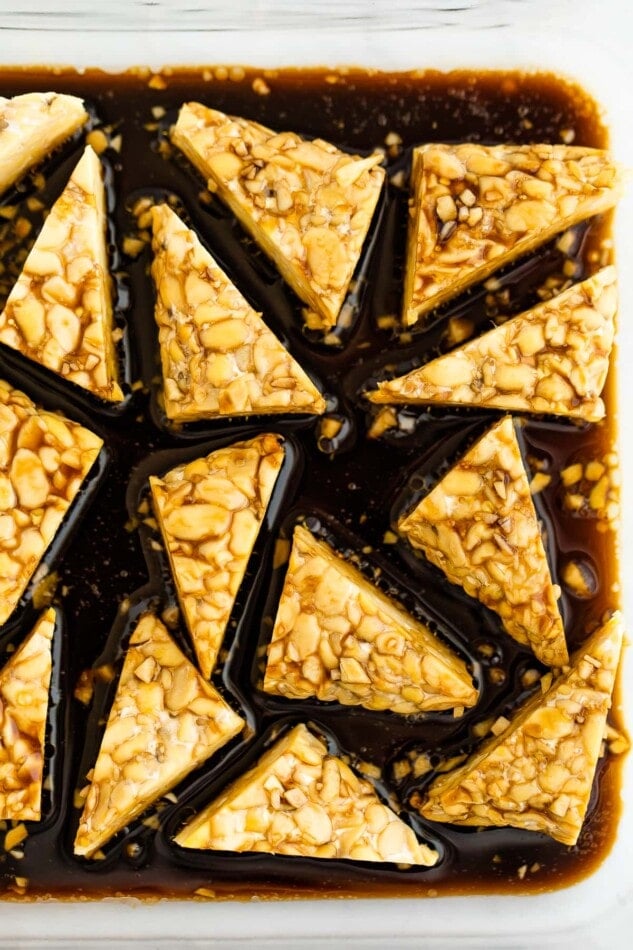 How to Cook Tempeh
Packaged tempeh is pre-cooked so you can easily enjoy it right from the package (on sandwiches, salads, etc), but I highly recommend cooking it so that it tastes better.
A lot of people suggest steaming the tempeh before marinating or cooking to help remove any bitterness. I honestly don't take the time to do this, but if you'd like to try it here's the process. To steam the tempeh, cut it as desired, place in a steamer basket, cover and steam for 10-15 minutes. If you don't have a steamer basket, you can fill a saucepan with 1-2 inches of water and bring it to a boil. Once boiling place the tempeh in the saucepan, cover and reduce heat to a simmer and cook for 10-15 minutes.
My favorite way to make tempeh taste amazing is to marinate it! You can marinate in the fridge anywhere from one hour to overnight. The longer it marinates the longer the tempeh has time to soak up all the flavors. I'm sharing a simple tempeh marinade below made of maple syrup, balsamic vinegar, oil, tamari and garlic. It's a staple recipe in our house!
Once your tempeh is prepped and marinated, it's time to cook it! You have a few options. Here's what I recommend:
Pan sauté – I typically sauté my tempeh. Heat 1 Tablespoon of oil in a large skillet over medium-high heat. Add the tempeh and cook until golden brown, about 4-5 minutes per side.
Bake – Baking tempeh is a great hands-off cooking option! Line a baking sheet with parchment paper or a silicone mat. Spread the tempeh evenly and bake at 400ºF for about 25 minutes or until golden brown.
Air fry – If you have an air fryer, this is a great option for crispy and delicious tempeh! Add the tempeh to the basket and bake at 375ºF for about 15 minutes. Toss every 5 minutes for even cooking.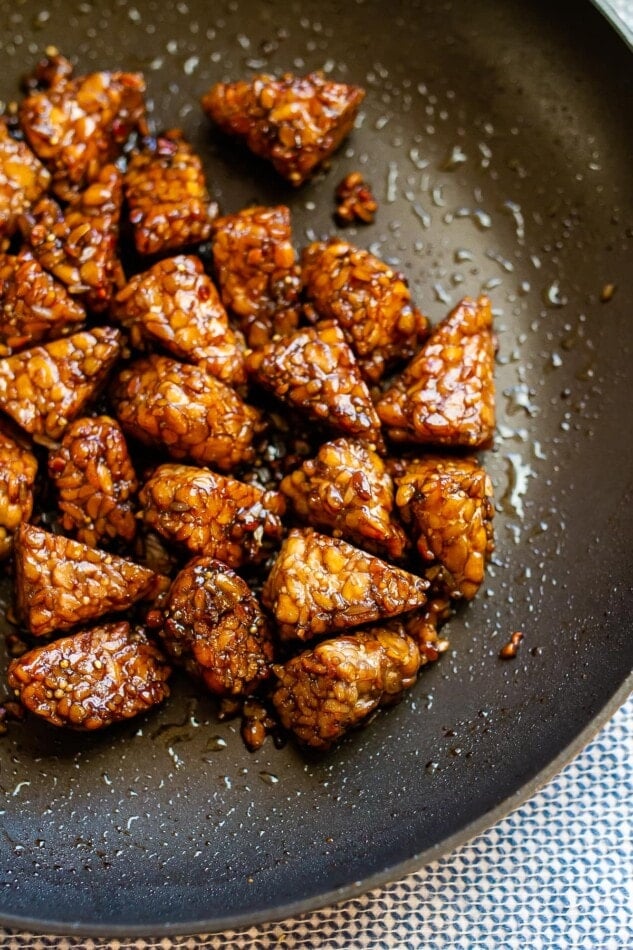 How to Serve This Marinated Tempeh
This marinated tempeh is lovely served over rice or another grain like quinoa or millet. You can also serve it on cauliflower rice for a low-carb option. You can also pair it with a veggie side like my roasted broccoli or kale salad or try it in my tempeh bowls with pumpkin rice.
More Tempeh Recipes to Try
Be sure to check out all of my tempeh recipes on EBF!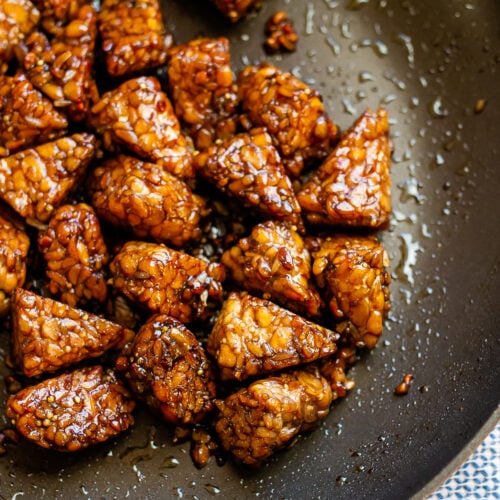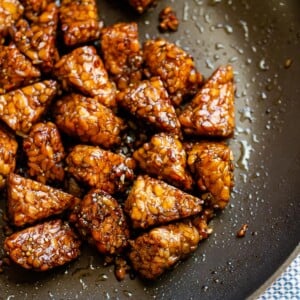 Easy Marinated Tempeh
This easy marinated tempeh is my favorite way to cook tempeh. The maple balsamic sauce gives the tempeh so much flavor!
Ingredients
2

8 oz packages

tempeh

¼

cup

maple syrup

¼

cup

balsamic vinegar

2

teaspoons

avocado or olive oil

3

Tablespoons

low sodium tamari

,

soy sauce or coconut aminos

3

cloves

garlic

,

minced

1

Tablespoon

avocado or olive oil

,

for cooking
Instructions
Remove tempeh from package and chop into small triangles by cutting the tempeh in half width-wise. Cut each half in a star pattern to get 16 mini triangles per package of tempeh, 32 triangles total.

In a small bowl combine maple syrup, balsamic vinegar, tamari, 2 teaspoons oil and minced garlic. Add tempeh triangles into a shallow dish with a large surface area, pour maple balsamic marinade over the tempeh, toss to coat and let tempeh marinate in the fridge for 1 – 24 hours. Stir the mixture a couple times while marinating, if possible.

Pan-glaze the tempeh by heating 1 Tablespoon avocado oil in a large skillet over medium-high heat. Once oil is hot, add the tempeh (without pouring the marinade in) and cook until golden brown on each side, allowing 4-5 minutes per side. Pour the maple balsamic marinade into the pan with the tempeh and simmer another 5-7 minutes, or until the sauce has reduced creating a glaze on the tempeh. Toss the tempeh a couple times during this process.

Once the sauce has thickened and all tempeh pieces are coated, the tempeh is ready to be served. I recommend serving it over rice, cauliflower rice or another grain and a veggie side.
Nutrition
Serving:
1
/6 of recipe
|
Calories:
218
kcal
|
Carbohydrates:
22
g
|
Fat:
7
g
|
Saturated Fat:
1
g
|
Polyunsaturated Fat:
3
g
|
Sodium:
365
mg
|
Fiber:
6
g
|
Sugar:
10
g
Nutrition information is automatically calculated, so should only be used as an approximation.