I have an oldie but goodie recipe for ya today! And it's one of my very favorite side dishes — ROASTED BROCCOLI.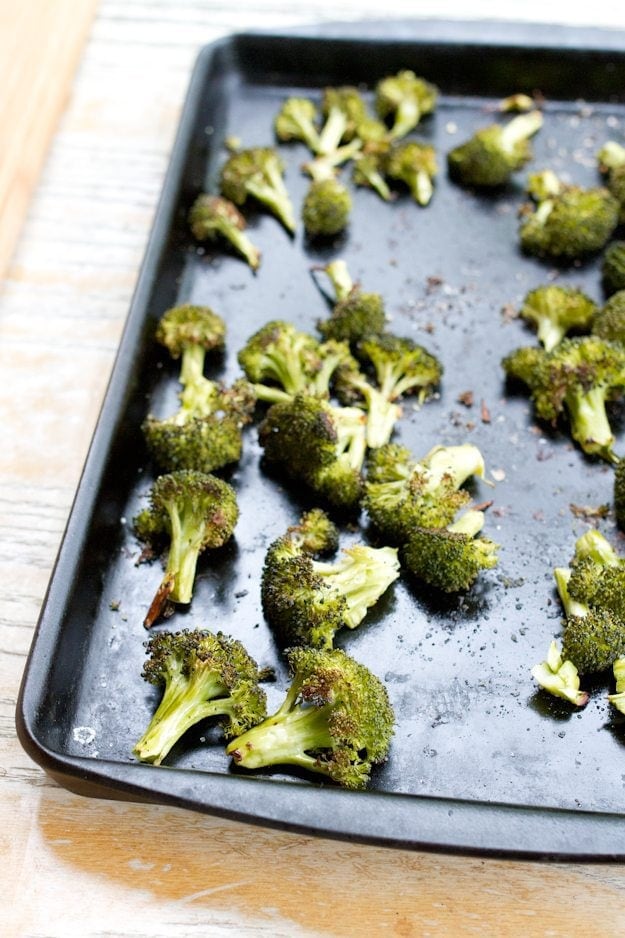 I've always liked broccoli but since finding out how delicious it tastes when roasted, I absolutely LOVE it. A little secret — if you've never tried roasting veggies, you're totally missing out! Almost all vegetables taste better when roasted because it enhances the natural flavor and brings out the sweetness of the vegetables. Broccoli, cauliflower and brussels sprouts are some of my favorite veggies to roast. Oh, and root vegetables like sweet potatoes, parsnips and carrots.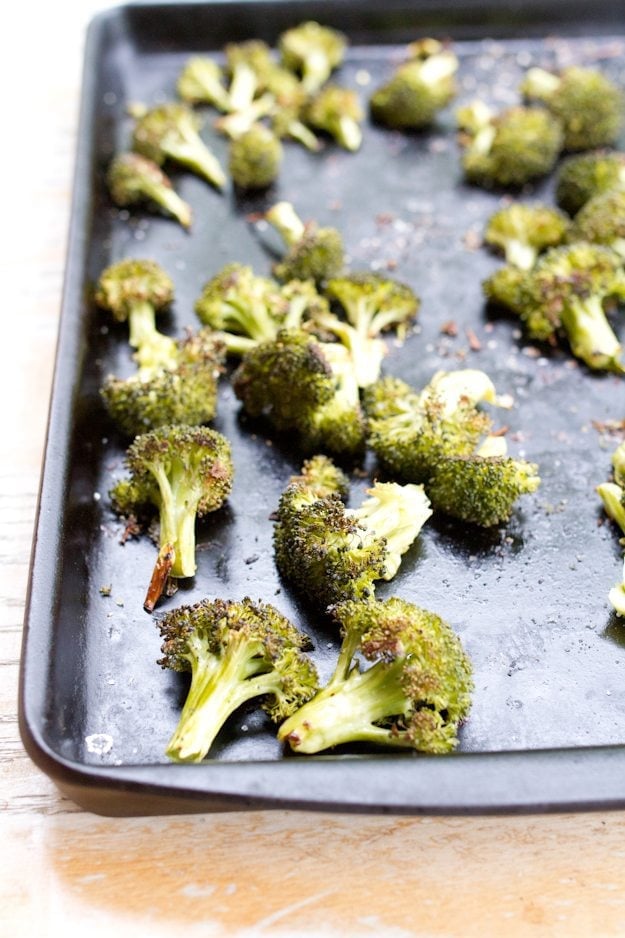 Isaac and I make this roasted broccoli at least once a week. It's really easy, tastes amazing and works well with just about any protein option — beans, tofu, fish, eggs… the possibilities are endless!
Print
Easy and Healthy Roasted Broccoli
---
Description
This roasted broccoli with a olive oil, sea salt, pepper and cayenne is absolutely delicious and packed with nutrients.
---
Scale
Ingredients
1

large crown or

2

small crowns of broccoli, washed and trimmed

1 Tablespoon

olive oil

1 teaspoon

sea salt

1/2 teaspoon

ground pepper

1/2 teaspoon

cayenne pepper (optional)
---
Instructions
Preheat oven to 425° F.
Cut the broccoli florets from the thick stalks, leaving an inch or two of stalk attached to the florets, discarding the rest of the stalks.
Coat broccoli with the olive oil in a large bowl or on a cookie sheet. You can use your hands to make sure the oil is well coated on the broccoli.
Sprinkle on the salt and pepper and mix well.
Put the broccoli on a baking sheet/cookie sheet and put it in the oven for about 25-30 minutes. Once the tops of the broccoli are a little brown you'll know it's done.
---
The best part is that broccoli is really healthy for you (like all green vegetables)! It's rich in vitamin C, K and A, folate, calcium and iron, as well as, other vitamins and minerals. If that's not enough goodness, it's also very low in calories and carbs and high in fiber. Eat up!