I told you guys I was going to do more seafood recipes…
I realize that I JUST posted a salmon recipe, but I made this dish on Monday night and both Isaac and I really enjoyed it so I thought I would share. If you don't like salmon, I apologize, but it's my favorite fish! And the good thing about this recipe is that it doesn't require you to use salmon – another firm fish like cod or red snapper would work great as well.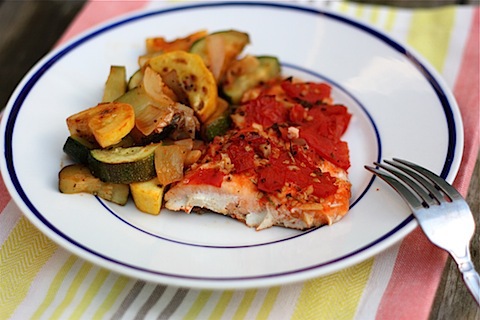 Baked Salmon with Herbs and Lime
Serves 2 / Adapted from Moosewood Restaurant Low-Fat Favorites
Ingredients:
2 salmon fillets (or other firm fish fillets – cod or red snapper would work well)
1 lime, juiced
3 garlic cloves, minced
1/2 medium sized onion, finely chopped
1/2 teaspoon dried rosemary
1/2 teaspoon dried thyme
1/2 teaspoon chopped dried parsley
1 teaspoon sweet paprika
1 cup fresh tomato, diced
Directions:
Preheat oven to 375°.
In a medium bowl, mix the lime juice, garlic, parsley, onion, rosemary, thyme, paprika and tomatoes. Place the fillets in an unoiled baking dish and spread the topping over the fish.
Cover tightly with foil and bake for about 25 minutes, until the fish flakes easily with a fork.
I chopped up fresh zucchini and yellow squash, drizzled on a little olive oil and baked them alongside the salmon on the baking stone. Once the fish was cooked I took it off the pan and put the veggies back in the oven, cranked the heat to a broil and let them roast for a few extra minutes! <– I like my veggies roasted – even a little brown. 🙂
I loved how quick and easy this one-pan meal was and and I really liked the salmon because it had a ton of flavor without any added fat or salt. The lime juice, garlic, spices and fresh tomato added a light, summery seasoning to the fish – perfect for the warm evenings we've been having here in VA.

Have a lovely Wednesday evening and don't forget to check out the Color Me Rad 5K giveaway I have going on – it ends tomorrow.