The ultimate summer salad with lightly marinated grilled salmon, sweet corn, sliced peaches and tomatoes. The flavors come together to make a fresh and flavorful entree sized salad. 
Happy Monday! I hope you had a lovely weekend. We traveled to DC for a baby shower and spent the night with friends. Food and drink wise, we had dinner at Osteria Morini, drinks at Blue Jacket and brunch at Northside Social. The weather was perfection and we had a great time! I was signed up to take my first Orange Theory class, but got lost on my way there and arrived too late. Such a bummer, but we have one opening in Richmond soon so I'll get to try it soon enough.
A few weeks ago I grilled salmon and served it over salad with a bunch of seasonal produce — fresh and juicy sliced peaches, baby tomatoes and sweet corn — all from our local farmers market. It was the perfect summer salad and plenty filling to serve as a full meal.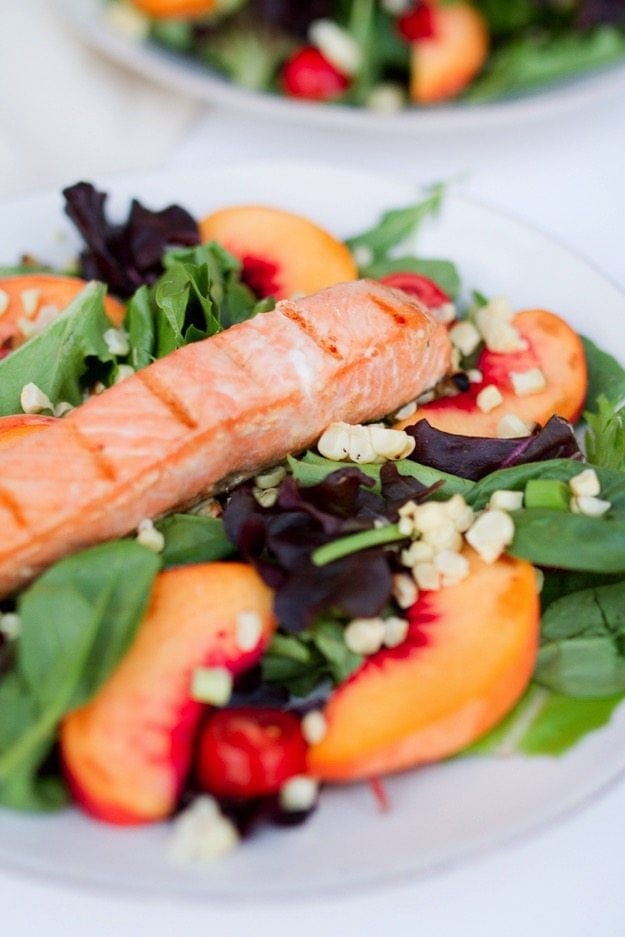 I hadn't really intended to create an EBF recipe from it but as per the usual I posted a photo on Instagram. People seemed to go crazy for it so I figured I would post the recipe. Note to self (and other bloggers): folks LOVE salmon recipes. I'm not sure what it is about the pink fish but it's definitely a crowd favorite.
Anyhow, the key to this salad is making sure you have the freshy fresh when it comes to the produce (and the fish — that's important too). The produce really makes this salad special and if it's not perfectly ripe, it won't be nearly as good. Soft and juicy peaches, bright and flavorful tomatoes and the sweetest corn. Once you have those things covered you're good to go!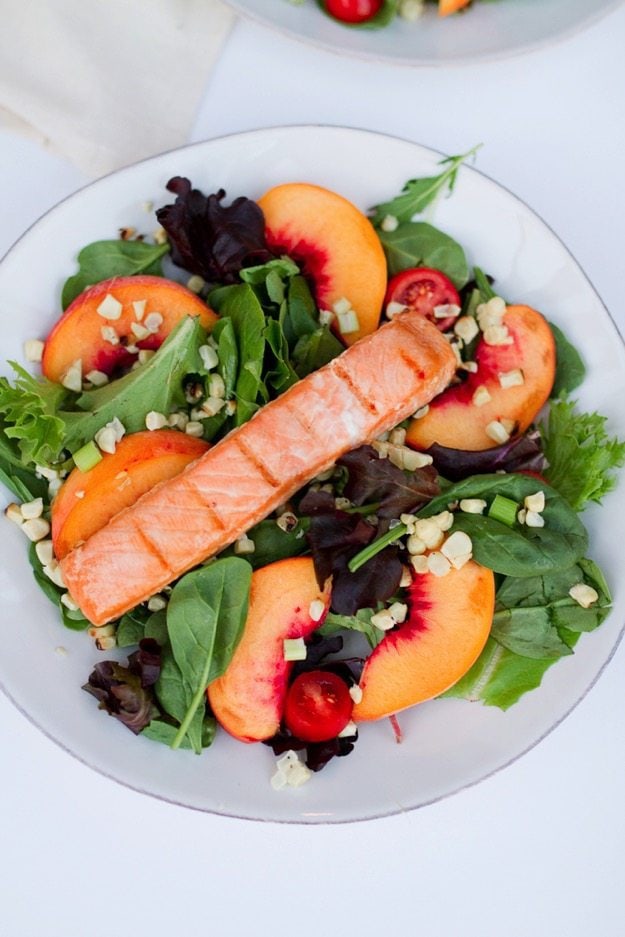 Leftover grilled corn works great for this recipe because it's already cool and ready to be cut from the cob. If you don't have a leftover ear of corn laying around, you can grill the corn while the salmon is marinating and let it cool while the salmon is cooking. And if you don't want to grill the corn, you can just cut it off the cob and eat it raw. It's actually really tasty. <– I make raw corn salad all the time.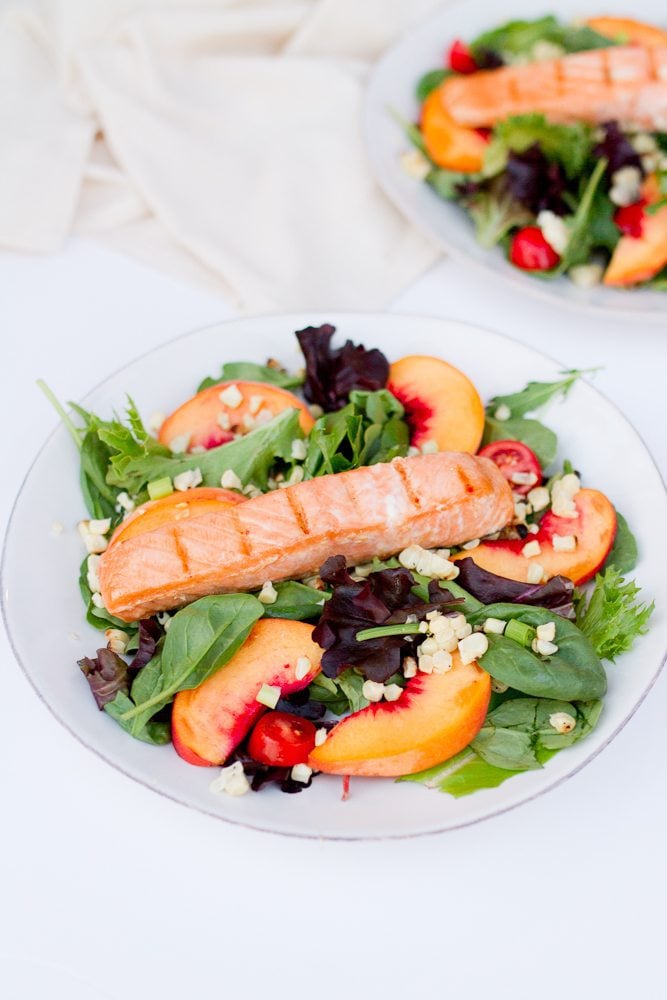 The fish is relatively simple taking only a bit of time to marinate and a few minutes to grill. Overall, the whole meal comes together rather quickly so it works well for a weeknight meal or easy Sunday supper.
With the flavors of the fresh produce you almost don't need a dressing but I like to serve the salad with a little balsamic vinegar and olive oil or the zesty tahini dressing from this kale salad.
Grilled Salmon Summer Salad
2
adjust servings
Ingredients
2

salmon filets (about 5 oz each)

2

Tablespoons apple cider vinegar

1

teaspoon olive oil

1

teaspoon low-sodium tamari (or soy sauce)

1

teaspoon maple syrup

1/2

teaspoon ground pepper

1

peach, sliced

1

ear of grilled corn, cut from cob

handful of cherry tomatoes, halved

balsamic vinegar & olive oil

fresh ground pepper

sea salt
Instructions
Combine apple cider vinegar, olive oil, tamari, maple syrup and ground pepper in a small bowl to make the marinade. Pour the marinade into a dish (one with sides so the marinade won't spill out) and place the salmon skinless-side down. Let it sit in the fridge for 20-30 minutes.
If you're planning to grill the corn you can do that while the fish is marinating. Heat grill to high heat, keep the corn in the husk and cook for 15-20 minutes, turning the corn occasionally. Remove from grill and allow corn to cool before cutting from the cob.
After fish has marinated, preheat the grill to medium heat and lightly oil the grate. Place salmon on the grill, skinless-side down and discard marinade. Cook salmon for a few minutes, just long enough to get grill marks and then flip so the salmon is skin-side down. Cook for 8-10 minutes or until the fish flakes easily with a fork. Remove from grill.
While grilling the fish, plate salad greens on two plates, add sliced peaches, tomatoes and grilled corn. Top each with a filet of salmon. Drizzle balsamic vinegar and olive oil over each salad. Sprinkle with salt and pepper and serve.
I hope you all enjoy this grilled salmon summer salad as much as we did. If you want to try it make sure you do it soon before summer is over and all the corn, peaches and tomatoes are gone!! :/