Get my recipe for garlicky kale salad with a tahini dressing. This recipe was inspired by the Whole Foods salad bar and it's absolutely delicious! 
I'll be the first to admit that I'm semi-addicted to the Whole Foods salad bar.
There are so many delicious items on the bar that I often end up filling my container to the brim with different veggies, beans, salads and the like. Then I end up paying an arm and a leg for my meal, but it's totally worth it. 😉
Of course, I have some favorite items on the bar — one being the Cracklin' Cauliflower, which I've already recreated at home and the second is the garlicky kale salad. After reading the ingredient list for the garlicky kale salad at the bar (shh… here's a little secret — all items on the bar have an ingredient list posted) I decided to make my own variation at home. I knew the ingredients, but didn't know the exact measurements so it took a little trial and error. I've made it several times now and I think it's pretty spot on!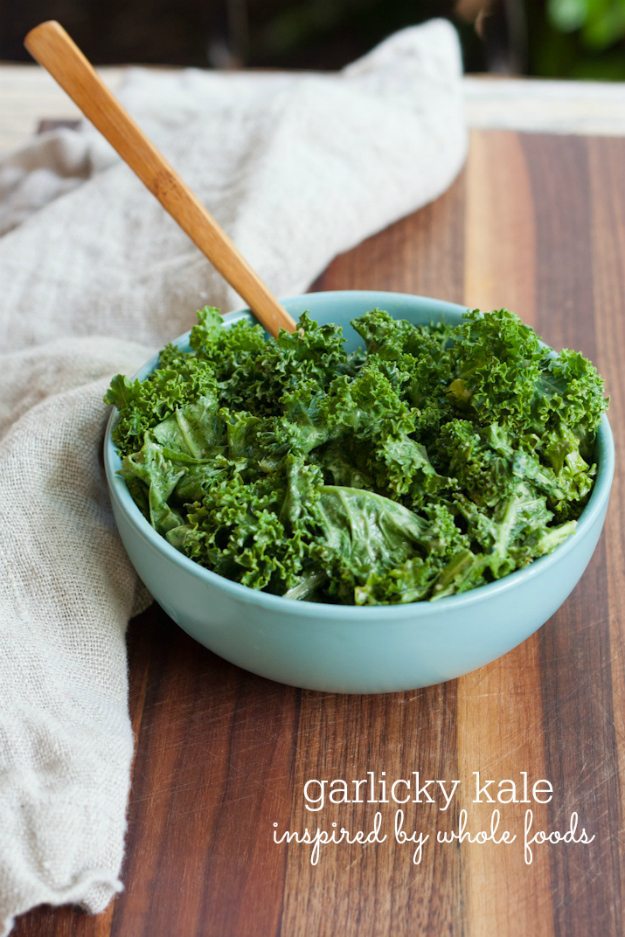 Ingredients
1

bunch raw kale, washed, de-stemmed and dried

2

Tablespoons tahini

2

Tablespoons apple cider vinegar (or water)

2

Tablespoons lemon juice

2

Tablespoons Bragg's liquid aminos (tamari or soy sauce would work too)

4

Tablespoons nutritional yeast

2

teaspoons minced garlic (1 - 2 cloves of garlic)

sesame seeds, to taste as garish (optional)
Instructions
Break or cut kale into bite size pieces and place in a large bowl.
Puree all ingredients except kale and sesame seeds in a blender or food processor to blend the dressing.
Pour dressing over kale and massage into the kale with your hands until all pieces of kale are coated.
Let the salad sit in the fridge for an hour or so to marinate. You can skip this step if you need to eat right away, but allowing some time to marinate will wilt the kale a bit and make it a little more palatable - particularly for those who are skeptical of eating raw kale.
Sprinkle on some sesame seeds before serving if so desired.
Here's a quick video that shows exactly how I make the Garlicky Kale Salad:
I hope you all enjoy this recipe as much as I do!
Do you have any Whole Foods salad/hot bar favorites? Have you ever recreated your favorite store-bought or restaurant dishes at home?