The perfect summertime blueberry corn chicken salad with grilled corn, shredded chicken, roasted pecans and a maple balsamic dressing. Southern comfort food made healthy! 
Y'all – this antioxidant rich, immune boosting baby is loaded with heart healthy, brain powering, and gut nourishing ingredients. Talk about a superfood salad fit for a queen!! Comprised of seasonal fruits and veggies, healthy fats, protein, and a light maple vinaigrette, this colorful meal-sized salad is not only beautiful on the table, but a wellness package in disguise.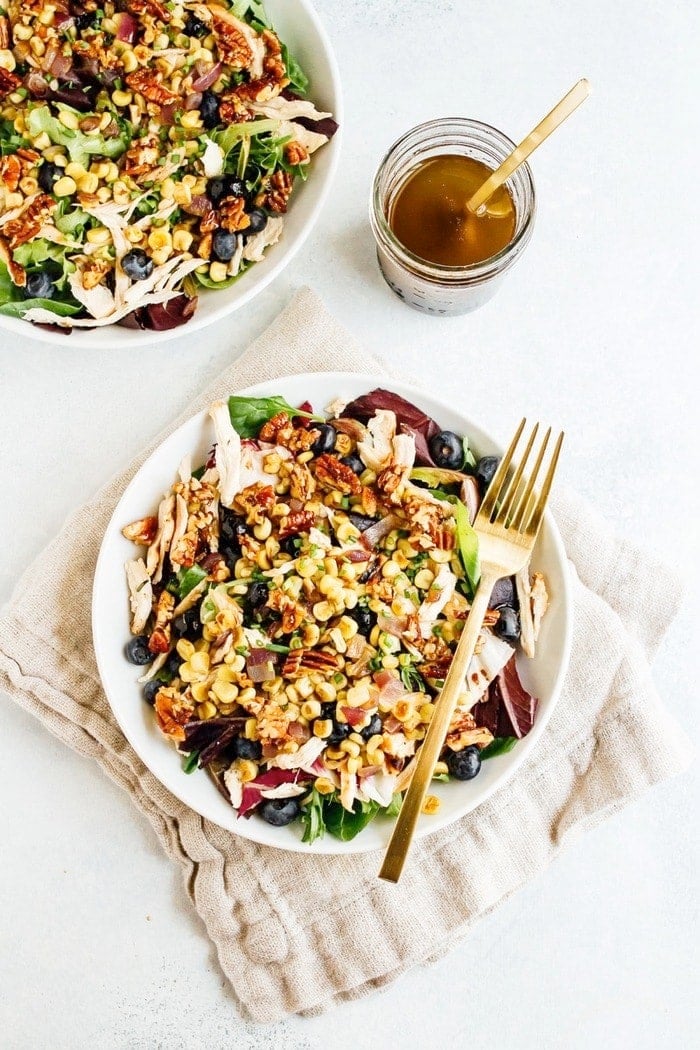 SEE HOW QUICK AND EASY THIS SALAD IS TO MAKE:
We hear health buzzwords thrown around all the time, but do you actually know what they mean? Let's break down this superfood salad so we can see where it get its power.
Antioxidants prevent or reduce free radical damage to our cells that can cause inflammation and contribute to the formation of various long-term ailments (infections, diseases, and cancer). Phenols – a family of antioxidants found in blueberries, pecans, and maple syrup – are known as "neuro-protective agents" and are tasked specifically with defending our brains against degeneration. Pecans contain the mineral copper which is also essential for good brain function, while the phenols found in blueberries and maple syrup are natural anti-agers. As if I needed another excuse to add these gems to everything from my morning oats to my evening sweet treats!
Immunity is the ability to defend our bodies from toxins and infection, which is managed by our greater immune system. Beyond our genetics, our lifestyles play a key role in the strength or weakness of this system. Poor diet, lack of sleep, little exercise, and chronic stress decrease our immunity by straining our internal organs. The good news? Maple syrup contains two essential nutrients, zinc and manganese, which can help boost your immune system. Zinc keeps your level of white blood cells up, which is crucial for increasing your resistance to sickness. Manganese, found in both syrup and pecans, protects immune cells from inflammation and damage. #winning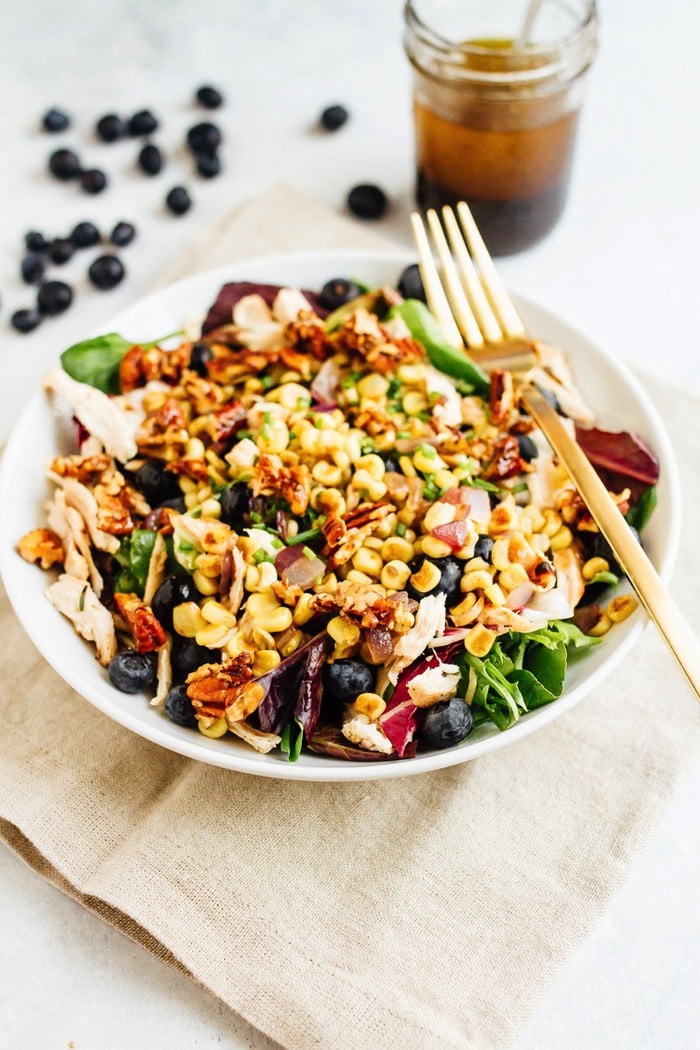 Heart healthy is something I see slapped on processed snack packages all over the grocery store, which has muddied the waters on what a beneficial food to this organ actually means. Foods that aid in lowering your blood pressure, or keep your cholesterol in line promote heart optimization and are therefore considered favorable. The problem is that not all of these foods contain valuable nutrients or whole ingredients, but don't get me started on this. Pecans are considered cholesterol-lowering foods (as are most nuts), while blueberries have been shown to decrease bad cholesterol, raise good cholesterol, and lower blood pressure naturally!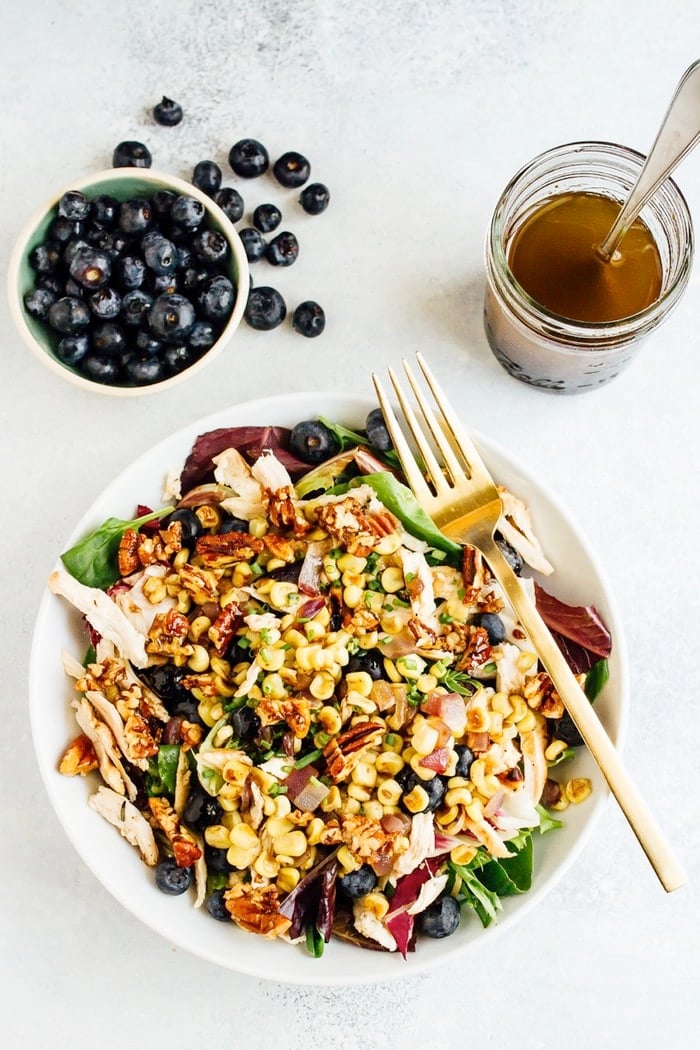 Prebiotics are the current hot topic in the ever-developing area of our gut microbiome. Most of you probably have heard of probiotics by know, which are the beneficial bacteria that live within our digestive system. Prebiotics, however, are the non-digestible food sources that the probiotics use as fuel. Maple syrup contains the prebiotic inulin, and recent studies have shown wild blueberries have prebiotic potential as well. Blueberries are also a natural source of soluble and insoluble fiber, similar to the fiber found in pecans, which helps keep you regular if you catch my drift. Read more about new research exploring the benefits of maple syrup here.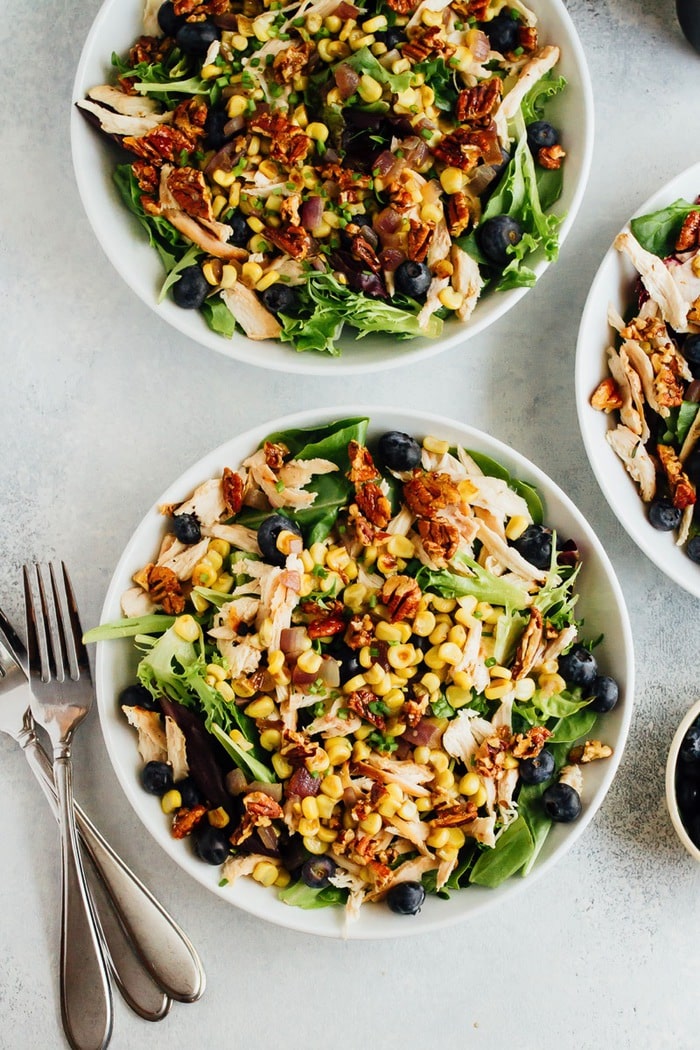 Alright, so now we know why this blueberry corn chicken salad is super nourishing, let's eat because the combo is absolutely delicious. As a self-proclaimed sweet corn lover I can't get enough of it.
I highly recommend trying this recipe ASAP as it's perfect while fresh corn and blueberries are in season, and makes an easy dinner if you have leftover grilled chicken or corn from a summertime weekend cookout. Aligning our bodies with the season elevates our energy levels, so consuming more raw, hydrating, and cooling foods is key! Feel free to get creative in the kitchen and add your own toppings to the salad. Avocado, goat cheese, or pepitas would be great additions.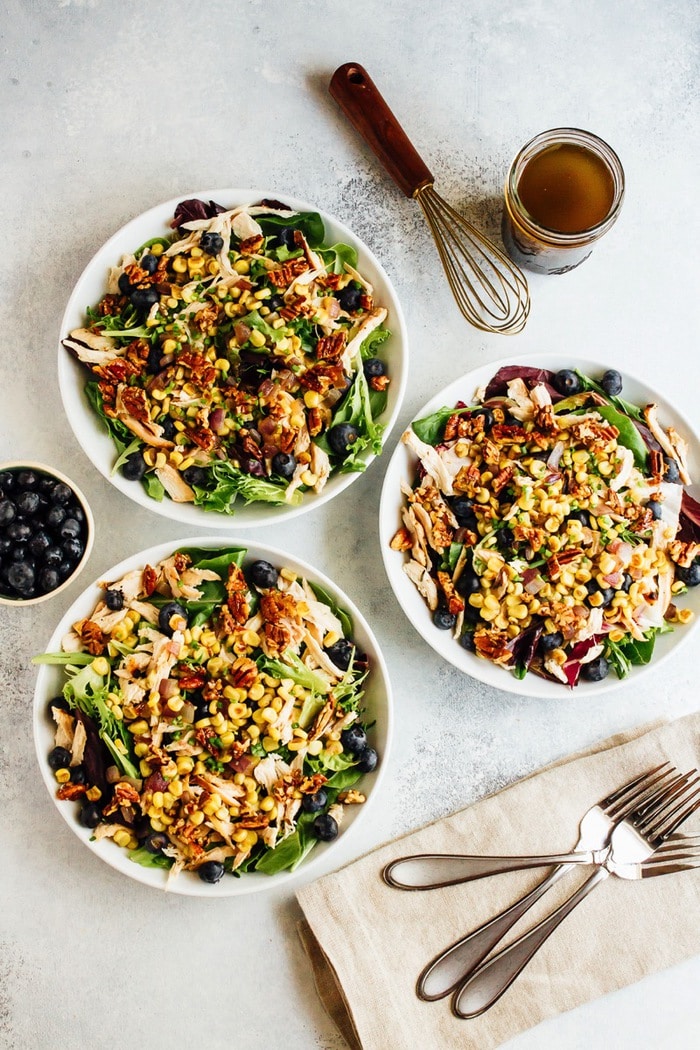 Print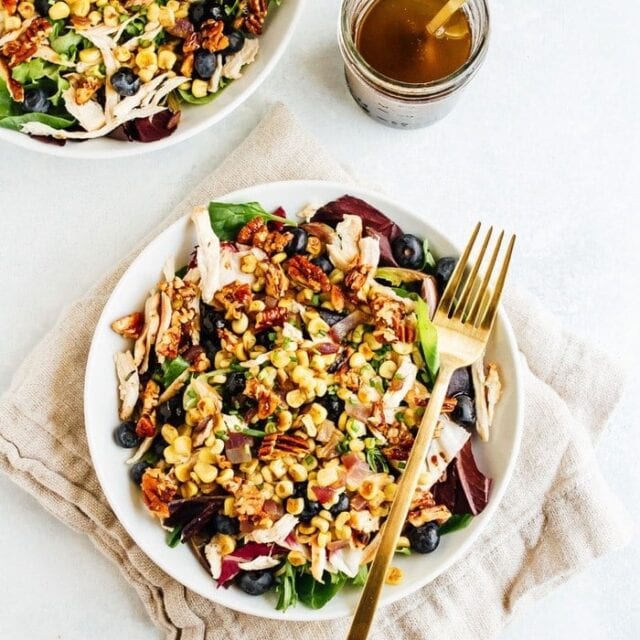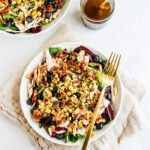 Blueberry, Corn and Chicken Salad with Maple Dressing
Author:

Brittany Mullins
Prep Time:

20 minutes

Total Time:

20 minutes

Yield:

4

1

x
Category:

Salad

Method:

No Cook

Cuisine:

American
---
Description
The perfect summertime blueberry corn chicken salad with fresh blueberries, grilled corn, shredded chicken, roasted pecans and a maple balsamic dressing. 
---
Scale
Ingredients
1

large container of spring mix or baby greens

12 oz

grilled and shredded chicken

1 cup

corn (fresh, frozen that's been thawed or leftover grilled corn cut off the cob)

1/2 cup

red onion, diced

1 teaspoon

avocado oil

1 cup

fresh blueberries

1/2 cup

raw pecans

1 Tablespoon

maple syrup

1/2 teaspoon

salt
Maple Balsamic Dressing:
1/2 cup

olive oil

1/4 cup

balsamic vinegar

1 Tablespoon

maple syrup

1 teaspoon

dijon mustard

1/2 teaspoon

sea salt and pepper
---
Instructions
Roast pecans: Pre-heat oven to 350°. Line a baking sheet with parchment paper. Add pecans to the sheet and toss with maple syrup and sea salt. Bake for about 10 minutes. Remove from oven, toss and allow to cool completely. This step can be done a day in advance.
Prepare dressing: Whisk together olive oil, balsamic vinegar, maple syrup, mustard, salt and pepper in a small bowl. Set aside.
Prep onions: Heat 1 teaspoon oil over medium heat in a medium sauté pan. Add diced onions and cook until translucent and starting to brown, about 7-8 minutes. If you're using raw or thawed corn, you can add it to the sauté pan with the onion for extra flavor. If you're using leftover grilled corn, there's no need to add it.
Prep salads: Grab 3-4 plates and load on salad ingredients starting with a base of greens, shredded chicken, corn, onion, blueberries and maple roasted pecans. Serve with maple balsamic dressing, allowing everyone to add as much or as a little as they'd like. Store any leftover dressing in the fridge for later.
---
---
Nutrition
Serving Size:

1 salad

Calories:

619

Sugar:

16g

Sodium:

573mg

Fat:

51g

Saturated Fat:

8g

Trans Fat:

0g

Carbohydrates:

25g

Fiber:

3g

Protein:

19g

Cholesterol:

64mg
Keywords: blueberry salad, corn salad
If you make this blueberry corn chicken salad definitely let me know how it turns out by leaving a comment and a star rating. Your feedback helps me and other EBF readers!